1.WeWork IPO…Second Biggest Offering of the Year….$1.9B in Losses Last Year.
The co-working company told employees yesterday that it has confidentially filed paperwork with the SEC to go public.
WeWork reportedly hasn't picked bankers yet, and an offering wouldn't happen until the third or fourth quarter of this year. But there's more you should know about 2019's latest mega-offering.
It's as meaty as a WeWork company card will allow
A WeWork IPO would likely be the second-biggest offering in the U.S. this year behind Uber. WeWork was last valued at $47 billion and has 400,000 members in 100 cities.
Still, it's burning through cash. Though WeWork's revenue doubled last year to $1.8 billion, its losses more than doubled to $1.9 billion.
It's not just WeWork
It's the We Company after a rebranding earlier this year to focus on more than just the short-term office space rental service that (along with its notorious tenant Morning Brew) made it famous. Now, it's diversified into businesses like housing, a children's school, and a coding academy.
Wherefore the rebrand? Fend off skepticism over WeWork's ability to withstand a market downturn, when fewer D2C birdseed startups will look for low-commitment office space. But we may always need apartments for "modern-day nomads."
And speaking of skeptics…there are plenty. WeWork is a "love it or hate it" company, writes Axios. A "person close to the company" told Axios WeWork could become the second-most shorted stock after Tesla.
But as for believers…
WeWork is no mere co-working company. It serves a higher purpose.
From CEO Adam Neumann: "As one of the world's largest physical networks, it is our responsibility to help lead the way and set the global example for people and corporations on how we should take care of each other and of our planet."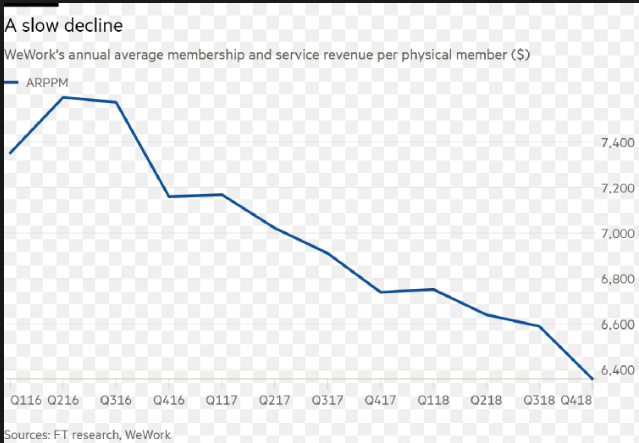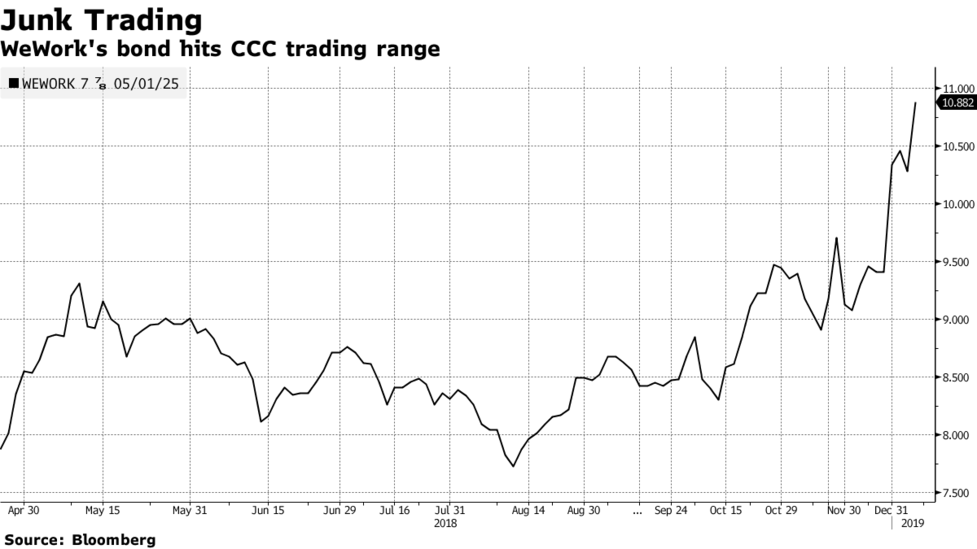 https://www.bloomberg.com/news/articles/2019-01-07/wework-bonds-trade-like-ccc-on-softbank-adding-to-rating-puzzle
2.Hedge Funds Shorting VIX at Highest Rate Ever….Meanwhile Shorts in Equities Lowest Since 2003.
From Dave Lutz at Jones Trading.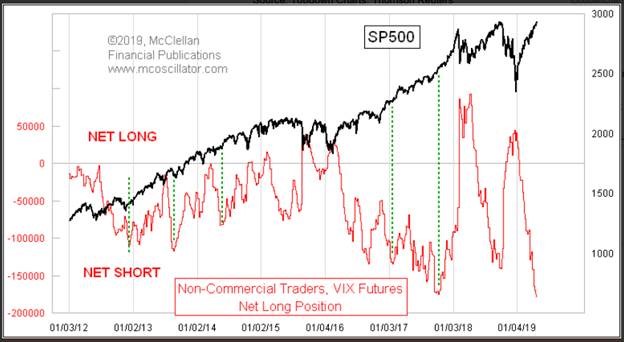 Hedge Funds Are Shorting the VIX at a Rate Never Seen Before – Large speculators, mostly hedge funds, were net short about 178,000 VIX futures contracts on April 23, the largest such position on record, weekly CFTC data that dates back to 2004 show.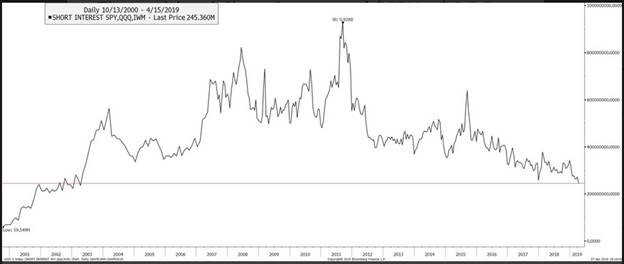 Twits note The combined Short Interest of SPY+ QQQ + IWM is at the lowest level since April 2003
3.Lack of Inflation Hindering Rates Rising.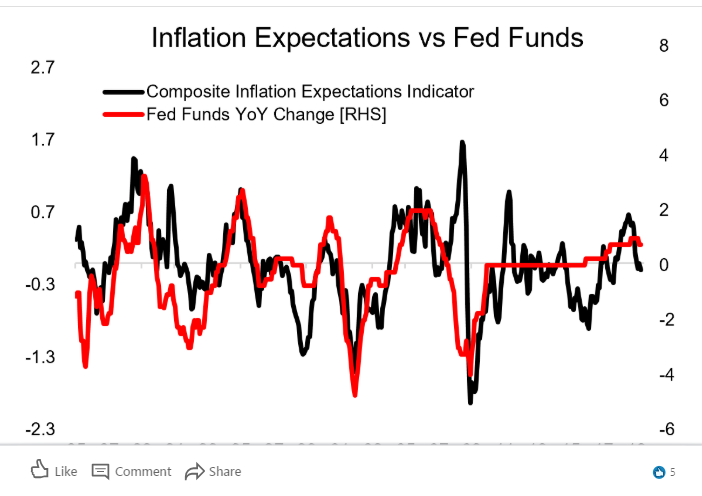 TopDown Charts.
https://www.linkedin.com/pulse/top-5-charts-week-callum-thomas-6528915756560814080/
4.10 Year Break Even Inflation Rate Below Fed Target 2%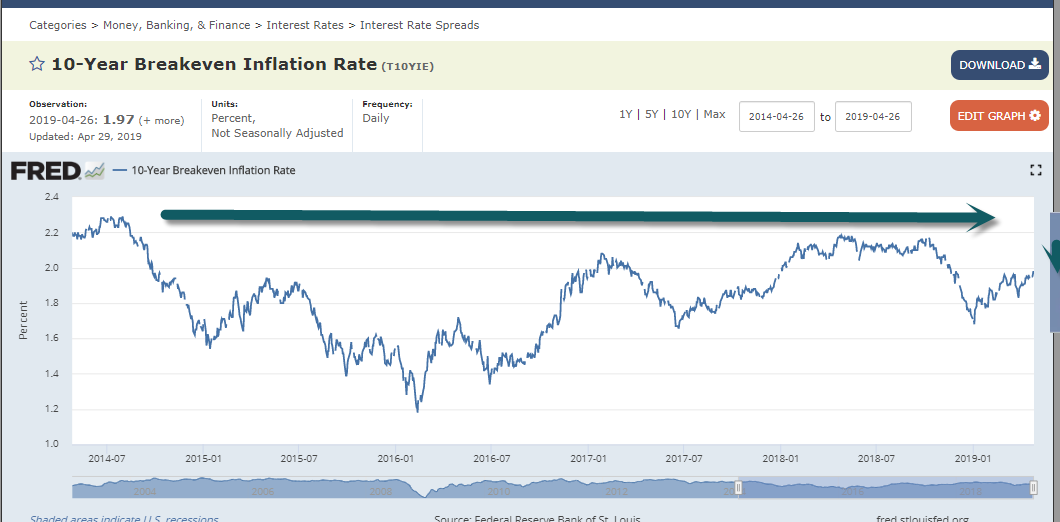 https://fred.stlouisfed.org/series/T10YIE
5.No Inflation….30 Year Treasury ETF Breaks Out to New Highs.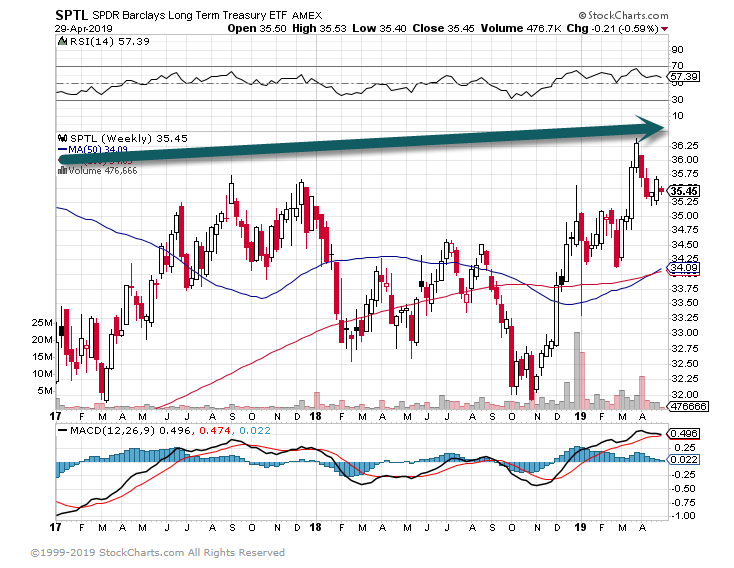 6.One Inflationary Rally…Unleaded Gas…See If Gas Breaks Out to New Highs for Summer Driving Season.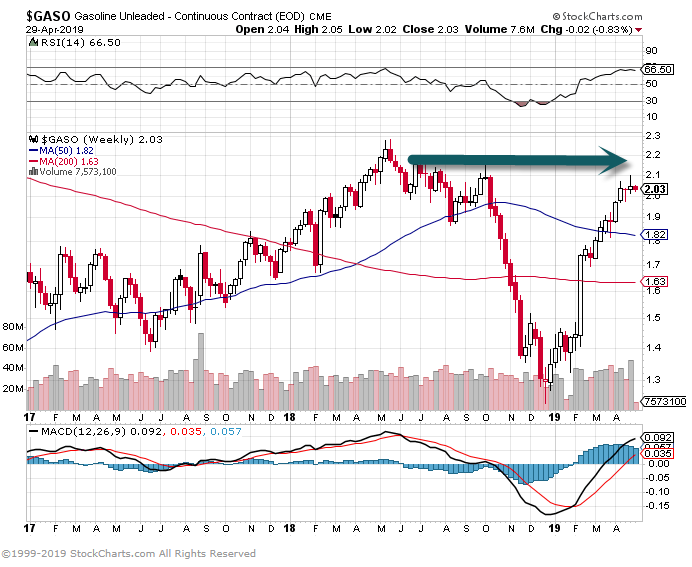 7.S&P Performance Following New 52 Week Highs in More Than 6 Months.
 Bill Stone Avalon Advisors
http://avalonadvisors.com/assets/avalon-weekly-market-guide-april-29-2019.pdf
8.Negative Yielding Debt in Europe Turns Back Up.
The amount of negative-yielding government bonds outstanding through 2049 has risen 20% this year to about $10 trillion, the highest level since 2016, according to data fromDeutsche Bank Securities.
The expanding pool of such bonds—which guarantee that a buyer will receive less in repayment and periodic interest than the buyer paid—highlights how expectations for growth in much of the developed world have deteriorated.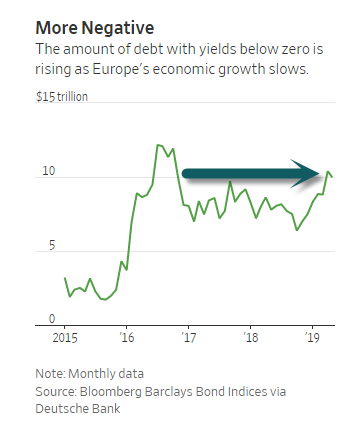 Negative Yields Deepen Along With Europe's Problems
The amount of negative-yielding government bonds outstanding through 2049 has risen by 20% this year
https://www.wsj.com/articles/negative-yields-deepen-along-with-europes-problems-11556535601?mod=itp_wsj&ru=yahoo
 9.Venezuela's Guaido takes to streets in military uprising
By SCOTT SMITH10 minutes ago
CARACAS, Venezuela (AP) — Venezuelan opposition leader Juan Guaido has taken to the streets with detained activist Leopoldo Lopez and a small contingent of heavily armed soldiers in a military uprising.
"This is the moment of all Venezuelans, those in uniform and those who aren't," said Lopez in his first public appearance since being detained in 2014 for leading anti-government protests. "Everyone should come to the streets, in peace."
Lopez said he has been freed by the military.
Moments earlier, Guaidó appeared in an early morning video shot next to a Caracas air base surrounded by several heavily armed soldiers backed by a few armored vehicles
Guaido said soldiers who had taken to the streets were protecting Venezuela's constitution. He made the comments a day before a planned anti-government rally.
"The moment is now," he said.
Venezuelan Information Minister Jorge Rodriguez said on Twitter that Nicolas Maduro's government is confronting a small "coup attempt" led by military "traitors" backed by right-wing opponents.
Tear gas was fired at a highway overpass near the Caracas air base where Guaidó and several heavily armed soldiers with blue bands wrapped around their forearms had been standing guard.
The tear gas appeared to have been fired from inside the Carlota air base.
https://www.apnews.com/0153cace08c84c8fbf34f9c6a7bdd4dd
10.This Top Exec Says You Should Have More Conflict at Work. His Surprising Reason Is Also the Best Leadership Advice You'll Hear Today
It doesn't work for every company, but for one of the fastest-growing restaurant chains, conflict is king.
By Marcel SchwantesFounder and Chief Human Officer, Leadership From the Core@MarcelSchwantes
In the workplace, it is a common notion that conflict is to be avoided. However, when done in a constructive manner, challenging co-workers' ideas can lead to immense innovation and growth for an organization.
Tony Libardi, president and chief operating officer of Marco's Franchising, which operates the international pizza chain Marco's Pizza, recognizes that each member of the corporation plays a pivotal role in the company's overarching success.
What this means is that he puts himself in the precarious position of letting his ideas be challenged by anybody in the organization. That goes for anyone else, too–it's a cultural expectation in which working through conflict is the pathway to grow faster.
"When I am first introduced to leaders, I try to start by giving and granting permission to push back. I am a passionate person who has strong opinions, but it doesn't mean that I'm right," Libardi shared with me.
"If you need to come back a second, third, and fourth time for me to gain understanding and agreement, I welcome this. I always say that I don't have to be right in the debate, but I have to be right in the decision. And we are both accountable for those decisions," says Libardi.
He embraces the concept of a "productive dispute," which he describes as letting people say what needs to be said, with respect and a positive tone in real time, and listening for understanding when others are providing feedback. "All this with an eye on driving performance and achieving [key] results. Whatever you say at the water cooler, you can say in the room," explains Libardi.
Protecting healthy conflict from personal agendas
Libardi credits this stance of open debate in helping grow Marco's franchise to nearly 1,000 locations, but self-serving egos need not apply.
I asked him how he guards his culture of radical transparency against an idea coming from the left field of a personal agenda. "We do this through accountability. We call actions that support personal agendas 'below the line' activities — like covering your tail, for example. Instead, we encourage 'above the line' actions: See it, own it, solve it, and do it," explains Libardi.
To ensure accountability, Libardi and his team demand that respectful conflict and debate live in the reality of data and facts to support any recommendations. For example, he says, "We refrain from 'I like that idea, but … " criticism, and he makes sure that points of debate "are aligned to our target audience–our customers and guests."
More important, he says, the first step is to put people first and listen for understanding versus seeking a solution, which should be the last step in a conflict. Since restaurant people are entrepreneurs and natural problem solvers, he can't emphasize enough that, before coming up with a solution (the very last step), you have to first "seek to understand, seek to align, and then work together to solve the problem."
Three reasons why leaders should encourage more conflict
While a conflict strategy may look different for any organization, Libardi holds "conflict sessions" to welcome many differing opinions around a tough issue, like underperforming stores. He says without these conflict sessions in place to hear others' points of view, "we might have missed something awesome."
If you're still skeptical of Libardi's counterintuitive leadership strategy, there are plenty of reasons why you should reconsider. He offers up three of them:
It's better to make the right decision than be right.
As a leader, Libardi stresses the importance of laying aside your ego and recognizing that the good of the organization trumps personal gain. He says, "I always invite teammates to challenge any ideas I have outlined for our company's growth, initiatives, etc. Many times, they will bring forward ideas I had not thought of, which makes more sense in aligning with our goals."
Synergy brings innovation.
When people are encouraged to work together to question ideas set in front of them, many times more creative and out-of-the-box insights arise. This helps to push the business forward as a forward thinker and thought leader in the space.
You build relationships and increase trust.
Opening up the room for discussion allows team members to get to know one another on a deeper level. Regardless of position or title, you share opinions and thoughts and can build on strengths that are unearthed. Libardi says, "As someone who is in a higher position, saying hello and asking my counterparts' opinions helps me get to know those who might not otherwise approach me. This helps to build trust amongst employees and bolsters employee retention."
PUBLISHED ON: APR 11, 2019
Like this column? Sign up to subscribe to email alerts and you'll never miss a post.
The opinions expressed here by Inc.com columnists are their own, not those of Inc.com.
https://www.inc.com/marcel-schwantes/want-to-improve-your-leadership-skills-overnight-open-door-to-more-conflict-arguments-says-this-top-executive.html