1.Semiconductors Record Year in 2017…Followed by 22.7% Jan. Gain in Sales.
Traditionally bullish indicator sector blows out sales….
January sales of semiconductors topped records marking a year and a half of consecutive monthly gains, according to the Semiconductor Industry Association in a statement late Monday. January chip sales rose 22.7% to a record $37.6 billion, SIA said. Year-over-year sales in the Americas saw the largest rise with a gain of 40.6%, followed by Europe with a 19.9% rise, "Asia Pacific/All Other" seeing a 18.6% rise, China gaining 18.3%, and Japan rising 15.1%. "After notching its highest-ever annual sales in 2017, the global semiconductor industry is off to a strong and promising start to 2018, posting its highest-ever January sales and 18th consecutive month of year-to-year sales increases," said John Neuffer, SIA president and chief executive, in a statement. Over the past 18 months, the PHLX Semiconductor Index SOX, +0.89%has grown 71%, compared with a 24% gain by the S&P 500 index SPX, +1.10% and a 39% gain on the Nasdaq Composite Index COMP, +1.00%
Semiconductor Index…More than a double from 2016 pullback.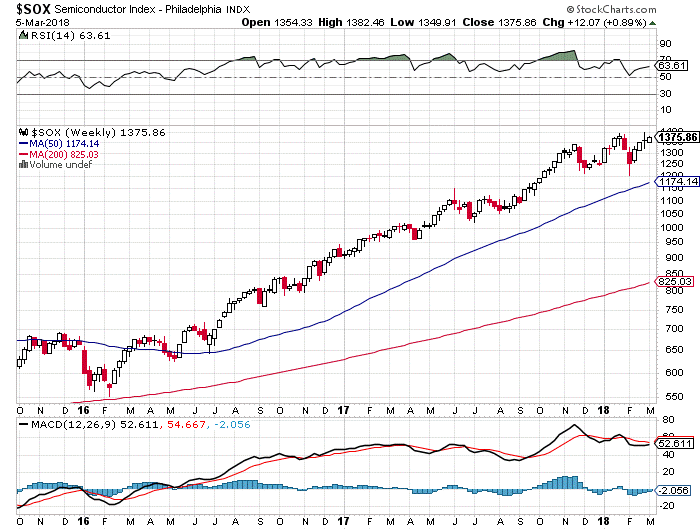 https://www.marketwatch.com/story/january-chip-sales-reach-record-high-for-18th-month-of-straight-gains-2018-03-05
 2.Historical Dividends and Buybacks….Looks Like Corporate Tax Cuts are Going as Predicted.
Goldman Sachs estimated in February that buybacks would jump by 23 per cent to $650m this year, while JPMorgan predicted on Friday that they would rocket by as much as 50 per cent to $800bn, says FT
 3.A Big Interest Rate Chart.
From Josh Brown Blog
http://thereformedbroker.com/2018/03/05/little-bighorn/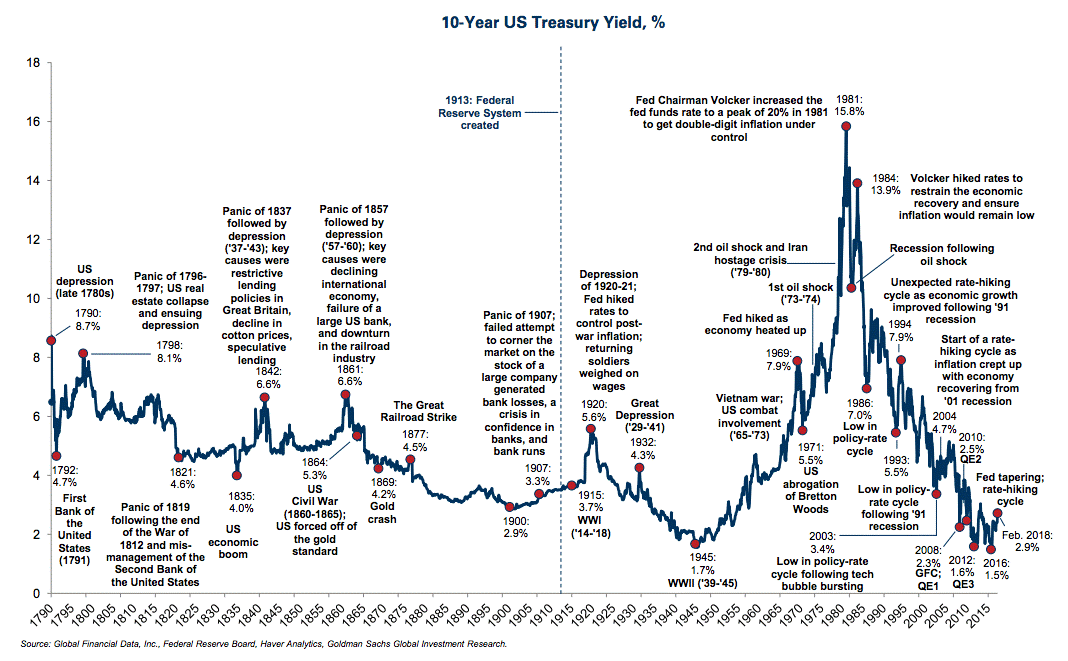 Source:
Top of Mind: Has a Bond Bear Market Begun
Goldman Sachs – February 28th, 2018
4.Inflation and the Stock Market.
Posted by Eddy Elfenbein on March 5th, 2018 at 2:09 pm
Here's an update to a study I've done before. I wanted to see what's been the impact of inflation on the stock market.
I have the monthly stock market performance and inflation data going back 92 years, which is 1,104 months. I sorted the months by inflation, low to high. I then separated the data into eight buckets of 138 months each.
This is how the stock market has performed by at different levels on inflation. To make it easier to read, the stock market's return is annualized and adjusted for inflation.
Here's what I got:
| | | |
| --- | --- | --- |
| Inflation | Range | Stock Performance |
| Under | -2.47% | 6.98% |
| -2.47% | 0.00% | 13.29% |
| 0.00% | 1.49% | 14.41% |
| 1.49% | 2.91% | 18.05% |
| 2.91% | 4.04% | 9.79% |
| 4.04% | 6.01% | 9.56% |
| 6.01% | 8.77% | -4.33% |
| Over | 8.77% | -8.34% |
In other words, when deflation runs below -2.47%, the stock market has averaged an inflation-adjusted gain of 6.98%.
The peak performance is when inflation runs between 1.49% and 2.91%. The stock market has averaged more than 18% annualized (again, that's adjusted for inflation).
As you can see, stocks aren't fans of deflation, but they really hate inflation. The turning point seems to be an inflation rate of 5.72%. Stocks do well up until then, but anything above that is bad news.
At the low end, stocks have done poorly when deflation runs below 5.53%. That's lower than I would have expected. Above that, stocks have done well.
The sweet spots seems to be inflation between 0% and 3.1%. The stock market has averaged 16.2% at that rate of inflation.
http://www.crossingwallstreet.com/
5.Quality Does Best When Market Struggles.
Blackrock Blog
What is quality?
As I discussed back in October, while there is no single definition, quality typically connotes some combination of high profitability, low debt-to-equity and earnings consistency. In aggregate, this style offers two potential advantages. First, quality has historically delivered a return premium, i.e. the opportunity to outperform a broad benchmark over the long term. Since 1990, the MSCI Quality Index has beaten the S&P 500 by approximately 0.10% per month on average (see accompanying chart).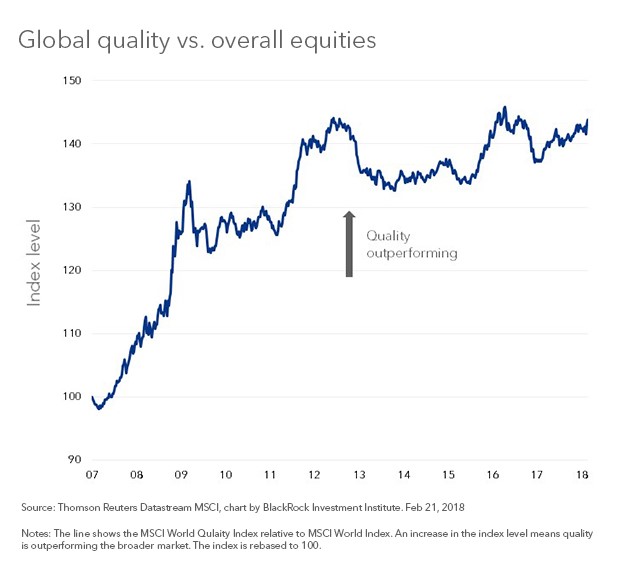 In addition, quality tends to perform best when other styles, and the broader market, are struggling. Quality typically outperforms momentum during periods of turbulence. During the most recent pullback, quality once again outperformed, albeit by a relatively small margin. Most likely, part of the reason quality did not offer more protection was the nature of the selling. Rather than a shift in the economy, investors were dealing with a technical unwind of a particular trade: short-volatility. As such, the selling was indiscriminate rather than reflecting a change in market fundamentals.
https://www.blackrockblog.com/2018/02/28/quality-during-volatility/
 6.North American heavy truck orders at 40,600 units in February – ACT Research
STOCKHOLM, March 5 (Reuters) – Industry data provider ACT Research in a statement released late on Friday:
* Preliminary net orders of heavy trucks (Class 8) in North America in February at 40,600 units, the eighth best order month on record and the ninth time in history in which orders eclipsed the 40,000-unit mark
* "Seasonal adjustment reduces the month's order largess to 37,600 units, up 63% compared to last February's order intake," ACT Research president Kenny Vieth said in a statement
* The biggest truck makers in North America include AB Volvo , Daimler and Paccar (Reporting by Helena Soderpalm, editing by Johannes Hellstrom)
Our Standards:The Thomson Reuters Trust Principles.
7.  Last week the S&P 500 registered three straight days of declines of more than 1%, its first hat-trick
of such daily losses for more than two years. 
Fear and Greed Index Hits "Extreme Fear"…Contra indicator?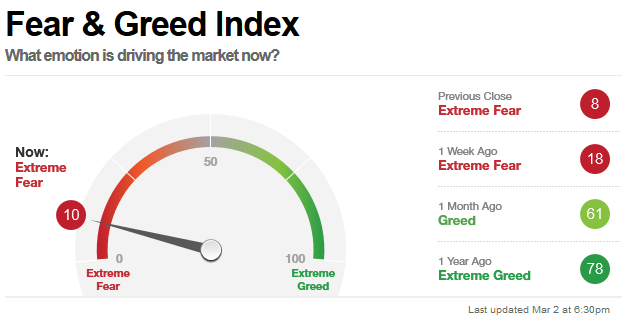 http://money.cnn.com/data/fear-and-greed/
8.Canada-Not Just Hockey.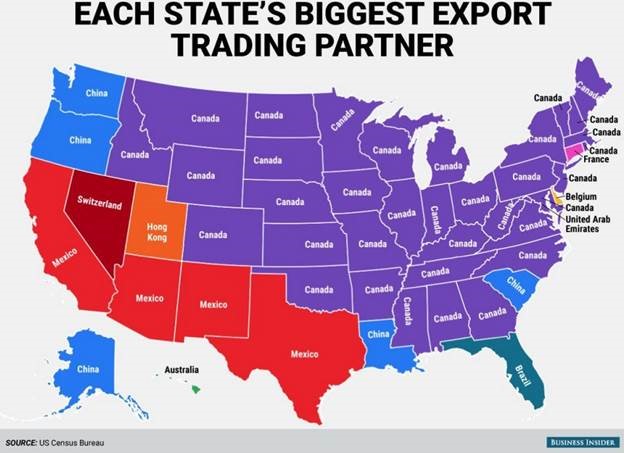 9.Read of the Day from Credit Suisse….Some Interesting Facts.
Credit Suisse Global Investment Returns Yearbook 2018
20.02.2018
Back to the future
Equities, not housing, have been the best long-run investment, contrary to  recent claims
Globally, the returns and risks from housing have been between those on equities and bonds
Gold has given poor returns, high volatility, and been a poor inflation hedge
Collectibles such as art, wine and musical instruments have beaten cash and government bonds
Episodes of volatility, as in early 2018, are hard to predict, tell us little about future returns, and appear as mere blips in the long secular rise of equities
We should expect lower investment returns in future on all asset classes
Value investors have experienced a lost decade, but there is no guarantee that is about to change
Published by the Credit Suisse Research Institute, in collaboration with London Business School professors, the Credit Suisse Global Investment Returns Yearbook has evolved into a reference volume providing respected long-run return data and risk premium estimates for 23 national stock and bond markets. The 2018 edition of the Yearbook is published today.
In the book, Professors Elroy Dimson and Paul Marsh and Dr Mike Staunton of London Business School examine the industrial transformation that has taken place since 1900, alongside the parallel transition in markets as countries have moved from emerging to developed status. The authors also assess the returns and risks from investing in equities, bonds, cash and currencies in 23 countries and three different regions. They also examine factor investing and the profitability of different investment styles. In a new study, they analyze the investment performance of nonfinancial assets such as housing, collectibles and precious metals.
Key highlights:
Since 1900, global equities have beaten bonds and bills, outperforming cash (Treasury bills) by 4.3% and bonds by 3.2% a year – a reward for the higher risk associated with investing in stocks
Emerging markets were the stars of 2017, with a return of 38% vs 23% for developed markets. But over the last 118 years, they have underperformed developed markets by 1% per year.
Since 1900, the average collectible rose 30-fold in terms of purchasing power – equivalent to an annualized price appreciation of 2.9% – but returned less than stocks globally.
Of the four collectibles for which the Yearbook considers data back to 1900, wine performed the best with an inflation-adjusted price appreciation of 3.7%, while art achieved just 1.9% per year
Precious metals and gemstones are not an effective hedge against inflation. Gold, silver and diamonds gave a return lower than US Treasury-bills
Recent claims that housing provides a large financial reward at lower risk are incorrect. Since 1900, the quality-adjusted real capital gain on worldwide housing is approximately –2% per year.
Housing has been less risky than equities, but the expression "safe as houses" is misleading. US house prices fell by more than 36% in real terms from their late-2005 peak until their low in 2012.
Factor investing is backed up by long run evidence, but there are extended periods when particular styles underperform. Since the Global Financial Crisis, the value style has been the hardest hit.
Looking ahead, expected returns on all asset classes are likely to be low as the authors' research shows that when real interest rates are low, as they are today, subsequent returns tend to be lower.
The authors predict that the margin by which equities are likely to outperform cash in future will be lower than the 118-year historical premium of 4.3% per year. Their long run forecast is 3½%.
Even with a lower future equity premium of 3½%, equities are still expected to double relative to cash over a 20-year period.
https://www.credit-suisse.com/corporate/en/articles/media-releases/credit-suisse-global-investment-returns-yearbook-2018-201802.html
10. 8 Steps to Making Sales Simple
Start the consultation by finding common ground. This builds rapport and trust. Once you are comfortable with each other, then move into the actual consultation/sale.
Let the prospect do most of the talking.Too often, the salesperson takes over the conversation and talks all about them (or their service). But at the end of the day, your prospect cares only about getting a solution for THEIR problem. They just need to know that you care about them and that you are able to help.
Create a set of questions and use them to steer the conversation.Ask follow-up questions to dig deep and elicit emotion. Most the time, prospective customers are just looking for someone to share their problems with. If you show genuine concern, YOU become the person they feel comfortable opening up to.
Don't be too rigid with your script.Just be casual. If the client gets a little off topic, gently steer them back onto the "straight line to success," as Jordan "The Wolf of Wall Street" Belfort says.
The most important part is listening.Listen to the prospect so you can figure out their main problem(s). Then, show them how you can provide the best solution. Examples work well here, too. Describe how you've helped a client in a similar situation by giving them the tools to overcome their obstacles. Finish with a clear visual of how this client is now happy and successful. This will give your prospect confidence that you can help them with their problems, too.
Give them an incentive to act now.It could be a discount on the first payment, a gift if they sign up today, or a gift certificate to another service you offer. People LOVE getting a deal, and it will help them say YES.
Answer objections clearly and concisely.Waffling only makes it seem like you don't have a reasonable response. So be direct (and diplomatic), then guide them back to saying YES—and stop talking. The awkward silence is actually a good thing, so embrace it. Let the prospect make the next move (which will either be saying YES or asking another question).
Let the customer know their YES doesn't mean the end of the relationship.Make it clear you're there to support them—not just through payment and deliverables, but in an ongoing relationship that shows you can be trusted to offer solutions to their problems in the future.
As you can see, selling is actually quite simple. Understand your prospect's problem by being a great listener. Then, show them a clear solution. Be friendly, but pointed and concise.