1.Buffet Warns on Margin Debt.
Warren Buffett offers his 'strongest argument' against a practice investors are doing in record numbers
Berkshire Hathaway CEO Warren Buffett has argued against borrowing money to invest in stocks.
So-called margin debt rose to a record in January.
Margin calls, in which brokers demand a cash replenishment of their clients' accounts, were among the reasons strategists cited for the pace of the recent stock sell-off.
Warren Buffett doesn't recommend going into debt to buy stocks.
But that's exactly what investors are doing in record numbers.
Margin-debt balances — loans individual investors take from their brokers to beef up their portfolios and maximize returns — rose to a record $665.72 billion in January, according to datafrom the Financial Industry Regulatory Authority.
http://www.businessinsider.com/warren-buffett-on-margin-debt-for-stocks-investing-2018-2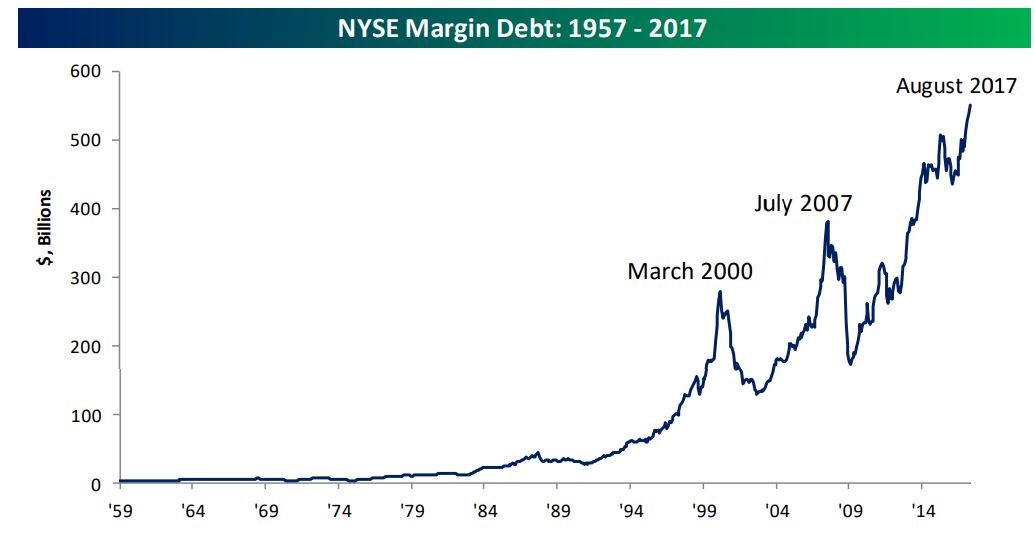 https://www.marketwatch.com/story/margin-debt-levels-are-a-poor-tool-for-timing-the-stock-market-2017-09-27
2.U.S. set to become world's largest oil producer as early as 2018, IEA says
Sara Sjolin
In its February monthly oil report, the IEA noted that the "colossal" rise in U.S. oil production could scuttle OPEC's efforts to rebalance the oil market.
"All the indicators that suggest continued fast growth in the U.S. are in perfect alignment; rising prices leading, after a few months, to more drilling, more completions, more production and more hedging," the agency said in the report.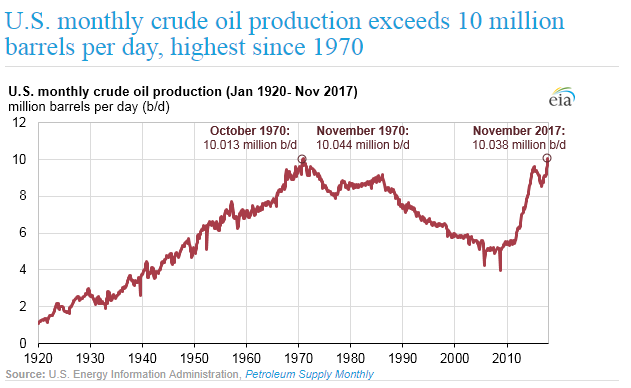 https://www.marketwatch.com/story/us-set-to-become-worlds-largest-oil-producer-as-early-as-2018-iea-says-2018-02-27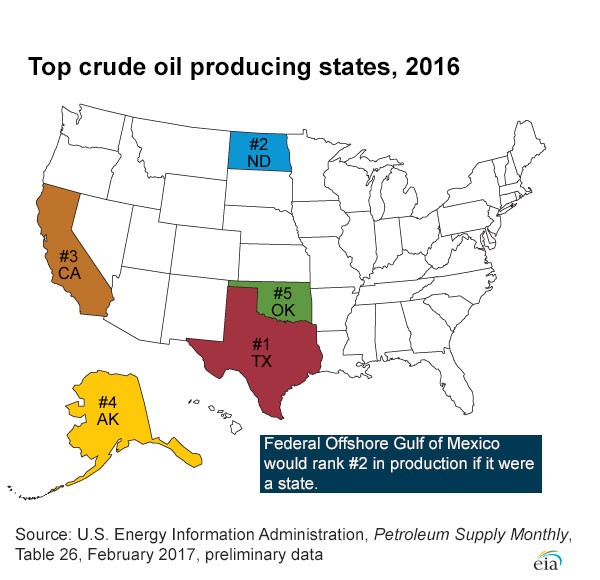 https://www.google.com/search?q=top+oil+producing+countries+2017&source=lnms&tbm=isch&sa=X&ved=0ahUKEwiI66vAj8bZAhWDo1kKHeJtDWAQ_AUICygC&biw=1920&bih=989#imgrc=t6vI64FF5MQbwM:
3.Cushing Ok. Inventories Fall by Half From June 2017
Interestingly, however, the inventory declines are particularly pronounced at the key oil hub of Cushing, Oklahoma, often likened to the "pipeline crossroads of the world" and home to the settlement of the WTI benchmark.
The oil market downturn that began in 2014 led to storage tanks around the world to fill up with crude oil. But that was especially true at Cushing. The global oil market has been watching Cushing closely for progress in the rebalancing effort.
If Cushing is any indicator, the oil market has already tightened significantly. For the week ending on February 16, stocks fell to just 30 million barrels at Cushing, down by more than half from June 2017.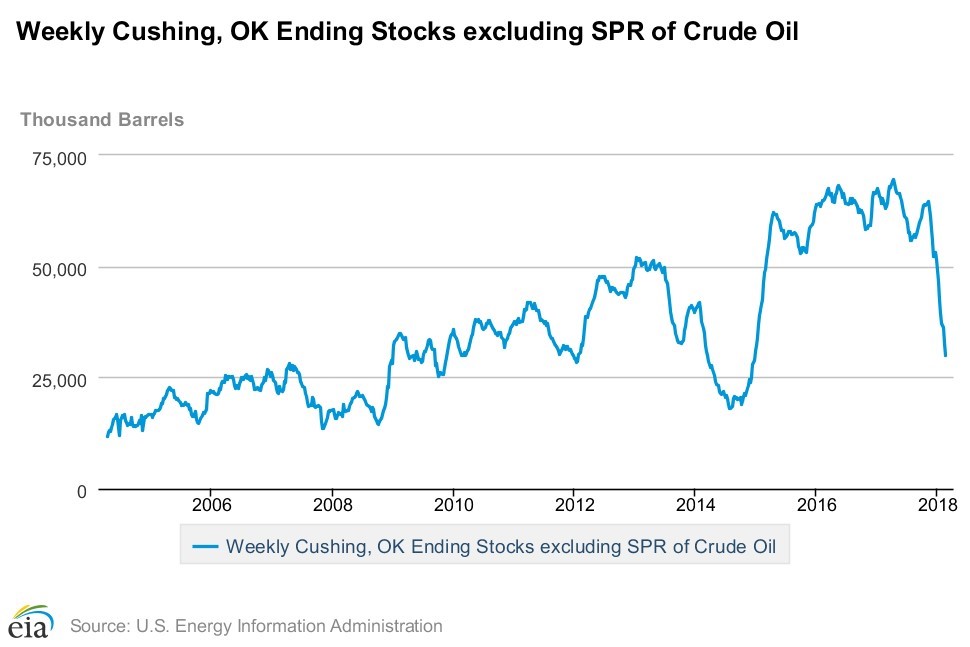 https://oilprice.com/Energy/Energy-General/Crashing-Cushing-Inventories-Boost-Oil-Prices.html
4.Earnings Season Almost Over….78% of Companies Beat Revenues Highest Since 2008.
Between Dec. 31 and Feb. 21, analysts' estimates for earnings on all the companies in the S&P 500 rose 7.1%, according to FactSet analyst John Butters — by far the biggest increase so early in the year for more than two decades, WSJ reports.
"78% of the S&P 500 companies have beaten sales estimates for Q4, which is the highest beat percentage for sales since FactSet began tracking this data in 2008" – while a record 78% of S&P 500 companies beating analysts' revenue estimates so far this quarter, and overall earnings growth nearing 15%, which would make it the best quarter since 2011, according to WSJ
From Dave Lutz at Jones Trading
5.Will Dropbox IPO Kick-Off a Unicorn IPO Boom?
On Your Mark, Unicorns. Dropbox IPO Bodes Well
February 24, 2018
Dropbox, the 11-year-old cloud-based storage company, filed a prospectus on Friday afternoon with the Securities and Exchange Commission for an initial public offering that could raise as much as $500 million.
In the eagerly awaited document, the San Francisco–based company disclosed it had generated $1.1 billion of revenue in 2017, up 31% from 2016, but lost $112 million, or a pro forma 21 cents a share, based on 538 million shares outstanding.
Dropbox has more than 500 million users in 180 countries, and stores more than 400 billion pieces of content. Paid users top 11 million. The company's strategy has been to upgrade individual subscribers to paying ones, and attract paying corporate customers.
https://www.barrons.com/articles/on-your-mark-unicorns-dropbox-ipo-bodes-well-1519439767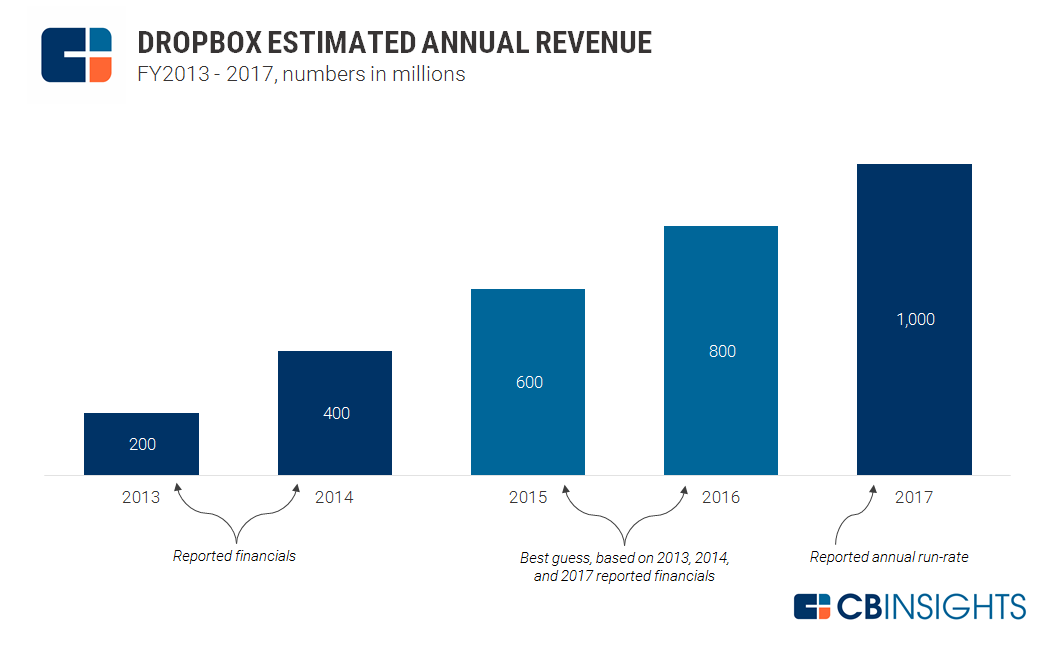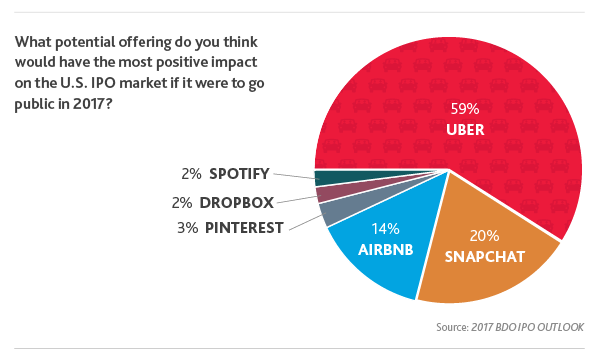 https://www.bdo.com/insights/assurance/client-advisories/2017-bdo-ipo-outlook.aspx
6..Female Global Labor Force Participation.
Food for Thought: Female labor force participation and why it's good for the economy.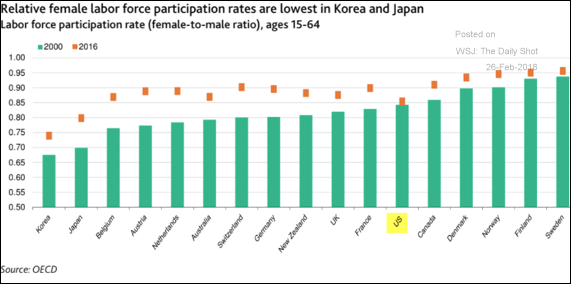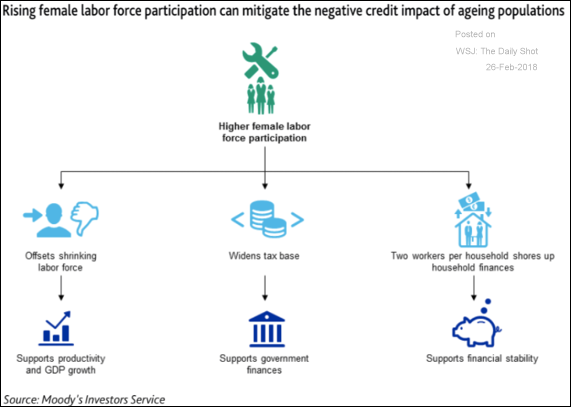 Source: Moody's Investors Service Source: Moody's Investors Service
From The Daily Shot.
7.Where Corruption is Raging Around the World?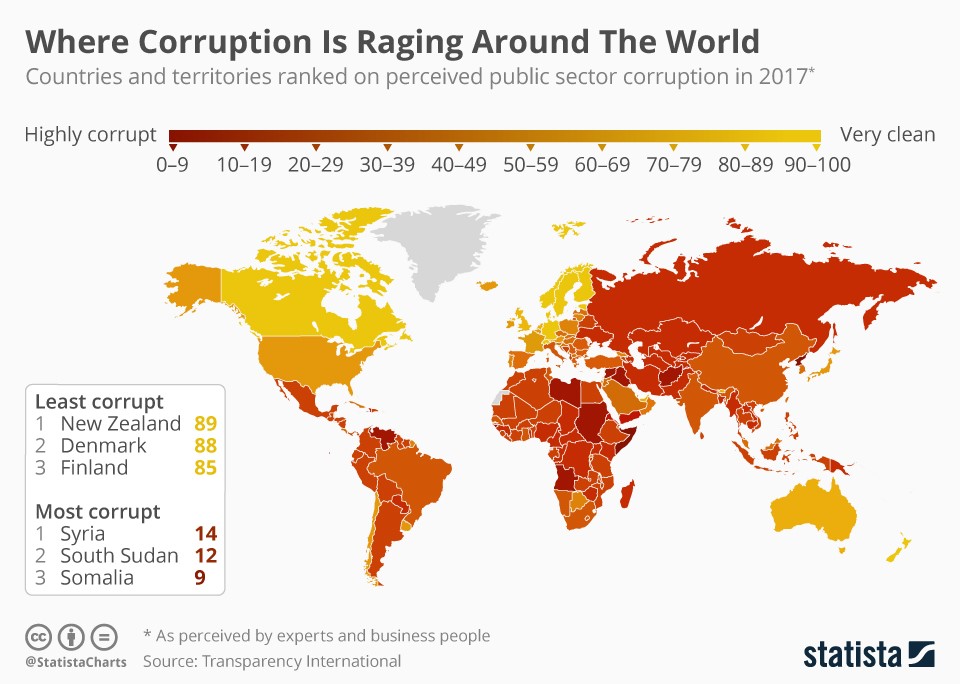 Where Corruption Is Raging Around The World
by
Niall McCarthy
On Wednesday, Transparency International released its 2017 Corruption Perceptions Index which measured perceived public sector corruption in 180 countries and territories on a scale of 0 to 100. The research found that most countries across the world are making little or no progress in ending corruption. The ones scoring close to 100 are successfully containing corruption while those scoring 50 or lower have serious problems. The average global score was only 43.
Some governments have seen noticeable improvements in their scores over the past six years with the Ivory Coast, Senegal and the UK all making progress. Others had to endure a slide with Syria, Yemen, Australia and Hungary all deteriorating. The latter in partcular saw its score fall ten points over the last six years. It could fall even further in the future if draft legislation is enacted that could restrict NGOs and revoke their charitable status.
New Zealand was ranked the world's least corrupt nation in 2017 with a score of 89, ahead of Denmark with 88. Third position was a three way tie between Finland, Norway and Switzerland who all scored 85. Syria, South Suda, and Somalia were at the bottom of the index with all three scoring lower than 15. Along with Austria and Belgium, the United States came 16th with a score of 75.
https://www.statista.com/chart/13021/where-corruption-is-raging-arround-the-world/
Found at ZeroHedge
https://www.zerohedge.com/news/2018-02-26/mapping-where-corruption-raging-around-world
8.U.S. Immigration Waves.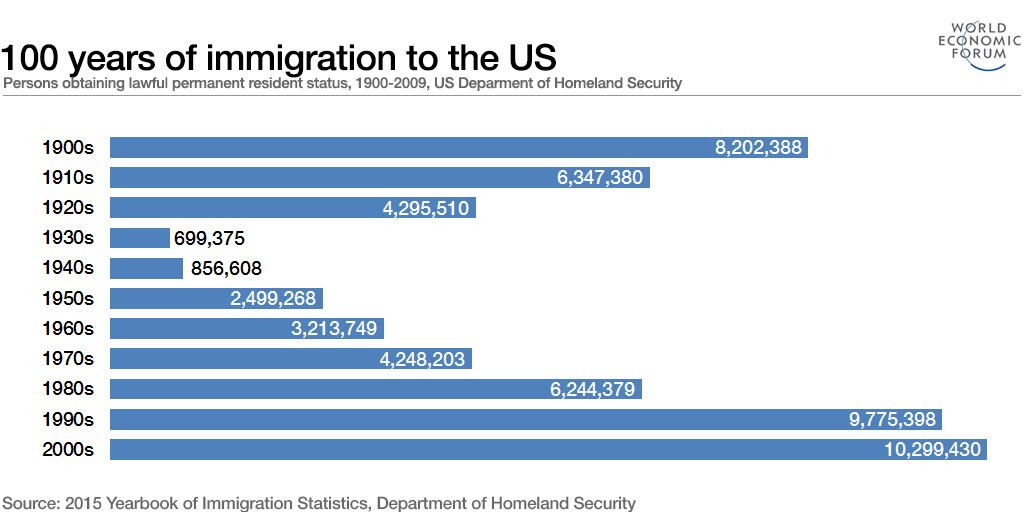 https://www.weforum.org/agenda/2017/02/from-the-1900s-to-today-a-snapshot-of-immigration-to-the-us/
9.Read of the Day…46% of Last Year's Initial Coin Offerings (ICOs) Have Failed Already.
By
Kai Sedgwick
46% of Last Year's ICOs Have Failed Already
It has always been assumed that a large number of ICOs will fail, be it at the fundraising stage or when it comes to delivering the actual project. It's hard to settle on a precise figure, however, as most dubious ICOs don't exit scam: they slowly tiptoe away, like a sneak thief rather than a smash-and-grab robber. Having completed an extensive study into last year's crowdsales, news.Bitcoin.com can report that 46% of them are effectively dead already – despite raising over $104 million.
Also read: FBI Arrests Exchange Operator for Lying About 6000 Bitcoin Hack
ICOs Are Even Riskier Than You Think
Given enough time, everything withers and dies, from the most robust institutions to the most popular crowdsales. No one expected all of 2017's ICOs to last the course. The pace at which they've withered and died may come as a surprise though. Tokendata, one of the more comprehensive ICO trackers, lists 902 crowdsales which took place last year. Of these, 142 failed at the funding stage and a further 276 have since failed, either due to taking the money and running, or slowly fading into obscurity. This means that 46% of last year's ICOs have already failed.
The number of ICOs that are still a going concern is actually even lower. An additional 113 ICOs can be classified as "semi-failed", either because their team has stopped communicating on social media, or because their community is so small as to mean the project has no chance of success. This means that 59% of last year's crowdsales are either confirmed failures or failures-in-the-making.

Some of the many failed ICOs listed by Tokendata.
A Digital Graveyard of Broken Promises
Trawling through 900 ICOs in one sitting is a deeply depressing experience, news.Bitcoin.com can report. Abandoned Twitter accounts, empty Telegram groups, websites no longer hosted, and communities no longer tended are par for the course. A digital graveyard, complete with metaphorical tumbleweed, characterizes the crop of 2017 that decided to take the money and run. Many raised zero; some raised a couple of thousand dollars; and a handful raised over $10 million. In each case, the end result was the same though: no MVP, no alpha release, and no contribution to the decentralized web for the betterment of humanity.
Many of the dead ICOs were doomed from the start. It will come as no surprise to learn that projects such as Clitcoin, Neverdie, and Zero Traffic didn't make it. (Update: Neverdie has since been in touch to claim that reports of its demise are premature.) Some, which fell flat at the fundraising stage, are doing it all over again this year and hoping that 2017's failure can be written off as a trial run. Freight trucking platform Doft is one such example. Looking at the countries of origin for failed ICOs shows that developing nations – and an entire continent in the case of Africa – are over-represented. Nevertheless, every major country and continent features in the list of shame.
Lessons Learned
Many of the 531 ICOs that have failed or are failing from last year looked sketchy from the very start. In most cases, investors were able to spot the signs and steer clear. Not everyone escaped unscathed though: these projects still raised $233 million between them. With ICO mania showing no signs of abating, there's no reason to expect this year's crowdsales to fare any better. Thanks to diminished returns, increased competition, and a never-ending stream of opportunistic ICOs, crypto investing in 2018 is riskier than ever.
Are you surprised by how many of last year's ICOs have failed already? Let us know in the comments section below.
https://news.bitcoin.com/46-last-years-icos-failed-already/
10.Five Tips For Tackling Tomorrow's Biggest C-suite Challenges
 Karen Greenbaum , Forbes Councils
Shutterstock
As CEO of AESC, I come face-to-face with business leaders around the world on a regular basis. C-suite leaders regularly share with me common challenges in their industries and organizations, from a lack of diversity to the struggle to innovate in an increasingly complex and ever-shifting business environment. As a result, I recently discussed those top challenges of today.
But what about tomorrow's challenges? What will the top concerns of C-suite leaders look like in five years and how can executives begin to prepare now? In an AESC report last year, "Executive Talent 2020," business leaders worldwide from across sectors and geographies predicted their top challenges in five years:
Aging demographics
Globalization
Competition for talent
Shortage of technical expertise
Lack of key successors
With aging demographics as the number one business challenge forecasted for global executives in five years, organizational leaders are anxious about the baby-boomer generation retiring en masse and not enough successors prepared to take on leadership roles. This concern combined with an increasingly global business environment that requires heightened cultural awareness and localized knowledge, as well as the need for more technical and digital expertise, means the competition for top talent will only intensify over the next five years.
In an ever-shifting business climate more demanding than ever, how can business leaders get ahead and ensure their organization's success in tackling tomorrow's top business challenges?
Create a succession plan now.
Aging leadership is a reality in developed markets worldwide, and the generation that follows baby boomers, Generation X, is much smaller. Most organizations are also flatter with a smaller middle management layer to tap into than in the past, creating additional challenges in developing successors. It is imperative that today's business leaders identify both Gen X and millennial talent prepared to take on C-suite roles in their organizations over the next five to 10 years.
A healthy succession plan assesses the organization's current needs with its long-term strategic vision. It then aligns current capabilities with future needs and identifies where there are talent gaps. Once those gaps have been identified, then the plan takes into consideration the current workforce that can be developed to fill those roles as well as where talent will need to be tapped externally. If you already have a succession plan, ensure it is regularly updated to align with your business strategies.
Expose your senior team to cross-cultural and cross-border opportunities.
In today's competitive business environment, there is a premium on cultural dexterity and international experience. Digital transformation continues to collapse borders, eliminate the need for physical offices and connect teams scattered around the globe. While digital processes bridge geographies like never before, today's leaders must understand cultural nuances, connect with a diverse workforce, customers and shareholders, and have insight into the unique factors of localized markets.
Today's most successful brands reflect the diversity of our world, and today's most successful leaders are empathetic and culturally aware. There is no better way for organizational leaders to develop these abilities than to have a broad range of experiences across different geographies and cultures.
Ensure a compelling employer brand.
Competition for top talent is fierce and will only become more intense with the looming generational transition of leadership. If organizational leaders want the best and the brightest tomorrow, they must have an employer brand that both attracts and retains top talent now.
Leaders must ask, what does their organization's culture look like now and what does it need to look like tomorrow to align with their long-term vision? Are they fostering a diverse culture where individuals are empowered under a common mission? Does the mission of the organization include an articulation of the firm's "social purpose" and/or commitment to their community? Are they fully leveraging digital to achieve true enterprise-wide digital transformation? All of this matters when attracting and retaining top talent, and it matters even more to the next generation.
Foster a digital culture.
With a shortage of technical talent, organizational leaders can develop cross-functional talent with the right digital expertise to lead tomorrow by ensuring digital is leveraged across functions and throughout the organization, including HR, which can play a bigger role in digital skills and process development. True enterprise-wide digital transformation, however, is not an easy feat. It takes the right leader who can rally a diverse, multi-generational workforce under a common vision for true enterprise-wide digital transformation to take place.
To get the right balance, senior management needs to understand the language of IT and technical talent must have a strong business foundation. Digital training at all levels throughout the organization can help develop tomorrow's leaders with the right digital expertise, and prioritization at board level can only help ensure a robust plan to get there.
Forbes Human Resources Council is an invitation-only organization for HR executives across all industries. Do I qualify?
Develop high potential non-executive staff for leadership positions.
With such stiff competition for talent and a looming generational transition of leadership, business leaders need to be proactively developing high potential talent in their organizations today. One way to do this is to involve non-executive talent in decision-making and expose them to cross-functional experiences. An organizational culture that is highly collaborative, where teams can easily come together on a per project basis, dismantle and regroup seamlessly will help develop tomorrow's leaders to be agile and pivot in an ever-changing environment.
Today's leaders realize we are in a new era of global business. To overcome the top challenges of tomorrow, today's executives are increasingly looking to the next generation for the talent their organizations need to realize their long-term vision. In a business environment that requires constant innovation in a climate of heightened uncertainty, the next generation of executive talent has a lot to offer.
https://www.forbes.com/sites/forbeshumanresourcescouncil/2017/08/29/five-tips-for-tackling-tomorrows-biggest-c-suite-challenges/#187a35016e80