1.Dwindling Public Stock….In the Past 20 Years, U.S. Companies Purchased Back $3.6 Trillion More Than They Offered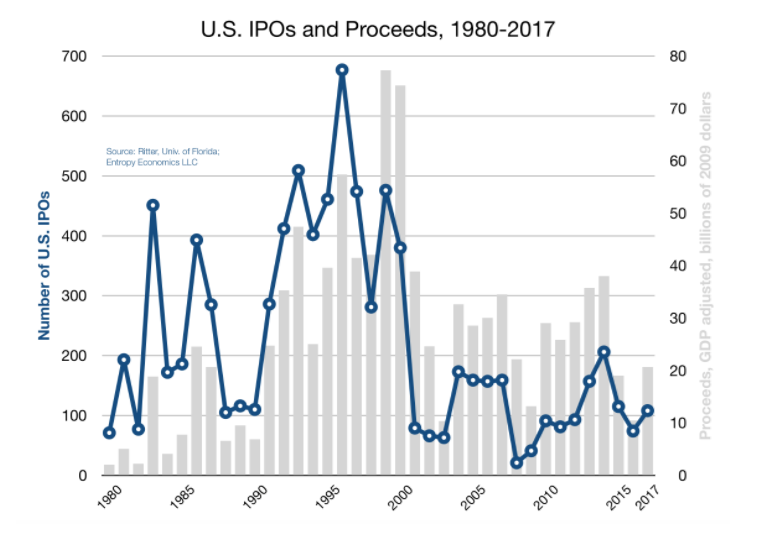 Over the past two decades, U.S. companies bought back vastly more stock than they issued. On net, according to a new paper by Craig Doidge and colleagues, companies purchased $3.6 trillion more stock than they offered. Stock buybacks are a perfectly appropriate way to return value to shareholders, but the disparity is still surprising.
https://www.uschamberfoundation.org/blog/post/are-capital-markets-healthy-some-thoughts-corporate-concentration-and-dwindling-public
Found at Abnormal Returns Blog  www.abnormalreturns.com
 2.Trade War Chinese Currency Straight Up.
CYB Chinese Yuan ETF making new highs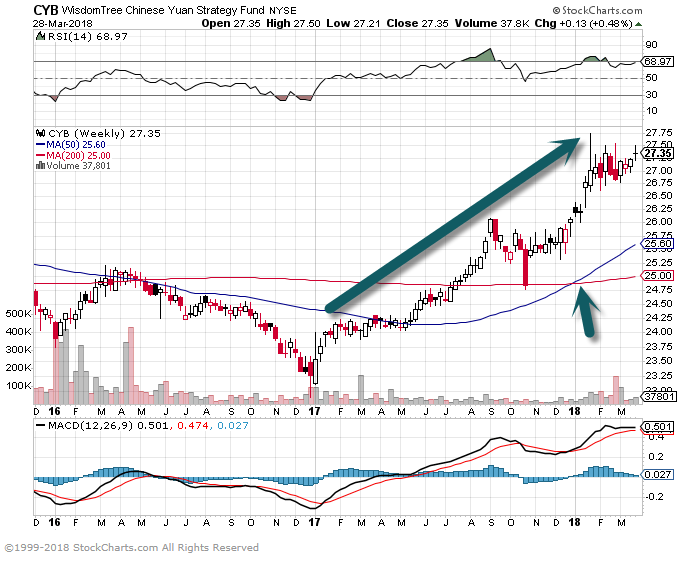 YTD-Chinese Yuan +4% vs. Dollar -2%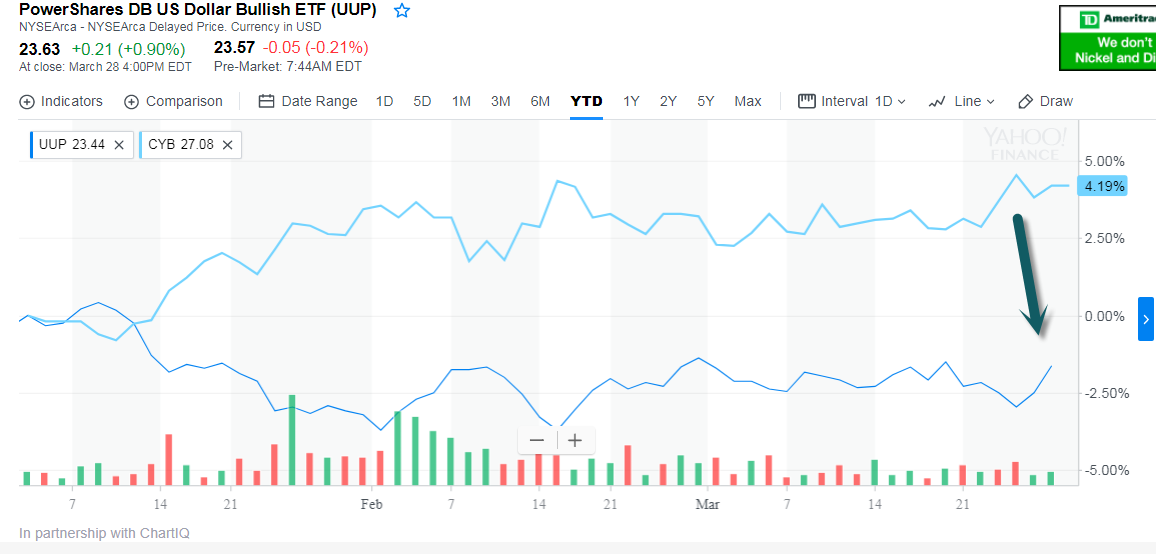 3.Falling Dollar Plus Geopolitical Risk=Record CME Contracts in Gold.
Meanwhile, trading activity in the metal has also soared. Volume on the Comex exchange, the biggest futures market, hit a record 23 million contracts in the first quarter, according to data compiled by Bloomberg.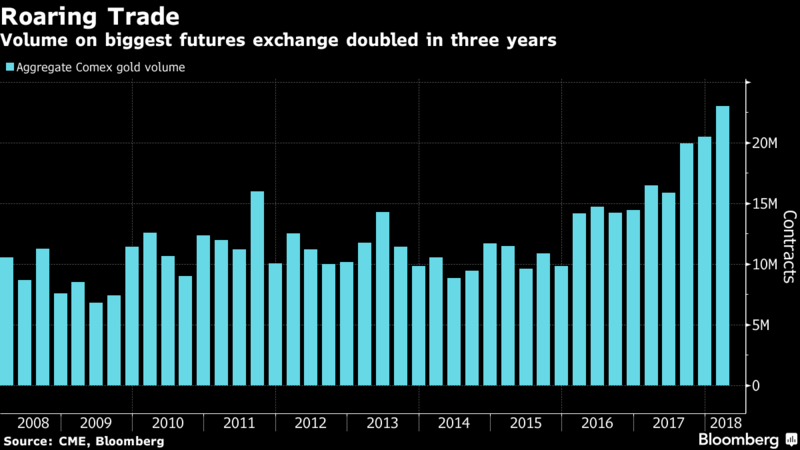 https://www.bloomberg.com/news/articles/2018-03-29/gold-forges-best-run-since-2011-as-stars-align-for-bullion-bulls
4.Tale of Two Pullbacks by Sector…First Pullback Defensives Underperformed….Not So Much This Time Around.
There are couple of observations this this.  One, Technology remains one of the best performing sectors on an absolute performance basis so far this year despite pulling back more than the market over the past couple of weeks.  Second, two out of the three worst performing sectors on a Year-to-date basis (Energy and Real Estate) have held up the best in the most recent pullback.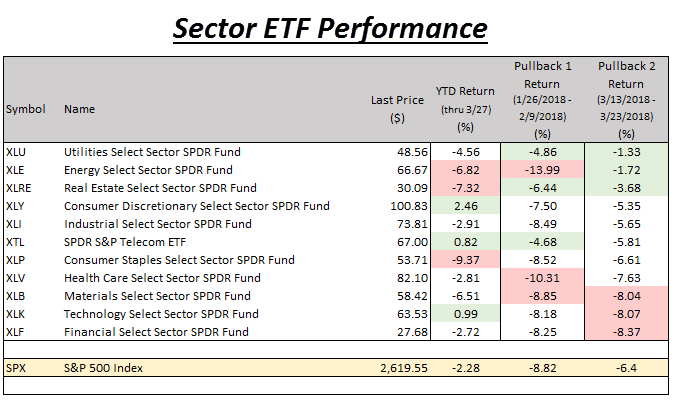 From Nasdaq Dorsey Wright  www.dorseywright.com
5.MLP Sell Off
AMLP MLP ETF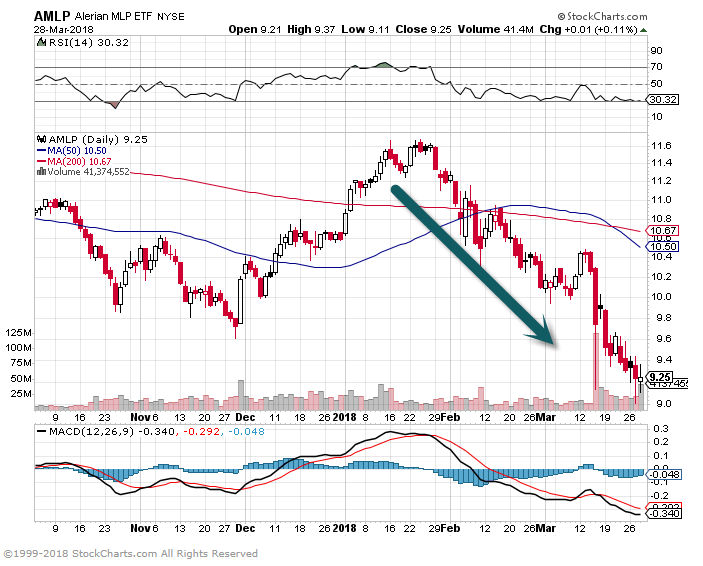 What's Behind The MLP Sell-Off?
March 28, 2018
Sumit Roy
This month, the Federal Energy Regulatory Commission (FERC) ruled that certain master limited partnerships (MLPs) may have to reduce the amount that they charge their customers. The news triggered a knee-jerk sell-off in the already-beaten-down MLP space, pushing the group closer to its 2016 lows.
To get the latest read on what is going on with MLPs, ETF.com sat down with Jeremy Held, senior vice president and director of research at ALPS Advisors, issuer of the Alerian MLP ETF (AMLP), the world's largest MLP exchange-traded fund, with $8.3 billion in assets under management. Held says that the impact of the FERC ruling is likely to be negligible and that the recent drop in share prices is a buying opportunity.
http://www.etf.com/sections/features-and-news/whats-behind-mlp-sell
6.The Largest Companies in Every State.
Mapped: The Largest Company by Revenue Headquartered in Every State
A lot of people look for jobs at big companies because they can be great places to build a solid career. Unfortunately, if we measure the size of a company in terms of annual revenue, there may not be a lot of options in the state where you live. Check out our new map to compare the size of the largest companies headquartered in every state.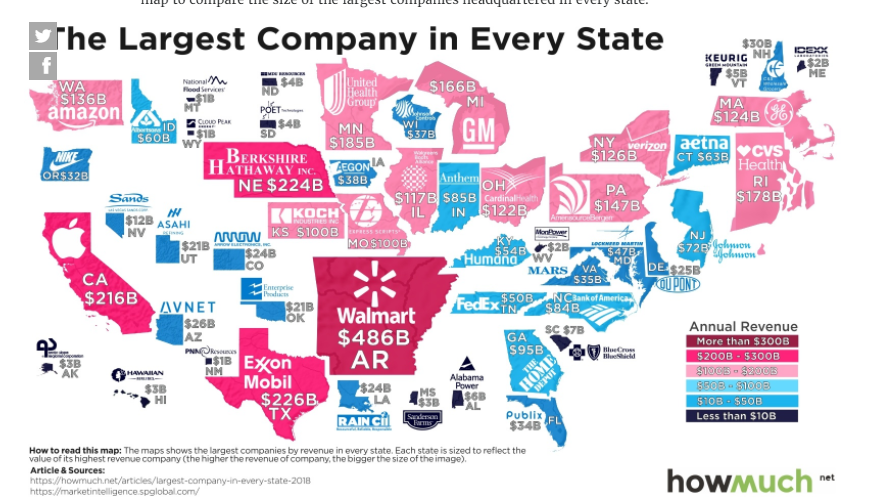 https://howmuch.net/articles/largest-company-in-every-state-2018
Found at Barry Ritholtz Big Picture Blog http://ritholtz.com/
7.Seven Secrets of Successful Speculation (Part 2)…Part 1 was in last week's Top 10
by Nicholas VardyThursday, March 22, 2018
The theme of the 20th Annual Investment U Conference in Las Vegas last week was "How to Master the Art of Intelligent Speculation."
As I promised Tuesday, here's the rest of my take on the subject of "investing" versus "speculation."
Secret No. 4: Successful Speculation Is 100% Psychology.
In Secret No. 3, I wrote that trading coach Van Tharp believes bet size accounts for 60% of your trading success, exits account for 30% and entries – or what you bet on – account for a mere 10%.
Tharp also writes that psychology accounts for 100% of your success as a speculator.
So how does Tharp reconcile this apparent contradiction?
The importance of your psychology is paramount because it doesn't matter what rules for speculation you have developed if you don't follow them.
That also explains why some people are better suited to speculation than others.
Just as 7-foot-tall basketball players have an advantage over their 5-foot-6 counterparts…
You're much more likely to be a successful speculator if you have a particular personality type.
Specifically, Van Tharp's Investment Psychology Inventory Profile of thousands of traders over 30 years shows that 45.6% of the successful ones are INTJs (Introverted, Intuitive, Thinking,  Judging) on the Myers-Briggs personality type indicator.
Yet INTJs make up only 2% of the general population.
Physical attributes also play a role.
Studies indicate that if you get a high dose of testosterone in your mother's womb, your ring finger will be longer than your index finger.
John Coates of Cambridge University has shown that that "not only did traders with long ring fingers make on average six times more money, they survived more years in a cut-throat world which weeded out the weak and unprofitable."
(Just try teaching that bit of information at a top U.S. business school.)
Secret No. 5: Think Differently.
It pays to think against the herd.
Hedge fund great Michael Steinhardt talks of "variant perception" – a perception about a market that varies from the consensus.
Similar insights allowed Sir John Templeton to make $80 million by shorting internet stocks in 2000 just before the dot-com bubble burst.
Templeton called it "the easiest money I ever made."
These Simple Technical Analysis Tools Are Vital to Your Investing Success
Technical analysis is the study of price and volume activity in the stock market, and there are three powerful tools that will help you find buying opportunities in the market.
Any investor can become a technical analysis pro by using these simple buy and sell indicators.
We've also done the research for you and found five stocks hitting these urgent buy signals right now.
Secret No. 6: Successful Speculation Is a Mess – or a Masterpiece.
Successful speculation is chaotic.
As one of George Soros' colleagues explains…
[Soros is] the first one to tell you that sometimes his actions… look like the most rookie, odd-lot, wrong way kind of thing, selling at the lows, and buying at the highs. But it's much easier to understand in light of his avowed mission: to be able to come and fight another day. He says: "I don't want to wake up broke."
Bruce Kovner uses a more elegant metaphor of composing a piece of art…
This is a complex game we are in, and the edges are subtle. It's not so much about being right all the time but rather about being able to adapt and find a strategy that works. I'm wrong a lot. While the analogy may be pushing it, you can think of a painter painting many brush strokes. He can be wrong a lot; no one stroke is right or wrong. We are constantly painting a picture.
The lesson?
Big profits come at the price of big ups and downs…
And the process ain't pretty.
Secret No. 7: Market Analysis Is Irrelevant.
The last secret of successful speculation is the same as Secret No. 1.
Fans of Soros admire him for his prescient insights into global financial markets.
As Barton Biggs wrote when endorsing Soros' book The Alchemy of Finance…
[This] is a seminal investment book… It should be read, underlined, and thought out page-by-page, concept-by-idea. He's the best pure investor ever… probably the finest analyst of the world in our time.
Yet Soros' own son Robert had a different view…
My father will sit down and give you theories to explain why he does this or that. But I remember seeing it as a kid and thinking, Jesus Christ, at least half of this is bullshit, I mean, you know the reason he changes his position in the market or whatever is because his back starts killing him. It has nothing to do with reason. He literally goes into a spasm, and it's his early warning sign.
Soros' secret is less his ability to forecast the market than his willingness to correct his mistakes.
So learn – and put into practice – these secrets of successful speculation…
And you'll develop an edge few speculators can rival.
Good investing,
Nicholas
Investment U
https://www.investmentu.com/article/detail/58485/seven-secrets-successful-speculation-part-2#.WrzSaC7wbIU
8.I Was Lucky Enough to Win Philadelphia's Influencers of Finance …Under "Wealth Managers"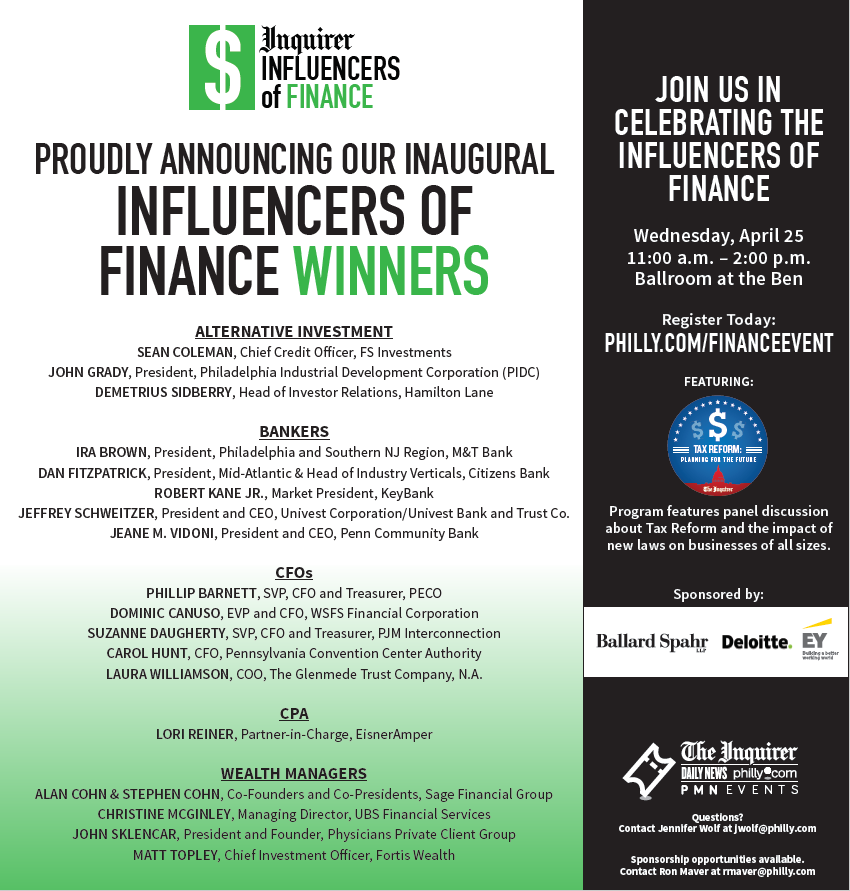 Link to event:
https://pmnevents.philly.com/e/influencers-of-finance
9.Read of the Day…Loyola Chicago Guards Have Been Playing Together Since Third Grade.
NYT
Loyola-Chicago Teammates Have Been Winning Together Since Third Grade
On College Basketball
By JOE DRAPE MARCH 27, 2018
Continue reading the main story
Loyola-Chicago's Clayton Custer, left, and Ben Richardson have been teammates since third grade.CreditKevin C. Cox/Getty Images
Ben Richardson and Clayton Custer look exactly like what they are: a couple of gym rats. As kids, they slung on their backpacks and dribbled basketballs on their way to school. They wore each other's Kansas driveways smooth shooting thousands of jumpers and playing countless one-on-one games.
Richardson and Custer first became teammates as third graders, with jerseys that hung to their knees, a time when both needed every ounce of their little boy strength just to get the ball to the rim. They won their first national title as fourth graders, at a youth tournament in Indiana. They picked up another as sixth graders.
At Blue Valley Northwest High School in Overland Park, they went 94-6, played in four straight Kansas state championship games, and won titles in their junior and senior years. Earlier this month, Richardson and Custer, still teammates, but now in the maroon and gold of Loyola-Chicago, led the Ramblers to the Missouri Valley Conference tournament title. Afterward, as they bounced giddily into the locker room, their coach, Porter Moser, said he overheard one saying to the other: "Man, can you believe this? We've won since we were in third grade."
They will arrive at the Final Four in San Antonio this week only two victories from their biggest title yet. If Sister Jean Dolores Schmidt, the team's 98-year-old chaplain and scout, is the soul of the Loyola Ramblers basketball team, then Richardson and Custer are its heart.
Watch Richardson, who Loyola claims is 6-foot-3, and Custer, listed as a credulity-testing 6-1, get off the team bus and you might mistake them for student-managers.
Richardson, right, and Custer playing for Blue Valley Northwest High School in Overland Park, Kan. They went 94-6 in high school, and won two state titles. CreditBlue Valley Northwest Publications
"We are not specimens, we are not imposing," conceded Custer who, the morning Loyola defeated Kansas State to earn its trip to the Final Four, was handed a cellphone by a young woman who wanted her photo taken with a group of Loyola players. It did not occur to her that Custer, who was named the Missouri Valley player of the year this season, was one of them.
"Being overlooked has been happening to me in gyms since I was a kid," Custer said. "I know we don't exactly look like Division I stars."
Still, neither Richardson nor Custer is surprised that they are on their way to San Antonio to play Michigan on Saturday. As boys, they used to spend the night at each other's homes, staring at the ceiling and talking about playing in the Final Four. But they also put in the years of work that finally got them there.
Ed Fritz, their first coach, said that he remembers seeing them as boys pedaling their bikes around Overland Park, a sedate suburb of Kansas City, Mo., looking for an open gym or a playground. When he became their coach at Blue Valley Northwest, he was the one who fielded calls from the high school's night staff asking if it was O.K. for Richardson and Custer to be shooting in the gym, and he was the one who would find them back there most mornings, already on the court before he arrived.
But what tickled him the most were the days when they played a team sponsored by one of the big shoe companies, squads with bigger names and, often, bigger players.
"We didn't scare anybody walking into the gym," Fritz said, "but they knew who we were and respected us by the time we walked out of there."
As successful as Richardson and Clayton were in high school, however, they failed to capture the attention of the major college powers, especially the one every player from their area wants to come calling: Kansas. The Jayhawks' campus is barely an hour from Overland Park, and Custer and Richardson thought of Allen Fieldhouse the same way young musicians think about Carnegie Hall.
The morning after K.U. won the 2008 N.C.A.A. tournament, Richardson and Custer found a court to re-enact one of the most famous plays Jayhawks history: Sherron Collins's dribble and handoff to Mario Chalmers for the game-tying 3-pointer against Derrick Rose and Memphis. Kansas won the game in overtime.
"That one was definitely one we did a bunch," Richardson said. "The handoff coming off the screen — we took turns hitting that shot."
https://www.nytimes.com/2018/03/27/sports/final-four-ncaa-tournament-loyola-chicago.html
10.These 5 signs mean you're far more successful than you realize
Marcel Schwantes,
Sometimes, we might not feel super successful.
But that doesn't mean it's true.
There are a number of ways you can be successful without even realising it.
Success is tricky and hard to define because it differs from individual to individual. My mother, who never held a corporate job her whole life, achieved great success as a homemaker raising kids and creating a nurturing home environment.
Others will define it through a fat bank account, number of deals closed, books written, races won, or promotions received. Warren Buffett himself defined success by one's ability to say "no" to as many things as possible.
And sometimes success alludes us because we're not even aware of it. Truth is, we all have abilities, strengths, traits, and gifts that are successful habits in the here and now, which we fail to recognise.
So many of us go about life measuring ourselves by the impossible "success" standards of others. We may wrongly perceive that success is "out there," when it's already within us or within our reach.
Worse, because we lack clarity about what success means in the context of our daily lives, we are often misled into believing we are failures.
If you're unsure where you stand, ask yourself if any of these success habits apply to your life right now? If so, I'm here to suggest to you that you're already way more successful than you think you are. For example:
You are successful because you surround yourself with successful people.
Warren Buffett defines one of the keys to his success like this: "It's better to hang out with people better than you. Pick out associates whose behavior is better than yours and you'll drift in that direction."
This lesson is practiced by successful people everywhere. They know that when they soak up the knowledge and learn the behaviors of other sages further down the path, it will only make them better and elevate their own success.
You are successful because you help other people succeed.
Adam Grant, top-rated professor at Wharton business school and best-selling author of "Give and Take," "Originals" and "Option B," tells CNBC Make It: "The most meaningful way to succeed is to help other people succeed."
If that's anti-climatic for you, consider the evidence. Grant has observed in his studies that great leaders think bigger than themselves. They advance a vision or an idea or a project that's "going to affect a lot of people."
Grant explains further: "[Leaders] who put other people first, they end up inspiring a different kind of effort, a different level of motivation, and a greater sense of belongingness."
He adds, "The ones that I admire the most, who also tend to produce the best results, are the ones who are givers not takers — who say 'look, it's not all about me.'"
You are successful by virtue of the way you communicate.
Being able to communicate effectively is one of the best life skills you can develop. Think about it: people that can masterfully communicate their thoughts, feelings, ideas, concerns and wishes are better equipped to succeed on so many levels. They are…
… able to manage or avoid conflict
… able to negotiate win-win scenarios
… able to influence others
… able to increase their ability to collaborate at a high level.
That's what successful people do.
You are successful because you love what you do and know where you're headed.
All successful people, regardless of how much or little money they make or have made, have a purpose that they can't help but pursue. Perhaps for you, it's the thing you absolutely love to do and that makes you come alive.
If you know what that is for you, and you're good at it, you're probably on the fast track toward your ultimate goal, whatever that is for you. If so, you are successful.
Apple CEO Tim Cook recently said, "Do what you love, and put your whole heart into it, and then just have fun."
Even if there are low monetary rewards, you would probably do it anyway because of your love for it.
Cook understands this deep down. "My advice to all of you is, don't work for money—it will wear out fast, or you'll never make enough and you will never be happy, one or the other," Cook told students at the University of Glasgow last year after receiving an honorary degree from the school.
You are successful because you realise life is about the journey, not the destination.
Successful people don't give up so easy. When they experience setbacks, it's all part of the journey of experimenting, learning, growing, and failing forward. When they do stumble and fall over and over, they don't bicker and yell at the world with fist in the air, "This is too freakin' hard, I don't deserve this!"
They are able to see through the hard moments, bounce back from the discouragement, and accept the next challenge with determination and resolve. They have an undying support system of people that passionately believe in their conviction. With every win — however small or large — they celebrate and party like it's 1999. They find joy in the little things as they try and try again. And along the way, they can look over their left shoulder at what they've achieved and proudly proclaim, "I am, indeed, successful."
Read the original article on Inc.. Copyright 2017. Follow Inc. on Twitter.
http://www.businessinsider.com/signs-you-are-far-more-successful-than-you-realise-2018-3