1.Trump Considers Delay in Mortgage Payments…Look for Massive Rental Relief.
Debt Deferrals – Trump Considering Plan to Let Homeowners Delay Mortgage Payments– "We're thinking of the potential of several months of payments for a lot of homeowners" says the MBA. Also NYers with student debt, medical debt & other state-referred debtwill have payments frozen for at least 30 days. Dave Lutz at Jones Trading.
Since 2008 The U.S. has become renter nation.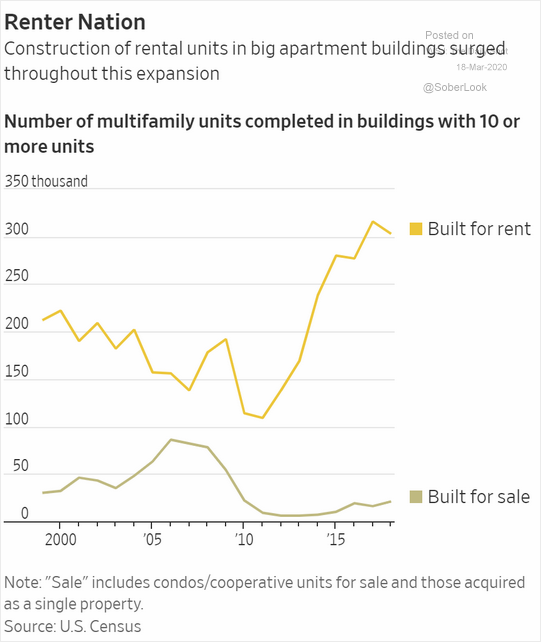 WSJ
https://blogs.wsj.com/dailyshot/2020/03/18/the-daily-shot-cracks-appearing-in-the-us-labor-market/
2.The Volatility Index VIX Broke 2008 High.
The Volatility Index (VIX), also known as the "fear index," ended today at 82.69. Since its inception in 1990 it has never had a higher close.
November 20, 2008.
Found at Abnormal Returns Blog www.abnormalreturns.com
3.This is Most Likely Past Correction to Recession But Here is History Since 1980 of Both.
LPL BLOG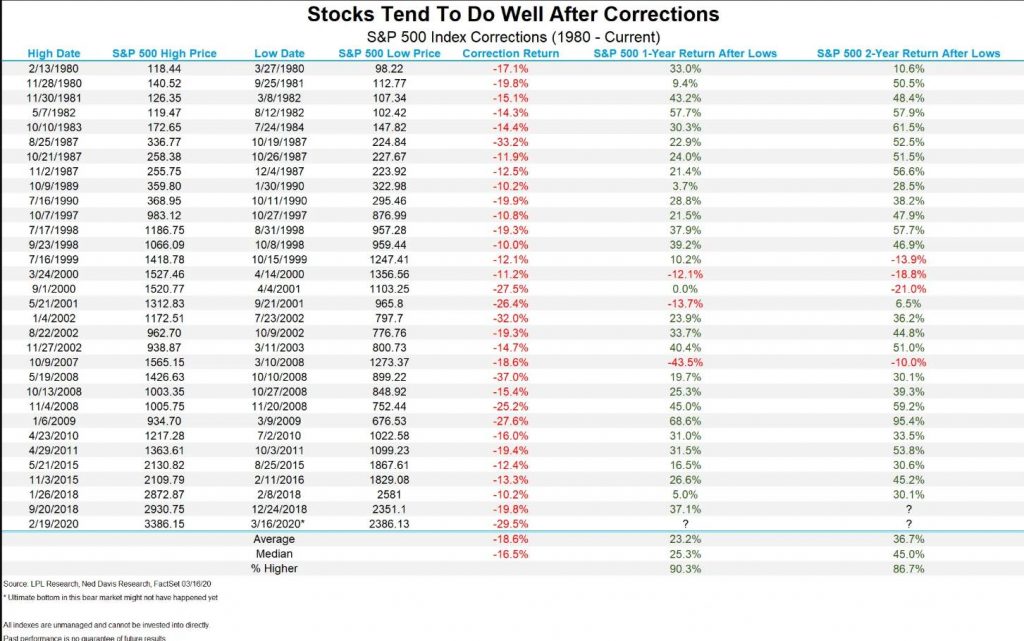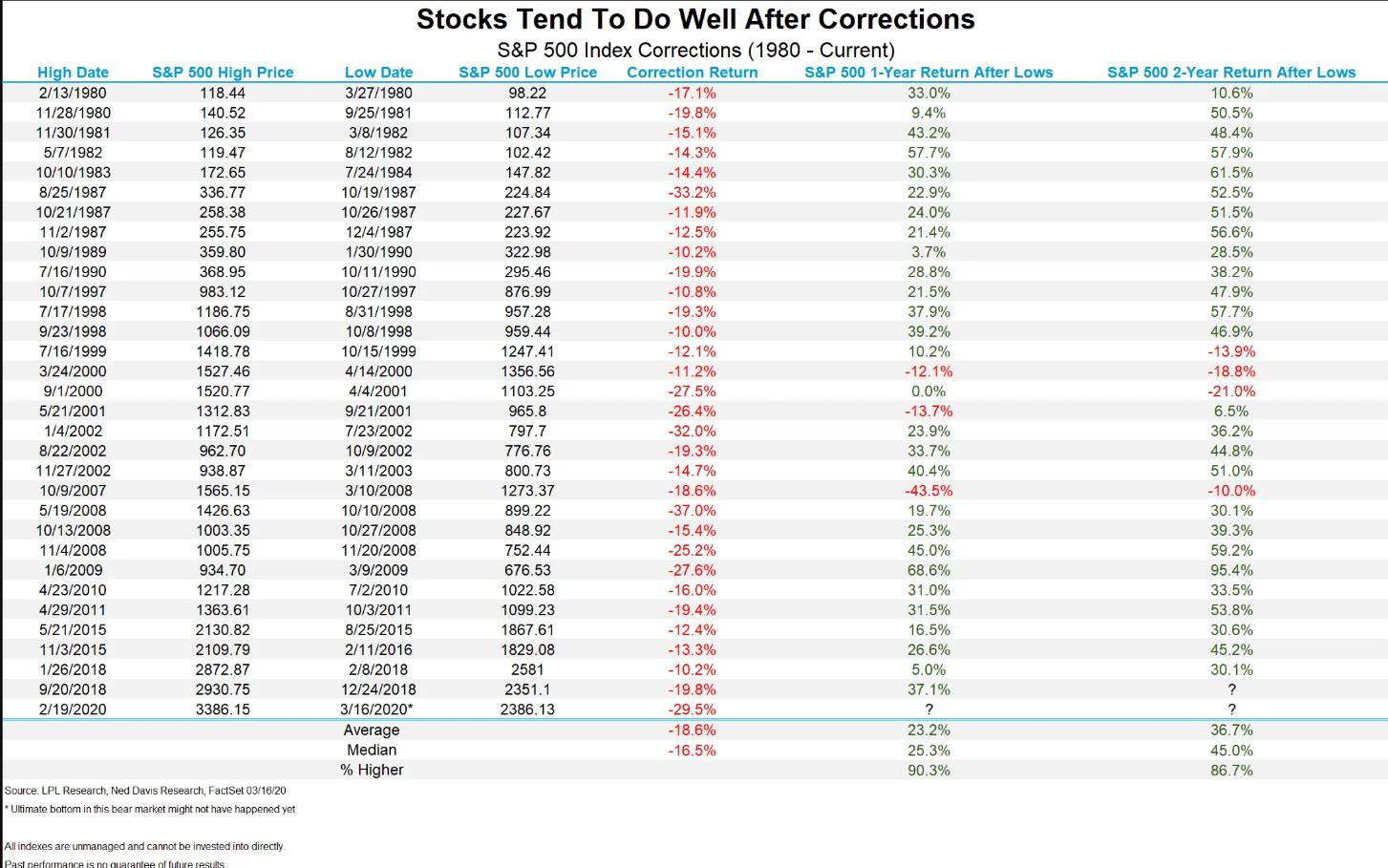 As shown in the LPL Chart of the Day, since 1980, there have been 31 other 10% corrections or more for the S&P 500, according to data from our friends at Ned Davis Research. We'd like to stress, we don't know when this weakness will end, but if we are close, the average return after a correction ends has been more than 23% on average and higher more than 90% of the time.
Looking To The Other Side of The Bear-Posted by lplresearch
4.How Long to Get Your Money Back in Bear Markets?
Ben Carlson
The question is not only how bad can it get but how long will it take to make our money back?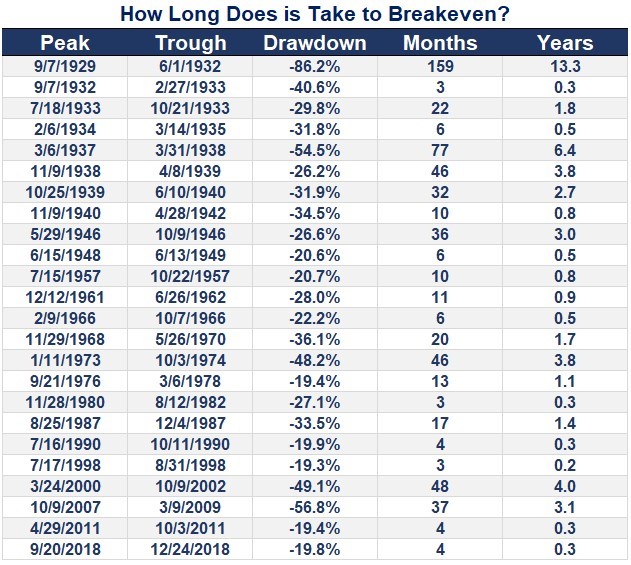 Here's how things look historically in terms of erasing the bear market drawdown completely:
https://awealthofcommonsense.com/2020/03/how-long-does-it-take-to-make-your-money-back-after-a-bear-market/
5.Core Bonds Doing Their Job
Capital Group Blog
The recent drop in equities and rise in price of 10-year Treasuries is a timely reminder that high-quality bonds can help to stabilize investor portfolios against losses during volatile periods. In times of great uncertainty, investors should look to bond funds first and foremost as a way to diversify their portfolio and preserve capital. But not all bonds or bond funds are created equal. There are many broad bond funds which own significant amounts of lower quality bonds that may not provide the protection and stability investors need when risk assets decline.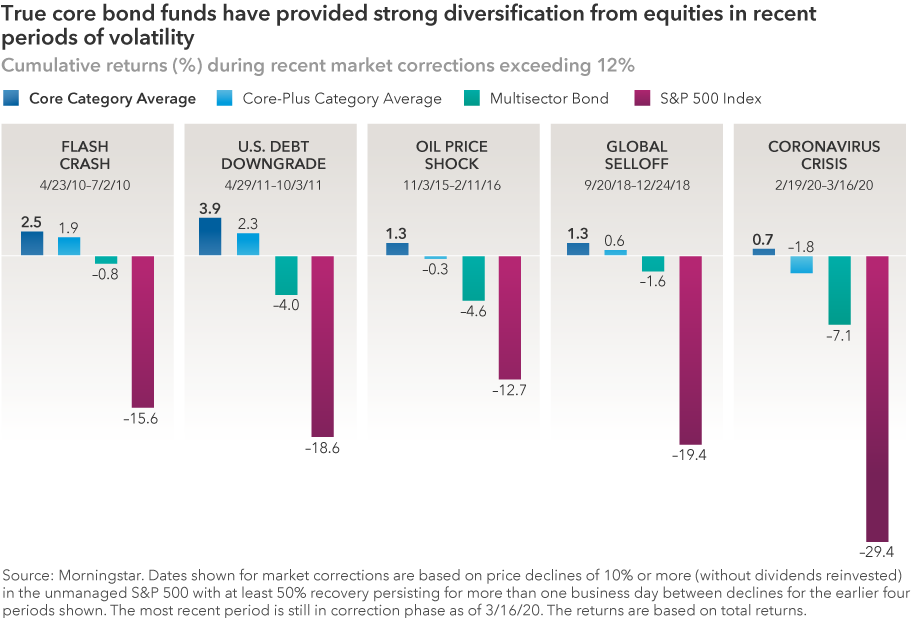 Pramod Atluri is a fixed income portfolio manager at Capital Group. Mike Gitlin is head of fixed income at Capital Group.
https://www.capitalgroup.com/individual/insights/articles/coronavirus-fixed-income-questions.html
6.More Aggressive Bond Offerings Witnessed 3 Standard Deviation Moves Within Three-Day Period.
Many closed end funds and corporate bonds moved three standard deviations within a three-day period. For context, year to date, PFF (preferred ETF) is down -19.6%, HYG (US high yield corporate ETF) is down -13.6%, and LQD (US investment grade corporate ETF) is down -6.41%. We witnessed many municipal closed end funds move lower by 8% to 15% in price in one day and only briefly stabilize toward the end of last week. https://bramshillinvestments.com/
PFF-Preferred ETF Drops Below 2018 Correction Levels
High Yield Bonds Thru 2018 Levels to Downside.
7.U.S. Dollar Initially Dipped Now Surging to New Highs.
U.S. Dollar making new highs as U.S. remains safety trade for the world.
8. Number of employees in the restaurant industry in the U.S. 2010-2018..More Than Manufacturing.
Published by S. Lock, Jun 27, 2019
This statistic shows the number of employees in the restaurant industry in the United States from 2010 to 2018. The number of people employed in the U.S. restaurant industry reached to 13.37 million as of May 2018.
https://www.statista.com/statistics/203365/projected-restaurant-industry-employment-in-the-us-since-2001/
9.Stimulus Will Keep Coming…Unemployment Search Activity Below.
Online search activity related to filing for unemployment has soared in recent days.
Source: Google Trends
Below are some recent trends (since last July).
Source: Google Trends
Source: Google Trends
https://blogs.wsj.com/dailyshot/2020/03/18/the-daily-shot-cracks-appearing-in-the-us-labor-market/
Mnuchin warns virus could yield 20% jobless rate without action
Josh Wingrove, Saleha Mohsin and Jennifer Jacobs
Treasury Secretary Steven Mnuchin raised the possibility with Republican senators that U.S. unemployment could rise to 20% without government intervention because of the impact of the coronavirus, according to people familiar with the matter.
Mnuchin discussed the scenario with the lawmakers on Tuesday as he proposed an economic stimulus of $1 trillion or more.
He told the senators that he believes the economic fallout from the coronavirus is potentially worse than the 2008 financial crisis.
Extraordinarily high unemployment, he said, is a possibility if lawmakers don't swiftly provide financial assistance to wage workers and small- and medium-sized businesses.
Earlier: Fed Unleashes Emergency Loan Facilities as U.S. Braces for Virus
"During the meeting with Senate Republicans today, Secretary Mnuchin used several mathematical examples for illustrative purposes, but he never implied this would be the case," Treasury Department spokeswoman Monica Crowley said.
For many lawmakers, plunging stock prices and an abrupt drop-off of consumer spending during a time of social distancing has crystallized the need for Congress to act quickly and boldly. The U.S. Federal Reserve has already used much of its toolbox to shore up the economy — bringing rates close to zero and announcing crisis-era lending programs — leaving policymakers to ease the extent of the damage with fiscal stimulus.
Dramatic Economic Turn
The unemployment scenario raised by Mnuchin would be a dramatic turn from February, when U.S. employment surged. The jobless rate fell back to a half-century low of 3.5% as average hourly earnings climbed a steady 3% from a year earlier.
But since then, the coronavirus has continued to spread in the U.S. On Tuesday, there were more than 6,200 cases in the country and 105 deaths, according to a tally by Johns Hopkins University.
The Trump administration is discussing a stimulus plan that could include direct payments of $1,000 or more to Americans.
Mnuchin pitched $250 billion in checks to be sent at the end of April with a second set of checks totaling $500 billion four weeks later if there's still a national emergency, according to a person familiar with the matter.
https://www.msn.com/en-us/finance/markets/mnuchin-warns-virus-could-yield-20-25-jobless-rate-without-action/ar-BB11kulX
10.Simple Steps You Can Take to Boost Your Immune System on a Daily Basis
Washing our hands is important, but it's also vital that we commit to building additional preventive healthy habits.
By
· Marina Khidekel, Head of Content Development at Thrive Global
We need to expand the conversation about coronavirus to include a crucial aspect of health: proactively strengthening our immune system. "This is one of the best things we can do to protect ourselves," says Arianna Huffington, Thrive Global's Founder and CEO. Washing hands is of course critically important, but it's also deeply important that we commit to building healthy habits: prioritizing sleep, hydration, and nutrition, and reducing our stress.
We asked our Thrive community to share the small steps they take on a regular basis to boost their immune systems and destress. Which of these will you try?
Carve out time for rest
"Being a working mom and startup founder, my life is very hectic. I institute a strict 'no work on the weekend' rule, which is critical to regenerate and provide myself rest away from the demands of my business. The break improves my health, and allows me to truly be fully present with my family."
—Jessica Korthuis, founder and CEO of Sohuis, Atlanta, GA
Stay hydrated
"When I see that there's a cold going around or the weather is changing, I make sure to drink water and hot liquids throughout the day. If I want to feel like I've gotten a boost, I make sure to eat well and go heavy on the fruits and veggies. Somehow it seems like if you nourish your body with liquids and healthy foods, everything else will follow."
—Maria M., content marketer, Moscow, Russia
Spend time outdoors
"To boost my immune system, I make the effort to spend more time in nature. This is a big one in my book. There are thousands of studies that show how nature improves our mental and physical health. Spending time outside, especially among trees and plants, can boost our well-being, which helps us relax and better cope with stress."
—Maureen K. Calamia, feng shui author and consultant, Saint James, NY
Listen to a funny podcast before bed
"Even though I can watch the news all day, I am trying to stay away from watching at night and just enjoying the plethora of awesome podcasts out there. Currently, Brittany Furlan's 'Worst Firsts' is my favorite. I love to laugh and she is a hoot."
—Shelby Sudnick, relations coordinator, Wilkes Barre, PA
Prioritize sleep
"Sleep is the most important way I boost my immunity. Reading a physical book until I feel drowsy is the most effective way I've found to drift easily into sleep."
—Lynne Everatt, writer, Toronto, Canada
Avoid catastrophizing
"I make sure to be aware of the difference between taking something seriously and worrying. Fear is a natural response to real and present danger. You perceive an imminent threat and it demands immediate action. Worry, though, arises as we respond to threats that are more vague or off in the future. Instead of taking action, we catastrophize about what might happen and what, if anything, we should do. It's important that we listen to expert recommendations, but once you've taken those actions, you can relax, have a snooze, or go for a walk. Anxiety only makes you feel worse, raises your blood pressure, and weakens your immune system."
—David Stone, author and speaker, Cape Coral, FL
Choose organic, fresh foods
"Keeping up my healthy habits to boost my immune system has kept me well after a long battle with an autoimmune disease. I buy healthy, organic food whenever possible, choose plant-based options, and incorporate fresh cold-pressed juice into my diet. I also activate my immune system with exercise, laughter, and mindfulness."
—Pollyanna Lenkic, executive coach, Melbourne, Australia
Carve out time for movement daily
"Regular exercise helps my body and mind feel better and more relaxed. Even when I feel exhausted or lazy, I make sure to get myself moving, take an easy walk, stretch, or do yoga at least once a day. When I stay consistent, my body feels rejuvenated and ready to fight anything that may come my way."
—Isabelle Bart, marketing director, Irvine CA
Drink hot water with lemon
"Recently, my new habit is drinking hot water with fresh lemon juice and honey, either in the morning or at night. The lemon juice has Vitamin C, and the honey has antibacterial properties — all of which help boost my internal health. It's also a comforting drink for me because I enjoy the taste and the knowledge that I'm doing something good for myself. It's a small habit, but one that has many benefits for me, both physically and mentally."
—Jenna Tidd, writer and proofreader, Cheyenne, WY
Give yourself daily "calm time"
"To stay healthy, I ensure I get seven hours of sleep, do some form of physical exercise — pilates, cardio, weights, or golf — eat fruits and vegetables, take a multivitamin, and wash my hands. I also meditate daily, even for just three minutes, to give myself some 'calm time.'"
—Michael F. Hooper, general manager, Miami, FL
Eat foods rich in probiotics
"Greek yogurt and probiotics are my favorite daily immunity boosters. You can consume them fast, especially if you are super busy like myself."
—Shelby Sudnick, relations coordinator, Wilkes Barre, PA
Start your day with gratitude
"To help boost my physical and mental well-being, I wake up 30 minutes before I am supposed to get up on weekdays for a quick yoga flow, a quiet cup of coffee, and a moment of thankfulness. I set my intention for the day and make a conscious effort to slow down and be present."
—Jessica Korthuis, founder and CEO of Sohuis, Atlanta, GA
Follow the "KISS" method
"The number one thing I do to boost my immune system is follow the KISS method, which stands for, 'Keep It Super Simple.' The less stress you have in your life, the easier it is to maintain a great immune system. Abdominal breathing constantly throughout each day is a great basis for this, but I also know exactly what I need to do to constantly refuel my energy tank. The combination of these things means that my system is more relaxed on a regular basis, which also makes it easier for me to stay well."
—Bronwen Sciortino, author and speaker, Perth, Western Australia
Try the "three S's"
"To stay healthy, I follow the 'three S's': sunshine, sleep, and socialization — preferably in person, but a video call will do!"
—Alisha C. Taylor, engineering program manager and life coach, Greenville, SC
Take time each day to reset
"In order to be as resilient as possible, I manage my stress by making sure to take time to reset daily — which for me, means going for a walk, taking time to meditate, or calling a friend. I also take active steps to practice self-compassion and limit my negative self-talk so I create a pattern of reminding myself that I'm on my own side. The more supported we feel, whether from ourselves or others, the more resilient we can be."
—Lisa Abramson, executive coach, Silicon Valley, CA
Embrace healthy habits as a family
"As a working mom of five, life has always seemed a little stressful. For the next two weeks, my children are home from college, high school, and grade school. We will be making a conscious effort to get outside more to breathe in the fresh air, drink more water and tea, fuel with wholesome foods to provide the vitamins and minerals our bodies need, and most importantly, get more than adequate amounts of sleep to ensure we have the strength to power through the stresses that lie ahead."
—Helen Agresti, dietitian, Erie, PA
Do you have a go-to tip that helps you stay healthy? Share it with us in the comments!
Follow us here and subscribe here for all the latest news on how you can keep Thriving.
Stay up to date or catch-up on all our podcasts with Arianna Huffington here.
— Published on March 17, 2020
https://thriveglobal.com/stories/how-to-boost-immune-system-stay-healthy-tips/