1.Traders Now Betting on 2 Rate Cuts in 2019
This chart from TD Securities shows that traders in the fed fund futures market now foresee around two rate cuts before the end of 2019 as heightening trade tensions have stoked worries over the economic outlook. Expectations of easier policy gained ground on Friday after President Donald Trump threatened to wield tariffs against Mexican imports unless the country stemmed the flow of migrants to the U.S. southern border.
Panic-stricken traders now expect Fed to cut rates twice in 2019, this chart shows
Heightened trade tensions underscore worries about economy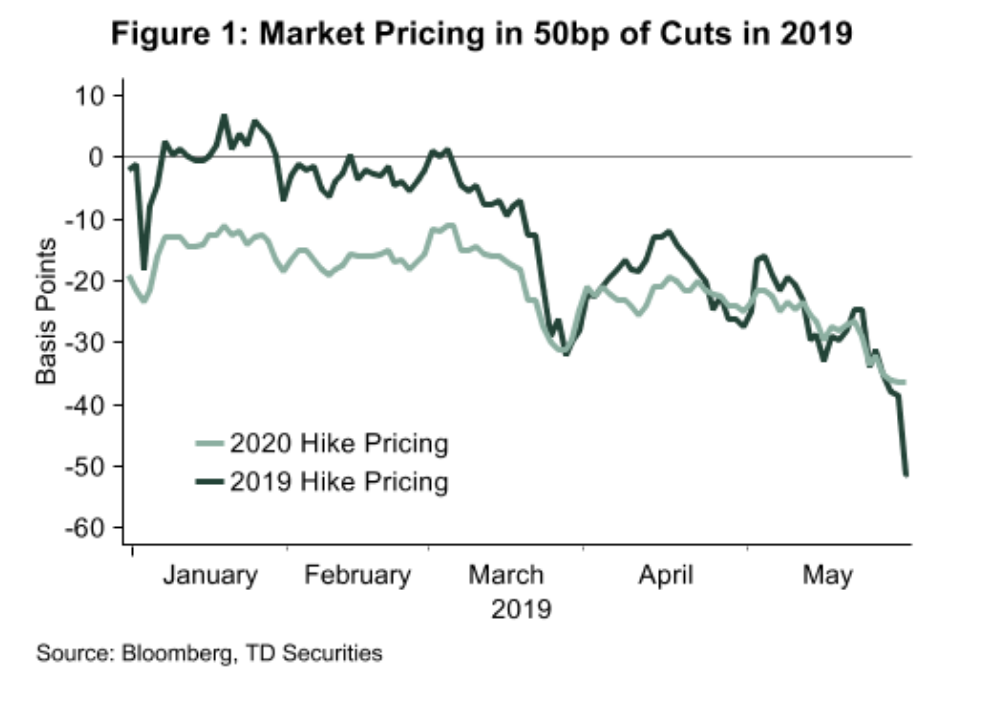 https://www.marketwatch.com/story/panic-stricken-bond-traders-now-expect-two-rate-cuts-in-2019-this-chart-shows-2019-05-31?mod=mw_theo_homepage
2. Typical June Trading: Any Early Gains Tend to Fade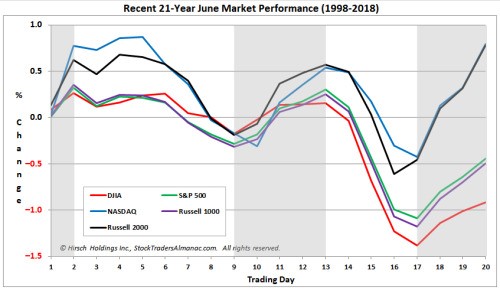 Over the last twenty-one years, the month of June has been a rather lackluster month for the market. DJIA, S&P 500 and Russell 1000 have all recorded average losses in the month. NASDAQ and Russell 2000 have faired better with modest average gains. Looking at the chart above, shaded areas highlight areas of strength during the month. Historically the month has opened respectably, advancing on the first and second trading days. From there the market then drifted sideways and lower into negative territory just ahead of mid-month. Here the market rallied to create a nice mid-month bulge that quickly evaporated and turned into losses. The brisk, post, mid-month drop is typically followed by a month end rally lead by technology and small-cap. This June could turn out better than average as a result of a strong start to the year and weakness in May.
Jeff Hirsch
https://jeffhirsch.tumblr.com/post/185232543663/typical-june-trading-any-early-gains-tend-to-fadeFrom Dave Lutz at Jones Trading
3.Asian Investors Confidence Plunges.
Institutional Investor Confidence Plunges in Asia:  This next one shows the State Street Investor Confidence Index for Asia (State Street builds these indexes off their giant global custodian business, and thus it is based on actual activity by asset managers and institutional investors).  Key point is Asian investor confidence has plunged.  No doubt the trade war is a key source of concern (along with a softer global growth pulse).  Usually investor sentiment should be read as a contrarian indicator, but from first glance these guys seem to have had some luck in buying the trough and selling the peaks.  We'll soon find out if it's different this time…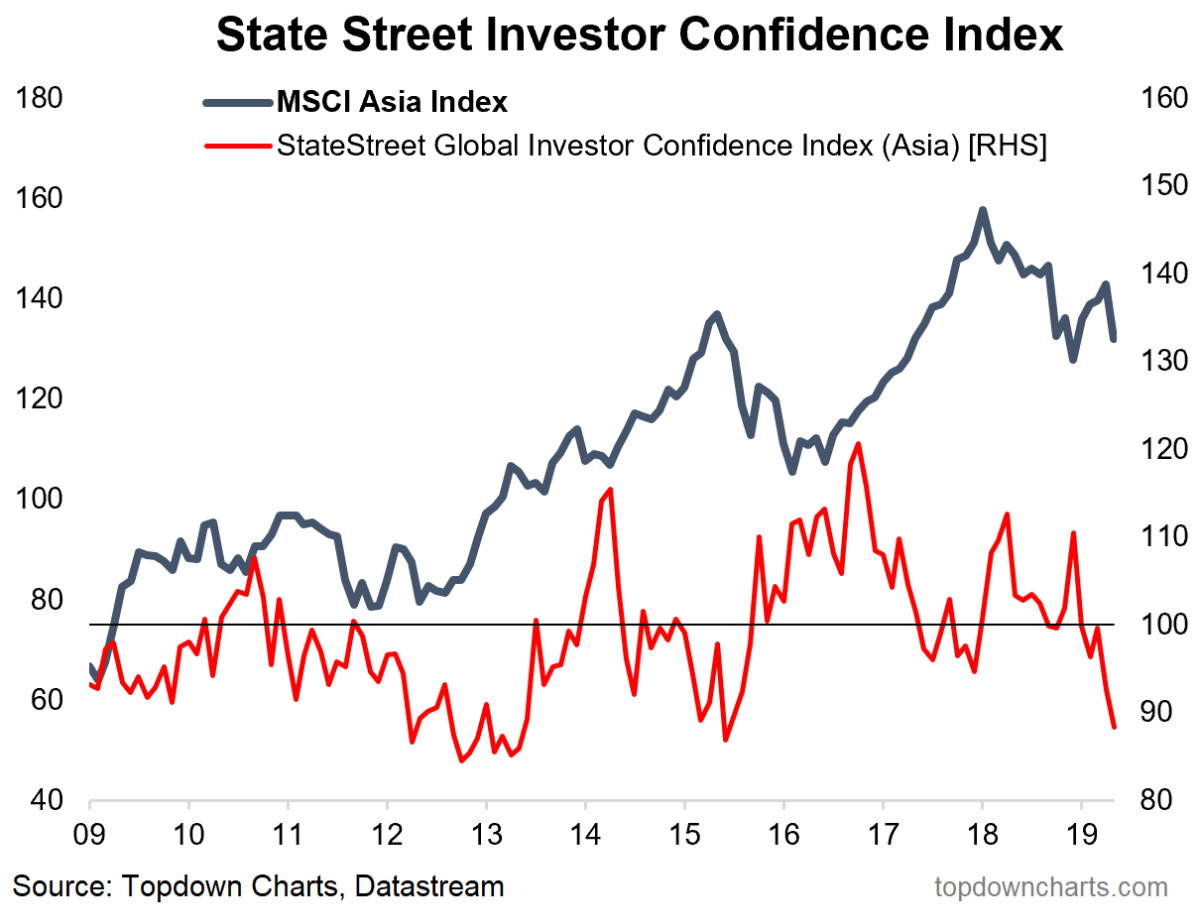 https://www.topdowncharts.com/
4.Above Data Led Me to Hit Up 2 Charts Measuring Global Wealth/Spending
TIF-33% Off Highs…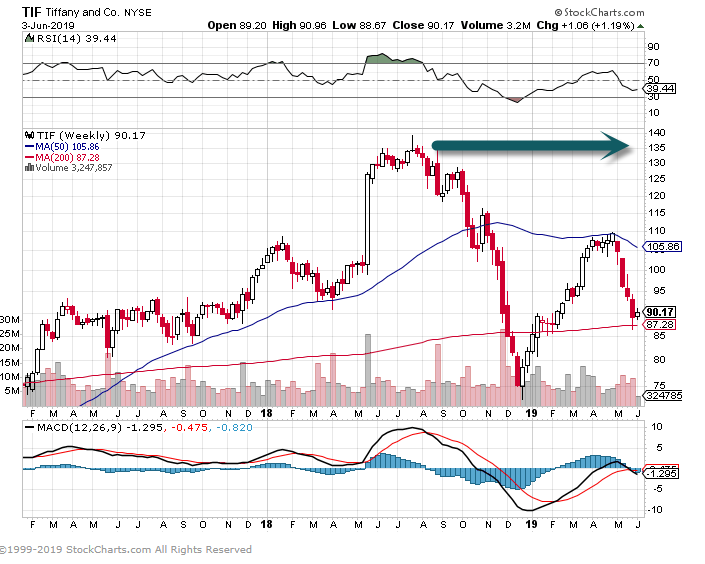 BID-Sothebys almost halfed from highs breaking thru 3 year lows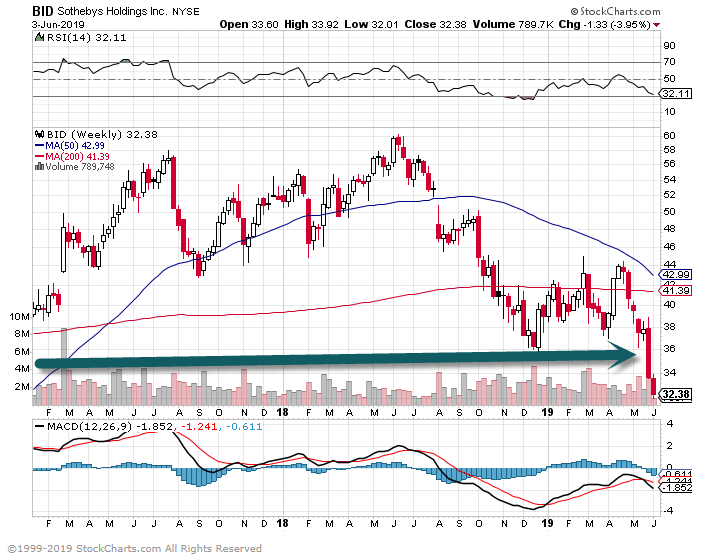 5.The Short Treasuries Trade Dies 1000  Deaths Over Last 10 Years
TBT Ultra Short Treasuries Plunges.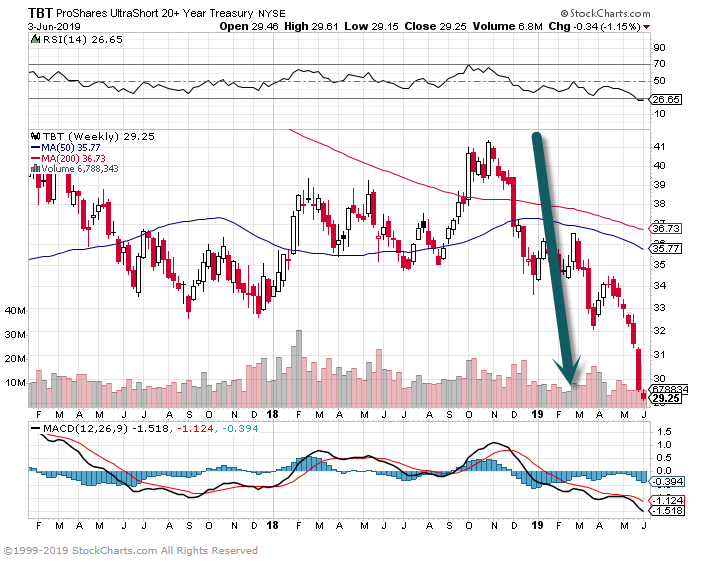 6.FANG PLUS INDEX Up Only 1% YTD
FANG PLUS INDEX -10 Names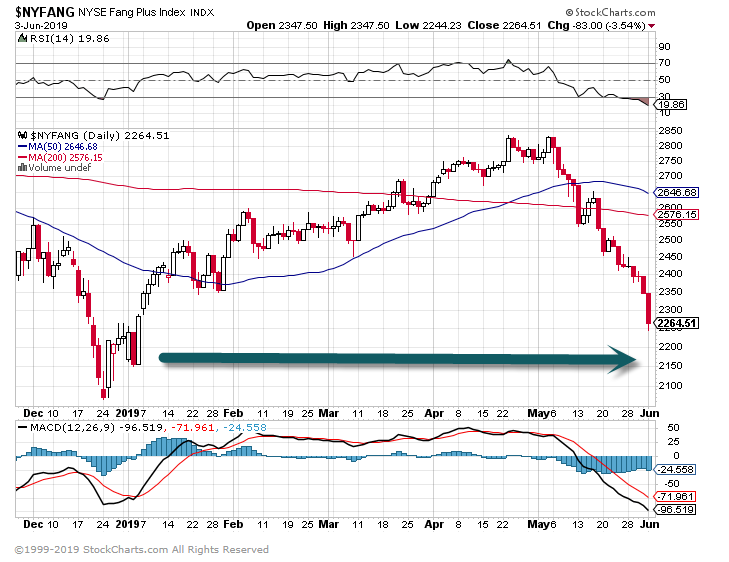 "As a group, this particular index has not fared well. If you look at the NYSE Fang+ index — it's an equal weighted composite of 10 related names, it's the four we know plus stocks like Tesla and Alibaba are in there as well — it's trading at the same level it first traded at back in December of 2017, " Wald said on CNBC's "Trading Nation " on Monday. "It's been a very tough market for this index in what's really been a better environment for high growth in general."
The NYSE Fang+ index tumbled 4% on Monday, and remains just 1% higher for the year. By comparison, high-growth sectors including software, consumer discretionary and communication services have rallied by at least 10%.
FANG stocks just lost nearly $130 billion in market cap, and chart points to more pain
Keris Lahiff@KERISALISON
https://www.cnbc.com/2019/06/04/fang-stocks-just-lost-nearly-130-billion-chart-points-to-more-pain.html
7.U.S. Voice Payments Adoption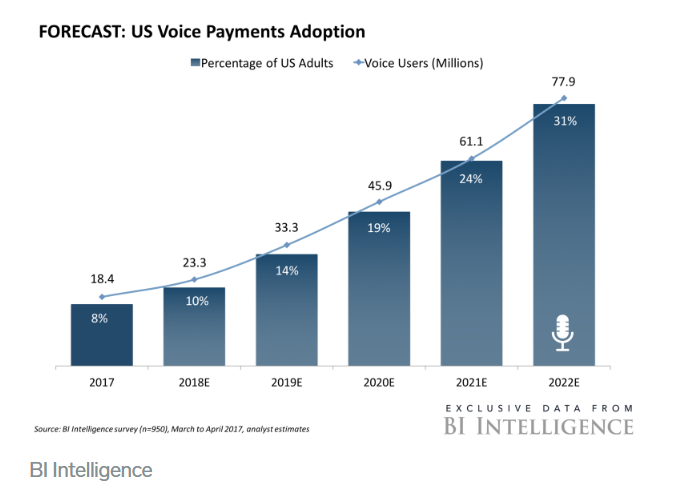 Here are some of the key takeaways from the report:
-Voice payments are catching on — 8% of US respondents to a 2017 Business Insider Intelligence survey said they used voice commands to buy something, send money to a friend, or pay a bill.
-Adoption is set to grow from 8% to 31% of US adults by 2022. Three factors will fuel this growth: an explosion of voice-enabled devices, generational gains in AI, and a strong consumer value proposition for voice payments.
-Payments providers are moving in: Amazon, Apple, Google, and PayPal are part of the growing list of companies making these next-generation payments possible.
–Banks are betting on AI, too. Bank of America, Capital One, USAA, and more are rolling out conversational interfaces to their customers.
-Next-generation voice assistants will blow the current generation away. Voice payments will evolve from clunky and poorly scripted sessions to interactions as natural as one might have with a personal shopper or bank employee.
-Getting to the next generation will not be easy, but the payoff will be large. Grounded in realistic expectations of adoption in the years ahead, providers of voice payments and banking experiences stand to accumulate early advantages by moving in early.
https://www.businessinsider.com/the-voice-payments-report-2017-6
8.U.S. Breakdown on Drop From Peak Housing Permits.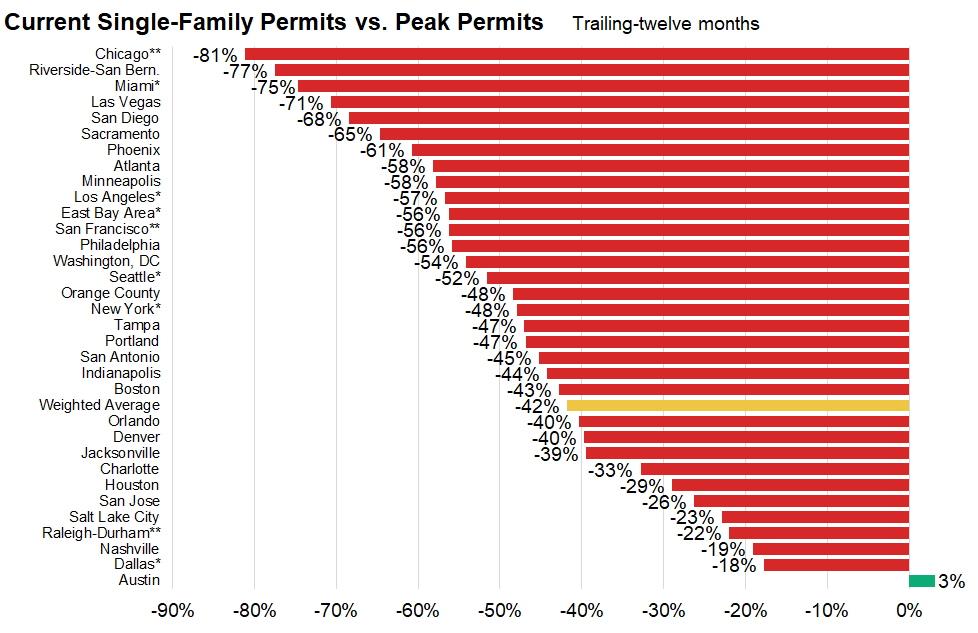 https://www.linkedin.com/in/johnburns7/
9.Follow Up to Yesterday's Weed Comments…MedMen Heading Into Bankruptcy.
DOWN GOES THE GREEN GIANT: MedMen Heads Towards Bankruptcy
With their bold red lettering and flashy designs, MedMen has emerged as a prominent household name in the cannabis industry. Founded by Adam Bierman and Andrew Modlin in 2010, the two cannabis entrepreneurs foresaw a green rush in opening dispensaries and went on to open its first store in West Hollywood. The sophisticated design of their storefronts has intrigued many to step through its doors to make a purchase. When one enters a MedMen location, he is greeted with sleek wooden tables and top-tier products under glass. Each table has assigned tablets that help a user learn everything there is to know about what they are about to purchase. As MedMen grew in popularity, so did the company's model. In December 2018, the company participated in the largest acquisition of the cannabis industry to date with an all-stock transaction of PharmaCann valued at $682 million. The deal doubled the number of states where MedMen had licenses to 12.
Now we all know that not everything that shines is gold; so how well is this first-mover actually doing?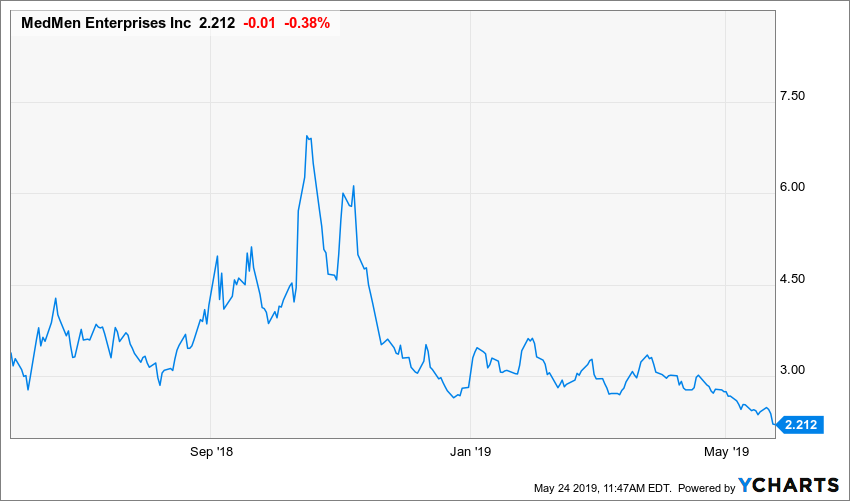 Let's take a glance into the company's fundamentals
For Q4 2018, MedMen reported a revenue of $29.93 million. This is a 28% increase from the previous quarter of $21.46 million. In the same quarter, gross profits had also increased by $6 million or 39% from its previous quarter. So far so good right?
But was their increase in gross profit enough dough to cover the company's expenses? The company had a cash burn of $74 million for the quarter. Let's read that again- $74 million US dollars. Is this sustainable? Let's use a basic financial ratio — The current debt to equity ratio comes in at 0.3567. This fairly low ratio is attractive to retail investors as the company is of less risk to shareholders because of its lower leverage. With a Current Ratio of 1.642, the company can cover its current liabilities with its current assets and proves it is sustainable for now. However, it is evident the company is going to need to take on further financing to keep the ship alive.
So What is Going on Internally?
The Adam and Andrew show
MedMen is facing a lawsuit that was brought upon by the former CFO, James Parker. Mr. Parker alleged that the company violated cannabis regulations in addition to the founders paying themselves millions of dollars off the company's books. Further, the company has been scrambling to find ways to keep up with its cash burn as well. Recently, MedMen moved to take on a senior secured convertible credit facility of up to $250 million, that will have up to 5 tranches. This note comes with a 36-month maturity per tranche as well as 50% warrant coverage. Each tranche is contingent on the company completing milestones of internal growth and expansion. The company has also been seen to be selling real-estate throughout the nation. The company noted that this was to create more liquidity, but the financials clearly paint a better picture.
MedMen also faces the challenge of the average retail consumer. In states where the storefronts exist, consumers are faced with a decision of paying crippling taxes by walking through the front doors or turning to the underground market to purchase the same flower. In order to combat this, the company is planned to roll out a loyalty program to capture recurring customers.
Moving forward, the company is still faced with a steep battle of high cash-burn and skepticism. As you can tell, the company is frantically pursuing methods to clean up its books. As Scarface had said, "Don't get high on your own supply", MedMen is seen to be doing just that. The future does not look bright for this cannabis giant.
Author: Dmitriy Slobodskiy
https://medium.com/@tritonfunds/down-goes-the-green-giant-medmen-heads-towards-bankruptcy-4341263797d9
10.One Unusual Life Tactic With the Power to Increase Your Income, Eliminate Stress, and Transform Your Relationships
by Craig Ballantyne | Jun 3, 2019 | Articles, Self-Improvement
My friend Austin, a driven and (often overly) ambitious young man recently sent me an email that went like this:
"Craig," he said, "I'm working 60-70 hours a week right now but I never feel like I've done enough, and my mind won't allow me to relax. I need your advice on the best habits I can implement to fix this."
Guess how I responded.
Did I tell him to plan his days more carefully? To work on a Pomodoro timer or do an 80/20 analysis of his projects?
Did I rant and rave like a luddite? Instructing him, "Block your internet, trade in your smartphone for a flip phone, and move to Hartford?"
All good guesses (especially the last one), but all wrong.
I'll let you in on my surprising advice in a moment, but first allow me to share a quick lesson…
Over the course of my coaching career, I've discovered that the root cause of most burnout and underperformance does not come from your work.
It comes from what you're not doing outside of your work life.
As ambitious high-achievers like Austin, it's all too easy to get suckered into the non-stop hustle and grind, believing that 12-hour work days and nonexistent weekends are "just a phase" or "a sprint."
We unwittingly lie to ourselves and believe all of this "overtime" will eventually have us sitting under a palm tree while we sip frosty beverages and laugh as the passive income flows in. But you and I both know this doesn't really happen.
Once you taste success it becomes addictive.
There is always another milestone to hit, another book to write, another launch to "crush", and endless reasons why you can't take time off and enjoy what you've accomplished.
And without putting what I call "Non-Negotiable Bumpers and Boundaries" into your schedule, your life will suffer.
But today, I'm going to show you how to fix this.
The REAL Reason You're So Burned Out, Tired, and Unhappy with Your Progress
Think back to a time where you disappointed yourself.
Maybe you underprepared for a presentation.
Maybe you were late (again) for your daughter's dance recital.
Maybe you promised your partner you would take it easy on the booze at the party, but failed.
Maybe you skipped Monday morning's (and Tuesday's, and Wednesday's) workout.
Or maybe you said you'd eat just one cookie … and half a dozen later your hand is still in the bag.
Listen, we've all been there.
We set high standards for ourselves, and when we fall short, not only is it painful that we have let others down, but we also feel like a hypocrite.
The problem is that you're not taking your promises seriously.
You are negotiating your way OUT of success.
You already know what you want. And chances are, you already know 80% of everything you need to know to achieve it. The problem is you negotiate with yourself when it comes time to take the actions necessary to bridge the gap.
People will say things like:
"I know I said I was going to exercise today, but I just feel so tired…I think I'll skip this today and do it tomorrow."
Or, "I know I need to wake up at 6 am to finish work at a reasonable hour and take my wife on date night, but man…these sheets are just so cozy and warm. I'll give myself 'five more minutes' (read: an hour)"
Or, "I know I should be a better partner and prioritize time with my significant other, but I just have a lot on my plate right now, so we'll skip date night this time and do it next week."
Not only are these internal negotiations draining in and of themselves–studies have shown that making and debating on decisions drains your glycogen reserves and depletes your willpower–but they are completely unproductive for building the life you desire.
As such, you must realize that you are not the 'lawyer' of your life.
It is not your job to defend different positions and exonerate criminal (or, in our cases counter productive) activities.
You are the dictator of your life.
As John D. Rockefeller put it:
"I would rather be my own tyrant than have someone else tyrannize me."
To achieve the business, life, relationships, and health you desire, you must become your own tyrant. You must adopt an attitude of "I say, you do."
When your higher-self says "jump" your lower/subconscious self says "how high?"
And the key to developing this type of self-discipline in your life is through the strategic implementation of "Non-negotiables" into your work and life.
To setting and then getting massively accountable to key action steps and habits every day, week, month, and year so that you no longer have a choice to fail.
Non-negotiables are not things you "should" do. They are things you MUST do, no matter what.
Once you've set them, there is no more mental negotiation. No 'buts' or 'ifs' or 'are you sure's?'. You simply identify what must be done and do it.
Let's take a look at some of the strategic ways you can implement non-negotiables into your life to drive more success, balance, and freedom.
Use Non-Negotiables to Eliminate the Need for Discipline
One of the first, and most important things that non-negotiables do for your life is that they eliminate the need for discipline and will power.
If you are strategic with your commitments, you will find that there are certain "cornerstone" habits and non-negotiables that make everything else in your life easier.
For example, my personal non-negotiables are:
3:57am wake up
3 lifting workouts per week
5 servings greens per day
5 liters of water in first hour of wake up
12-hour overnight fast
10 minutes daily meditation
For me, these cornerstone non-negotiables make the hardest parts of achieving my goals 10X easier and reduce my need for willpower or motivation.
If I wake up at 3:57 am every morning, then I am going to sit down to write and devote the first 90-minutes of my day to Legacy Work (after all, even Starbucks isn't open that early!).
If I consume my five servings of greens every day and 1.5 liters of water, I'm more satiated and less likely to eat junk food or binge on my favorite sugary treats later in the day.
If I do my 10-minutes of meditation and three lifting workouts per week, I'm less likely to slip back into anxious patterns and behaviors and more likely to stay focused and maintain incredible levels of energy throughout the day.
But what about you? What 2-3 habits or activities could you start doing that, if followed consistently, would significantly reduce the amount of willpower and discipline you need to stay focused and achieve the life you desire.
Keep them in mind as you read the rest of this article.
Non-Negotiables Build "Spiritual Callouses"
The great Tony Robbins has a "weird" non-negotiable routine that he follows every single morning without fail.
As soon as he wakes up and before he does anything else, he walks outside of his home, stands next to a 9' cold plunge pool set to 56 degrees…and jumps in.
No hesitation, no negotiation, no thinking about it. He says, he does. Period.
You can hear him explain this routine in a little more detail in the video below.
For Tony, this non-negotiable isn't about creating boundaries or reducing his need for discipline, but rather building "spiritual callouses."
First thing every morning, he does something he does not want to do. And this simple action, after being repeated for months, years, and decades, has built emotional resilience and spiritual toughness that he uses to excel in other areas of his life.
By making it a non-negotiable to do something hard, something painful, something uncomfortable every single morning, he has conditioned himself to eliminate all negotiation from his mind.
This single action has helped him train his mind to follow his instructions the second he gives them. And you can implement this same principle into your life.
What is something you do not like doing? Something that makes you uncomfortable?
Maybe it is taking a cold shower. But maybe it's something else.
For some of you, your resilience-based non-negotiable could be waking up at a certain time, doing a morning run, sitting down to meditate, or jumping right into your most challenging and dreaded task of the day.
Again, jot down your ideas on a piece of paper and we'll use them in just a minute to help you create your non-negotiable list.
Non-Negotiables Provide "Bumpers" to Keep Your Life Out of the Gutter
When my friend Austin asked me for insights regarding his recent challenges, my response was, a little counterintuitive.
I didn't tell him to plan his days better, or eliminate distractions at work.
Instead, I instructed him to identify 3-5 daily/weekly non-negotiables that were not related to work and hold himself radically accountable to them.
These ended up being:
Weekly date night with his girlfriend
Weight training at 4 pm Tuesday-Saturday
Dinner with his siblings on Thursday night
And 20-minutes of reading every day
For him, these non-negotiables aren't about building spiritual calluses or eliminating the need for discipline. Instead, they serve as "bumpers" to keep his life out of the gutter.
If you were to take a 7-year old bowling, you wouldn't just give them a ball and tell them to roll it down the lane. You'd have the attendants put up the gutter to ensure that the ball made it all the way down to the pins instead of spending the entire night rolling into the gutter.
Your life is the same way.
For my editor, he spent years living life without any "bumpers", building his life around his work instead of the other way around.
He would tentatively plan fun excursions and then cancel at the last minute 'just this once' to finish up a project or proposal. And, as he shared in his email, this lifestyle had cost him freedom, peace of mind, and productivity–landing him squarely in the proverbial gutter.
However, with the strategic implementation of his new non-negotiables (for which he is accountable both to myself, his girlfriend, his family, and other mentors), he'll be forced to get off the hustle 'n grind treadmill and make the time he needs for himself and his family.
If he knows that he has to be at the gym no later than 4:15 pm every single work day, he won't be able to get distracted or engage in busy-work or procrastinate on important tasks. And what's more…he won't want to.
By having exciting and fun non-work activities planned for each day of the week, he's putting himself into a virtuous cycle of work hard/rest hard that will allow him to improve his performance without sacrificing the things that matter most.
These non-negotiables have already changed his life and, if you're willing to take them seriously, they'll change yours too.
Now that you have an understanding of what non-negotiables are and how they can be used to accelerate your success in life and business, let's take a minute to work on yours together.
Over to You: What Are Your Non-Negotiables
With what you've just learned in mind, it's time for you to create your own non-negotiables.
I know that it can be tempting to go overboard with this and come up with a long list of everything that you 'should' be doing to live the life you want, but I encourage you to focus, first and foremost, on the BIG habits and activities that, if followed consistently, will result in the greatest improvements in your life.
Specifically, I encourage you to identify:
One health non-negotiable
One relationship non-negotiable
One "spiritual callus" non-negotiable
One business non-negotiable
One personal non-negotiable
Again, the key here is to identify the most important habits and activities that will have a disproportionate return on investment for your emotional and mental well being.
For example, your list of non-negotiables might look like this:
I will do some sort of weight training every Monday, Wednesday, and Friday at 5pm
I will take my spouse on a date night every Thursday at 5 pm or (if single) I will go out on a date with a potential partner ever Thursday at 5 pm.
I will take a 3-minute cold shower first thing every morning.
I will devote the first 15-minutes of my day to writing my book, no matter what.
I will wake up no later than 6am every single day.
Remember, there are no right or wrong answers here. Only right or wrong for you. Take a few minutes now to identify your non-negotiables.
Don't worry. I'll wait…
…Got 'em? Great!
Now for the final step.
As I've alluded to throughout this entire article, the key to achieving success with non-negotiables is to make them truly non-negotiable. In other words, to have accountability and serious consequences in place to ensure they happen even when you don't feel like it.
For each of the non-negotiables you just wrote down, I want you to identify one person (it can be the same person for all of them) who will hold you accountable to it and one consequence that you will pay if you fail.
These consequences could be anything from sending money to a charity you despise to having a friend lambast you on Facebook to volunteering with your least favorite organization on a Saturday afternoon.
Figure it out, write it down, and drop a comment below letting me know what you've decided.
The success you desire is only possible when your 'shoulds' become 'musts'. And by taking action on what I've shared with you today and creating your own non-negotiables for success, you'll be well on your way to achieving the life you desire.
Use this millionaire-vetted Morning Routine to earn more, work less, and live your perfect life TODAY!
Sign up now to get our FREE Morning Routine guide—the #1 way to increase productivity, energy, and focus for profitable days. Used by thousands of fitness, business, and finance industry leaders to leapfrog the competition while making time for the people who really matter. Learn more here.
Craig Ballantyne is the author of The Perfect Day Formula: How to Own the Day and Control Your Life. Craig has been a contributor to Men's Health magazine for over 17 years. Today he teaches his gift to high-performing entrepreneurs how to squeeze more out of their days, increase their income, and make more quality time for their families in his Perfect Life Workshop and Work-Life Mastery programs. Craig used his own advice to overcome crippling anxiety attacks in 2006, and he'll teach you his 5 Pillars of Success so you can increase your income, decrease your work time, and live the life of your dreams. Learn more about Craig at craigballantyne.com