1.Up in Smoke-Weed Growers Have Major Problem.
"When the industry starts to move toward commoditization over the next decade," says Henderson, "Colombia is the only place that makes sense." An equatorial climate and low-cost, skilled labor give Colombia a clear advantage in agricultural trade. And that makes the nation a threat to North American companies like Canopy Growth (ticker: CGC), Tilray (TLRY) andAurora Cannabis (ACB). These firms have invested hundreds of millions of dollars in building the climate-controlled grow-operations needed to grow weed in cold latitudes.
Most Canadian companies nurse the long-term hope of getting their production costs below two Canadian dollars per gram of cannabis. Colombian producers say their costs will start well below 50 cents a gram—and go down from there.
The Next Threat to Big Marijuana Companies Comes From Way South of the Border
Bill Alpert
https://www.barrons.com/articles/colombia-marijuana-production-51559321831?mod=hp_DAY_7
Tilray -60%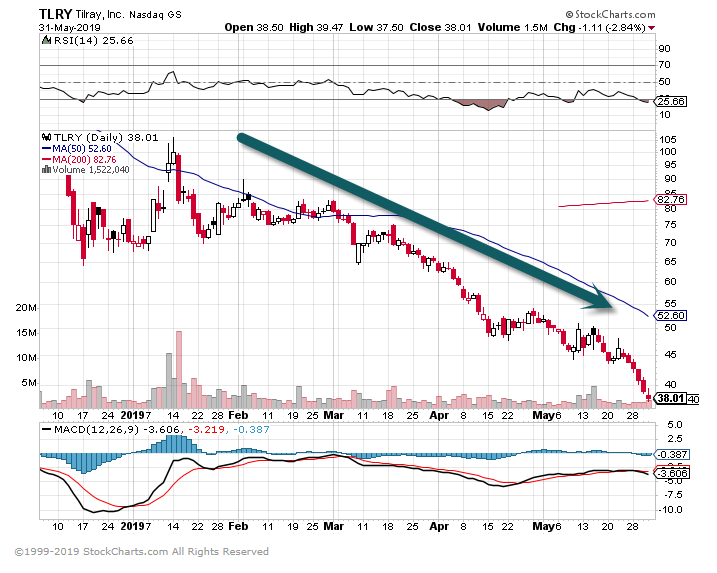 Canopy Growth hanging strong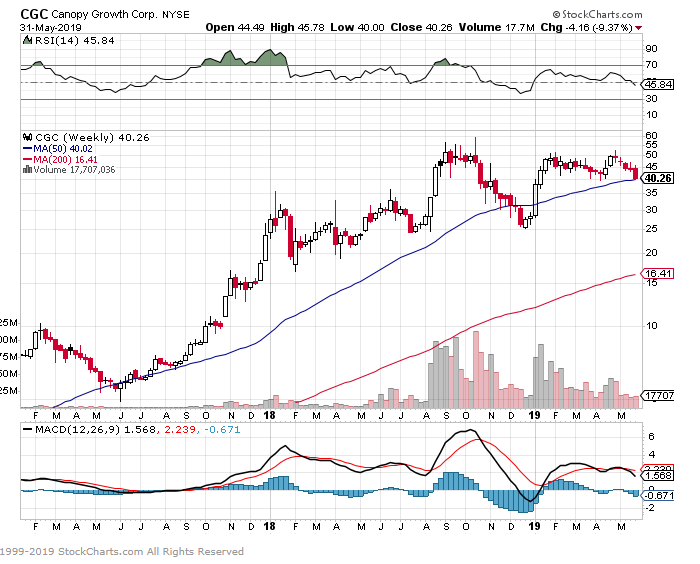 2.Another Chart Reacting to Interest Rates Falling…CMBS
CMBS Spike.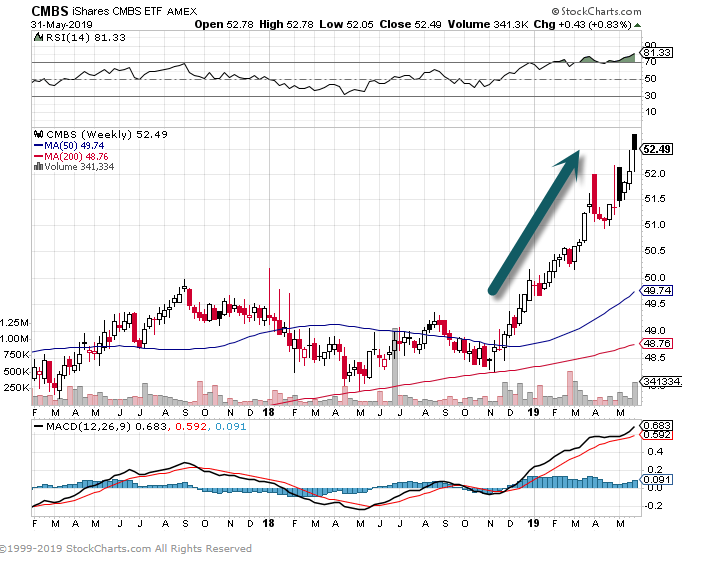 Commercial mortgage-backed security
Commercial mortgage-backed securities (CMBS) are a type of mortgage-backed security backed by commercial mortgages rather than residential real estate. CMBS tend to be more complex and volatile than residential mortgage-backed securities due to the unique nature of the underlying property assets.[1]
CMBS issues are usually structured as multiple tranches, similar to collateralized mortgage obligations (CMO), rather than typical residential "passthroughs."[citation needed] The typical structure for the securitization of commercial real estate loans is a real estate mortgage investment conduit (REMIC), a creation of the tax law that allows the trust to be a pass-through entity which is not subject to tax at the trust level.
https://en.wikipedia.org/wiki/Commercial_mortgage-backed_security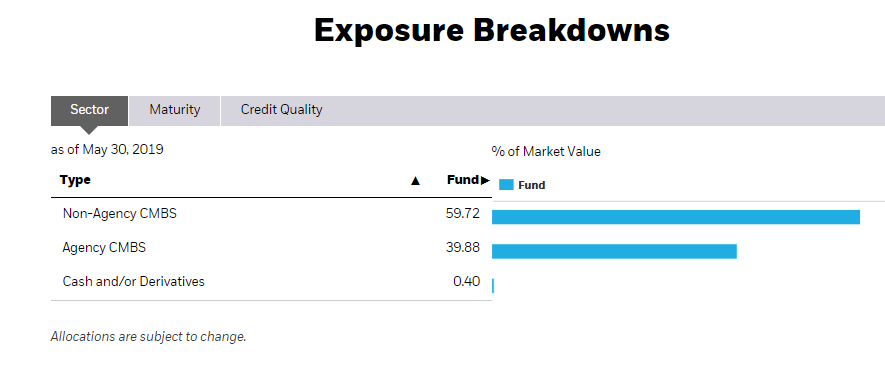 https://www.ishares.com/us/products/239459/CMBS?cid=ppc:ishares_us:google:fund-names&gclid=CjwKCAjw583nBRBwEiwA7MKvoOH04j9AdvcnX_EG8uw4rgAVXsABiQPbtLq_Wtw1rWykJBWCvYQiMRoCkYIQAvD_BwE&gclsrc=aw.ds
3.Some Details on Factors in Pullback.
Momentum Outperformed in Pullback
Small caps Trailing S&P
High-dividend stocks Trailing S&P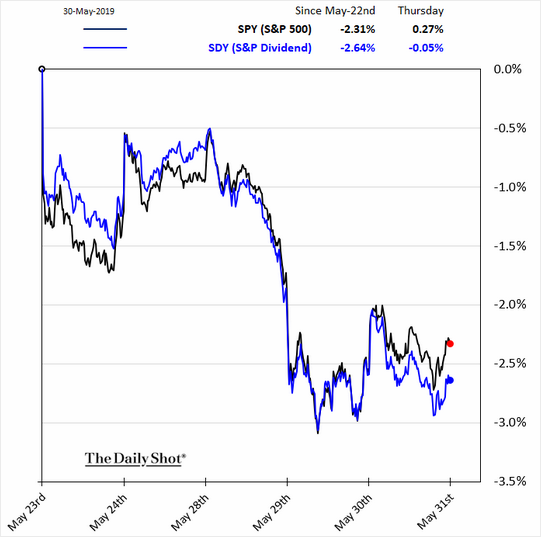 High-dividend shares are now trading at a discount to the broader market.
The Daily Shot
https://blogs.wsj.com/dailyshot/2019/05/31/the-daily-shot-mexico-a-new-front-in-u-s-trade-war/
4.Has the World Hit Peak Car?
-Global demand for cars will decline 3% in 2019, analysts predict.
-There have been 38,000 job losses among automakers in the last six months.
-One stark example: Commercial vehicle exports from the UK collapsed by 89% in April.
-The decline of cars will hurt GDP growth. It has already wiped 0.2% off global GDP.
-The world may have already passed "peak car."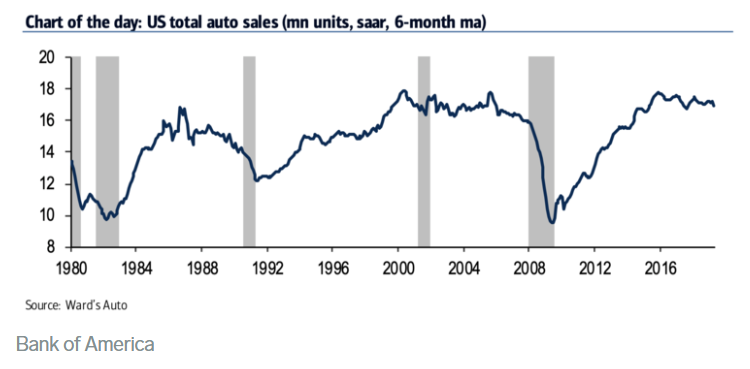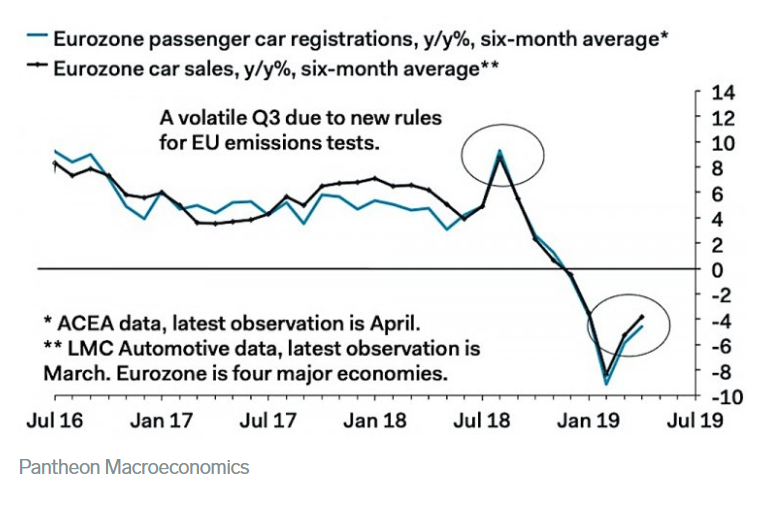 'The pain is just beginning': After 38,000 layoffs, Wall Street wakes up to 'peak car'
https://www.businessinsider.com/peak-car-38000-layoffs-job-losses-sales-at-auto-makers-2019-5
5.GM and F Did Not Return to New Highs from 2018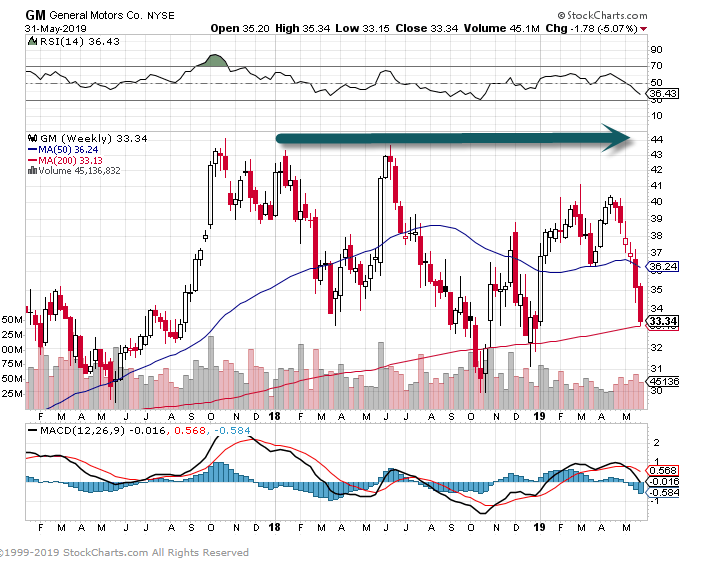 6.History of Six Week Losing Streaks.
DJIA Six Week Losing Streaks
Fri, May 31, 2019
Barring a 700+ point rally into the close (hey, anything is possible), the DJIA is on pace for its first six-week losing streak since June 2011 and the 32nd such streak going back to 1900. As of this writing, the DJIA is down 6.46% over the course of this current losing streak, which would go down as the mildest six-week losing streak for the index since June 1976 and the fifth 'mildest' six-week losing streak on record. The chart below highlights each of the DJIA's prior six-week losing streaks since 1900 and shows how much the index declined during each one of them.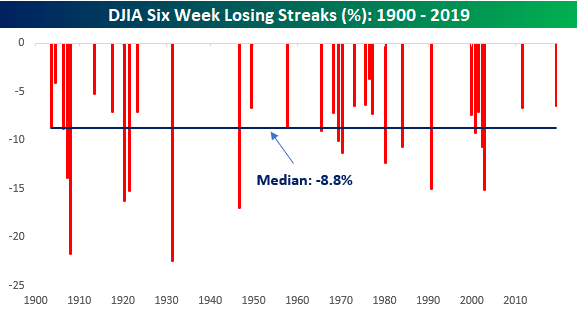 While there have been quite a few six-week losing streaks for the DJIA in its history, it is not common for them to go on into a seventh week.  As shown in the chart below, just seven of the DJIA's 32 prior six-week losing streaks have last seven or more weeks, and a 7-week losing streak stretching to an eighth week is practically unheard of with just one way back in 1923.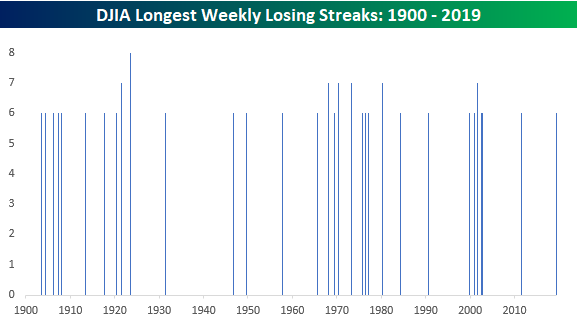 ©2019 Bespoke Investment Group
https://www.bespokepremium.com/interactive/posts/think-big-blog/djia-six-week-losing-streaks
7.U.S. Fertility Rate at All-Time Lows and Pet Ownership at All-Time Highs.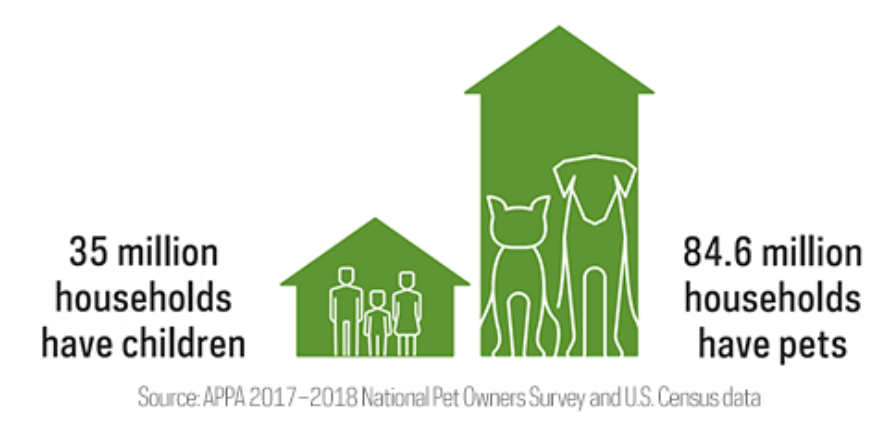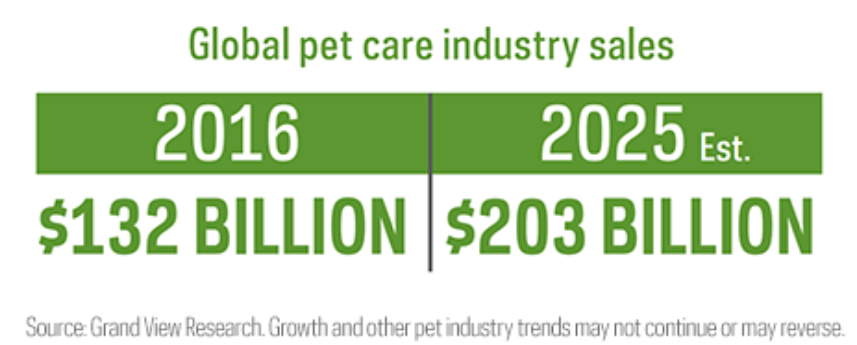 https://www.proshares.com/pawz/
8.Exclusive: Impossible Foods raises $300 million with investors eager for bite of meatless burgers
(Reuters) – Impossible Foods, which makes a meatless plant-based burger and is backed by celebrities like Serena Williams and Katy Perry, said on Monday it has raised $300 million in the latest round of funding ahead of a possible initial public offering.
The fundraising underscores the growing appeal in plant-based food that tries to taste like meat with fewer environmental or health risks. Shares of competitor Beyond Meat Inc, which debuted on Nasdaq on May 2, have more than tripled.
The latest round for Impossible Foods brings the Silicon Valley-based startup's total raised to more than $750 million. Despite encouraging signs from investors, it is not in a hurry to go public, Chief Financial Officer David Lee told Reuters.
"We believe in self-reliance. Being ready to go public is a priority for the company because we need to be operating at the highest level of rigor," Lee said.
"But we are not in a rush, nor are we announcing an IPO filing."
Celebrities have jumped on the investor bandwagon, including Jay-Z, Will.i.am, Jaden Smith and Katy Perry, who recently wore a vegan burger outfit to New York's annual Met Gala, making reference to Impossible Foods. Star athletes including Serena Williams, National Football League quarterback Kirk Cousins and National Basketball Association star Paul George have also opened their wallets.
Institutional investors include Khosla Ventures, Microsoft Corp co-founder Bill Gates, Google Ventures, Horizons Ventures, UBS, Viking Global Investors, Temasek, Sailing Capital, and Open Philanthropy Project.
The fifth equity funding round since its launch in 2011 values Impossible Foods at $2 billion, according to sources familiar with the matter. By comparison, Beyond Meat had a market capitalization of just under $1.5 billion in its IPO but now tops $4 billion.
Lee said Beyond Meat's successful IPO did not change Impossible plans or timing to go public but was a "validation."
"I think their (Beyond Meat) IPO indicates that retail investors along with retail consumers are ready for something better than the meat they've been eating for decades," Lee said.
Impossible launched its first faux meat patty over two years ago. A genetically modified yeast creates the key ingredient, called heme, which makes the patties appear to be bloody and juicy and taste like real meat unlike conventional veggie burgers. Ingredients include wheat, soy and potato proteins.
Fast-food chain Burger King has said it will launch "Impossible Whopper," which uses Impossible Foods' plant-based patties, nationwide after a successful trial at limited locations.
Impossible Burger is sold at more than 7,000 restaurants worldwide including White Castle, Qdoba and Red Robin and at Disney theme parks.
'CRAVEABLE'
Impossible plans to launch its products in retail outlets in the second half of this year. Lee declined to give a more specific timetable or identify those partners but said the company is actively talking with "top grocery chains in the nation."
Beyond Meat's products are already sold at Whole Foods and Safeway stores.
As consumer appetites grow, competition is heating up in the global meat-substitute market, which is projected to reach $5.81 billion by 2022, according to a 2018 study by Grand View Research.
Tyson Foods, the largest meat processor in the United States, will roll out meatless protein products in the coming months while McDonald's Corp began selling vegan burgers in Germany.
"We don't lead with the source of guilt that meat eaters have globally. We lead with what they want positively which is craveability with better options for the environment and their health," Lee said.
"It's the craveability that makes meat eaters find their own reason to come back for Impossible Burger."
Reporting by Angela Moon and Joshua Franklin in New York; Editing by Kenneth Li and Jeffrey Benkoe
Our Standards:The Thomson Reuters Trust Principles.
https://www.reuters.com/article/us-impossible-foods-fundraising-exclusiv/exclusive-impossible-foods-raises-300-million-with-investors-eager-for-bite-of-meatless-burgers-idUSKCN1SJ0YK
Website.
https://impossiblefoods.com/
9. The Power of Perspective Taking
How leaning in can expand our worldview and deepen our relationships
Joscelyn Duffy The Benefits of Perspective Taking
Perspective taking allows for the growth and further application of our own knowledge by expanding our own perspective. It is the equivalent of seeing life as if through a tunnel and having someone break down the sides of the tunnel to create a more expansive perspective on life. Multiple perspectives are crucial to gain a full understanding of a concept, experience or environment.
The benefits of perspective taking include:
Added Dimension – Our perspective is our version of reality. We each have our own unique reality, shaped by our experiences and the resulting lens through which we see the world. When we open ourselves to seeing life through the lens of another, it is like looking through a telescope, rather than a microscope…and with that added dimension comes personal growth.
Building Empathy – Taking the time to respect the perspectives of others fosters understanding, empathy and compassion. We don't have to agree with the way others interpret life or the circumstances or concepts therein, though we do have to respect that each one of us has our own unique viewpoint, founded in the unique set of circumstances that has shaped our present perspective.
Learning and Growth – We are each others' teachers. When we choose to learn from each other, we expand our awareness of what is possible, for ourselves on a personal and professional level, and for us as a global society. When you take a moment to "look through the lens" of another and momentarily embrace or attempt to understand their perspective, what you learn may very well be something that you may not have learned by continuing to solely look at life through your own lens.
The most important point is to recall that we each have a unique perspective on life, and that each of these perspectives has value – like providing a multi-dimensional view on a single topic. When we take the time to understand and respect the perspectives of others, we are able to better serve them AND we accelerate our own personal and professional growth.
3 Choices that Deepen Your Worldview and Relationships Using Perspective Taking:
Appreciate Your Own Perspective – While it may seem like a selfish starting point, it is integral that we appreciate our own perspective (view) on life and how it was formed, in order to respect and appreciate the perspectives of others. If you can grasp the filter through which you assess and process life, then you begin to understand how others do the same, in a way that is distinct from you. When you can fully grasp the depths and heights to which you've travelled to reach our current viewpoint, you are less likely to judge another for how they see the world…no matter how vastly different it is from what we see.
Allow the Other Person to Lead – The late educator, Stephen Covey said it best in The 7 Habit of Highly Effective People, "Seek first to understand, then to be understood." Before seeking to have your perspective understood, seek first to understand that of the other person. Use your lens as a point of relatability to support another in their viewpoint, or to provide a unique perspective that may foster an expanded perspective for them.
Be 100% Present – Truly grasping the perspective of another requires that you be fully present when you are with someone, whether personally or professionally. It means offering them your undivided attention. Make the moment about them and create space for them to share what they have to share with you. Listen. Respect. We connect at a much deeper level when we understand each other, not only through the communication of our five senses, but also through the power of our intuitionand awareness.
"I understand" are two of the most powerful words you can usher, personally and professionally. Whether we believe in the power of our daily rituals or hold a powerful world-shifting viewpoint, acknowledging and respecting the perspectives of others is the tool that fuels the depth, value, and meaning of our contribution to and relationships with them.
https://www.psychologytoday.com/us/blog/the-power-personal-narrative/201906/the-power-perspective-taking