1.Search for Yield….Investors Pile into Junk Munis.
Investors seeking yield are piling into the riskiest corner of the municipal bond market at a pace not seen in decades.
They have poured $8 billion into funds that deal in high-yield muni bonds—or junk munis—this year, the most through May since at least 1992, according to Refinitiv data. Muni-bond funds overall have attracted $37 billion during that same period, the most in almost three decades.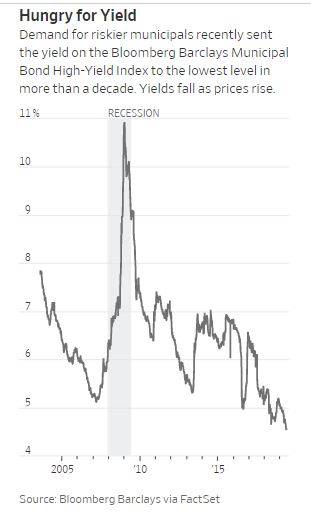 Risky Municipal Bonds Are on a Hot Streak
Funds dealing in high-yield munis have drawn $8 billion as investors search further afield for returns
By Gunjan Banerji
https://www.wsj.com/articles/risky-municipal-bonds-are-on-a-hot-streak-11558949401?mod=itp_wsj&ru=yahoo
2.U.S. Treasury Bulls Near QE Record Highs.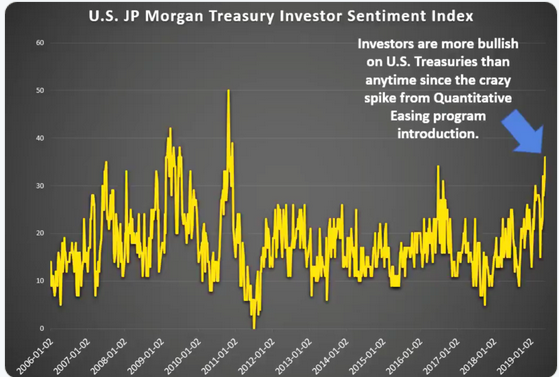 Twits note the JP Morgan Treasury Investor Sentiment Index once again at bullish extreme
From Dave Lutz at Jones Trading
3.Term Premium at Lowest Level Since 1961
Term Premium
The amount by which the yield-to-maturity of a long-term bond exceeds that of a short-term bond. Because onecollects coupons on a long-term bond for a longer period of time, its yield-to-maturity will be more. The amount of aterm premium depends on the interest rates of the individual bonds.
The New York Fed's measure of the term premium is now at a record low, likely driven down by pension fund demand, uncertainty, the economic cycle, central bank buying, and regulation. For more discussion see also our latest Fixed Income Weekly here and also this recent BIS paper.
https://financial-dictionary.thefreedictionary.com/Term+Premium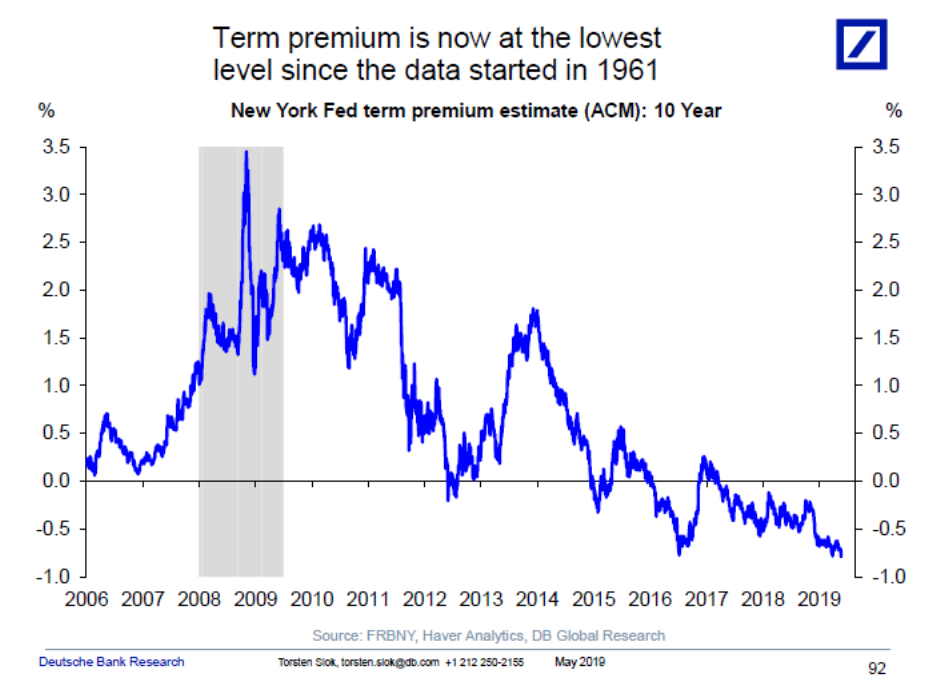 Let us know if you would like to add a colleague to this distribution list.
Torsten Sløk, Ph.D.
Chief Economist
Managing Director
4.China Threatens to Play "Rare Earth Metals" Card in Trade War.
Global markets fell on Wednesday as traders feared further escalation in the US-China trade war.
State-aligned newspapers warned China is prepared to cut off supplies of rare-earth metals.
"We advise the US side not to underestimate the Chinese side's ability to safeguard its development rights and interests," one editorial read. "Don't say we didn't warn you!"
Investors' flight to bonds pushed the 10-year US Treasury yield to a 19-month low.
Global stocks plunge after China hints it could unleash a 'powerful' trade war weapon by limiting US rare-earth supply
Theron Mohamed
https://markets.businessinsider.com/news/stocks/stocks-down-trade-war-fears-china-threatens-us-rare-earth-2019-5-1028238167
Rare Earth ETF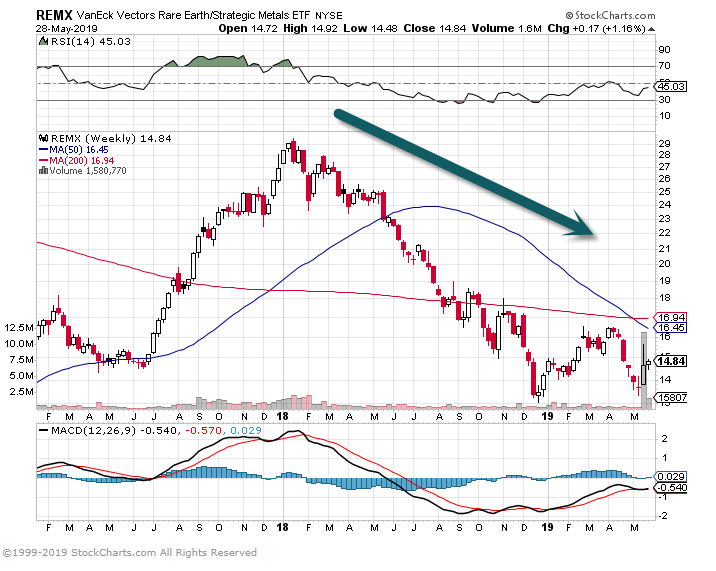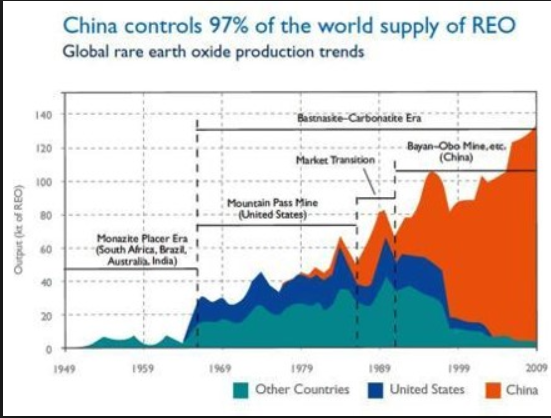 http://futureofenergy.web.unc.edu/picture11/
5.Investors Staying Neutral on Sectors
Sectors: Investors take a risk-off stance
Reported sector over- and underweights reveal investors' unwillingness to express risk in this late-stage economic cycle. One of the most noteworthy takeaways of our poll on sector exposures is the popularity of the choice "none" when investors are asked where they are taking sector bets. As shown below, this is the top selection for underweighting sectors and the 4th-top choice for overweighting sectors—indicating that many investors are interested in simply maintaining market-like exposure.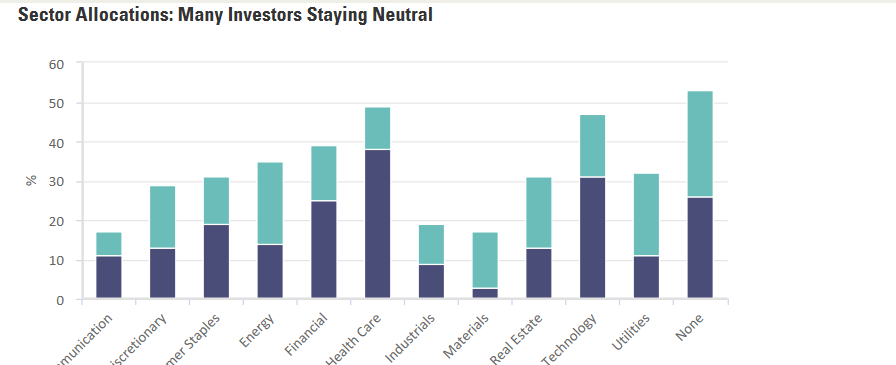 SPDR  BLOG
6.European Election Turnout Reaches 20-Year High
by
Niall McCarthy,
May 27, 2019
Citizens across the European Union have turned out to vote in their highest numbers for 20 years. The 2019 European Elections have a provisional turnout of 50.95 percent, considerably higher than the last elections in 2014 when turnout was 42.6 percent. Denmark experienced a record turnout of 66 percent while Hungary and Poland's turnouts more than doubled. Most analysts are attributing the rise in voters hitting the polls to a rise in support for populist parties across Europe as well as increasing awareness about climate change.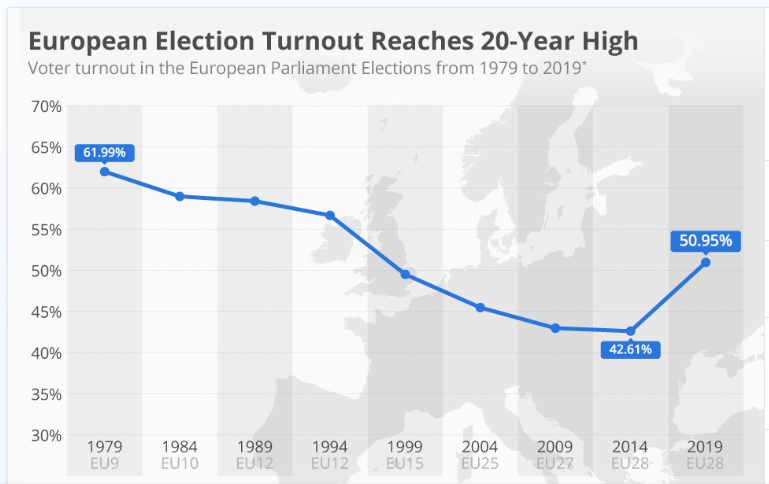 https://www.statista.com/chart/18167/turnout-in-the-european-parliament-elections/
7.10 Surprising Facts About Home Protection
A burglary takes place about every eighteen seconds in the United States. That adds up to nearly 200 per hour, and approximately 4,800 every day. These are startling statistics, but they highlight the fact that burglary is a crime you need to be aware of. The good news is, the more you learn about burglary, the more effectively you can help protect your home and family.
Here are ten surprising facts about burglary—and preventative tips—everyone concerned about home security should know.
Burglars tend to avoid homes with security systems.
Based on a report by the University of North Carolina at Charlotte's Department of Criminal Justice and Criminology, about 60% of convicted burglars stated the presence of a security system influenced their decision to target another home.
Best Home Security Systems of 2018
Preventative Tip: Get a monitored home security system to help reduce the chance of being a burglary victim. Use the yard signs and window stickers you're provided with to alert potential intruders to your security system. Make sure the signs and stickers are visible from every approach to your home—not just the front entrance.
Most burglaries take place between 10:00 a.m. and 3:00 p.m.
Contrary to popular belief, the majority of home burglaries take place during daylight hours, not at night. That's because most people are at work or school—which reduces the chance the burglar will be noticed.
Best Indoor Security Camera
4/5
CHECK PRICE ON AMAZON
Preventative Tip: Install indoor and outdoor motion-activated home security cameras so you can check on your home throughout the day. Plus, you'll receive an alert if the camera detects motion, so you can evaluate the situation immediately.
The majority of break-ins are committed by burglars who live nearby.
The typical burglar resides within two miles of the target home. Because they live close, it's easy for them to learn your family's daily schedule and strike when they know you're not home. They may also check for signs that you're on vacation—such as flyers or newspapers piling up at your door, an un-mowed lawn, or trash cans left at the curb.
Preventative Tip: To help minimize the risk of a burglary, vary your routine as much as possible and have someone take care of your home when you're out of town.
Most criminals can burglarize a home in less than ten minutes.
Burglars look for homes that are easy targets. That's why it doesn't take long for most intruders to break into a house, get what they want, and take off before being noticed.
Best Smart Lock
4/5
CHECK PRICE ON AMAZON
Preventative Tip: Strengthen your home's defense by getting a home security system, keeping all entrances closed and locked, and installing a high-quality front door. Then go a step further: join, or form, a neighborhood watch group and use a crime mapping website to keep up-to-date on local crime trends.
Almost 30% of burglars enter a home through an unlocked door or window.
A surprising number of burglars gain access to homes through open or unlocked entrances. First floor windows and doors are especially well-liked by burglars—particularly when a burglar can be concealed behind overgrown vegetation.
Preventative Tip: Keep all entry points closed, locked, and alarmed, even when you're at home. Make your home less appealing to intruders by keeping shrubs and trees trimmed back.
An astonishing 34% of burglars enter through the front door.
Whether they walk through an open front door or kick in a locked one, burglars aren't shy about using your home's primary entry point.
Preventative Tip: Strengthen your home's defense by getting a home security system, keeping all entrances closed and locked, and installing a high-quality front door. Then go a step further: join, or form, a neighborhood watch group and use a crime mapping website to keep up-to-date on local crime trends.
Burglars usually go to the master bedroom first.
Unfortunately, most people don't hide their valuable items carefully, and burglars know it. Once they break in, burglars head straight for the master bedroom, where they scavenge through dresser drawers and nightstands, look under mattresses, and search closets. Cash, jewelry, and weapons are some of the things a burglar wants most from your home.
Preventative Tip: Store your valuables in a safe that's bolted to the floor, or hide them in unlikely locations.
The average property dollar loss per burglary is a staggering $2,251.
The price of a home security system pales in comparison to the emotional and monetary cost of a burglary. The FBI reports that burglary victims in 2014 lost a total of $3.9 billion, and nearly 75% of the burgled locations were residential properties.
Preventative Tip: There's a home security solution for almost every budget. You can get a basic home security plan for as little as $20 per month—advanced plans and upgraded equipment may cost more. Getting a monitored security system may also qualify you for a discount on your homeowners insurance policy.
Someone is home during nearly three out of every ten burglaries.
Coming home to find your material possessions stolen is frightening enough, but victims who are home when the burglary occurs experience even more trauma. According to a crime victimization survey conducted by the U.S. Department of Justice, a household member is present during approximately 28% of burglaries, and 7% of these victims experienced some type of violent crime.
Preventative Tip: Make sure to arm your security system even when you're at home. This will help keep you and anyone else in your home safe.
Only 13.6% of burglaries in 2014 resulted in arrests.
Typically, burglaries are exceptionally hard crimes to solve. Even if the burglar is found, you may not be reunited with your lost property.
Preventative Tip: Due to recent advances in home security solutions, more criminals can be caught on camera. For instance, by using a home security camera with a live video feed, a homeowner in Fairhaven, Massachusetts was able to see that two burglars were inside his home. He immediately contacted police, and the men were arrested at the scene. As a homeowner, you can use a home security solution to put a stop to burglars.
These statistics confirm that using a monitored home security system and taking precautions can help protect your family from a burglary. Learn more about the top home security providers, and find one that meets your needs and budget.
Written by Alexia Chianis
Wanderlust junky and mom of two, Alexia is a former police officer and U.S. Army Captain who draws on her experiences to write about a myriad of safety topics. Learn more
8.10 Tips to Make Life Better
Once you decide you want life to be different, it starts to change.
These 10 tips can guide you toward change.
Make the decision that you want things to be different, hold the picture of what that difference is in your mind's eye, and see it in your head a few times a day. The practice of visualizationhas been around for decades; it is used to help professional athletes enhance their performance and to help cancer patients survive their disease. If it can benefit them, it can do the same for you.
Making a difference in the world or in other people's lives will make yours better as well. Lending your physical and emotional support to charitable groups or organizations you believe in is as important as making a financial donation.
Keep your expectations balanced. You won't get everything you want and some things will go wrong. Remember that everything doesn't have to be perfect and don't worry about things that are out of your control.
When you wake up tomorrow, start doing something right away, and keep busy all day. Taking action by doing almost anything will help you work through your anxiety. Sometimes it's doing the dishes or working in your garden. Other times it's reading or meditating. Just sitting around and thinking about your worries won't make them go away.
Depressiondistorts your thinking. When you are depressed, your mind can play tricks on you. If you have thoughts of suicide, please call someone immediately. Don't let a temporary glitch in your thinking cause you to harm yourself or another.
When you sit down with your loved ones for a celebratory meal, be thankful for everyone and everything that makes it possible. Look your family and friends in the eye and express to them your gratitudefor sharing this wonderful time together.
Being with someone who makes you laugh every day is healing, enriching, and just downright fun. It is one of the signs of a healthy relationship.
Upset will grow if it's not directed into some positive action. Find someone who needs you and lend a helping hand. It will almost always take your mind off of your problems. Helping others is actually a way of taking action and responsibility for your own healing.
Don't get insulted. It is wise to be dispassionate about critical comments. Humans will always bump heads, but consider the source, and if it's the other person's issue, ignore it. Learn to respond instead of react, and try not to display your ire.
Talking to someone is one of the best ways to overcome emotional discomfort. Getting together with family and friends, even your fellow coffee house regulars or gym buddies, to talk about issues and feelings can be helpful. If you're uneasy about talking, try writing a letter or visiting an appropriate Internet chat room.
https://www.psychologytoday.com/us/blog/emotional-fitness/201905/10-tips-make-life-better