1.APPLE Never Returned to Highs
APPLE Makes 2nd Lower High on Chart
Apple Downgraded to Sell at Rosenblatt Securities
(Bloomberg) — Wall Street hasn't been this down on Apple Inc. in a long time.
Rosenblatt Securities downgraded the company to sell on Monday, bringing the total number of bearish analysts up to five, among the 57 ratings tracked by Bloomberg. Five is the highest number of sell ratings the iPhone maker has had since at least 1997, according to historical data compiled by Bloomberg. To put that into context, Apple wouldn't release its iMac computer until August 1998, and the iconic iPod wouldn't debut until October 2001.
In another sign of the growing caution around the company, Apple's consensus rating — a proxy for the company's ratio of buy, hold, and sell ratings — is currently 3.76, according to Bloomberg data. That's the lowest since 2004.
Skepticism surrounding the company has accelerated in 2019, with all five of the sell ratings coming in this year. Both New Street Research and HSBC lowered their ratings on the stock to sell in April, and in January, the number of firms with buy ratings dropped below 50% for the first time since 2004.
The caution has been largely driven by uncertainty surrounding demand for the company's critical iPhone line, with the U.S.-China trade war seen as a particular headwind. In January, Apple cut its revenue outlook for the first time in almost two decades, in large part because of iPhone weakness. Apple's third-quarter results are currently expected to come out on July 30.
According to data compiled by Bloomberg, more than 60% of Apple's 2018 revenue was related to the iPhone, while roughly 20% came from China, which is also a critical part of its supply chain. Last week, Citi wrote that Apple's China sales "could be cut in half" due to "a less favorable brand image desire."
Rosenblatt's downgrade came as analyst Jun Zhang expects the company "will face fundamental deterioration over the next 6-12 months," based on disappointing sales trends. The downgrade pushed Apple stock lower by as much as 2.9% in Monday trading.
Still, the sell-equivalent ratings hardly represent a consensus view. A plurality of 23 firms recommend buying the stock, while another 21 have hold ratings, according to data compiled by Bloomberg.
The 2019 caution hasn't really been reflected in Apple's stock performance. Shares are up more than 40% from its January low, though they remain about 14% below record levels.
The news was not entirely negative for Apple on Monday, however, as Wedbush wrote it was "incrementally more positive on global iPhone demand" following checks in Asia. "We saw a 'slight uptick' out of Apple suppliers during our checks although overall handset demand remains challenging," analyst Daniel Ives wrote. He affirmed his outperform rating and $235 price target.
(Adds context in second paragraph, consensus rating in third, and stock performance in ninth.)
To contact the reporter on this story: Ryan Vlastelica in New York at rvlastelica1@bloomberg.net
To contact the editors responsible for this story: Catherine Larkin at clarkin4@bloomberg.net, Steven Fromm
For more articles like this, please visit us at bloomberg.com
©2019 Bloomberg L.P.
2.European Min-Vol ETF Hits All-Time Highs.
EAFE Min-Vol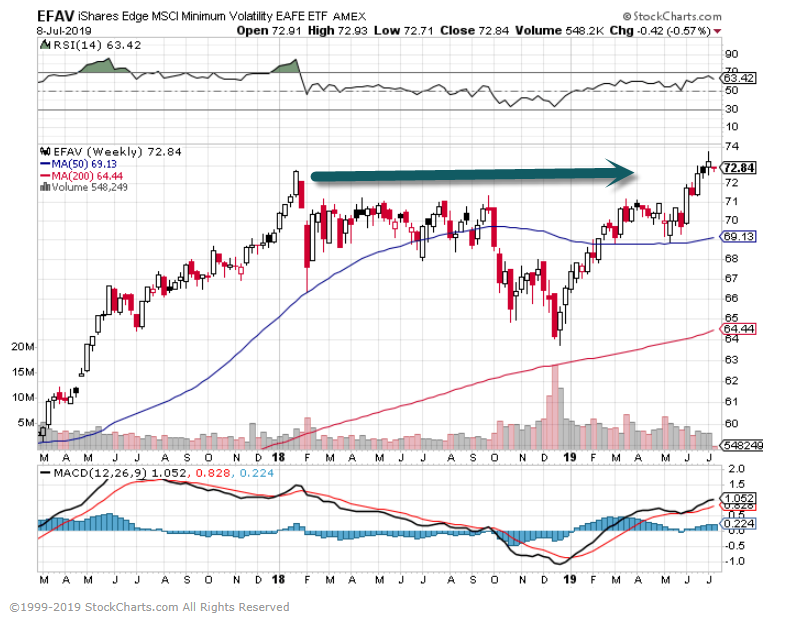 EFAV EURO MIN Vol. Vs. EFA Europe 5 year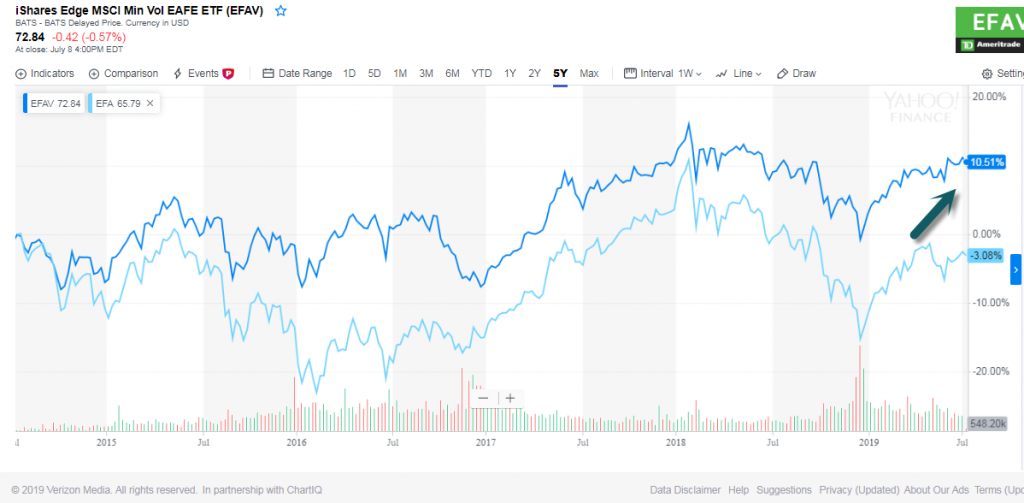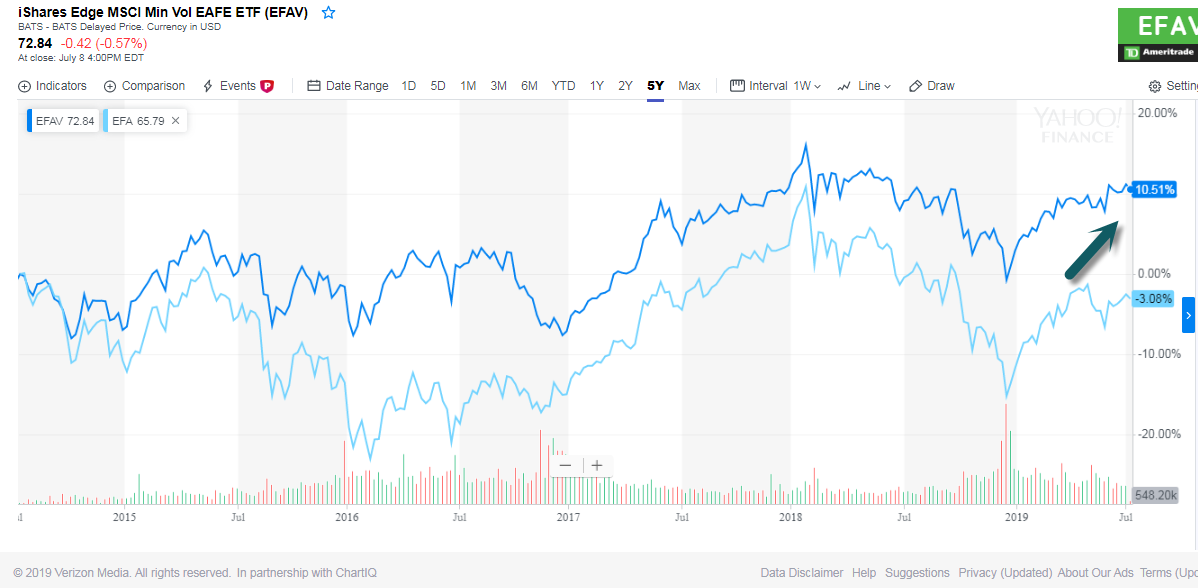 3.A Couple Interesting Charts Comparing Manufacturing Numbers to World Market Returns.
Percy Allison
Desk Strategist
Jefferies LLC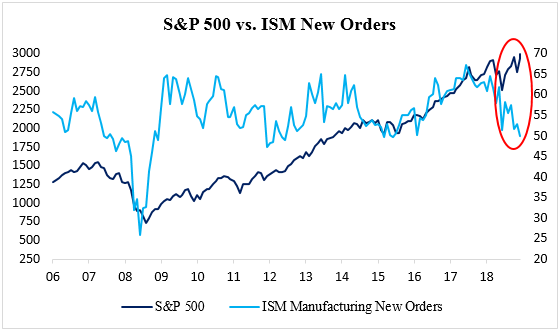 Source: Jefferies Trading Desk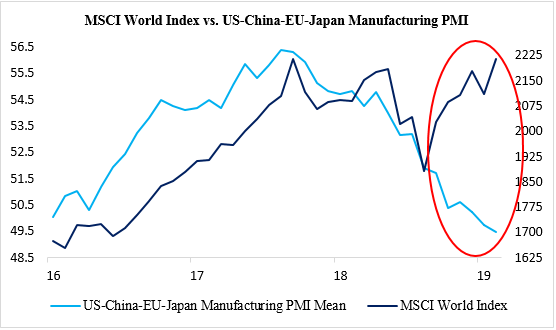 Source: Jefferies Trading Desk
4.South Korea at 16 Year Low Versus World Markets…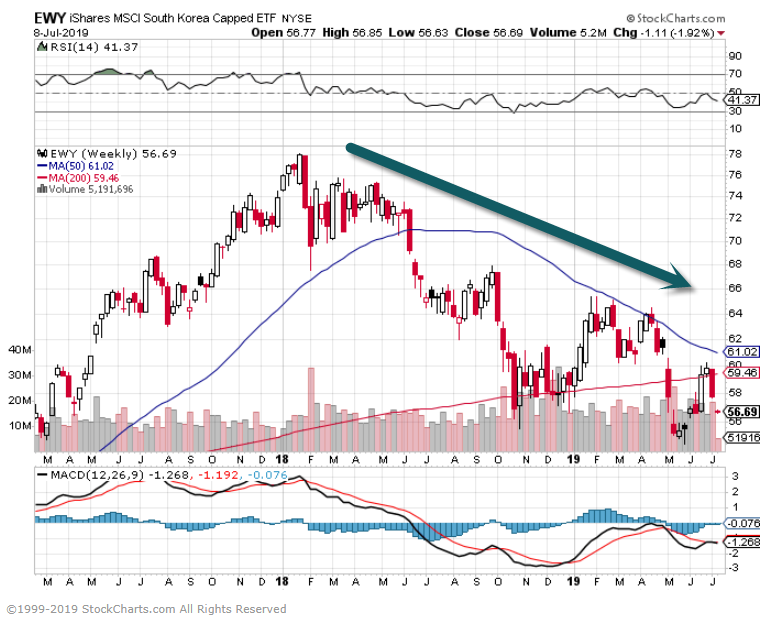 5.Term Premium at Lowest Level Since the Data Started
What does term premium mean?
Term Premium. The amount by which the yield-to-maturity of a long-term bond exceeds that of a short-term bond. … The amount of a term premium depends on the interest rates of the individual bonds.
https://financial-dictionary.thefreedictionary.com/Term+Premium
Any conversation about the level of long rates in the US – including discussions about the usefulness of the yield curve as a predictor of future recessions – has to start with this chart below. Why is the term premium so low? The reasons are: 1) US pension fund demand, 2) uncertainty about the macro impact of trade war policies, 3) QE by the Fed, ECB, and BoJ, 4) fewer risk-free assets globally, 5) global savings glut and associated central bank buying, and 6) new rules requiring insurance companies, pension funds, and banks to hold more safe, longer-term bonds. For the term premium and rates to move meaningfully higher, we need to see a reversal of some of these forces.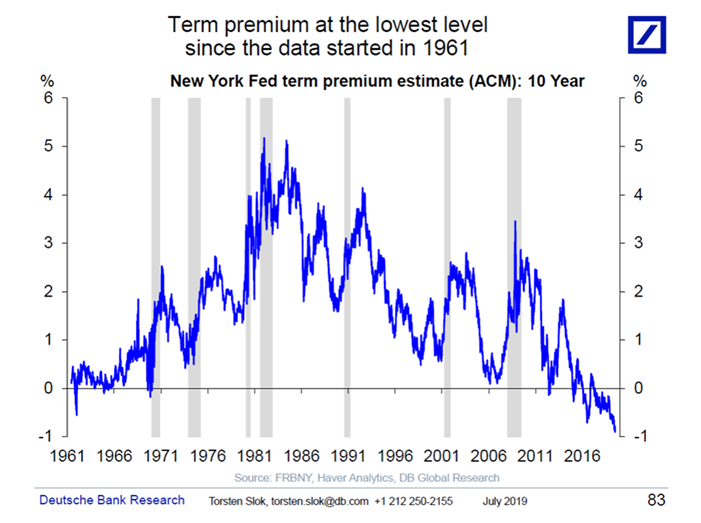 Torsten Sløk, Ph.D.
Chief Economist
Managing Director
6.European Financials…Lower Highs…
Increase in Negative Interest Rate Debt….Fear that QE No Longer Effective.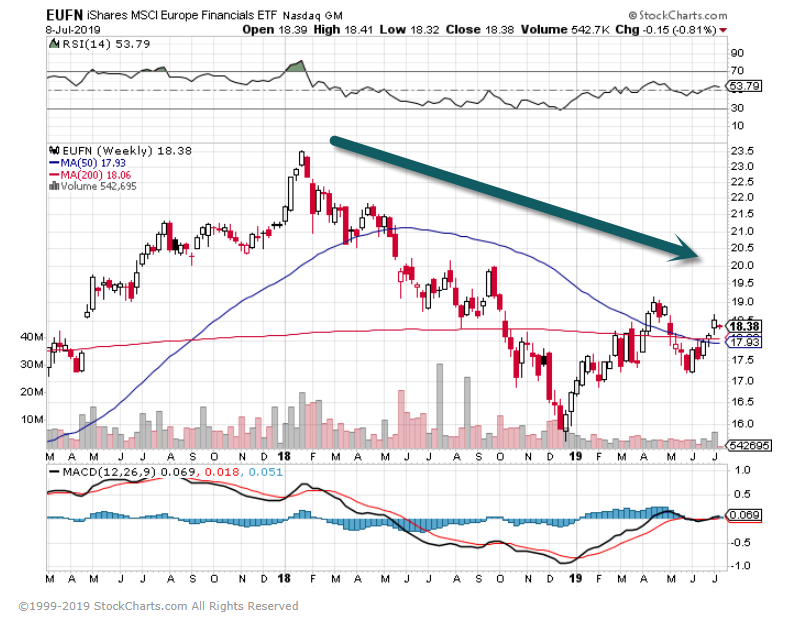 Easy-money policies are sweeping the globe — one big problem: they're losing potency
By Mark DeCambre
Published: July 3, 2019 1:11 p.m. ET
International Monetary Fund (IMF) Managing Director Christine Lagarde
Global central bankers are confronting a nettlesome problem. Attempts to inject fresh life into anemic regional economies are proving increasingly less effective, argues Torsten Slok, chief economist at Deutsche Bank Securities in a recent report titled "QE no longer works".
While that assumption is debatable, so-called quantitative-easing measures have been in place for more than a decade in much of the developed world, in the aftermath of the 2008-09 mortgage-bond crisis that rocked global economies and led the Federal Reserve, under then-Chairman Ben Bernanke, to start cutting interest rates in mid-August of 2007 for the first time since 2001, in a move to stave off "downside risks to growth" that had "increased appreciably."
Although the U.S. central bank has raised its benchmark federal funds rate nine times since the end of 2015, and it currently stands at a range between 2.25%-2.50%, expectations are growing that the Fed may need to reduce policy rates at least once in 2019 to combat "cross-currents" produced by the import tariffs imposed by the U.S. and China.
Back in 2007, benchmark rates stood at a range of 5.75%-6.25% and the 10-year Treasury note TMUBMUSD10Y, +0.20% yielded 4.68%, according to FactSet data.
On Wednesday, 10-year benchmark U.S. debt was yielding a mere 1.95%, its lowest since 2016, even as the Dow Jones Industrial Average DJIA, -0.43% the S&P 500 index SPX, -0.48% and the Nasdaq Composite Index COMP, -0.78% closed at all-time highs in a shortened trading session ahead of Independence Day holiday on Thursday, when markets will be closed.
Slok, pointing to academic research reports about the efficacy of monetary policy, says jawboning by central bankers has had a greater effect than the raft of policy measures that most central banks have rolled out.
"Most of the papers below find that it was the announcement effects of QE, which had the biggest impact on long rates and on inflation expectations," Slok wrote.
Roughly 12 years after the global economic recession, global bankers are still struggling to demonstrably boost economic growth and combat stubbornly low inflation, which has mostly hung below the 2% annual target that most policy makers in developed countries deem reflective of healthy economies.
Investors are betting that more stimulus may be on the way after Christine Lagarde, current head of the International Monetary Fund, was nominated to replace Mario Draghi as head of the European Central Bank and President Donald Trump nominated Judy Shelton and Christopher Waller to take influential governance posts on the Federal Reserve.
Slok says the shock-and-awe stimulus of the past isn't likely to occur this time around in the 11th year of a history-setting expansion in the U.S. "Given the current level of inflation expectations and the current level of rates, doing QE again is not going to create the same surprise effects," he wrote.
Easy-money policies have resulted in some $13 trillion in government debt offering a negative yield.
A Jan. 30 academic paper by Markus K. Brunnermeier, Edwards S. Sanford Professor at Princeton University and Yann Koby, says the "reversal interest rate," or the point at which accommodative monetary policy has a negative effect, can occur even before negative interest rates are achieved.
"Quantitative easing (QE) increases the reversal interest rate, as it takes long-term fixed income holdings out of bank balance sheets. Consequently, QE should only be employed after interest rate cuts are exhausted," the academics conclude.
Among a number of issues, the Princeton researchers say a persistently easy-money environment provides little leeway for stimulus if inflation proves preternaturally sluggish, as it has thus far.
https://www.marketwatch.com/story/easy-money-policies-are-sweeping-the-globe-one-big-problem-theyre-losing-potency-2019-07-03?mod=mw_theo_homepage&mod=mw_theo_homepage
7.Deutsche Bank No Rally on Restructuring….We have Mentioned DB Derivs Book Many Times in Past Letters.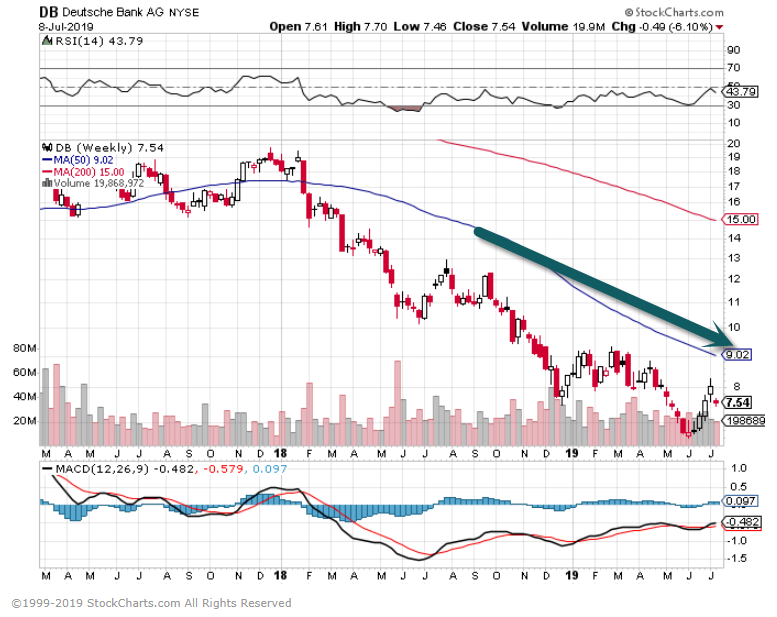 Deutsche Bank derivative dumbness
By: Jamie Powell
In financial markets, there's always a new reason to worry.
Over the weekend, Deutsche Bank announced a new "strategic transformation" after a decade of woeful underperformance. The headline-grabbing figure was 18,000 — the number of jobs it expects to cut as part of the restructuring. You can read the FT story here, there and just about everywhere.
But of course, it's a large bank. So that means it poses systemic risks. Which means bad news for everyone, or something. So cue a pack of market bears over the weekend speculating over the bank's long-term health, and what it might mean for the broader market.
And that means, of course, citing Deutsche Bank's notional derivative exposure, which as of Dec 31 2018, according to the bank's annual report, stood at a terrifying €43.5tn.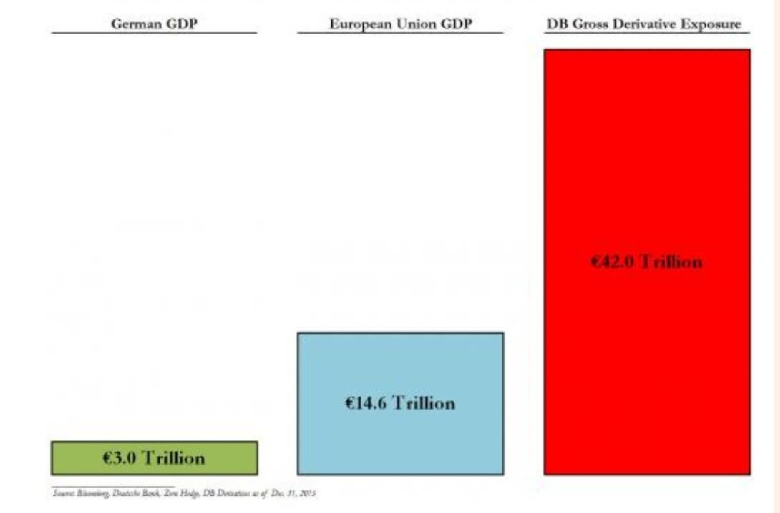 https://ftalphaville.ft.com/2019/07/08/1562575972000/Deutsche-Bank-derivative-dumbness/
8. 5 SKILLS TO HELP YOU DEVELOP EMOTIONAL INTELLIGENCE
Here are five ways to start doing it.
1. PRACTICE SELF-AWARENESS
Like with most things emotional, you can't get better at them until you know what the fuck they are. When you lack self-awareness, trying to manage your emotions is like sitting in a tiny boat without a sail on top of the sea of your own emotions, completely at the whim of the currents of whatever is happening moment by moment. You have no idea where you're going or how to get there. And all you can do is scream and yell for help.
Self-awareness involves understanding yourself and your behavior on three levels: 1) what you're doing, 2) how you feel about it, and 3) the hardest part, figuring out what you don't know about yourself.
Knowing what you're doing.You would think this would be pretty simple and straightforward, but the truth is that in the 21st century, most of us don't even know what the fuck we're doing half the time. We're on auto-pilot—check email, text BFF, check Instagram, watch YouTube, check email, text BFF, etc., etc.
Removing distractions from your life—like, you know, turning off your damn phoneevery now and then and engaging with the world around you is a nice first step to self-awareness. Finding spaces of silence and solitude, while potentially scary, are necessary for our mental health. Other forms of distraction include work, TV, drugs/alcohol, video games, cross stitching, arguing with people on the internet, etc.
Schedule time in your day to get away from them. Do your morning commute with no music or podcast. Just think about your life. Think about how you're feeling. Set aside 10 minutes in the morning to meditate. Delete social media off your phone for a week. You'll often be surprised by what happens to you.
We use these distractions to avoid a lot of uncomfortable emotions, and so removing distractions and focusing on how you feel without them can reveal some kind of scary shit sometimes. But removing distractions is critical because it gets us to the next level.
Know what you're feeling. At first, once you actually pay attention to how you feel, it might freak you out. You might come to realize you're often actually pretty sad or that you're kind of an angry asshole to a lot of people in your life. You might realize that there's a lot of anxiety going on, and that whole "phone addiction" thing is really just a way to constantly numb and distract yourself from that anxiety.
It's important at this point to not judge the emotions that arise. You'll be tempted to say something like, "Ick! Anxiety! What the fuck is wrong with me!" But that just makes it worse. Whatever emotion is there has a good reason to be there, even if you don't remember what that reason is. So don't be too hard on yourself.
Knowing your own emotional bullshit. Once you see all the icky, uncomfortable stuff you're feeling, you'll begin to get a sense of where your own little crazy resides. For instance, I get really touchy about being interrupted. I get irrationally angry when I'm trying to speak and the person I'm speaking to is distracted. I take it personally. And while sometimes it is just them being rude, sometimes shit happens and I end up looking like a total dickface because I can't stand going two seconds without every word I speak being respected. That's some of my emotional bullshit. And it's only by being aware of it that I can ever react against it.
Now, just being self-aware is not sufficient in and of itself. One must be able to manage their emotions too.
2. CHANNELING YOUR EMOTIONS WELL
People who believe that emotions are the be-all-end-all of life often seek ways to "control" their emotions. You can't. You can only react to them.
Emotions are merely the signals that tell us to pay attention to something. We can then decide whether or not that "something" is important and choose the best course of action in addressing it—or not.
There's no such thing as a "good" or "bad" emotion—there are only "good" and "bad" reactions to your emotions.
Anger can be a destructive emotion if you misdirect it and hurt others or yourself in the process. But it can be a good emotion if you use it to correct injustices and/or protect yourself or others.
Joy can be a wonderful emotion when shared with people you love when something good happens. But it can be a horrifying emotion if it's derived from hurting others.
Such is the act of managing your emotions: recognizing what you're feeling, deciding whether or not that's an appropriate emotion for the situation, and acting accordingly.
The whole point of this is to be able to channel your emotions into what psychologists call "goal-directed behavior"—or what I prefer to call "getting your shit together."
3. LEARN TO MOTIVATE YOURSELF
Have you ever lost yourself completely in an activity? Like, you start doing something and get immersed in it and when you snap out of the quasi-hypnotic state you've somehow induced in yourself, you realize three hours have passed but it felt like fifteen minutes?
This happens to me when I write sometimes. I lose my sense of time and I get this cascade of subtly-layered feelings when I'm fleshing out ideas in my head and putting them into words. It's like a feeling of fascination mixed with slightly frustrated intrigue mixed with little bursts of dopamine when I feel like I just came up with a great line or funny poop joke or somehow got my point across without cursing.
I love this feeling, and when I achieve it, it motivates me to keep writing.
Notice something important here, though: I don't wait for that feeling to arise before I start writing.
I start writing and then that feeling starts to build, which motivates me to keep writing, and the feeling builds a little more, and on and on.
This is what I call the "Do Something Principle" and it's probably one of the simplest yet most magical "hacks" I've ever come across. The Do Something Principle states that taking action is not just the effect of motivation, but also the cause of it.
Most people try to look for inspiration first so they can take some momentous action and change everything about themselves and their situation. They try to pump themselves up with whatever flavor of mental masturbation is in style that week so they can finally take action. But by next week, they've run out of steam and they're back at it again, jerking off to another "method" of motivation.
But I like to turn this on its head completely. When I need to be motivated, I just do something that's even remotely related to what I want to accomplish and then, action begets motivation begets action, etc.
When I don't feel like writing, I tell myself I'll just work on the outline for now. Once I do that, it often makes me think of something interesting I hadn't thought of yet that I want to include and so I write that down and maybe flesh it out a little.
Before I know it, I'm halfway through a draft and I haven't even put on pants yet.
(NOTE: This is just because I never wear pants.)
The point is that in order to use your emotions effectively to get your shit together, you have to do something.
If you don't feel like anything motivates you, do something. Draw a doodle, find a free online coding class, talk to a stranger, learn a musical instrument, learn something about a really hard subject, volunteer in your community, go salsa dancing, build a bookshelf, write a poem. Pay attention to how you feel before, during, and after whatever it is you're doing and use those emotions to guide your future behavior.
And know that it's not always "good" feelings that will motivate you, too. Sometimes I'm frustrated and really fucking annoyed that I can't quite say exactly what I want to say. Sometimes I'm anxious that what I'm writing won't resonate with people. But for whatever reason, these feelings often only make me want to write more. I love the challenge of wrestling with something that's just a little bit out of my reach.
4. RECOGNIZE EMOTIONS IN OTHERS TO CREATE HEALTHIER RELATIONSHIPS
Everything we've covered so far deals with handling and directing emotions within yourself. But the whole point of developing emotional intelligence should ultimately be to foster healthier relationships in your life.
And healthy relationships—romantic relationships, familial relationships, friendships, whatever—begin with recognition and respect of one another's emotional needs.
You do this by connecting and empathizing with others. By both listening to others and sharing yourself honestly with others—that is, through vulnerability.
To empathize with someone doesn't necessarily mean to completely understand them, but rather to accept them as they are, even when you don't understand them. You learn to value their existence and treat them as their own end rather than a means for something else. You acknowledge their pain as your pain—as our collective pain.
Relationships are where emotional rubber hits the proverbial pavement. They get us out of our heads and into the world around us. They make us realize we're a part of something much larger and much more complex than just ourselves.
And relationships are, ultimately, the way we define our values.
5. INFUSE YOUR EMOTIONS WITH VALUES
When Daniel Goleman's book came out in the 90s, "emotional intelligence" became the big buzzword in psychology. CEOs and managers read workbooks and went to retreats on emotional intelligence to motivate their workforces. Therapists tried to instill more emotional awareness in their clients to help them get a handle on their lives. Parents were admonished to cultivate emotional intelligence in their children with the aim of preparing them for a changing, emotionally-oriented world.2
A lot of this sort of thinking misses the point, however. And that is that emotional intelligence is meaningless without orienting your values.
You might have the most emotionally intelligent CEO on the planet, but if she's using her skills to motivate her employees to sell products made by exploiting poor people or destroying the planet, how is being emotionally intelligent a virtue here?
A father might teach his son the tenets of emotional intelligence, but without also teaching him the values of honesty and respect, he could turn into a ruthless, lying little prick—but an emotionally intelligent one!
Conmen are highly emotionally intelligent. They understand emotions quite well, both in themselves and especially in others. But they end up using that information to manipulate people for their own personal gain. They value themselves above all else and at the expense of all others. And things get ugly when you value little outside of yourself.3
Lisa Nowak, for all of her brilliance and expertise, couldn't handle her own emotions and valued the wrong things. Therefore, she let her emotions drive her off the proverbial cliff, going from outer space to incarcerated space.
Ultimately, we're always choosing what we value, whether we know it or not. And our emotions will carry out those values through motivating our behavior in some way.
So in order to live the life you truly want to live, you have to first be clear about what you truly value because that's where your emotional energy will be directed.
And knowing what you truly value—not just what you say you value—is probably the most emotionally intelligent skill you can develop.
HOW TO KNOW WHO YOU REALLY ARE
We all think we know ourselves well, but psychological studies show otherwise. In fact, most of us are somewhat deluded about ourselves. I put together a 22-page ebook explaining how we can come to know ourselves better, just fill out your email in the form.