1.Tech Funds Second Largest Weekly Inflows Ever.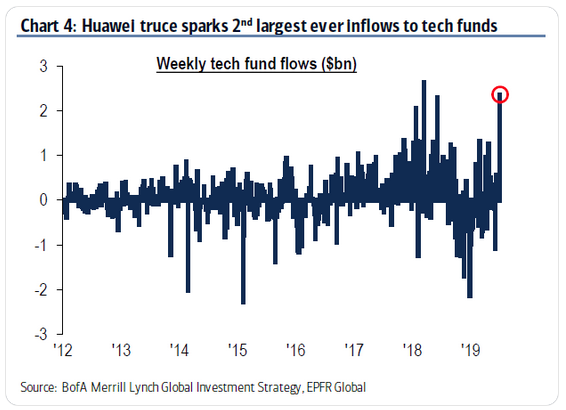 From Dave Lutz at Jones Trading.
2.Warren Buffett 60% Stocks Despite His Favorite Indicator Being at High Level….34% Cash.
Warren Buffett's Market Indicator Exceeds 145%
Oracle of Omaha's conglomerate, Berkshire Hathaway, remains invested in stocks despite markets nearing all-time highs
On July 9, the Tuesday following the Independence Day holiday weekend, Warren Buffett (Trades, Portfolio)'s market indicator reached 146.1%. Based on this market valuation level, the implied annual market return is -2.2%.
Dow falls from July 3's all-time high
While the Dow Jones Industrial Average languished at an intraday low of 26,675.55, pressured by 3M Co. (NYSE:MMM), the 30-stock index closed at 26,783.83, approximately 22 points lower than Monday's close of 26,806.14 and 160 points lower than July 3's all-time high of 26,943.41. Top Berkshire Hathaway Inc. (NYSE:BRK.A)(NYSE:BRK.B) holding Apple Inc. (NASDAQ:AAPL) closed at $201.24, up approximately 0.61% from the previous close of $200.02.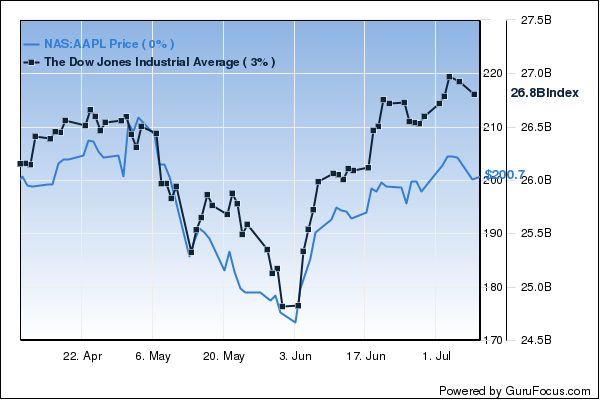 CNBC columnist Fred Imbert said investors are awaiting Federal Reserve Chairman Jerome Powell's next monetary policy move following last Friday's stronger-than expected job report, which "raised questions" regarding the current rate policy.
Buffett's Berkshire remains invested in stocks despite significantly overvalued market
Buffett said the ratio between the Wilshire 5000 full-cap index to the gross domestic product is "probably the best single measure of where valuations stand at any given moment." As of Tuesday, the full-cap index stands at $30.763 trillion, approximately 1.46 times greater than the last-reported U.S. gross domestic product of $20.16 trillion.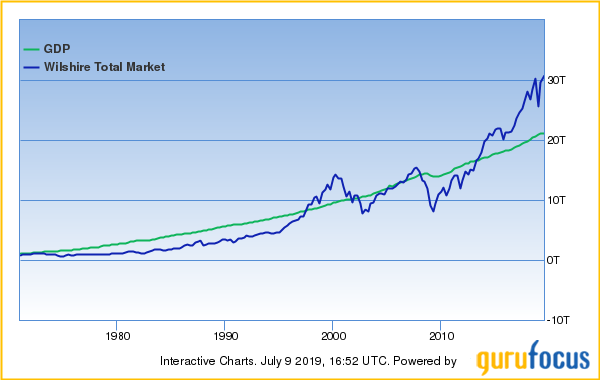 Despite the significantly overvalued market, Buffett increased his conglomerate's exposure in stocks to 60% during the March quarter, up 3% from the December 2018 quarter. Berkshire's top six holdings as of the latest portfolio report are Apple, Bank of America Corp. (NYSE:BAC), Wells Fargo & Co. (NYSE:WFC), Coca-Cola Co. (NYSE:KO), American Express Co. (NYSE:AXP) and The Kraft Heinz Co. (NASDAQ:KHC). The conglomerate's top 10 holdings represent 79.56% of the total equity portfolio.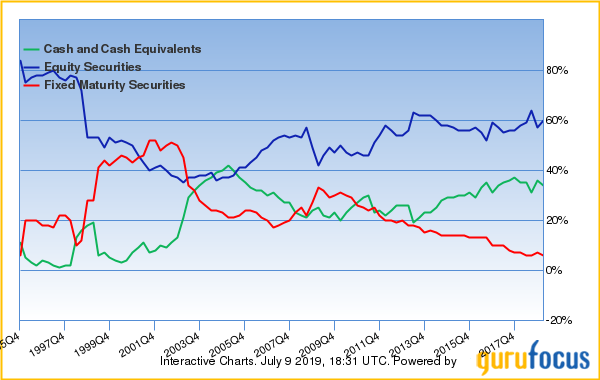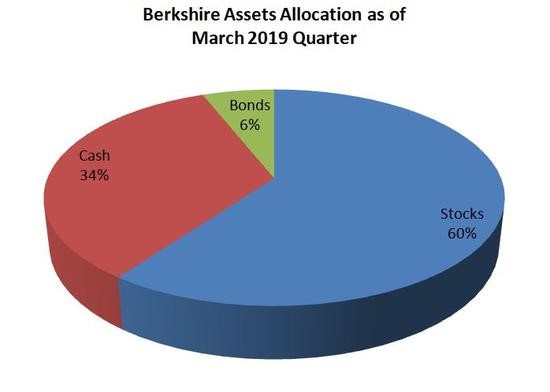 https://www.gurufocus.com/news/906236
3.Has long-term unemployment bottomed?
THE DAILY SHOT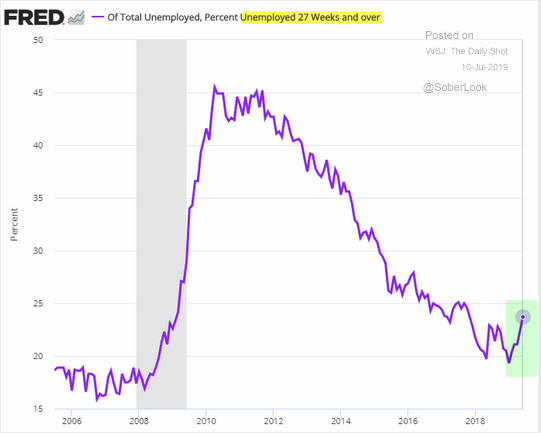 h/t Deutsche Bank Research
Interesting with Manufacturing Numbers Falling ….Job Openings Robust.
https://blogs.wsj.com/dailyshot/2019/07/10/the-daily-shot-record-high-manufacturing-job-openings-but-slower-hiring/
4. 23% of all trading volume on the NYSE happens in the final half hour of the day.
From Josh Brown Twitter https://www.linkedin.com/in/joshua-brown-96a5569b/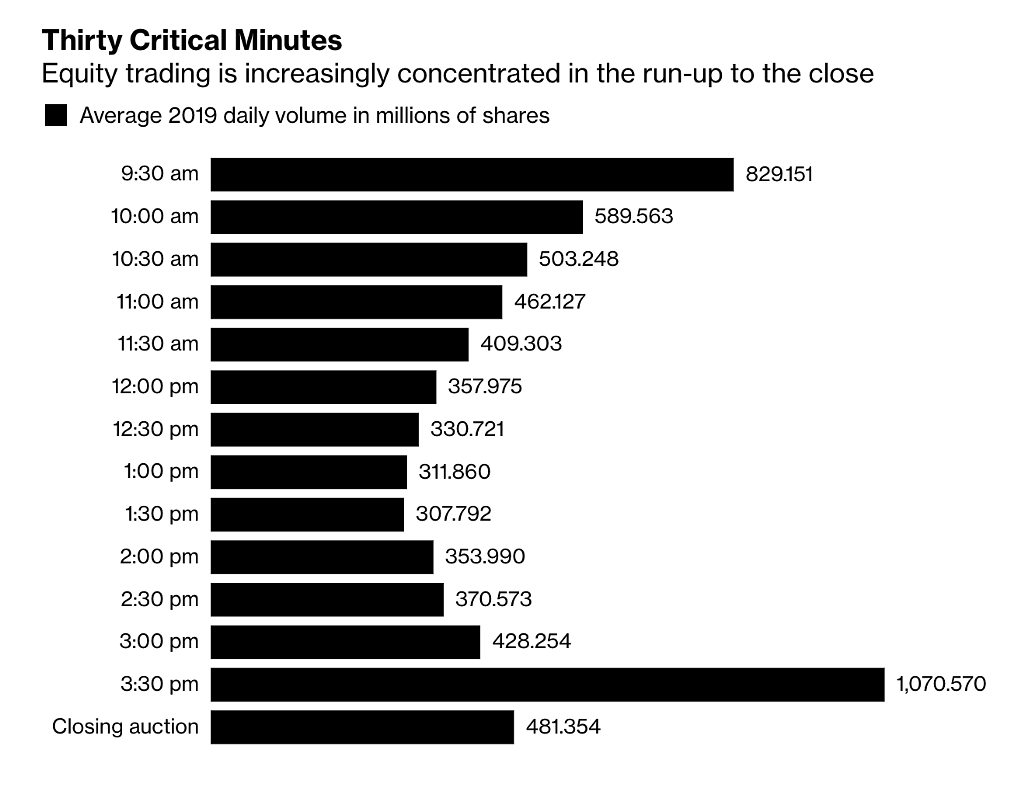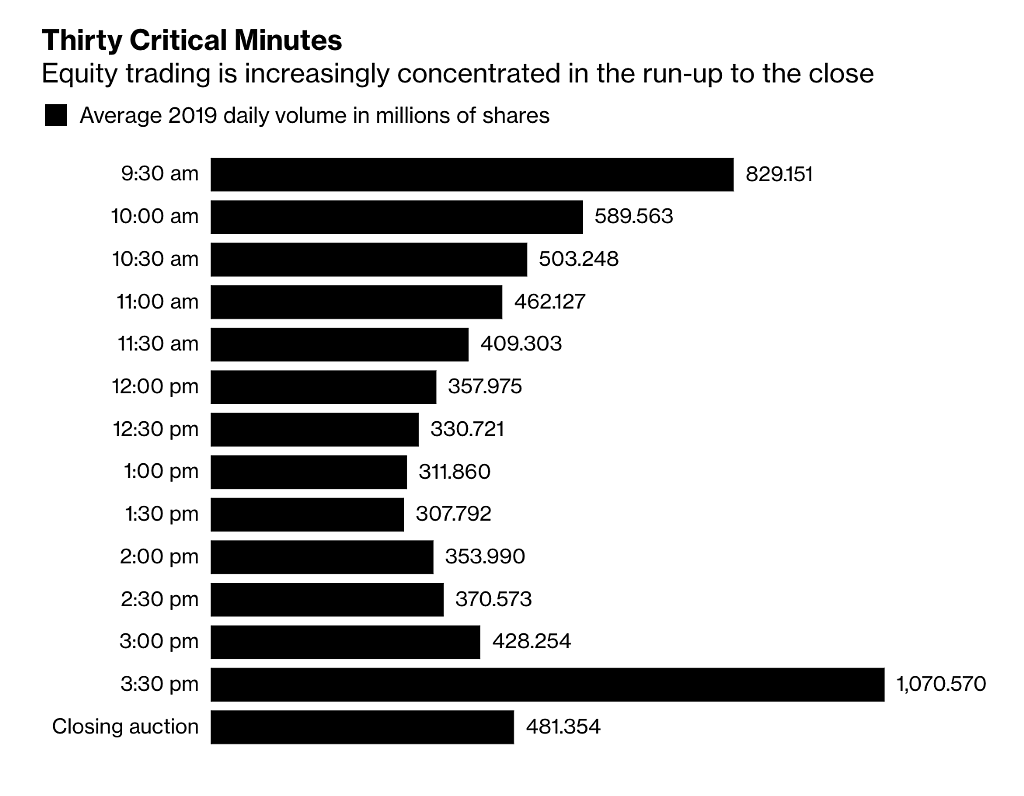 5.Stock Trading Makes Up the Largest Share of Assets Deutsche Will Exit.
Deutsche Bank Tells Fixed Income Traders They'll Keep Jobs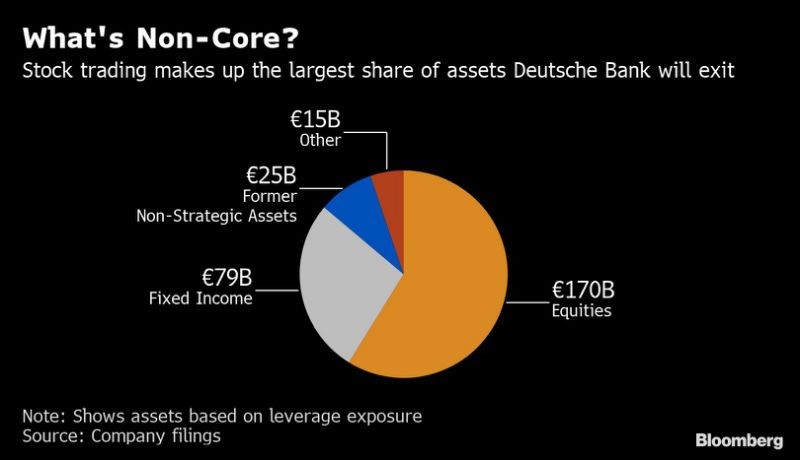 (Bloomberg) — Deutsche Bank AG fixed-income head Ram Nayak assured staff they will keep their jobs at his business even as the lender cuts 18,000 positions in a sweeping overhaul, according to people familiar with the matter.The bank's move to "resize" debt trading operations won't lead to dismissals, Nayak told colleagues on a conference call on Monday, the people said, asking not to be identified as the matter isn't public. A day earlier, Deutsche Bank had announced plans to exit equity sales and trading and huge job-reduction plans.Fixed income has been a traditional strength of Deutsche Bank's investment banking activities. The lender has earmarked more than 20% of its balance sheet to be wound down or sold to free up capital to invest in more profitable businesses. While the equities unit accounts for the majority of assets to be moved to the new capital release unit, the lender is also hiving off long-dated assets in its interest rates business as well as securitized bonds.Deutsche Bank doesn't disclose how many people work for its equity and fixed income businesses. The wider corporate and investment bank division employed 38,305 people at the end of March, of which 17,117 were in front-office positions such as traders and salespeople.Deutsche Bank generated 5.36 billion euros ($6.01 billion) of revenue from dealing in bonds and currencies last year, making the business its second-largest source of earnings. Stock trading supplied less than half that amount.Deutsche Bank shares were on course to break a losing streak after the announcement, rising 2.4% to 6.66 euros as of 12:58 p.m. in Frankfurt. The stock declined 4% on Tuesday after a 5.4% on Monday.Nayak is taking over the fixed income and currency business, reporting directly into Chief Executive Officer Christian Sewing. For Nayak, the move marks something of a comeback: he was replaced by John Pipilis last year as head of fixed-income trading. Pipilis is set to leave. Nayak previously worked at Credit Suisse Group AG before joining Deutsche Bank in 2009 as head of global markets structuring.Deutsche Bank says it has a top five market position in 75% of the investment banking businesses that it's keeping. The bank will "refocus on clients where we have a competitive edge" and invest to stabilize its business and then grow, according to slides it published on its website on Monday."We will continue to be a leader in the debt financing markets across investment grade, leveraged finance, asset-backed securities and commercial real estate," Sewing said on a call with reporters on Monday. "We will continue to have one of the top FX businesses in the world and continue to be a trusted adviser to our corporate and financial sponsor clients."(Adds shares in sixth paragraph.)To contact the reporters on this story: Harry Wilson in London at hwilson57@bloomberg.net;Nicholas Comfort in Frankfurt at ncomfort1@bloomberg.net;Eyk Henning in Frankfurt at ehenning1@bloomberg.netTo contact the editors responsible for this story: Dale Crofts at dcrofts@bloomberg.net, Sree Vidya BhaktavatsalamFor more articles like this, please visit us at bloomberg.com©2019 Bloomberg L.P.
https://finance.yahoo.com/news/deutsche-bank-tells-fixed-income-112043018.html
6. Coffee Prices – 45 Year Historical Chart…Back to 1975 Prices.
Coffee Back to 1975 Prices….
Interactive chart of historical daily coffee prices back to 1969. The price shown is in U.S. Dollars per pound. The current price of coffee as of July 09, 2019 is $1.0745 per pound.
https://www.macrotrends.net/2535/coffee-prices-historical-chart-data
7.Meanwhile Starbucks is Almost a Double from Mid 2018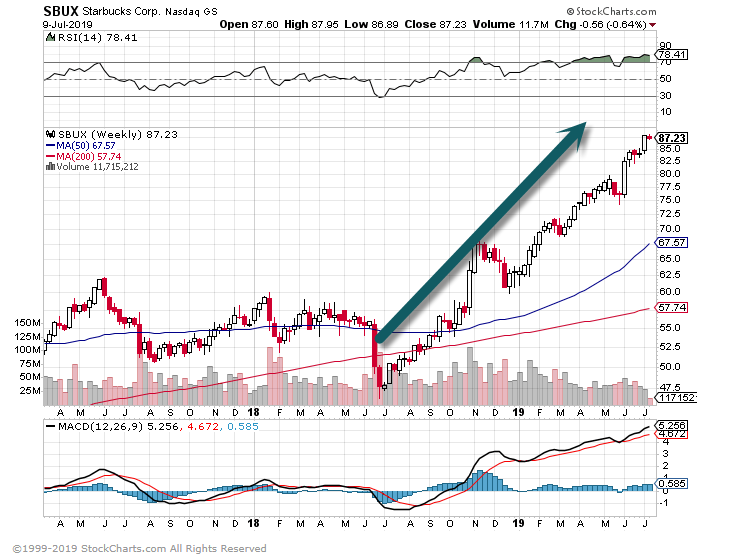 8. 18 Months Ago The U.S. Hit the Lowest Inventory of Homes for Sale in History.
-The housing shortage that fueled competition and resulted in sky-high price gains throughout 2017 and the first half of 2018 is on the horizon yet again, and supply could potentially hit a new low.
-The number of for-sale listings was up 2.8% annually in June, but that was down from May's 2.9% gain. Inventory gains began to slow this year from 6.4% growth in January to 5.8% in February.
-Gains continued to slow throughout the spring and supply is now expected to flatten over the next three months and could hit its first decline in October of this year, according to realtor.com
Competition in the housing market finally began to cool this year, as listings multiplied and price gains moderated. Bidding wars became less frequent and spring sales perked up a bit. Well, forget that. The heat is on yet again.
The housing shortage that fueled competition and resulted in sky-high price gains throughout 2017 and the first half of 2018 is on the horizon yet again. Supply is soon expected to drop and potentially hit a new low, according to realtor.com, after increasing in the second half of last year.
The number of for-sale listings was up 2.8% annually in June, but that was down from May's 2.9% gain. Inventory gains began to slow this year from 6.4% growth in January to 5.8% in February. Gains continued to slow throughout the spring and supply is now expected to flatten over the next three months and could hit its first decline in October of this year, according to realtor.com
"It was only 18 months ago that the number of homes for sale hit its lowest level in recorded history and sparked the fiercest competition among buyers we've ever seen. If the trend we're seeing continues, overall inventory could near record lows by early next year," said Danielle Hale, chief economist at realtor.com. "So far there's been a lackluster response to low mortgage rates, but if they do spark fresh buyer interest later in the year, U.S. inventory could set new record lows this winter."
Part of the issue is that fewer owners are now listing their homes for sale, and there are several reasons why.
"It's likely a combination of rate-lock, recently decreased consumer confidence and older generations choosing to age in place," added Hale.
The housing market is about to shift in a bad way for buyers- Diana Olick
https://www.cnbc.com/2019/07/09/the-housing-market-is-about-to-shift-in-a-bad-way-for-buyers.html
Small Inventory Creep in 2018 Rolling Back Over.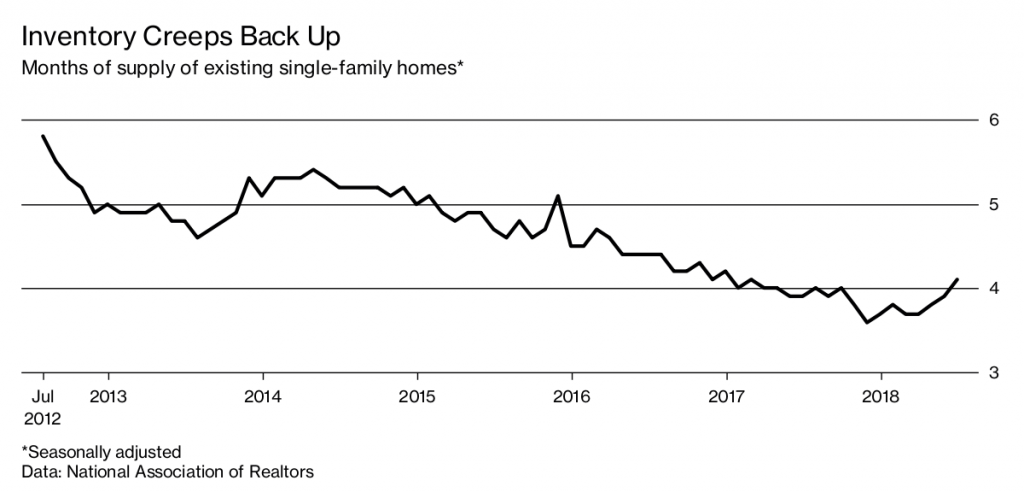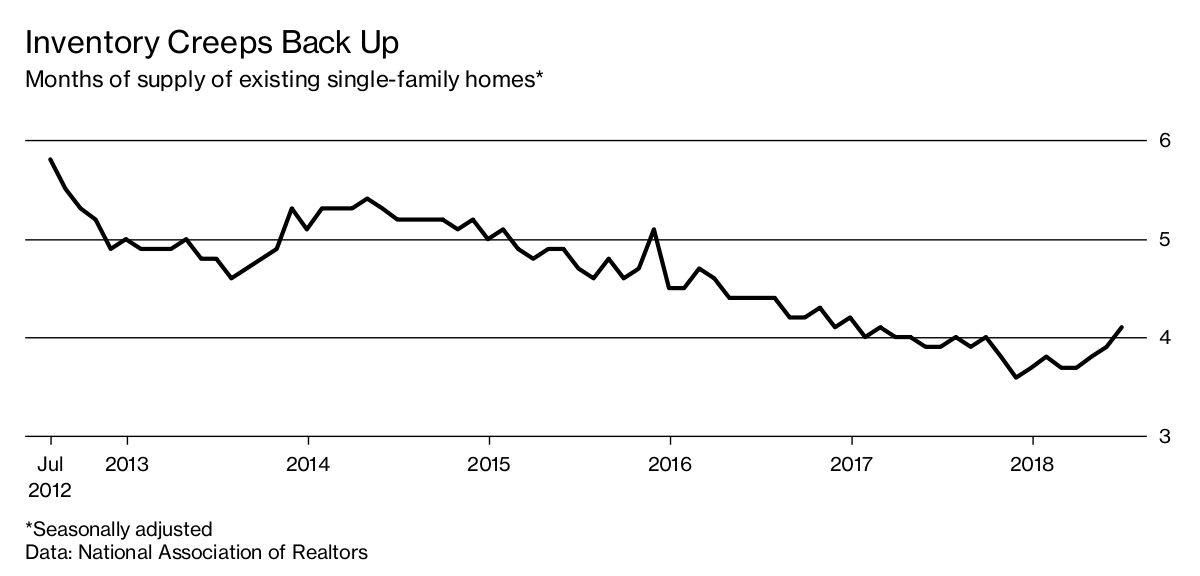 Housing inventory-to-sales ratio continues to trend lower.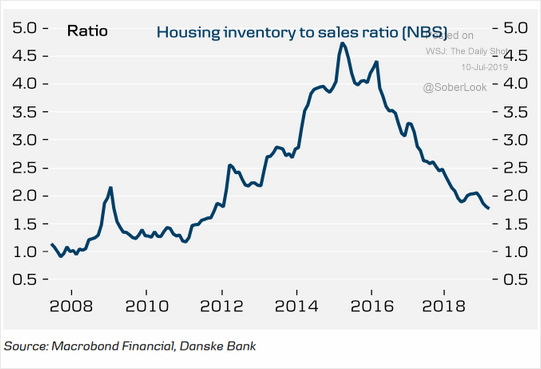 Source: Danske Bank
9.Sam Zell: Try to Avoid Competition
It's difficult to win when everyone is doing the same thing
July 08, 2019
Billionaire real estate investor Sam Zell made his fortune by anticipating shifts in the market and moving in the opposite direction to what everyone else was doing. Being a contrarian is an important part of value investing, but to Zell, it's not just about being right when others are wrong – it's about avoiding competition as much as possible in order to make the easy money. He explained this position in a November 2018 interview at the Prime Quadrant Conference.
It's hard to stand out in the herd
Zell said that while he is in favor of competition on a large scale, when it comes to the businesses and assets that he invests in, he prefers monopolies (or at least oligopolies). The reason for this is that investing in areas where there are a lot of people trying to do the exact same thing is always going to result in margin compression. Going in the same direction as everybody else makes it difficult to stand out: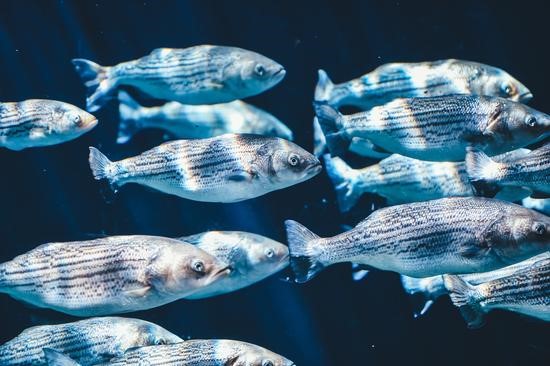 "My secret sauce is that I didn't know how I was going to excel if I went in the same direction as everybody else. If you look at the Forbes 400 and you take out [the] 25-30% of the people that inherited their money, the rest of the people went left when conventional wisdom went right. And that obviously is directly related to the fact that you can't produce high margins if you and everybody else are doing the same thing…You have to create capital by identifying areas and methodologies where you can achieve exponential growth."
Zell believes in moving away from areas of high competition toward those where it is limited. This is particularly applicable to capital-intensive areas like real estate, as well as things like shipping and rail cars, or anywhere where there is a limited supply.
"When we became buyers of distressed property, the major thesis was that we were buying properties at material discounts to replacement cost. That really comes down to if I own an office building and I buy it for 50 cents on the dollar, then in order for somebody to build an office building to compete with me, it costs them 100. And the difference between 50 and 100 is my competitive advantage. That's my edge. That's my barrier to entry."
Avoiding competition brings two major benefits. First, investing in a business that has few competitors, or one that has recently consolidated many competitors, is a surer bet than getting involved in an industry with many similarly-sized companies. Second, if you are investing in an area that is out of favor (and, therefore, has less competition among investors), you likely will be able to purchase assets at a discount to their intrinsic value.
10.Ryan Holiday..What Ego Edges Out.
Exciting news, my book Ego is the Enemy is just $.99 as an ebook for a very limited time. Check it out!

And here is my latest post on Medium…
Everyone is trying to do something.

Try start a company or write a book.
To be a good dad or a good employee.
To get in better shape, or help a friend.
To pick up the pieces after a divorce,
or to get picked for a new project.

Whatever it is, whatever we're doing, ego is the enemy.

It has to be.

Because what is ego? It's not confidence—which is properly defined as evidence of our strengths and abilities. Ego is something different, something less earned, a kind of unhealthy belief in our own importance. The idea that we have unlimited strengths and no weaknesses. It's the voice whispering in our ear that we're better than other people, that our needs matter more, that the rules don't apply to someone as exceptional as we are. It's the sense that we are special and therefore need this success or that piece of recognition to prove it (or rather, we deserve it because well, because). It's the belief that everyone else is watching us, that we're destined for greatness.

I'm talking about ego in the colloquial sense, of course. Freud was fond of explaining the ego by way of analogy—our ego was the rider on a horse, with our unconscious drives representing the animal while the ego tried to direct them. Modern psychologists, on the other hand, use the word "egotist" to refer to someone pathologically focused on themselves and with disregard for anyone else.

All these definitions are true enough but there is a more common form of ego. The one I was just talking about. It's that petulant child inside every person, the one that must get their way. The need to be better than, more than, recognized for, far past any reasonable utility—that's ego. It's the sense of superiority and certainty that exceeds the bounds of confidence and talent. It's when the notion of ourselves and the world grows so inflated that it begins to distort the reality that surrounds us. When, as the football coach Bill Walsh explained, "self-confidence becomes arrogance, assertiveness becomes obstinacy, and self-assurance becomes reckless abandon."

We all have that. We've all been guilty of it at one time or another.

The thing about ego is not just that it's unattractive. It's that it is much less effective as a lifestyle and professional strategy than humility and confidence are.

Look at Donald Trump. Sure, he's president and it was partly ego that got him there (a confident person looking at his skills and his chances of winning probably wouldn't have run). But even his supporters concede that his ego has made a very difficult job even harder. It dragged out the Mueller investigation (indeed, it brought it on in the first place). It's prevented compromises and collaboration. It shut down the federal government. It's led to a number of bad hires and unnecessary stumbles. It's prevented him from achieving an equally large number of easy policy wins that would have made him exceedingly popular with more than just his base.

The same was true for Richard Nixon. Ego has been a nightmare for Elon Musk. For Kayne West. Ask Hillary Clinton about ego. Or what, just look at the title of the book she wrote after losing, What Happened. (Um, your ego cost you the election?) It should not be controversial then, to say that ego is the enemy.
Check out our Ego is the Enemy coin and use the code "EGOCOIN" for $6 off
In the recovery community, they like to say the E.G.O stands for "Edging God Out." That makes sense. There's no room for God in your life if you believe you're the center of the universe. But I would argue that ego edges out a lot more than just a higher power…

Ego pushes away feedback.
Ego pushes away realism.
Ego pushes away potential friends and allies.
Ego pushes away an accurate picture of risk or failure.
Ego pushes away opportunities that don't come gift wrapped.
Ego pushes away understand and self-reflection.
Ego pushes away the desire to improve–the essence of mastery.

How can we make things for other people if all we're thinking about is ourselves? How can we motivate or lead other people if we have no ability to care or see what is happening inside them? As the performance artist Marina Abramović put it, "If you start believing in your greatness, it is the death of your creativity."

It might very well be the death of you…as many generals on the battlefield and athletes and addicts who plunged ahead despite all the warnings soon found out.

So what keeps ego around then? If it is so dangerous and deleterious to our self-interest? It's simple: Comfort. Pursuing great work—whether it is in sports or art or business—is often terrifying. Ego soothes that fear. It's a salve to that insecurity. Replacing the rational and aware parts of our psyche with bluster and self-absorption, ego tells us what we want to hear, when we want to hear it.

But it is a short-term fix with a long-term consequence.

So whatever you're doing. Whether you're young and brimming with ambition or you've made that first couple million, signed your first deal, been selected to some elite group, or you're already accomplished enough to last a lifetime. Whether you're stunned to find out how empty it is at the top or you're charged with leading others through a crisis. Whether you just got fired or hit rock bottom, beware.

Wherever you are, whatever you're doing, your worst enemy already lives inside you: your ego. "Not me," you think. "No one would ever call me an egomaniac." Ah, but there it is. That's ego already! Like the devil, it's trick is to convince you it doesn't exist—that you don't have one.

We must be on guard. We must be constantly pushing it away before it pushes our more cherished assets and insights away.

Ego is the enemy.