1.Vanguard Total International Bond ETF—20 of Top 30 Holdings Yield Less Than Zero.
BNDX Rally in 2018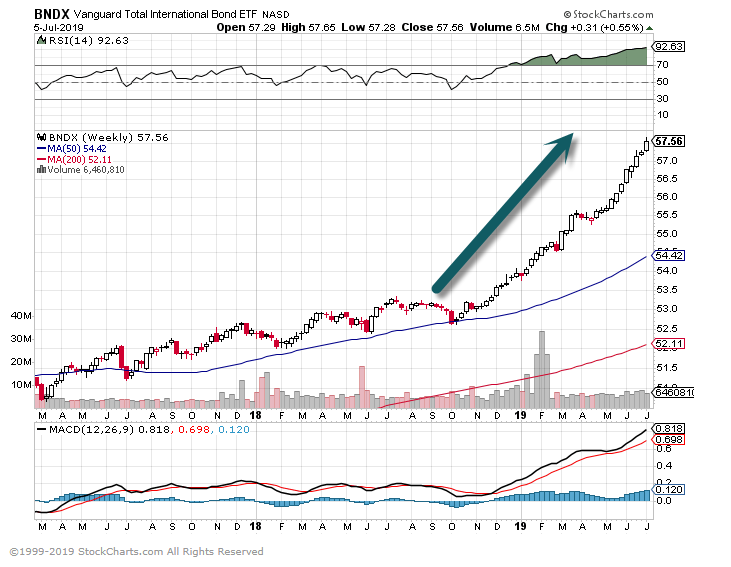 Jim Grant in Barrons.
Jim Grant: The Trouble With Austria's 100-Year Bonds By James Grant

https://www.barrons.com/articles/jim-grant-the-trouble-with-austrian-centuries-51562354708?mod=past_editions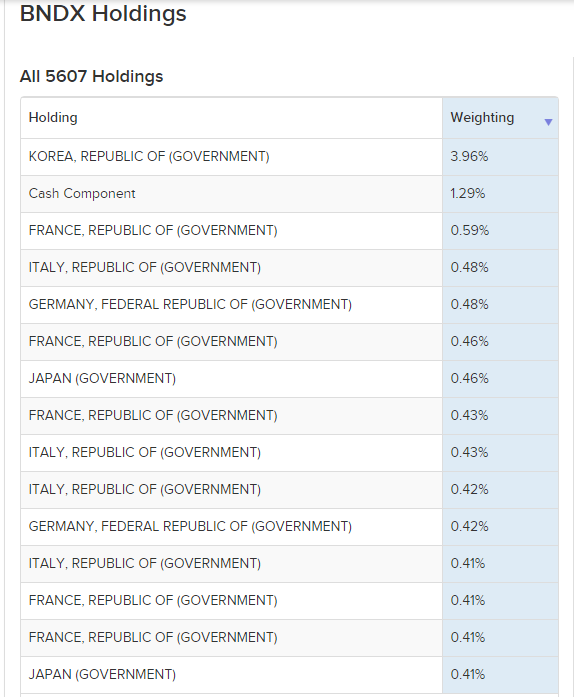 2.Junk Bonds 2019 Break Out of 2 Year Sideways.
HYG Junk Bond ETF
Correlation with stocks increasing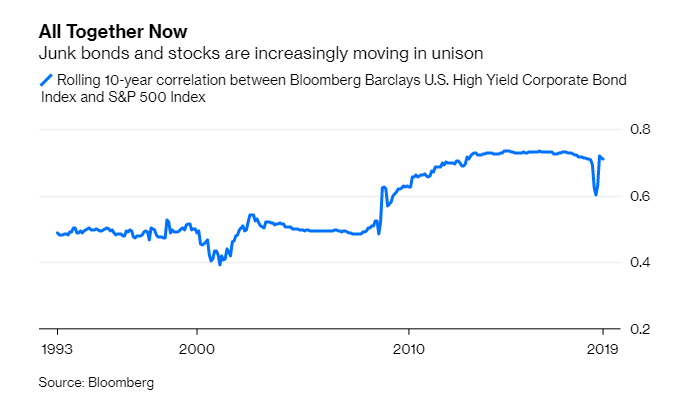 Junk Bonds Vex Portfolios, But Investors Love Them Their recent surge in popularity leaves high-yield debt buyers unusually vulnerable By Nir Kaissar
https://www.bloomberg.com/opinion/articles/2019-04-24/junk-bonds-vex-portfolios-but-investors-love-them
3.Above Points are the Reason for Gold Breaking to New 5 Year Highs.
Gold hedge against possible failure of QE….$17 Trillion in negative yielding bonds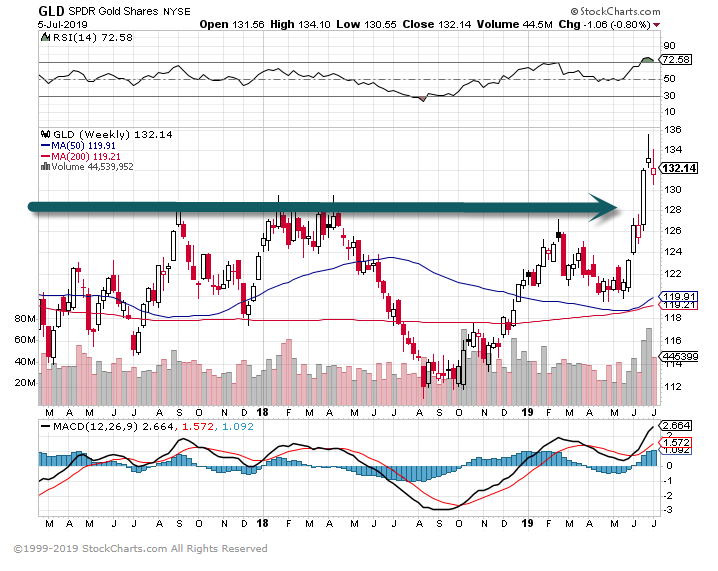 4.Most Heavily Shorted S&P 500 Stocks
Tue, Jul 2, 2019
Below is a list of the 29 stocks in the S&P 500 that have more than 10% of their share float sold short.  Luxury retailer Nordstrom (JWN) currently tops the list with 22% of its float sold short.  The stock is down 33.86% YTD and 55% from levels seen last November.

Tax-prep company H&R Block (HRB) is the second most heavily shorted stock with 20.55% of its float sold short.  HRB is followed by sports retailer Under Armour (UAA), Snap-On (SNA), and Kohl's (KSS).  While JWN and KSS are both down big YTD, HRB, UAA, and SNA are all up nicely on the year.

There are plenty of other notables on the list, including Macy's (M), Campbell Soup (CPB), TripAdvisor (TRIP), Gap (GPS), Western Union (WU), and Foot Locker (FL), but one common characteristic among many of them is that they are retailers.

On average, these stocks with 10%+ short interest as a percentage of float are up 8.5% on the year, which is well below the 17% gain that the S&P 500 has seen.

BESPOKE INVESTMENT GROUP
https://www.bespokepremium.com/interactive/posts/think-big-blog/most-heavily-shorted-sp-500-stocks
5.Growth vs. Value….3x as Many S&P 500 Stocks Trading Below 10x P/E than 3 Years Ago.
The broad S&P 500 index traded recently at 16.7 times projected earnings for the next four quarters, up from 15.5 times earnings five years ago. Yet at the end of June, 67 of the index's constituent companies had price/earnings ratios below 10, more than three times as many as five years ago.
Cheap Stocks to Buy as the Market Hits New Highs By Jack Hough
https://www.barrons.com/articles/cheap-stocks-for-a-pricey-market-51562347437?mod=past_editions
2019-16.7x not cheap but not bubble territory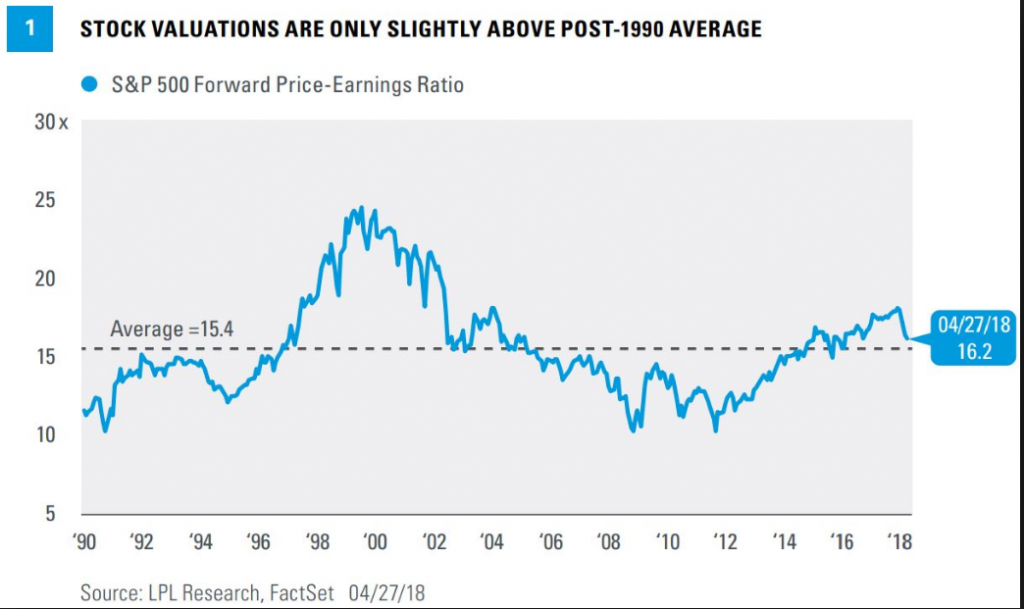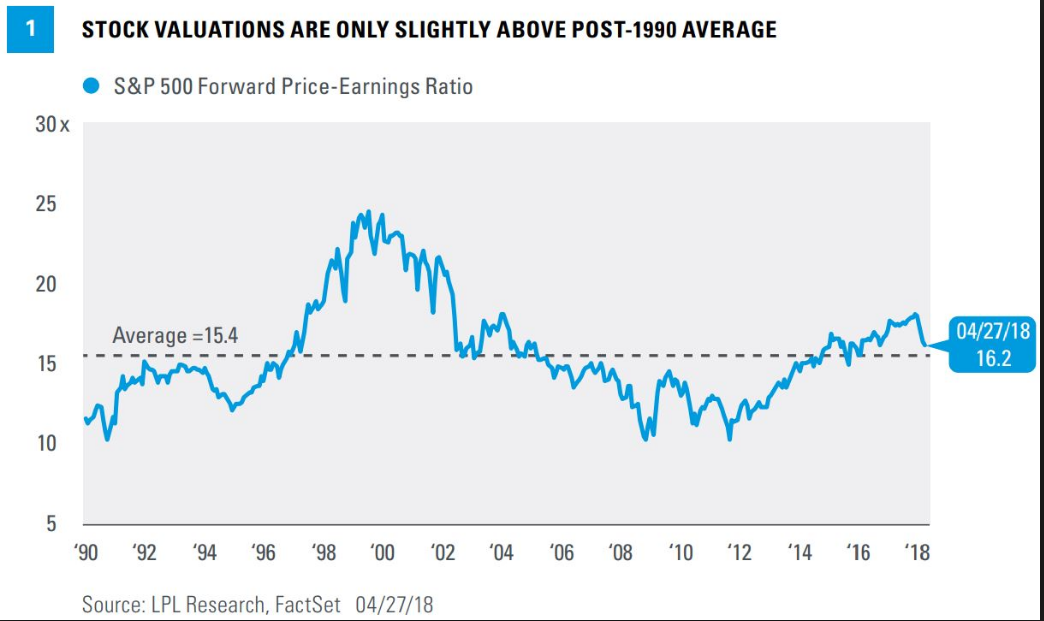 https://www.marketwatch.com/story/history-suggests-the-stock-market-isnt-overly-expensive-right-now-2018-05-02
6.Wage Growth Missed Estimates Last Week…Fed Watching this Statistic Closely.
At the same time, wage growth appears to be flattening out, albeit at a still-strong level. Average hourly earnings rose 0.2% from the prior month, missing estimates, following an upwardly revised 0.3% gain, while annual wage gains held at 3.1%.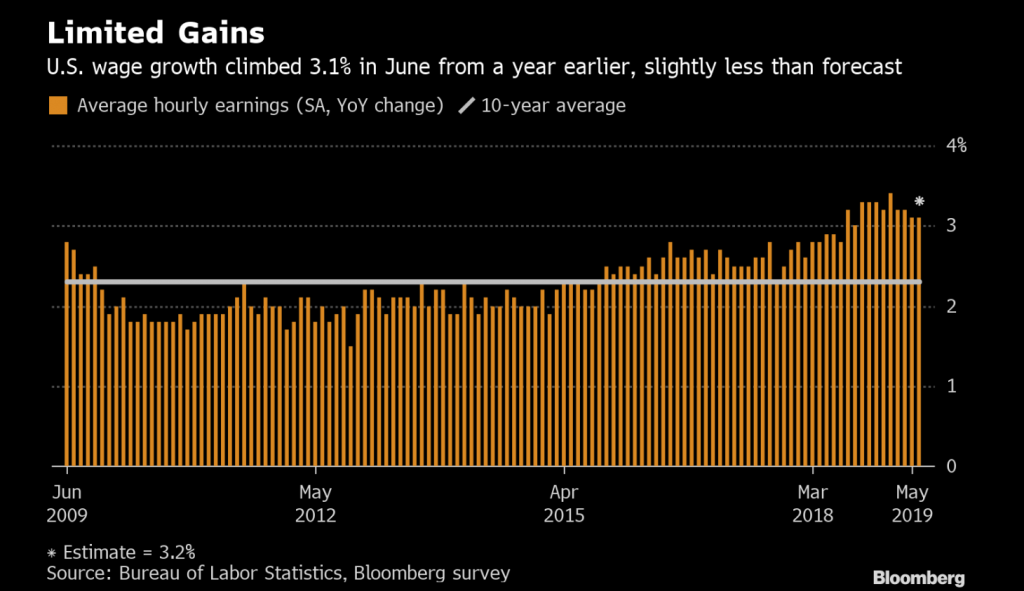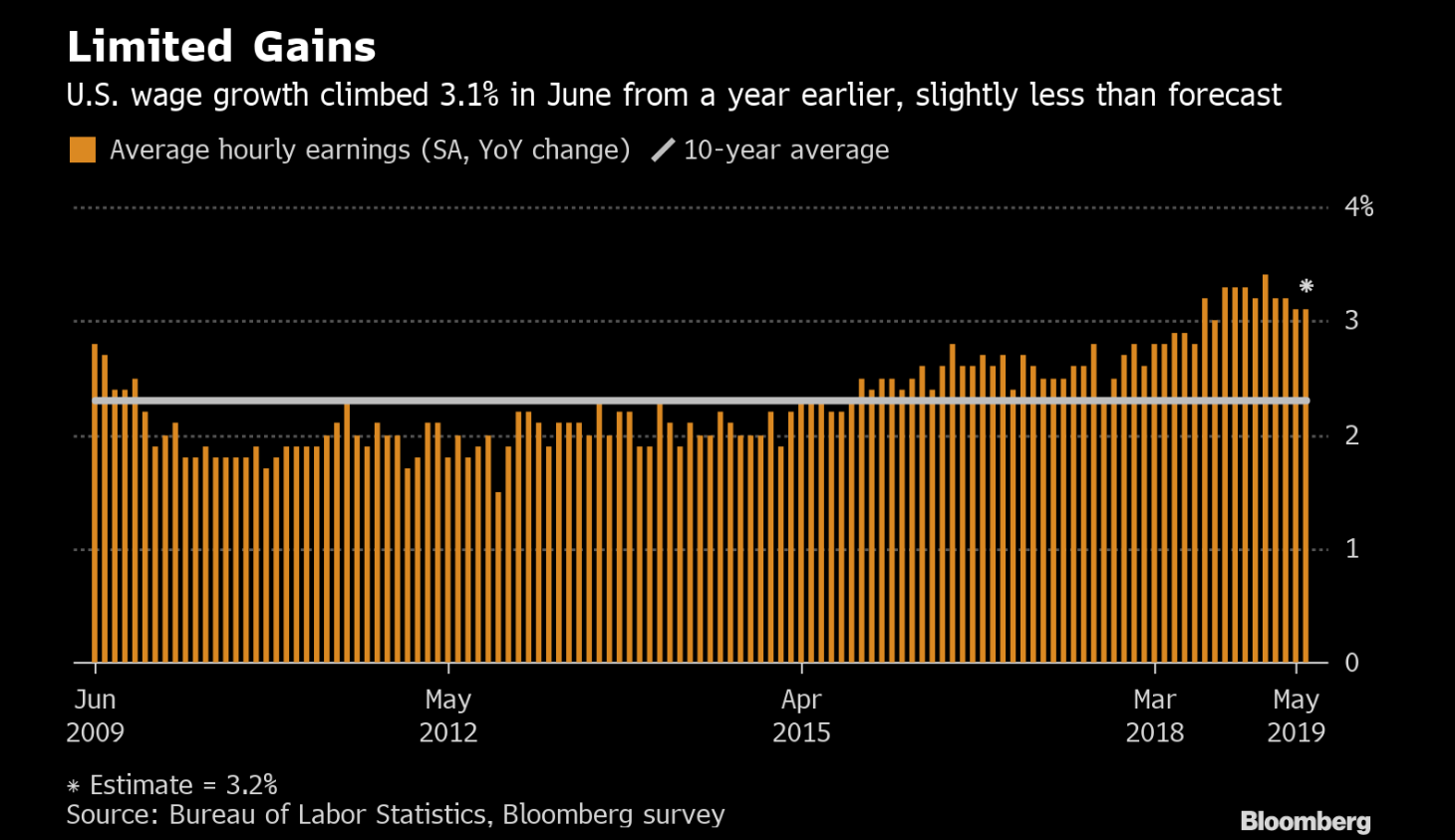 Strong U.S. Hiring Rebound Dilutes Case for Larger Fed Cut
By Reade Pickert and Jeff Kearns
https://www.bloomberg.com/news/articles/2019-07-05/u-s-jobs-top-forecast-as-224-000-gain-dilutes-case-for-fed-cut
7.FRED CHARTS-Consumer Price Index for Apparel is Still Below 1990's Levels.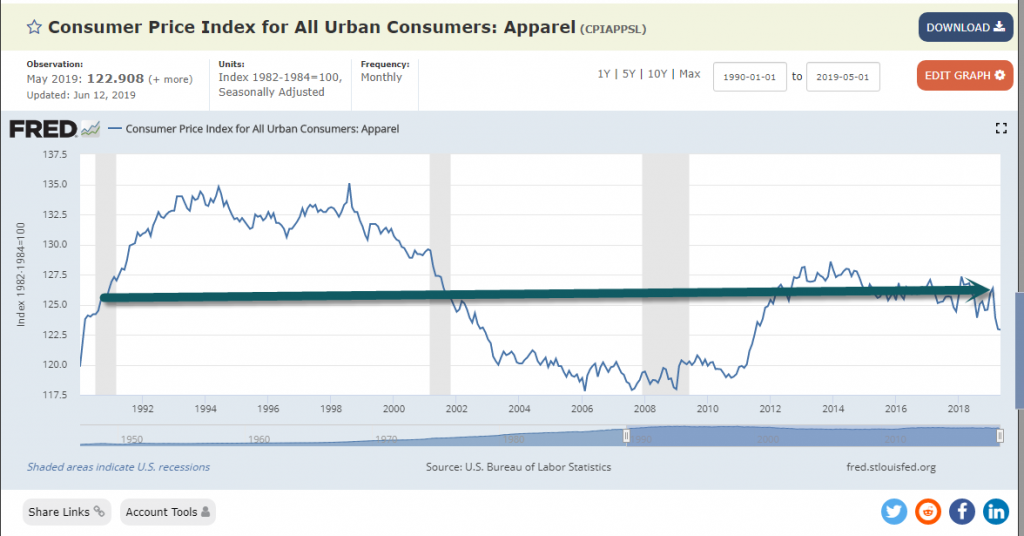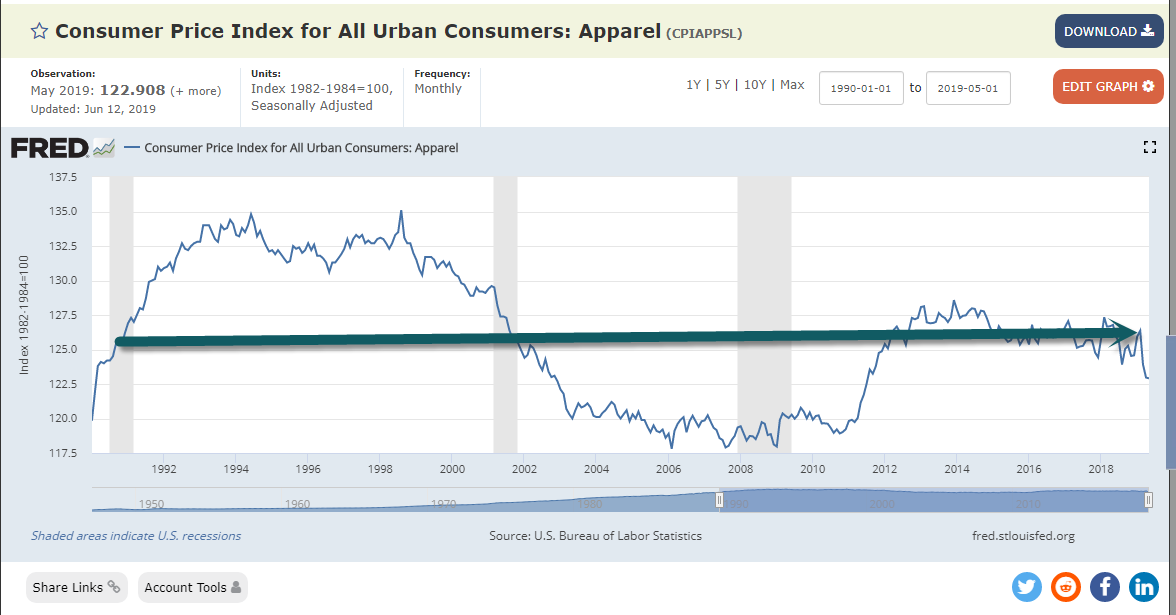 FRED CHARTS
https://fred.stlouisfed.org/series/CPIAPPSL
8.Trump says 'favored-nations clause' on drug prices is on its way…
President Donald Trump, speaking to reporters on the South Lawn of the White House before his departure Friday for Bedminster, N.J., promised executive action to help cut drug prices. Photo by Yuri Gripas/UPI | License Photo
July 5 (UPI) — President Donald Trump on Friday said his administration intends to announce a plan to decrease prescription drug costs based on the lowest price other countries pay.
He called it a "favored-nations clause."
"As you know, for years and years, other nations paid less for drugs than we do," he told reporters gathered on the South Lawn of the White House. "We're working on it right now, we're working on a favored nations clause, where we pay whatever the lowest nation's price is."
Trump said he will sign an executive order to implement the plan.
"Why should other nations, like Canada, … pay much less than us?" he asked. "They've taken advantage of the system for a long time, pharma."
The announcement comes less than two weeks after Trump signed an executive order to improve the transparency of healthcare costs. The order requires hospitals and insurance companies to tell patients their rates for medical services and what patients will be expected to pay out of pocket before undergoing treatment.
Since his inauguration, Trump has made reducing prescription drug costs a priority of his administration.
In May, Health and Human Services Secretary Alex Azar announced a rule that requires pharmaceutical companies to reveal the prices of drugs they advertise in television ads. The same month, though, the Trump administration tabled the implementation of a proposal to cut drug prices for Medicare patients.
In October, Trump signed a pair of bills lifting so-called gag orders that prevent pharmacists from telling customers how to save money on prescription drugs.
A study released in March 2018 found that the costs of certain brand-name drugs are increasing at 10 times the rate of inflation. The report found prices increased an average of 12 percent every year for the Top 20 most commonly prescribed brand-name drugs under the Medicare Part D program from 2012 to 2017.
https://www.upi.com/Top_News/US/2019/07/05/Trump-says-favored-nations-clause-on-drug-prices-is-on-its-way/7001562346583
9.Buffett Taken for $800m in Solar Ponzi Scheme.
The Couple Who Feds Say Scammed Berkshire Hathaway For Millions
June 4, 2019 • Katherine Chiglinsky, Brian Eckhouse, Mark Chediak
Jeff Carpoff had a lot to celebrate as friends and business associates gathered at his company's Christmas party last year.
The onetime auto mechanic and his wife, Paulette, had started a solar company about a decade earlier that was doing remarkably well — so well that it could count Warren Buffett's Berkshire Hathaway Inc. as an investor in its funds. Their business, making mobile solar generators, had afforded them lavish goodies. They owned more than 90 cars, from classic Fords and Plymouths to Bentleys, at least 20 properties, and even a professional baseball team in Martinez, just northeast of San Francisco.
And now as the year came to a close, here was Pitbull, the rapper from Miami, headlining their Christmas party at a swanky Fairmont hotel, according to people familiar with the matter. The event, tweeted Kyle Larson, a race-car driver once sponsored by a Carpoff company, was the "best holiday party I've ever been to by far!!"
A few days later, when law enforcement agents showed up at their front door, the Carpoffs' extravagant life came crashing down. It was an edifice largely built on an alleged fraud — a Ponzi-type scheme, in essence, say federal authorities — that was as elaborate and brazen as their spending habits.
Their company, DC Solar, is now out of business, most of its 100-strong workforce unemployed. Their home in Martinez, a sprawling 4,100-square-foot affair, is in foreclosure, the swimming pool littered with leaves. When FBI agents visited the home on that day in late December, they took many of the luxury cars. They also seized a pile of cash — $1.8 million in all — that had been secreted away in a safe and elsewhere in one of the couple's offices.
The Carpoffs, authorities contend, had managed to parlay a do-good incentive to encourage solar investments into an $800 million fraud scheme. Promising big federal tax credits and profits, their pitch enticed sophisticated investors, even though it came from an enterprise little-known outside of California and the car-racing world.
Not only did Berkshire bite, sinking $340 million alone, but so did insurer Progressive Corp. It had to reverse tax benefits worth more than $150 million due mostly to its DC Solar investments. A half-dozen or so regional banks were financial backers, too, including East West Bancorp Inc., Valley National Bancorp and United Financial Bancorp Inc. All plunked their money in funds set up by DC Solar that afforded significant tax credits and possible profits.
The company was supposed to use the money to build mobile generators, which supply power at sporting events and other outdoor venues. But evidence suggested DC Solar "engaged in nearly no legitimate business," the government said. The company built and leased only a fraction of the more than 12,000 mobile units it had claimed were in use, the FBI said. Instead, the company allegedly used much of the money from new investors to pay off old ones — and to fund the couple's spending.
DC Solar's precipitous fall is now forcing many of the investors to take charges on tax breaks that they thought were worth millions of dollars. It's also putting the spotlight on the federal tax credit, which since 2006 has helped fuel solar's surge from an alternative electrical resource to the U.S. mainstream. Dozens of the country's biggest companies, from JPMorgan Chase & Co. and Bank of America Corp. to even paint maker Sherwin-Williams Co., now invest in renewable energy to benefit from the tax credits. (Sherwin-Williams was among DC Solar's investors.)
While the program has been largely free of irregularities, the DC Solar tale now stands as a warning sign of how investors, perhaps too hungry for the credits, may be lax in scrutinizing the health of the underlying business. Indeed, the alleged scam started to crack only when a former employee told federal authorities that they believed the number of leased mobile units claimed by DC Solar was false, according to a court filing.
READ FULL STORY
The Couple Who Feds Say Scammed Berkshire Hathaway For Millions
June 4, 2019 • Katherine Chiglinsky, Brian Eckhouse, Mark Chediak
https://www.fa-mag.com/news/the-couple-who-feds-say-scammed-berkshire-hathaway-for-millions-45239.html?section=75&utm_source=PW+Subscribers&utm_campaign=ea2873df44-PW+News_070719&utm_medium=email&utm_term=0_1899ce8517-ea2873df44-236049617
10.How Finding Your Calling Changes Everything
By John C. Maxwell | July 1, 2019 | 0
I want to start by asking you a question: How do you currently think about what you do for a living?
Yale professor Amy Wrzesniewski has done research with employees in the workplace and observed that people tend to fall into three groups. What's remarkable is that individuals sort into these categories regardless of the industry, the social status of their profession, their pay or their title.
In a study, roughly equal numbers of administrative assistants surveyed fell into these three categories, and employees who mopped floors in a hospital were just as likely to see themselves aligning in one of these three groups. Think about which best describes you.
1. You do a job.
When you have a job, your main goal is to earn a living and support your family. You may not think about it beyond the time you spend on the clock. You may do your job with excellence or you may simply mark time, but either way, when you finish your day or your shift, you walk away and don't think about it.
Satisfaction and fulfillment for people who have a job-only mindset comes from activities outside of work. And while people in this group may hope to advance, they don't think in terms of a strategy of career building.
It's been said that if you choose a job you love, you will never have to work a day in your life. And while I think that's good advice, it should be a starting point, not an ending goal. A job is not a calling, no matter how much money you make or how it allows you to serve people. A job is merely a vehicle with the potential to take you toward your calling. That's the way you should think of it.
---
Finding your calling is like finding your why—the reason you exist, your purpose for living. When you do that, it changes everything.
---
2. You build a career.
Most people would acknowledge it's a step forward to be building a career rather than simply holding a job. When you have a career, the implication is that you are heading in a direction. You're making progress attaining positive achievements. An upward trajectory of skill mastery, greater responsibilities and increased earnings are all marks of a successful career.
3. You fulfill your calling.
Author Frederick Buechner said that our purpose is at "that place where your deep gladness meets the world's deep need." Your calling, when you find and embrace it, will result in the merging of your skills, talents, character traits and experiences. It will make use of every ability you have at your disposal and all the lessons you've learned. It will be represented by a deep desire to create, lead, inspire and make a difference.
Are you appreciating the differences between a career and a calling? A career is mainly about you, but your calling is focused on others. A career you could take or leave, but a calling never leaves you. Careers are measured by success. Callings are measured by significance.
Wouldn't you like to find and fulfill a calling that makes a difference and gets you excited every day for the rest of your life? Finding your calling is like finding your why—the reason you exist, your purpose for living. When you do that, it changes everything
So what is your calling? Do you already know it, or do you need some help finding your way? If you have not already discovered it, then you have come to a fork in the road. I hope you will take the bold way, the radically different path that represents your calling. It may be frightening. It may be uncomfortable. It may feel uncertain.
But I can assure you that if you find your calling, you will never regret the difficult journey taken to pursue it, because there's nothing else like it.
When I was in a class in college, the professor asked three questions to help us understand ourselves and find pathways for our lives. Since I first heard them, I have asked them of myself repeatedly. Those three questions are:
What do I sing about? What fills my heart?
What do I cry about? What breaks my heart?
What do I dream about? What lifts my heart?
These questions set me on the journey that enabled me to discover my calling. As time went by, I experienced moments that spoke to me at a deep level of purpose.
Singing moments: times when I knew that my leadership was making a positive difference for people.
Crying moments: times when I wept because I saw that bad leadership misused or abused people.
Dreaming moments: times when I dreamed of training leaders who would make a significant impact on people.
You'll notice that all of these moments related to leadership, because that's where my calling is. So I ask you: Where do you experience singing, crying and dreaming moments in your life?
I don't know what phase of life you're in today. If you're lucky, you might be in the season of life where you already know your calling, and you're either working out what to do with it, or you're living it every day.
But maybe you're simply doing a job and hoping for more. Perhaps you've developed a career yet still long for something deeper. If either of those is true, keep working your way toward your calling.
In either of those cases, my best advice is to be attentive. Pay attention to your feelings. Take time to reflect. Learn from your experiences. Never dismiss your dreams. And when your moment comes, embrace it.