1.What Asset Class is More Expensive? Stocks or Bonds?
A Case for Stocks from Bond Valuations
Posted by lplresearch
U.S. stocks have powered back to record highs, and they could benefit more from a relatively expensive fixed income market.
As shown in the LPL Chart of the Day, Stocks Appear Historically Cheap Relative to Bonds, S&P 500 Index stocks are at their most attractive valuations relative to Treasuries in nearly three years. This data is based on a metric we track called the equity risk premium (ERP), which compares the earnings yield on equities (or company profitability as a percent of share price) to the 10-year Treasury yield.
There are several different ways to view stock and bond valuations, so the ERP is only one piece of the puzzle. However, the ERP's recent ascent shows how much global buying pressure has crimped U.S. yields this year.
There are several different ways to view stock and bond valuations, so the ERP is only one piece of the puzzle. However, the ERP's recent ascent shows how much global buying pressure has crimped U.S. yields this year.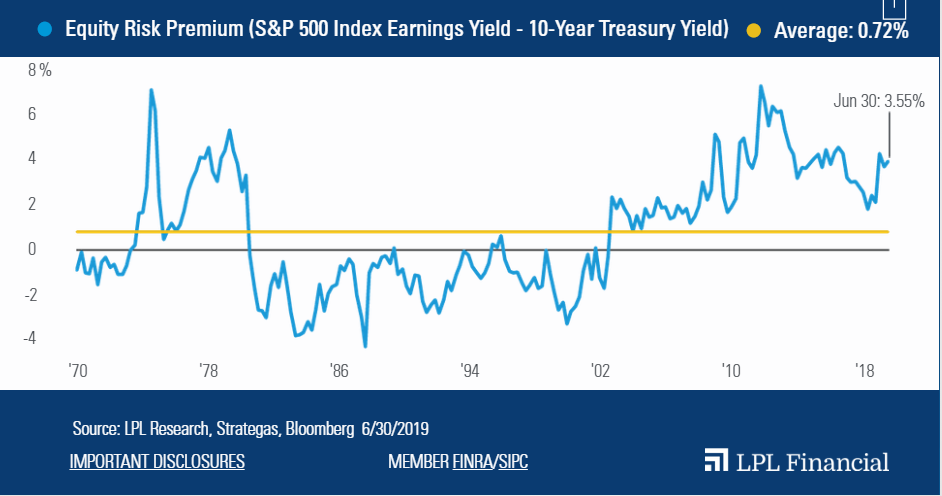 https://lplresearch.com/2019/07/23/a-case-for-stocks-from-bond-valuations/#more-13591
2.The Biggest Residential Real Estate Company in the World is Down 80%
RLGY–Owner of Caldwell Banker and Century 21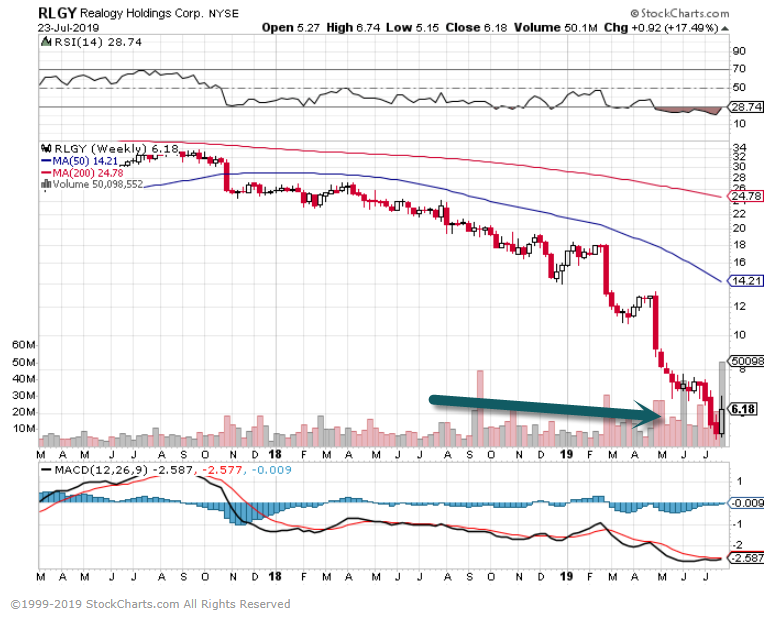 For real estate brokers, it's hard to find prospective homebuyers who won't waste their time.
For prospective homebuyers, it's hard to find a house that wasn't the scene of a murder.
Amazon (+0.45%) and real estate brokerage Realogy (+19.54%) are aiming to streamline the process by launching TurnKey, a service that helps you find a real estate agent.
How it works:
You answer a few questions on Amazon's TurnKey website and get a ring from a Realogy rep, who vets you and potentially sends you to an agent.
If you close on a house, you'll get up to $5,000 to use on Amazon Home Services like furniture assembly and smart home products like Echo.
The Realogy angle: It's the country's largest residential real estate brokerage, owning Century 21, Coldwell Banker, and other brands. But a refresh is in order after it lost nearly 80% of its stock price over the past year.
The Amazon angle is pretty straightforward: It's focusing on generating more ad revenue through search and getting its internet-connected gadgets into people's homes.
3.Deutsche Bank just posted its biggest loss since 2008 after taking a $3.8 billion charge to overhaul the bank (DB)
Yusuf Khan
Deutsche Bank announced a loss that was bigger than the bank previously indicated, sending the shares plunging in Wednesday trading.
Credit Suisse analysts said the loss was wider than the €2.8 billion loss the bank previously flagged to the market, and in a note to clients called the results "disappointing."
---
Deutsche Bank on Wednesday morning announced a loss that was bigger than the bank previously indicated, sending the shares plunging.
The German bank's loss in the second quarter was €3.1 billion ($3.5 billion) after "strategic transformation charges" of €3.4 billion — the Financial Times said the loss was the worst quarterly result for Deutsche since the 2008 financial crash.
Credit Suisse analysts said the loss was wider than the €2.8 billion loss the bank previously flagged to the market, and in a note to clients called the results "disappointing." The analysts said adjusted pretax profit was a big miss — €588 million euros versus consensus of €806 million.
On July 7, Deutsche Bank announced a radical overhaul of the business. It entailed a cut of 18,000 jobs by 2022 and dropping the stock sales and trading unit. At the time Deutsche said the cost of restructuring would be €6 billion.
Deutsche Bank's shares fell as much as 5.2% and were hovering down about 3% lower on Wednesday. The bank said 900 jobs have already been cut or eliminated since the overhaul announcement.
"Excluding transformation charges, the bank would be profitable, and in our more stable businesses revenues were flat or growing," CEO Christian Sewing said in the statement. "This, combined with our solid capital and liquidity position, gives us a firm foundation for growth."
Credit Suisse analysts said that they "expect further downgrades to earnings estimates to weigh on the shares."
Sewing also in a letter to employees said that: "by and large our strategy is no longer being called into question, either by our investors or by the media or – most importantly – by our clients."
https://markets.businessinsider.com/news/stocks/deutsche-bank-q2-earnings-bigger-than-expected-loss-shares-plunge-2019-7-1028379541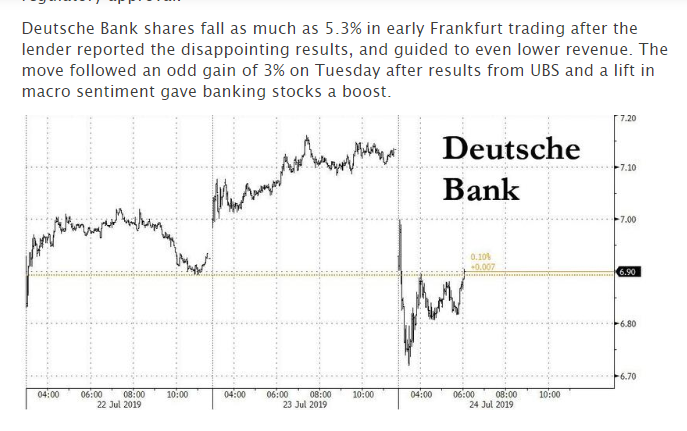 New Lows for Stock….$49 to $6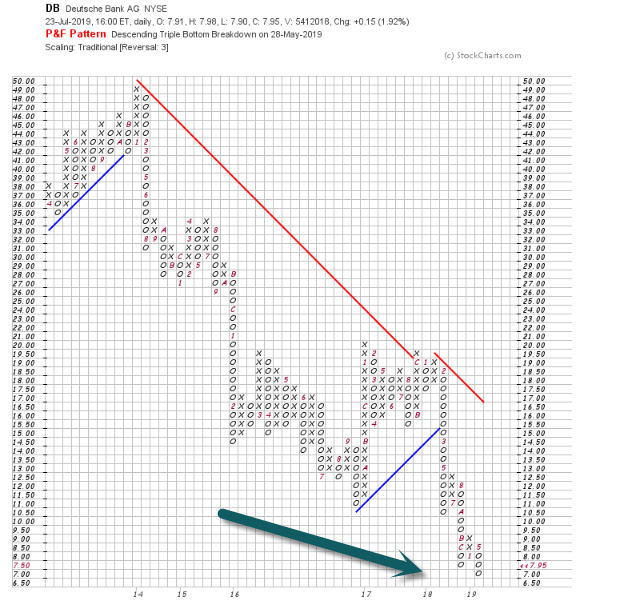 4.Will ECB Need to Add More Liquidity?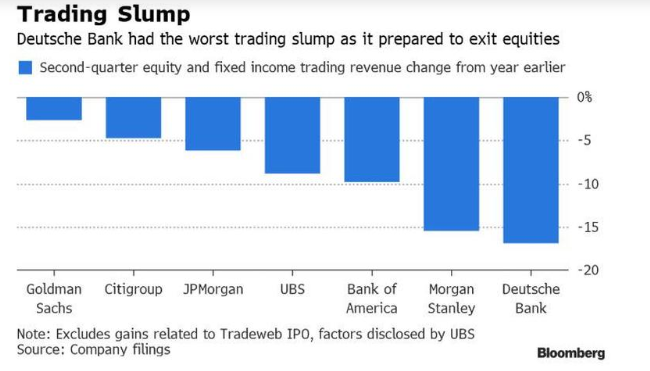 Will ECB Central Bank Need More Plans?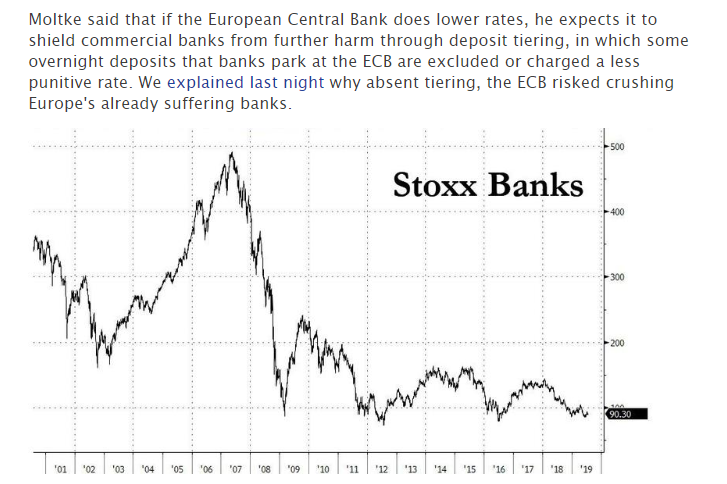 ZeroHedge
https://www.zerohedge.com/news/2019-07-24/deutsche-bank-tumbles-trading-revenues-plummet
5.Fed Balance Sheet As Percentage of GDP Well Off 2014 Highs.
Fed Balance Sheet: This chart shows the Fed's total assets expressed as a percentage of GDP. After peaking at just over 25% in 2014, the number has dropped to now about 18%. In March the Fed announced a reduction in QT (Quantitative Tightening aka balance sheet normalization), and that it planned to stop QT at the end of September. After that time it will begin reinvesting MBS principal repayments into treasuries (i.e. rotation into treasuries). So in efffect the Fed will begin a form of QE later this year. There are a few moving parts here, and I think it's fair to say we are either at or close to the "neutral balance sheet level". So maybe, just maybe, there could be room for them to end QT quicker or tweak some of their existing plans toward outright balance sheet easing. That is, maybe we get rate cuts and something (even if small/symbolic) on the balance sheet side. Something to ponder…

Key point: As a % of GDP the Fed's balance sheet has shrunk materially.
Callum Thomas
Head of Research at Topdown Charts

Follow me on Twitter
Connect on LinkedIn
6.How Are Stock Prices Reacting to Earnings?
Tue, Jul 23, 2019
In our view, how a stock reacts to its earnings report is the ultimate arbiter of how good or bad the report actually was. To get a read on the overall market, we keep track of the median one-day price change for all stocks that have reported earnings on a rolling three-month basis. Over the last three months, the median one-day price reaction to earnings has been nearly flat at -0.03%, so we'd say earnings have been "market neutral" over the last quarter.

Below is a chart showing the rolling 3-month trend for earnings reactions over the last five years. As you can see, the trend swings from positive to negative and back to positive quite a bit, so we'd categorize this as a mean reverting indicator. Earlier this year in Q1 when the market was bouncing back from a horrific Q4 2018, stocks were trading extremely positive in reaction to earnings. In fact, we saw the highest reading over the last five years towards the end of Q1 when stocks were experiencing a median one-day price change of roughly 0.75% in reaction to their earnings reports. Since that peak, however, we've seen price reactions to earnings drift lower. At the end of June, the reading had dipped negative, meaning companies were experiencing declines more often than gains in reaction to earnings, but over the last few weeks, we've started to see price reactions improve.

Now that we're entering the thick of the Q2 reporting period, a continued move higher for stocks reporting earnings would go a long way in causing an overall market breakokut. Stay on top of the most recent earnings trends by starting a two-week free trial to Bespoke Institutional.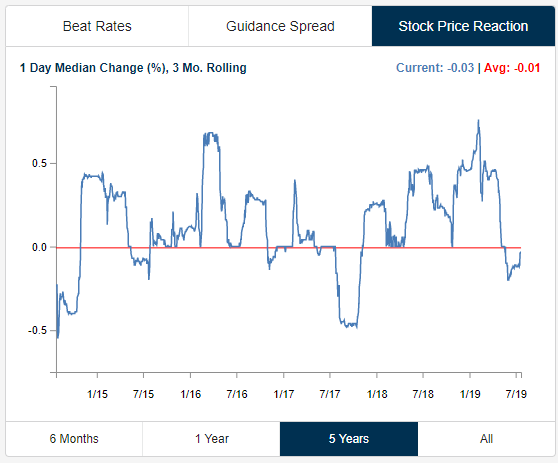 https://www.bespokepremium.com/interactive/posts/think-big-blog/how-are-stock-prices-reacting-to-earnings
7.60% of Job Growth by 2030 Could Be Concentrated in 25 Metro Areas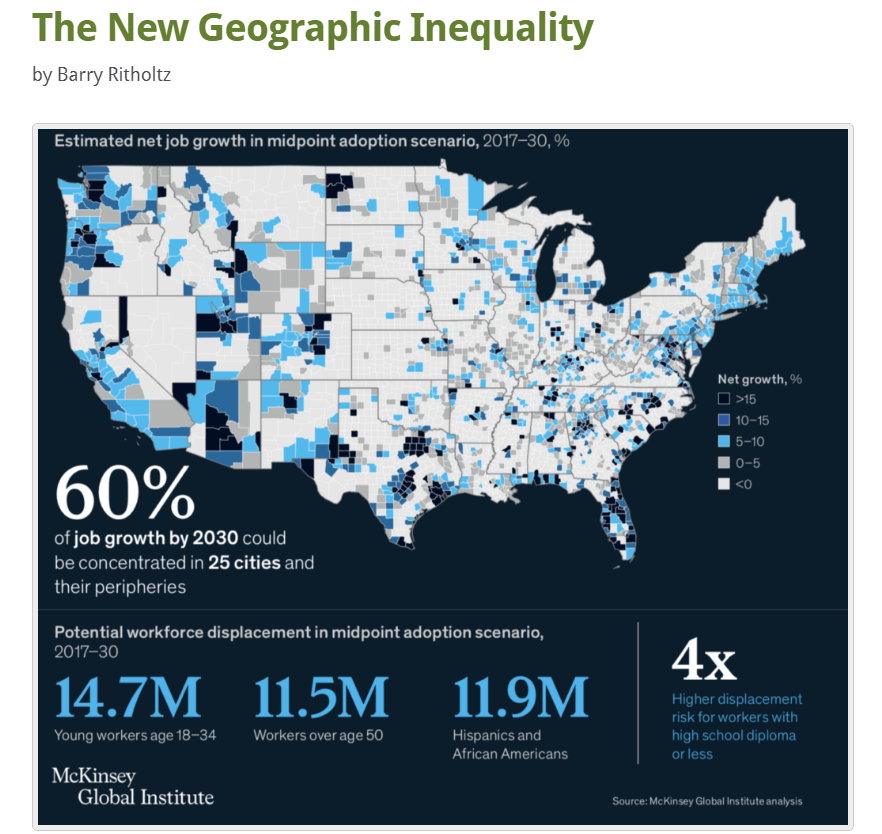 Source: McKinsey
From Barry Ritholtz The Big Picture Blog https://ritholtz.com/
8.Study: HIIT Can Increase Cerebral Blood Flow
Interval exercise may offset cognitive decline by boosting cerebral blood flow.
High-intensity interval training (HIIT) increases cerebral blood flow, improves cerebrovascular health, and may offset cognitive decline, according to a new study (Klein et al., 2019) from researchers at the University of Queensland in Australia.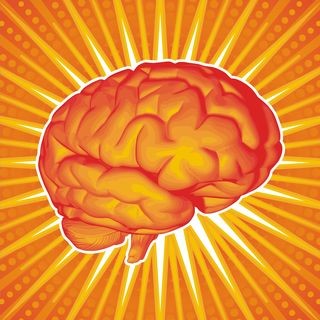 Source: LANBO/Shutterstock
Aging brains tend to have less cerebral blood flow and are at an increased risk of cerebrovascular disease. Notably, the researchers found that HIIT may be more effective than continuous aerobic exercise in terms of increasing blood flow to the brain in older adults. These findings were recently published in the journal Medicine & Science in Sports & Exercise.
"As we age, the flow of blood to the brain and arterial function decreases. These factors have been linked to a risk of cognitive decline and cardiovascular events, such as stroke," co-author Tom Baileyfrom UQ's School of Human Movement and Nutrition Sciences said in a statement. "Finding ways to increase brain blood flow and function in older adults is vital. This study aimed to identify the type or format of exercise that causes the greatest increases in brain blood flow, so we could help to optimize exercise programs to enhance brain function."
For this study, Bailey and an international team of researchers focused on changes in cerebral blood flow during 10 minutes of interval training versus work-matched periods of continuous cardiovascular exercise on a stationary bicycle. High-intensity interval training is characterized by short bouts of vigorous physical activity that are separated by periods of rest; this exertion-followed-by-recovery cycle is repeated several times during each HIIT workout.
"One of the key takeaways from the study was that both the exercise and the rest period were important for increasing brain blood flow in older adults," Bailey said. "This study shows that interval-based exercise was as effective as continuous exercise for increasing brain blood flow in older adults during the periods of activity, and more effective than continuous exercise when we measured the overall blood flow increases during both the exercise and the rest periods."
This study has some limitations: The cohort was small, and the researchers only focused on short-term increases of cerebral blood flow during interval and continuous exercise in older and younger men. The next step for Bailey and colleagues is to investigate the potential long-term benefits of HIIT and increased cerebral blood flow on brain health in men and women of all ages in a more extensive study.
The latest findings on the brain benefits of HIIT for older adults dovetail with another recent study, "Association of Lifestyle and Genetic Risk with Incidence of Dementia," which found that regular exercise is one of four lifestyle choices that may offset the risk of cognitive decline.
If you need some motivation to kickstart an exercise routine that includes intervals, listening to a personalized playlist of songs that inspire you is an evidence-based way to make HIIT more enjoyable. A recent study, "Let's Go: Psychological, Psychophysical, and Physiological Effects of Music During Sprint Interval Exercise," led by Matthew Stork of UBC Okanagan found that "The application of music during [intervals] has the potential to enhance feelings of pleasure, improve enjoyment, and elevate the performance of [HIIT]." For more see, "Reluctant to Try HIIT? Music Could Be a Game-Changer."
DISCLAIMER: Please use common sense and consult with your primary care physician before engaging in any new type of physical activity such as HIIT—especially if you haven't participated in any high-intensity physical activity rhttps://www.psychologytoday.com/us/blog/the-athletes-way/201907/study-hiit-can-increase-cerebral-blood-flowecently.