1.Probability of Recessions as Currently Priced Across Asset Classes.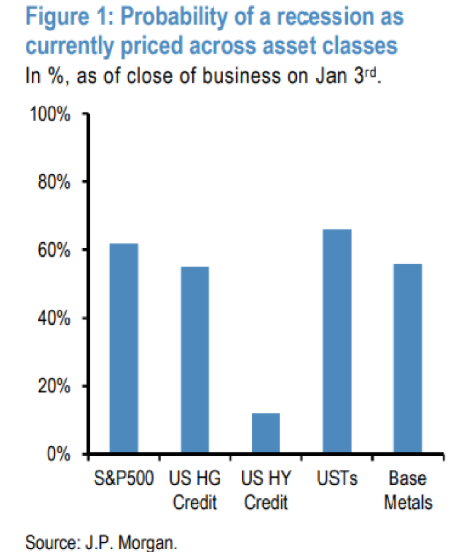 2.S&P Performance During Government Shutdowns.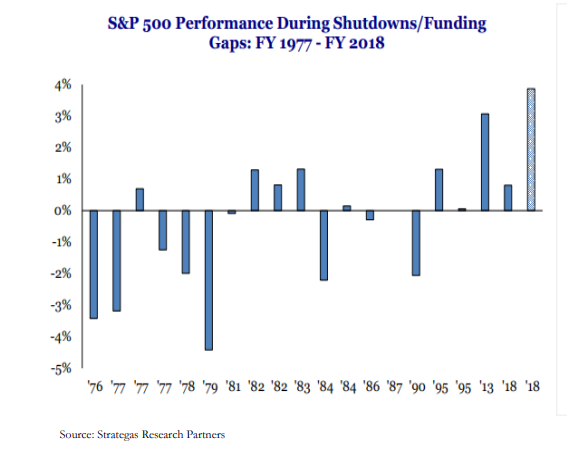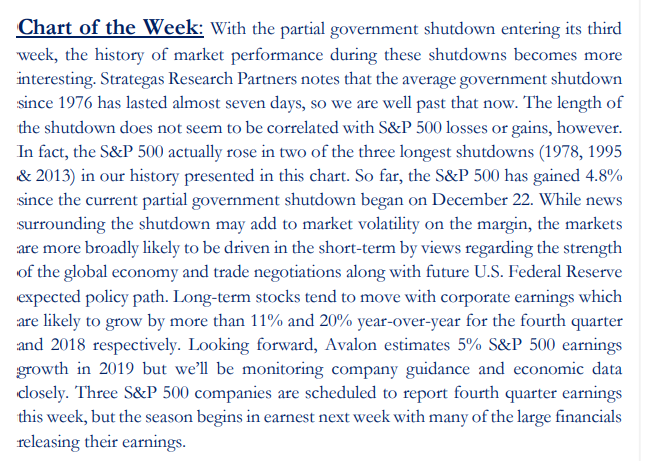 From Bill Stone at Avalon Advisors
http://avalonadvisors.com/assets/avalon-weekly-market-guide-january-7-2019.pdf
3.Probablility of Market Rising After Down Years.
Mark Hulbert Marketwatch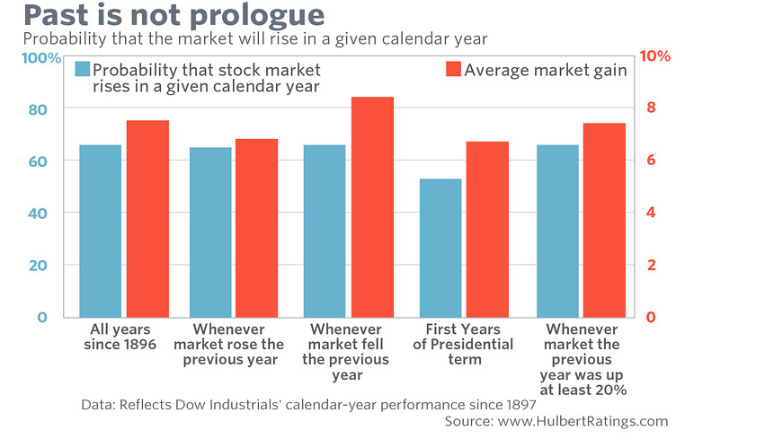 https://www.marketwatch.com/story/theres-a-two-thirds-chance-that-the-us-stock-market-will-rise-in-2017-2016-12-02
Found on Josh Brown Linkedin
https://www.linkedin.com/in/joshua-brown-96a5569b/
4.Cyclicals vs. S&P 500 Valuation Gap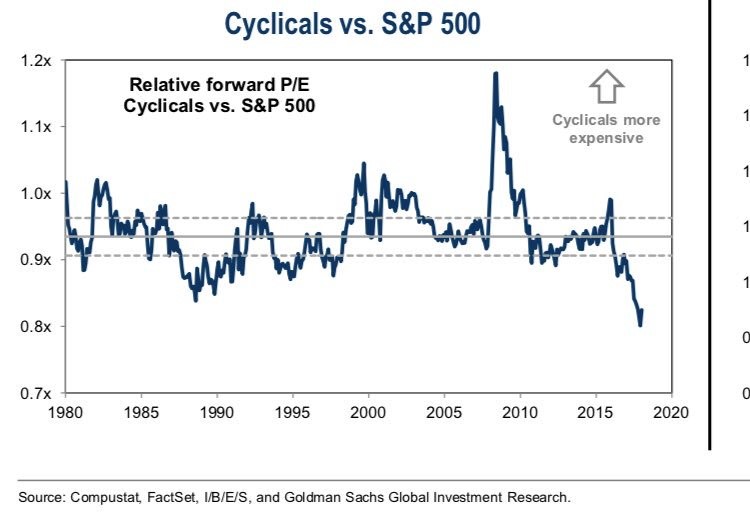 https://twitter.com/DavidSchawel
5.Commodity Index Pulls Back to 2017 Low and Bounces.
$CRB commodity index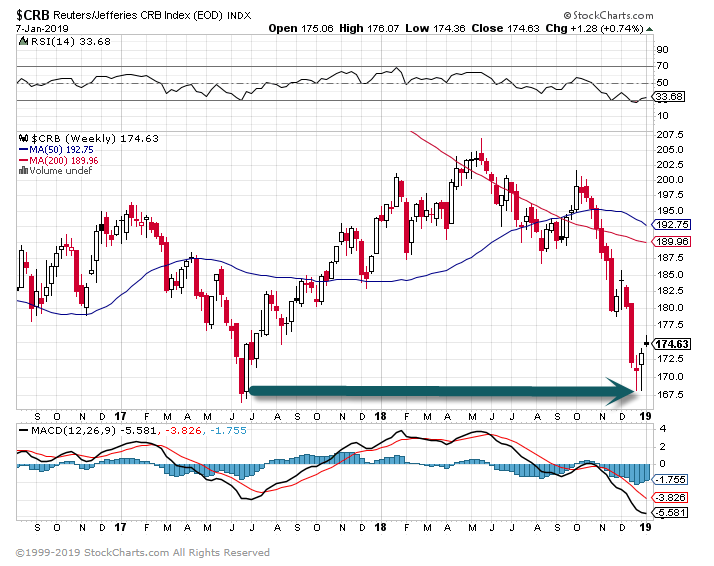 6.Earnings Growth for Small Cap.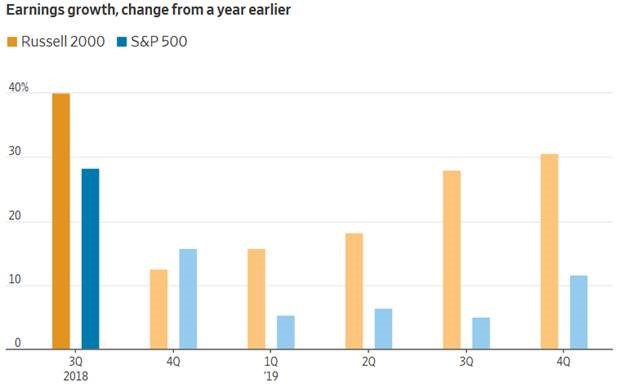 Small-Cap Stocks Take On New Shine as Markets Slump – Profits across the Russell 2000 are seen growing nearly 16% in quarter, far outpacing earnings growth for S&P 500 firms – Analysts are expecting firms in the Russell 2000 index of small-capitalization companies collectively to post double-digit profit gains throughout 2019, according WSJ, far outpacing the S&P 500 – The bruising selloff knocked valuation measures of small companies to their lowest level in more than six years and below that of their bigger counterparts in the S&P 500, according to FactSet
From Dave Lutz at Jones
7. Hourly Earnings on the Rise
Barry Ritholtz The Big Picture.
Last week, I discussed the things I got wrong in 2018. Today, I want to point out one that I got very right: rising wages.
Saying that higher wages were coming wasn't an especially popular viewpoint as recently as 2016 (see this and this). It was a little less radical to suggest that higher wages were on the way a year ago
After two years of workers seeing modestly bigger paychecks, it looks like we are now in that part of the business cycle when steady and large gains show up. More evidence for this could be found in the jobs report from the Bureau of Labor Statistics on Friday. Workers had an average gain in hourly wages of 3.2 percent in December, well above the average of 2.4 percent during the past five years, as the chart below shows. More gains probably are on the way . . . Continues here…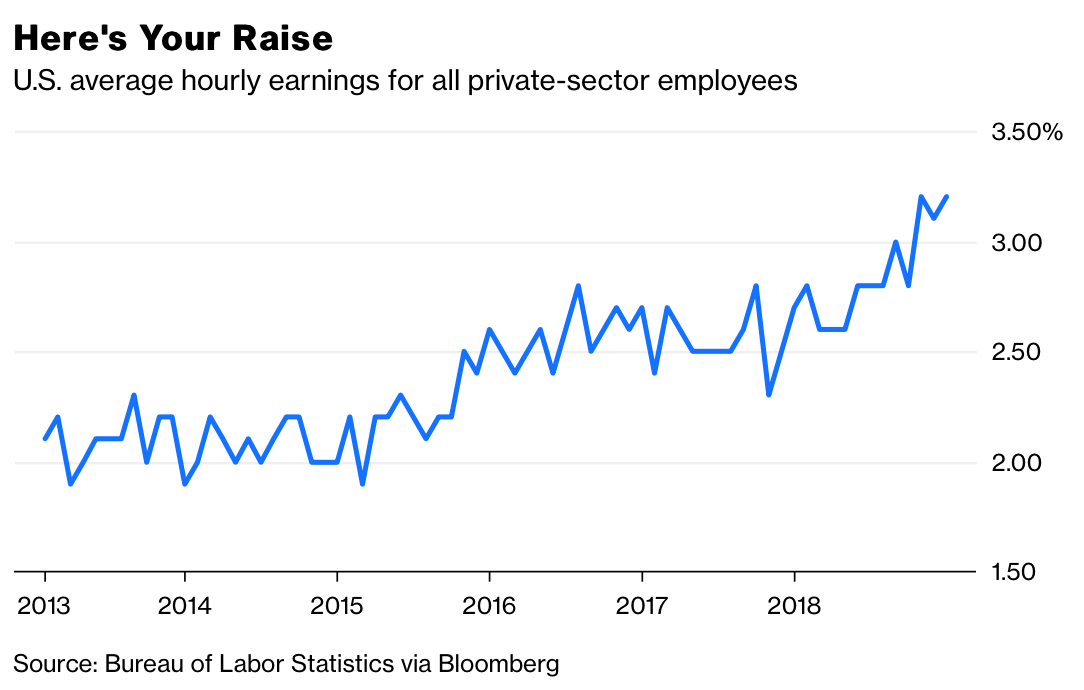 I originally published this at Bloomberg, January 7, 2019.. All of my Bloomberg columns can be found here and here. 
https://ritholtz.com/2019/01/bbrg-the-economy-is-finally-coming-through-for-u-s-workers/
8.Army Football Coach Jeff Monken Named Coach of the Year: Leading by Example 'The Army Way'​
Published on January 4, 2019
When the Army football team dons the uniform and enters the stadium, it does not just represent West Point. It does not just represent the Army. It represents our nation, and in fact, it represents our nation at war. The young men playing it will all be joining the Army and leading soldiers in combat. The manner in which our players play the game, the teamwork, the will to win, the discipline, the ability to fight and win, represents West Point, our Army and our nation. For two decades it was challenging to be an Army football fan. But Army fans never gave up. And rising from the ashes of over a dozen disastrous seasons with no wins, or only a few, would be insurmountable for most teams. But not for Army. And the way out of the ashes was not to spend money like a pro team would spend money. The way out was for a leader to take the high potential of a team, and lead the players to realize their potential as one winning team.
In 2003 Army football was 0-13. Army didn't win a single game. Army only had one win in '00 and '02, two wins in '04, '12, '15, and three wins in '98, '99, '01, '06, '07, '08, and '13. It was tough to be an Army fan for two decades. How does a team go from 16 of 17 losing seasons to one of the best years in history with 11 wins in a single season for the first time in history, including a bowl win, another victory over Navy and a Top 25 ranking?
Leadership.  This is exactly what Jeff Monken has done. He has led the Army team to the top of our nation's football Top 25 teams in time of war. And in doing so, he personally is displaying the leadership traits that we want in our Army leaders. He displays one of the greatest, under-appreciated traits of leadership: humility. And this isn't a false 'aw shucks' humility. He is genuinely humble and grateful to be a part of the team. He is of course, a nearly irreplaceable part of this winning team, but nonetheless, he knows he cannot do himself. He is a servant-style leader dedicated to supporting his coaches and players. He has surrounded himself with similar servant-style leaders, coaches who understand their commander's intent, to recruit and train the type of players that will fit into this team. Not 'spotlight rangers" but team players, who want to not only be part of the Army football team, but to serve themselves as servant style leaders in the Army upon graduation. That is not an easy task, to find this subset of great football players, who also want to serve in combat as Army officers for a nation at war. But they have done it, and led the Army team to victory.   Many of our great Army teams of 1944, 1945, 1958, were during a time when our nation still had the draft. Since 1973, the military has been an All-Volunteer force. The winning Army team, and all that it represents, helps recruitment and retention and Coach Monken is well aware of that. Given that we are at war, and all that this team accomplished, this is arguably the greatest Army football team in over a half century.
In the Army while serving as members of units and teams, we train and fight as a team. However the Army, still of course, has individual valor awards for exceptional individual performance, courage and selfless service on the field of battle. The Medal of Honor is the highest award for valor, followed by the Distinguish Service Cross, Silver Star and Bronze Star for Valor. These are awards to recognize individual contributions who go above and beyond the call of duty in the profession of arms.
Likewise, in Coach Monken's coaching profession, there are individual awards for performance above and beyond the call of duty, for the individual who epitomizes the college football coach in all areas of performance, both personal and professional. And now Coach Monken has been recognized within his profession for one of the nation's highest individual awards: the George Munger Award for the best college coach awarded by the Maxwell Football Club. He did not do this by leading a civilian college to the Top 25 (which would nonetheless be an incredible lifetime achievement for any college football coach). Coach Monken did it by leading the Army team, while our nation is at war, to the Top 25 and being named Coach of the Year.
Every Army football fan, and in fact every fan of college football, should be proud of Coach Monken and all he has accomplished for Army football, college football, West Point, the Army and our nation at war. Congratulations Coach Monken!
https://www.linkedin.com/pulse/army-football-coach-jeff-monken-named-year-leading-example-dan-rice/