1.Volatility Pulls Back into Range.
Range since October between 16-20….Watch for breakdown below.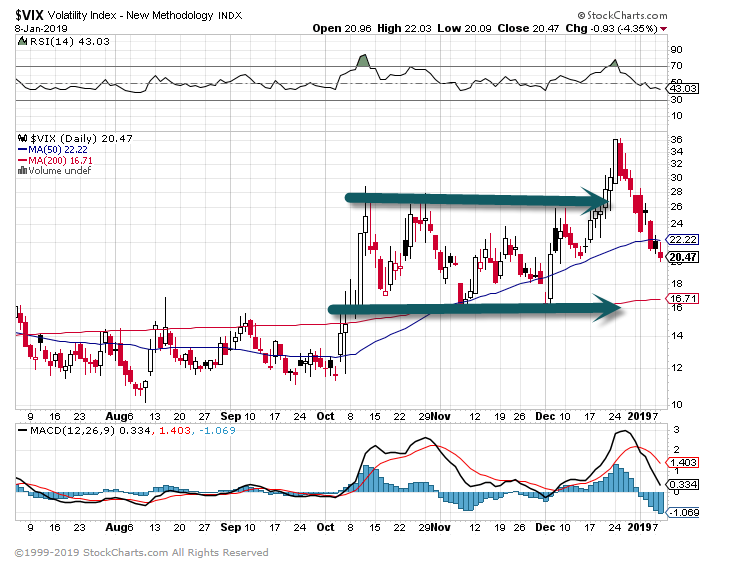 2.High Yield Bonds Recovered All Losses from 2018 Already.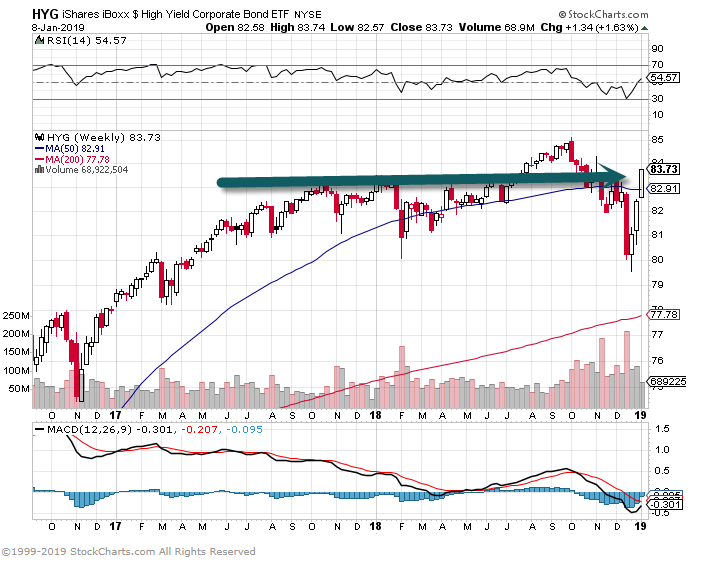 3.Buybacks…One of the Horses of Bull Market.
PKW Buyback ETF….2 lower highs….Breaks 200 day on high volume.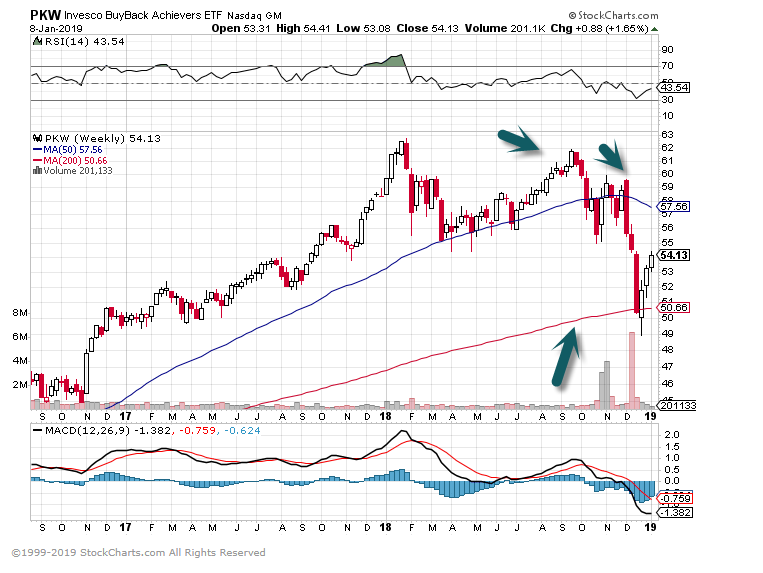 4.Hedge funds lose money in 2018 but outperform S&P 500 by a whisker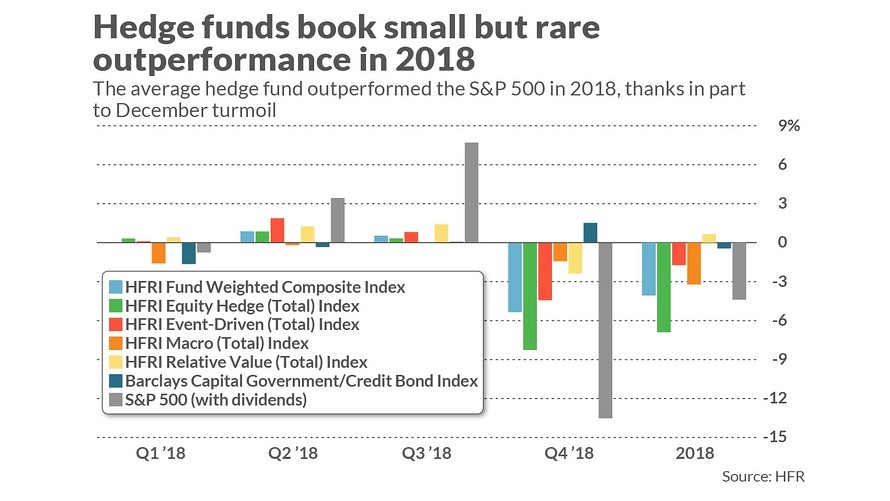 2018 was a losing year for the average hedge fund, but it did mark a rare outperformance compared to U.S. stocks.
The average fund fell 4.07% last year, according to research firm HFR's Fund Weighted Composite Index, while an asset-weighted version of the index fell 0.84%. That beat a return, including dividends, of negative 4.39% for the S&P 500SPX, +0.97% It also marked the first time the hedge-fund index outperformed since 2008, when it fell 19.03% versus a 37% negative return for the S&P 500, according to FactSet data.
The outperformance followed a volatile December that saw gains for defensive macro hedge funds and quantitative, trend-following strategies. The HFRI Fund Weighted Composite Index fell 1.97% in December, topping U.S. equities and most global and regional equity indexes by more than 700 basis points, HFR said, marking the largest monthly outperformance since February 2009. The firm said 93% of HFRI constituents outperformed the S&P 500 in December. Including dividends, the S&P 500 posted a negative return of 9.03% in December.
Hedge funds charge high fees that they say are justified by their ability to outperform the market when conditions turn volatile. But a crowded field and an inability over much of the past decade to outperform the S&P 500 — and cheap, passively managed, index-tracking products — has led to criticism and a shakeout in the industry.
For high-profile fund managers, 2018 was a mixed bag. Bridgewater Associates, founded by billionaire investor Ray Dalio, saw its Pure Alpha Strategy Fund post a 14.6% gain in 2018. In contrast, activist hedge-fund firm Third Point LLC, founded by Daniel Loeb, lost about 11% last year, its worst performance since 2008.
For the industry, the December results, however, represented a "milestone," said Kenneth Heinz, president of HFR, "with the HFRI exhibiting not only the highest level of outperformance of steep equity market losses in nearly a decade, but with certain strategies posting positive performance through the worst equity market decline since February 2009."
He said the December gains and defensive outperformance "are likely to not only fundamentally change the context of hedge fund performance in 2018, but attract investor capital under the expectation of these volatile, powerful trends continuing through 2019."
https://www.marketwatch.com/story/hedge-funds-lose-money-in-2018-but-outperform-sp-500-by-a-whisker-2019-01-08
5.Fed Expectations 2019.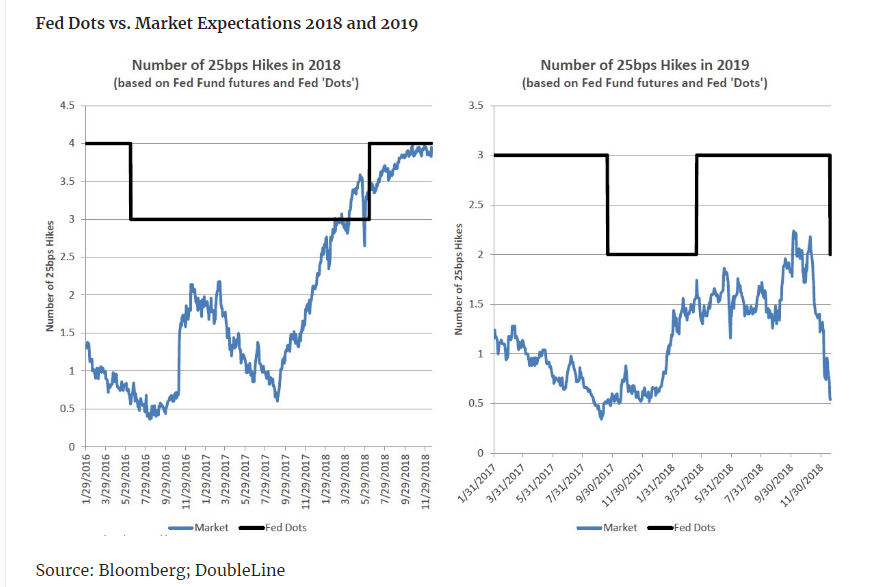 Jeffrey Gundlach's Slides "The Year No One Made Money""
Jacob Wolinsky https://www.valuewalk.com/2019/01/gundlach-fed-dots-vs-market-expectations/
What Is the Dot Plot?
The dot plot is published after each Fed meeting. It shows the projections of the 12 members of the Federal Open Market Committee (FOMC), the rate-setting body within the Fed. One bank presidents from each of four groups of banks fill rotating seats:
Boston, Philadelphia, and Richmond
Chicago and Cleveland
Dallas, St. Louis, and Atlanta
San Francisco, Kansas City, and Minneapolis
Each dot represents a member's view on where the fed funds rate should be at the end of the various calendar years shown, as well as in the long run — the peak for the fed funds rate after the Fed has finished tightening or "normalizing" policy from its current levels. The dot plot represents the Fed's ongoing effort to become more transparent with respect to its policies.
https://www.thebalance.com/what-is-the-fed-dot-plot-416891
6.Strong Start to Year….When December Bad…What Happens in Jan?
"In the rare instance that the market gets a lump of coal instead of a Santa Claus Rally, it usually means there could be weakness in January. In fact, the past five times Santa didn't show, stocks dropped in January," explained LPL Senior Market Strategist Ryan Detrick.
As the LPL Chart of the Day shows, over the past 20 years, five have received coal and sure enough, January closed lower every single time. With Santa showing up in 2018, could this be a sign of better times ahead for the bulls?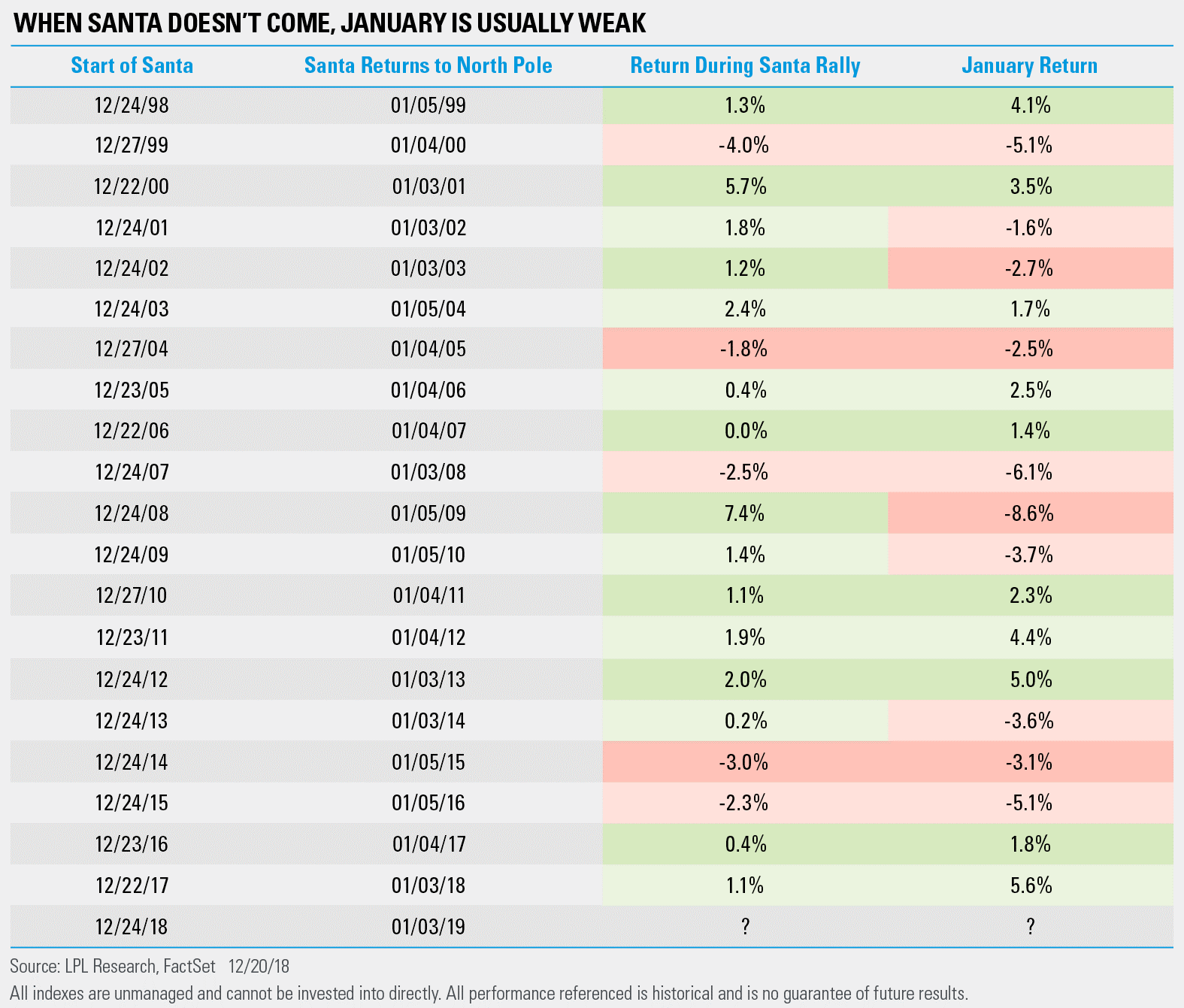 LPL Research
https://lplresearch.com/2019/01/03/will-santa-save-january/
 7.Investing in American Longevity
by James HiresSaturday, January 5, 2019
The U.S. is facing a very modern crisis: an aging population and a low birth rate. Unlike other developed countries, however, we're at the ready.
The chart above shows that by 2060, the number of Americans aged 65 and over will be close to 90 million. Nearly half of those will be over 75.
These numbers are nearly three times what they were in 1990.
Baby boomers are the generation of Americans born between 1946 and 1964. Boomers retire at a rate of around 10,000 per day. They represent nearly 23% of the total U.S. population and are driving the growth in the number of senior citizens.
As a result, America's next technological boom is looking very "gray."
Because of boomers, the number of hip replacement procedures went from 160,282 in 2000 to 371,605 in 2014 – a 131% increase. As more boomers retire, that number will only grow…
As they age, retiring boomers don't want to sacrifice the things they love, so they're funding the development of better, longer-lasting and less invasive joint replacements.
Michigan-based Stryker Corp. (NYSE: SYK) is at the forefront of the joint replacement industry. In 2017, they recorded more than $12 billion in sales.
It's innovated cutting-edge, new surgical technologies and is in a great position to profit from the boomer retirement wave.
But boomers influence on the graying of our economy doesn't stop with joint replacements.
Many older people will need additional assistance. Since Americans are having fewer children and families are more spread out, family care may not be an option for many boomers.
You may think that nursing homes and assisted living communities will make up the difference…
But that won't be the case.
In fact, both are shrinking businesses. In-home care is instead the future of elder care. Companies, like the California-based CareLinx, have created a growing $100 billion industry.
These companies connect people to a network of care providers. They allow for all the care of a nursing home in the comfort of one's actual home.
Beyond home-care companies, there are a number of startups that cater to the needs of America's aging population.
Liftware, for example, has developed technologies to stabilize eating utensils for people with limited arm movement or a tremor. It was acquired by Google in 2014 and is now part of the company's Verily Life Sciences research organization.
And Neurotrack has developed a retina analyzing program that detects damage to the hippocampus – an early sign of Alzheimer's disease.
The needs of the aging baby boomer generation are fueling the rapid development of technologies dedicated to improving the quality of life for seniors…
Making the increasing longevity of the American population a good bet.
Good investing,
James
https://www.investmentu.com/article/detail/59836/baby-boomers-next-tech-revolution#.XDXjiFVKhhE
8.The Renter Population Still Showing No Signs of Slowing Down.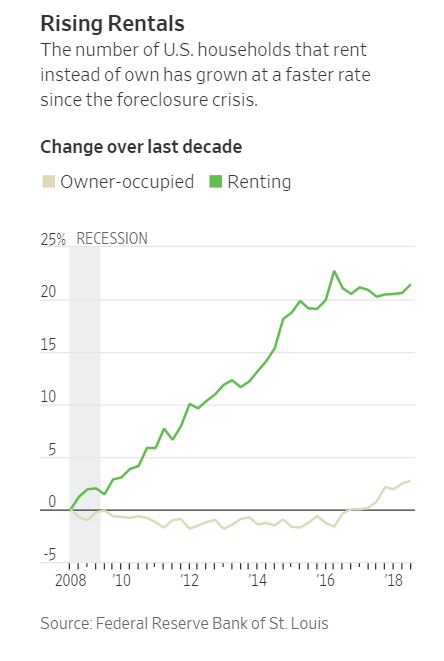 Wall Street's Big Landlords Are So Hungry for Houses They're Building Them
Companies that once gobbled up foreclosed suburban homes are now acquiring new ones for the rental market
https://www.wsj.com/articles/wall-streets-big-landlords-are-so-hungry-for-houses-theyre-building-them-11546511401
9.Cancer Death Rates Reach 25-Year Low
By Rachael Rettner, Senior Writer | January 8, 2019 10:00am ET
It's a milestone in the fight against cancer: U.S. cancer death rates have declined continuously for the last quarter of a century, according to a new report.
From 1991 to 2016, the U.S. cancer death rate dropped steadily by about 1.5 percent per year, resulting in an overall decline of 27 percent during the 25-year-period, according to the report from the American Cancer Society (ACS). That translates to an estimated 2.6 million fewer cancer deaths than would have been expected if death rates had remained at their peak level, the researchers said.
But despite this progress, there are growing disparities in cancer deaths according to socioeconomic status, with people living in poorer communities experiencing an increasingly larger burden of preventable cancers, the report said. [10 Do's and Don'ts to Reduce Your Risk of Cancer]
New Scan of Ancient Sea Monster Reveals Fake 'Bones'
Although the continued decline in overall cancer death rates is good news, the "bad news that this report highlighted [is that] inequalities are widening, particularly among those of low socioeconomic status," said Dr. Darrell Gray II, deputy director of the Center for Cancer Health Equity at The Ohio State University Comprehensive Cancer Center, who was not involved in the study. "It underscores the importance of health care providers, researchers and lay community members and advocates to continue to push toward health equity," Gray told Live Science.
Declines in major cancers
The annual report from the ACS, which was published today (Jan. 8) in CA: A Cancer Journal for Clinicians, analyzes the most recent data on cancer incidence, deaths and survival rates in the U.S.
In 2016, there were 156 cancer deaths for every 100,000 people, down from a rate of 215 cancer deaths per 100,000 people in 1991.
The two-and-a-half-decade decline is mostly due to reductions in smoking (which increases the risk of a number of cancers, particularly lung cancer), as well as advances in the early detection and treatment of cancer, the report said.
For example, lung cancer death rates have dropped by 48 percent among men from 1990 to 2016; and 23 percent among women from 2002 to 2016. Breast cancer death rates dropped 40 percent among women from 1989 to 2016; prostate cancer death rates dropped by 51 percent among men from 1993 to 2016; and colorectal cancer death rates dropped by 53 percent among both men and women from 1970 to 2016, the report said.
However, rates of several other cancers have been on the rise in recent years, including endometrial cancer (cancer of the lining of the uterus), which increased 2.1 percent per year from 2012 to 2016, and pancreatic cancer, which increased 0.3 percent per year among men during this same time period. Liver cancer death rates also increased by 1.2 percent per year among men and 2.6 percent per year among women, from 2012 to 2016.
Gray noted that while cancers such as breast and colorectal cancer have evidence-based screening guidelines available, there are no such guidelines for pancreatic and uterine cancer.
"We may continue to see a rise in death rates while we are working on getting guideline-based screening available" for these cancers, Gray said. "There's still a lot of work and a lot of research" that needs to be done in this area, he added.
Socioeconomic disparities
The report also found that gaps in cancer death rates by race are narrowing, but gaps by socioeconomic status are widening. For example, the cervical cancer death rate among women in poor counties in the U.S. is twice as high as that of women in wealthier counties, the report said. And lung and liver cancer death rates are more than 40 percent higher among men living in poor counties, compared with wealthier counties.
Increased efforts are needed to address this gap. "These [poor] counties are low-hanging fruit for locally-focused cancer control efforts, including increased access to basic health care and interventions for smoking cessation, healthy living, and cancer screening programs," the report concluded.
Gray agreed, and said that patients of low socioeconomic status face many barriers to cancer prevention — for example, they may be unable to take time off work for medical appointments, or they may not be able to afford healthy foods. "These are competing priorities. These are things we have to help people to nagaivate," Gray said.
https://www.livescience.com/64439-cancer-death-25-year-low.html
10.5 Research Backed Tips to Improve Your Productivity By 176% (Or More)
by Austin Gillis | Jan 9, 2019 | Self-Improvement
We all want to be more productive.
We all want to get more done in less time so we can enjoy more freedom and leisure.
The only problem is most of us were never taught how to tap into GSD mode and actuallyaccomplish more in every hour of our day.
We learned about the Pythagorean theorem, covalent bonds, and the signing of the Magna Carta…
… But never about how to improve our performance at work so that we can rise to the top in our respective fields.
Today, that changes.
I'm about to teach you five research-backed tips that will help you increase your productivity by at least 176% starting as soon as tomorrow.
Equipped with these five simple lessons, you'll be able to get more done, make massive progress towards your biggest priorities, and accomplish in 90 days what most people accomplish in a year.
Interested?
I thought so…
Sleep At LEAST 7 Hours a Night
By far one of the most important habits you can adopt to increase your productivity, boost your energy, and become a goal crushing machine is–quite counter-intuitively–to get more sleep.
Ignore the so-called gurus telling you to sleep on 4 hours a night and hustle 20 hours a day.
That's not only a recipe for failure and burnout, but for an early grave.
Don't believe me?
Then consider the thousands of studies that have irrevocably linked sleep deprivation to:
The worst part?
While you are stuck in the clutches of sleep deprivation, you aren't even aware your performance is being inhibited.
You erroneously think you're fine. That you're "just a little tired". And that it's "No big deal".
But in reality, you are crippling your ability to perform and all but ensuring your best work never sees the light of day.
Now, consider the inverse.
Studies have shown that individuals who consistently sleep 7+ hours a night experience:
Sleeping more–quite literally–makes you smarter, happier, and healthier.
And for those of you who think it's impossible to succeed while sleeping 8 or even 9 hours a night, consider the dozens of hyper-successful entrepreneurs who attribute their success to the number of hours they sleep.
Neil Patel sleeps 9.25 hours a night while running three multi-million dollar businesses.
Arianna Huffington is such an adamant believer in the importance of good sleep she literally wrote the book on it.
James Altucher, multi-millionaire investor, hedge fund manager, best-selling author, and top ranked podcast includes "Sleeping at least 8 hours a night" in his top keys for success.
The bottom line is that you need to start sleeping at least 7 hours a night and you need to start now.
Because until you are showing up to your business or career fully charged, energized, and ready to take on the day, none of the other tactics I'm about to share with you will make a darn difference.
Meditate for at Least 10-Minutes a Day
At this point, I probably don't need to present you with another barrage of peer reviewed studies confirming the efficacy of meditation for improving your mood, focus, and general well being.
But.. I promised these tactics were backed by research and so research is what I'll give you.
Although there aren't any (convincing) studies that confirm the direct correlation between meditation and productivity, there are a number of other ways meditation indirectly increases your ability to GSD and become a productivity machine.
Namely, meditation is proven to: (source)
Lower blood pressure.
Alleviate insomnia (which is kind of a big deal as we just discussed)
Reduce chronic pain
Reduce depression and anxiety
Rebuild grey matter (yes, it makes your brain bigger!)
In addition, many other studies–like this one which was conducted at a Fortune 100 company–have shown a very compelling link between a regular meditation practice and increased employee performance at work.
And the best part?
These results were achieved in as little as 10 minutes a day!
By simply sitting down, shutting up, and following your breath for a few minutes everyday, you can increase your productivity, become a happier person, and reduce any symptoms of depression and anxiety you currently experience.
Or, if you struggle to stay focused during your early sessions (don't worry, it happens to the best of us) you can download an app like Headspace or Calm and use guided meditation tracks to help you breathe your way to a more productive life.
Take More Breaks
One of the more counter-intuitive ways to increase your energy and boost your productivity is to work less and take more frequent breaks.
Countless studies have shown the human brain, much like the rest of the body, functions in cycles.
In the same way your energy levels wax and wane throughout the day, your brain's ability to focus has been shown to fluctuate over 90 minute increments.
Once you work on one task for longer than 90 minutes, your productivity begins to drop dramatically.
So how can you leverage this knowledge to increase the number of tasks you accomplish in a given day?
Simple…
Take more breaks!
Specifically, I encourage you to build your days around 50-90 minute blocks of work followed by 10-25 minute breaks to recharge and reinvigorate your brain.
However, to make the most of this tactic it's important to note that how you spend your breaks is just as important as actually taking a break.
You can't mindlessly scroll through your Instagram feed or watch 15-minutes of cat videos on YouTube and expect your productivity to skyrocket.
Instead, you should select one of the following activities to help clear your mind and increase your creativity for your next block of work.
Practice meditation
Walk outside
Eat a light snack (celery and almond butter is a great option)
Do some light calisthenics
Read
Talk with friends
Test out different cycles and activities to determine what works best for you but do NOT try to plow through your day without giving yourself adequate time to rest and recover.
Trust me, you'll be far more productive by placing restraints on your time and working just a little bit less.
Eradicate Inbox Overwhelm
Brace yourself.
Because I'm about to share something some readers might find disturbing.
You ready?
In the United States, the average employee spends more than 28% of their day–or 13 hours a week–responding to emails.
That's more than 650 hours a year which are largely wasted on unproductive and unnecessary correspondence that does nothing to move your life or business forward!
Over the lifespan of the average employee–who works 45 years–this equals more than 29,250 hours or 3 years spent deleting and responding to emails.
Now I don't know about you, but that does not sound like a formula for a lasting legacy and real success.
But the question remains… what are we supposed to do about it?
While there have been plenty of great books and articles written on this very topic, I like to keep things simple.
If you have the option to hire a virtual assistant to offload the clutter of the inbox, then I absolutely encourage you to do so.
Otherwise, I recommend you:
Check email only twice a day and setup an autoresponder informing people of this boundary.
"Touch it once" and either respond to it, delete it, or archive it but never leave it in your inbox.
Keep your emails to 5 sentences or less to reduce unnecessary back and forth.
Take an "email vacation" and inform your co-workers or employees you won't be responding to emails until you accomplish your biggest project (I promise, no one will die and you'll be far more productive).
With these simple tasks you can add an extra 8-10 hours of productive or free time back into your calendar each and every week.
And once you begin cutting back on the necessary evil that is your inbox, I promise you will never go back.
Just Say "No"
Ok, so technically, this tip doesn't have a mountain of research behind it.
But…
I'm a big fan of doing things because they WORK, whether or not there is evidence to support them or not.
And after more than five years of working with and for some of the most influential and successful entrepreneurs in the business development industry, I've found the #1 trait they all share is a willingness to say "No" to 95% of the opportunities with which they are presented.
Out of the dozens of emails, ideas, and recommendations I send to Craig on a weekly basis, he moves forward on maybe 20% of them.
This isn't because he doesn't think they are "good" ideas or because he's too busy. Rather that he understands the importance of prioritizing the MOST valuable opportunities and saying "no" to everything else.
If you want to do more you must start by committing to less.
When faced with the myriad of low-priority obligations and impositions on your time remember what they taught you about drugs in highschool and "Just say no".
You only have a finite number of hours in the day and they can only be used productively when you ruthlessly eliminate every activity and task that doesn't serve you at the highest level.
Throughout the day, constantly ask yourself, "Is this the most valuable use of my time right now? Is this activity the most important thing I can do to reach my big goals?".
If the answer is "No", then cut it out.
End of story.
Conclusion
There you have it!
With these five simple tips, you'll be able to double (maybe even triple) your productive output so you can accomplish more each week, enjoy more free time, and live yourperfect life.
Do you have any productivity "hacks" you've learned over the years that didn't make the list?
Let me know in the comments below!
https://www.earlytorise.com/5-tips-to-increase-your-productivity/