1.AAPL Approaching 200 Day on Long-Term Weekly Chart.
AAPL -40% from highs.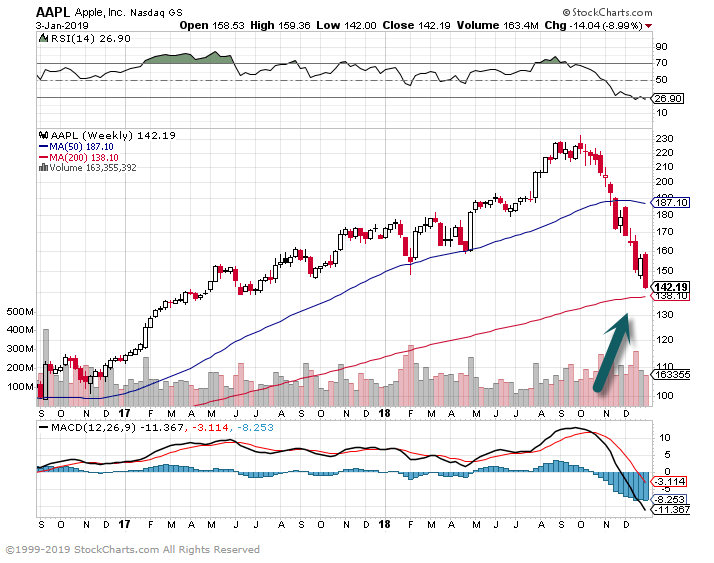 2.10 Major Companies Tied to the Apple Supply Chain (AAPL)
BY SHOBHIT SETH
Updated Dec 5, 2018
Apple, Inc. has been a true innovator, and millions of customers are willing to pay a high premium for the quality, design, and features of Apple devices like the iPhone, iPad, iPod, and Apple Watch. But Apple doesn't make all of its devices on its own. It procures components from a large number of suppliers, and there are service-vendors responsible for assembling those different components into the final product.
Apple is one of the most valuable companies to date, with nearly two-thirds of its revenue coming from iPhone sales. That's because the tech giant operates one of the most efficient supply-chain management systems on the market right now. In this article, we take a look at a few of Apple's top supplies and explore the benefits and drawbacks of using this business model. (Note: This list is not exhaustive and is arranged alphabetically. The locations of suppliers listed here are limited to the facilities that supply Apple. Suppliers may also have other facilities.)
Analog Devices, Inc. (ADI)
NASDAQ-listed ADI is based in Norwood, MA and provides the capacitive touchscreen controllers for the iPhones and the Apple watch. The company supplies these components from facilities based in Ireland, the Philippines, and the U.S. Back in March 2015, ADI stock soared after Barclays reported that Apple was considering using ADI to source its then-anticipated 3-D touch feature. That report pushed ADI's stock price up 9.8% over the course of a day to the company's highest levels in a decade, which indicates the impact of Apple's business on its suppliers' valuations.
Glu Mobile, Inc. (GLUU)
NASDAQ-listed Glu Mobile doesn't supply Apple with hardware but is a major provider of iOS apps and mobile games. Valuewalk reports that "Glu Mobile makes 64% of revenue from Apple," implying its major dependency on Apple.
Jabil Circuit Inc. (JBL)
Jabil's manufacturing facilities are based in China, and it is listed on the NYSE. It supplies phone casings for Apple. Jabil also makes a wide variety of electronic and manufacturing devices like computer numerical control tools and medical device miniaturization, and it also provides services such as product ideation, design, development and creation. Despite this diversified set of products and service-lines, Jabil reportedly relies on Apple for approximately 20% of its business.
Micron Technology, Inc. (MU)
Micron and its subsidiary companies, like Elpida Memory, are based in multiple locations across the U.S., Taiwan, Singapore, China and Japan. They supply various memory modules like DRAM, LPDDR3 and LPDDR2 for Apple devices. These modules are used by smartphones and electronic devices to efficiently multitask and run various applications. The recent iPhone 6 uses LPDDR3, while the company is currently testing the next version LPDDR4, which is expected to be up to 60% faster and low on power consumption.
Murata Manufacturing Co. Ltd.
Murata is based in Kyoto, Japan and supplies to Apple from manufacturing facilities spread across China, Japan, Vietnam, Singapore, and Indonesia. Apple and Samsung are Murata's top two clients, procuring ceramic capacitors from the company. These electronic parts are used to control the flow of electricity in electronic devices, and, according Reuters, they constitute 40% of Murata's overall sales towards smartphones and other electronic devices.
Nidec Corp.
The much anticipated Apple Watch comes with a special device called a taptic engine, which produces a sensation of being tapped on the wrist. Japan-based Nidec has emerged as the key supplier of this technology. Nidec was established in 1973 and is a global market leader in smartphone vibration motors.
Qualcomm, Inc. (QCOM)
NASDAQ-listed Qualcomm is the world leader in semiconductor, mobile and telecom products and services. It is known to supply multiple electronic components to Apple, including Envelope Power Tracker, Baseband Processor, Power Management module, and GSM/CDMA Receiver and Transceiver. These are various instruments used in the devices' power management systems and in mobile signaling. However, the most important component that is missing from the Apple's own A-chip processor is the cellular baseband modem. Qualcomm has filled this important space for Apple devices, offering the needed modem technology.
Samsung
With three different subsidiaries – Samsung Electro-Mechanics Co. Ltd., Samsung Electronics Co. Ltd., and Samsung SDI. Co. Ltd. – which are located in four different countries (South Korea, China, the U.S. and the Philippines), Samsung is one of Apple's major suppliers. It supplies multiple components, including flash memory, which is used for storing data content; the mobile DRAM, used for multi-tasking various applications in devices; and the application processors which are responsible for controlling and keeping the whole device running. Despite being a competitor to Apple in the mobile phones market, Samsung uses its supplier status to reduce its own component manufacturing costs via bulk production.
STMicroelectronics (STM)
STM is a Geneva, Switzerland-based electronics and semiconductor multinational company. It supplies a low-powered, three-axis gyroscope and accelerometer to Apple, used to detect the orientation and altitude of a mobile device. Along with Apple, STM's top clients include BlackBerry, Nokia and Cisco. However, recent reports suggest that all may not be well between STM and Apple. Apple has been sued by a patent troll for allegedly infringing seven STM patents after Apple decided to go with STM's competitor InvenSense to procure gyroscope and accelerometer parts for the iPhone 6.
Texas Instruments, Inc. (TXN)
TI serves Apple through its multiple facilities spread across Taiwan, the U.S., Malaysia, Japan, Mexico, the Philippines, the United Kingdom, Germany and China. In the Apple Watch, TI is expected to provide the current operational amplification system, which in turn, contains 30 different components itself. For iPhones and iPads, it supplies the touchscreen controller, power management chip, and a control device. According to past reports, TI was "said to receive a significant number of orders from Apple," which generated "thousands of jobs" for this supplier.
How Does This Supply Chain Benefit Apple?
Apple is known to maintain one of the best-managed supply-chains in the world. Using its stature and global reach, the tech giant is able to demand high-quality products and impose stricter terms on its suppliers. When one of Apple's Chinese suppliers of "tactic engines" for the iPhone 7 proved unreliable, for example, the company quickly procured them from the Japanese firm Nidec Corp. Apple has hundreds of such suppliers willing to abide by the terms Apple sets forth. What's more, by outsourcing its supply-chain and assembly operations, Apple can do what it does best — concentrate on designing great products that offer rich functionality and are easy-to-use.
How Does This Supply Chain Benefit Suppliers?
Being associated with a brand like Apple can be a remarkable boon for a supplier firm. Apart from the small novice firms, who may derive much of their business from Apple, even larger companies like Samsung use the relationship to their advantage. As we noted above, Samsung continues to compete with Apple in the mobile phone market, however, large orders from Apple allow Samsung to increase bulk production which reduces manufacturing costs for its own mobile phone components.
Another advantage for suppliers is that Apple has a reputation for innovation. Regardless of how specific products have performed, and despite missteps that have occurred, people expect Apple to come out with something new on a regular basis and eagerly anticipate these products. To a certain extent, this shields Apple suppliers, who will continue to see new demands for their goods and services.
It should be noted, however, that failing to please Apple can spell doomsday for a small or medium-sized supplier that has built its business around iPhone sales. If suppliers do not maintain high-quality goods at the right price, Apple is likely to dispose of them for a competitor.
The Bottom Line
Apple needs suppliers and suppliers need Apple – it's a streamlined relationship that is often mutually beneficial but not without tension. Suppliers have major exposure to Apple and its overall market performance. Financial reports of supplier companies are frequently used by market analysts to project sales for Apple products. For a supplier, this can quite literally be a "do-or-die" moment. Do it well, and you just might experience windfall gains. But fail Apple, and you should be prepared for the worst.
https://www.investopedia.com/articles/investing/090315/10-major-companies-tied-apple-supply-chain.asp
3.AAPL Competitors in Worse Shape??
The company's Chinese nemesis Xiaomi Corp. could be in trouble. By the end of September, the maker of smartphones had increased inventories 62 percent since December 2017 and 22 percent since June 30. Lest you're tempted to dismiss that as a seasonal inventory build, its 5.3 billion yuan ($770 million) rise in inventory 1 during that period exceeds the 4.9 billion yuan growth in hardware sales.
Apple, by contrast, cut its inventory to the lowest since June 2017. That includes a 19 percent reduction from a year prior, which is a better basis of comparison since it accounts for the annual pre-release build cycle. This means that despite the shock guidance cut, which sent shares down 10 percent on Thursday, the Cupertino-based company is relatively better prepared than others in the industry.
Intel Corp. and Samsung Electronics Co. don't look too bad. Yet Samsung's inventory turnover, cash-conversion cycle and inventory-to-cash metrics are all moving in the wrong direction.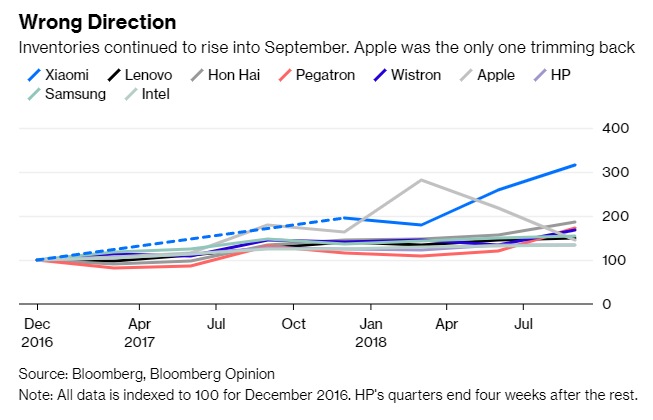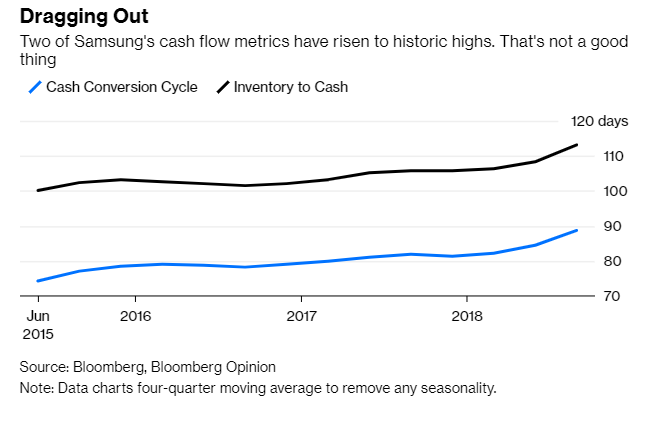 https://www.bloomberg.com/opinion/articles/2019-01-04/apple-sales-shock-isn-t-the-worst-of-tech-s-troubles
4.Safety Trade Yen Spike.
It took seven minutes for the yen to surge through levels that have held through almost a decade.
In those wild minutes from about 9:30 a.m. Sydney, the yen jumped almost 8 percent against the Australian dollar to its strongest since 2009, and surged 10 percent versus the Turkish lira. The Japanese currency rose at least 1 percent versus all its Group-of-10 peers, bursting through the 72 per Aussie level that has held through a trade war, a stock rout, Italy's budget dispute and Federal Reserve rate hikes.
https://www.zerohedge.com/news/2019-01-04/stock-market-crash-2018-rapidly-transforming-financial-crisis-2019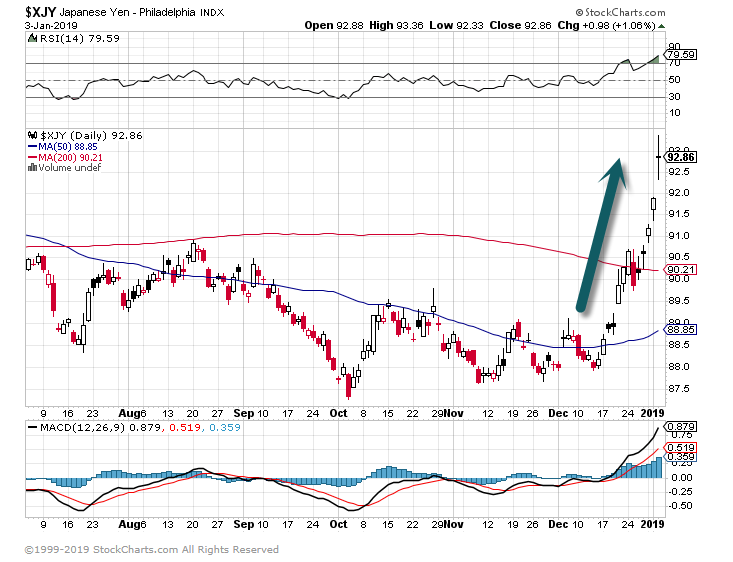 5.Dollar Weakens…One Month Chart.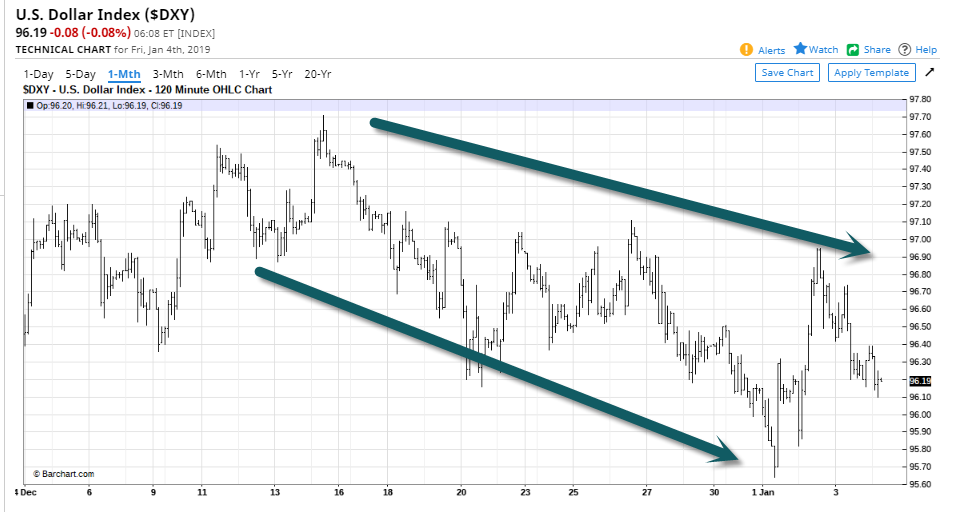 https://www.barchart.com/stocks/quotes/$DXY/technical-chart?plot=BAR&volume=0&data=I:120&density=H120&pricesOn=1&asPctChange=0&logscale=0&im=120&sym=$DXY&grid=1&height=500&studyheight=100
6.Economic Surprise Index Goes Negative.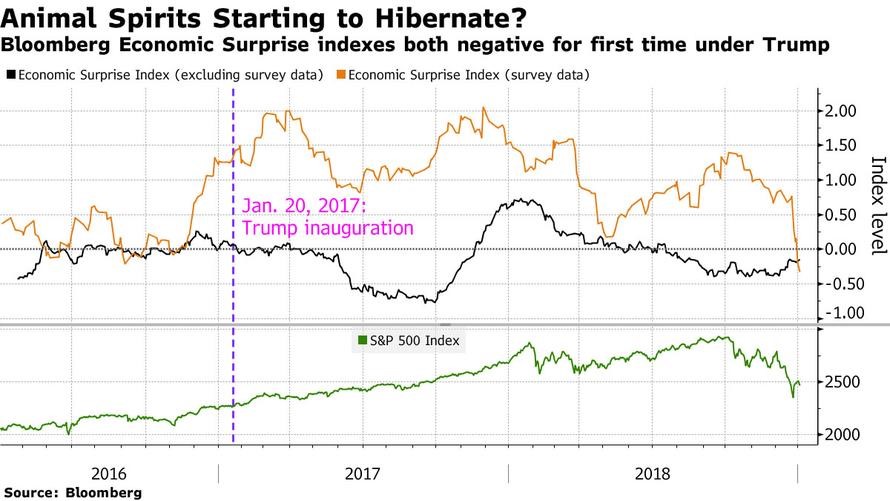 Found at zerohedge
https://www.zerohedge.com/news/2019-01-03/bloodbath-stocks-crater-amid-perfect-storm-apple-and-growth-fears
7.S&P 500 Index: Forward P/E Ratio
January 3, 2019 6:00am by Barry Ritholtz
One good thing we can say about market volatility is that the 20 percent sell off in stock prices since Q4 began have returned valuations to more reasonable levels.
On a forward P/E basis, stocks are below their 25 year average — a period that includes at least one bubble and two crashes. Buyers with a 20 year investment horizon at these levels will do much better than those who paid bought in higher valuations.
The caveat is that valuation is a terrible timing tool, as stocks tend to careen wildly past fair value and can stay overbought or oversold for long periods of time. Stocks have gotten cheap and stayed that way for a decade (i.e., 1970s) or have become expensive and stayed that way for just as long a time period (i.e., the 1990s).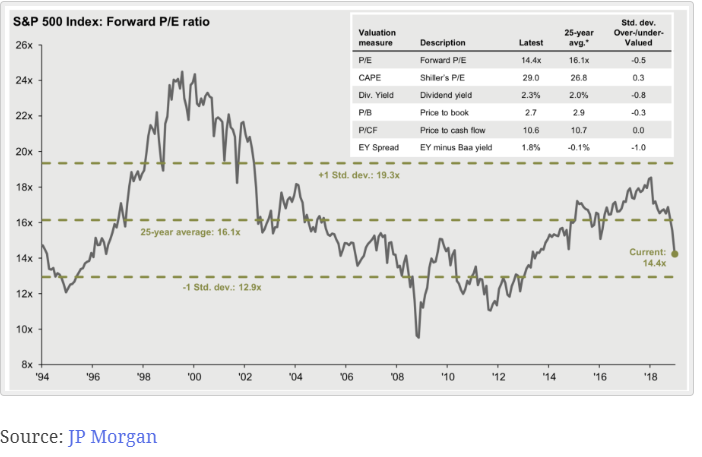 https://ritholtz.com/2019/01/sp-500-index-forward-p-e-ratio/
8.Drug Industry Return on R&D 1.9% vs. 10% a Decade Ago.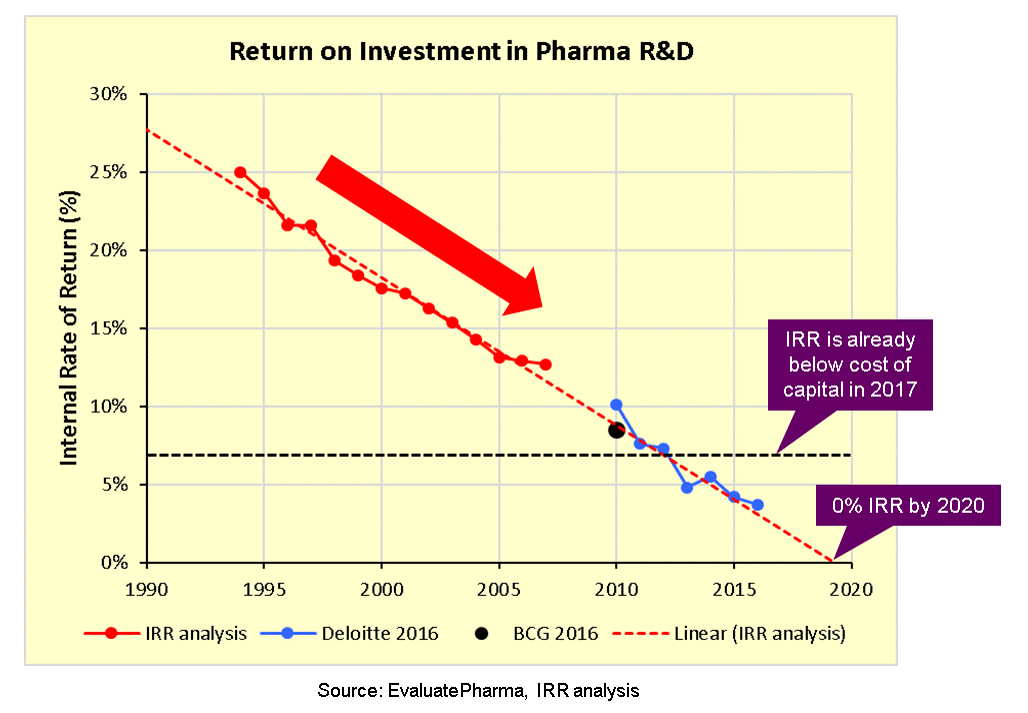 https://endpts.com/pharmas-broken-business-model-an-industry-on-the-brink-of-terminal-decline/
9.Market Cools, Median Price for Manhattan Apartment Drops Below $1 Million (to $999,000)
"It's a great market for buyers," said Hall F. Willkie, the president of Brown Harris Stevens, a real estate firm.CreditDemetrius Freeman for The New York Times
"It's a great market for buyers," said Hall F. Willkie, the president of Brown Harris Stevens, a real estate firm.CreditCreditDemetrius Freeman for The New York Times
By Michael Gold
Good news, New Yorkers: You may no longer need $1 million to buy a middle-of-the-road Manhattan apartment.
But just barely.
Lest the financially average among us get too excited, the median price only fell to $999,000, dipping below $1 million in the last quarter of 2018, according to a report from Douglas Elliman.
It was the first time the median price fell below seven figures since crossing the million-dollar listing threshold in 2015. A report from another firm, Brown Harris Stevens, noted a similar decline, but found the median apartment sale price to be $1,050,000.
Still, taken together, the end-of-the-year data in both reports suggested that New York City's real estate market continued the gradual slowdown that had characterized it for most of the year.
"Across 2018, it was a market reset," said Jonathan J. Miller, the real estate appraiser who prepared Douglas Elliman's report. "We're almost moving toward more normal conditions."
The number of sales of Manhattan apartments also continued to decline, down more than 3 percent from the same period last year, according to the Elliman report. At the same time, the number of listings jumped by more than 12 percent.
The slowdown in the city has followed patterns emerging across the United States. Sales are declining across the country, driving down prices, Mr. Miller said. But the Manhattan apartment market has led the way.
"The New York metro area was one of the first to really see a downshift," he said.
https://www.nytimes.com/2019/01/03/nyregion/manhattan-real-estate-market.html
 10.Why Is It So Hard to Plan for the Future?
Our feelings regarding death, separation and nothingness may shed some light.
Our feelings about death, separation, and nothingness may help us understand why human beings seem to have such difficulty looking at the future, planning for 20, 50, 200, 500 years down the road. Feelings of distress surrounding loss, death, and separation make it rough to tolerate thinking about times when we won't be around.
The anxiety may be exacerbated in those who did not have "good enough" parenting, leading to what the pediatrician and psychoanalyst Donald Winnicott called "annihilation anxiety." The notion of "not existing" can stir up distress and fear. Some of these feelings are magnified by the childhoodantecedents, that is, the times early in life when the vulnerable baby or young child experienced separations, loss, lack of understanding, or whatever, and could do little to protect herself. Such experiences touch on the need for human beings to be recognized, remembered, validated.
Another reason humans may have difficulty dealing with the future has to do with a different aspect of emotion and cognition, namely that our brains seem to have evolved to attend to more immediate stimuli. Affects are very brief, lasting milliseconds, and they occur in response to external or internal stimuli. That suggests they are important in terms of dealing with problems in the immediate present.
Planning for the future requires something more of our cortex. Even when we can utilize our brain to plan and consider long-range consequences, human beings seem to struggle with anything much longer than a decade or two. Witness the problem most people have in saving money for the future. Or how much trouble humans have in doing something about the fact that oil will not last much longer, or addressing the global warming issue.
When it comes to thinking in terms of thousands or millions or billions of years, whether past or future, we truly seem overwhelmed. This may in part be why creationism, rather than science and evolution, maintains such popularity. It is not only a question of education but a capacity to tolerate feelings and think in terms of millions, billions of years—and one's own nonexistence and being truly forgotten. Stephen Jay Gould has done a marvelous job in books such as Eight Little Piggies: Reflections in Natural History, in describing what millions and billions of years really look and feel like in terms of natural history.
Similarly, New York Times writer Dennis Overbye described a study by Krauss and Scherrer which suggested that in 100 billion years, given our expanding universe, the only galaxies left visible in the sky will be the half-dozen or so bound together gravitationally into what is known as the Local Group (June 5, 2007). Overbye called it "one of the more depressing scientific papers I have ever read." How's that for demonstrating how these issues stir up feelings?!
https://www.psychologytoday.com/us/blog/great-kids-great-parents/201901/why-is-it-so-hard-plan-the-future