1.Massive Sector Dispersion Already in 2018….20% Spread Between Best Performing and Worst Performing Sectors.
From Nasdaq Dorsey Wright.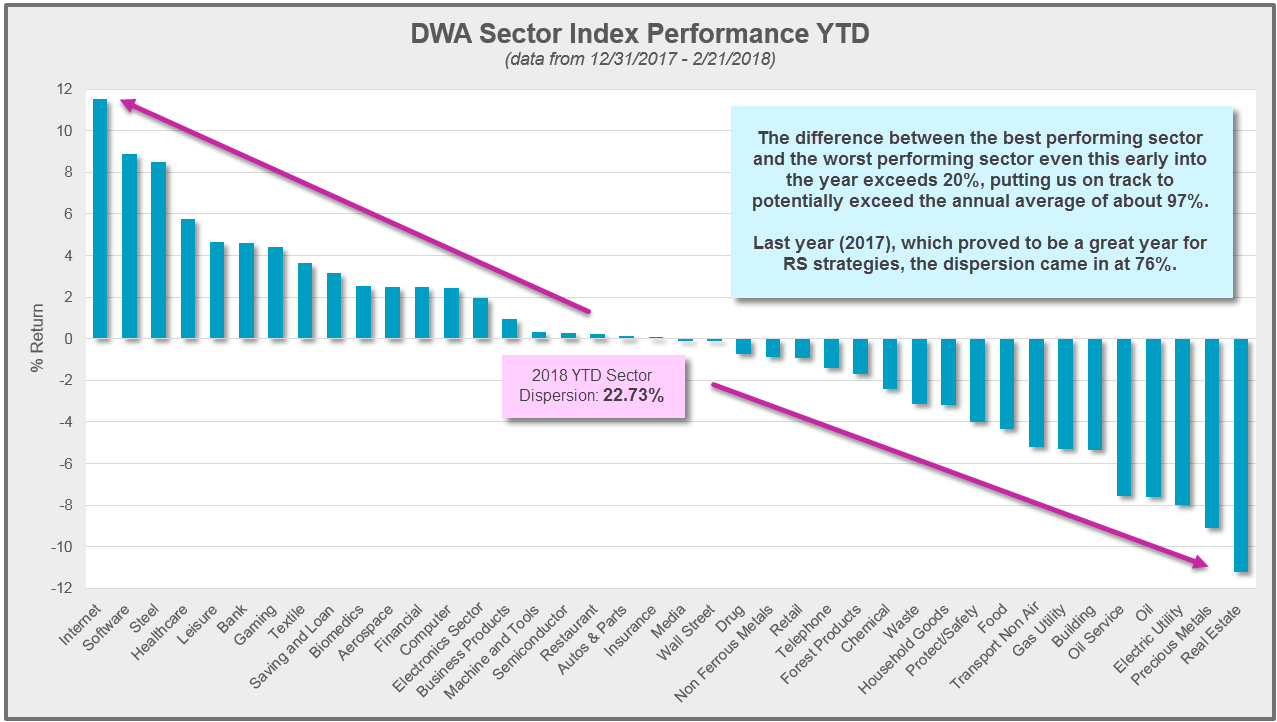 https://oxlive.dorseywright.com/help/contact?
2.New Fed Governors—A History.
Corrections not Uncommon for New Fed Chairs.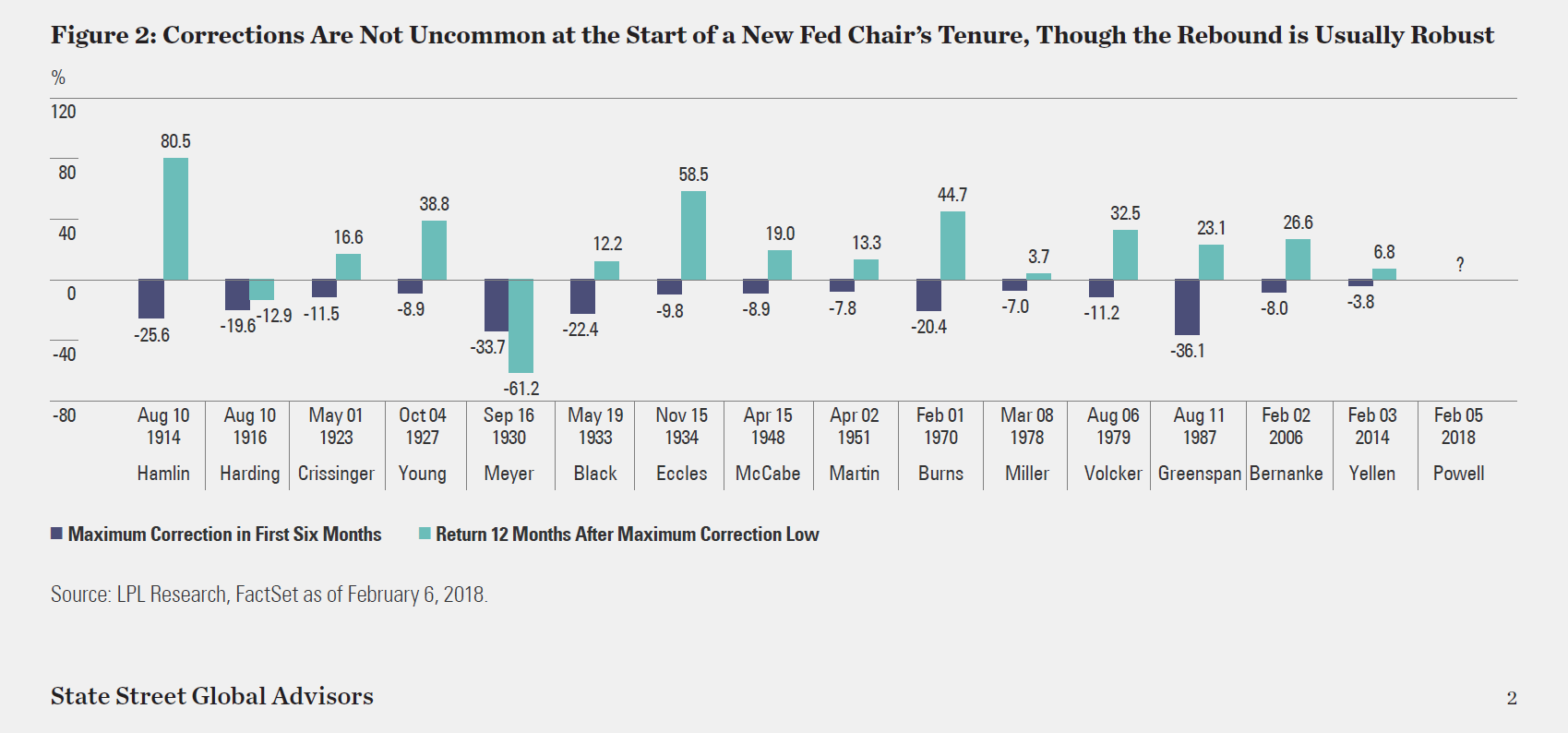 http://statestreetspdrs.com/1335/files/12151-rtl-uncommon-sense-three-questions-investors-v7-mt.pdf
3.Equity Markets: It's worth noting that at a forward P/E ratio of just over 17x for the S&P 500, valuations do not appear to be stretched.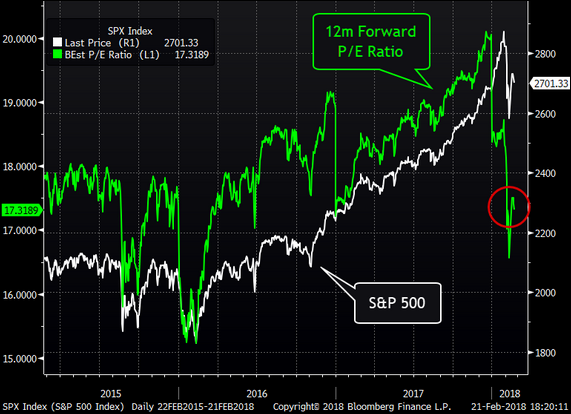 Source: Bloomberg
4.Private Equity Growth…Blackstone $100B to $400B in 10 Years.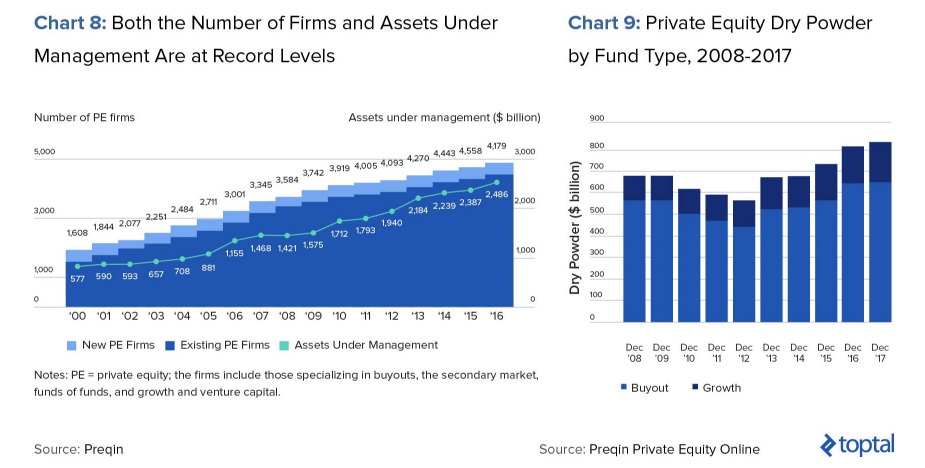 Last 10 Years Ending 2016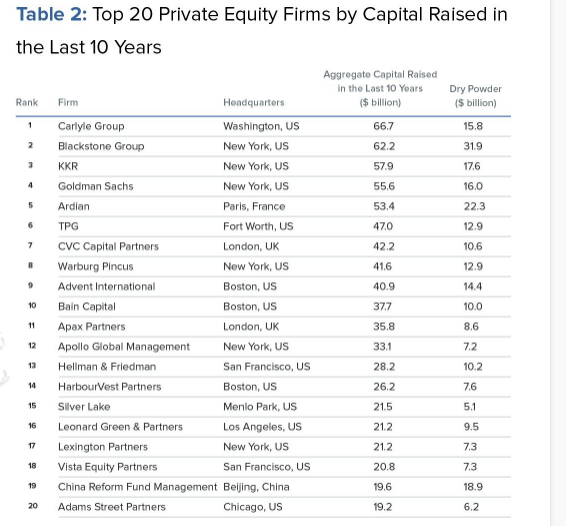 https://www.toptal.com/finance/private-equity-consultants/private-equity-industry
Yesterday we sent Bespoke members a full rundown of results from the just-completed earnings season.  To view the report, start a Bespoke Premium free trial here.   One stat we can highlight here is the earnings beat rate from this season.  As shown below, the percentage of companies that reported EPS that were stronger than consensus analyst estimates came in at 69%.  For those keeping score, that's the strongest beat rate since Q3 2006, and the sixth strongest beat rate over the last 20 years.
You might remember that analysts were hiking their EPS estimates at a record pace heading into the most recent earnings season, which makes the extremely strong beat rate (relative to recent earnings seasons) even more impressive.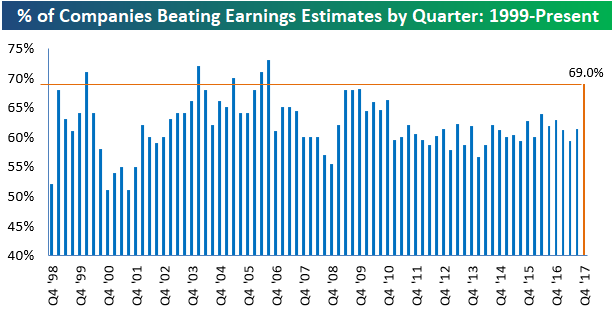 https://www.bespokepremium.com/think-big-blog/
6.Best Capitalized Start-Ups in the World Are Coin Offerings.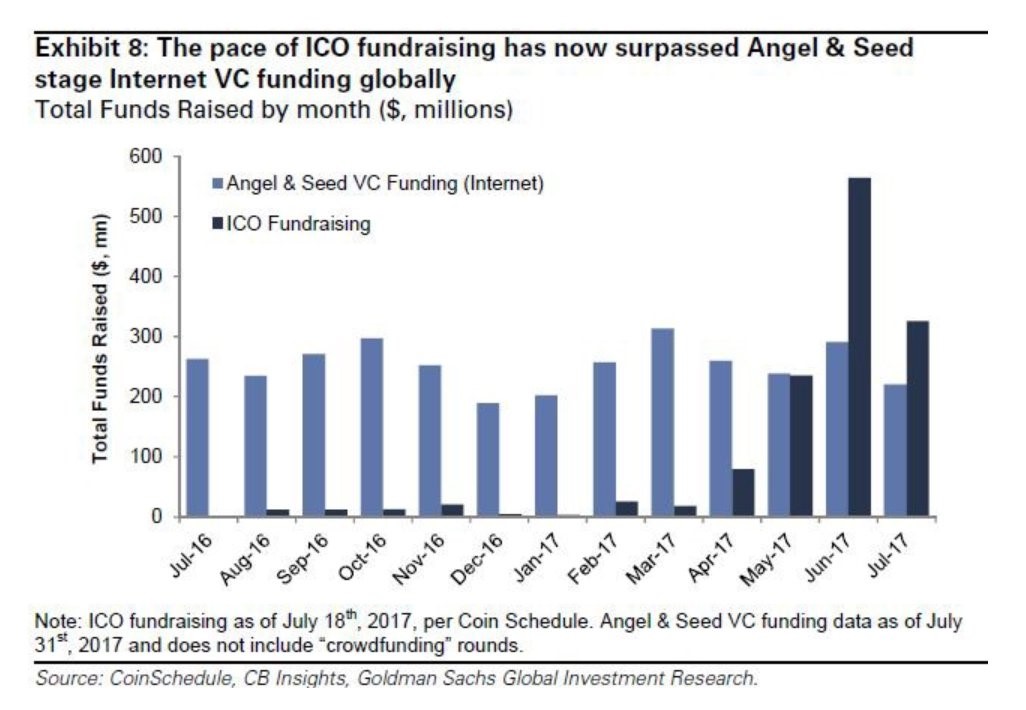 https://twitter.com/cburniske/status/896728777782439937
Startups Are Raising Billions Using Initial Coin Offerings
ICOs generated more money in 2017 than the previous three years combined
Yuji Nakamura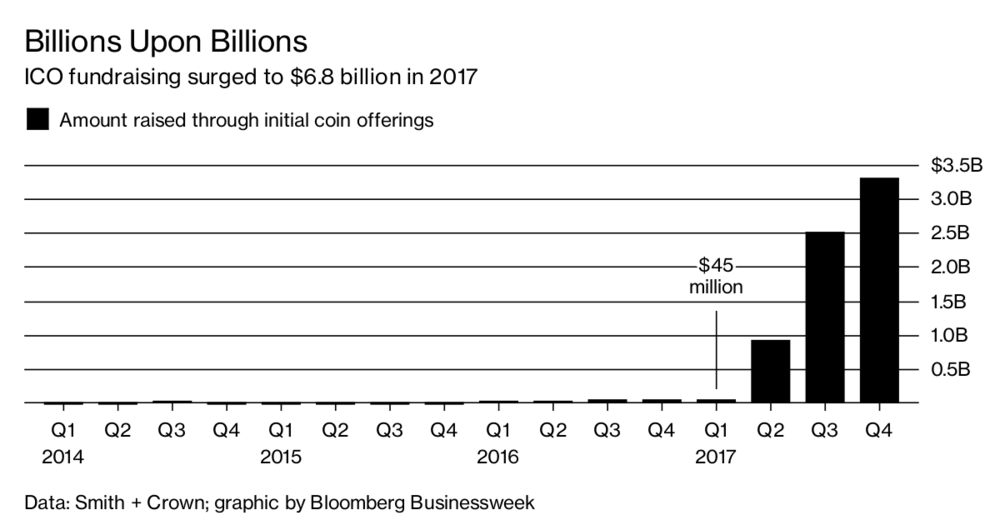 Startups are increasingly raising capital through initial coin offerings, a controversial technique that has made it easier for promising companies and scammers alike to pull in money. ICO funding surged to $6.8 billion in 2017, from $151 million in 2014, 2015 and 2016 combined, according to research firm Smith + Crown. The growth comes even as ICOs attract the scrutiny of governments, including China and South Korea.
7.Amazon Now Worth 2.5x Walmart.
Last year, Recode reported that Amazon, on its 20th IPO anniversary, was worth two times the market value of Walmart. That ratio had stayed nearly the same until Walmart reported earnings yesterday.
The difference in valuation comes despite Walmart having approximately three times Amazon's annual revenue and net income last year. However, Wall Street has bought into Jeff Bezos's vision of revenue growth over huge net income figures. It should be noted that Amazon Web Services, a non-retail business, represents a sizable portion of Amazon's value, making up 10 percent of revenue and the majority of the company's operating income.
https://www.recode.net/2018/2/21/17035706/amazon-jeff-bezos-worth-walmart-stock-market-value-growth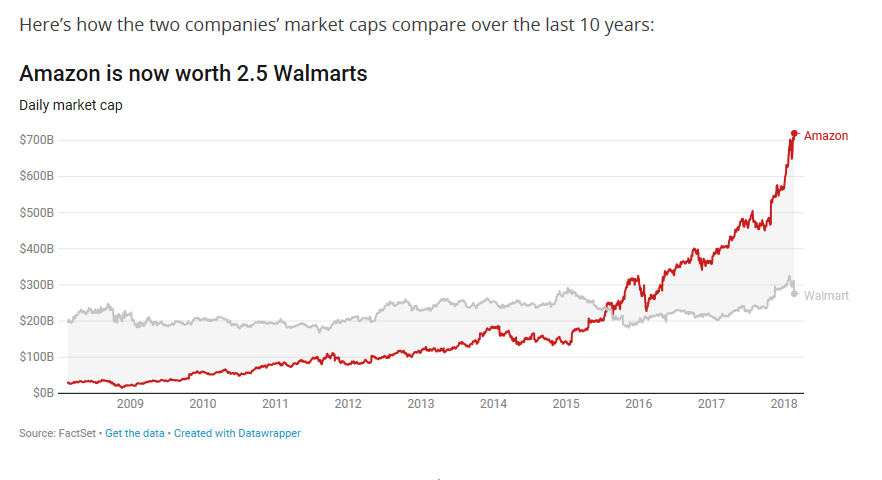 8.Home Ownership Rate Starting to Rise as Inventory Hits Historical Low Levels.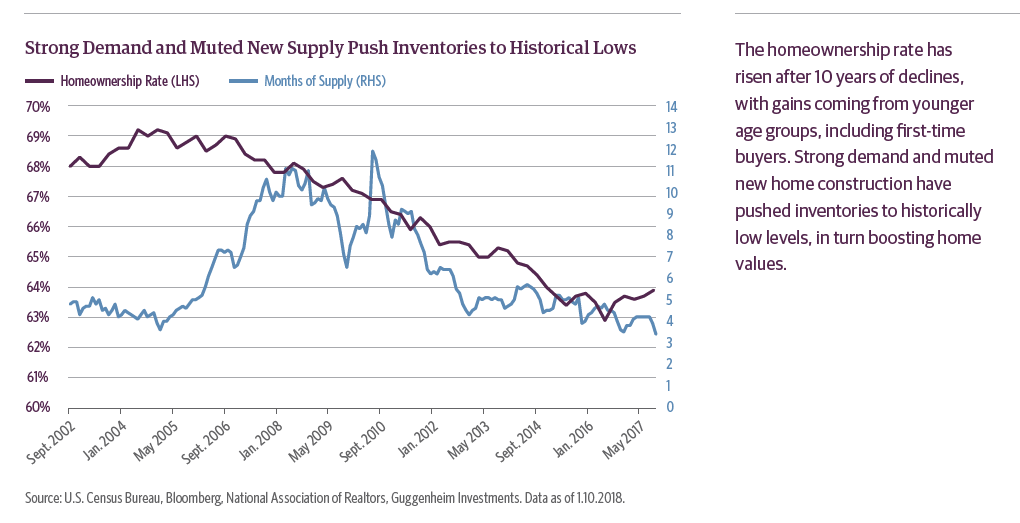 https://www.guggenheimpartners.com/cmspages/getfile.aspx?guid=af39b822-79d7-4173-a588-ee15e5f525f9
9. Read of the Day…How Gargantuan Can Private Equity Get? WSJ
The previous fundraising boom led to some of the most troubled deals ever done by private equity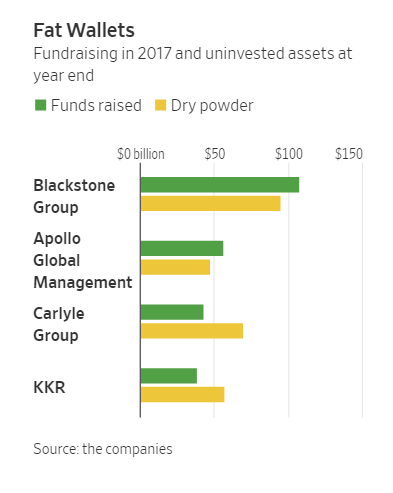 By
Paul J. Davies
Feb. 22, 2018 5:23 a.m. ET
11 COMMENTS
Stephen Schwarzman has a simple mission for Blackstone , the world's biggest listed private-equity group: double assets under management. For a group that already has $434 billion up from less than $100 billion a decade ago, that sounds ambitious, but Blackstone isn't alone.
The biggest private-equity firms are in a fund-raising frenzy, fed by insurers' and pension funds' hunt for yield and a conviction that private markets will produce better returns than highly liquid and efficient public markets.
Across the entire private equity, hedge fund and alternatives industry globally assets under management are forecast to more than double to $21 trillion by 2025, according to consultants PwC. That would include $10.2 trillion in private equity—or enough money to buy half of the $22 trillion of stocks listed on the New York Stock Exchange today or every stock in mainland China.
Apollo Global Management , APO 1.03% Blackstone, Carlyle and KKR increased their assets by a mind-boggling $247 billion between them just last year — and they all have plans to raise billions more.
Full Read.
https://www.wsj.com/articles/how-gargantuan-can-private-equity-get-1519294998?mod=ITP_businessandfinance_0&tesla=y
10.This Is The Skill Every Great Leader Needs
If you're leading all or part of a company, a to-do list may not cut it. Try these ideas to organize your priorities.
By Tanya Hall
CREDIT: Getty Images
The ability to prioritize competing responsibilities is an important skill for leaders and employees at companies of all sizes. Whether this need arises from multiple initiatives launching simultaneously, multiple clients with high table stakes, or just a resource issue involving too few people to do too much work, your prioritization chops can easily make or break your success in your role.
In a perfect world, there's someone above you constantly helping you to prioritize your work. Of course, we all know that rarely happens – especially if you're a leader, in which case it's your responsibility to help frame competing priorities so your team is clear on where to focus their energy.
Prioritizing often becomes easier once you have an understanding of what drives growth. I'm not a fan of to-do lists, which can create a false feeling of accomplishment related to crossing off minor tasks versus major milestones. For some roles, that works…but if you're leading all or part of a company, a task-oriented to-do list may unfortunately orient your time towards high-volume, low-impact efforts. Instead, try out these parameters to organize your priorities:
Highest Impact First
As CEO, this is my mantra. Lots of little fires land on my desk throughout the day, and plenty of competing priorities pop up to contend for a share of my time.
Fortunately, I'm blessed with an amazing team who can (and should) take on many of those fires so that I can remain focused on the high impact work required to drive progress in our organization. That may change from time to time, and it's up to me to direct, but as you might guess it typically centers on themes of vision and growth.
Note that "high impact" is different from "urgent" or even "important." "Urgent" may be the statement you have to come up with to publicly address an unexpected PR crisis. "Important" may the routine you conduct to review and ensure monthly payroll reimbursements are legit. But "high impact" probably looks more like an effort to launch a new sales vertical within the business, involving prolonged hard work but resulting in a net positive impact to the bottom line. Like any big undertaking, it's best to break high impact initiatives down into smaller benchmark components to keep them moving forward.
Urgent and important items can easily chip away at your availability to focus on high impact initiatives. Having a game plan in place to empower others to deal with those urgent and important time demands in a way that does not involve you will ensure that you can continue to drive growth regardless of these inevitable time sucks.
Know Your Own Biorhythms
I don't talk much before my morning coffee – but after 2pm, I can be a chatty Kathy. The same basic wordiness rules apply to my writing efforts. As a result, I never try to write before noon, and whenever possible, all of my media interviews and staff one-to-ones take place in the late morning or afternoon. Prioritize your responsibilities around your ownbiorhythms to avoid frustration and get the most out of your limited time.
Delegation/Asking For Help
Sometimes, leaders charged with wrangling high-impact, high-effort initiatives hamstring themselves by insisting that they put their fingerprints on the entire initiative from start to finish. Whether this stems from a desire for recognition or a lack of trust in their team, it's a limiting factor.
Your time is a limited resource. If you can't actively and honestly identify the things that your team can competently handle for you and then assign those roles to them, you'll have a hard time moving initiatives forward.
Rein In Inclinations If Needed
A frequent contributor to time management issues is our own inclination to spend time on tasks we like to do versus the challenging, high-impact work we should focus on. Some of us prefer being the mouthpiece of the company, or focusing on operations, or serving in an auxiliary human resources role around developing the team. While all of these things are important, a leader's involvement in this type of work can't be at the expense of the high-impact initiatives where they can present unique bottom-line value.
Different prioritization methods work for different people, of course. If you're struggling with juggling competing priorities, try out a few of these tips and see how they work for you.
The opinions expressed here by Inc.com columnists are their own, not those of Inc.com.
https://www.inc.com/tanya-hall/this-is-skill-every-great-leader-needs.html