1.Market Volatility—110 Days Without 2% Trading Day.
Blackrock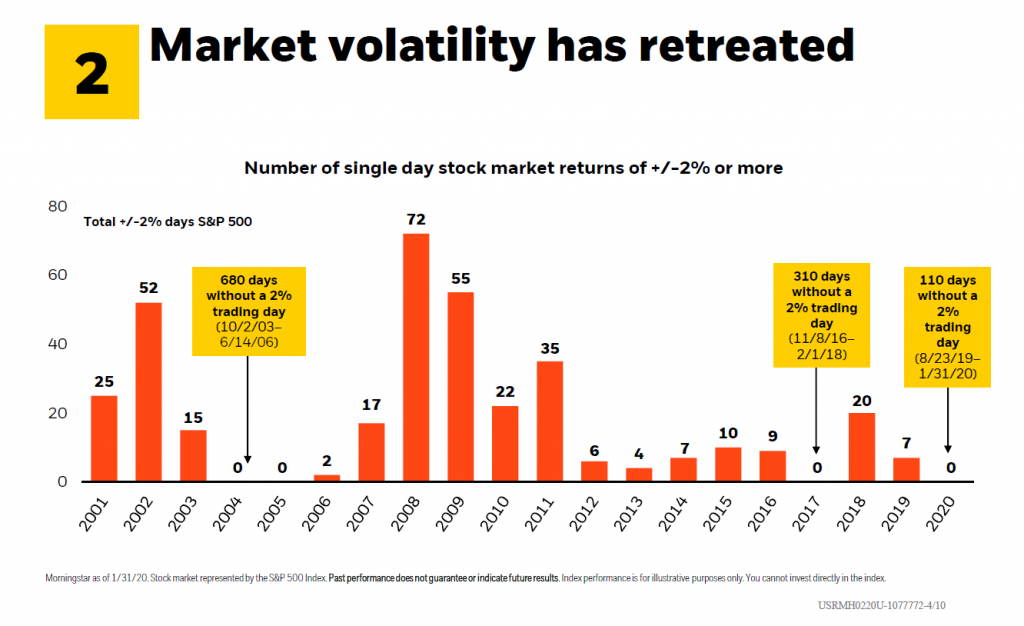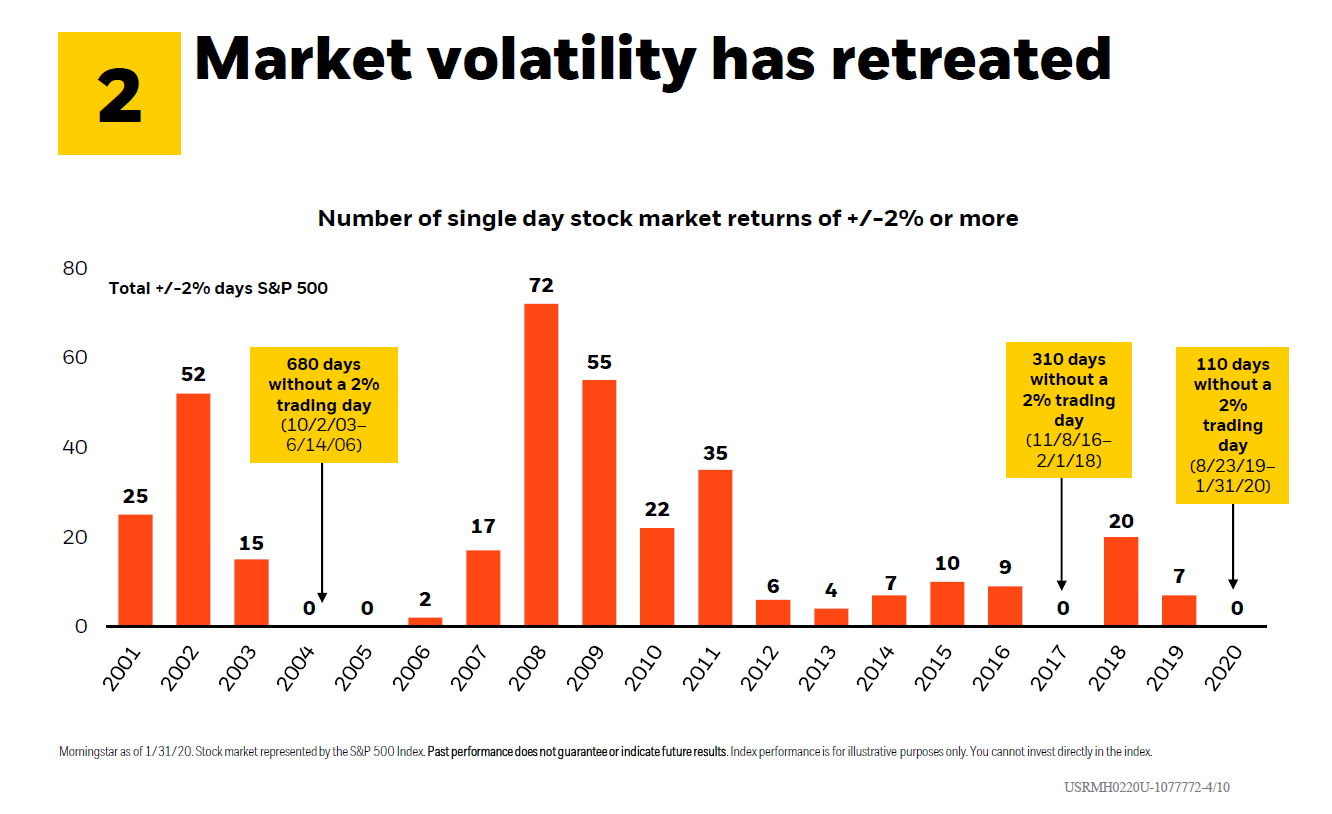 2.Volatility in Election Years
State Street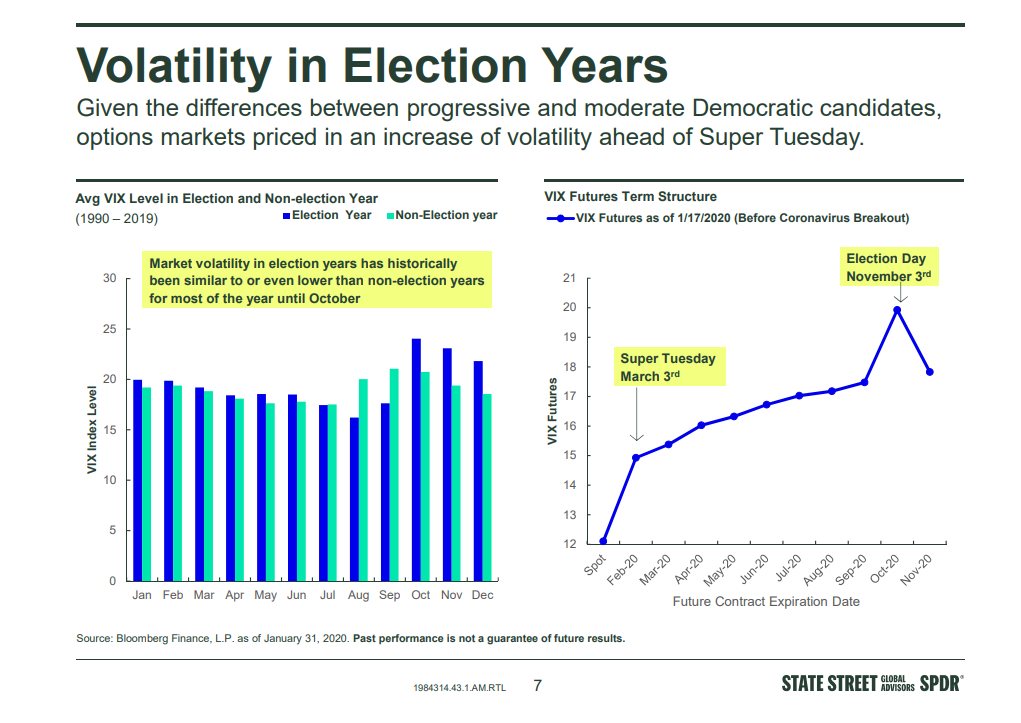 State Street-SPDR
https://comms.ssgaglobal.com/rs/451-VAW-614/images/SPDR_Monthly_Chart_Pack-February_2020.pdf?link=CP-btn&mkt_tok=eyJpIjoiTUdVNFpHTmxNMlV6WmpreCIsInQiOiJ0bjBLS082aXFoTHc4MXVqRVhVYmVoY05vbTMwZFlDUUkxVndaaVdxV3k1dURFNk5Ka0hETWhMeFZ0NCsxSldYQVJRbFNuem10anlwRDlYOW9CTFE3U1RBUXZGSnZvdVRibnRQRDFNWWgwdFlhQW9hd250TVdJUkJSeGc3S25zOCJ9
3.Robotics ETF Approaching New Highs
ROBO ETF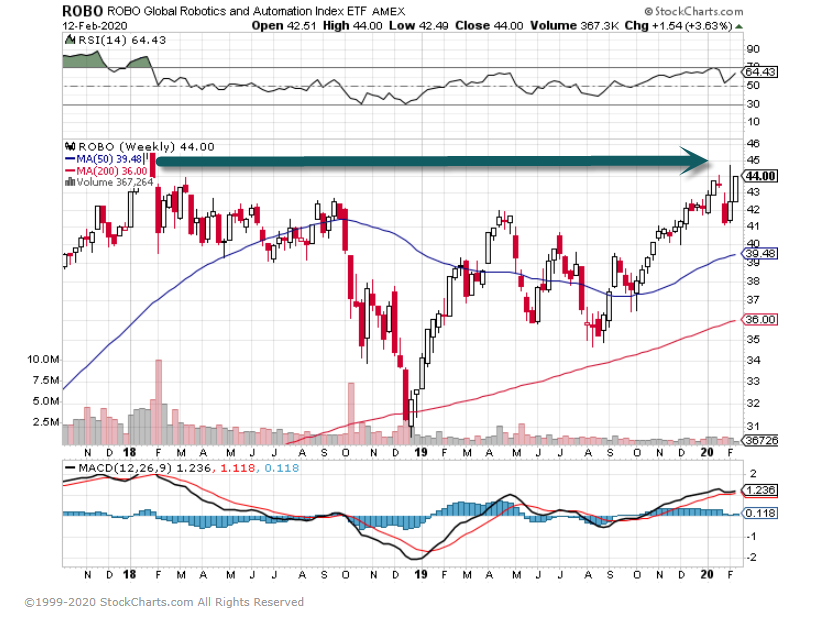 Top Holdings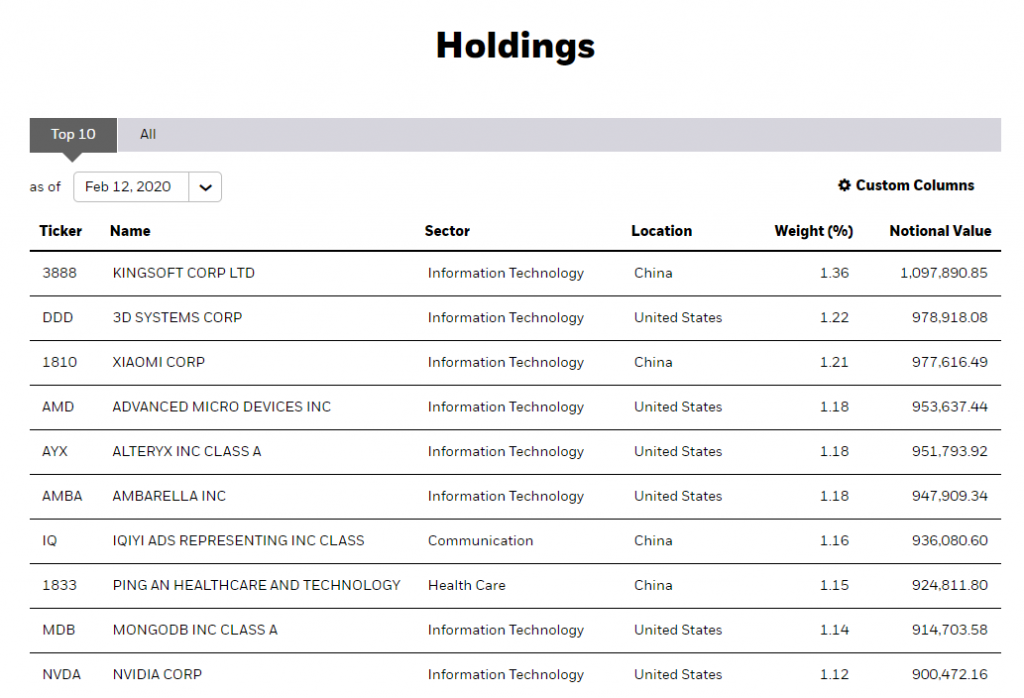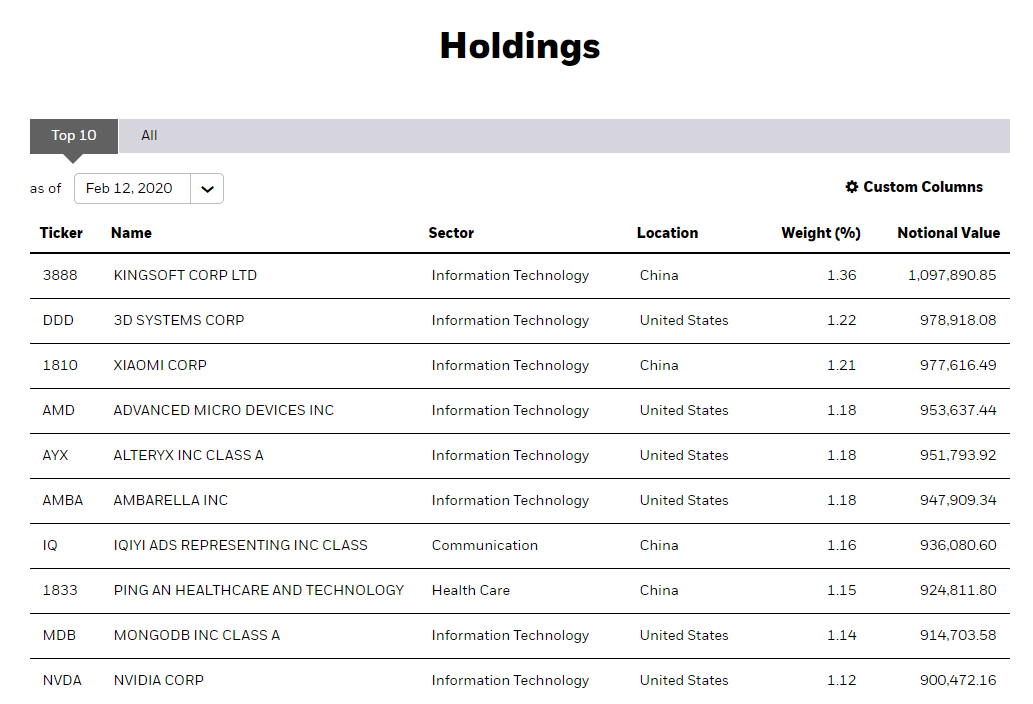 https://www.ishares.com/us/products/297905/ishares-robotics-and-artificial-intelligence-multisector-etf-fund?cid=emc%3AMegaTrends%3AMULTI%3ANonBrand%3APMS%3AUS%3ANA&gclid=EAIaIQobChMIsL7Yr7rO5wIVF5SzCh1ztw1UEAAYASAAEgI0U_D_BwE&gclsrc=aw.ds
4.Bond Charts From Wolf Street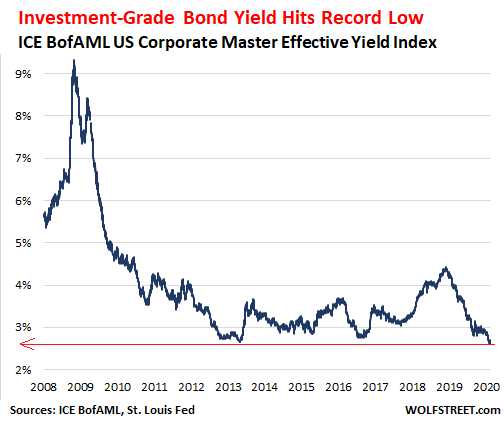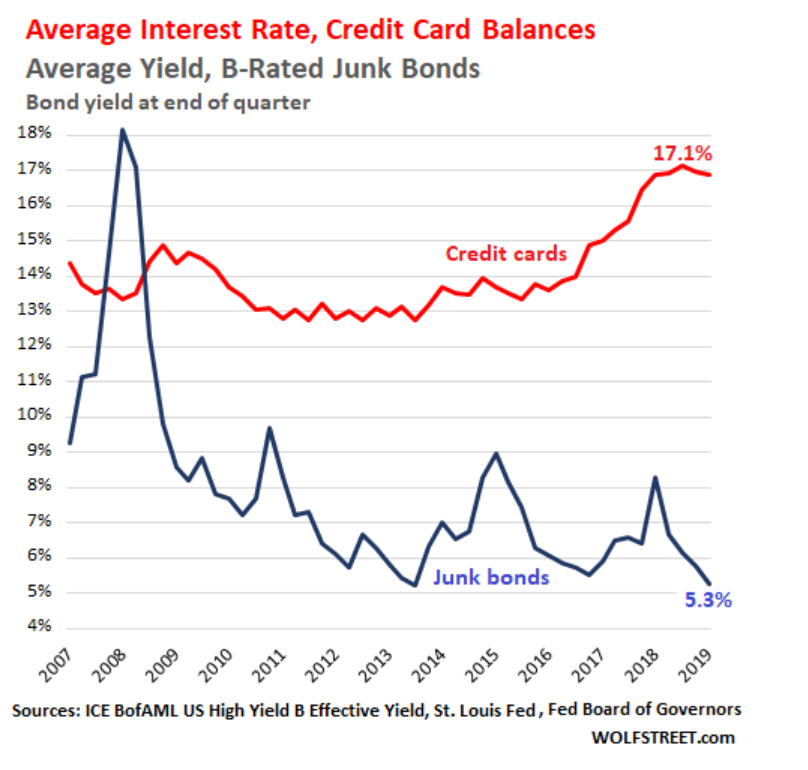 Credit-Card Interest Rates Soar to Record High, Bond Yields Drop to Record Low: What Gives?
by Wolf Richter • Feb 12, 2020 • 34 CommentsBy Wolf Richter for WOLF STREET.
5.The coronavirus is infecting everything in the energy sector
It's hard to get one's head around all the ways that coronavirus is affecting oil markets, energy-related industries and even carbon emissions.
Why it matters: The tragic outbreak underscores that when it comes to energy, China is the straw the stirs the drink as the world's largest oil-and-gas importer, largest auto market and largest carbon emitter.
The big picture: Here are a few ways that coronavirus, which is centered in China but has now spread to over two dozen countries, is shaking things up…
When it comes to oil, it has pushed prices down to their lowest level in a year, stemming largely from reduced travel and economic activity in China.
That's a problem for OPEC and its alliance with Russia — the OPEC+ group has struggled to reach a deal this week on deepening joint production cuts to tighten markets. Russia, while agreeing in principle, has yet to sign off, per multiple reports.
"Brent is likely to hover around $55 [per barrel] as long as uncertainty on the impact of coronavirus persists and until OPEC+ ministers meet and agree to a cut," S&P Global Platts analysts said in a note.
It's impacting the liquefied natural gas market, which was already weak due to excess supplies.
Per Reuters and others, the Chinese energy giant CNOOC this week said it will temporarily stop honoring some import contracts.
"China's near-term gas consumption is in question given the coronavirus quarantines and shutdown of factories, which consume the bulk of the country's imported gas," the Wall Street Journal reports.
China is the world's largest solar equipment manufacturer, and a note from the consultancy Wood Mackenzie says work at several module plants is unlikely to resume until late February or later.
Tesla was forced to temporarily close its Chinese factory and delay vehicle deliveries, per multiple reports.
CNBC reports that a Tesla executive's comments about delays helped to push its share price back down Wednesday after its meteoric rise in preceding days.
It's hammering the auto industry, which is already struggling with soft sales, more broadly as automakers are forced to keep plants idled. CNN has more.
There's even a climate change dimension, per Bloomberg, which reports: "If there's a silver lining to the deadly coronavirus outbreak in China, it's that the world's biggest polluter is spewing less carbon, at least for now."
The piece points out that emissions will drop temporarily due to halted plane and auto travel, closed steel mills and coal mines, and other effects.
It's unclear, Bloomberg reports, whether this will lead to a year-over-year drop in CO2 emissions.
Here's a wild stat, via S&P Global Platts: "Even a 1% drop in China's annual CO2 emissions from energy consumption would amount to 96 million [metric tons], equivalent to France's annual regulated CO2 emissions."
https://www.axios.com/coronavirus-china-energy-sector-impact-f89cd7b8-6605-470f-8338-70af44e4aaf1.html
6.Student Debt Breakdown by Age Groups.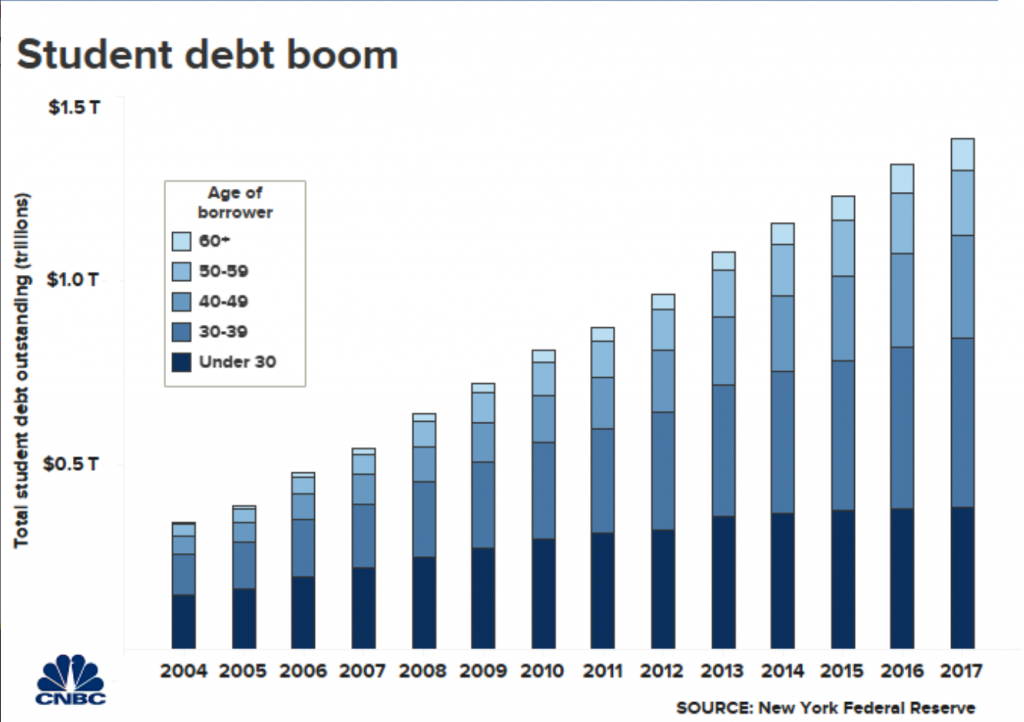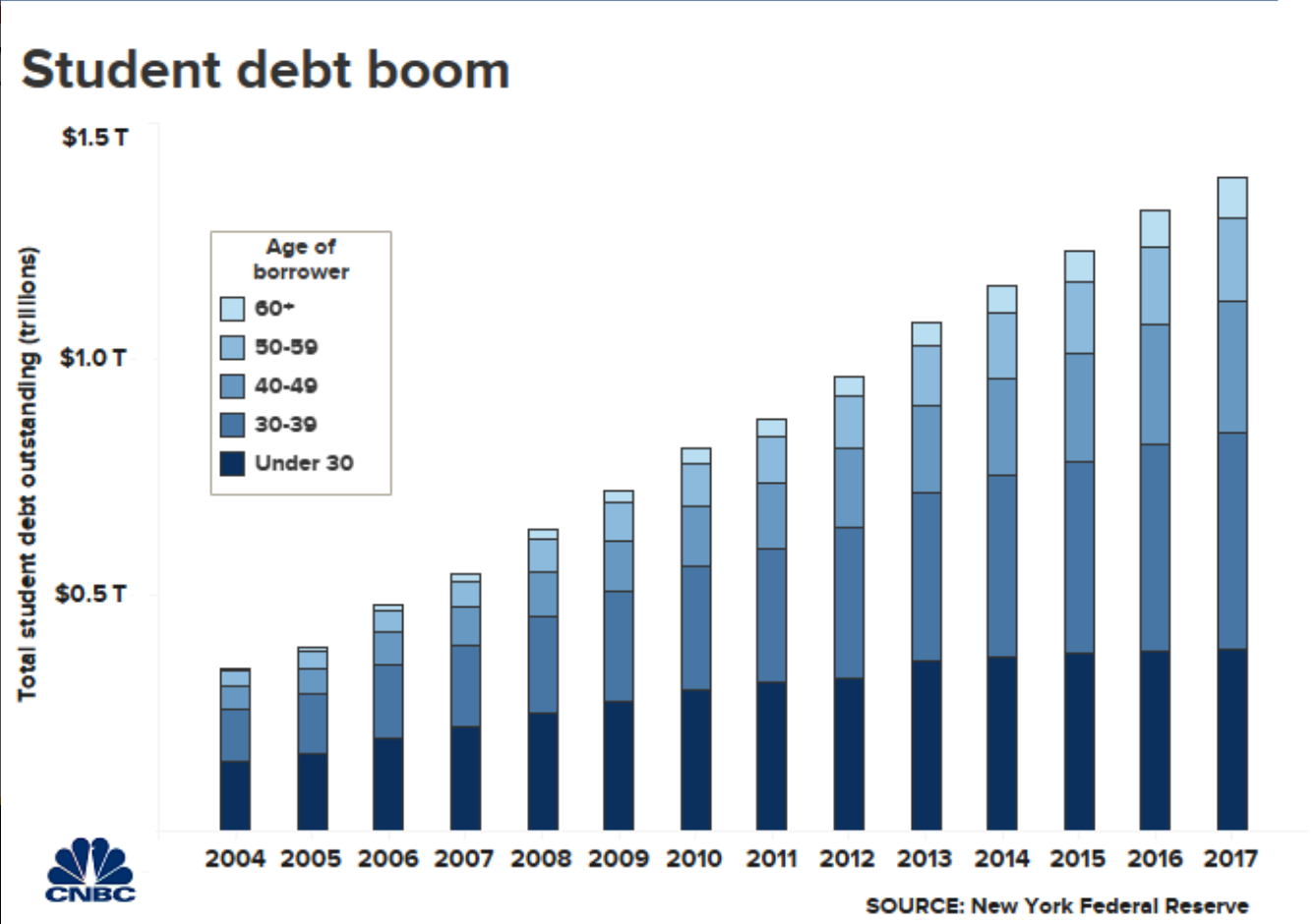 Why people with student debt are refusing to repay it Annie Nova@ANNIEREPORTER https://www.cnbc.com/2020/02/12/student-loan-borrowers-announce-a-strike-refusing-to-pay-their-debts.html
7. 'Wretched excess' means there's 'lots of troubles coming,' warns Berkshire Hathaway's Charlie Munger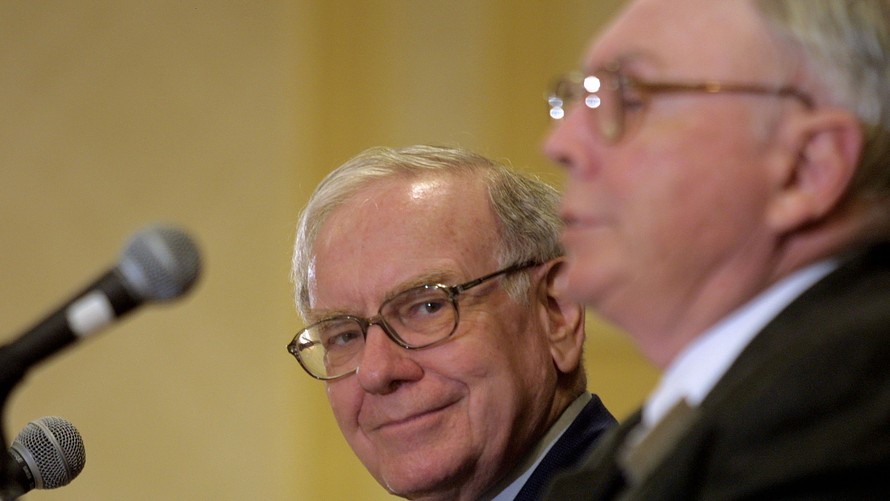 Getty Images
Warren Buffett and Berkshire-Hathaway partner Charlie Munger
'I think there are lots of troubles coming… There's too much wretched excess.'
That's Charlie Munger, vice chairman of Berkshire Hathaway BRK.A, +0.06% , sharing his thoughts on the current climate at the Daily Journal annual shareholder meeting on Wednesday.
Munger, who serves as chairman for the Daily Journal along with his Berkshire role, cited the increasing use of EBITDA — earnings before interest, taxes, depreciation and amortization — as an example of that excess.
"I don't like when investment bankers talk about EBITDA, which I call 'bulls**t earnings,'" Munger, 96 years old, explained. "It's ridiculous. Think of the basic intellectual dishonesty that comes when you start talking about adjusted EBITDA. You're almost announcing you're a flake."
He then called out investors in China for how they play the game
"They love to gamble in stocks. This is really stupid," he said. "It's hard to imagine anything dumber than the way the Chinese hold stocks."
Munger was also asked about Tesla TSLA, -2.68% and had some interesting, if unsurprising, things to say regarding the stock's recent surge.
"I think Elon Musk is peculiar and he may overestimate himself, but he may not be wrong all the time… Tesla sales went up because Elon has convinced people he can cure cancer," he said. "I would never buy it, and I would never sell it short."
Watch his full presentation, courtesy of CNBC:
Munger, with an estimated net worth of about $2 billion, has long been a business partner of Warren Buffett. The two first met more than 60 years ago.
As for trouble ahead, no sign of it in Wednesday's session, as the Dow Jones Industrial Average DJIA, +0.94% , S&P 500 SPX, +0.65% and Nasdaq Composite COMP, +0.90% all logged solid gains.
https://www.marketwatch.com/story/wretched-excess-means-theres-lots-of-troubles-coming-warns-berkshire-hathaways-charlie-munger-2020-02-12?mod=home-page
8.Inflation Adjusted Homeowner Equity Back to Highs.
With home equity near an all-time high and mortgage rates near an all-time low, I have to believe many homeowners will sell their current home and get a bigger nicer home in 2020. John Burns Real Estate Consulting hashtag#JBRECDailyInsights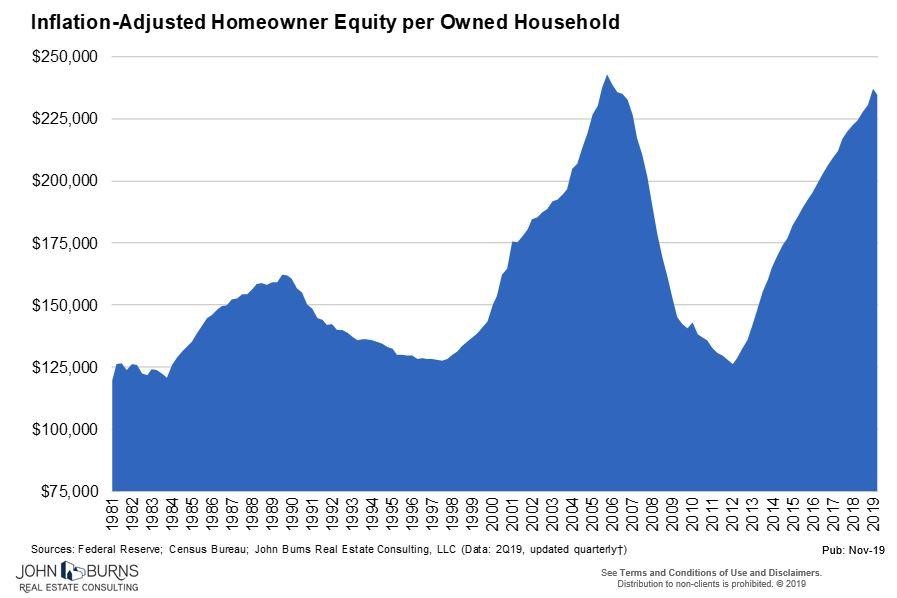 https://www.linkedin.com/in/johnburns7/
9.Where People Want to Leave.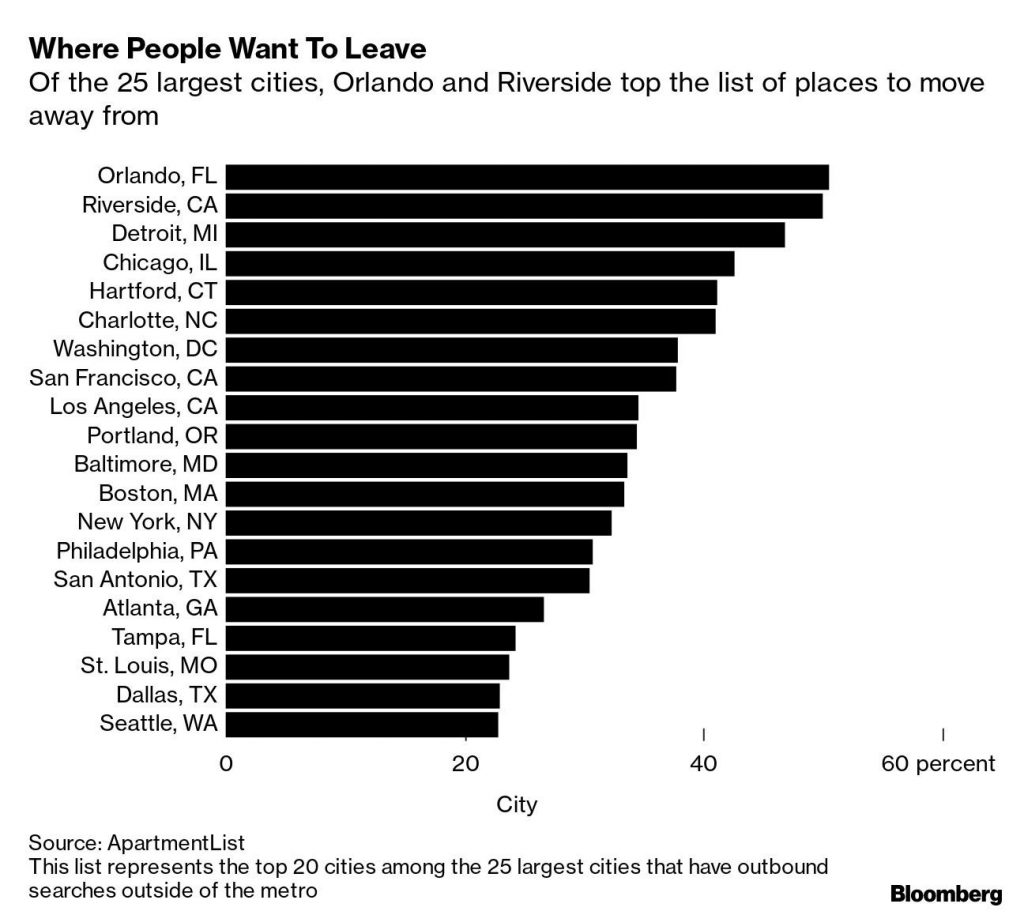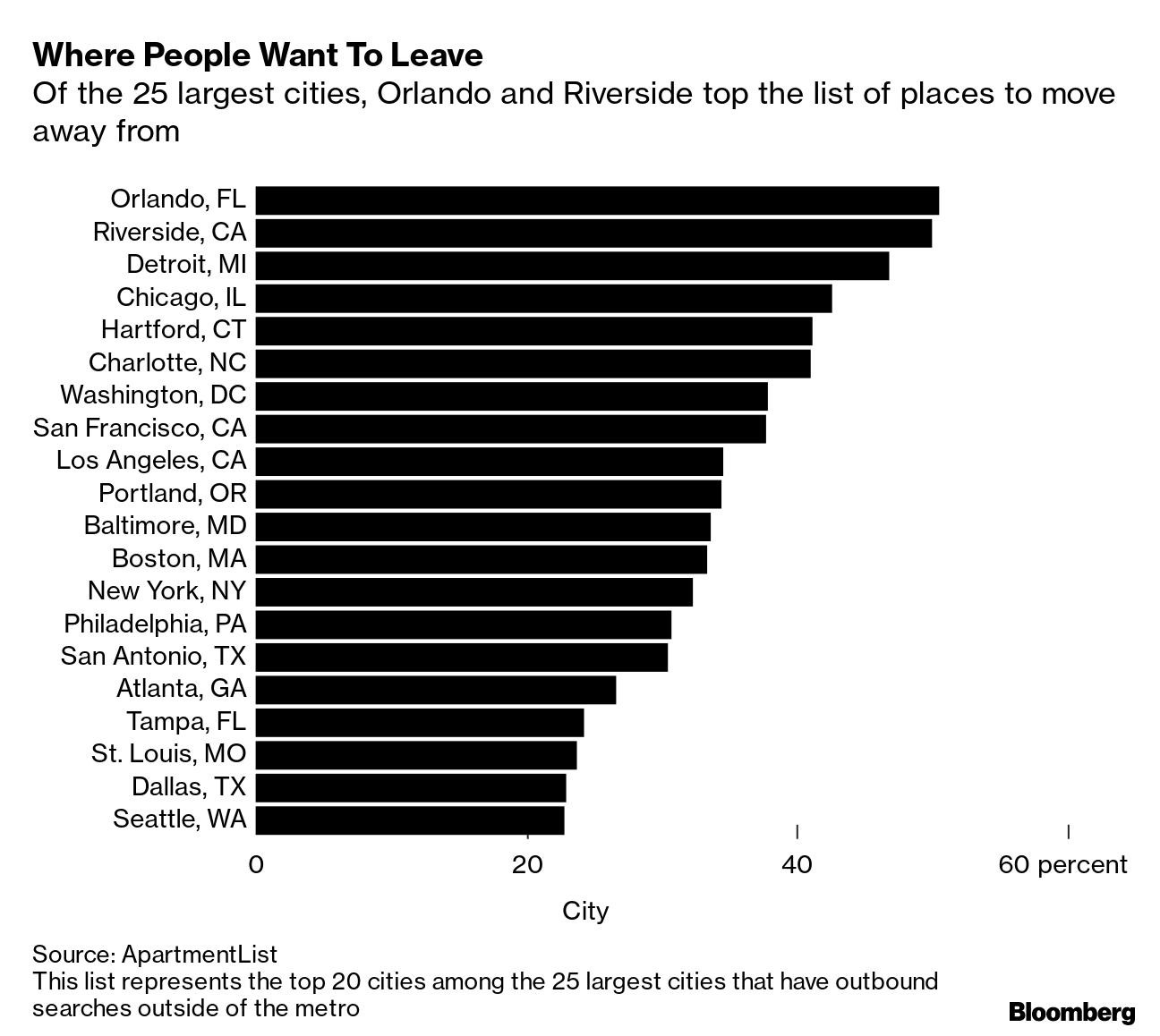 https://www.linkedin.com/in/danielcrosby/
10.Let Go of These 10 Things and Start Making Better, Faster Decisions
The average person makes a ton of mind-blogging decisions every day, so learning to make decisions more quickly can save valuable time and energy. Here's the thing, though. Making decisions faster isn't always about adding new hacks to your arsenal. It's subtracting certain things from your life to enable the fast-decision-making process. Here are ten things to let go of so that you can make faster decisions.
1. Making decisions on the fly
There are times when you have to make a split-second decision. But usually, everything you need to decide on can be done in advance. The key is booking time to think.
I like to plan out my calendar on Sunday night. Several people at the office like to plan out their calendars for the following week on Friday afternoons. When you choose to mark your calendar doesn't matter as much as the fact that you make it a consistent habit.
Try it, and you'll find that making decisions ahead of time prevents decision fatigue, leaving reserve energy to make critical decisions. Plus, researchers have found that the most accurate decision-making occurs between 8 a.m. and 1 p.m. regardless if you're chirping with the Meadow Lark or a Nightingale.
2. Overthinking
"Contrary to what we tend to think, it is almost impossible to calculate future outcomes because people and life are very unpredictable," writes Ilene Strauss Cohen. "Therefore, making decisions is usually a crapshoot."
"Don't get me wrong," she adds. "It's still useful to have confidence in the decisions you make, but it's important to be aware that you have no control over the outcome of them."
Her advice? Stop overthinking things.
3. Distractions
Think about it: You're deciding what meals to make for the week — in my case, with winter in full force, I decided to make vegetable soup for dinner. As I was writing my grocery list, I got a phone call from a friend and took off at a moment's notice. Guess what? I totally forgot half the things I needed to purchase when I got to the store and didn't have all the ingredients to make the meal when returning home.
When you're working on something important, eliminate distractions when it's time to make a decision. You know the drill — turn off your phone, work in a quiet space and focus on one thing at a time. Time management is key.
4. Choosing something because you're "supposed to"
I'm in no way advocating that you ignore your responsibilities. But don't waste your time and energy on things that you feel pressured to do.
For example, you may be tempted to relocate your startup to Silicon Valley. But, is this thought a necessity or just something you've been talked into by other entrepreneurs? If a relocation (or other decision) is not a necessity, then you can ignore it.
5. Comparisons
Personally, this is something that I've been working at for years, and I think most entrepreneurs are in the same boat. It's hard not to have comparisons when you see other businesses thrive while yours may be struggling.
I know this is easier said than done. But, get over it and make the best decisions for you today. Or, if you need a more inspiring quote, follow the words of advice from Tina Fey: "Don't waste your energy trying to change opinions — do your thing — and don't care if they like it."
6. Ignoring your instinct
I'm sure you've heard this before. When put to a head-to-head test, a Stanford psychologist found that you need to listen to your gut. In fact, 68 percent of the time, intuition led to the best decisions.
There is a caveat, though: Listening to your gut is most effective when facing personal decisions, such as deciding where to move. For more complex decisions, you should still carefully weigh the pros and cons.
How should you listen to your gut? Well, it comes down to whether or not you feel expansive, meaning excited or powerful, or contractive, which leaves you with a sensation of dread or heaviness.
7. Fear
Arguably the biggest reason why you procrastinate on making a decision is that you're afraid, and there's a good reason why.
As Tim Rettig explains in a Medium post, "You have the control to make that decision, but you don't have control over what happens next." For instance, you may quit your job to finally go for your dream of starting your own business. You do everything by the book. But, what if a recession hits just as your business is gaining traction? That's going to impact your business. It's also completely out of your hands.
The solution? Don't consume yourself with what happens next.
8. The trivial
One of the most effective ways to combat decision fatigue is to stop sweating the small stuff.
For example, stop spending half an hour figuring out what to wear for the day. In the grand scheme of things, this is a rather unimportant decision that drains your mental energy and wastes time. That's why you can decide and prepare your wardrobe for the week in advance. Or go the Steve Jobs, and Mark Zuckerberg route and have a signature look.
9. Perfectionism
"Perfectionism prevents you from improving and discovering new opportunities," writes Deanna Ritchie in a Calendar article. "And, it also wrecks your productivity since you're spending too much time second-guessing yourself."
How can you overcome perfectionism? Well, Ritchie suggests:
Surrender to the fact that you're not perfect and accept that your decisions are part of the process.
Set goals, you'll actually achieve.
Embrace feedback.
Use "hypothesis testing." For instance, write a blog post and don't proofread it. You'll discover that despite any mistakes, it's not the end of the world.
Stop dwelling in the past or obsessing over problems that don't have a solution.
10. Limiting yourself to "yes" or "no"
Finally, realize that not every decision you have to make is a "yes" or "no." Instead, consider alternatives or compromises.
Let's say that an employee or business partner wants to meet for lunch tomorrow. You already have plans, so you automatically want to respond with a flat-out, "no." Before rejecting that time request, consult your calendar. Do you have availability next Tuesday? If so, offer that date instead. Better yet, share your calendar with people so that they can see when you're free to meet.
John Rampton is an entrepreneur, investor, and startup enthusiast. He is a founder of the calendar productivity tool Calendar. You can sign up for early access to Calendar here!
This article was originally published on Entrepreneur.
https://www.linkedin.com/pulse/let-go-10-things-start-making-better-faster-decisions-john-rampton/?trackingId=FI8dpCJ%2BSQyvNxMeHVvtPA%3D%3D