1.S&P Stretched Relative to Profits.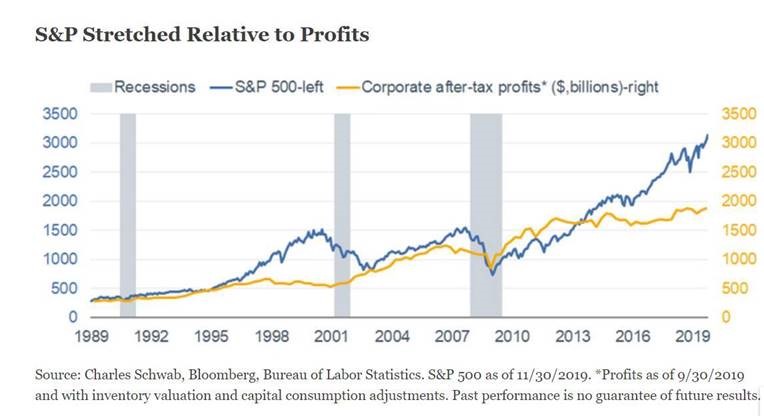 2020 U.S. Market Outlook: Ramble On? By Liz Ann Sonders
https://www.schwab.com/resource-center/insights/content/2020-us-market-outlook-ramble-on
2.Tesla Breaks Out to New Highs
Tesla shares are now up about 14% year to date, a little worse than comparable gains of the S&P 500 and Dow Jones Industrial Average. But Tesla stock is up almost 57% over the past three months.
Better-than-expected third-quarter numbers catalyzed the stock's recent rally.
Tesla Stock Is Soaring. The Question Is Why.Al Root
https://www.barrons.com/articles/tesla-stock-fresh-high-51576526137?mod=hp_DAY_1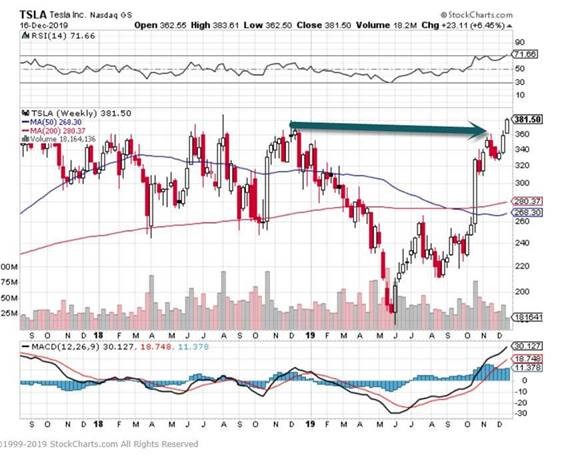 3.Probability of Market Going Higher in Next 2 Weeks.
When the S&P is up 20%+ going into the last 2 weeks of the year, it has gained another 2.1% on average to finish the year and has been down only 3 times. But after buying rumors of a phase1 trade deal, is this year different? Probably not but interesting 2 weeks remaining…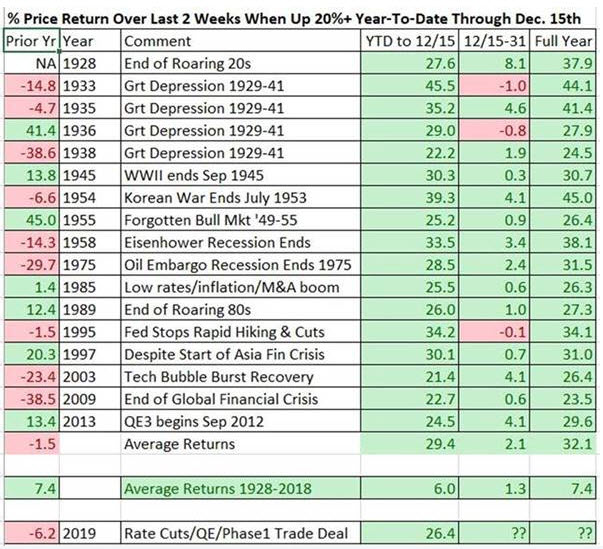 https://www.linkedin.com/in/dan-niles/
4.The Financial Sector Just Getting Back to 2007 Highs.
Chart of the Week: While the broader market as measured by the S&P 500 continues to hit new all-time highs, the financial sector remains below the level reached more than a decade ago (see chart). Financial companies were ground zero for the financial crisis, so it isn't a surprise that the sector was punished, declining almost 84% from the high in early 2007 to the 2009 low. With the S&P 500 having now eclipsed its 2007 high by more than 100%, the financial sector is just now on the doorstep of reaching its 2007 peak. Regional banks did not fare quite as badly during the crisis but still declined almost 71% off their late 2006 peak. To put these declines into perspective, the S&P 500 fell almost 57% from October 2007 high to the March 2009 low. Banks have outperformed the general market since the end of the third quarter as economic fears have eased and the yield curve has steepened. If banks continue to perform well, it likely bodes well for value and small cap indexes since financials comprise a good portion of their market capitalization.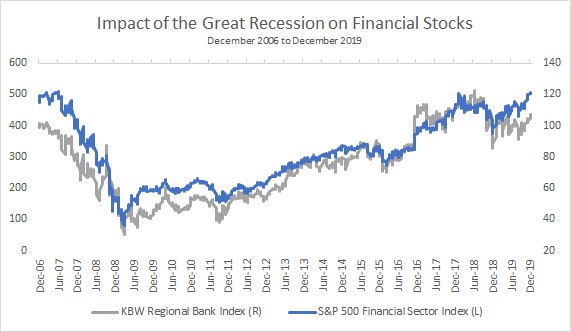 Bill Stone Avalon Advisors
http://avalonadvisors.com/wmg-12.16.2019.html
5.AI Projected Growth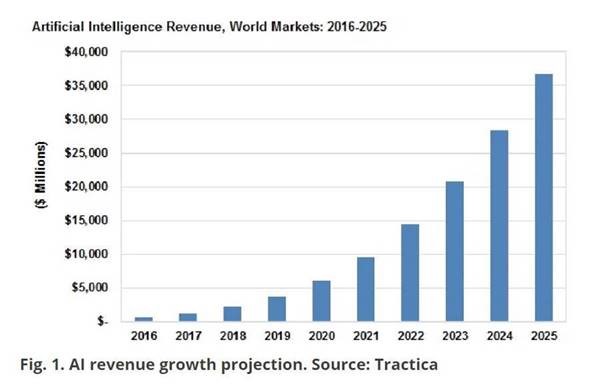 Francis Scialabba
If 30 is the new 20, Intel is making the case that 51 is the new founding year. In its latest effort to "turbo-charge" its artificial intelligence (AI) offerings, Intel paid $2 billion to acquire Israeli chip startup Habana Labs. The purpose: Habana's chips will soup up Intel's data centers to help algorithms translate numbers into trends. But this is bigger than data storage Isn't it always? Intel previously said it's penciling in over $3.5 billion in AI-related revenue this year, up 20% annually. And it's on the hunt for growth opportunities. It can only boost market share in its core business—powering personal computers and tablets—so much. So it's looking to grab a little sunlight in the booming field of artificial intelligence. In 2017, Intel paid $15.3 billion for vehicle camera maker Mobileye, which uses AI to train self-driving cars. In 2016, it bought AI startup Nervana Systems for about $400 million. Zoom out: The market for chips that power AI is expected to grow to $25 billion by 2024, per Intel. And almost half that revenue will likely come from selling chips used in giant data centers. + Want more AI news? Subscribe to our newsletter Emerging Tech Brew here.
6.Best Performing Tech ETFs.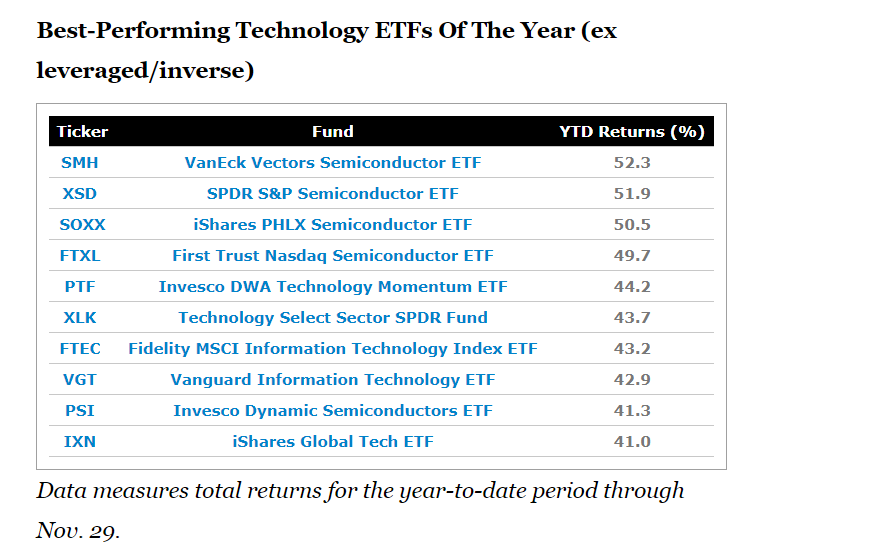 ETF.com
https://www.etf.com/sections/features-and-news/best-performing-tech-etfs-year
7.Multifamily Construction 30 Year High.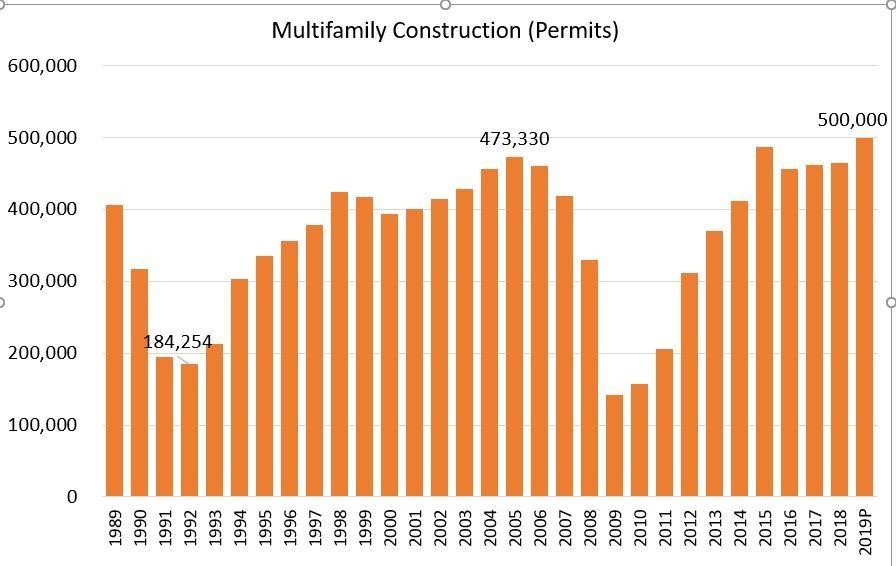 https://www.linkedin.com/in/johnburns7/
8.Homebuilder Confidence Hits New Highs.
The Daily Shot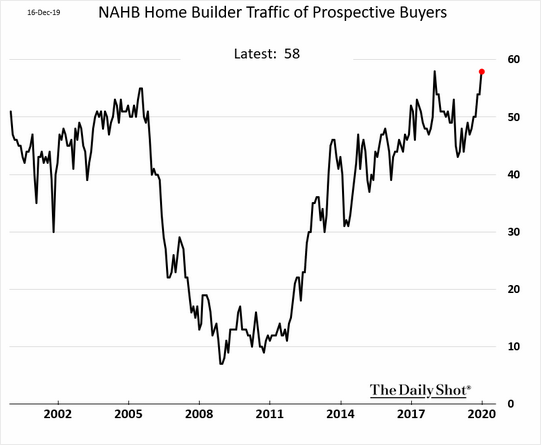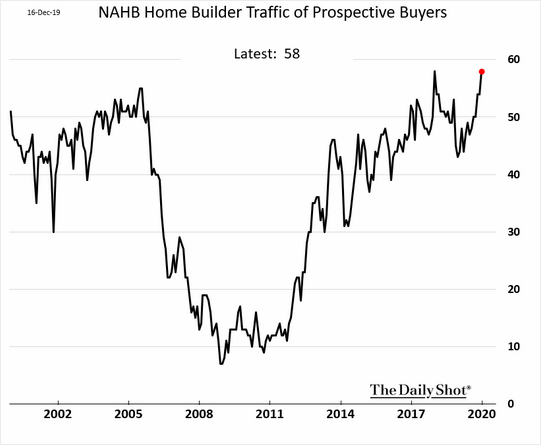 https://blogs.wsj.com/dailyshot/2019/12/17/the-daily-shot-mission-impossible-us-planned-exports-to-china-are-exaggerated/
9.One Place Inflations is Rising-Healthcare.
Inflation is rising for medical care services and inpatient hospital services, and the price of health insurance is currently growing at an annual rate of 20%, see charts below and here and here.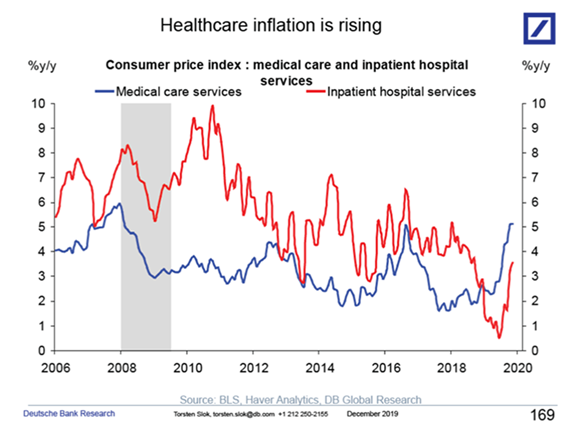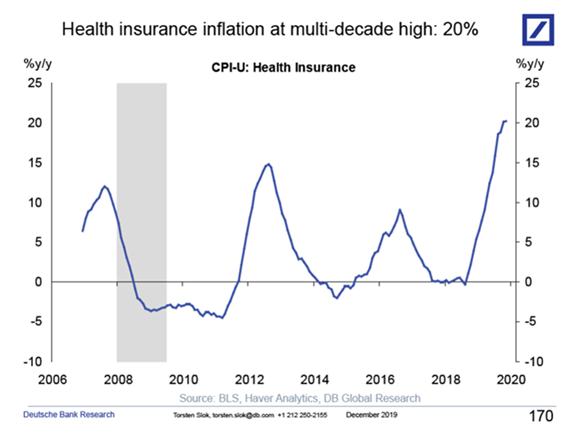 ———————————————–
Let us know if you would like to add a colleague to this distribution list.
Torsten Sløk, Ph.D.
Chief Economist
Managing Director
Deutsche Bank Securities
10.How to Delegate as an Entrepreneur: 7 Tips for Success
Remember, accountability and trust go hand in hand.
By Young Entrepreneur Council@yec
By Nate Huskins, founder and president of Marshal Group LLC
Handing off tasks to others is not easy for me. I am a great idea person, as I think most entrepreneurs are. However, I am not a natural delegator.
This is true for a number of reasons: I want to be very hands-on with all aspects of my business. I often think I'm the only one who can do certain tasks because of my attention to detail and quality. And I want everything done now.
However, when I realized I was working way too many hours and needed better work-life balance, I knew delegating more would be key to making that happen. Here are a few lessons I learned.
1. Accept the fact that you can't do everything yourself.
That instinctive desire to do it all is most likely holding you back. If you have great ideas but can't find time to execute those ideas, then embrace the opportunity to delegate. View it as a means to free up valuable time — more hours you can use to act on your big ideas, grow your business and achieve greater success.
2. Delegate big tasks, not just small ones.
When I first attempted to delegate more tasks to others on my team, I started by delegating the small stuff. However, over time, I learned that was the wrong strategy because employees only focused on the small stuff and could not see the big picture. They did not feel connected with our company as a whole.
That's why we needed a different approach. I found I am better off with delegating bigger tasks because employees gain a greater understanding of how my business works and learn to appreciate the fact that even small tasks are important to keep it running efficiently.
3. Block out time to delegate tasks.
I am a big fan of time blocking, which involves dedicating chunks of time in your schedule for various tasks. It is an effective method for getting things done, and that includes delegating. I have found that putting delegation duties on my calendar — actually blocking out time — forces me to use that time to meet with employees and verbally explain what I am trying to delegate to them.
4. Create standard operating procedure (SOP) documents.
When I made the decision to begin using SOPs (a smart suggestion from one of my employees), it ended up having a big impact on my business. Here's how to do it for your business: Whenever you choose to delegate a task or a series of tasks, draft the procedural steps in writing. Save your document as an SOP PDF, and make the PDF accessible online.
Over time, you will develop a digital library of SOP documents for internal use. Staff members will be able to refer to these valuable resources time and time again, instead of repeatedly asking you to clarify instructions.
If you do not have time to draft SOPs yourself, then delegate that task as well. That way, you will only need to review and approve the wording instead of writing each one from scratch.
5. Follow up.
After you delegate a task, your responsibility attached to that task doesn't end there. You have to follow up later, after a few days or weeks, to make sure that task is being properly executed.
Now I will admit, in all honesty, that is not always easy to do. I often will think, "OK, I have delegated task A, and now I can move on to task B." Then I forget I need to follow up on task A to make sure that it is being done properly. The only way I can remember to follow up is if I actually schedule time to do it.
6. Trust that your employees will complete delegated tasks.
I do not have time to micromanage, and I don't want to micromanage. Instead, I give complete trust to my employees and allow them to prove that they are worthy of that trust. This means they must act responsibly and prove that they are meeting established goals. Accountability and trust go hand in hand.
7. Play to your strengths and weaknesses.
Let me give you an example: I enjoy being hands-on with the financial side of my business because math is enjoyable for me. However, one thing I do not like to do is read and analyze long documents. Therefore, I find that sort of task easier to delegate to somebody who is going to be better at it.
Learning to delegate successfully as an entrepreneur requires some work, but the rewards are worth it. Try the seven tips listed above to make delegating simpler, smoother and more effective.
Nate Huskins is founder and president of Marshal Group LLC (exportusautos.com), which exports vehicles from the U.S. and Canada to destinations abroad. https://www.inc.com/young-entrepreneur-council/how-to-delegate-as-an-entrepreneur-7-tips-for-success.html?icid=landermore