1.Volatility of Equities 40% Lower When Bond Yields Below 3%
Barrons…That's key, since continued low rates provide the ideal environment for equity investors, writes James Paulsen, chief investment strategist at the Leuthold Group, in a client note: "At least for the last 93 years, the opportunity to invest in stocks when the 10-year Treasury yield is below 3% has proved to be a 'gift'." (The benchmark note ended the week at 1.82%, down 0.02 of a percentage point.)
Adding equities to a portfolio when yields are under 3% sharply boosts returns without significantly increasing overall risk, Paulsen finds, based on the record from 1926 to 2019. The volatility of an all-equities portfolio is 40% lower when bond yields are below 3%, he further found, while future 12-month returns were negative only 18% of the time. When bond yields rise to 3% to 4%, however, the risk-reward trade-off for adding stocks is much less attractive, he says.
We Have a Trade Deal and Brexit Clarity. That's Good News for Stocks.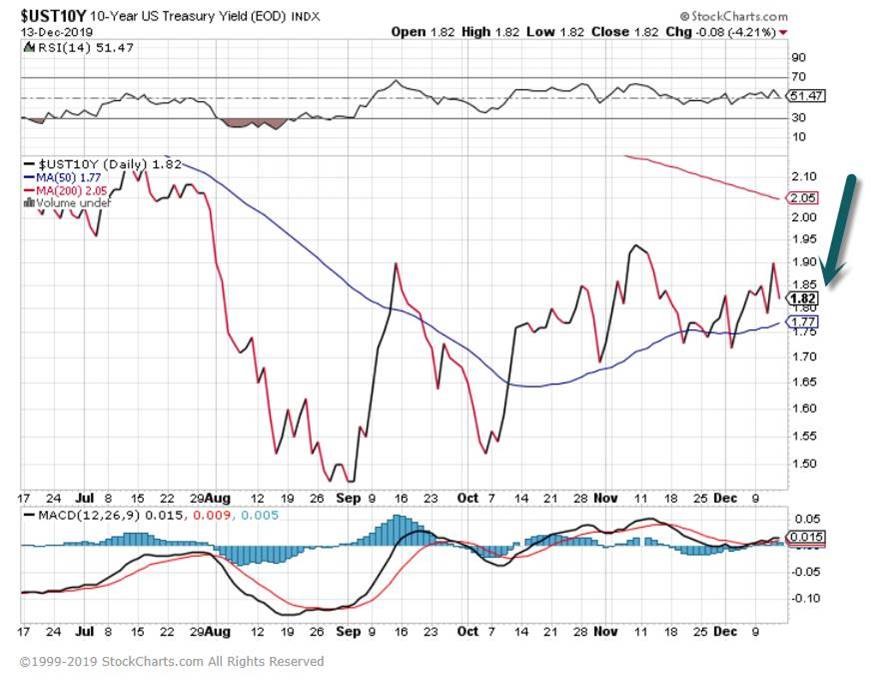 2.Natural Gas Breaks to New Lows
Record hedge-fund shorts in natural gas futures …-55% 12 months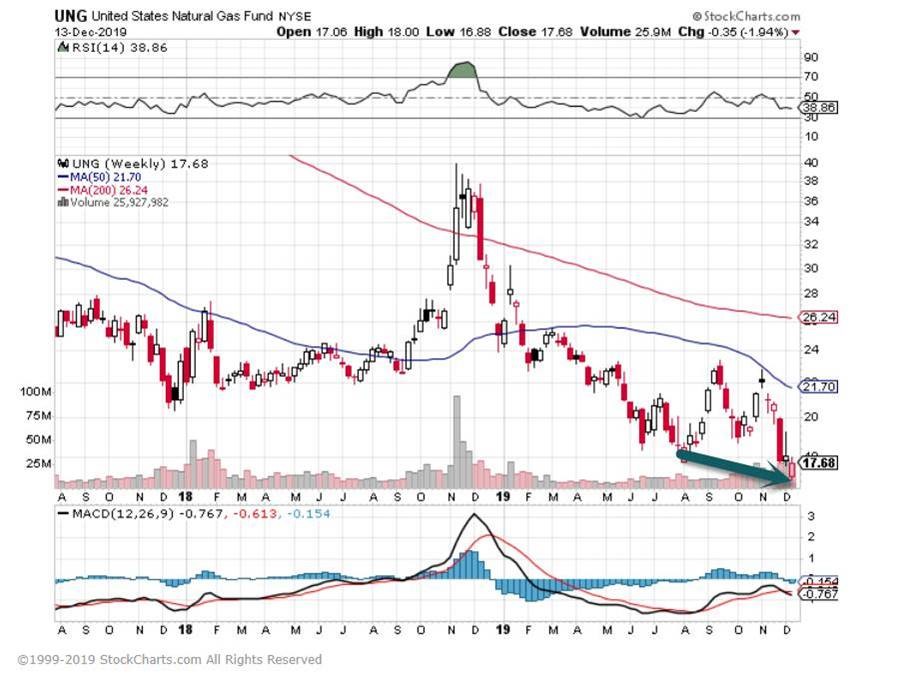 3.Tech P/E 25.5 Highest Since Nov. 2007
Bespoke Investment Group
Rich Valuation for Tech..In fact, with yesterday's rally further elevating price, the P/E ratio is now in the 100th percentile of all readings of the past ten years. In other words, the 25.5 P/E yesterday was the highest of the past ten years. The last time the ratio was this high or higher was back on November 7th of 2007. Although the valuation is undoubtedly elevated now, the P/E ratio is actually still well off of its highs and only in the 68th percentile of all readings of the past 25 years.  As shown below in the chart of the sector's P/E ratio over the past quarter-century, the current level has rarely been observed since the end of the Dot-Com Bubble.  But the ratio is also still well below levels seen during the bubble in the late 1990s.  Additionally, the build-up to current levels has been much more gradual than around that time. Simply put, while the sector's valuation has run hot, it's not even close to what we saw during the 90s heyday for Tech.  Click here to learn more about Bespoke and its research offering.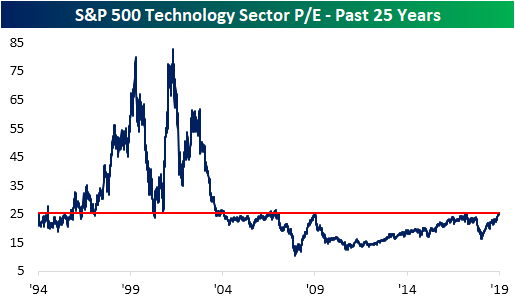 https://www.bespokepremium.com/interactive/posts/think-big-blog/rich-valuation-for-tech
4.Global Investors Piling Into the Chinese Bond Market.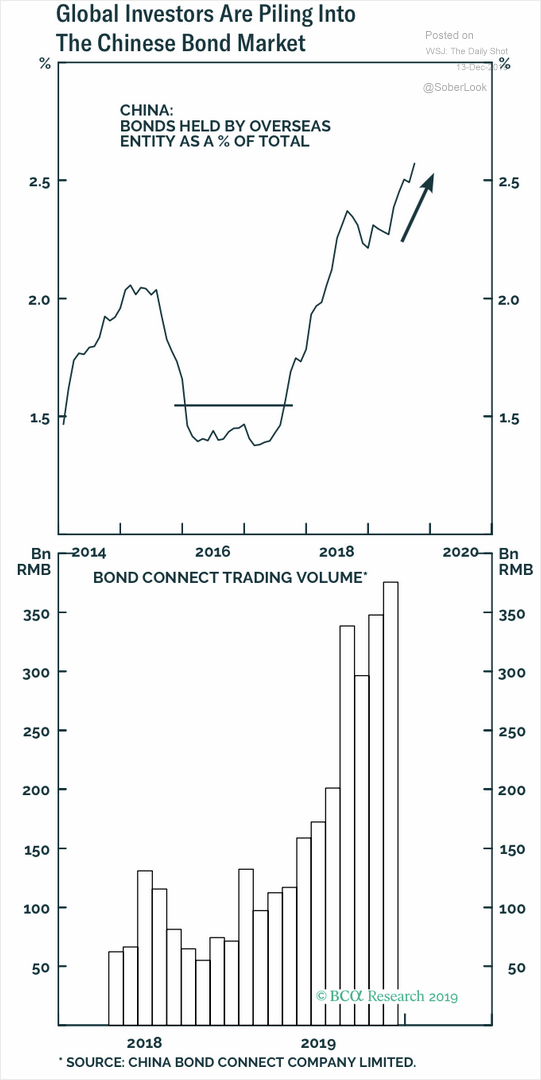 The Daily Shot
https://blogs.wsj.com/dailyshot/2019/12/13/the-daily-shot-global-stock-markets-the-yuan-u-s-grains-rally-on-trade-deal-news/
5. 2010 Decade Had Highest Earnings Growth on Record.
So what do the numbers reveal about the last decade? Of the S&P 500's 13.3% annual return since 2010, 2.3% came from dividends, 10.2% from earnings growth and 0.8% from the change in the market's valuation, as measured by the 12-month trailing price-to-earnings ratio. In other words, the vast majority of the gains can be attributed to a spike in earnings rather than investors' willingness to pay more for stocks. In fact, the decade's earnings growth was the highest on record.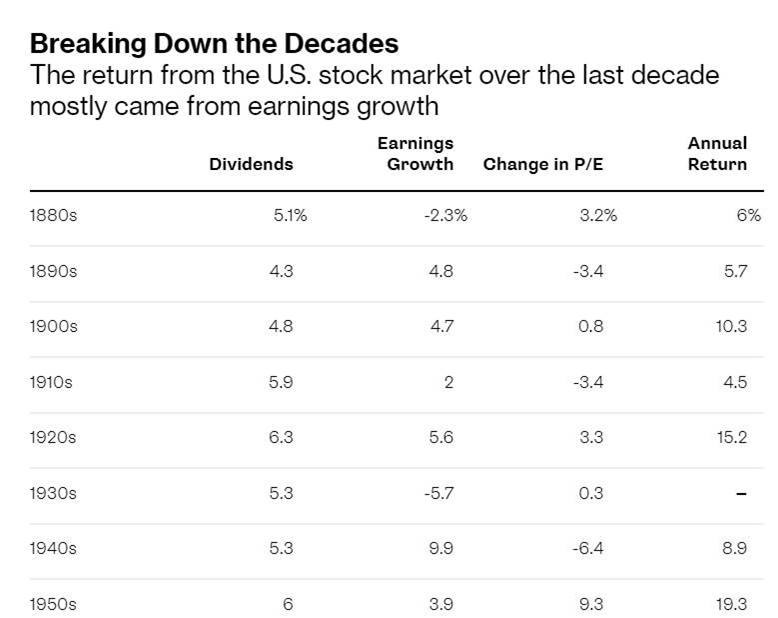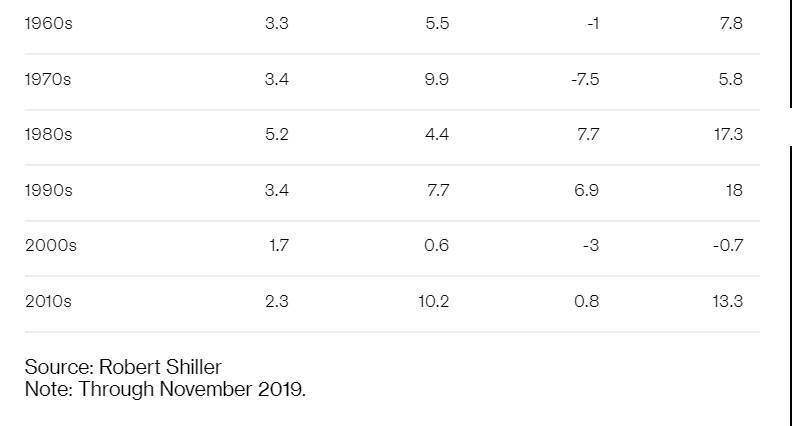 Don't Expect the Roaring '10s for Stocks to Repeat in the '20s
The rally has been based on record growth in earnings, which have historically been incredibly volatile.
By Nir Kaissar
https://www.bloomberg.com/opinion/articles/2019-12-12/don-t-expect-the-roaring-10s-for-stocks-to-repeat-in-the-20s
6. 50% of America Has Zero in Retirement Savings.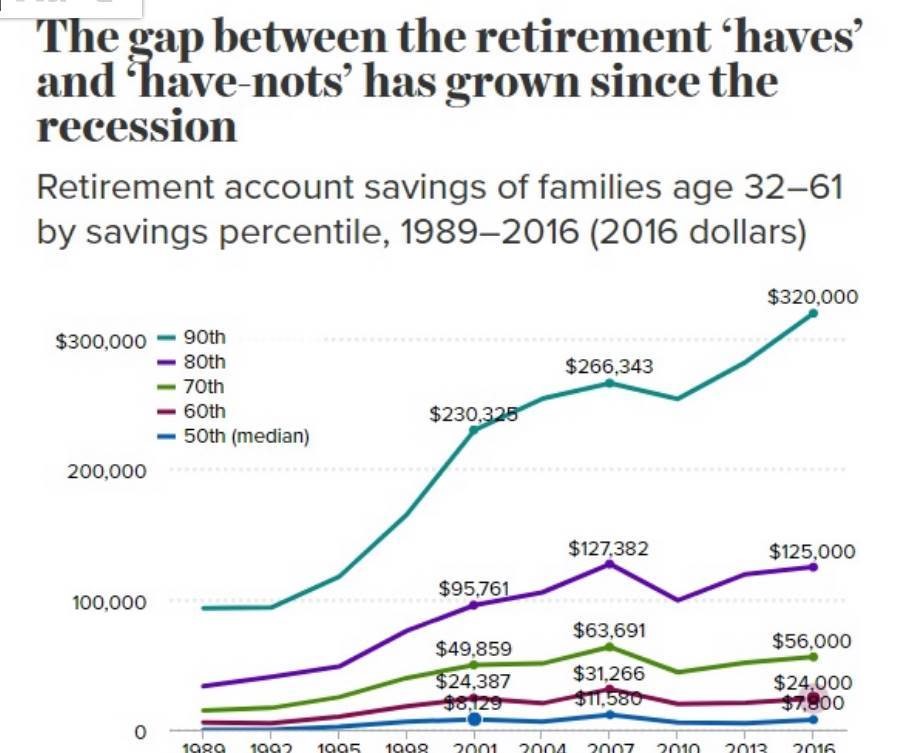 With almost half of all working-age families having ZERO in retirement savings, the fact that the median family had only $7,800 in these accounts shouldn't come as a surprise. At the same time, the 90th percentile family had $320,000 and the top 1% of families (which isn't shown on the chart) had $1,663,000 or more.
Shawn Langlois-Marketwatch https://www.marketwatch.com/story/heres-proof-that-401k-plans-are-not-working-for-most-americans-can-you-guess-who-they-are-working-for-2019-12-12?mod=home-page
7.Voting Demographics Going Forward.
Stef W. KightDec 14, 2019
Special report: 2020's new voters will usher in an age of demographic transformation
Data: Census Bureau 2017 Population projections. Note: Data includes non-citizens, who would not be eligible to vote; Chart: Danielle Alberti/Axios
First-time 2020 voters will usher in a wave of demographic transformation — a remaking of the American identity that's projected to crest in the 2040s.
What's happening: Millions of Generation Z Americans— those born after 1996 —will be able to vote for the first time next year. The 2020 census, redistricting and elections will begin to reveal population changes that will empower new voices and reshuffle the swing-state map and both parties' bases.
In November, for the first time:
Americans born after the 9/11 attacks will be voting for a president.
Gen Z will surpass the Silent Generation's share of the electorate.
Hispanic Americans will surpass black Americans as the largest racial or ethnic minority voting group.
By the numbers: Gen Z is projected to make up one-tenth of the 2020 electorate, according to Pew Research Center. Put them together with millennials and these youngest generations will be 37% of eligible voters next year. Those who will be old enough to vote for the first time next year will be:
Less white: Just 53% of potential first-time voters are non-Hispanic white people — down 11 percentage points from the rest of the voter-aged population, according to U.S. Census projection data. (Data includes non-citizens.)
More Hispanic: Nearly a quarter of 18-21 year olds in 2020 are projected to be Hispanic, compared to 16% of the rest of American adults, according to census data.
More educated: First-time voters are more likely to be pursuing college and have parents with college degrees.
Urban-dwellers: 54% will have been living in or near a central city rather than a rural area, according to IPUMS Census data from 2017. That's up from 44% of millennials when they were that age.
Politically, Gen Zers appear to be "similar to millennials," with "their liberal attitudes and their openness to societal changes," Pew's social trends director Kim Parker told Axios.
Getting the 24 million eligible Gen Z voters to the polls in 2020 could be critical for Democrats. But young people are much less likely to show up on election day than older voters.
While Gen Z is civically active, candidates will have to overcome the generation's lack of faith in politics as a driver for change, said Jonah Stillman, co-founder of the consulting firm Gen Z Guru.
His generation has never seen "an example of any political initiative that is not operating under complete and total polarization."
https://www.axios.com/2020s-new-voters-demographic-transformation-9da0acc7-0a30-447d-a4a2-4ef66640eee9.html
8. 46,000 Satellites May Launch in the Next Few Years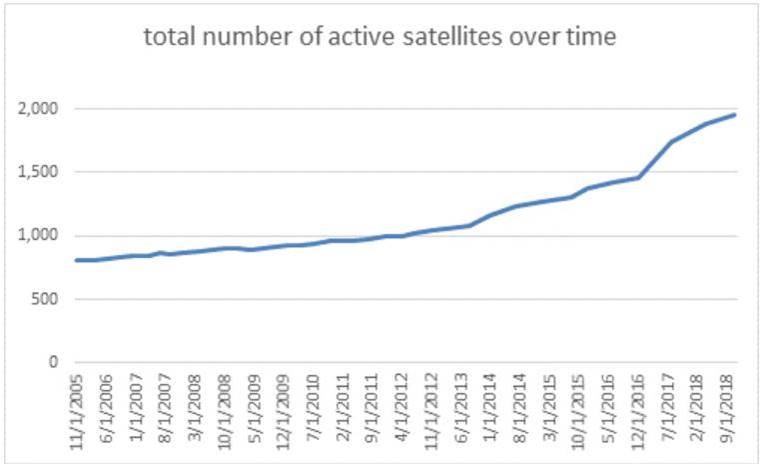 If a handful of space companies succeed, the next decade will see more satellites put into orbit around the Earth than all the satellites launched since Sputnik 1 in 1957.
While SpaceX makes up the lion's share of these plans, together with OneWeb, Telesat and Amazon's Project Kuiper, the four companies have announced the intention to launch as many as 46,100 satellites in the next few years. That's more than five times the amount of objects sent to space in the past 60 years, which numbers just shy of 9,000 according to the United Nations Office for Outer Space Affairs.
Why in the next decade companies will launch thousands more satellites than in all of history
Michael Sheetz@THESHEETZTWEETZ
https://www.cnbc.com/2019/12/14/spacex-oneweb-and-amazon-to-launch-thousands-more-satellites-in-2020s.html
9.What Deepak Chopra, Bill Gates, and Malcolm Gladwell Do at Night to Reduce Stress and Sleep Better
December 11, 2019(Thrive Global) People love to talk about their morning routines, but the truth is, what you do before your head hits the pillow at night can also have an important impact on your mood, the quality of your sleep, and even how happy or stressed you feel the next day. Thrive Global founder and CEO, Arianna Huffington, says she swears by a warm bath to reset and relax before bed. "I treat my transition to sleep as a sacrosanct ritual," she has said. "My bath is the centerpiece."
Whether it's a bath ritual, an evening meditation practice, or a commitment to calling one person who always leaves you feeling nourished, nightly habits can seriously improve your well-being. Looking to approach your evening hours a bit differently? Here are a few nighttime rituals of some of our favorite celebrities — use them as inspiration to tweak your own P.M. routine.
Hoda Kotb reads an uplifting book
Getting lost in a gripping or inspiring read can be a great way to calm the mind and signal to your brain that it's bedtime. And for TODAY co-anchor Hoda Kotb, it's the go-to trick that helps her unwind each night. "I try to fill the last couple of minutes before I close my eyes with something nourishing, whether it's a book I keep on my bedside table, or something that I read that's uplifting," Kotb told Thrive. "When I open my eyes, every single morning, I'm happy."
Jessica Alba has a family cuddle sesh
As an actress, full-time entrepreneur, and a mom, Jessica Alba admits that it's not always easy to carve out time for herself — but in the evenings, she makes time to do what fills her with the most joy: cuddling with her kids. "For my mental health, I need the sleep, and I need the exercise… and then I also just need cuddles with my kids, and that, to me, it just fills me up," she told Thrive. "It allows me, when I do work, to be able to be there, and be present, and be 100%."
Deepak Chopra powers down
We all have those days when work demands follow us home after hours, invading our "down time" through our inboxes. But according to Deepak Chopra, setting limits is key to his stress-free evening routine. "I stop working around 5:00," he told Thrive. "[I] ideally go to bed before 10:00 in a totally dark room, with total silence and no technology." When it comes to tech, it's all about boundaries: "You use technology; don't allow it to use you," he adds. "It's that simple."
Alex Rodriguez writes a nightly checklist
Research tells us that writing down our thoughts before bed can help set us up for a better night's sleep — it's literally getting the worries and anxious thoughts out of your mind. Former Major League Baseball star Alex Rodriguez says he's been incorporating this ritual into his bedtime routine for years — even in training. "I had a list of my 10 things I had to do, and I would check it every night before I went to bed," he told the The New York Times Magazine in an interview. "I'm old school." For Rodriguez, writing isn't just about recording to-dos; joy triggers also make it onto the list. "The other day, Jennifer said something brilliant at, like, 2 in the morning," he added, "I reached over to get my notebook."
Bill and Melinda Gates connect over dinner
No matter how busy their schedules are, Bill and Melinda Gates have a nightly family dinner. The couple says it helps them de-stress and connect with one another, and it also helps them separate from the workday. "I try not to work after dinner — that was kind of a mantra I made for myself about four years ago," Melinda told the The Cut. "I'll often read, talk with Bill, and then, generally, I'll watch something relaxing before bedtime."'
Malcolm Gladwell does a "24-hour email sweep"
Writer Malcolm Gladwell swears by a trick that allows him to focus on creative work during the day, and then catch up on his messages at night. He calls it his "24-hour email rule," which means he reserves his evenings for catching up on messages from the past 24 hours, instead of refreshing his inbox all day long. "I answer email in the evening," he told Arianna Huffington on the Thrive Global Podcast. "If everyone observed the 24-hour rule for responding to emails, the world would be a much better place."
https://www.thewealthadvisor.com/article/what-deepak-chopra-bill-gates-and-malcolm-gladwell-do-night-reduce-stress-and-sleep-better?mkt_tok=eyJpIjoiWWpkbU16UmhORFEwTUdKaCIsInQiOiJseEZSbEpwZFRUUEJ3MDN2TXNTWjFtaThUTFVYOFVLa2FSZ3FrbThXWHJGVCtocVYwaTFWbGx3citTMVArUmpTWEZrcVFFYjBMSjZ2SVRCWWcwSjdNVUp6emE3R29icFFuMkU1OHJGOTg2T3lYM1ViXC84aDhRYVVuWENuWnFDdU0ifQ%3D%3D
10.The Greatest Shortcut for Leaders Is Reading Books
Author of The Obstacle is The Way — Portfolio/Penguin Random House
Not every reader is a leader, Harry Truman once observed, but every leader is a reader. You have to be.
Being a leader means you're going to bump into all kinds of situations you've never experienced before. You're going to face problems for which there are no easy solutions. The good news is that no matter what challenge you're facing, no matter how unique or how modern, you're far from the first to encounter it. For roughly 5,000 years, human beings have been experiencing, solving, and, most importantly, writing books about these exact struggles.
Think about Truman, who ascended to the presidency after the shocking death of his predecessor in April 1945. Within months, he would be facing the dawn of the atomic age and a new Cold War. These were all very new problems, but Truman, who had begun his lifelong reading habit as a young boy, tapped into the lessons of history that he'd gleaned along the way.
"Our public library in Independence had about three or four thousand volumes, including the encyclopedias," he once wrote. "Believe it or not I read 'em all… Maybe I was a damn fool, but it served me well when my terrible trial came."
General James Mattis — an avid reader who often brought books with him to his far-flung commands in the Marines — recently wrote how unconscionable it is for a military leader to be "filling body bags" while they learn by trial and error. They owe it to their soldiers, he said, to learn as much as humanly possible from the experiences of history before trying to learn on their own. To not pick up a book is a dereliction of duty.
Thankfully, most of us will never face stakes as high as those encountered by Truman or Mattis, but the point stands. How can we possibly justify — to our employees, to our investors, to our spouses, to our friends, to our fellow citizens, or to ourselves — learning slowly, by experience or trial and error, what we can easily pick up in a book?
Wherever we are, we can read. In the corner of a quiet room. Standing in a subway car with headphones in and an audiobook on. In the evening while winding the kids down for bed. While we lay in our own beds before turning out the light.
These moments should not be seen as competing with or conflicting with work. Instead, they should be seen as moments that facilitate our most important and meaningful work. Reading makes you better as a professional, as a person, as a parent. Being busy at work or at home isn't a good reason not to read—it's an argument for why you should.
Another good reason to pick up a book: There are meditative, spiritual benefits to the act of reading itself. A study in the American Psychological Association's journal Psychology of Aesthetics, Creativity, and the Arts found that the mental process of imagining scenes while reading can help you develop greater empathy.
But not all reading is created equal. Good leaders have a ceaseless appetite for learning, for self-improvement, for wisdom, for books that improve you as a human being. The Roman Emperor Marcus Aurelius prized the ability to "read attentively" — mostly philosophy texts — and used what he learned to reign masterfully over his domain. Malcolm X was transformed into a Civil Rights leader by the books he read during his time in prison, making his way through Uncle Tom's Cabin, The Essays of Schopenhauer, and Basic Writings of Kant, among others. When he was asked where he graduated from college, he would simply answer, "Books."
Oprah Winfrey has called books her "pass to personal freedom," showing her from an early age that there was a world beyond her family's home in Mississippi. As an adult, she has said, reading The Seat of the Soul by Gary Zukav "saved and changed the trajectory of my living."
And finally, how you read matters. Are you taking notes? Are you integrating what you read? You're not just filling shelves on the wall. You're trying to learn so that you can lead.
Knowing that I will only read a finite amount of books in my life helped motivate a question I have asked many times now: "What books have changed your life?" It would be a shame to go through life thinking that Ayn Rand is the world's greatest author or thinking all novels were as bad as 50 Shades of Grey, all because I never bothered to inquire about anything better. By asking people I admire for their recommendations, I have discovered countless books worthy of the "focus of my energy,'" as the Greek philosopher Epictetus put it. (In fact, that's exactly how I found Epictetus in the first place!)
We should all direct the focus of our energy on books that will stay with us after we put them down. For example, we can read, in Tetsuko Kuroyanagi's Totto-Chan, the memoir of a precious young child's untraditional early education, the power of a good teacher and understanding parents, and then encourage our own kids in the same way.
We can read, in Ben Franklin's autobiography and in Walter Isaacson's biography of him, the story of Franklin pridefully walking down a hall and bumping his head. "Stoop, young man," his mentor tells him, "and don't be distracted by pride in this life, and you will save yourself many such bumps on the head." And then we can try to save ourselves similar bumps.
We can read the story Seneca tells in On Tranquility of the Mind about Julius Canus, a philosopher who was unfairly sentenced to death, casually playing a board game as he awaited his execution. When the time came, he stood up, counted the pieces left on the board, turned to the executioner and said, "You will testify that I was one piece ahead," and then went off to his death. We, the reader, might write "badass last words" in the margins, and then remind ourselves in the future to try to find humor in even the darkest and worst of situations.
No one, H.L. Mencken said, "gets anywhere in this world in any really and endurable manner without some recourse to books." That's right. It's a long road.
But reading is also a shortcut. A way to get where you want to get without having to learn by painful trial and error. As leaders, what we're reading is leading us — and saving us.
–
Over the last couple years, people have asked me about my reading practice and how I manage to get so much of it done. I am very deliberate and strategic when it comes to reading. If you're looking to improve your reading practice and be much more intentional about what you read, I put together a really cool reading challenge for Daily Stoic that outlines a lot of my reading strategies. Check it out.
Ryan Holiday
https://www.linkedin.com/pulse/greatest-shortcut-leaders-reading-books-ryan-holiday/?trackingId=vl5I9nYApRvAmec%2FHvbcAg%3D%3D