1.2017 Year of Emerging Markets Breakout
EEM ETF breaks out of 7 years sideways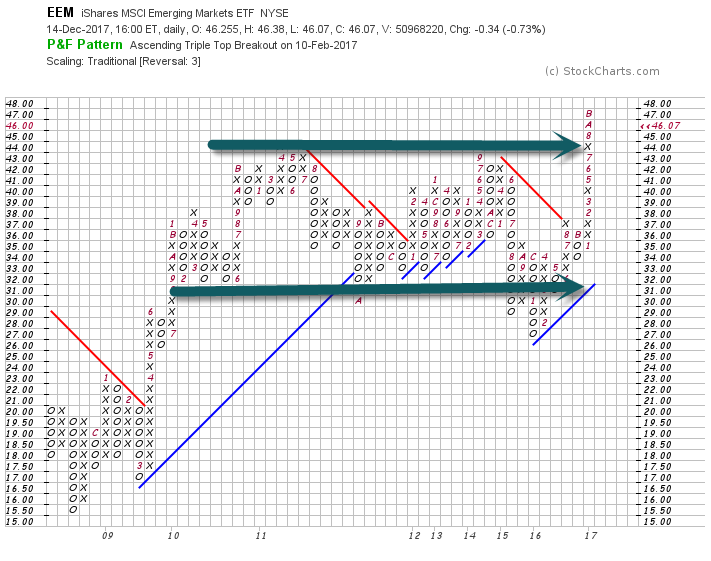 2.History of Emerging Market Bull Runs.
Equities.com

Two of these bulls are somewhat different from the others: the bulls that began in September 1998 and in March 2009 were both the product of extremely rapid expansions of central bank liquidity in the wake of severe financial crises — one localized in Asia and the other global. The present bull, we believe, is based on stronger economic fundamentals. It is confirmed by signals that have typically preceded EM bulls in the past — valuations rising from a trough, recovery of loan growth after contraction, a turn in returns on equity driven by a period of low capital expenditures, and the end of a period of rapid dollar appreciation.
On average, the four robust EM bull markets of the last four decades lasted 52 months and returned 270%. The current bull has so far lasted 20 months and returned 60% in U.S. dollar terms.If we were to follow the pattern of the previous four fundamentally driven bulls, the MSCI EM index would peak at 2570 from its 1090 level as of this writing — a further gain of 135% — by mid-2020
https://www.equities.com/news/why-emerging-markets-could-more-than-double-before-the-bull-is-over
3.The Changing Structure of Emerging Markets.
In fact, technology is now one of the largest sectors in the MSCI Emerging Markets Index, as you can see in the charts below.3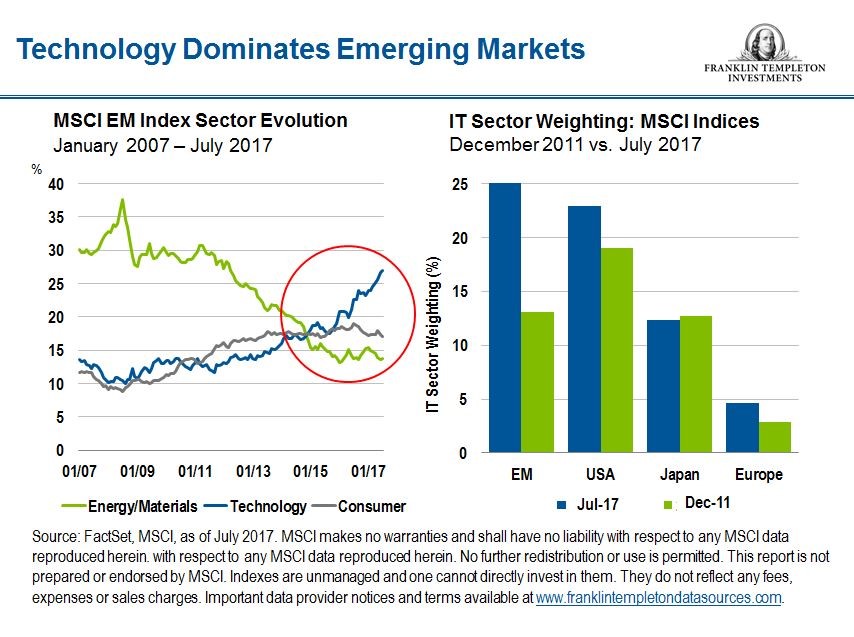 The technology sector as a whole has changed the way we live. Back in 1982, the patent for the world's first commercial compact disc (CD) player was snapped up in the United States and each disk retailed for about US$14. Now, with the likes of cloud technology, users can access millions of songs for even less—and with no physical record or disk required.
In addition, nearly half of global patent applications are now registered in emerging markets, which you can see in the diagrams below—technology has transformed emerging markets in a relatively fast timeframe.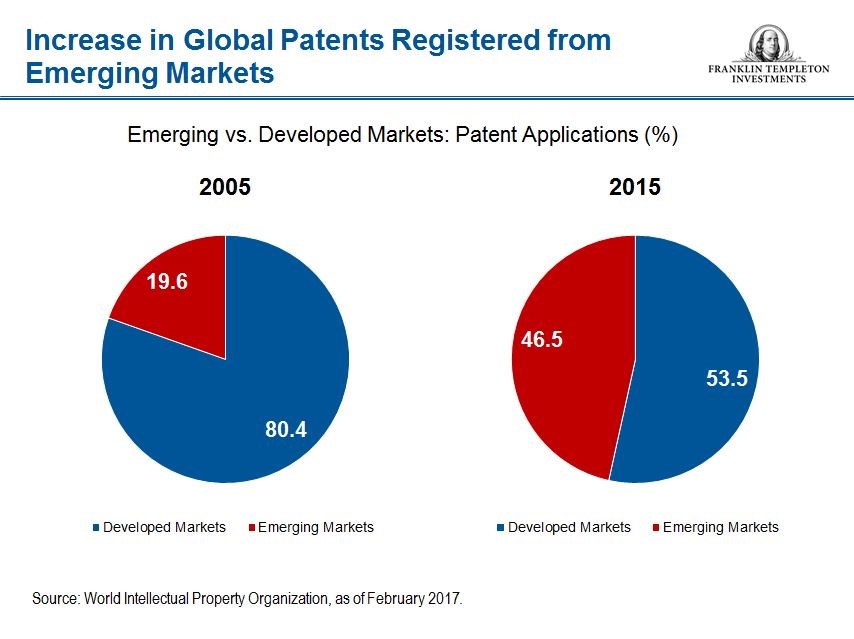 http://mobius.blog.franklintempleton.com/2017/11/16/structural-growth-drivers-behind-em-economies/
4.Analyts Predicting 18% Earnings Growth for Emerging Markets.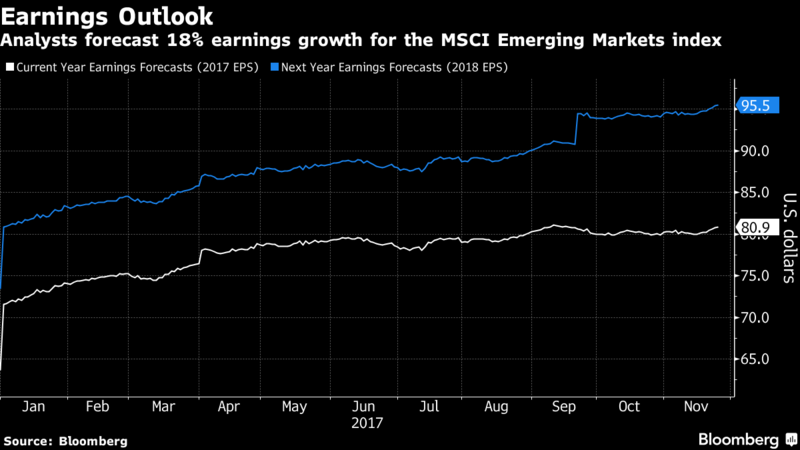 Evans says another double-digit gain can be expected in 2018. Developing nations are headed to their best year since 2009 on the back of appetite for the riskiest assets, relaxed monetary policy and a surge in technology shares. Next year, major global headwinds should be less severe than those seen in 2015 and 2016, when major central banks hinted at tighter policy and concern about a slowing Chinese economy mounted. Local political risks, such as elections in Brazil and Mexico, are unlikely to change the upward trend, Evans says.
Bulls are also encouraged by forecasts for emerging-market growth to exceed that in the Group of Eight developed nations by more than 2.5 percentage points next year and almost 3 percentage points in 2019. That dynamic should boost profit for emerging-market companies, allow valuation levels to stay at reasonable levels, according to the optimists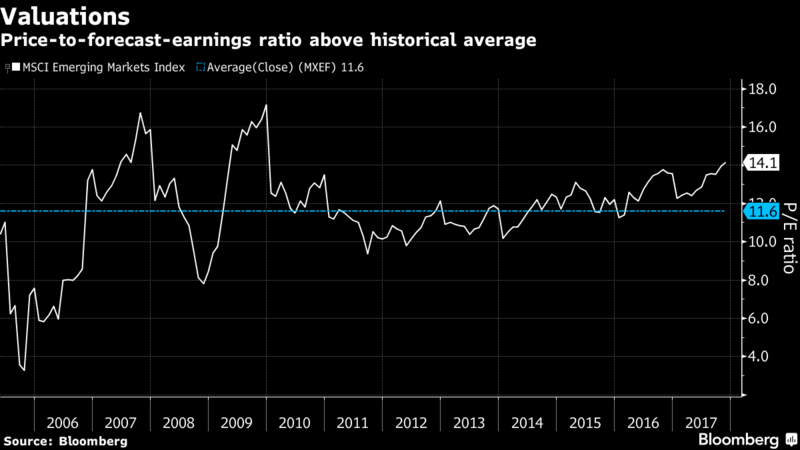 https://www.bloomberg.com/news/articles/2017-11-28/emerging-market-bulls-standing-firm-after-best-rally-since-2009
5.Emerging Markets Helped by Weakened Dollar
UUP dollar bull fund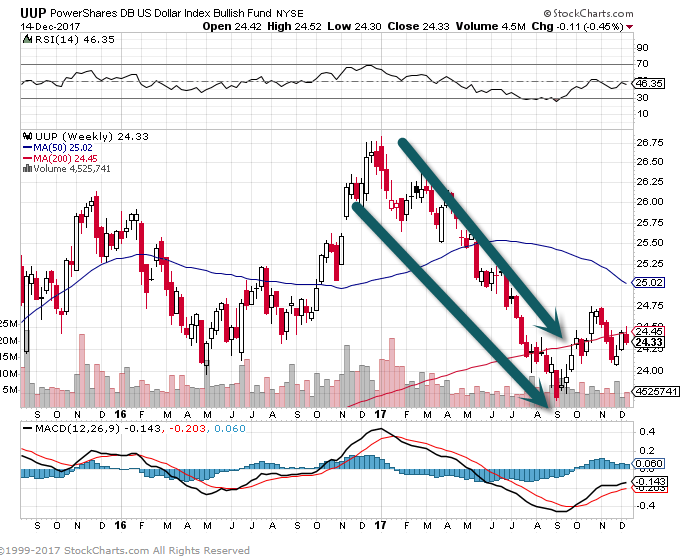 6.Rates Still Not Really Moving
Blackrock Blog
As I discussed back in early August and November, there are several powerful, long-term factors that are keeping rates contained: low nominal gross domestic product (GDP), itself a function of changing demographics, the disinflationary impact of technology, and even lower yields outside the United States.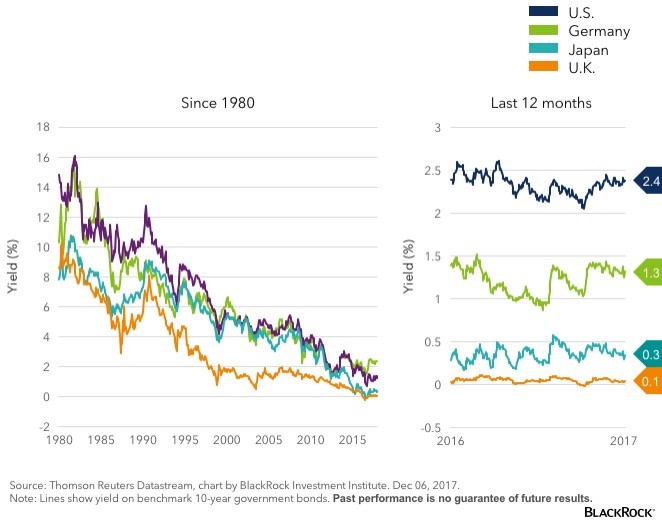 https://www.blackrockblog.com/2017/12/13/rate-paralysis/
7.Fear and Greed Index not at Extremes.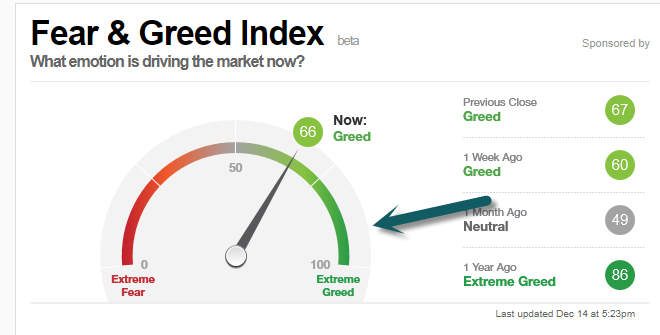 http://money.cnn.com/data/fear-and-greed/
8.Sentiment has Moved to Bitcoin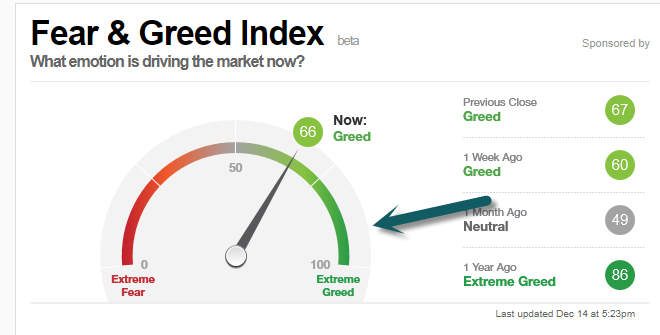 http://www.businessinsider.com/bitcoin-price-correlation-google-search-2017-9
9.The No. 1 financial regret of Americans
Published: Oct 21, 2017 7:04 a.m. ET
Regrets? Americans have had more than a few when it comes to managing their money
But what do people regret the most? No. 1 on the list: Not planning early enough (48%), followed by spending too much on nonessentials (39%), credit-card debt (33%) and not having a budget (32%), according to the survey of 2,000 U.S. adults. That No. 1 regret has so many ramifications for retirement savings and the ability to save up for a down payment on a home. It's no surprise that baby boomers regret that the most (52%), followed by Gen X-ers (48%) and millennials (43%).
Don't miss: All the money milestones to hit in every decade of your life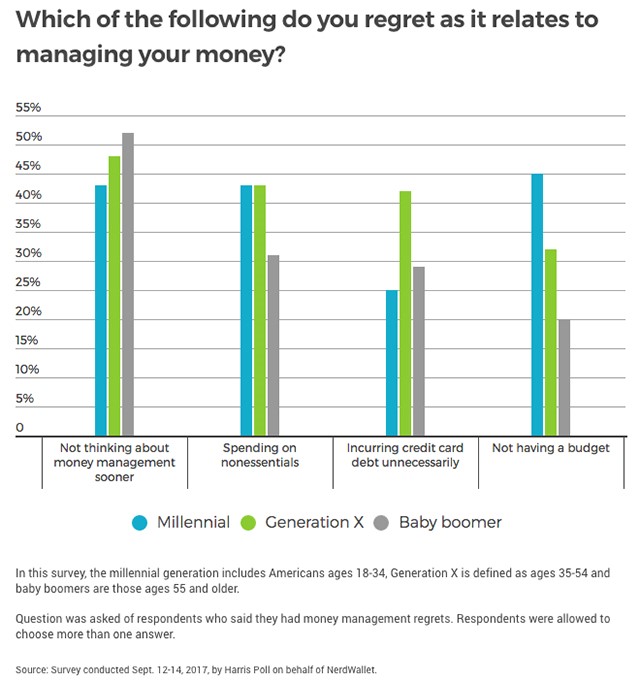 https://www.marketwatch.com/story/the-no-1-financial-regret-of-millennials-and-they-dont-have-many-2017-09-15
10.It's a Podcast Nation
10 Podcasts That Will Make You Smarter With Your Money
These top financial podcasts will help you get smarter with your money and build wealth the right way.
CREDIT: Getty Images
Podcasts are great–they offer an entertaining and efficient way to soak up advice and commentary from top voices in any niche. Whether you're an entrepreneur, a middle manager, or someone focused on self-improvement, podcasts allow you to learn something new while you work out, commute to work, or finish everyday tasks.
With 2018 on its way, it's an ideal time to take stock of where you are professionally and financially. Podcasts in the finance niche can help you evaluate your old goals and reach for greater heights.
As a personal finance geek, I'm obsessed with good financial content that's both informative and enjoyable. Here are some of the top money podcasts to watch in 2018 according to my research, awards received at conferences like FinCon and the Podcast Movement, and iTunes reviews.
Stacking Benjamins
Stacking Benjamins is an award-winning podcast that focuses on helping others build wealth. Hosted by Joe Saul-Sehy and characters known as the Other Guy and crazy Neighbor Doug, this podcast offers financial education sometimes disguised as comedy–all from Saul-Sehy's mom's basement.
Personally, I love listening to Stacking Benjamins for informative and entertaining interviews on various financial topics, including investing and creating multiple income streams.
So Money
Inc.com has written about So Money before, and for good reason. Farnoosh Torabi's ability to bring in top names in entrepreneurship and business has made So Money a must-listen podcast for anyone striving to take his or her business to the next level.
I've especially enjoyed the interviews she's had from various entrepreneurs and thought leaders–like Simon Sinek–all being very candid about their experience with money.
The Tim Ferriss Show
Awarded as one of the top podcasts on iTunes for several years running, The Tim Ferriss Show boasts 200 million downloads and 3,000-plus five-star reviews.  What I love about Ferriss's show is you feel like a fly on the wall listening to some of the greatest minds (think Arnold Schwarzenegger, Tony Robbins, Vince Vaughn) sharing some of their most amazing insights on business, productivity, and life hacks.
Side Hustle Nation
Side Hustle Nation has become the podcast for people who want to create multiple income streams with their own side business. Every time I tune in, I learn new tips for my own hustle–as well as exciting new business strategies from successful entrepreneurs, like Facebook employee No. 30, Noah Kagan, interviewed on the show.
Radical Personal Finance
Financial adviser Joshua J. Sheats uses his podcast, Radical Personal Finance, to take you on a journey toward financial health. Through storytelling and interviews, Sheats helps listeners work on their financial issues and build wealth with proven strategies and tools. I love Sheats's no-B.S. tone and super analytical approach to evaluating investment strategies.
Smart Passive Income
Entrepreneur Pat Flynn teaches us the ins and outs of earning truly passive income on his podcast, aptly named Smart Passive Income. I've listened to Flynn (who frequently earns more than $100,000 per month) for years to learn all about setting up hands-off businesses and creating a lifestyle you'll love.
His blogging case studies were the impetus behind my decision to launch a new website–which ended up generating more than six figures in less than nine months.
Girlboss Radio
In this podcast, American businesswoman and rock star Sophia Amoruso dives deeply into the world of entrepreneurship and what it means to be a woman in charge. Not just for girls or women, Girlboss Radiocan help any listener become wiser and savvier and define what success means for her or him. Guests range from Silicon Valley CEOs to A-list actresses like Gwyneth Paltrow.
Money for the Rest of Us
Money for the Rest of Us offers a safe place for people seeking financial freedom on their own terms. Financial expert and host David Stein walks listeners through the process of saving enough for retirement without outside help. I love Stein's approach to helping his listeners improve their "retirement IQ" by his emphatic lessons on wealth building and investing.
Afford Anything
Real estate investor, blogger, and influencer Paula Pant says you can afford anything–just not everything. Through her award-winning Afford Anything podcast, Pant introduces listeners to new ways to build passive income and build a better life that are not only fruitful but also free from stress and the shackles of a 9-to-5.
I listen to Pant to hear her unique insights on authenticity and choosing a business that gives you freedom and purpose.
Listen Money Matters
Listen Money Matters promises to help anyone "free their inner financial badass" through interviews with the top minds in personal finance. Personally, I love soaking up uncensored commentary from the show's hosts, Andrew Fiebert and Thomas Frank.
This isn't your father's boring money show, but you can learn to manage money better than your parents ever did by tuning in.
The opinions expressed here by Inc.com columnists are their own, not those of Inc.com.
https://www.inc.com/jeff-rose/the-11-best-money-podcasts-to-listen-to-in-2018.html?cid=hmside1