1.Bank of Japan Balance Sheet Versus ECB or FED.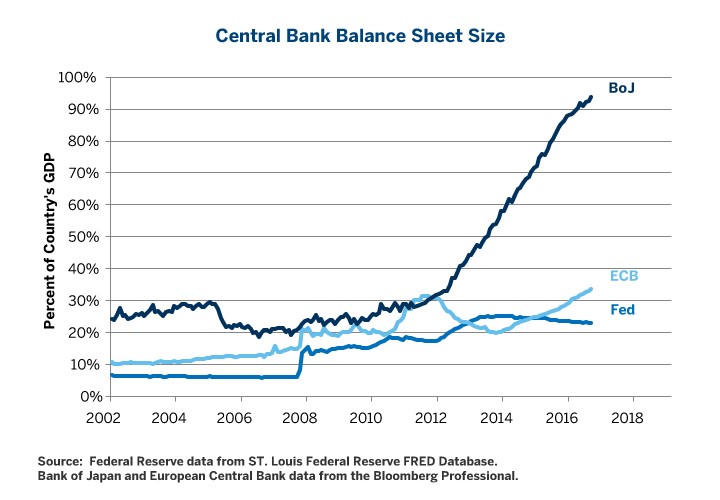 http://www.cmegroup.com/education/featured-reports/abenomics-a-work-in-progress-after-five-years.html?utm_source=linkedin&utm_medium=paid_media&utm_campaign=always_on
 2.Oil Volatility Hits Record Lows.
Oil Volatility Chart Collapsing.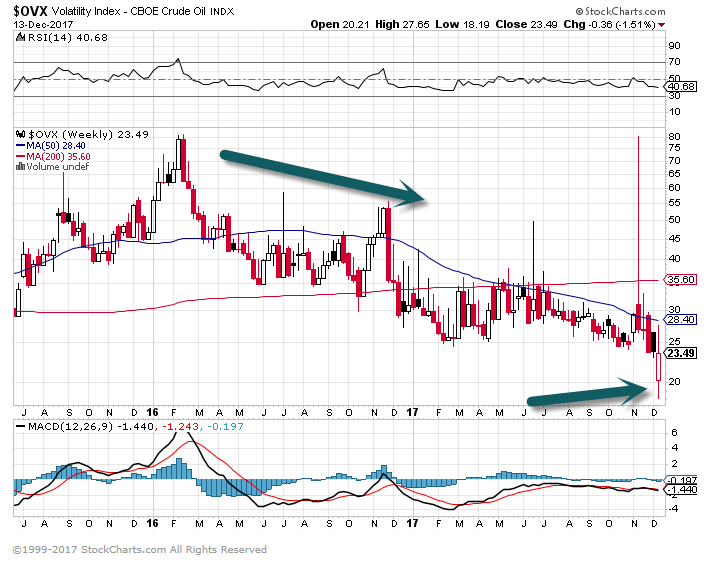 3.Dip in U.S. Crude Oil Stockpiles.
Energy Markets: The American Petroleum Institute showed a bigger than expected weekly dip in US crude oil stockpiles. More on the topic tomorrow.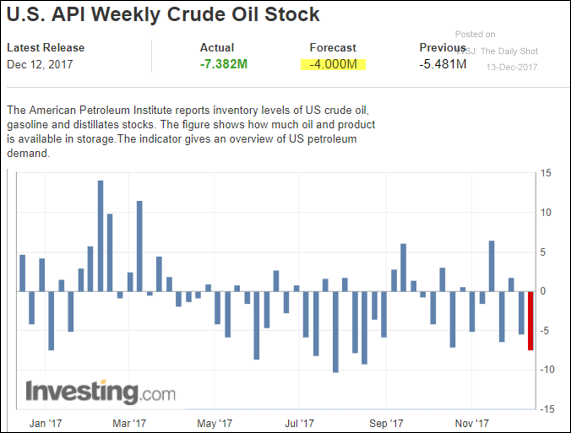 Source: Investing.com
4. Oil: Is Climbing U.S. Production About to Peak?
BY ERIK NORLAND – EXECUTIVE DIRECTOR, SENIOR ECONOMIST AT CME GROUP
Since October 2016, U.S. crude oil production has surged by over one million barrels per day, replacing more than two-thirds of what the Organization of Petroleum Exporting Countries (OPEC) was supposed to cut to shore up prices. However, it looks like the growth in U.S. production is quickly running out of steam (Figure 1) and, all else being equal, this should be good news for OPEC and the price of oil. Those hoping to see a continued rise in U.S. production should have two immediate concerns:
The number of operating oil rigs has stopped growing. (Figure 1)
The marginal productivity of operating oil rigs is falling quickly. (Figure 2)
Figure 1: Oil Production Tends to Lag Rig Counts by About 17 Weeks on Average.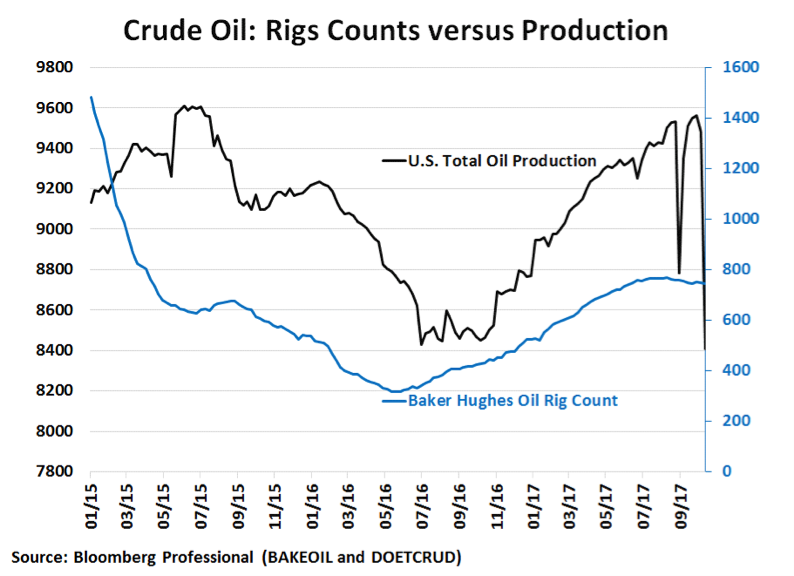 Figure 2: Marginal Rig Productivity Has Been Plunging.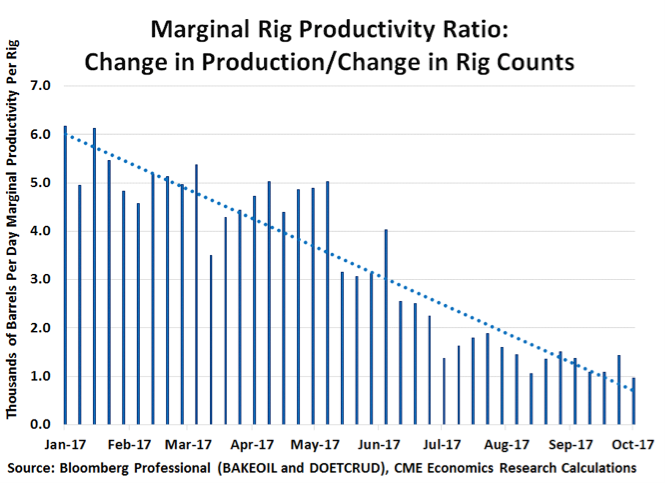 Figure 3: Inventories are shrinking for the first time in three years.
Bottom Line
U.S. rig count has stopped rising.
Marginal rig productivity is in steep decline as drillers struggle to exceed the depletion rate of existing wells.
S. oil production could peak soon and begin to fall again.
This could be bullish for oil prices but only if OPEC complies with output cuts.
OPEC is likely to bust through its production limits.
Venezuela's political instability could push prices higher.
Other oil exporters (notably Algeria, Angola, Iraq, Libya and Nigeria) have the potential for instability as well.
The U.S. remains the most important swing producer of oil.
S. inventories have begun to decline for the first time in three years, a potentially bullish factor over the long-term but not necessarily in the short-term.
All examples in this report are hypothetical interpretations of situations and are used for explanation purposes only. The views in this report reflect solely those of the author(s) and not necessarily those of CME Group or its affiliated institutions. This report and the information herein should not be considered investment advice or the results of actual market experience.
WSJ. Custom Studios is a unit of The Wall Street Journal advertising department. The Wall Street Journal news organization was not involved in the creation
http://partners.wsj.com/cme/oil-is-climbing-u-s-production/
5.AAPL vs. Bitcoin.
Bespoke Investment Group
The chart below shows the performance of Apple's stock since its IPO in December 1980.  Not including dividends, the stock has rallied more than 33,500% from a split-adjusted price of 51 cents to its current price of $172 in what has been called one of the greatest wealth-creating engines of all time.  Earlier in this century, as the iPod's popularity peaked and the iPhone took off, the term "Apple Millionaire" was coined as thousands of investors saw their net worth surge by simply buying and holding the stock.  Where Apple will ultimately top out or what new product they will launch next is anyone's guess, but even if the returns are good for the next 37 years, they will never match the last 37 years.  The question is, what stock will be the Apple of the next 37 years?  With so few IPOs, the pickings are slim.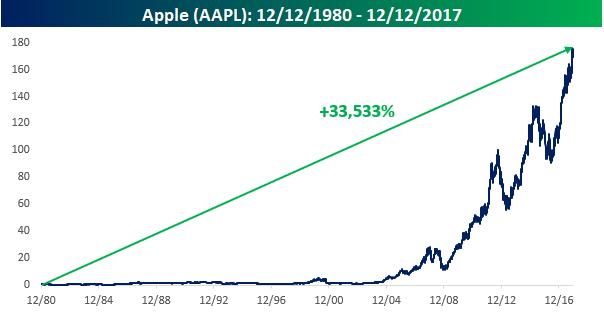 While Apple's 37-year run of gains has been nothing short of breathtaking, bitcoin enthusiasts can't be bothered with such pedestrian returns.  As just another sign of how out of this world the rally in bitcoin has been, the chart below compares Apple's performance since its IPO to bitcoin, going back to just 2010. Back in July 2010, bitcoin was trading at seven cents per share compared to today's price of $17,148.  That's a gain of 24,497,327%!  You read that right- almost 25 million!  When you compare Apple to bitcoin, Apple just looks like its moving along the zero line.  With a market value of $290 billion, bitcoin is still less than half of the market cap of Apple, but it has done all of this in just over 7 years compared to 37 years for Apple.
https://www.bespokepremium.com/think-big-blog/
6.Foreign Stocks Take the Lead in One Year Total Return.
From Abnormal Returns Blog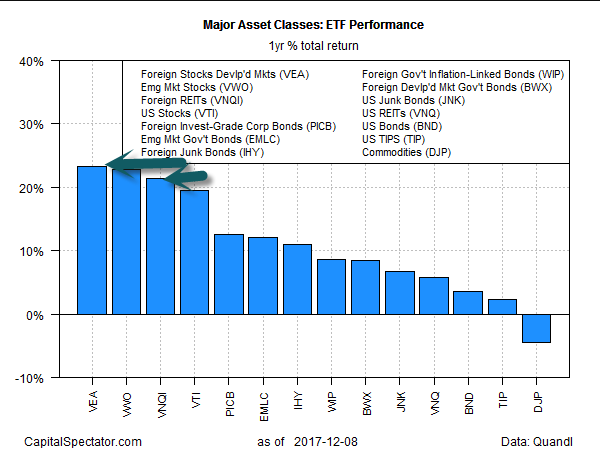 http://www.capitalspectator.com/a-mixed-week-for-the-major-asset-classes/
7.Will We See a Rise in Volatility 2018?
The Chart: Global equity volatility visually looks to be in the process of bottoming with the average implied volatility index across the major global equity markets appearing to make a rounding bottom.
Global Stock Market Volatility Chart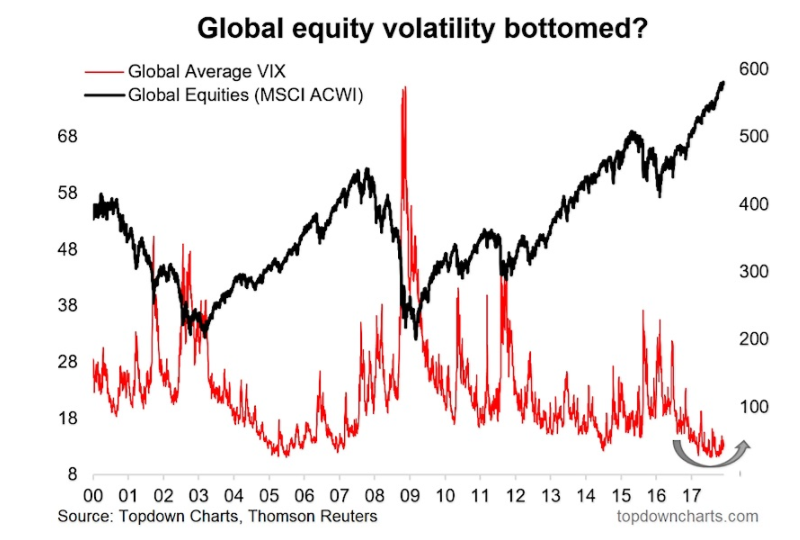 https://www.seeitmarket.com/has-global-stock-market-volatility-bottomed-17571/
found at www.abnormalreturns.com
8.Almost 1/3 of Americans Working Beyond Age 65
by Tyler Durden
There is a huge disparity in employment rates among over 65s across different countries…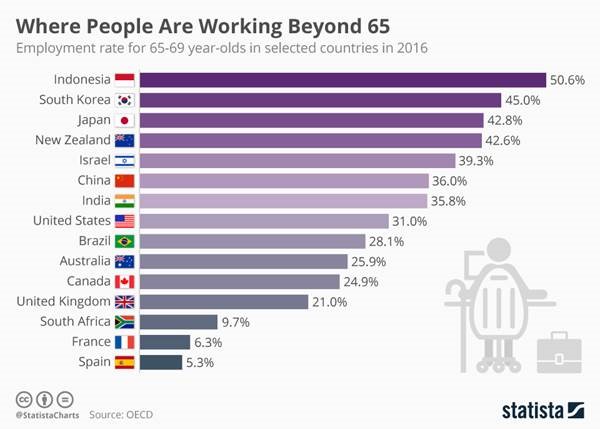 You will find more statistics at Statista
As Statista's Niall McCarthy notes, a recent OECD report found that the highest rates of people working beyond 65 are in Asia with Indonesia particularly notable as having a 50.6 percent employment among those in the 65-69 age group. That figure is high elsewhere in Asia, standing at 45 percent in South Korea and 42.8 percent in Japan.
In contrast to Europe where there were widespread protests when the retirement age was raised even slightly, much of Asia has actually been supportive of increases in the mandatory retirement age. Reasons for support include everything from a desire to maintaing a fit and active life to more obvious concerns about finances.
New Zealand has no compulsory retirement age and it is another country with a high employment rate among older people with 42.6 percent of those aged 65 to 69 still working. The rate is far less in Australia at 25.9 percent while it's 31 percent in the United States.
In Europe where all those protests happened, the rate is lower still. In the United Kingdom, the employment rate for 65-69 year olds stands at 21 percent while in France and Spain, it is only 6.3 and 5.3 percent respectively.
http://www.zerohedge.com/news/2017-12-13/almost-third-americans-are-working-beyond-age-65
9.America's small businesses haven't been this pumped up since the 'roaring Reagan economy'
Ronald Reagan Presidential Library
The NFIB's measure of small business optimism reached its highest level in 34 years in November.
A handful of more specific indexes also climbed to record or near-record levels.
A measure of US small business optimism hit its highest level since 1983 last month, according to a National Federation of Independent Business survey released Tuesday.
The index gained 3.7 points in November, a big jump from the near-record performance seen in the previous month, NFIB data showed. In addition, eight of 10 components posted gains, including a rare 16-point increase in a reading of expected better business conditions.
"Not since the roaring Reagan economy has small business optimism been as high as it was in November," NFIB wrote in its release.
Here are some other key takeaways from the report:
Job creation plans increased six points in November, "providing more evidence of a strong labor market," said the NFIB
The number of owners who said it's a "good time to expand" rose 4 points
A net 24% of respondents said they plan to create new jobs, up 6 points to a record reading
"We haven't seen this kind of optimism in 34 years, and we've seen it only once in the 44 years that NFIB has been conducting this research," Juanita Duggan, the organization's president and chief executive officer, said in a statement. "Small business owners are exuberant about the economy, and they are ready to lead the U.S. economy in a period of robust growth."
http://www.businessinsider.com/nfib-small-business-optimism-hits-highest-level-since-1983-2017-12
Small Business Optimism at 34 Year High.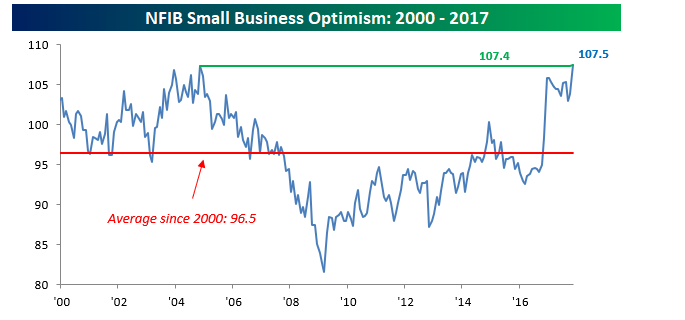 https://www.bespokepremium.com/think-big-blog/
10. Are You an Open-Minded Leader? It's Not Enough
The most successful leaders adopt a different mindset: active open-mindedness.
Posted Dec 13, 2017
Al PittampalliAre You Persuadable
What is the key to becoming an exceptional leader? The answer, many assume, is experience. But is it really?
After famously studying top performers across a wide range of fields, from chess players to professional memory champions, the Swedish psychologist Anders Ericsson found that experience isn't all it's cracked up to be.
To be sure, experience is necessary. Ericsson famously points out that top violinists, for example, clock an average of 10,000 hours before achieving mastery. But it's not just quantity of experience that matters, it's also quality.
Ericcson's research suggests top performers engage in a particularly rigorous form of practice he calls deliberate practice. Deliberate practice isn't just rote repetition, but an effortful process of trial and error. Deliberate practitioners pay close attention to their mistakes and then continually, painstakingly adjust their performance to correct those mistakes. Not particularly enjoyable, but enormously effective.
So if deliberate practice is the path to excellence in chess and memorization, it's likely the path in another cognitively demanding domain, namely, leadership.
But if leaders want to practice deliberately, there is one thing they need but often don't get enough of: feedback. Without feedback, leaders can't know what errors they've made. And if leaders can't know what errors they've made, they can't make corrections. Put another way, if deliberate practice is the steam engine that gets us up the hill, feedback is the coal that we must continually shovel into the furnace. So the question that leaders hungry to be world-class should be asking themselves is how do I ensure I get enough high-quality feedback?
First, of course, leaders should avoid the one quality that ensures they won't get enough feedback: close-mindedness. When a leader doesn't want feedback (to protect her ego) or feels she doesn't need it (because she assumes she's good enough already) she guarantees she won't get it.
Fortunately, most reasonable leaders, understanding the dangers of close-mindedness, strive to be open-minded instead. They remind themselves to welcome criticism. To consider it as objectively as they can, whenever it comes their way.
But while better than close-mindedness, open-mindedness, to the surprise and frustration of many, doesn't always lead to enough high-quality feedback either.
The reason? People are reluctant to give feedback. They either don't want to hurt your feelings or fear the potential blowback. Not to mention, developing and communicating feedback takes time and effort, and people, nowadays, have few hours to spare. Open-mindedness, as well-intentioned as it may be, is simply not a strong enough stance to overcome this reluctance.
article continues after advertisement
And, frankly, the presumption that it is has a whiff of entitlement to it. As if, by simply keeping our door open, enthusiastic visitors will form a line outside, waiting to come in and deliver us honest critiques. As if the world owed us feedback.
It doesn't. Feedback is an incredibly valuable commodity, a gift. Top leaders recognize it as such, and consequently, don't settle for being open-minded. Instead, they are what professor of psychology Jonathan Baron calls actively open-minded. Instead of sitting back and waiting for feedback to come to them, they go out into the world and aggressively seek it out themselves. They persistently encourage and often obligate the people around them to point out where they've gone wrong.
Business consultants Zenger and Folkman recently conducted a study of 51,896 leadersthat shows just that. They found a correlation between feedback seeking behavior and performance. "Leaders who ranked at the top 10 percent in asking for feedback were rated, on average, at the 86th percentile in overall leadership effectiveness."
Granted, being actively open-minded can be difficult. We all have a need to maintain a positive view of ourselves, and negative feedback threatens that view. But the benefits for leaders willing to lean into the discomfort are worth it.
So what can leaders do to be more actively open-minded? First, adopt the five-times rule. Just as salespeople understand that it often takes multiple asks to get the close, so too should leaders. Ask someone at least five times before you even begin to expect them to overcome their reluctance and offer up feedback.
Second, surround yourself with opinionated people and give them full permission to criticize you, even without you asking. Realize, though, that even the most contentious insiders may unknowingly conform to your way thinking. So recruit outsiders too. Find people outside your bubble who think differently from you and aren't afraid to tell you.
article continues after advertisement
When they do, thank them. Remind them, and yourself, that critical feedback, as difficult as it may be to hear, is a true gift. It might not feel like it at the time, but nonetheless, it's the key to becoming an exceptional leader.
Interested in putting these ideas into action? This 20-minute recorded webinar led by Al Pittampalli will show you the specific habits that actively open-minded leaders adopt.
This article originally appeared at alpitt.com.
https://www.psychologytoday.com/blog/are-you-persuadable/201712/are-you-open-minded-leader-it-s-not-enough