1.New ETF Creations on Track to Hit $500B in 2017 vs. $287B in 2016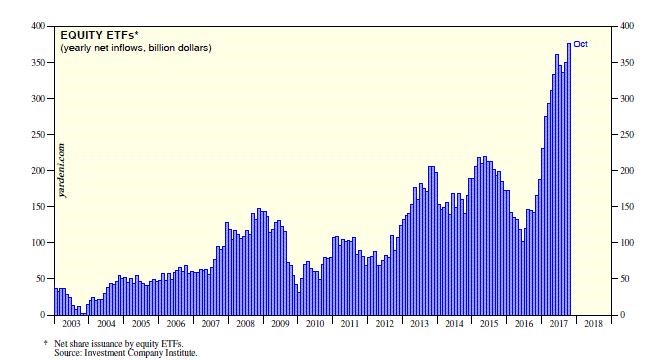 https://www.linkedin.com/pulse/whats-fueling-bull-market-edward-yardeni/?trackingId=wmncdgL%2BdiRpZYN%2BEYrsbA%3D%3D
New ETF Assets For 2017 Nears
December 15, 2017
Investors poured nearly $30 billion into U.S.-listed ETFs in the past week, bringing total net creations so far in 2017 to $466 billion.
The massive, record asset-gathering pace now sits just inches away from what could be a new milestone for the ETF market: $500 billion in net inflows in one calendar year. With two weeks to go in December, hitting $500 billion seems very likely.
For perspective, consider that 2016 also saw record-breaking asset gathering in the U.S. ETF space, with net creations reaching $287.5 billion last year. We are on pace to almost double that haul in 2017. What's more, combined with performance, the asset inflows grew the ETF market to $3.4 trillion in total assets—that's almost $1 trillion bigger than where the market sat a short year ago.
http://www.etf.com/sections/weekly-etf-flows/weekly-etf-flows-2017-12-14-2017-12-08
2.We Set the Record for New Highs Per Year in Dow.
Dec 15, 2017
As long as the Dow closes above 24,585.43 today, it will mark the index's 69th record closing high of the year, and that would tie 2017 with 1995 for the record of most record closes in a given year.  The chart below shows the annual number of record closing highs for the Dow going back to 1900.  In the last 117 years, there have only been two other years (1925 and 1995) where the index saw more than 60 record highs in a given year.  If you're a bull, you have to like the fact that even though those years saw big gains, the year after was also positive.  In 1926, the DJIA was essentially flat (+0.35%), but in 1996 the Dow rallied another 26%.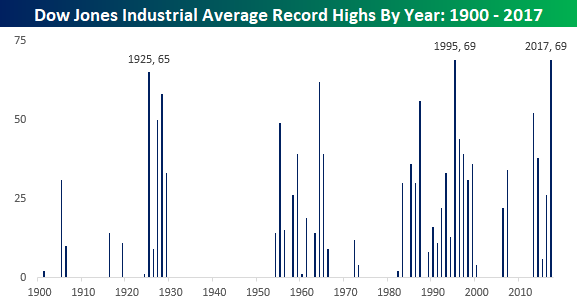 https://www.bespokepremium.com/think-big-blog/a-record-for-record-highs/
3.Modern Bulls and Bears
Average Bear Market 15 months—Avg. decline -32%….Recovery to new highs 2.1 years.

4.More Evidence that Active Managers have Gone All In.
A survey of active investment managers is presently showing the highest level of equity exposure on record.
As the end of the year approaches, the question on everyone's mind on Wall Street is will the famed Santa Claus Rally show up this year? Given the fact that the stock market has managed to bypass adversity in 2017 about as well as any year in history, we'd be hard-pressed to bet against the year-end rally. Another group of investors feels that way as well and is putting their money where their mouth is — big time.
The National Association of Active Investment Managers, or NAAIM, is made up of Registered Investment Advisors and other money managers who employ active or tactical investment strategies as opposed to buy-&-hold and passive asset allocation. For the most part, the goal of such strategies is to reduce investment risk by applying processes to mitigate losses when they view markets as high-risk. Apparently, this group sees very little risk in the market at this time — or else they see Santa's sleigh headed this way — because they're currently throwing all caution to the wind.
That interpretation is according to the NAAIM Exposure Index, a survey of the group's collective equity allocation. Based on the latest reading of the Index, these active managers have an average of 109% exposure to the stock market. Yes, 109%, meaning the average manager is leveraged long. That is the highest reading in the survey's 11-year history, and the 12th reading over 100%.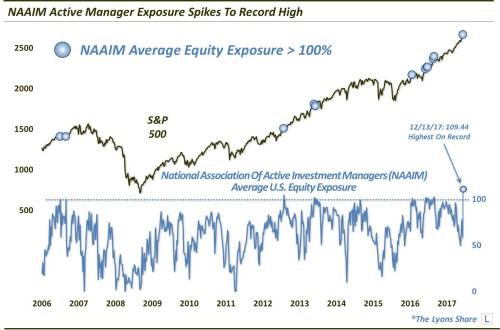 http://jlfmi.tumblr.com/post/168580906850/active-managers-throw-caution-to-the-wind
5.Quanitative Easing Concentrates Wealth.
America's inequality is sending the Dow soaring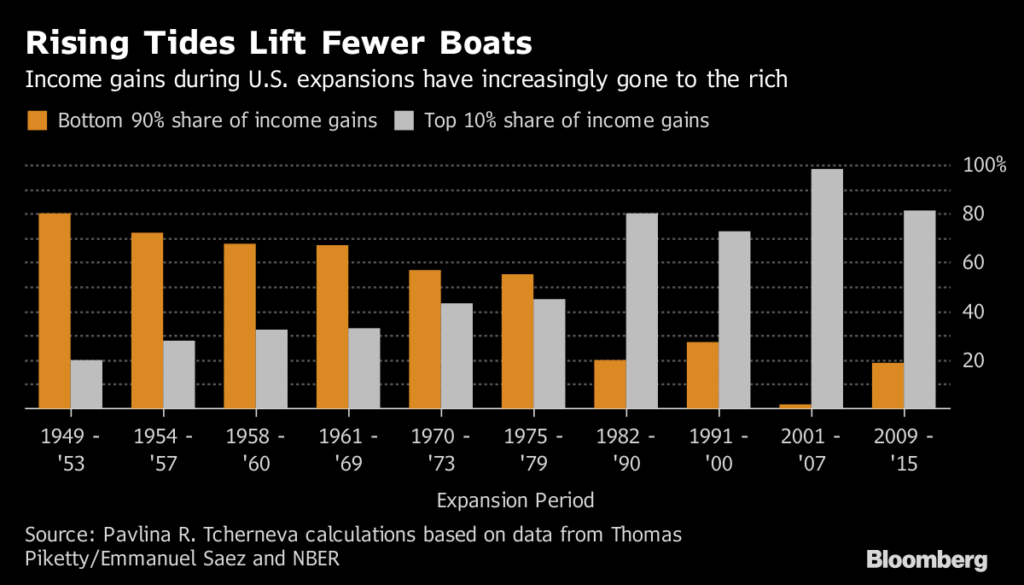 Source: Bloomberg
Found at Barry Ritholtz Blog
http://ritholtz.com/2017/12/sunday-reads-118/
 6.Anything with Bitcoin/Blockchain in Holdings is Up Big….ARKW ETF +87% YTD.  8% Blockchain??
 FUND DESCRIPTION
Holdings are subject to change | As of 09/30/2017
Companies within ARKW are focused on and expected to benefit from shifting the bases of technology infrastructure to the cloud, enabling mobile, new and local services, such as companies that rely on or benefit from the increased use of shared technology, infrastructure and services, internet-based products and services, new payment methods, big data, the internet of things, and social distribution and media. These companies may develop, produce or enable:
Cloud Computing & Cyber Security (23%)
Big Data & Machine Learning (20%)
E-Commerce (19%)
Digital Media (9%)
Blockchain & P2P (8%)
Internet of Things (7%)
Mobile (7%)
Social Platforms (7%)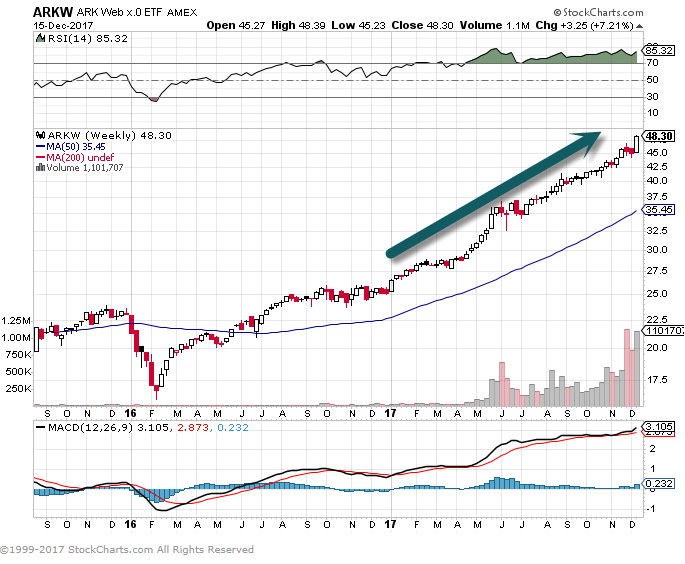 7.Read of the Day…Bitcoin Illiquidity
Bitcoin's illiquidity is going to be a huge problem when the bubble bursts
Bitcoin is becoming more and more illiquid as time goes by.
As more people buy bitcoin, the network becomes increasingly congested, and transaction times get longer.
Transaction fees are going higher, too.
This will be a real problem if the price crashes and everyone tries to get out at the same time.
This chart shows a seven-day average of the total number of minutes it takes to conduct a bitcoin transaction, since May 2016. Like the price of bitcoin itself, transaction time has been rising as the months go by. At the time of writing, it took four-and-a-half hours to confirm a bitcoin trade, on average: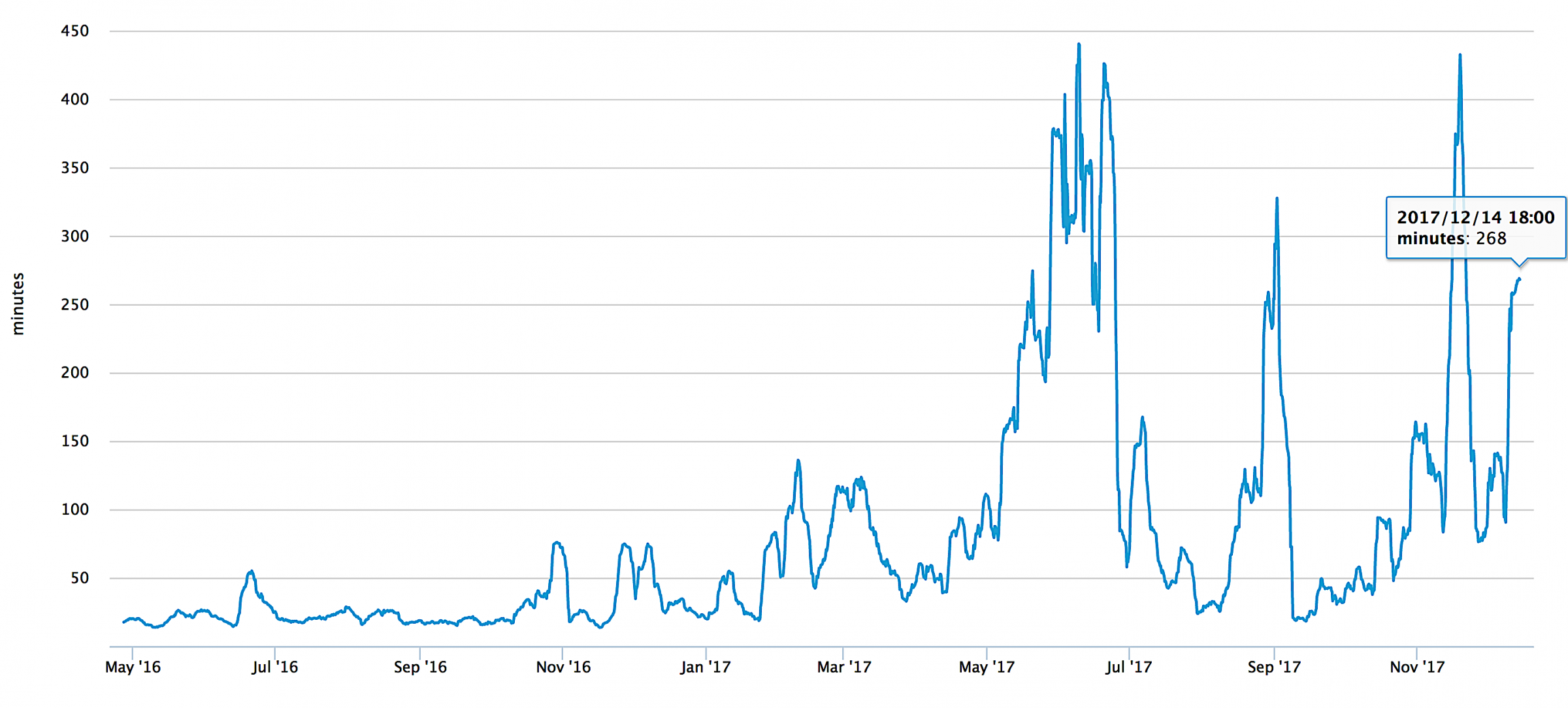 If you are holding bitcoin, and you're worried that the price is a bubble — it cleared $17,000 last week — then bitcoin transaction times should really start to scare you. The price of bitcoin is shifting up and down by hundreds or thousands of dollars each day. No one knows what the price will be one hour from now, except that we know it will be very, very different.
The transaction time is built into the system. Each transaction must be confirmed by six bitcoin miners, and that takes time. There is a finite number of miners, and the more transactions they have to confirm, the longer it takes as their network bandwidth gets filled. Worse, they charge for transactions and prioritise transactions based on price. Those who pay more get processed first.
Read full story
http://www.businessinsider.com/bitcoin-is-illiquid-transaction-times-2017-12
8.Total Construction Spending Breakdown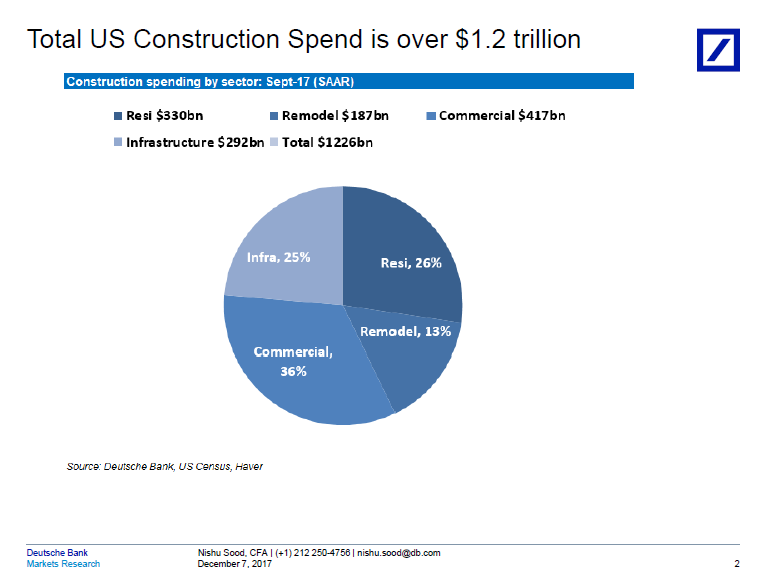 Torsten Sløk, Ph.D.
Chief International Economist
Managing Director
Deutsche Bank Securities
60 Wall Street
New York, New York 10005
Tel: 212 250 2155
9.Research and Development as a Percent of Federal Budget
Government R&D budget shrinking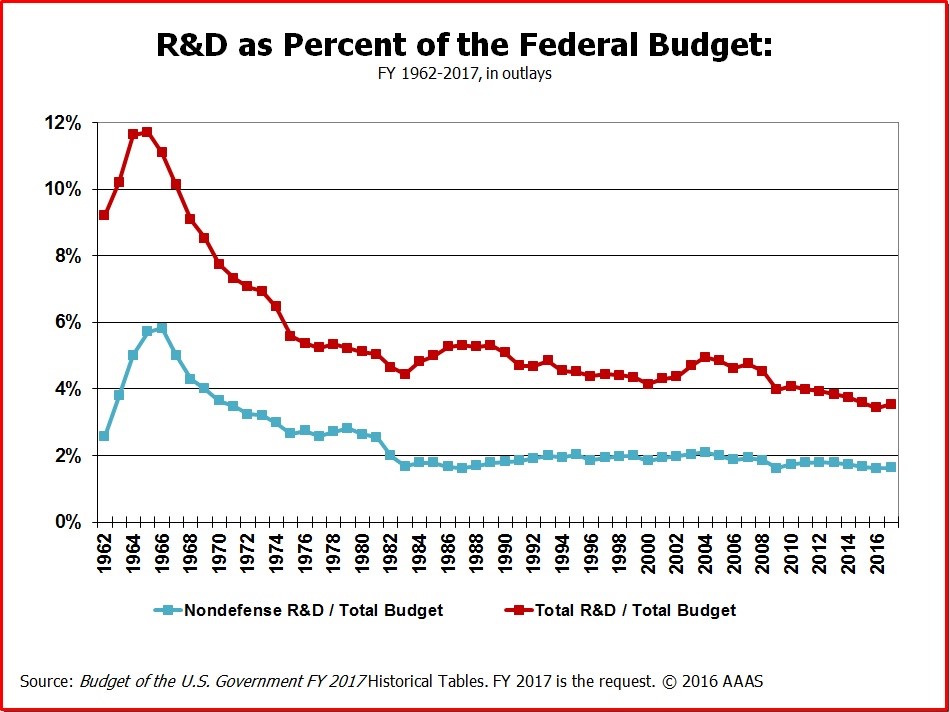 10.How to Get More Done When You Know Your Values, Value, and Vision
by Craig Ballantyne | Nov 6, 2017 | Early to Rise Radio | 0 Comments
Most people fail to get stuff done, not because they don't have morning routines and
rituals or even a lot of self-discipline.
It's because they don't know their values, they don't have a vision and it's because they also don't understand their personal worth.
You're going to hear my friend, Vince DelMonte, turn the tables on me and grill me about how to create a champion mindset in every area of your life.
How many binge watchers have written multiple books?
Do any binge watchers have 250 people attending their big event?
How many of those binge watchers are fully and completely sharing their GIFT with the world?
You must learn to say NO to what does NOT matter.
It's not easy, but if you want to do GREAT things, you must be willing to do fewer things. Let me say that again: If you want to do GREAT things, you must do fewer things.
And the great thing is that you can do so easily and effortlessly: This is all part of the
Champion Mindset System.
The Champion Mindset requires you to know your 3-V's.
Your Value – How much your time is worth.
Values – What really matters in your life and to your legacy
Vision – Exactly what you want to achieve in life
When you know your value, you can say NO to things that aren't worth it.
Values allow you to say NO to things that don't matter.
Your vision, you can say NO to detours in life that hurt you.
Now let's talk about how to find these 3 things — we can use my life as an example
I've been a fitness brand for 10 years but finally making the transition from "career
to calling" with your guidance, encouragement and embracing my value, values, and
my vision for helping men with the 5 mans of manhood – we can't just leave fitness
in the gym.
I don't care what's on your skin, I care about what's beneath your skin.
Matt Smith told me a powerful line in Denver: the most important question you
must ask every MINUTE of the day "What must I stop doing?"
Would it be helpful if you could effortlessly look at an opportunity and say
NO, that's not something I should give my energy to because it does not serve
me, my family, or my vision?
I know for a fact that having this in place would automatically reduce your
stress and increase your success, because so many of you are doing too much
right now.
The next time a new opportunity comes your way, ask yourself:
What would this do for you in life?
How will it impact your value, values, and vision?
Do you see how being completely clear on your value, values, and vision will make it easy to do what is right for your life?
How would knowing the 3-V's make the path to success smoother in your life?
Where would you have more focus?
Would your relationships get stronger?
Where would you have more clarity about what matters?
Would you be able to add more STRUCTUREinto your schedule and discipline into your daily life?
https://www.earlytorise.com/028-get-done-know-values-value-vision/