1.Trading in U.S. Stocks Has Increased 177% Over the Last 15 Years.
Phil Mackintosh-Nasdaq–Nasdaq Says Fears ETFs Are Eating Stock Liquidity Are Unfounded – Trading in U.S. stocks has increased 177% over the last 15 years, Phil Mackintosh, the exchange's chief economist, wrote in a note last week.
U.S. markets hosted about $164 billion additional stock trades every day last year versus 2004; by contrast, average daily ETF trading has increased $93 billion over the same time frame, albeit from a smaller base.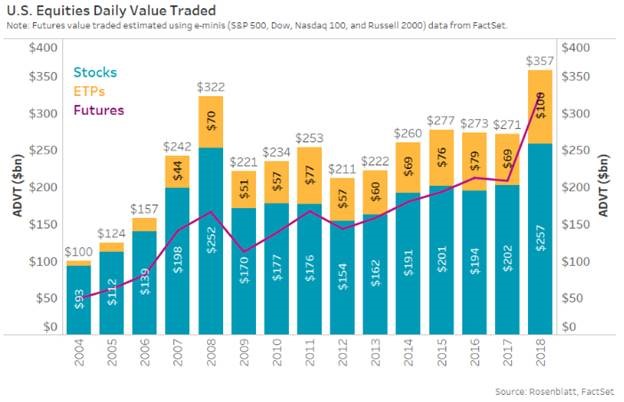 From Dave Lutz at Jones Trading
2.Yesterday We Sent the Top 20 Stocks of Decade….Today Sector List.
Sectors
Here's how the 11 sectors of the S&P 500 have performed from the end of 2009 through Dec. 5, 2019, with dividends reinvested, according to FactSet:
S&P 500 Sector
Total return – Dec. 31, 2009, through Dec. 5, 2019
Information Technology
390%
Consumer Discretionary
381%
Health Care
287%
Industrials
242%
Consumer Staples
205%
Financials
204%
Utilities
204%
Communication Services
151%
Materials
134%
Energy
31%
Source: FactSet
https://www.marketwatch.com/story/these-are-the-20-best-performing-stocks-of-the-past-decade-and-some-of-them-will-surprise-you-2019-12-09?mod=home-page
3.Who Knew of the Day? Oil Lost More Than Banks in 2008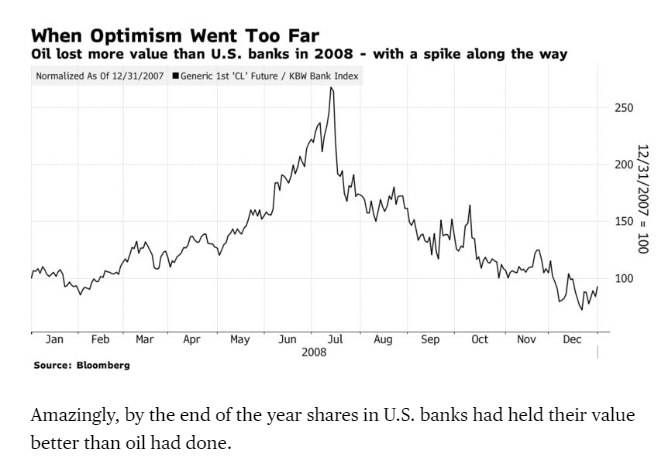 https://www.bloomberg.com/opinion/articles/2019-12-10/recession-fear-google-trend-has-echoes-of-2008-crisis-k3zedlta
4.Aramco IPO—Market Cap Dwarfs MSFT, GOOGLE, APPLE etc
Saudi Aramco shares spike 10% on its opening day of trading — valuing the company at a massive $1.9 trillion
Yusuf KhanMarkets Insider
Saudi Aramco shares spiked 10% on Wednesday soon after the company started trading its shares publicly for the first time. That's the daily limit on the exchange.
The surge in share price means the company is now worth $1.9 trillion.
That massive market capitalization dwarfs giant publicly listed Goliaths like Apple and Alphabet.
Crown Prince Mohammad bin Salman had been seeking a valuation of $2 trillion.
---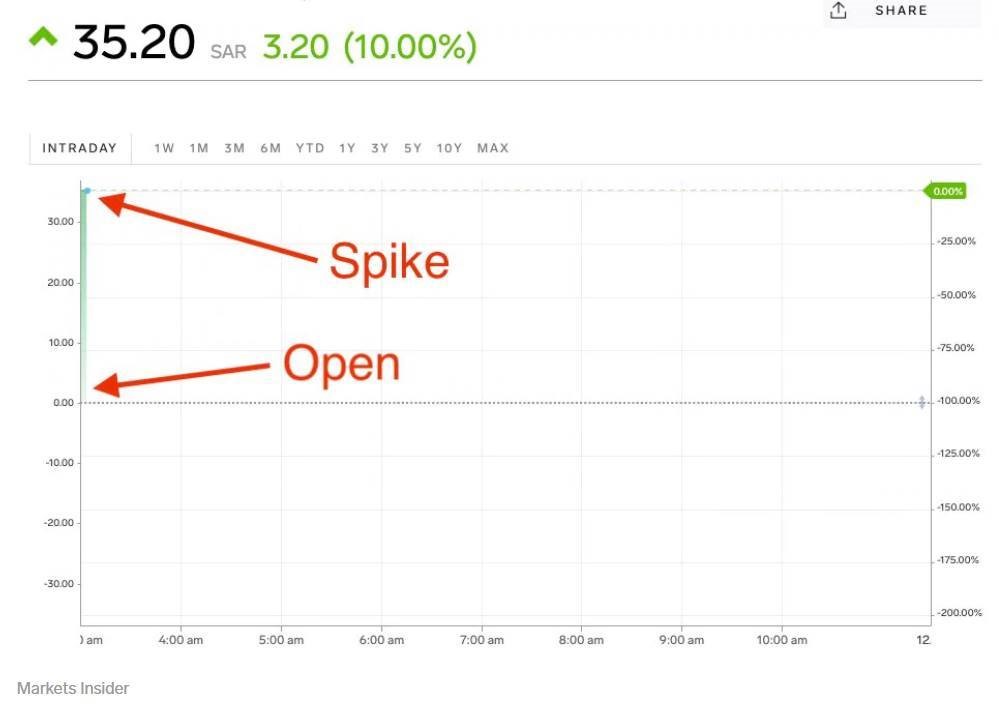 Saudi Aramco shares spiked 10% on Wednesday on their first day of trading publicly on the Tadawul exchange.
The surge hit the exchange's daily limit and means the company, which earlier this week was valued at $1.7 trillion after raising $25.6 billion in its initial public offering, is now worth a whopping $1.9 trillion. That dwarfs the market capitalizations of the biggest US giants, including Microsoft, Apple, and Google's parent, Alphabet.
Crown Prince Mohammad bin Salman had been seeking a valuation of $2 trillion for the state-owned oil giant, whose public offering was meant to help finance his Vision 2030 plan of diversifying the Saudi economy away from oil.
According to The Wall Street Journal, Saudi officials had been pushing for the country's wealthy to buy shares in the company when it went public, and according to the Financial Times, that was happening until Tuesday evening.
The stake in Aramco that was actually offered in the IPO, however, was tiny compared with listings from other companies. Apple, Amazon, and Alphabet have over 84% of their shares held by public investors, according to Bloomberg data. For Facebook, public holders own about 98.8% of its shares. That compares with just 1.5% for Aramco.
https://markets.businessinsider.com/news/stocks/saudi-aramco-share-price-10-spike-after-biggest-ever-ipo-2019-12-1028753870
5.China A Shares 25 Year Low Valuations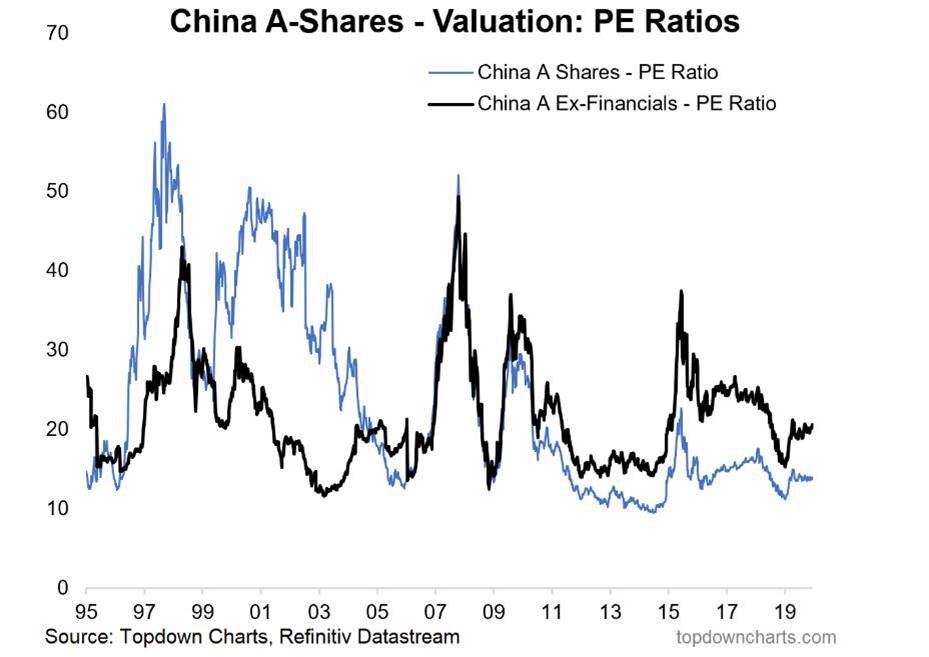 China A-shares: At the turn of the year China A shares returned to deep value play status — valuations got to a point where you could close your eyes and ears and just buy, and initially it worked (at one point China A shares were up about 30%), but as the year rolled on the trade war and ever distant deal took its toll leaving the market up only about 17% since then. It goes to highlight how useful valuation can be particularly at an extreme and after extreme moves, but also given valuations still remain relatively low in the scheme of things it certainly remains of interest as attention shifts to 2020.
https://www.linkedin.com/pulse/10-charts-watch-2019-year-end-update-callum-thomas/?trackingId=0TVoGLy977bhoMxfXRlHwQ%3D%3D
6.S&P After 4 Rate Cuts
It was a little less than a year ago, on December 19, 2018, that the Fed announced the fourth rate hike of 2018 and the ninth of the current expansion. Markets roundly jeered the move. The S&P 500 Index, already down more than 13% from its all-time high in September 2018, fell to 19.8% off the all-time high by December 24, just a hair below the customary 20% decline that marks a bear market. The Fed quickly adjusted its messaging and, as shown in the LPL Research Chart of the Day, the S&P 500 has climbed nearly 25% year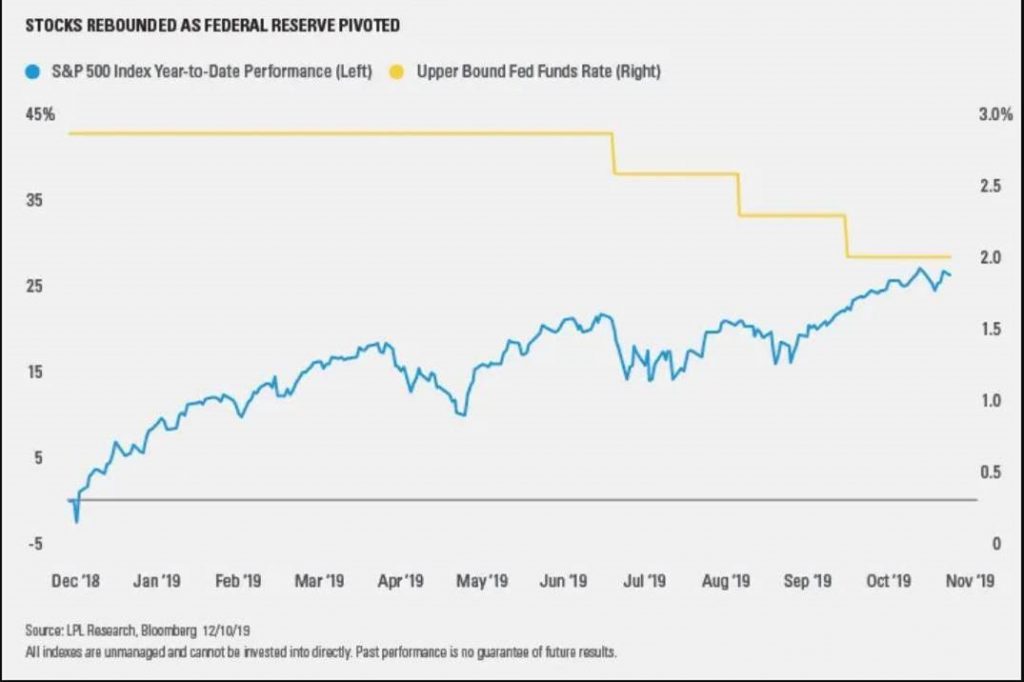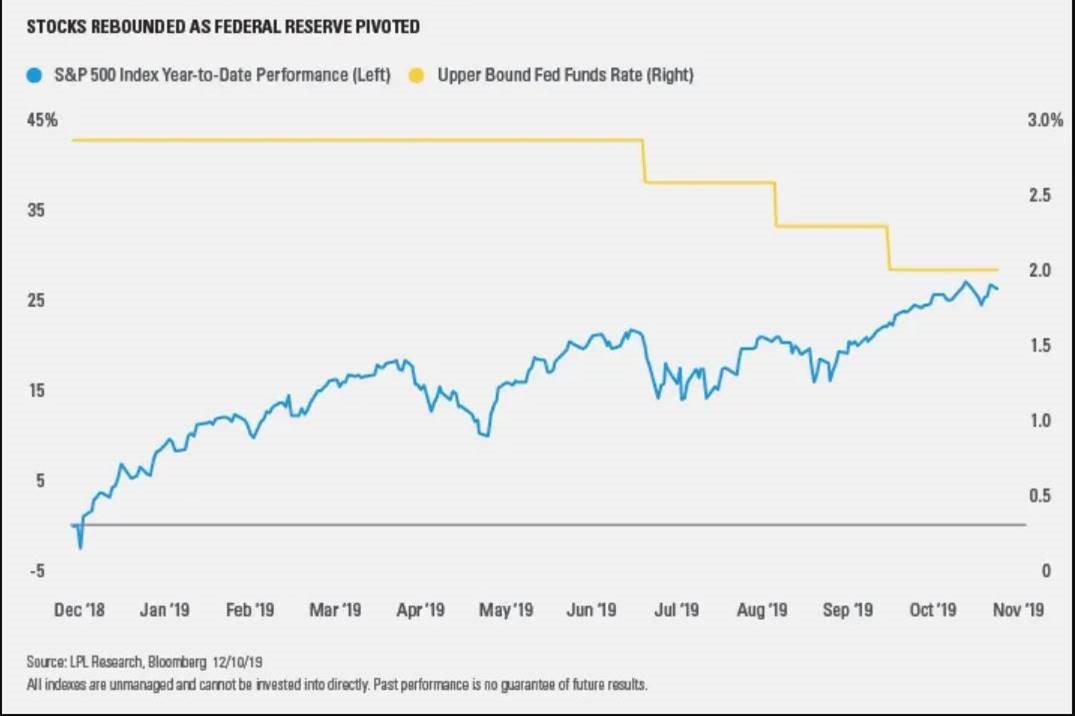 LPL BLOG
7. Nearly 150 CEOs departed in November, putting 2019 on track to be record year for executive exits
Maggie Fitzgerald
POINTS
148 chief executives left their posts in November, according to business and executive coaching firm Challenger, Gray & Christmas.
Chief executives from Alphabet, United Airlines, Expedia and SoulCycle said farewell in recent weeks.
2019 is on track to be the highest number of CEO departures on record.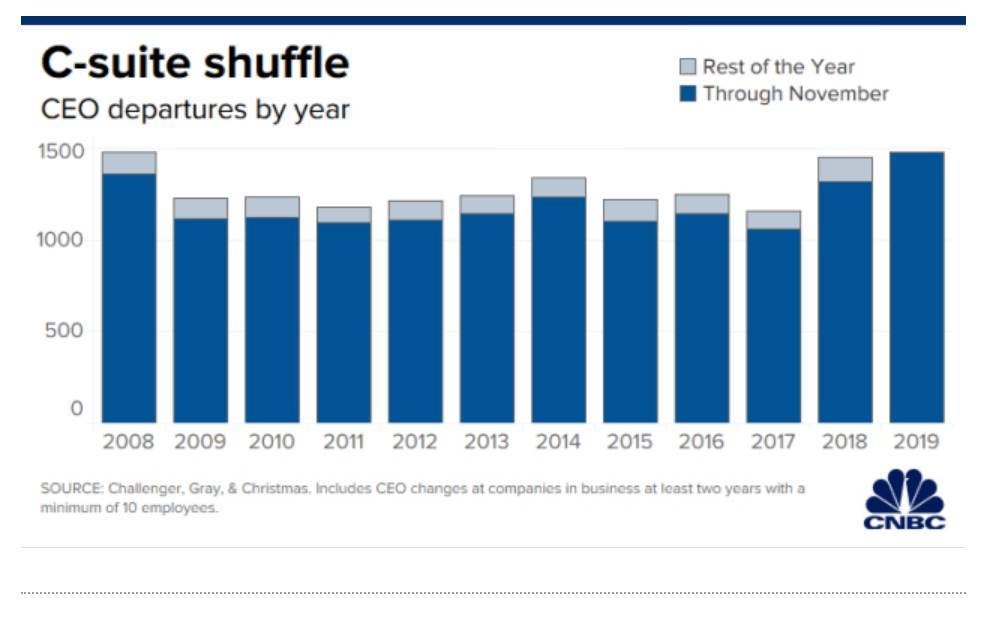 8.Millennials Skeptical …Boomers Optimistic
There is a record gap between consumer confidence of young people versus older people. People above 55 years old are currently much more optimistic than people below 35, see chart below and here.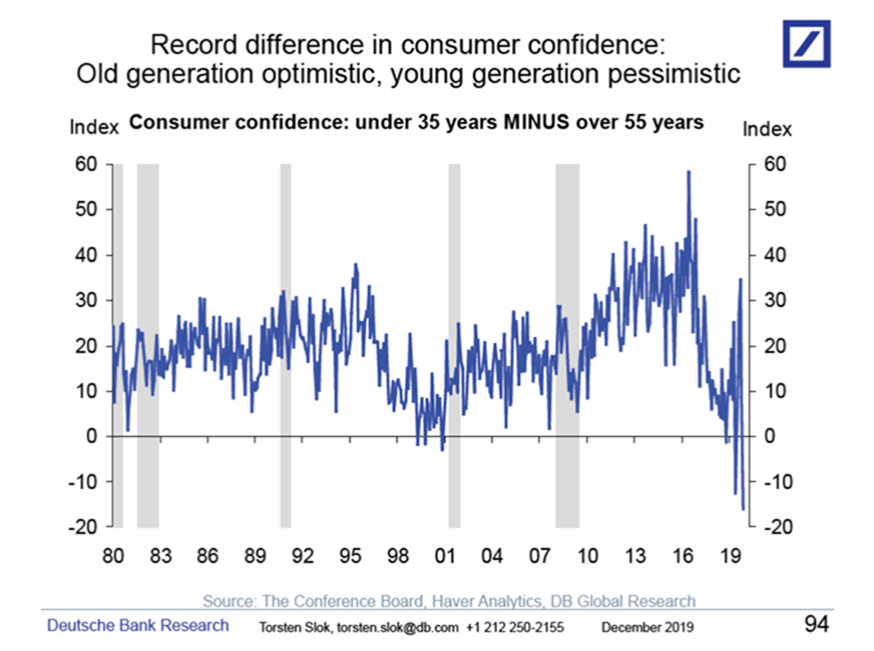 ———————————————–
Let us know if you would like to add a colleague to this distribution list.
Torsten Sløk, Ph.D.
Chief Economist
Managing Director
9. Stopping a Mars mission from messing with the mind
Miriam Kramer18 hours ago
Stopping a Mars mission from messing with the mind
Illustration: Eniola Odetunde/Axios
Space agencies and scientists are testing new ways to mitigate the psychological effects of a trip to Mars.
Why it matters: One of the major limiting factors for a mission to Mars will be the human mind, experts agree.
In order to fly to the red planet, live there and return home, astronauts will need to deal with long bouts of isolation and delayed contact with mission control and family back on Earth.
What's happening: IBM, Airbus and the German Aerospace Center just launched CIMON-2 — an upgraded robotic assistant that can read a person's tone of voice — to the International Space Station.
CIMON-2's creators think the robot could act as a sounding board for astronauts who are feeling stressed but don't necessarily want to talk to their crewmates about it during a trip in deep space, developer Matthias Biniok told Axios.
Researchers are also studying how the brain and body might change during long trips in space, affecting a person's cognition.
A group of eight polar explorers experienced changes in their brains that may have been brought about by 14 months in isolation, according to a small study co-authored by psychologist David Dinges of the University of Pennsylvania and published last week in the New England Journal of Medicine.
Other scientists are looking into how radiation — considered by some to be the most serious health risk for astronauts going to Mars — might affect space explorers on a cognitive level.
The big picture: "From Mars, the Earth is seen as a dot, basically — a small dot; greenish, blue dot. So everything that is important to you, your history, your family, your culture, your country, becomes an insignificant point in the universe," psychologist Nick Kanas told Axios in August.
Mission researchers emphasize the importance of a diverse crew to try to stave off psychological impacts. The thinking is they can work together well and keep each other interested and even entertained for months if not years at a time.
"We know that even in a high-fidelity simulation, when it goes long enough that if the agencies aren't very careful about who they select ahead of time … I would expect that we're going to see maybe up to 50% or more of the crew develop some significant behavioral problems, psychological problems and physical problems during the mission," Dinges told Axios.
What's next: NASA may consider using its Gateway — the small space station the agency plans to place in orbit around the Moon in the coming years — as a simulation for a Mars mission in space.
Go deeper: Where to hunt for life on Mars
10.Act Like A Professor, Not Like A Boss
Shelcy V. JosephContributor Neil Sheehan, one of seven principals at Chicago-based firm Sheehan Nagle Hartray Architects, founded Sheehan Partners in 2004 as a small architectural firm with the expectation of having seven or eight employees. But after a merge with Nagle Hartray Architects, the firm quickly grew and expanded, due in no small part to the leadership team's perspectives on and commitment to leadership.
Neil and his team take an academic approach to leadership, focusing on the idea that the firm is a collective of collaborators who work in tandem and everyone has something to teach and learn from one another. "Act like a professor, rather than a boss," he says.
I spoke to Neil to hear more about this new approach, which has worked well at his firm and has the potential to achieve increased productivity, high employee engagement and retention.
Create an open learning atmosphere
In college, you are typically given the freedom to choose your coursework, complete your assignments and in some cases, team up with whoever you want. One of the main things SNHA strives for is bringing that collegiate atmosphere into the professional world, especially for recent grads and millennial environment. The firm strives to provide flexibility in its office through open workplaces with varying workspace environments, depending on employee preferences. The leaders set the goals and priorities, and make themselves available to give advice and guidance as needed with daily tasks. "It's critical to establish a group mentality in your office and encourage employees to share and learn from each other," says Neil.
Promote continued learning in your office
Through mentorships, lunch-and-learns, stipends for outside education, make it easy for employees to continue their education, whether on the job or not. "These opportunities contribute to the office reservoir of knowledge as training can be quite specific then be shared among peers," says Neil. This helps to make operations more productive and ultimately boost the bottom line of the business.
For recent grads looking to hone their experience or employees eyeing a promotion or exploring a new field, having educational support is critical. That said, everyone should have the opportunity to grow and continue contributing to the company.
Creating an open-door policy
Similar to office hours, encourage employees at any level to discuss ideas with you, which can result in creative ideas, game-changing conversations, and increased employee loyalty. As Neil explains, the best ideas and solutions tend to come from collaborative brainstorms, and to achieve this outcome, leaders need to make themselves available to their employees. From weekly check-ins to regular brainstorm meetings, there are plenty of ways to execute on an open-door policy.
https://www.forbes.com/sites/shelcyvjoseph/2019/11/22/act-like-a-professor-not-like-a-boss/#4f23509c23eb