1.Largest 6 Month Difference in Stock Vs. Bond Flows Since 1993.
BLACKROCK
2.SoftBank smashed profit forecasts ahead of its $100 billion fund launch
Yusuf Khan
SoftBank smashed earnings forecasts as its net profits more than tripled in the first quarter.
The Japanese tech titan's gains were linked to sales of Alibaba shares.
SoftBank is preparing to launch its $100 billion investment fund, and seeking to raise cash from investors including Microsoft, Apple, and Japanese financial groups.
---
SoftBank smashed analysts' earnings expectations for the first quarter after it more than tripled net profits to a record $10.6 billion.
The Japanese tech conglomerate holds stakes in Uber, WeWork, Sprint, and other companies. Its outperformance reflected its sale of shares in Chinese online retailer Alibaba.
Masayoshi Son, SoftBank's billionaire founder, is currently looking to raise $108 billion from investors including Apple, Microsoft, and Japanese financial groups as it prepares to launch a new investment fund.
The existing Delta Fund and Saudi-backed Vision Fund generated 58% of the company's operating profit of $6.5 billion in the period, driven by a valuation gain of $3.8 billion.
SoftBank's stake in Uber fell in value, but the decline was offset by the appreciation of its investments in Indian hotel-booking website Oyo, messaging service Slack, and food-delivery startup DoorDash.
As of the end of June, the company's Vision Fund boasted a portfolio of 81 investments valued at $82.2 billion, representing a valuation increase of 24%.
https://markets.businessinsider.com/news/stocks/softbank-profits-jump-fourfold-ahead-of-100-billion-fund-launch-2019-8-1028425611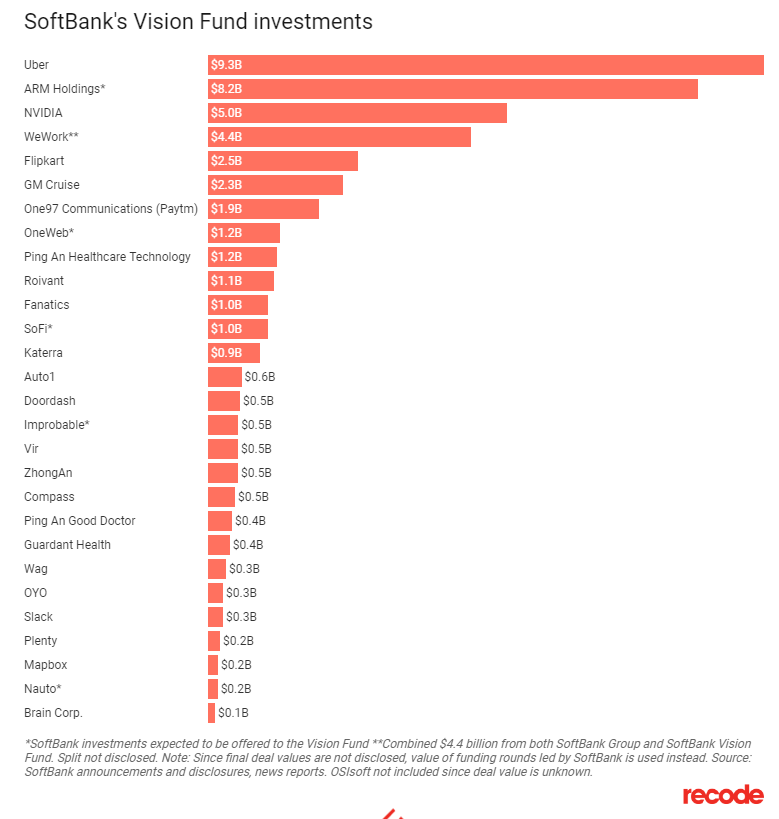 https://www.vox.com/2018/2/5/16974032/this-is-where-chart-softbank-vision-fund-masayoshi-son-venture-capital
3.74% of Top Performing Stocks Since 2010 are Outside the U.S.
Beyond that, the highest returning stocks each year are often located outside the United States. Since 2009, the top 50 companies with the best annual returns overwhelmingly had a non-U.S. address. Had you decided to ignore international equities, you would have missed a shot at many of the best opportunities.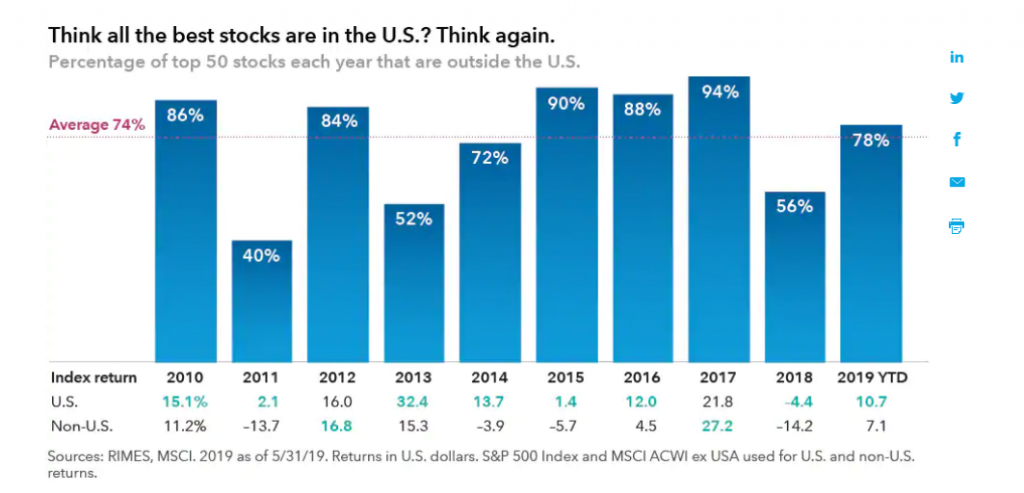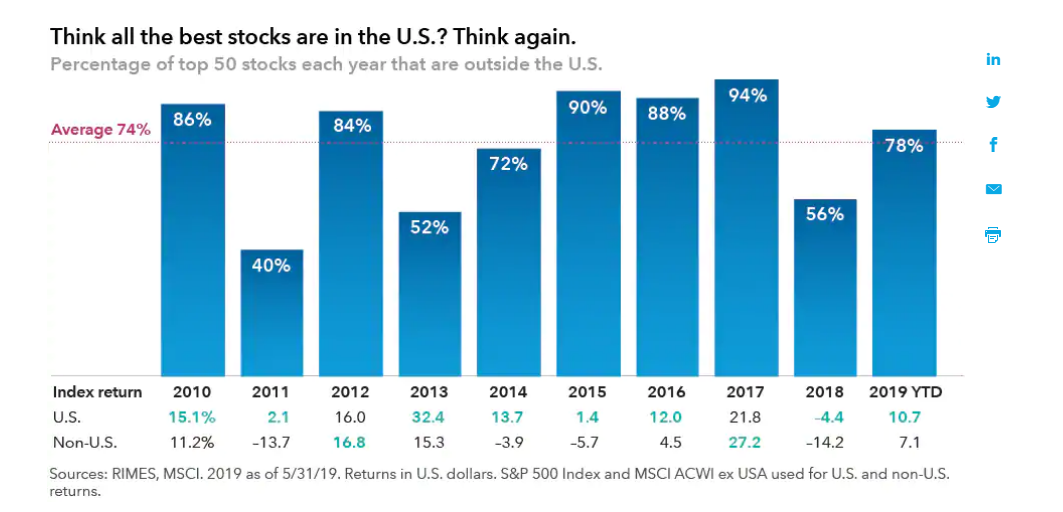 4.Another Casualty of Amazon…Fedex Sheds 100 Points from Highs.
FDX -38% from 2018 highs.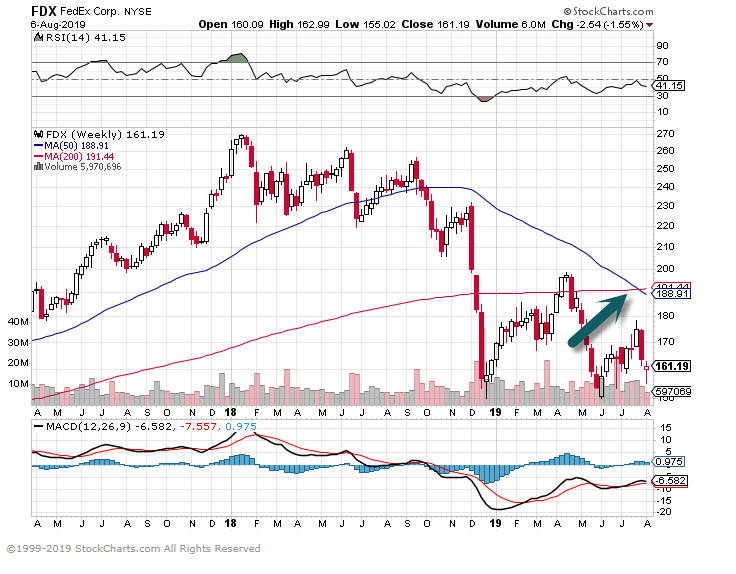 5.Fastest Growing ETFs 2019.
Measuring Growth
Admittedly, it's much easier for a small fund to register a big percentage increase in its assets. A fund with only $1 million in AUM simply has to grow to $2 million for its assets to double. Is that noteworthy? Not really.
How about a $1 million fund growing to $50 million? Now that could be noteworthy for some; others might not pay attention until a fund grows even larger, into the hundred-million or even the billion-dollar range.
That's why we've put together two lists: one that showcases the fastest-growing ETFs of the year no matter their starting level of assets, and another that includes ETFs that had $50 million or more in assets at the start of 2019.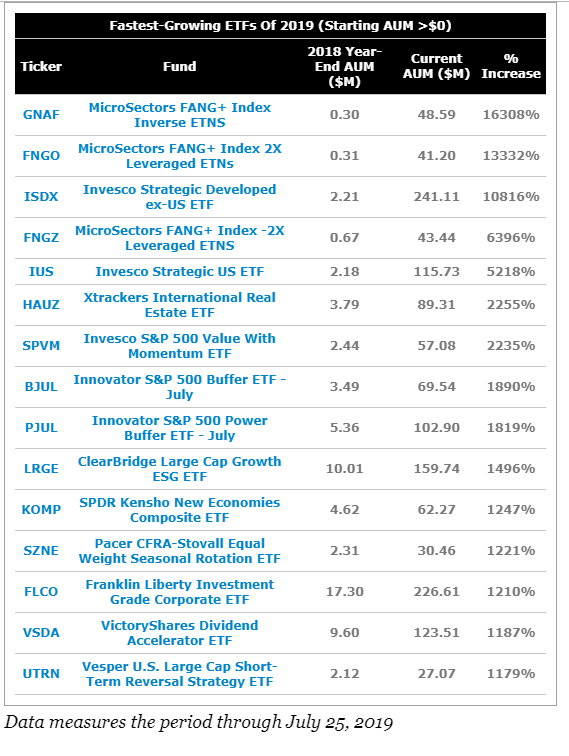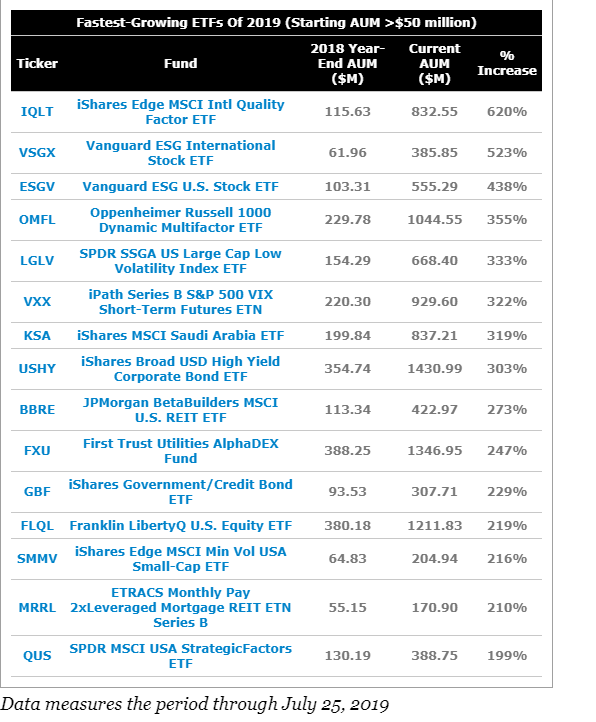 https://www.etf.com/sections/features-and-news/fastest-growing-etfs-year
6.Milk's Massive Decline in U.S.
Yesterday, Dean Foods echoed people around the world with damp spots on their crotches: "It's water!"
The largest milk processor in the U.S. reported an earnings miss that dropped shares 36.5%. CFO Jody Macedonio partially attributed the result to consumers opting to buy water over milk.
Zoom out: U.S. dairy milk consumption is declining dramatically while alternatives like almond milk, coconut milk, and good old-fashioned H2O are on the rise. Walmart, formerly one of Dean's biggest customers, also recently brought milk processing in-house, cutting off a calcium-rich revenue stream for Dean.
Looking ahead…Dean's brand-new CEO, Eric Beringause, said the sector is still "target-rich" for private-label and branded products. Beringause would know—on the earnings call the industry vet explained, "Many of my friends say I must have milk flowing through my veins."
That's increasingly not the case for Americans, though.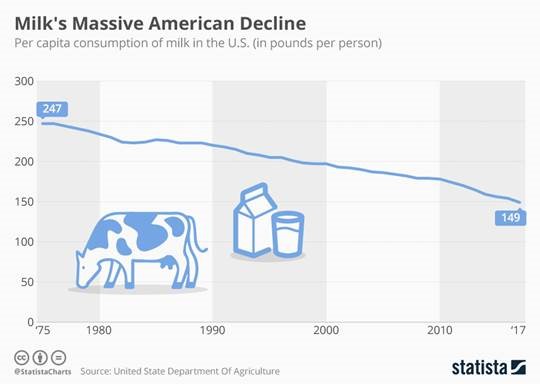 https://www.morningbrew.com/stories/no-use-crying-over-spilled-earnings/
7.Five surprising new markets enter 2019′s top 10 ZIP codes
KEY POINTS
-This year's hottest markets have half of the total number of households of the markets on last year's list and 7% fewer households per square mile.
-It takes just 17 days on average for a home in these ZIP codes to sell, 40 days faster than the rest of the nation.
-Homes were also clicked on three times as often by realtor.com users, compared with homes in the rest of the country and nearly twice as often as homes in their respective, larger metropolitan areas.
Affordability is driving more homebuyers away from big cities and toward smaller, unexpected markets. The suburbs of San Francisco and New York City used to be the most attractive, but now names like Omaha, Nebraska, and Rochester, New York, are replacing them.
This year's hottest ZIP codes, ranked by realtor.com, are 49505 Grand Rapids, Michigan; 68144, Omaha, Nebraska; 83704, Boise, Idaho; 66203 Shawnee, Kansas; 14609 Rochester, New York; 48154 Livonia, Michigan; 02176 Melrose, Massachusetts; 76018 Arlington, Texas; 03045 Goffstown, New Hampshire; and 80916 Colorado Springs, Colorado.
It takes just 17 days on average for a home in these ZIP codes to sell, 40 days faster than the rest of the nation. Homes were also clicked on three times as often by realtor.com users, compared with homes in the rest of the country and nearly twice as often as homes in their respective, larger metropolitan areas.
Buyers today are faced with sky-high prices not just in major metropolitan markets, but also in the suburbs that surround them. That is why areas on the outskirts of cities like New York and San Francisco fell off this year's list, and communities around small markets like Omaha and Manchester, New Hampshire, moved on. This year's hottest markets have half of the total number of households of the market's on last year's list and 7% fewer households per square mile.
"Even though buyers are moving to smaller markets, they are looking to retain an urban lifestyle by living closer to the city center," said Danielle Hale, chief economist at realtor.com. "This tells us that today's home buyers are trying to have it all — proximity to downtown, room to grow, and affordability–and they're finding it outside of the biggest cities in the U.S."
The average commute distance from this year's hottest ZIP codes to their downtown area is nine miles, which is 31%, or four miles, closer compared with last year's top 10, according to Hale.
Also driving the top 10 markets are relatively affordable home prices, large numbers of high-earning millennials and low unemployment. Millennials in these areas are earning 13% more on average than their counterparts in the rest of the nation. The average home price in these ZIP codes is $272,000, well below the national price.
The five newbies to this year's list, Grand Rapids, Shawnee, Rochester, Arlington and Goffstown all have emerging trends that go beyond the usual drivers of popularity.
They have developing local economies and much larger populations of millennials. They do, however, still have room to grow. The median income of residents in these ZIP codes is $64,000, 9% lower than the rest of the top 10. The number of households in these markets is expected to jump 4.3% this year, far higher than the 1.1% national rate.
https://www.cnbc.com/2019/08/06/five-new-markets-enter-2019s-top-ten-zip-codes.html
8.2,191 Mass Shootings Since Sandy Hook
August 4, 2019 6:00pm by Barry Ritholtz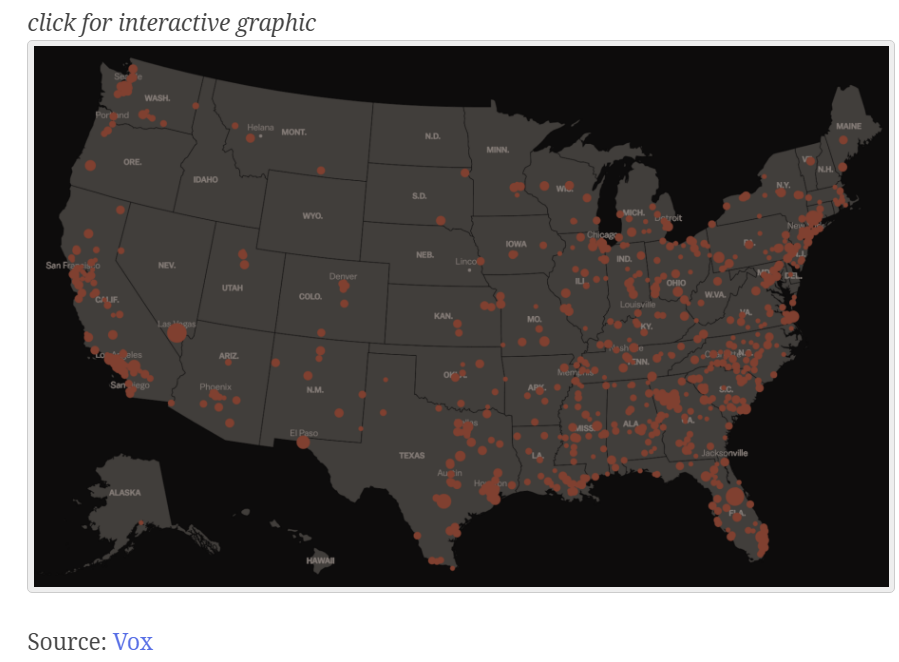 9.America Needs an Independent Fed
Paul Volcker
The economy functions best when the central bank is free of short-term political pressures.
Aug. 5, 2019 6:48 pm ET
This article is signed by Paul Volcker, Alan Greenspan, Ben Bernanke and Janet Yellen.
As former chairs of the board of governors of the Federal Reserve System, we are united in the conviction that the Fed and its chair must be permitted to act independently and in the best interests of the economy, free of short-term political pressures and, in particular, without the threat of removal or demotion of Fed leaders for political reasons.
Collectively, we served our nation across nearly 40 years and were appointed and reappointed by six presidents, both Republican and Democratic. Each of us had to make difficult decisions to help guide the economy toward the Fed's legislated goals of maximum employment and stable prices. In retrospect, not all our choices were perfect. But we believe those decisions were better for being the product of nonpartisan, nonpolitical assessments based on analysis of the longer-run economic interests of U.S. citizens rather than being motivated by short-term political advantage.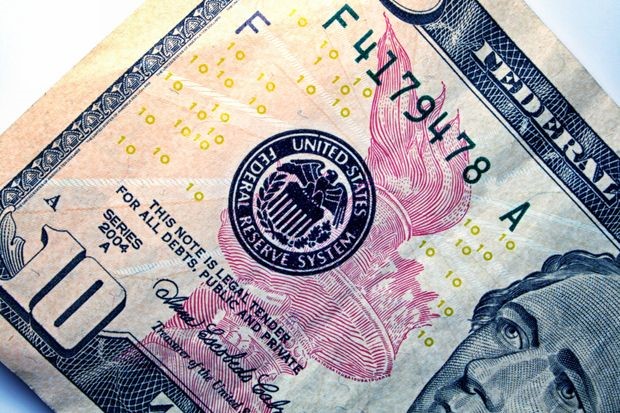 The Fed's nonpartisan status doesn't mean it is unaccountable. Congress sets the Fed's powers and charges it with maximizing employment and promoting stable prices. The chair and other Fed leaders testify before Congress and speak regularly in public, explaining their views of the economy and how they plan to meet their mandates. Presidents, members of Congress, financial-market participants, pundits and many private citizens advocate that the Federal Reserve make particular monetary policy decisions. In our system of government, that is the right and privilege of every person, one we don't question. The Fed welcomes open dialogue, as evinced by the "Fed Listens" program, in which Fed leaders have engaged with the public about possible changes to the Fed's policy framework. A robust public debate helps make monetary policy better.
History, both here and abroad, has shown repeatedly, however, that an economy is strongest and functions best when the central bank acts independently of short-term political pressures and relies solely on sound economic principles and data. Examples abound of political leaders calling for the central bank to implement a monetary policy that provides a short-term boost to the economy around election time. But research has shown that monetary policy based on the political (rather than economic) needs of the moment leads to worse economic performance in the long run, including higher inflation and slower growth. Even the perception that monetary-policy decisions are politically motivated, or influenced by threats that policy makers won't be able to serve out their terms of office, can undermine public confidence that the central bank is acting in the best interest of the economy. That can lead to unstable financial markets and worse economic outcomes.
Because nonpartisan, independent monetary policy is so important, Congress wisely established the Federal Reserve as an independent agency with regional participation and safeguards against political manipulation. Among these safeguards are 14-year terms for Federal Reserve Board members (four years for the chair and vice chairs) and the provision that Fed governors, including the chair and vice chairs, may be removed only for a cause related to violations of law or similar misbehavior, and not for policy differences with political leaders. This system of fixed terms is designed to ensure that the Fed makes decisions that best serve the economy—and all of us—regardless of short-term political considerations.
Elections have consequences. That certainly applies to the Federal Reserve as well as to other government agencies. When the current chair's four-year term ends, the president will have the opportunity to reappoint him or choose someone new. That nomination will have to be ratified by the Senate. We hope that when that decision is made, the choice will be based on the prospective nominee's competence and integrity, not on political allegiance or activism. It is critical to preserve the Federal Reserve's ability to make decisions based on the best interests of the nation, not the interests of a small group of politicians.
Copyright ©2019 Dow Jones & Company, Inc. All Rights Reserved. 87990cbe856818d5eddac44c7b1cdeb8
Appeared in the August 6, 2019, print edition.
https://www.wsj.com/articles/america-needs-an-independent-fed-11565045308
10.How to Develop Self-Awareness