1.China Allows Currency to Weaken.
China Uses Currency as Weapon in Trade War, Rattling Markets
By Ana Swanson, Alexandra Stevenson and Jeanna Smialek
Aug. 5, 2019
WASHINGTON — The trade war between the United States and China entered a more dangerous phase on Monday, as Beijing allowed its currency to weaken, Chinese enterprises stopped making new purchases of American farm goods and President Trump indicated he would look for ways to retaliate.
The escalation shook world markets on Monday, as nervous investors looked for safe places to park their money. Wall Street suffered its worst day of the year, with the S&P 500 closing down nearly 3 percent. Selling was especially heavy in the trade-sensitive technology, consumer discretionary and industrial sectors. Yields on United States Treasuries, which fall as prices rise, dropped as investors sought safety in government-backed bonds. Benchmark indexes in Asia and Europe also fell.
On Sunday, the People's Bank of China, the country's central bank, allowed its currency to weaken past the psychologically important point of 7 to the American dollar for the first time in more than a decade. In an unusually blunt statement, the bank blamed the currency fall on Mr. Trump's "unilateralism and trade protectionism measures and the imposition of increased tariffs on China."
Mr. Trump's decision to impose additional tariffs on Chinese goods also prompted Chinese enterprises to halt purchases of American agricultural goods, according to China's state-run Xinhua News Agency, which called the president's proposed tariffs a "serious violation" of an agreement reached in June with Chinese President Xi Jinping.
Yuan approaching 2017 levels.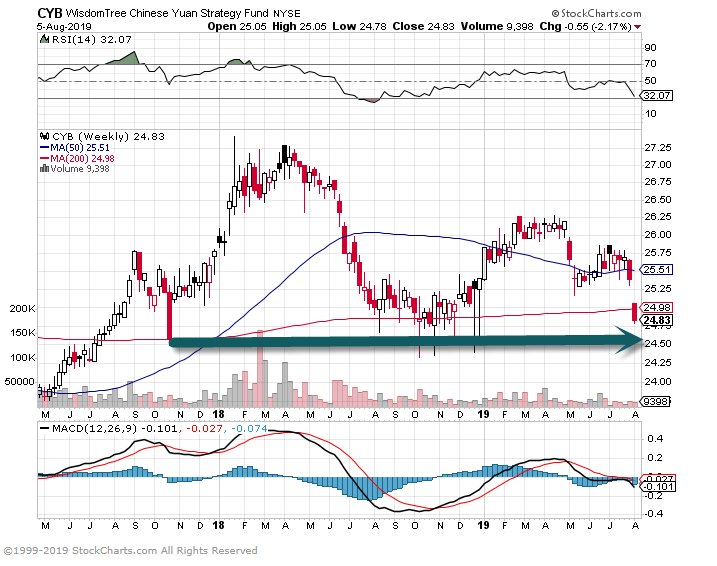 2.Drop in Rates Inverts Yield Curve by 32bps.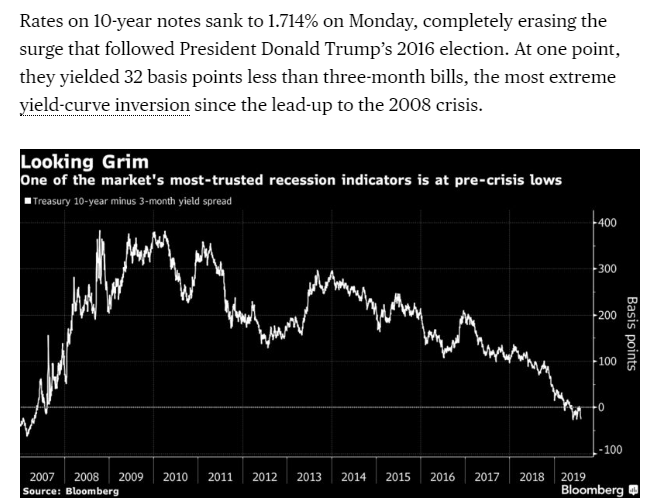 Yield Curve Blares Loudest U.S. Recession Warning Since 2007 By Emily Barrett
https://www.bloomberg.com/news/articles/2019-08-05/yield-curve-blares-loudest-u-s-recession-warning-since-2007
3.One Concern was Transportation Stocks Not Making New Highs with S&P and Dow…Heavy Truck Orders Fall for 9th Month in a Row.
Heavy-Truck Orders Collapse Stunning 81%. Lowest Since 2010
by Wolf Richter • Aug 3, 2019 • 52 Comments • Email to a friend
Order backlog still feeds truck makers, but they don't disclose for how long.
Orders for Class 8 trucks – the iconic trucks that haul part of the economy's goods across the country – collapsed by 81% in July compared to July last year, to 9,800 units, the lowest since 2010, according to FTR Transportation Intelligence on Friday. It was the ninth month in a row of year-over-year declines. But "declines" is not the right word. This year so far, these year-over-year "declines" ranged from -52% to -81%, which makes for a stunning collapse of the historic boom last year: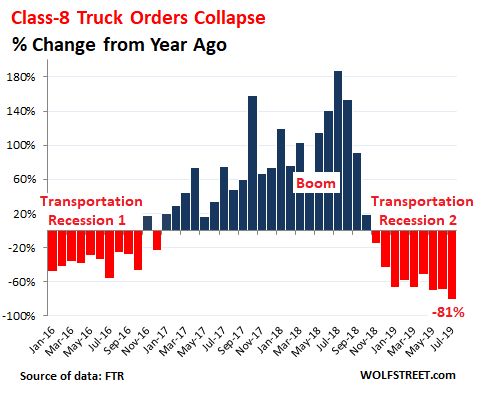 Dow Transport Stocks Never Made New Highs in 2019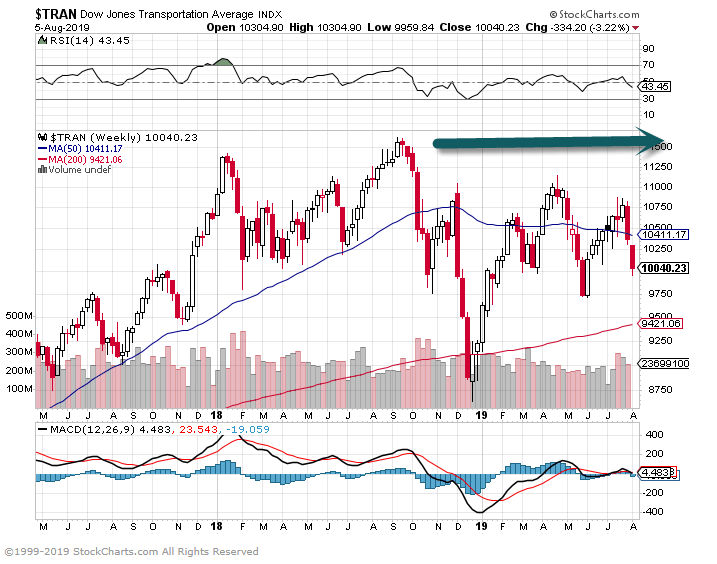 4.Dividend Aristocrats Index During S&P Drawdowns.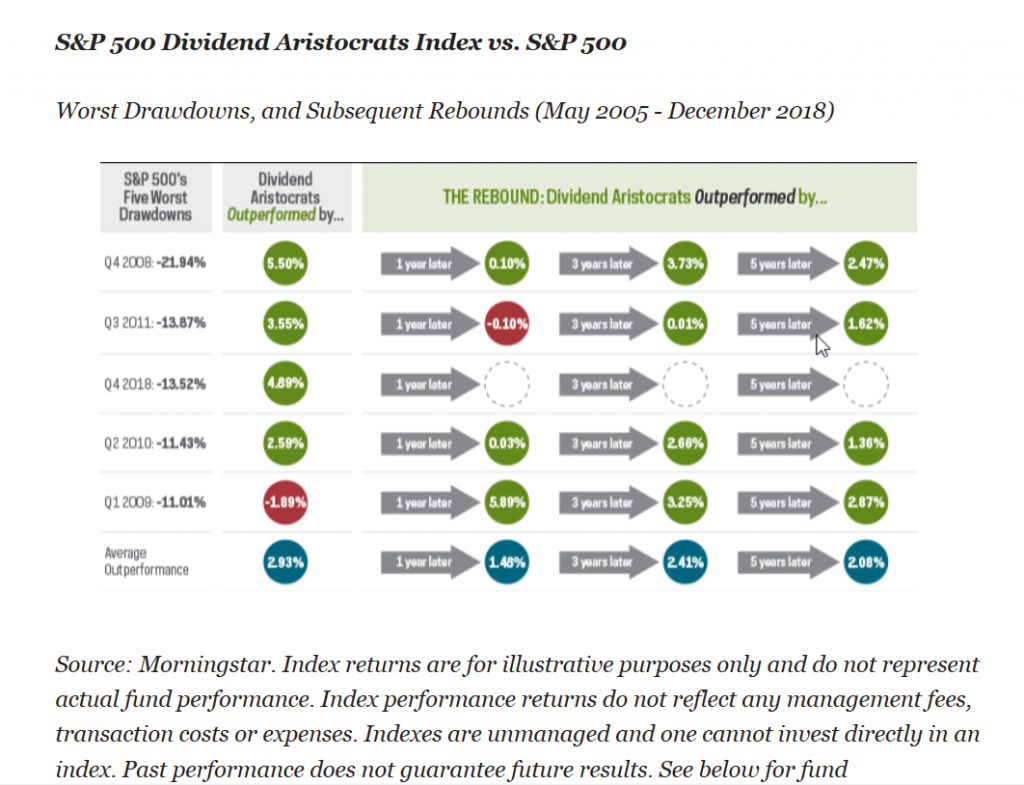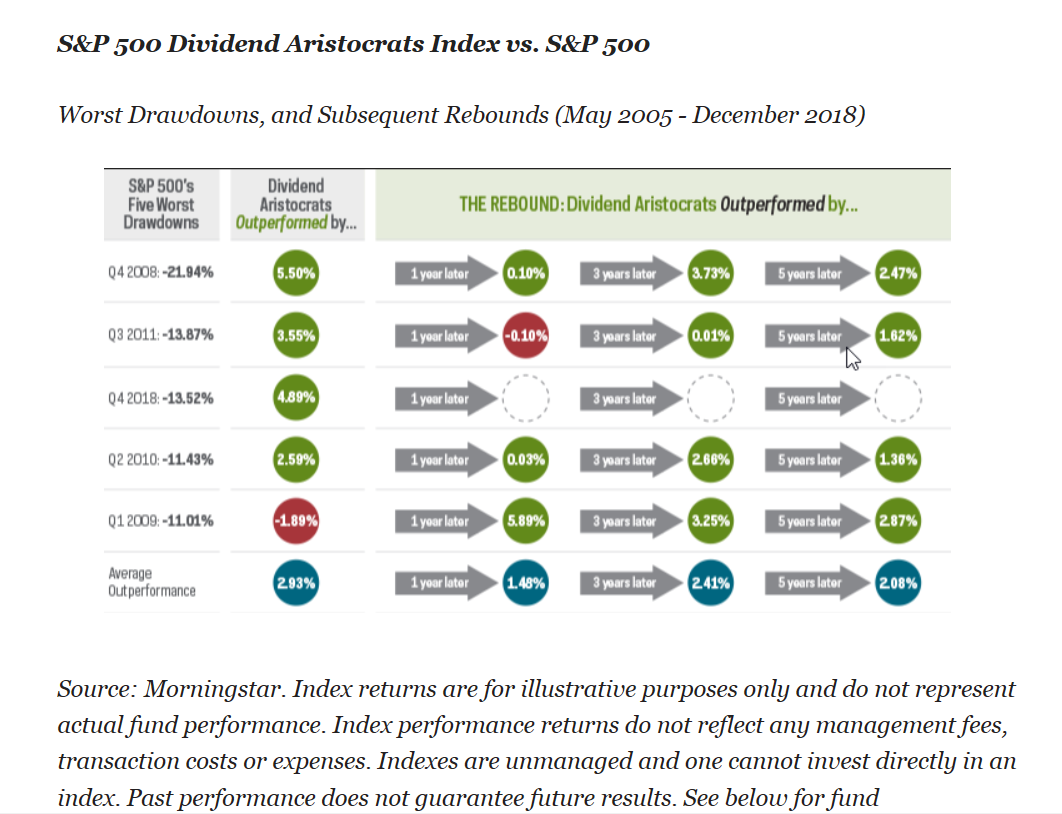 https://www.wealthmanagement.com/investment/downturns-does-quality-make-difference?NL=WM-27&Issue=WM-27_20190731_WM-27_775&sfvc4enews=42&cl=article_3&utm_rid=CPG09000013287609&utm_campaign=21935&utm_medium=email&elq2=e8d213a22ed34995a4074ced92cc66ea
5.Long-Term Treasury and Long-Term Corporates Spike to New Highs.
20+ year treasury ETF +26% rally off lows.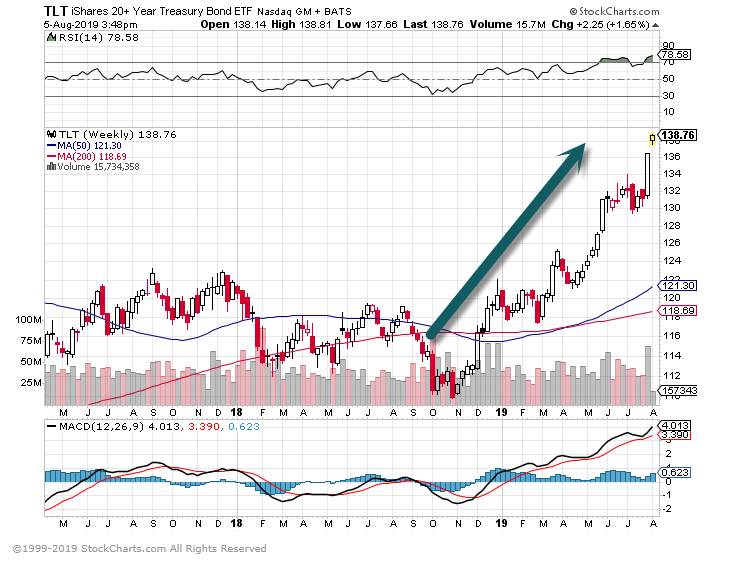 Long-Term Corporate Bonds +21% Off Lows.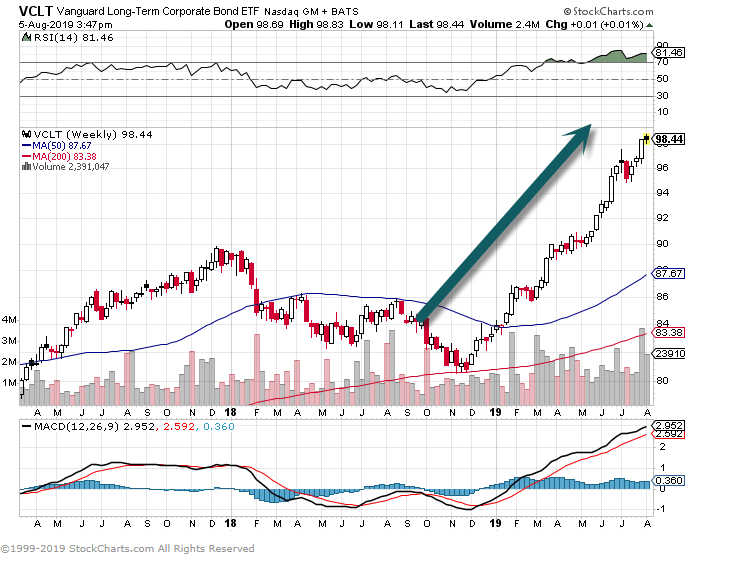 6.16 Year Low Oil Service Stocks.
Oil Service ETF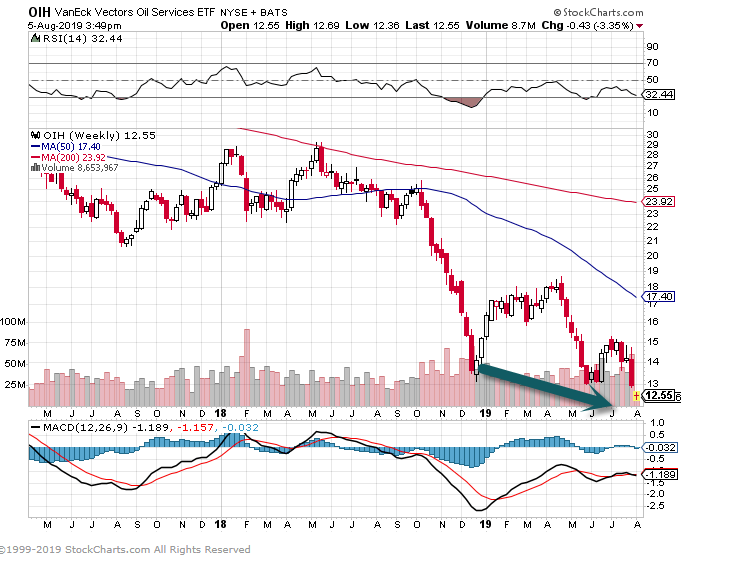 7.Work-Force Participation for 55 and Older Workers Hits 7 Year High.
Zero-Hedge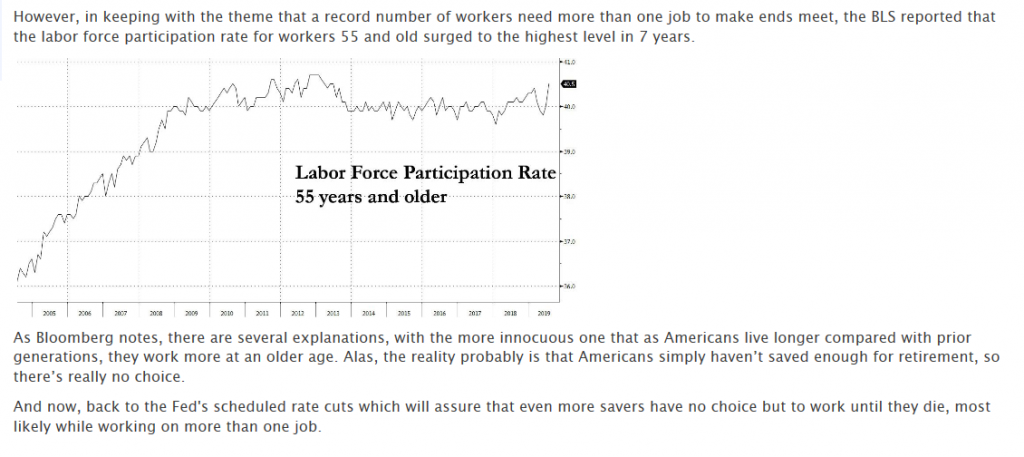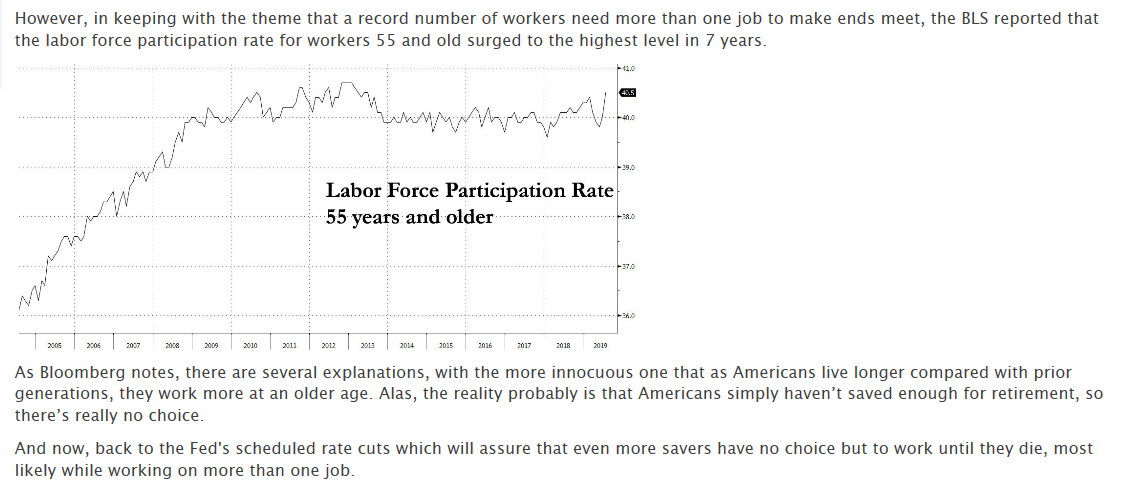 https://www.zerohedge.com/news/2019-08-02/multiple-jobholders-soar-record-high-old-americans-cant-afford-retire
8.Global Service Sector Healthy vs. Manufacturing in Recession Levels.
Global macro talks about the tradable and nontradable sectors of an economy, and it is not a surprise that when you have a trade war, the tradable sector is not doing well. But it is very surprising that after a year of constant deterioration in the tradable sector the global service sector is doing just fine, see chart below. This divergence obviously has significant implications for asset allocation across countries, across assets and within asset classes, and it is exactly this nature of the shock, which is a challenge for quant models at the moment.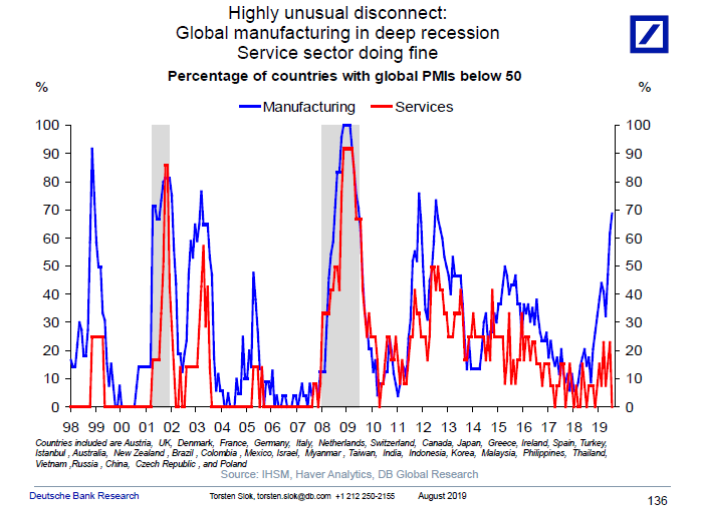 9.Mortgage Rates at 4% for 8 Consecutive Years.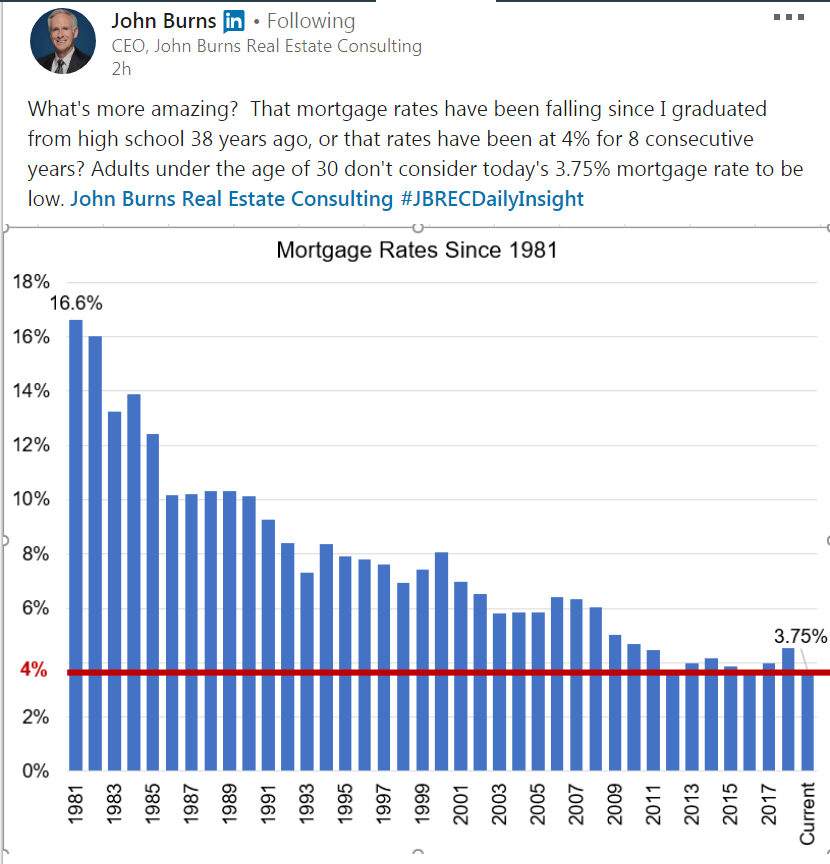 10.A Harvard Study Found That 27 Top-Performing CEOs Use These 6 Strategies to Manage Their Time
Time is said to be spent or invested. But without time management, it can also be squandered.
By Tanya PrivePartner, Legacy Transformational Consulting@TanyaPrive1
Is your to-do list constantly growing? Do you feel like there are not enough hours in the day to meet your family, work, and social obligations?
For business leaders, time management is especially problematic given the magnitude of their responsibilities and the limited hours in the day. Not only is lost time never found again, but not managing time strategically harms the executive's well-being, effectiveness, and organizational performance as well.
My team and I had the opportunity to lead coaching sessions for executives of public and private companies worth billions. And one thing is clear–how you manage your time leads to success or failure.
This Harvard Business School study followed, around the clock, 27 top-performing CEOs of publicly traded companies worth on average $1.3 billion. With the help of their executive assistants, over 60,000 hours were tracked across a period of three months. In part, the purpose of the study was to analyze the raw data of actual time allocation and to provide recommendations on how to increase time efficiency.
Arguably, the most important step to becoming an effective leader is through proper calendar management. Here are six findings in the study to help you boost your efficiency.
1. Schedule downtime and regular activities.
Pencil in downtime throughout each day. We're not super-humans. A 10-minute break here and there isn't going to bankrupt your business. These short gaps give you time to catch your breath, review what's next, and center yourself before moving forward. Warren Buffet schedules time each day just for reading. Your family may appreciate an occasional text, too.
Additionally, schedule all the regular activities you do, like getting the mail, walking the dog, picking up the dry cleaning, going to the gym, or picking up the kids. These recurring tasks eat into your daily bandwidth and accounting for them will help you strategically allocate the time left in your day.
2. Include buffers between meetings.
Remember to add time between appointments to account for delays. Few meetings start and end on time. Sometimes an extended discussion is needed and useful in the moment. Plan for these situations so you're not constantly late for the following item on your calendar.
3. Master the art of delegation.
Get out of the weeds. CEOs who aren't careful can find their time taken away by responding to questions from inside and outside their organizations. It's an unavoidable part of being in a position where decisions are required, but it's not the only role a CEO has. Planning and creating a vision forward for your organization is more important than overseeing day-to-day decisions.
You can tackle this problem in two ways: Empower your leadership team to handle the day-to-day operations, and regularly schedule uninterrupted planning into your calendar. When you don't make time to plan, your organization will likely operate on short-term goals, which leaves your business open to disruption.
4. Set yourself up for tomorrow the day before.
Prepare for the next day at the end of each day. You'll sleep better if you've already recorded your thoughts and agenda instead of allowing everything to churn in your mind until morning. So schedule this as a regular occurrence each day.
5. Include time to develop yourself and your team.
Now that you have your calendar under control, invest in leadership development. Start by identifying areas where you and your team can improve. Maybe delegation has been tough because you don't trust the judgment of your team? Or you realize when you sit down to plan that you don't know where to start? Maybe hiring a coach is worth the effort because your own and your team's performance could improve. You'll learn to recognize new opportunities and make plans to achieve them when you're open to advice.
6. Use email with caution.
If you didn't notice already, I haven't mentioned the 800-pound gorilla on the back of most executives every day⁠–email. It's a huge time suck. And being in a leadership position, people feel like they have to respond nights, weekends, from bed, the shower, etc. How you manage this should be aligned with your company culture, but the best policy for most internal questions that arrive by email is to address them face-to-face or by phone, when possible. You'll get much better results than writing an unclear, rushed response.
So how can CEOs make time to meet with people who email them? The best of the best schedule time to walk through their facilities as often as possible. These are friendly visits just to let everyone know the communication lines are open, while offering you a chance to get to know everyone on a personal level.
https://www.inc.com/tanya-prive/a-harvard-study-found-that-27-top-performing-ceos-use-these-6-strategies-to-manage-their-time.html?cid=hmside4