1.Real Rates Below Zero Vs. Gold.
Inflation adjusted rates in U.S. dip to negative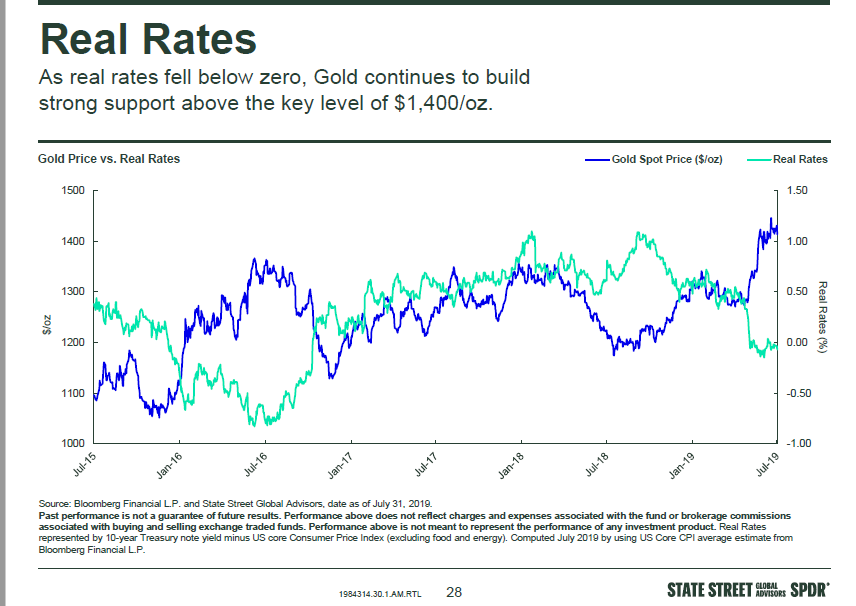 2.Homebuilder Stocks Seeing No Lift From Drop in Rates.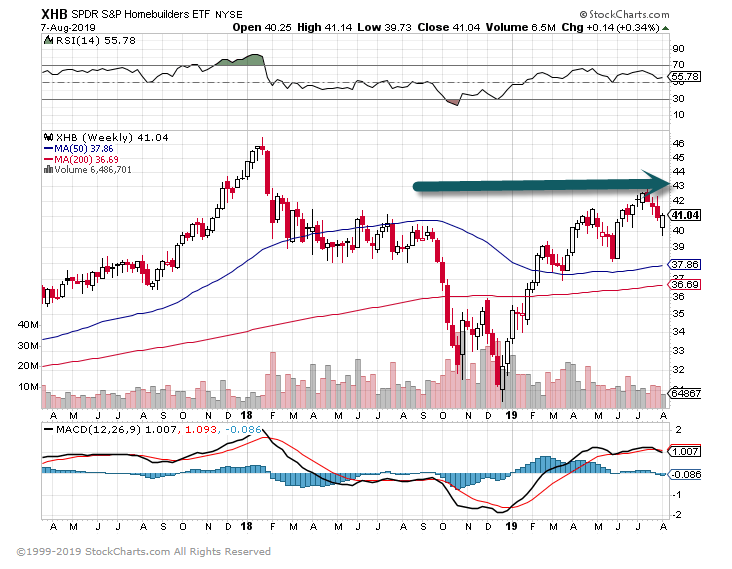 3.More Stats From the Negative Real Rate World….Aussie 100 Year Bond Doubled in One Year.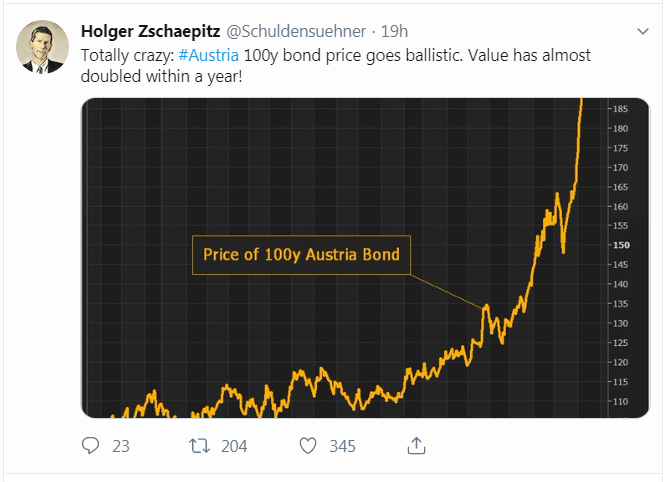 4. EUR The 10yr swap rate went negative for the first time.
An interest rate Swap is a contract in which one party agrees to pay a fixed interestrate to another party in exchange for receiving a variable rate. … One party agrees to pay the 10–year Swap rate to another party in exchange for receiving 10 years ofvariable interest payments based on 90-day LIBOR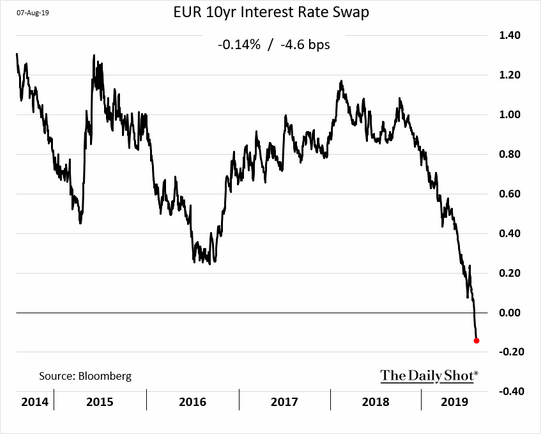 Here is the European bank index vs. the 10yr Bund yield.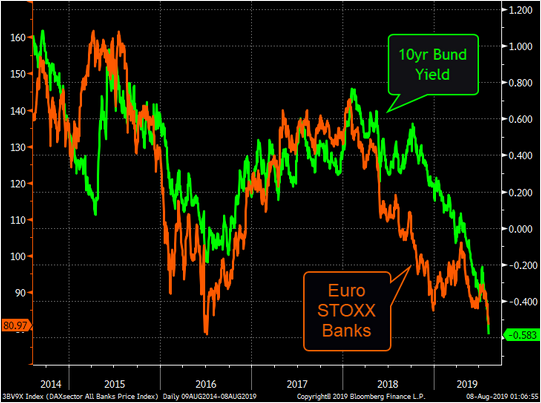 The Daily SHot
https://blogs.wsj.com/dailyshot/2019/08/08/the-daily-shot-global-central-banks-continue-to-cut-rates/
5. 3 Reasons Why a Drop in the Value of China's Yuan Spooked Investors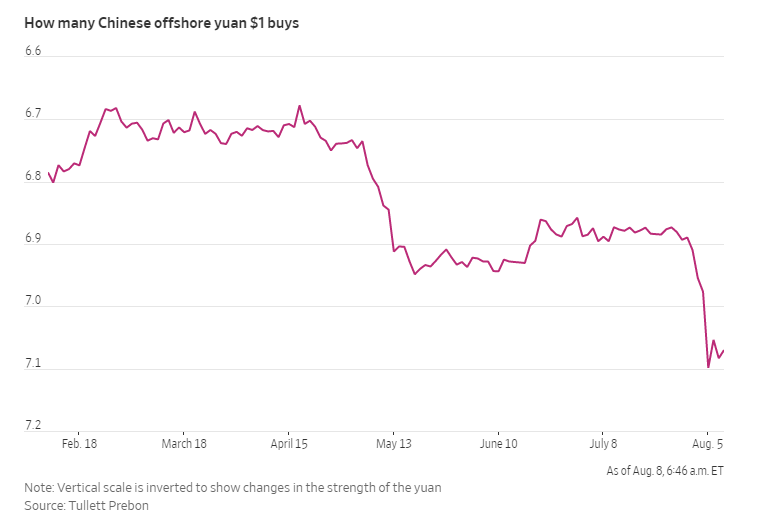 https://www.wsj.com/articles/european-stocks-rise-while-gloom-lingers-in-asia-11565164273?mod=itp_wsj&ru=yahoo
3 Reasons Why a Drop in the Value of China's Yuan Spooked Investors
By Ben Walsh
If last week's market turmoil was driven by tariffs, this week it is the yuan that has been at the center of investor fear.
Stocks fell sharply on Monday after the Chinese currency reached its weakest level in more than a decade, going past 7 to 1 against the U.S. dollar.
That move came as a response to President Donald Trump's surprise announcement on Aug. 1 that he would impose $300 billion in additional tariffs on Chinese imports starting in September. A falling yuan can help China mitigate, if not entirely offset, the impact of U.S. tariffs by making its exports cheaper.
Why exactly is the falling value of the Chinese currency roiling markets?
The first, and most obvious, answer is that it signals an escalation in the U.S.-China trade war. And not just an escalation in tone, but in the venue of the conflict. Taking the trade war into international currency markets will have far-reaching economic effects that even the previously announced tariffs had not. The impact of a devaluation and volatility in the yuan would be felt, effectively, by every company with an extensive Chinese supply chain or customer base.
Another reason for the reaction is the level to which the yuan weakened. Traders briefly took it beyond 7.1 to the dollar on Monday, a record low for the offshore exchange rate. At a visceral level, record moves grab the attention of market participants. And for a market that is as closely monitored by the Chinese government as the yuan-to-the-dollar is, the weakening was a clear signal that it was approved by the most-senior political leadership in the country.
And a third reason that the falling yuan is worrisome to investors is that it has led to a marked ratcheting up of American rhetoric toward China, as evidenced by the Treasury Department's declaration that it considered China to be a currency manipulator.
That the justification for that declaration was effectively that China had manipulated its currency in the past and was now declining to do so as it weakened only reinforced the extent to which the president's trade agenda is driving the decisions of U.S. bureaucracy beyond the White House. It is an indication that hope for any thaw in relations between the U.S. and China are probably misplaced.
Write to Ben Walsh at ben.walsh@barrons.com
https://www.barrons.com/articles/yuan-china-investors-market-spooked-tariffs-trade-51565210924?mod=hp_DAY_2
6.Follow Up to Yesterday's FedEx Comments….Amazon Already Its Own Biggest Shipper.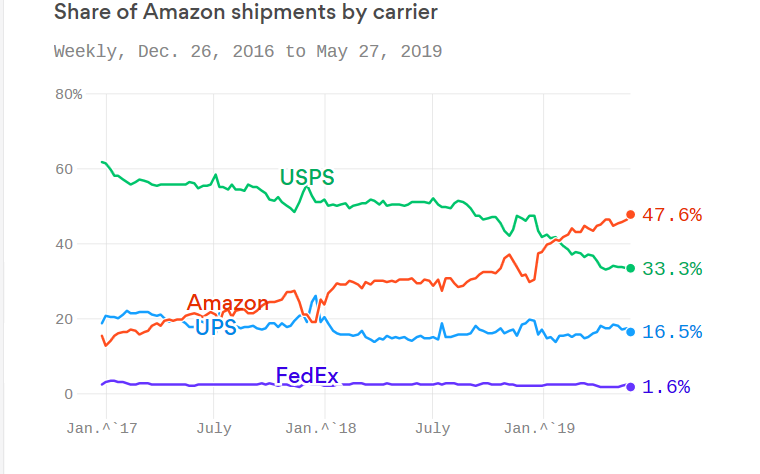 Amazon, the new king of shipping
Data: Rakuten Intelligence; Chart: Axios Visuals
Less than a decade after Amazon broke into the logistics industry, it has become its own biggest shipper.
Why it matters: While the world has fixated on Amazon's moves into books, groceries and cloud computing, perhaps most formidable of all has been its swift break into a different business — package delivery.
In a relatively short time, Amazon has built up a logistics arm that is already turning this industry worth many billions on its head.
"Amazon is about 40% of all e-commerce. If they're handling half of their own shipments, that's 20% of the whole market," Alex Pellas, a logistics expert at market research firm Rakuten Intelligence, says. "That's huge."
In a dataset provided first to Axios, Rakuten Intelligence followed tracking numbers for millions of Amazon packages per month.
Researchers found that nearly half (48%) of Amazon packages are delivered by the company itself.
That's a dramatic shift from two years ago, when the Postal Service delivered more than 60% of Amazon parcels, and Amazon just around 15%.
The total U.S. domestic package market in 2018 was about $106 billion. Of that, $35–$40 billion, or about a third, was e-commerce, according to David Vernon, an analyst at Bernstein.
In a statement to Axios, Amazon said, "The numbers are not an accurate representation of how Amazon shipments are shared between Amazon and our carrier partners."
What's happening: As Amazon becomes a shipping juggernaut in its own right, experts say it will attack two different sets of rivals — retailers and shippers.
The e-commerce behemoth is already faster than competitors — and it has ambitions of getting even speedier. It takes Amazon an average of 3.2 days to deliver a parcel after a shopper clicks "buy," per Rakuten Intelligence. For all other e-commerce companies, the average time is 6 days.
Amazon — which has started offering its shipping capabilities as a service — will be able to ship products for about two-thirds the rates of UPS and FedEx, Pellas projects. Its trucks and planes are out delivering Amazon packages anyway so it can offer shipping at cost, instead of collecting a margin.
"We're now talking about a retailer that will control the entire process" from manufacturing to delivery, says Mark Rosenbaum, a professor at the University of South Carolina.
But, but, but: While Amazon's suddenly large profile might look menacing, it won't necessarily move as it did in books to knock out its rivals, says Yossi Sheffi, director of MIT's Center for Transportation and Logistics. "They just want to take all the profitable routes and operations and leave the carriers with all the dogs."
The bottom line: Amazon's march into shipping is the company's "classic model of partner with, copy, and unseat their competitors," says Jaimee Minney of Rakuten Intelligence.
Shipping partners have begun cutting ties with the e-commerce giant as it steps onto their turf. Earlier this month, FedEx chose not to renew its contract with Amazon for air shipments. Others could follow suit, experts say.
Like Amazon, Walmart also has a logistics business of its own and could emerge as a shipping competitor.
Go deeper: The race to own logistics
Found at Morning Brew https://www.morningbrew.com/
7.Corporate Borrowing at Record Levels But The Correlation with Rising Investment/Capital Spending Has Broken
When the Federal Reserve cuts interest rates, making it cheaper to borrow, it's supposed to deliver a direct boost to the economy. But one key part of that machinery has broken down.
Business investment used to rise when U.S. companies took on more debt—because most companies borrowed to add capacity. Nowadays, they're likelier to funnel the money to shareholders.
Investment is stuck at low levels by historical standards. President Donald Trump's reduction in corporate taxes hasn't changed the pattern. Neither has a decade of low interest rates, even before the Fed's quarter-point cut on July 31.
It's not that business stopped borrowing. As a share of gross domestic product, corporate debt has climbed to a record. What's all but vanished is the correlation between how much companies borrow and how much they invest.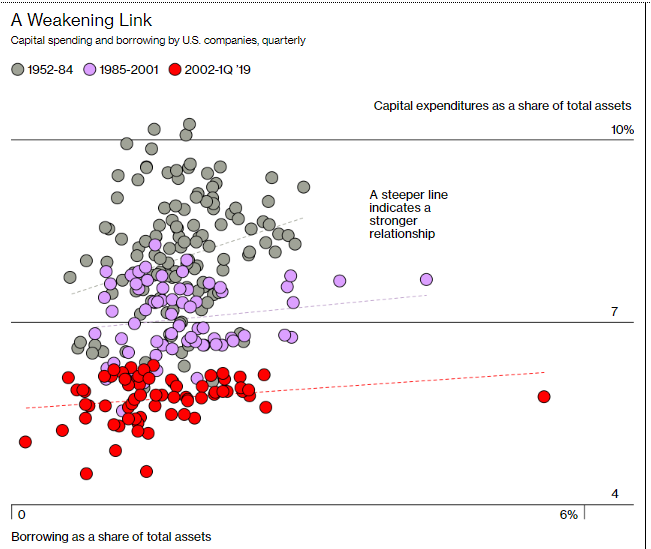 https://www.bloomberg.com/news/articles/2019-08-08/companies-use-borrowed-billions-to-buy-back-stock-not-to-invest?srnd=premium
8.6 Reasons We Make Bad Decisions, and What to Do About Them
AUGUST 01, 2019
JAMES W. PORTER/GETTY IMAGES
Research has shown that that the typical person makes about 2,000 decisions every waking hour. Most decisions are minor and we make them instinctively or automatically — what to wear to work in the morning, whether to eat lunch now or in ten minutes, etc. But many of the decisions we make throughout the day take real thought, and have serious consequences. Consistently making good decisions is arguably the most important habit we can develop, especially at work. Our choices affect our health, our safety, our relationships, how we spend our time, and our overall well-being. Based on my experiences from three deployments as an Army officer and from researching Lead Yourself First, I've found the following mindsets to be detrimental to good decision-making. When you have to make an important decision, be on the lookout for:
Decision fatigue. Even the most energetic people don't have endless mental energy. Our ability to perform mental tasks and make decisions wears thin when it's repeatedly exerted. One of the most famous studies on this topic showed that prisoners are more likely to have parole approved in the morning than when their cases are heard in the afternoon. With so many decisions to make, especially ones that have a big impact on other people, it's inevitable to experience decision fatigue. To counter it, identify the most important decisions you need to make, and, as often as possible, prioritize your time so that you make them when your energy levels are highest.
A steady state of distraction. The technology tsunami of the past decade has ushered in an era of unprecedented convenience. But it's also created an environment where information and communication never cease. Researchers estimate that our brains process five times as much information today as in 1986. Consequently, many of us live in a continuous state of distraction and struggle to focus. To counter this, find time each day to unplug and step back from email, social media, news, and the onslaught of the Information Age. It's easier said than done, but doable if you make it a priority.
Lack of input. The Kellogg School recently found that in a typical meeting, an average of three people do 70% of the talking. As author Susan Cain articulates so well in her book Quiet, many introverts are reluctant to speak up in a meeting until they know precisely what they want to say. Yet, these members of our teams often have some of the best ideas to contribute, since they spend so much of their time thinking. To counter this inclination, send out a meeting agenda 24 hours in advance to give everyone time to think about their contributions, and work to set a meeting culture that allows people to contribute their ideas after the meeting is over.
Multi-tasking. There aren't many jobs left in the world today that don't require at least some multi-tasking. While that's the reality, research clearly shows that performance, including decision-making effectiveness, suffers by up to 40% when we focus on two cognitive tasks at the same time. When you need to make important decisions, carve out and commit to several blocks of time during the day to focus deeply on the task at hand.
Emotions. Experiencing frustration, excitement, anger, joy, etc., is a fundamental part of the daily human experience. And while these emotions have a meaningful role in our lives, you probably don't need to see the research to know that our emotions, especially during moments of peak anger and happiness, can hinder our ability to make good decisions. Deciding to speak or send an email while angry often compounds a tough situation, because the words don't come out right. To counter this, pay attention to your emotional state and focus on the character strength of self-control. Resist the temptation to respond to people or make decisions while you're emotionally keyed up. Practice walking away from the computer or putting the phone down, and return to the task at hand when you're able to think more clearly and calmly.
Analysis Paralysis. While the Information Age has gifted us with an abundance of information, big data, and metrics, there's also no end to the amount of information we can access. And we know that the more information we have to consider, the longer we typically take to make a decision. While the decision-making process should be thorough, the best way to make good decisions is usually not to take more time or to look at more information. Instead, review the pertinent information you need, set a deadline to make a decision, and then stick to it.
The decisions we make determine our reality. They directly impact how we spend our time and what information we process (or ignore). Our decisions shape our relationships — and increasingly in today's hyper-connected world, decisions contribute to our energy level and how efficient we are in the various aspects of our lives. Inevitably, we all make some poor decisions every single day. But if we are aware of these six enemies of good decision-making, and take steps to outmaneuver them, we can make better decisions that have a positive impact on the people we work with and lead.
https://hbr.org/2019/08/6-reasons-we-make-bad-decisions-and-what-to-do-about-them
Found at The Big Picture. https://ritholtz.com/2019/08/10-monday-am-reads-224/