Mick is Back Tonight.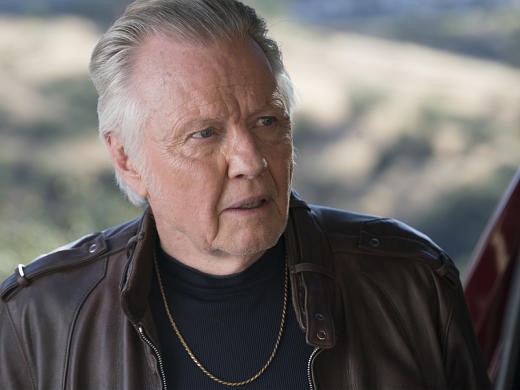 Who will be left standing?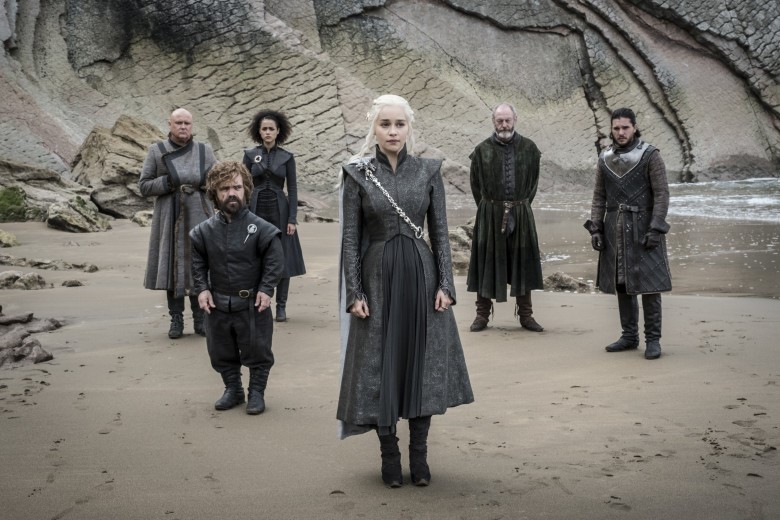 1.The One Divergence that Stands Out….Dow Transports Showing Significant Lag in 2017.
 Transports Rolled Over in July as S&P and Dow Jones Make New Highs.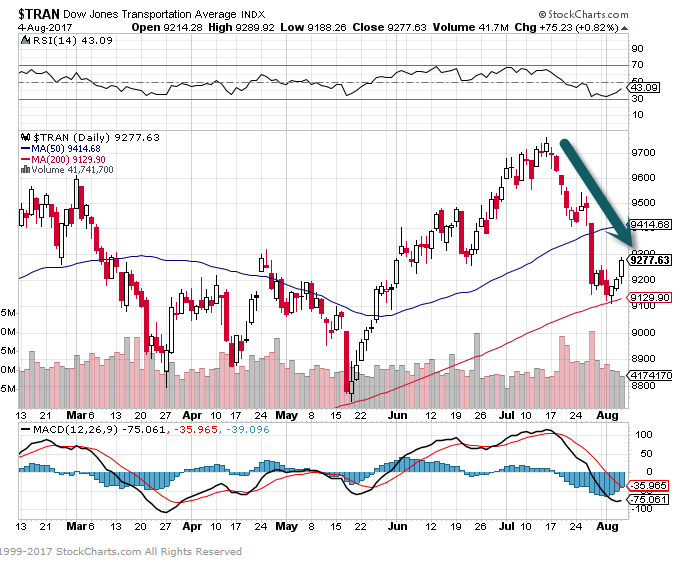 Dow Jones +11.79% vs. Dow Transports +2.5%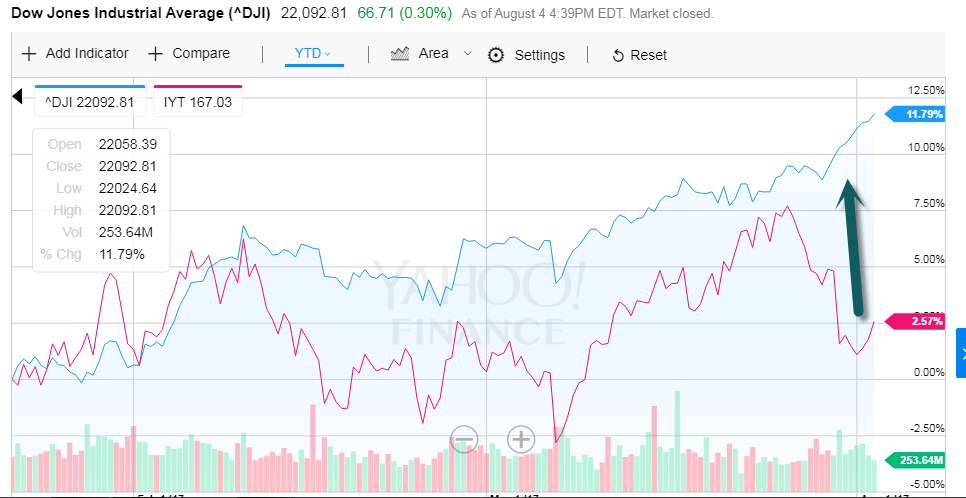 2. Stocks with High Passive Ownership are Seeing Outsized Punishments for Missing Earnings and Sales Forecasts.
The hottest investment strategy on the planet makes hitting earnings more crucial than ever
Falling short during earnings season is never good news for a company. But the miss can be even more painful if the firm has passive investors battening down the hatches.
Over the past seven quarters, stocks with high passive ownership that missed on both earnings and revenue have lagged those with low passive exposure by 1.5 percentage points the following day, according to data compiled by Bank of America Merrill Lynch. And that gap has only widened over time.
With a smaller proportion of shares managed by actual humans, the active trades that do occur are having an outsized influence, contributing to this increase in volatility, says a group of BAML strategists led by Savita Subramanian.
And while bigger price swings don't necessarily hurt a trader's bottom line, these mounting fluctuations still highlight the risk associated with passive strategies, which are exploding in popularity.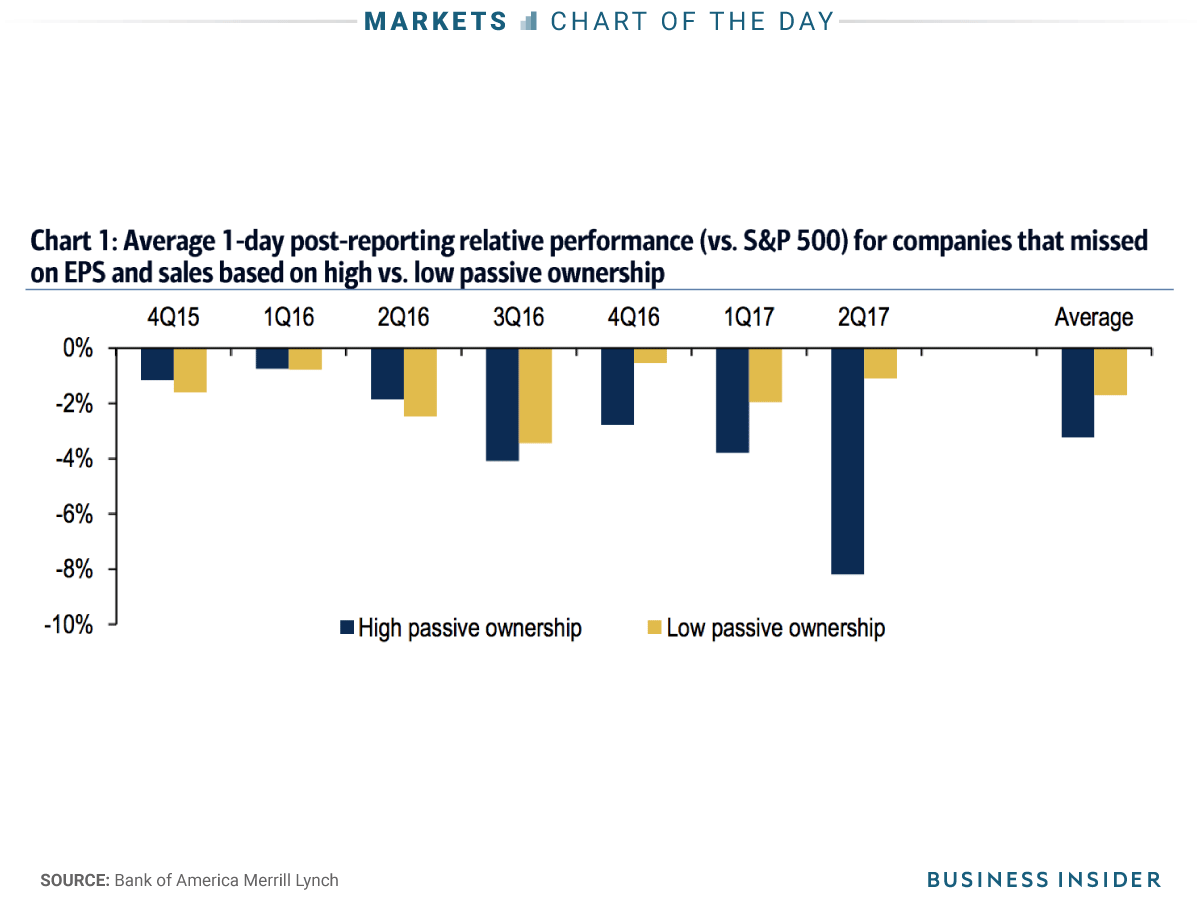 Stocks with high passive ownership are seeing outsized punishments for missing earnings and sales forecasts.Bank of America Merrill Lynch
By trading large swaths of the equity market, rather than individual stocks, participating investors are diluting the effects of specific company fundamentals during non-earnings periods. Then, once earnings season rolls around, stock prices are spring-loaded to react more sharply to any new information.
http://www.businessinsider.com/stock-market-today-corporate-earnings-season-reactions-passive-investing-2017-8
3.Animal Retail Spirits Coming Back…Schwab Account Openings Running 34% Above Last Year.  Gen Y?
Click Here and Scroll to my "It Aint Over Until its Over" piece…We are lacking the euphoria from retail investors that signals a top in market, so it would be interesting to see an increase in retail trading.
https://matttopley.com/category/quarterly/
In reporting second-quarter results, Charles Schwab (SCHW) CEO Walter Bettinger said clients had opened more than 350,000 brokerage accounts from April to June. That brought new accounts in 2017 to 719,000—34% above the total a year earlier, and the strongest first-half showing in 17 years.
http://www.barrons.com/articles/weird-science-wall-street-repeals-law-of-gravity-1501911007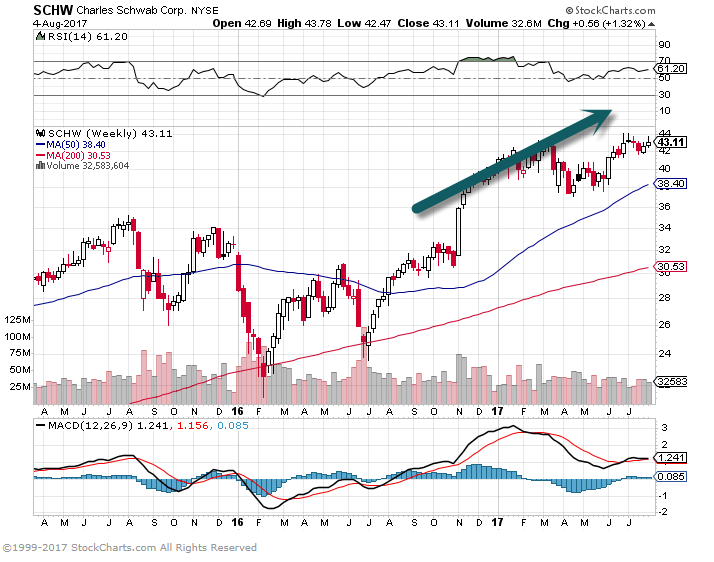 4.European Small Cap on a Tear….30% Move Since the End of 2016
Europe Small Cap MSCI Index…A sign of strong domestic demand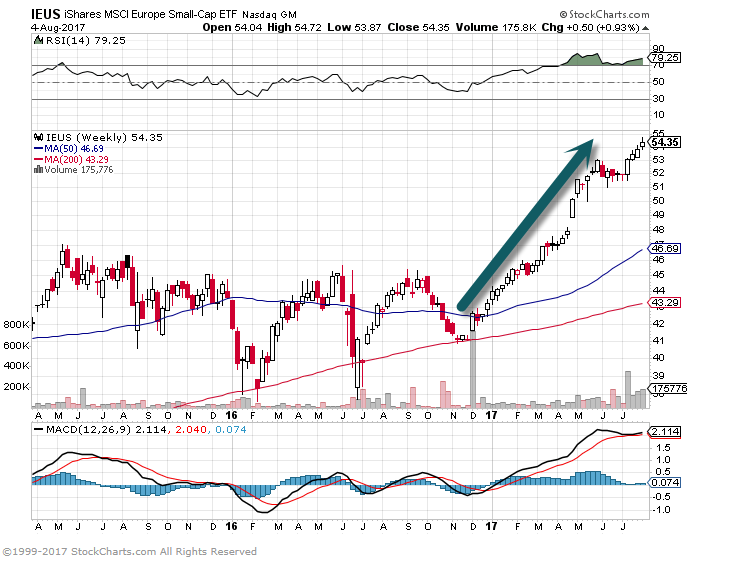 The Eurozone: Retail sales across the Eurozone are on the rise.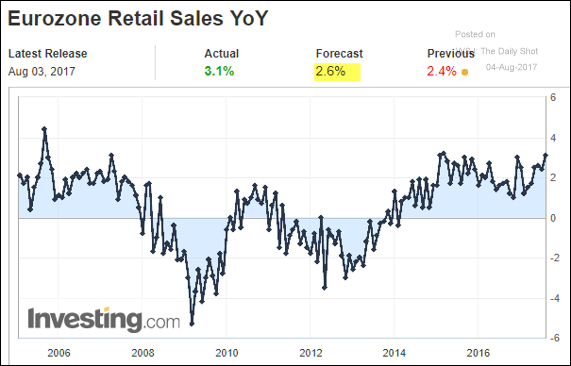 5.Netflix (NFLX) Now Boasts More U.S. Subscribers than all Cable Carriers Combined.
I have highlighted cutting the chord data over the years.
RBC Capital Markets estimates that cable's subscriber base will decline by 3% this year, which would be about twice the rate of decline seen last year.
Digital ad spending passed advertising outlays for TV for the first time last year. This year, the gap will widen to $10 billion—with $83 billion for digital, and $73 billion for TV, according to industry forecaster eMarketer. By 2021, the gap could be more than $50 billion. And while TV is in a spending race for content, YouTube and Facebook get free content created by their users.
 40 YouTube videos that have each been watched 10 times more than any Super Bowl. Advertisers are quickly shifting dollars online.
http://www.barrons.com/articles/tvs-sports-problem-1501909637?mod=BOL_twm_ls&tesla=y
NFLX 5 Years +2000% vs. Comcast 124% and Liberty 22%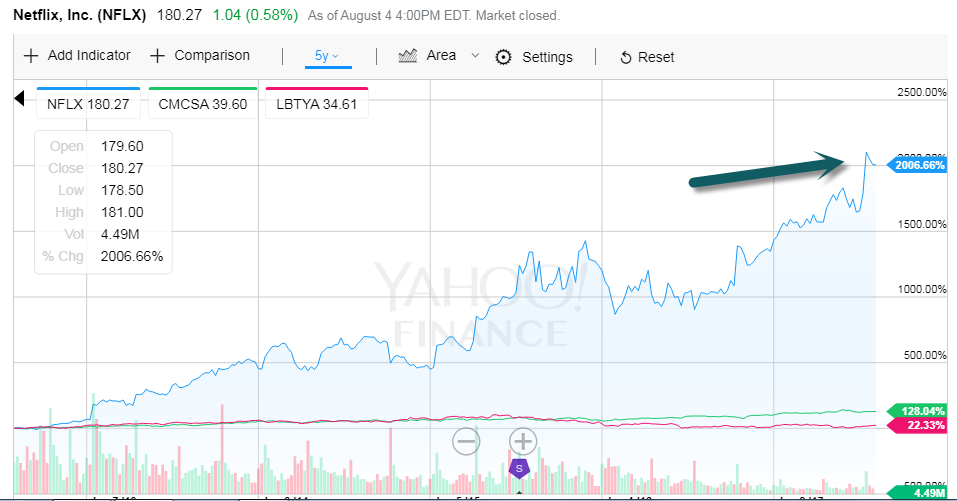 6.Sectors in Comparison to 52 Week Highs….Small and Mid Cap Energy Down Big.
Looking at individual sectors, the main sector dragging down the averages is Energy, where the average stock in the sector is trading down 36% from its 52-week high.  Behind Energy, Telecom Services is next at -22.3%, followed by Consumer Discretionary (-20.3%), where brick and mortar retail stocks are weighing on things significantly.  Sectors where the average stock is down the least from their 52-week highs are Utilities (-3.7%) and Financials (-10.0%). That 3.7% reading in the Utilities sector is extremely strong, especially at a time when the market is in rally mode and defensive sectors like Utilities typically underperform on a relative basis.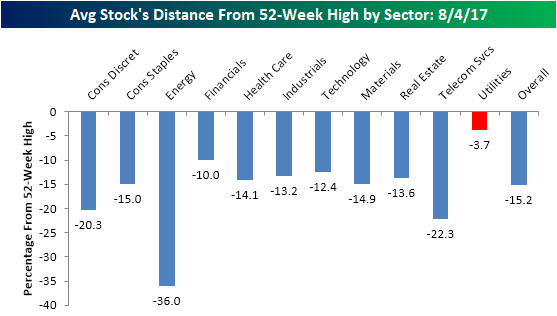 https://www.bespokepremium.com/think-big-blog/
7.Under the Radar Tech ETFs with Big Flows.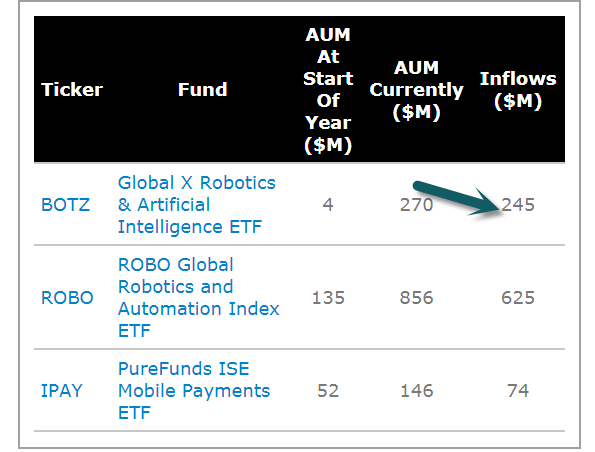 Arrow Pointing to Volume Bar Charts from Flows….$240m YTD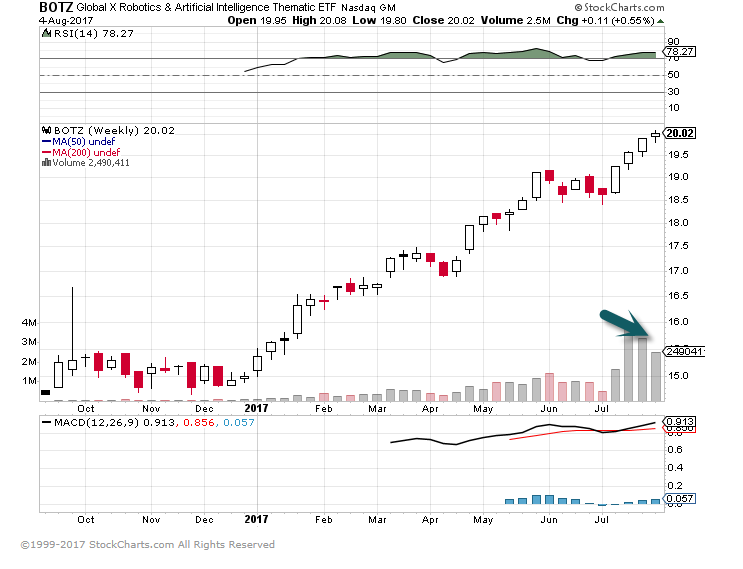 8.Trump Approval Ratings and Paddy Power Betting Odds
How (Un)Popular Is Donald Trump?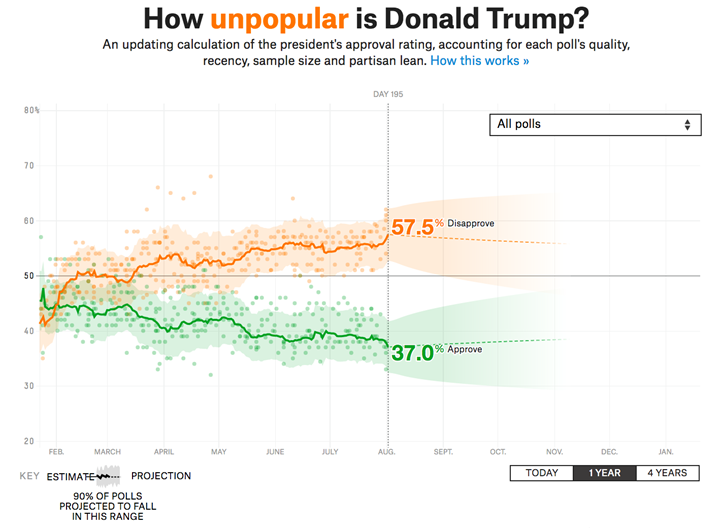 August 4, 2017 1:00pm by Barry Ritholtz
Click for the interactive chart. Source: FiveThirtyEight
http://ritholtz.com/2017/08/unpopular-donald-trump-2/
9.DONALD TRUMP—Paddy Power.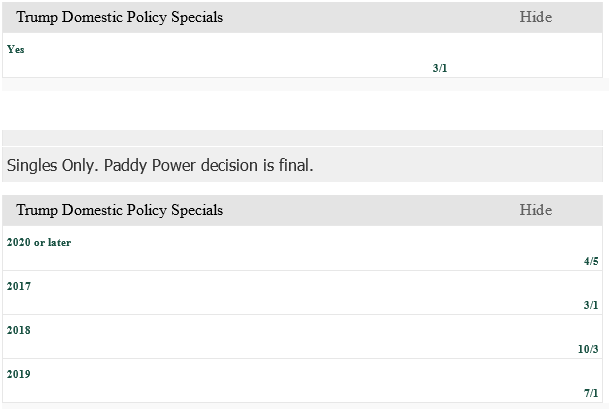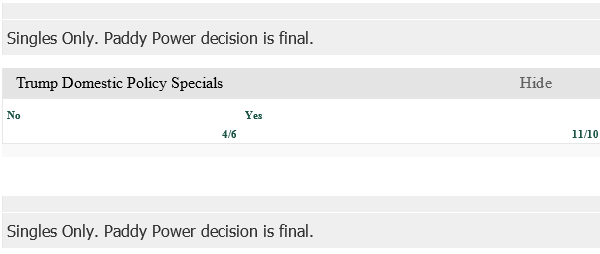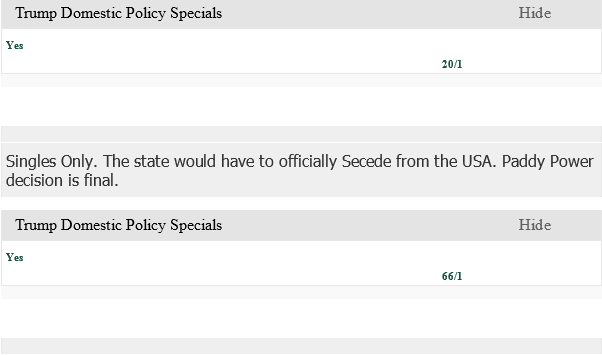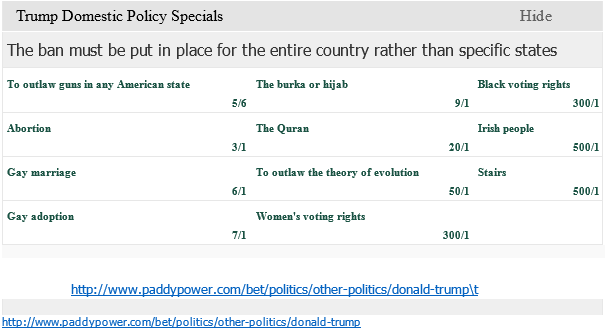 10.Google Spent 2 Years Studying 180 Teams. The Most Successful Ones Shared These 5 Traits
Insights from Google's new study could forever change how teams are assembled.
By Michael Schneider
CREDIT: Courtesy Google
Over the years, Google has embarked on countless quests, collected endless amounts of data, and spent millions trying to better understand its people. One of the company's most interesting initiatives, Project Aristotle, gathered several of Google's best and brightest to help the organization codify the secrets to team effectiveness.
Specifically, Google wanted to know why some teams excelled while others fell behind.
Before this study, like many other organizations, Google Execs believed that building the best teams meant compiling the best people. It makes sense. The best engineer plus an MBA, throw in a PhD, and there you have it. The perfect team, right? In the words of Julia Rozovsky, Google's people analytics manager, "We were dead wrong."
Selected to lead the efforts was Abeer Dubey, Google's Director of People Analytics (HR). Eager to find the perfect mixture of skills, backgrounds, and traits to engineer super-teams, Dubey recruited statisticians, organizational psychologists, sociologists, engineers, and researchers to help solve the riddle. Included in this all-star lineup was Rozovsky.
Fast forward two years, and Project Aristotle has managed to study 180 Google teams, conduct 200-plus interviews, and analyze over 250 different team attributes. Unfortunately, though, there was still no clear pattern of characteristics that could be plugged into a dream-team generating algorithm.
As described in an article in The New York Times, it wasn't until Google started considering some intangibles that things began to fall into place.
"As they struggled to figure out what made a team successful, Rozovsky and her colleagues kept coming across research by psychologists and sociologists that focused on what are known as "group norms" – the traditions, behavioral standards, and unwritten rules that govern how teams function when they gather… Norms can be unspoken or openly acknowledged, but their influence is often profound."
With a new lens and some added direction from a research study on collective intelligence (abilities that emerge out of collaboration) by a group of psychologists from Carnegie Mellon, MIT, and Union College, Project Aristotle's researchers went back to the drawing board to comb their data for unspoken customs. Specifically, any team behaviors that magnified the collective intelligence of the group.
Through Google's Re:Work website, a resource that shares Google's research, ideas, and practices on people operations, Rozovsky outlined the five key characteristics of enhanced teams.
Dependability.
Team members get things done on time and meet expectations.
Structure and clarity.
High-performing teams have clear goals, and have well-defined roles within the group.
Meaning.
The work has personal significance to each member.
Impact.
The group believes their work is purposeful and positively impacts the greater good.
Yes, that's four, not five. The last one stood out from the rest:
Psychological Safety.
We've all been in meetings and, due to the fear of seeming incompetent, have held back questions or ideas. I get it. It's unnerving to feel like you're in an environment where everything you do or say is under a microscope.
But imagine a different setting. A situation in which everyone is safe to take risks, voice their opinions, and ask judgment-free questions. A culture where managers provide air cover and create safe zones so employees can let down their guard. That's psychological safety.
I know, not the quantitative data that you were hoping for. However, Google found that teams with psychologically safe environments had employees who were less likely to leave, more likely to harness the power of diversity, and ultimately, who were more successful.
Engineering the perfect team is more subjective than we would like, but focusing on these five components increases the likelihood that you will build a dream team. Through its research, Google made the ancient Greek philosopher Aristotle proud by proving, "The whole can be greater than the sum of its parts."
https://www.inc.com/michael-schneider/google-thought-they-knew-how-to-create-the-perfect.html?cid=hmmore