1.Stock dividends offer more yield than 30-year Treasury bond for first time since 2009
Published: Aug 28, 2019 1:41 p.m. ET
Occurred only once before in last 40-plus years: Bespoke
 By William Watts
Here's another consequence of the rally in government bonds that's sent yields crashing around the globe — U.S. stocks now offer more yield than the 30-year U.S. Treasury bond.
As the chart below, going back to 1977, from Bespoke Investment Group highlights, the Tuesday move marked the first time since the financial crisis that the dividend yield on S&P 500 index companies SPX, +0.57% has topped the yield on the long bond TMUBMUSD30Y, -1.14%.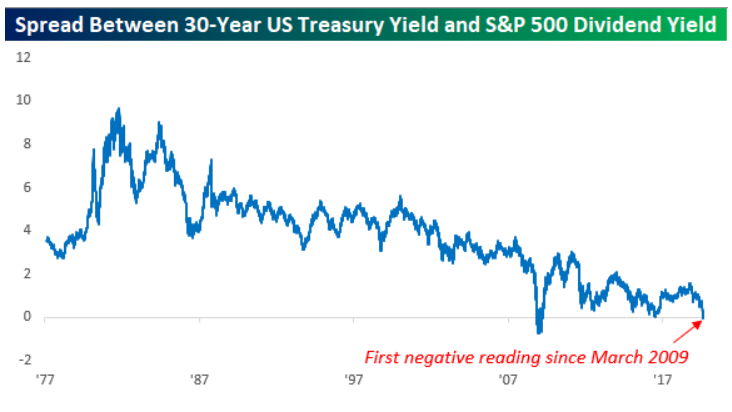 "The only other time in the last 40+ years where we have seen a similar inversion was for a few months in late 2008 through March 2009 (the low point of the Financial Crisis)," Bespoke analysts wrote. "In July 2016 right after the Brexit vote, the S&P 500 dividend yield came within 0.01% of the 30-year's yield, but it couldn't quite make it higher."
All in all, the higher dividend yield should make stocks more attractive.
Bespoke said it was "pretty amazing" to see how many stocks in the S&P 500 now yield more than the 5-, 10- and 30-year Treasurys. As of Tuesday, 333 stocks were yielding more than the 5-year at 1.38%; 313 more than the 10-year at 1.48%; and 256 more than the 30-year at 1.97%.
But for now, falling yields for Treasurys seems to be a negative for stocks as the yield on the 10-year note falls further below the 2-year yield, after slipping below the yield on the 3-month bill earlier this year.
Investors appear to be piling into government bonds, pushing yields down, in part out of fears of a global economic slowdown and the potential for recession as worries over an intensifying U.S.-China trade war mount. An inverted yield curve in particular is seen as a warning signal for a potential U.S. recession, albeit with a lag. Meanwhile, the yield on the 30-year bond has fallen to an all-time low below 2%, while the yield on the 10-year note ended Tuesday at its lowest since 2016, and is within hailing distance of its all-time low below 1.4%.
The S&P 500 and the Dow Jones Industrial Average DJIA, +0.83% have both pulled back more than 3% in August.
https://www.marketwatch.com/story/stock-dividends-offer-more-yield-than-30-year-treasury-bond-for-first-time-since-2009-2019-08-28?mod=mw_theo_homepage
2. Initial Jobless Claims – Nowhere near a recession reading, would need to double to confirm recession
From The King Report

https://mramseyking.com/king-report
3.50% Of the World's Bonds are Yielding Negative to 1%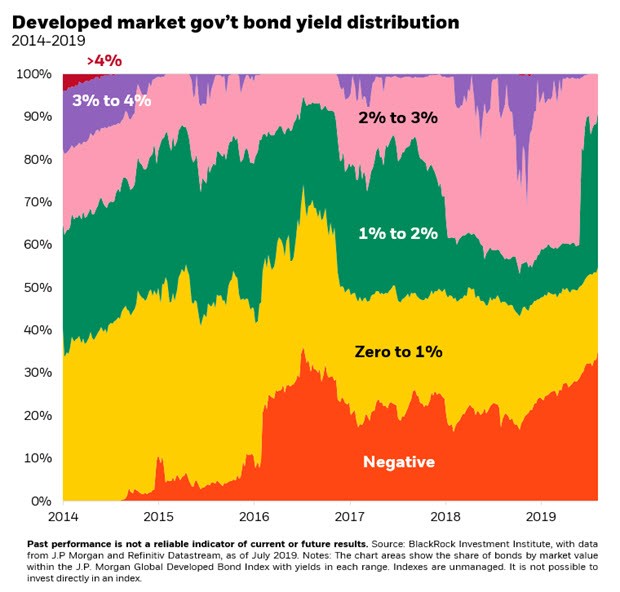 How do negative-yielding bonds work?
Negative yields may sound counter-intuitive, since bonds typically pay a coupon (a set interest rate) on the principal investment. In fact, in uncertain markets, investors in government bonds may be willing to accept lower proceeds in exchange for a sense of safety compared with riskier securities.
Investors don't physically pay the issuer when yields are negative. Instead, the bond's new issue price trades at a high premium to par, which results in a negative yield. For example, in May, the German government issued a 2-year bond with a 0% coupon and an issue price of €101.33. Over the course of the bond's life it will not distribute any coupons payments but will payout a final maturity of €100. Consequently, this bond has a yield of -0.65% at issuance because an investor paid €101.33 to receive €100 two years later.
It is also possible for corporate bonds to have negative yields because they are issued with a "spread" over similar-maturity government bonds. In a simplified example, if a corporate bond has a spread of 0.5% over a similar maturity government bond that yields 1.5%, then the corporate bond's total yield will be about 2.0%. That means if the yield of a government bond is more negative than the corporate bond's positive spread, it could drag the corporate bond's yield below zero as well.
Should you care about negative bond yields?
Written byKaren Schenone, CFAFixed Income Product Strategist
In some parts of the world, bonds are yielding less than zero. Karen explains how that can happen, what it means for your portfolio and moves to consider.
4.Last 30 Days of Stock Market Volatility-Growth Continues to Trump Value.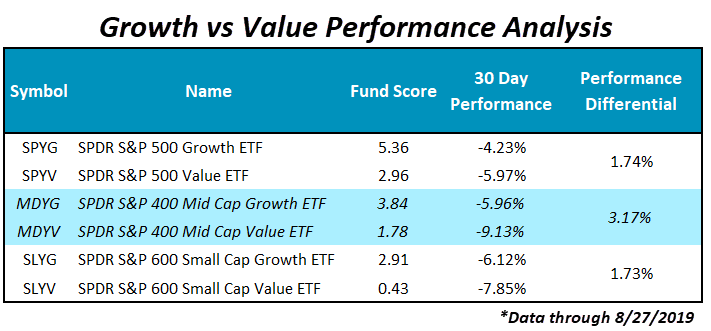 Nasdaq Dorsey Wright www.dorseywright.com
5.Global Equities: Capital Markets Assumptions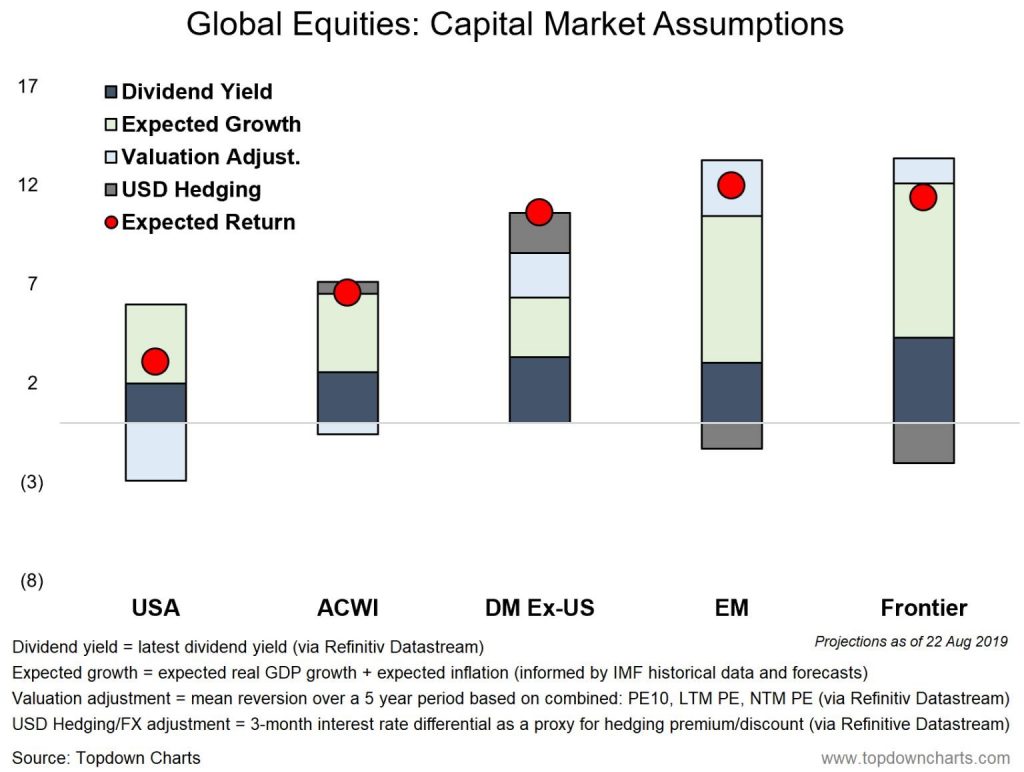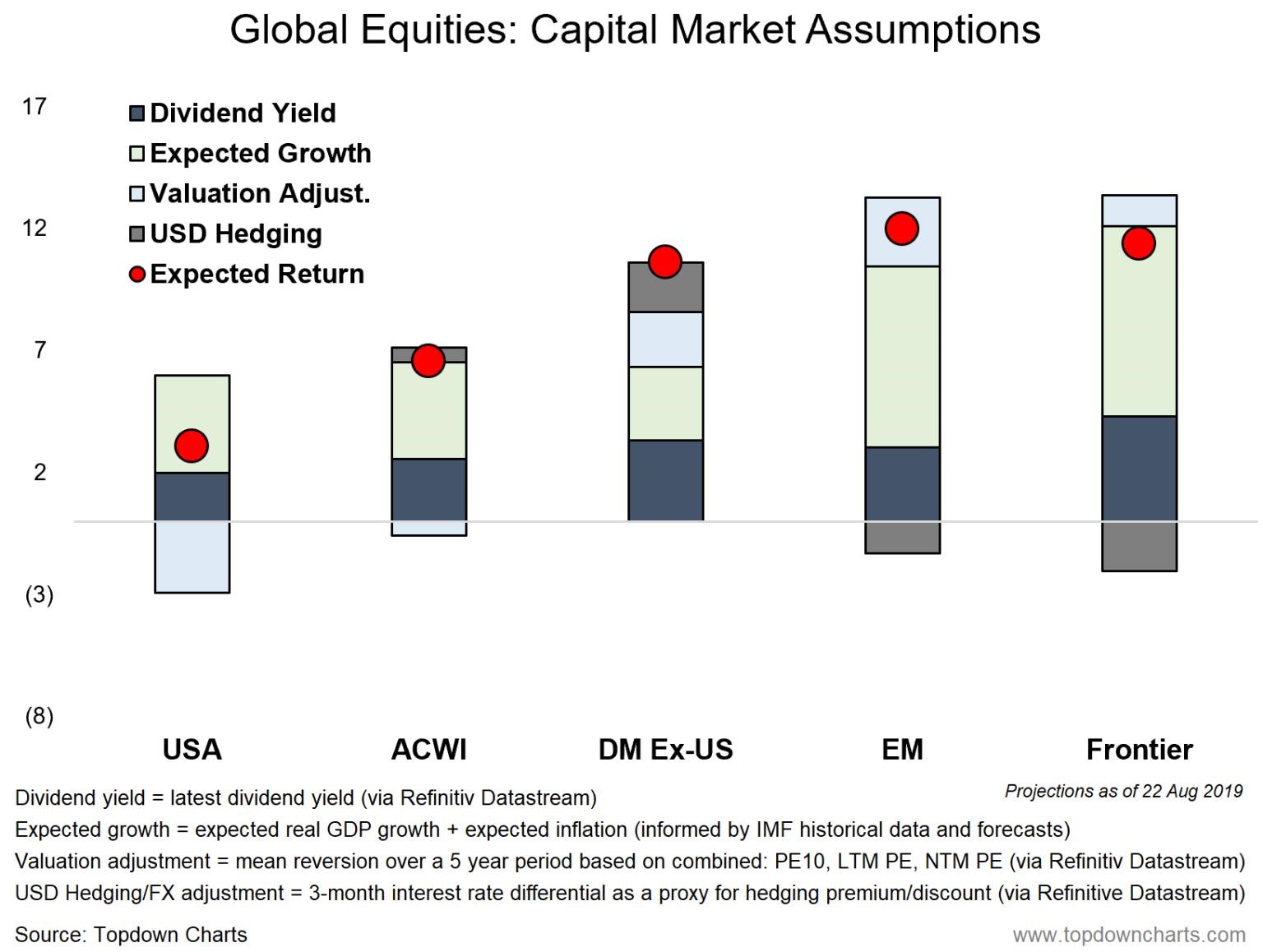 From Top Down Charts
https://www.topdowncharts.com/single-post/2019/08/29/Capital-Market-Assumptions-Global-Equities-in-Focus
6.Chart on Tariffs Going Back to 1800 Just Reversed.
The current level of US tariffs is not high by historical standards, but it is the highest level since the 1960s, and it is a major break with the globalization trend which started two hundred years ago, see chart below and here.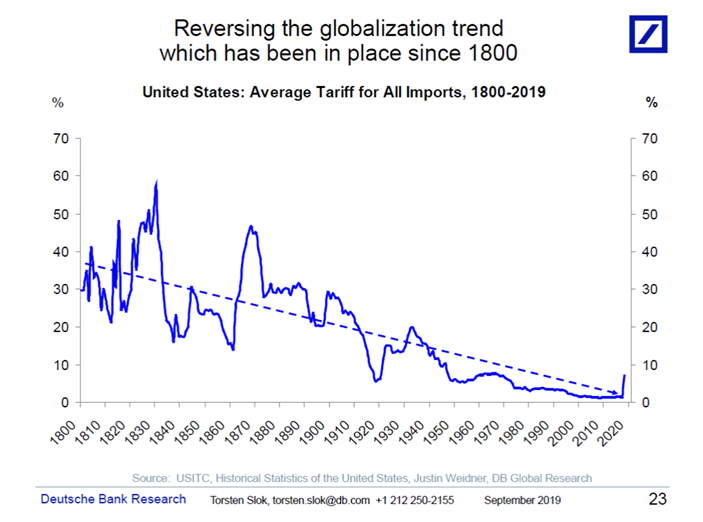 ———————————————–
Let us know if you would like to add a colleague to this distribution list.
Torsten Sløk, Ph.D.
Chief Economist
7.Pelaton IPO $500m
Peloton reported $915 million in total revenue for the year ending June 30, 2019, an increase of 110% from $435 million in fiscal 2018 and $218.6 million in 2017. Its losses, meanwhile, hit $245.7 million in 2019, up significantly from a reported net loss of $47.9 million last year.
The company has reached 1.4 million total community members, defined as any individual who has a Peloton account.
Peloton customers subscribe to the company's digital library of fitness content, streamed live and on-demand, for $39 per month, in addition to purchasing its hardware, which costs $2,200 to $4,295 apiece. The company says 58 million workouts were completed by Peloton users in fiscal 2019, while its paying subscriber base reached an all-time high of 511,202.
As for subscription revenue, Peloton reports $181 million for fiscal 2019, up from $80 million last year.
Kate Clark-Tech Crunch
Peloton has raised nearly $1 billion during its time as a private company. Most recently, the company raised $550 million in August 2018 from investors including Technology Crossover Ventures, NBCUniversal, Kleiner Perkins, and Tiger Global Management – valuing the company at over $4 billion.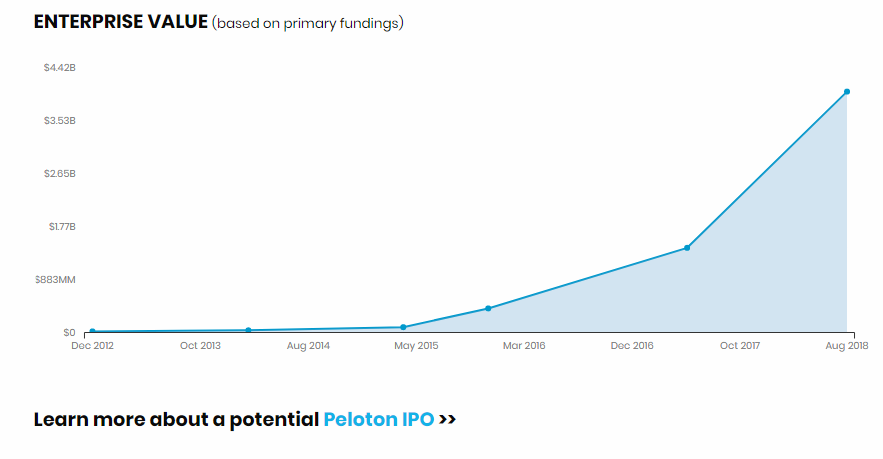 https://sharespost.com/peloton-interactive_stock/?utm_source=google&utm_medium=cpc&utm_campaign=Company%20Specific%20Consolidated%20-%20New&utm_content=peloton%20ipo&utm_term=%2Bpeloton%20%2Bipo&device=c&cmpgnid=929684595&adgrpid=63222247363&gclid=Cj0KCQjw753rBRCVARIsANe3o45z3DCeJ2iAvymN1lt3A6k7ePyCr2mB41pwqwtbx1d6fiHh4l0Vw2EaAiQGEALw_wcB
8.Report: 60% of US construction activity concentrated in 10 states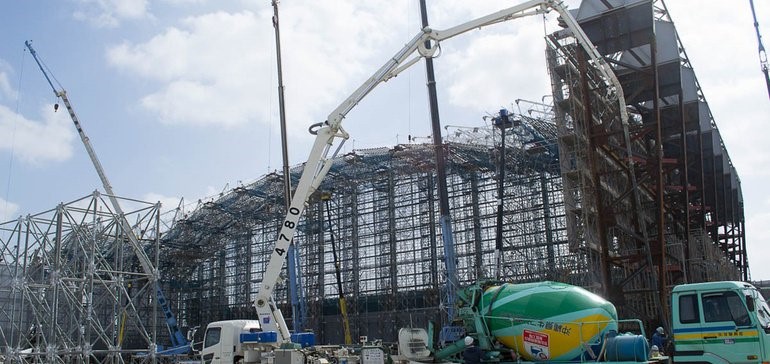 Credit: U.S. Indo-Pacific Command
AUTHOR
Kim Slowey@kimslowey
If it seems that certain areas of the United States are benefiting more than others from the country's current construction boom, it's because they are, according to a new report from research firm GlobalData.
In fact, of the more than 11,200 U.S. projects the company is tracking — public and private, in development and under construction — 10 states have captured about 60% of the $3.7 trillion those projects represent.
By far, California has the largest share of the pie, with the most projects in number — 1,302 — and value — $524.6 billion. California also has more megaprojects than any other state, with the top 10 worth $139.5 billion.
There is one caveat, however. Included in California's total project value, and No. 1 on the list of its megaprojects, is the $79 billion California High-Speed Rail Authority's bullet train project, most of which was put on ice earlier this year by California Gov. Gavin Newsom because of cost overruns and schedule delays. As it currently stands, only a $20 billion, 119-mile segment between Merced and Bakersfield is moving forward.
But even when deducting the inactive portion of the bullet train from the value of work in the pipeline in California, it would still be the leader with $465 billion worth of projects.
Texas has the most energy and utility projects at almost $153 billion and those sectors have driven the state's construction pipeline to more than $425 billion, an amount which also includes mixed-used developments (roughly $68 billion) and infrastructure projects (around $67 billion). These two states are followed by New York, which has $409 billion worth of construction projects in the works, then Florida, Washington and Illinois. The full list is as follows:
California
Texas
New York
Florida
Washington
Illinois
Pennsylvania
Georgia
Ohio
North Carolina
The report is a reminder of exactly how robust the U.S. construction industry is, even as it faces challenges like a persistent shortage of skilled labor and rising material costs. In fact, according to GlobalData, the approximately $1.4 trillion spent on U.S. construction every year makes the industry one of the world's largest. Domestically, the construction sector contributes more than 4% to annual GDP and provides jobs for more than 5% of the country's workforce.
It is likely this strength that has given contractors the confidence to predict positive things for their businesses in the next year. In its second-quarterCommercial Construction Index (CCI), USG Corp. and the U.S. Chamber of Commerce reported that contractors responding to their survey were predicting they would be able to secure even more work in the next 12 months. The Associated Builders and Contractors trade group backed up that sentiment, reporting that contractor confidence was holding steady as of April, even though work backlogs had decreased slightly.​
https://www.constructiondive.com/news/report-60-of-us-construction-activity-concentrated-in-10-states/558524/
9.Is there a relationship between sleep and Alzheimer's?
The Wealth AdvisorContributor
August 28, 2019
(The Herald Bulletin) The quality of sleep, already so mysterious, and how a poor night of snoozing is treated now might be linked to Alzheimer's disease.
Research by Hoosier Kathleen Vernon that she presented at a July 15 Alzheimer's Association International Conference in Los Angeles has landed in The London Times, a medical journal for Asian physicians and AARP.
When the 2007 Batesville High School graduate completed a master's degree in 2018 at Utah State University, Logan, her thesis focused on examining sleep disturbances and long-term sleep medication use in males and females with regards to the risk for developing Alzheimer's disease. A group of 3,656 adults 65 and older participated in the study that she authored.
The results varied by gender. Men who used sleeping aids were 3.6 times more likely to develop Alzheimer's disease.
Women's risk for the illness depended on whether they reported having a history of insomnia. When women did have that problem, taking a sleeping medication was associated with a 35 percent reduced risk of Alzheimer's disease. But Alzheimer's risk was nearly four times higher among women who didn't report having sleep disturbances and who took sleeping pills to, say, counter sleep loss associated with chronic pain or another condition.
Vernon, who is known professionally by her first name, Elizabeth, doesn't want people to leap to conclusions. She points out these varying statistics may stem from underlying health challenges, the type of sleeping aid used, hormonal differences, or variations in the sleep patterns of men and women.
The student was surprised females with sleep issues, like insomnia, and taking sleeping aids had a reduced risk. "These medications often have several negative side effects, especially among adults 65 and older, and I had anticipated that the results would have been similar to the findings in males."
More questions need to be answered. She advises, "Future research should examine the underlying mechanisms that may be associated with the differences in males and female's risk of Alzheimer's disease with sleep medication use. We have some research to suggest females tend to have more sleep complaints than men and that men and women appear to have differences in prescription rates of these classes of medications (benzodiazepines and antidepressants). It would be interesting to examine how these differences may impact risk as well as the underlying cause of the sleep disturbance. For example, pain might be associated with the cause of the sleep disturbance and those individuals may be taking a nonsteroidal anti-inflammatory drug, which in our Cache County sample has been associated with reduced risk for Alzheimer's disease.
"In addition, it would be interesting to examine the specific medication class (i.e. benzodiazepine, antidepressant and antihistamines) and risk for Alzheimer's disease. We were unable to examine this in our sample."
"The final product took approximately three years to complete. One of the reasons for this was I was taking a full courseload as well as doing clinical work. The other reason was needing to take statistical analysis courses that would allow me to understand and conduct my own analyses."
After graduating from Indiana University with a Bachelor of Arts degree, Vernon was employed at the Knight Alzheimer's Disease Research Center at Washington University School of Medicine in St. Louis, where she worked as a psychometrist (a person who administers tests looking at memory and thinking abilities). "This experience started my career in the clinical field and allowed me to gain research experience. It was here that I started to enjoy clinical work."
One mentor discussed the versatility of a clinical psychology degree. She recalls, "I decided that this would be a good fit for me. It wasn't until after my second year in the program at Utah State University that I realized how much I enjoyed clinical work and wanted to pursue a career primarily focused on clinical work rather than research."
She remains at the USU Psychology Department as a doctoral student in the combined clinical/counseling Ph.D. program and has been working in the Alzheimer's Disease and Cognitive Disorders Lab. The student has completed practicums at the Student Health Center and a psychology community clinic at the university.
She explains, "My main area of interest and my current clinical experiences have focused on neuropsychology. This looks at the brain, how it relates to behavior and focuses on cognitive functioning, emotional functioning and personality and how this is informed by environmental factors within the history of an individual. I work primarily with adults, older adults and adolescents and I tailor a battery of tests to examine their presenting concerns, such as anxiety, depression, ADHD, learning disabilities, cognitive decline, dementia and TBI (traumatic brain injury) with the help of my supervisor. I then make recommendations and next steps to help adjust or handle these difficulties or concerns.
Of earning a Ph.D., Vernon observes, "The beauty of this degree is the flexibility it allows me. I would be able to work in a research, clinical or private practice. I ideally would like to be able to do a little bit of everything. I would like to work in the field of neuropsychology either in a medical setting or private practice and conduct some research on the side."
https://www.thewealthadvisor.com/article/there-relationship-between-sleep-and-alzheimers?mkt_tok=eyJpIjoiTmpnelpqSm1OV1F3TUdNMSIsInQiOiJ1SWp2alc1Uk0zaVU5T1h2dURLYWdnVXJJXC9JUSs1NWlDNlwvQ0NaSDI5SlNkR0xJZ0RPcmtWa0lEaDJoYWNCRGd0QncwQllHVnNMVkFSNHY1WTVWVGxzNTBCbFNVdk9pbnpuUDFhY0NLWFlTZ2hFd2FmeWFTTUN2SDRjbitEdTJUIn0%3D
10.11 Things You Need To Give Up If You Really Want To Be Happy
What problem are you waiting to pass before you can feel better? What are you waiting for to make you feel better?
What problem are you waiting to pass before you can feel better? What are you waiting for to make you feel better? What dream are you fantasizing about that you're not actively working toward today? These things aren't problems in themselves, they're symptoms.
Most people exist in a mindset that tells you happiness is a matter of acquiring more. The opposite is true. Happiness has much more to do with what's standing in your way than what's not in front of you yet. Here, 10 specific things that you need to give up if you want to get there:
Saying "I'm going to…"
Kyle Cease says: Achievers always look at victims and say: your limiting belief is "I can't." But the achievers' limiting belief is: "I'm going to."
When you talk about what you're going to do, what you want to be, you are creating the reality of not having and not being that thing. If you continue to do that every single day, you live your entire life not becoming that thing.
It's why people often advise to show your work, not talk about your work. Get affirmed for doing, not talking about doing.
The most powerful prayer in the Universe is "I am," and second to it is "Thank you" Say "I am" [the thing you want to be]. Say "thank you" for [the thing you want to have]. That's what puts you in the place of being it and having it; you need to think that you are to act like you do.
Worrying as a defense mechanism.
The world is not withholding happiness from you until you "figure it all out" and fix every problem and dash every possibility of anything going wrong. You are withholding happiness from yourself because you aren't letting your guard down. What you don't realize is that you are creating what's wrong in your life because you're not engaging with it. You're not actually living. You're existing to solve problems that aren't even real in the first place.
Stealing other people's reputations.
The opposite of this is called Astaya, or the practice of not stealing people's reputations. In other words: stop creating impressions of people for them. Let them show the world who they are, and let each individual they encounter respond to them how they feel they should. Stop being a driving force of other people's reputations, especially if it's negative. Stop perpetuating rumors and judgments. The karma is only yours.
Not taking care of yourself.
Take your vitamins. Drink water. Sleep. Sweat. Cry. Try to eat a vegetable. These things aren't bonuses that you should do when you feel like it, these things are integral parts of your health and mental/emotional well-being.
Fearing the jump rather than the fall.
To quote Kyle again, people who are going skydiving are always most afraid when they're standing on the edge of the airplane, when they are actually safe. Once they've jumped, they're in euphoria, despite the fact that that is the moment that they are actually in danger.
Once you jump off the airplane, you let go. You aren't trying to gauge potential danger because you're too busy navigating your way down.
An abundance of anxiety and worry is almost never proportional to how many problems you have in your life, and almost always proportional to how little you're actually living, and how much you're thinking about living instead.
Visualizing "having" rather than "doing."
The next time you sit down to visualize having what you want to manifest, imagine yourself waking up without anxiety, doing your work effortlessly, feeling happy to see people you love or enjoying your morning coffee rather than having a new car or imagining how other people will see your life once it's "complete," once you've reached one more milestone.
Not only is this easier because the only variable to control here is you, you're creating what you really want, which is to feel good. Feeling good each day is what you should be funneling your power toward, not trying to get more things that will induce the good feelings.
Believing everything you feel.
I know the world has instructed you so far to "trust your gut" and "follow your heart" but perhaps that's exactly your problem. You should not always trust your feelings. Your feelings are not always right. It's giving your anxiety, your-self hate, your feelings of worthlessness all of your trust that are preventing you from seeing yourself, and your life, rationally. Ironically, you'll feel happier if you trust your feelings less, and question them more. Things are not usually as bad or as wrong as your feelings make them seem.
Being cynical.
If you find something wrong with everything and everyone, the common denominator is you. Being cynical doesn't make you look cool or smart, it makes you look weak and insecure. It also makes you a hard person to be around. Nobody enjoys spending time with someone who has something negative to say about everyone and everything.
Seeing critics as "haters."
Sometimes your critics are trying to tell you something important. Perhaps some of the most important things that you will ever hear in your life: ways you need to improve, dreams that are leading you down a dead-end road, poor choices in romantic partners. Just because you don't like what someone tells you doesn't mean they're wrong.
Confusing a lack of interest for laziness.
If you aren't magically motivated each day to get up and start [doing the thing you say that you really want to do] perhaps the problem isn't that you're lazy and underachieving, but that there's something else you should be doing.
Look, you do need to train your brain to be prolific, and to consistently perform at any given task or craft you choose. But there has to be momentum at the starting point. There has to be a natural inclination, a passion, an inherent talent.
If none of those things are present, and yet you think you want this thing, but can't seem to actually take action, the problem is that you're in love with an idea, specifically, the idea of what that thing makes you.
Failure is not a moral judgment on your character, it is the Universe responding to your actions, saying: there is another way. Change route. Think again. Try again. Your job is not to sit and bemoan the fact that you feel unworthy, it is to recognize that the things you lose are not losses, they are entryways to the path you were struggling to find in the first place.
Thinking too much of yourself.
Maybe you aren't going to end up on the Forbes' 30 Under 30, or pay off all of your debt by 25, or even do anything much out of the ordinary? Who cares? Millions and millions of people have done the same thing and have still managed to lead meaningful, happy lives.
The question isn't: "Will you be successful?" The question is: "What will your life amount to if you're not?"
Originally published at theleading.co
— Published on March 16, 2018
From Thrive Global
https://thriveglobal.com/stories/11-things-you-need-to-give-up-if-you-really-want-to-be-happy/?utm_content=buffer92011&utm_medium=Thrive&utm_source=Twitter