1.This Has Been a Large Cap Growth Led Bull Market But Here Are The Long-Term Stats.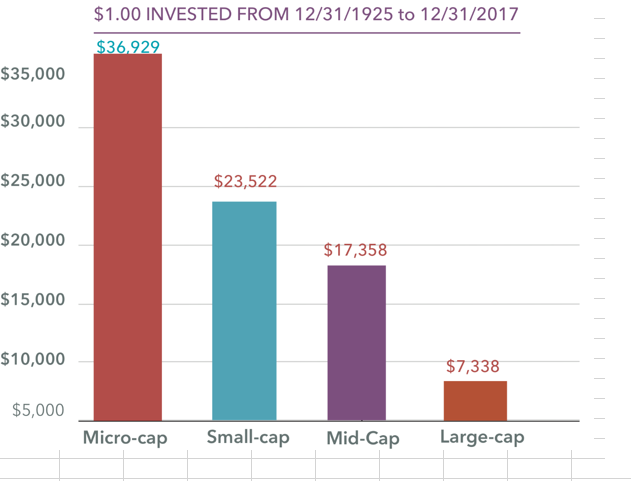 https://www.unchartedinvesting.com/blog/market-cap-an-overview-of-small-cap-mid-cap-and-large-cap-stocks
2.Small Cap Russell 2000 Closed Below Previous June Low…Continues to Trail S&P.
Small Cap 200day sloping downward and breaks June lows.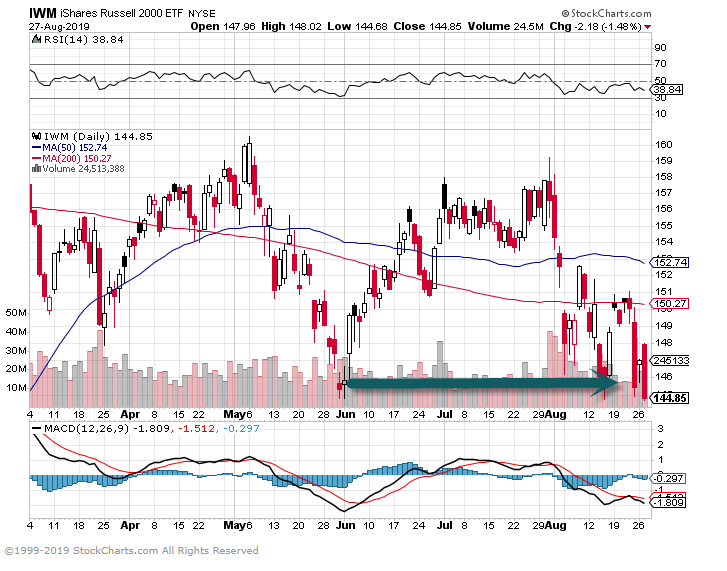 3.Tech Giants Capital Spending.
With FANG facing more and more government scrutiny and political pressure on public companies not upping capital spending, an interesting chart below.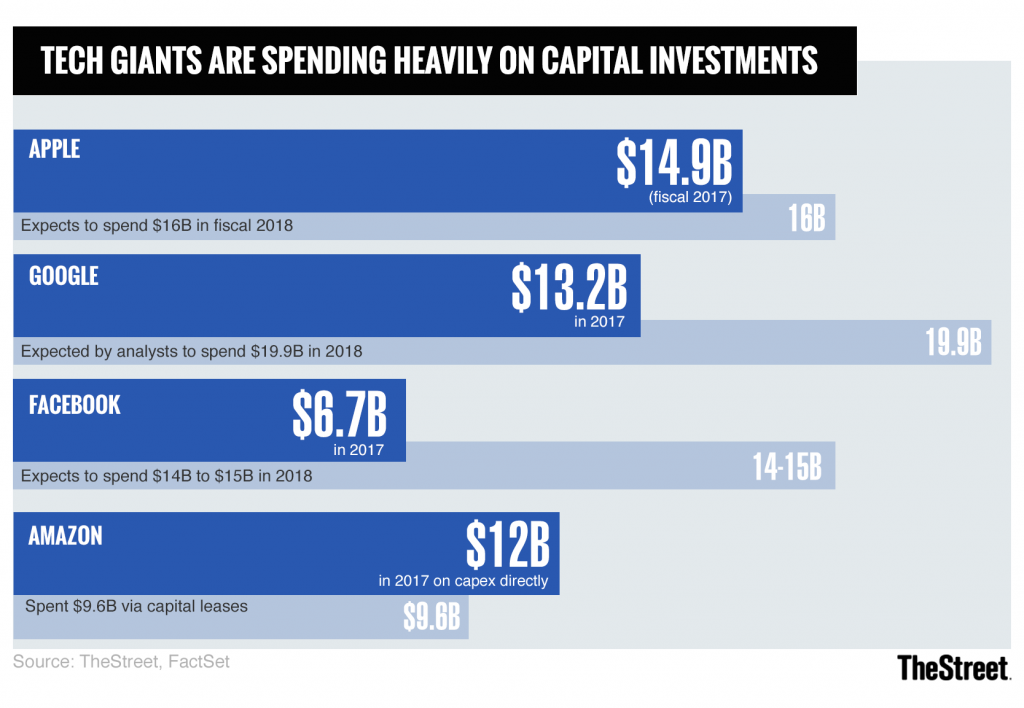 https://www.thestreet.com/investing/cloud-giants-capital-spending-soaring-14566930
4.The Short 20 Year Treasury ETF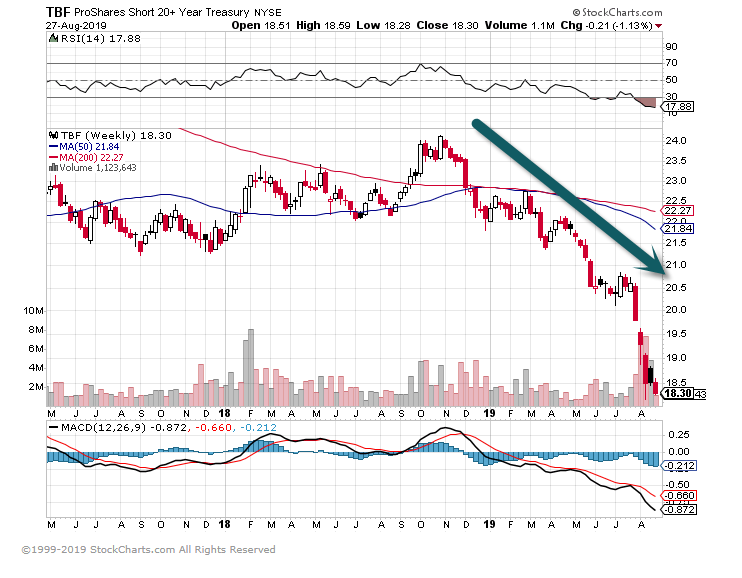 5.FED Fund Futures Betting on 1% Rates.
The market now expects the Fed to take rates below 1% by early 2021. This chart shows the fed funds rate trajectory priced into the futures market. Is the pessimism overdone?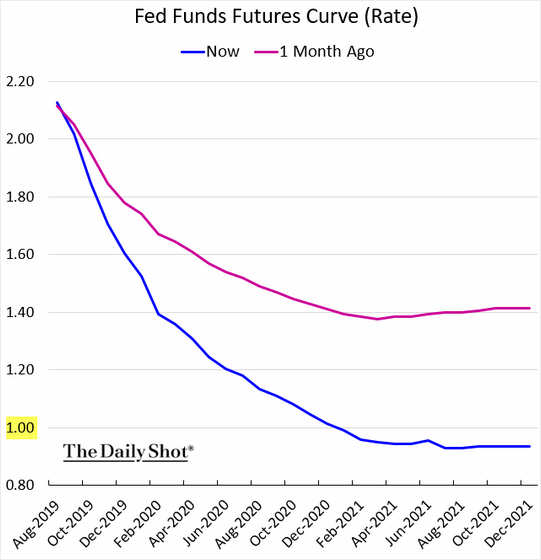 WSJ-The Daily Shot
https://blogs.wsj.com/dailyshot/2019/08/28/the-daily-shot-markets-expect-the-fed-to-take-rates-below-1-by-early-2021/
6.Hong Kong -26% Correction….Held End of 2018 Lows.
Hong Kong 30 Index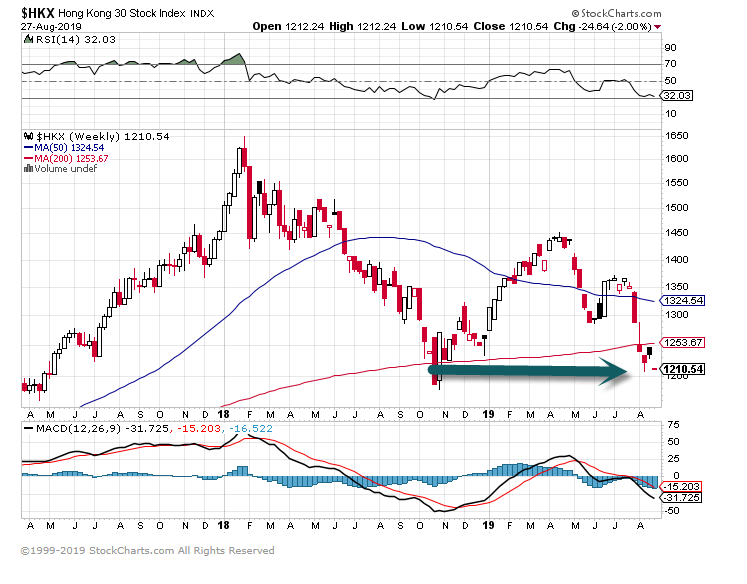 7.China Still -26% Off Highs….Testing 2018 Lows for 3rd Time.
FXI-China Large Cap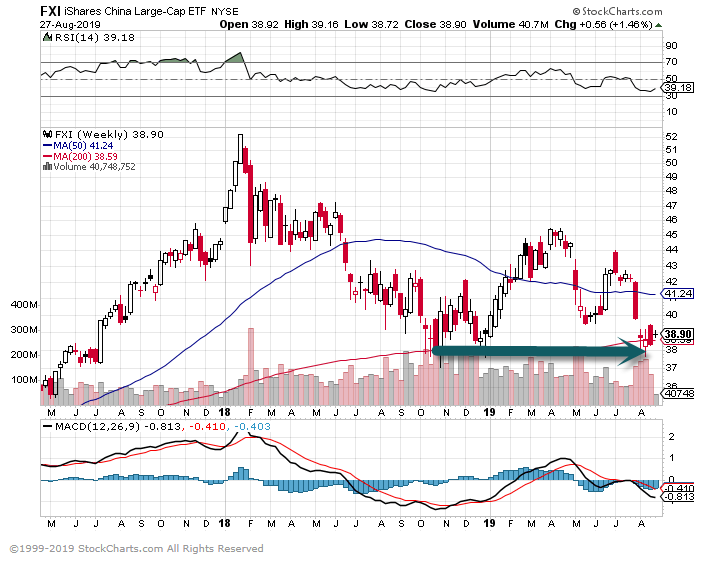 8.Emerging Market Bond Traders Are The Most Defensive Since 2008.
EM ANGST– Emerging-market investors haven't been this cautious since Lehman Brothers collapsed. High-grade dollar bonds in developing nations have returned 3% this month, while junk-rated securities in emerging markets have lost 2.7%, according to JPMorgan. The last time the outperformance of the former was so big was in October 2008, the month after Lehman Brothers collapsed.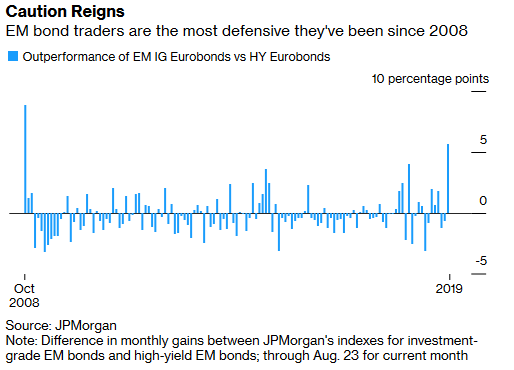 That's fine for high-rated countries like Chile and South Korea, but not great for riskier ones like Zambia and Lebanon.
FROM DAVE LUTZ At Jones Trading.
9.Where the Money is Flowing…Last Week…Inflation Protected, Gold, Treasury Bonds.
For the week ended 8/23/19, inflation-protected securities SCHP and VTIP, gold GLD, and interest-bearing treasury bonds GOVT saw the largest net inflows on an absolute basis.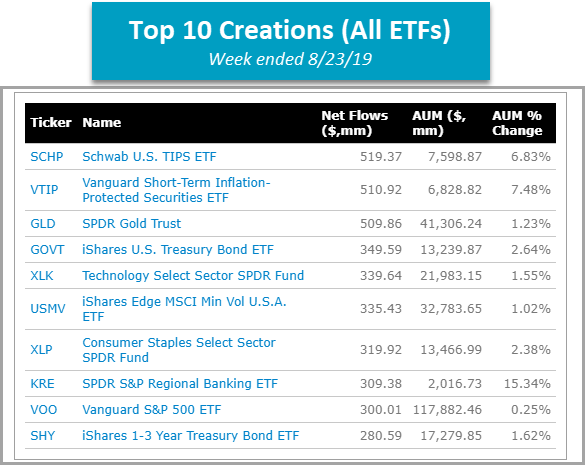 Nasdaq Dorsey Wright www.dorseywright.com
10.Humble leaders get to act like better humans.
Published on August 19, 2019
Samantha Young
Managing Director of Human Psychology ?Executive Coach ? Psychologist ? Trainer
109 articles Follow
"A leader is best when people barely know he exists, when his work is done, his aim fulfilled, they will say: we did it ourselves." Laozi
There is a crisis building in many of our organisations. Declining resourcing, employee engagement, wellbeing and performance. Accompanied by an acceleration in uncertainty, change, disruption and malaise. This perfect storm is hitting leadership like a tsunami and too often, leadership falls back on old ways of managing. Cost cutting and downsizing programs are implemented which erode trust and mutual respect. Fear breeds micro-management and blame. New change initiatives with sexy names and graphics formulated by consultants and senior executive are rolled out to an increasingly cynical workforce. The deck chairs on the Titanic are swapped around and new executives formulate a whole new raft of quick fix "solutions" that fail to turn the ship away from the iceberg but consume energy and time and resources.
Organisations need servant leaders. Leaders who see the true value of their people and continuously ask how they can serve employees as they improve the organisation. Power can corrupt the best intentions and cause leaders to become obsessed with outcomes and control and treat employees as a means to an end. This engenders a culture of fear, which cripples innovation, creativity and collaboration. Everyone is fighting to get on the life boats.
Top-down leadership is outdated, counterproductive and to be honest, lazy. By focusing too much on control and end goals, and not enough on their people, leaders are actually making it more difficult to achieve their own desired outcomes. The anti-dote is for leaders to adopt the humble mindset of a servant leader. Servant leaders view their key role as serving employees as they explore and grow, providing tangible and emotional support to realise potential. Helping our people to feel purposeful, motivated, and energised so they can bring their best selves to work is the true business of the modern leader.
How to create a a culture of learning and authentic conversation and an atmosphere that encourages people to become the very best they can?
Ask, then listen. How you can help them do their jobs better? What do they need from you? How can you do better?
Implement. Small changes that demonstrate action from feedback create a virtuous circle of trust and engagement.
Create safety. Model a culture in which people can question and take risks without fear of repercussion. Encourage people to push on the boundaries of what they already know.
Be humble. Servant leaders give themselves permission to act like decent humans. To acknowledge that people bring their whole serves to work and wellbeing is a person's core purpose.
The 3 buckets analogy. I have spoken with maybe hundreds of managers this year and they express a strong frustration with being too busy to work on the "people bit" of their roles, with diaries consumed by meetings, doing the work and fighting fires. But our time and money follow our priorities. By not investing time in our people, we are telling them they are not a priority. Imagine you have three buckets: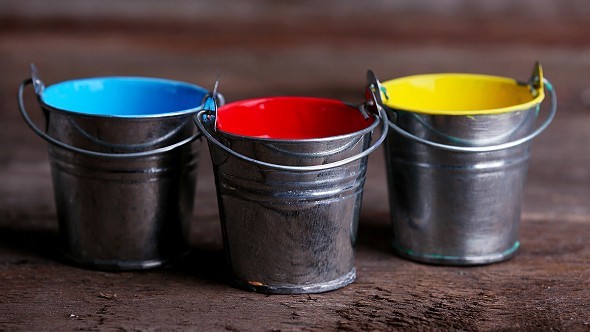 Blue – the amount of time you spend actually doing the job
Red – the amount of time you spend developing your people
Yellow – the amount of time you spend thinking about the business strategically
How much time should you theoretically be spending in each bucket? And then honestly ask yourself how much time you actually are spending in each one. In general, managers tell me that they should be spending the majority of their time in the red bucket but are spending most of it in the blue, and nearly none of it in the yellow. Doing the same things the same way but harder will guarantee the same results and is the definition of insanity. Ruthlessly re-architect your time and carve out space to listen and learn from those you serve and to think creatively about how to do things better. Humble leadership should never be confused with weak leadership. It is, in fact, quite the opposite.
"As we look ahead into the next century, leaders will be those who empower others." Bill Gateshttps://www.linkedin.com/pulse/humble-leaders-get-act-like-better-humans-samantha-young/?trackingId=SL%2FA9oI6T3bYYrq3jRh%2BCA%3D%3D