1.The Massive Spike in CORPORATE DEBT with Negative Yields…The Investor World Focused on Negative Sovereign Debt
Negative yields are not confined to just Sovereign debt. The chart below shows there is over $1 trillion in corporate debt with negative yields and growing. This will not end well. hashtag#investing hashtag#markets hashtag#economy hashtag#finances hashtag#hedgefunds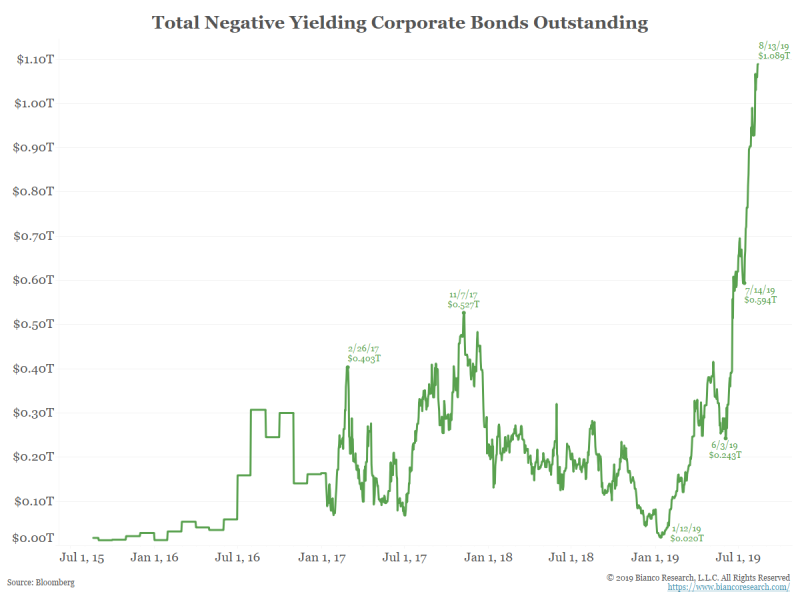 https://www.linkedin.com/in/donsteinbrugge/
2.The Treasury Market is Pricing Inflation Below 2% for the Next 30 Years.
Chart of the Day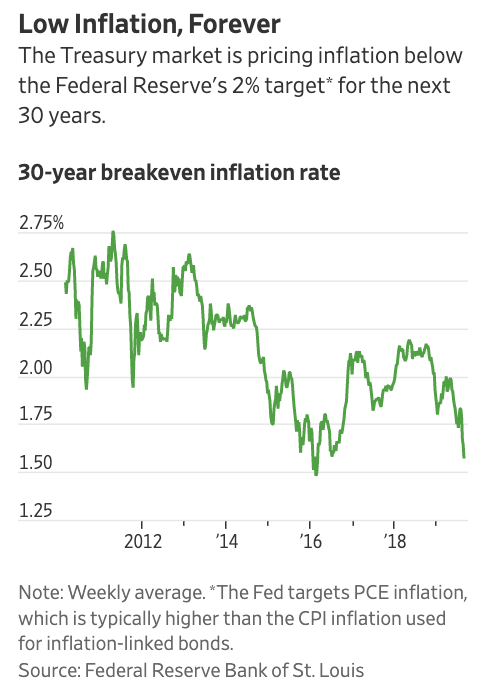 Bond investors have once again given up on the idea of there ever being inflation again.
3.Asian Stocks Price/Book Below 5 Year Average.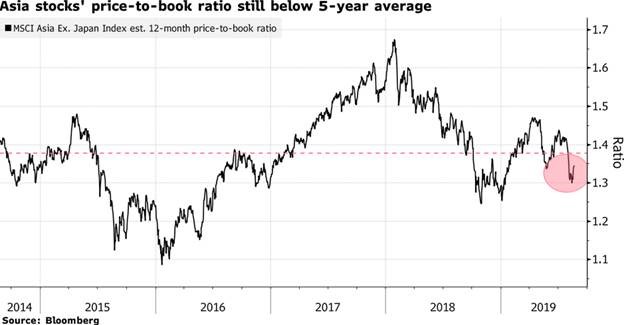 China "resolutely opposes the escalation of the trade war" with the United States and instead welcomes "calm negotiations", according to Vice-Premier Liu He, after last week's moves by both Beijing and Washington further increased the trade tensions between the world's two largest economies – "We are willing to resolve the trade dispute with the US through calm negotiations," Liu said in a speech. Fund Manager Who Beat 98% of Peers Says Stay Calm and Buy Stocks
From Dave Lutz at Jones Trading.
4.Grid in U.S. Vs. China Trade War.
Found at Morning Brew
5.Intermediete Term Volatility Not Much of a Spike.
The media focused on short-term volatility….VXX intermediate term volatility small blip off bottom.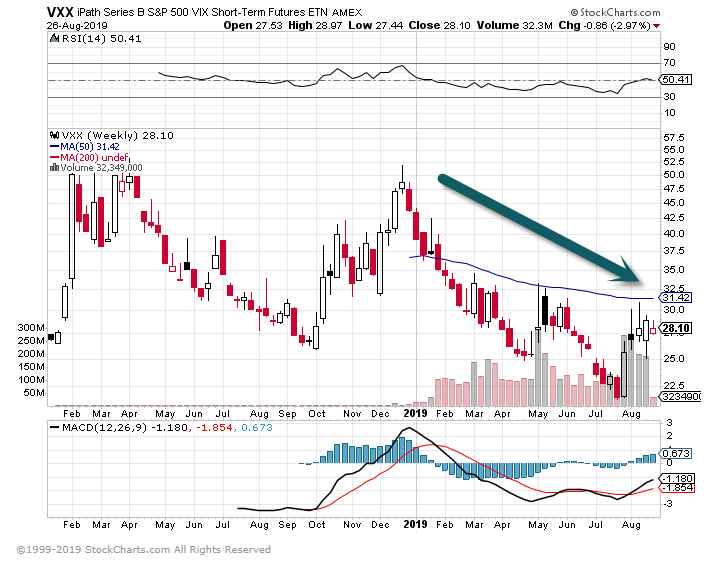 6.These are Beyond Meat's 12 highest-profile partnerships in the food industry
Carmen Reinicke
Jul. 24, 2019, 01:36 PM
Drew Angerer/Getty Images
Beyond Meat's success is due in part to numerous high-profile partnerships with restaurant chains and food-delivery services.
As demand for plant-based meat alternatives booms, having the right network is important for Beyond Meat and its competitors.
These are the top restaurant and food-delivery partnerships that have boosted Beyond Meat's stock price.
---
Beyond Meat has led a booming plant-based protein movement – and it's had some important partners along the way.
The company charmed the public market with its recent initial public offering, and it has soared more than 730% since its initial listing in May. But even before the plant-based meat-alternatives company went public, it had numerous partnerships with fast-food chains.
That company has continued to add partners as it seeks growth. Soon after the company went public, analysts estimated that a partnership with McDonald's could send the stock up as much as 30%. Since May, numerous partnerships have indeed boosted the stock, from the announcement of Beyond Sausage in breakfast sandwiches at Tim Hortons in Canada to the announcement of the Beyond Burrito at Del Taco.
Partnerships with fast-food restaurants will continue to be important. Demand is soaring for plant-based meat alternatives, and it hasn't shown any signs of slowing. Analysts have estimated that the market could grow to be $140 billion in the next decade.
Markets Insider is looking for a panel of millennial investors. If you're active in the markets, CLICK HERE to sign up.
While plant-based burgers like the Beyond Burger cost more than animal proteins such as beef, it appears that consumers are willing to pay the difference.
Competition for the market, and for partners, is heating up. Partnerships secured by competitors have damaged Beyond's stock. It slid when The Meatless Farm, a British plant-based meat-alternatives company, reached a deal with Whole Foods and on the news that Taco Bell would not include plant-based meat alternatives on its menu.
Here are the top high-profile restaurant and food partnerships Beyond Meat has announced to date:
1. KFC
KFC announced that it will begin testing a plant-based fried "chicken" in one location in Atlanta, Georgia in August. The faux meat is coming to the menu because of a partnership with Beyond Meat to make Beyond Fried chicken. If the test goes well, the new product could be added to more KFC locations nationally.
2. Subway
Subway is jumping on the plant-based meat craze as well. Wednesday, the chain announced that it would partner with Beyond Meat to launch a Beyond Meatball Marinara sub. The sandwich will be available in 685 locations in the US and Canada in September.
3. Dunkin' Brands
Dunkin'
Beyond Meat and Dunkin' on Wednesday announced a partnership to launch Beyond Sausage breakfast sandwiches. The sandwiches were immediately available in Dunkin' restaurants in New York City's Manhattan borough.
4. Blue Apron
Shares of Blue Apron gained when the company announced that it would include Beyond Meat products in its recipes. The food-delivery service plans to have two recipes this summer that feature the Beyond Burger.
5. Famous Dave's
The barbecue restaurant Famous Dave's gained 10% when it announced that it was partnering with Beyond Meat to create and test plant-based proteins for its menu. The company has said the new menu items will be available to test mid-August.
6. Tim Hortons
Beyond Meat's stock rocketed up as much as 12% when Tim Hortons announced that its plant-based meat alternatives would be available in breakfast sandwiches across Canada.
7. Del Taco
Del Taco launched the Beyond Taco in April, and after its success the chain expanded its partnership with Beyond Meat in June to include the Beyond 8 Layer Burrito and the Epic Beyond Cali Burrito across the US.
8. A&W
A&W Canada has also expanded its relationship with Beyond Meat. After the success of the A&W Beyond Meat Burger, the company rolled out the Sausage & Egger using Beyond sausage. The sandwiches are available across locations in Canada.
9. TGI Fridays
TGI Fridays offers Beyond Meat's "bleeding" veggie burger on menus as an alternative to beef patties.
10. Bareburger
Beyond Meat lists its partnership with Bareburger on its corporate site. Bareburger also offers the Impossible Burger from Impossible Foods, a main competitor to Beyond Meat.
11. BurgerFi
BurgerFi launched a Beyond Meat burger in eight of its 101 locations in July.
12. Carl's Jr.
Carl's Jr. offers a Beyond Meat burger on its menu. The chain even gave away free meatless burgers from Beyond Meat to celebrate Beyond Meat's 10th birthday and its listing on the public market.
7.Opinion: 10 mistakes nearly everyone makes when saving for retirement
By Paul A. Merriman
Getty Images/iStockphoto
The decade before retiring is the most crucial
Don't go there.
Until we retire we are all preretirees. So this article applies to you unless you're already retired.
However, my fundamental focus here is the mistakes people make in the last 10 years before they retire.
Here's why this is a critical time: If you're 10 years out, or even five, you have time to do some course corrections that will make a difference — but you don't have time to waste.
Based on my observations from talking with thousands of investors over many decades, let's look at 10 errors, each of them far too common.
1. People approach retirement without a coherent, organized plan.
I don't think you need a thick binder projecting your net worth every month until the year 2065. But if all you have are some vague ideas, you're making your life more difficult than it needs to be.
At a minimum, you should know how much you'll need to meet your cost of living and what your reliable sources of income will be when you're retired. There will probably be a gap between those numbers, and you should have a plan for how to bridge it.
In the process of making a good plan, you'll necessarily avoid most of the mistakes in this list. Here is a link to a chapter from my book, "Financial Fitness Forever," to help you get started.
2. Preretirees are too confident in their ability to see the whole picture.
Retirement planning, if done right, has too many moving parts for most of us to get it right by ourselves. Retirement is (usually) a once-in-a-lifetime event, and we have one chance to get it right. No practice runs.
If you don't have a financial adviser, I suggest you find a professional to review your plan and spot any crucial pieces you may be overlooking or misjudging. If your money is invested with a major firm like Vanguard, Fidelity, Schwab SCHW, +0.25%, or T. Rowe Price TROW, +0.99%, you can probably get a free (or low-cost) consultation and review.
You'll get more if you hire a professional by the hour, preferably one who has nothing to sell and no conflict of interest. If you need help finding such a person, here's a good conflict-free resource: Harry Sit. For $200, he'll find you an adviser whose profile checks off the most important boxes, and I think Harry's service is well worth the cost. (I have no affiliation with him or his service.)
Read: Social Security is already in trouble — a payroll tax cut could make things worse
3. Preretirees often don't have any clear understanding of whether they have "enough."
Many who I've talked with think they are far behind the 8-ball and thus continue to take the same level of risks they took when they were young. By doing so, they put their retirement plans in jeopardy.
The fact is, there comes a time when protecting what you have (defense) becomes more important than trying to get more (offense).
The best way to avoid this mistake is to heed the advice in item 2 above
4. Some people retire at 65 or some other predetermined age even though they could happily continue working — and thus potentially double their retirement income.
My wife and I decided to work another five years after we knew we had "enough." The result: We now have twice as much money to live on.
5. I see this way too often: People hang on to past investments that once seemed like good ideas, but were in fact poor choices because of high costs, high turnover, unnecessary tax burdens — or just unrealistic expectations.
All of us are prone to make mistakes now and then. But some people hang on far too long to ill-advised investments, hoping against hope that they won't have to face the music.
While they do nothing, their money is not working to meet their needs. Economists have a phrase to describe the result "opportunity cost."
In other words, by doing one thing, you lose the opportunity to do something else that could produce a more desirable outcome.
6. This is a variation on the previous item: I've seen many people enter retirement still owning a piece of land on which they were going to build a retirement home or getaway, even though the initial dream had faded or died some years earlier.
My advice: Don't keep incurring this opportunity cost. Instead, consider selling the property so you can put the proceeds to work and finance your current dreams.
7. Many people are afraid to take even small amounts of investment risks that have a high probability of boosting their returns.
I've seen too many cases of soon-to-be-retired folks with equity investments exclusively in funds they consider "safe" (often clones or near-clones of the S&P 500 index SPX, +1.10% ).
Even in the final stretch toward retirement, you can still benefit significantly from exposure to value funds and small-cap funds.
Holding 10% of your equities in small-cap or value funds (or small-cap value funds) won't increase your risk very dramatically. But it can add 1% or more a year to your returns, and that's enough to make a difference you'll notice.
8. Many people approaching retirement take too much risk by failing to add bond funds to their portfolios.
This is a variation of item 3 above. There's always a tricky trade off between risk and return, and this dynamic often enters the picture during the years before retirement.
I explored this topic in a prior article that includes tables showing the implications of different combinations of stock and bond funds.
9. Lots of people approaching retirement realize their savings are likely to be inadequate, yet they keep spending more than they need to.
People, listen up: If you're concerned about whether you can afford to retire in five years, this is not the time to buy a boat, take your extended family on a cruise, pay for a destination wedding or make a flashy charitable contribution that gets you lots of attention.
Cutting back for a few years has two huge potential benefits. First, it allows you to save more money. Second, it demonstrates that you can indeed live on less than you thought.
10. Too many retirees plan on achieving future investment returns to be at least as good as past returns.
This is a recipe for big trouble, because an extended period of below-average returns is always possible. This is one of the items that should go into your overall plan, discussed in the very first item on this list.
Personally, I think it's a good idea to base your planning on the assumption that future returns will be 2 percentage points less than they have been.
The downside: Your plan will indicate you need more savings, and you may need to cut your spending and/or postpone your retirement.
The upside: If your assumption is right (and returns are indeed lower than they have been), you'll still have enough. And if you're wrong, you'll still have a smile on your face … and more than enough money to live well in retirement.
If you can avoid most or all of these 10 mistakes, you'll be more likely than many of your contemporaries to have a successful retirement.
That's my wish for you.
If you'd like to review this topic further, I've recorded a podcast called "How to avoid the big mistakes preretirees make."
Richard Buck contributed to this article
https://www.marketwatch.com/story/10-mistakes-nearly-everyone-makes-when-saving-for-retirement-2019-08-21?mod=mw_theo_homepage
8.Exam Results Don't Define You.
"Exam Results Don't Define You"​
Published on August 22, 2019
Franchise Specialist "Helping you to grow yourbusiness through franchising"
Love him or hate him he sure hit the nail on the head with this! Bill Gates gave a speech at a high school about 11 things they did not and will not learn in school. He talks about how feel-good, politically correct teaching created a generation of kids with no concept of reality and how this concept set them up for failure in the real world.
Rule 1. Life is not fair – get used to it!
Rule 2. The world won't care about your self -esteem. The world will expect you to accomplish something BEFORE you feel good about yourself.
Rule 3. You will not make $60,000 a year right out of high school. You won't be a vice-president with a car phone until you earn both.
Rule 4. If you think your teacher is tough, wait till you get a boss.
Rule 5. Flipping burgers is not beneath your dignity. Your Grandparents had a different word for burger flipping: They called it Opportunity.
Rule 6. If you mess up, it's not your parents' fault, so don't whine about your mistakes, learn from them.
Rule 7. Before you were born, your parents weren't as boring as they are now. They got that way from paying your bills, cleaning your clothes and listening to you talk about how cool you thought you were. So before you save the rain forest from the parasites of your parents generation, try delousing the closet in your own room.
Rule 8. Your school may have done away with winners and losers, but LIFE HAS NOT. In some schools, they have abolished failing grades and they will give you as many times has you want to get the right answer. This doesn't have the slightest resemblance to ANYTHING IN REAL LIFE.
Rule 9. Life is not divided into semesters. You don't get summers off and very few employers are interested in helping you find yourself. Do that on your own time.
Rule 10. Television is NOT real life. In real life people have to actually leave the coffee shop and go to jobs.
Rule 11. Be nice to nerds. Chances are you'll end up working for one.
If you agree, Pass it on, If you can read this – Thank a Teacher.
As someone who left school at 16 with 4 "O" levels and am now an Entrepreneur in Residence at Lancaster University I can relate to the above. However I am not knocking the students and wish everyone who got their results today, good or bad, All the Very Best for the future… just bear in mind Bill Gate's words.
Best Wishes,
Len
Len Rainford – The Franchise Specialisthttps://www.linkedin.com/pulse/exam-results-dont-define-you-len-rainford/?trackingId=dHEFGM0SvlOxn0a1Ai2swg%3D%3D