1.New Highs are Bullish and Long Waits Between New Highs More Bullish.
Finally
Posted by lplresearch
It took nearly seven months, but the S&P 500 Index finally closed at a new all-time high on Friday. Many clues along the way suggested new highs could eventually come, like strong overall market breadth and excellent earnings growth. Still, the big question now is, what happens next?
"Investors have been patiently waiting for new highs in the S&P 500, even while small caps and technology have been making new highs for months now. Here's the good news: When the S&P 500 has gone at least six months without a new high, the index has been higher a year after the next new high in 17 out of the past 18 instances, going back to 1950," explained Senior Market Strategist Ryan Detrick.
As our LPL Chart of the Day shows, long waits between new highs tend to foreshadow strong outperformance in the subsequent year.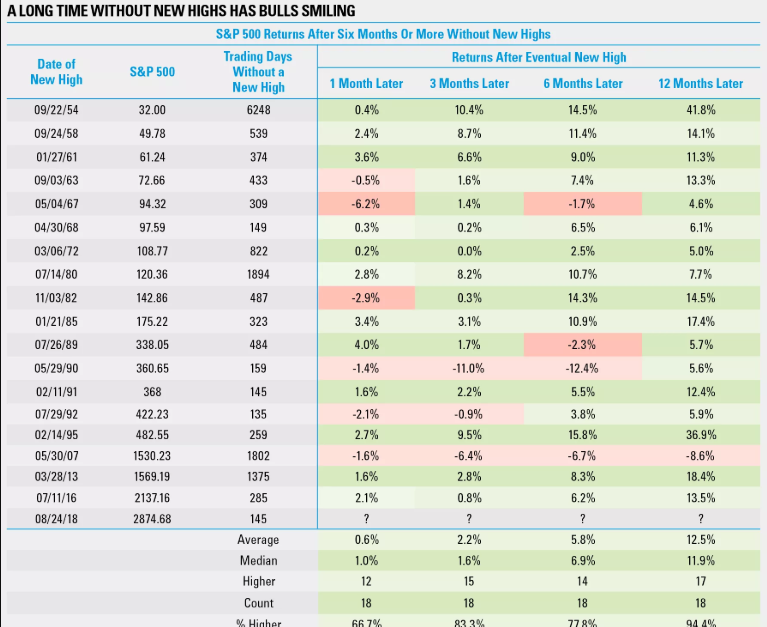 https://lplresearch.com/2018/08/27/finally/#more-10551
2.Asset Class Performance YTD…2 Highlights Huge Sector Dispersion and Huge Sensitivity to Dollar in Returns.
Bespoke Group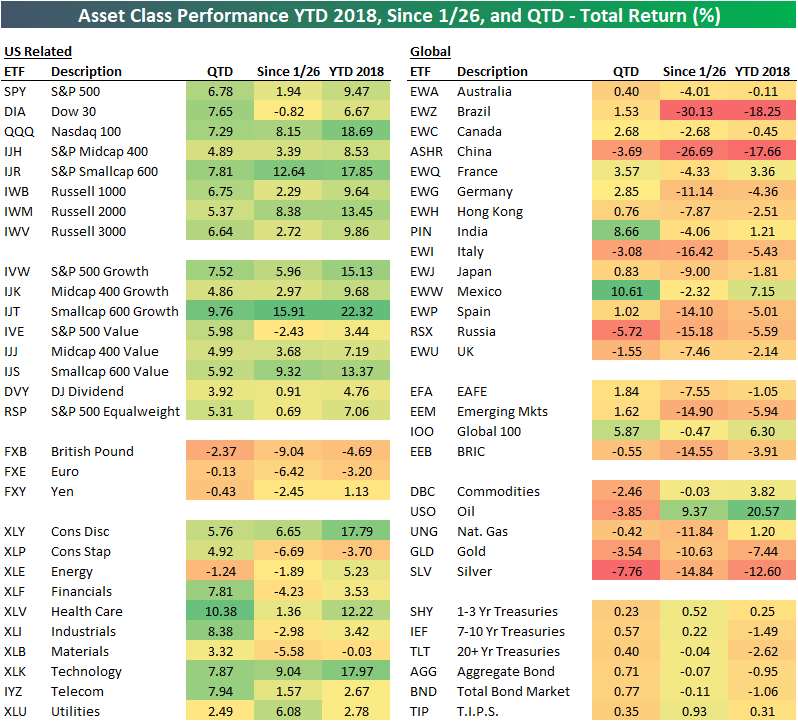 https://www.bespokepremium.com/wp-content/uploads/2018/08/assetclass.png
3.FANG Stocks Hit 1999 Tech Levels on P/B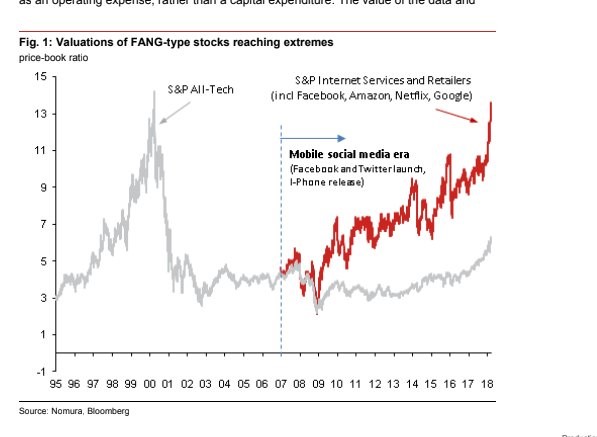 https://valuewalkpremium.com/2018/08/nomura-rhe-bubble-didnt-know-bursting-without-realizing/?utm_source=dlvr.it&utm_medium=twitter
4.FAAMG Bigger than 232 Smallest Names in S&P.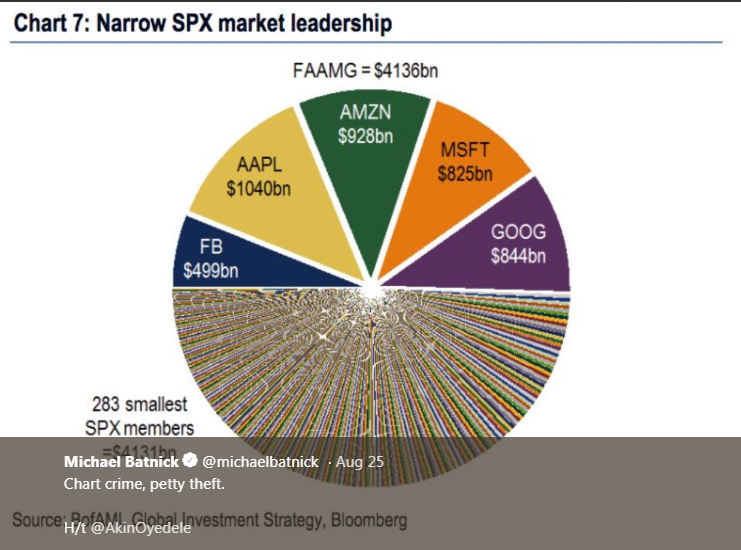 https://twitter.com/michaelbatnick
5.But Are Broader Valuations Elevated??
David SchawelFollow
Chief investment officer , CFA,
Valuations are elevated: Whether you're looking at the valuation of Series A VC rounds, PE buyout multiples, credit spreads, or equity market multiples, valuations on average do not appear cheap. Yes, we can make arguments that forward looking S&P 500 P/E multiples are reasonable, but by and large aggregate valuations are elevated. I know this, you know this, the sell side knows this, and the buy side complains about this. Many things have worked in favor of corporate earnings the last decade including benign wage pressure that have allowed corporate margins to stay wide, lower tax rates, and large tech pushing their weight globally. As shown below, based on history the S&P's NTM P/E is ahead of the 10yr average and ahead of most time periods. The table (via Goldman Sachs) on relative valuation versus 10yr average shows we're more expensive in terms of EV/sales, EV/EBITDA, P/B, FCF Yield, and P/E. While this may help foretell lower future returns, it tells us nothing of the timing or path of future returns, and cannot be used as an accurate method to time stock prices.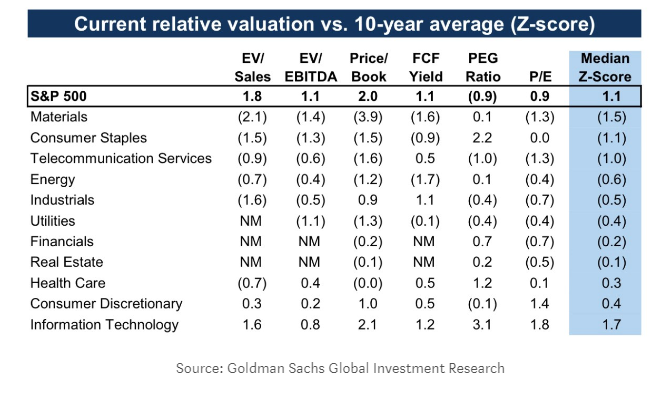 https://medium.com/@DavidSchawel/what-inning-is-the-market-in-today-46611d3eb42e
6.Gold Short Positions Hit Record.
by Wolf Richter
Gold is trading at its lowest relative to S&P 500 Index futures since the start of the global financial crisis in 2007/2008 and the trickle of outflows from gold-backed ETFs have turned into a torrent.
Nowhere is the negative sentiment more evident than on derivatives markets where investors and speculators seemed to have lost all confidence in gold's ability to move higher.
According to the CFTC's weekly Commitment of Traders data up to August 14, investors (non-commercial traders) are now short 215,467 lots, the equivalent of 670 metric tonnes.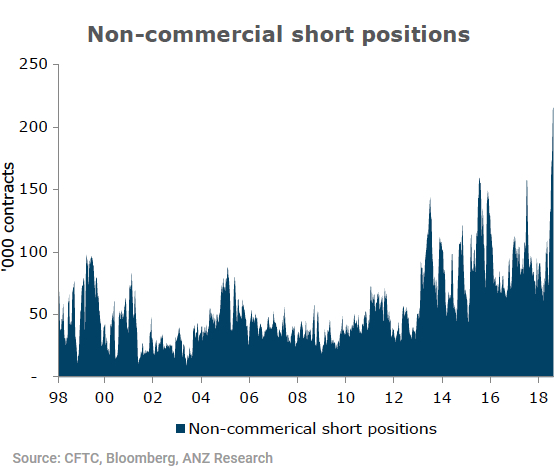 https://wolfstreet.com/2018/08/24/gold-derivatives-short-positions-hit-record-levels/
7.Making Decisions on Past Performance
Figure 2 shows how top-performing, actively managed U.S. equity funds in the 5 years ended December 31, 2011, fared over the next 5 years. Only 16% of the funds in the top quintile during the first 5-year period remained in the top quintile during the second 5-year period. Simply put, past performance isn't a reliable indication of future performance.

Note: The chart ranks all actively managed U.S. equity funds within each of the Morningstar style categories based on their excess returns relative to their stated benchmark during the first 5 years through 2011 and compares how they fared over the next 5 years through 2016.
Source: Vanguard calculations using data from Morningstar, Inc.

Making decisions based on past performance works (except when it doesn't)
Shyam Yekanath
https://vanguardblog.com/2018/04/20/making-decisions-based-on-past-performance-works-except-when-it-doesnt/
8. 4 takeaways from the U.S.-Mexico trade deal
[Photos: Flickr user Presidencia de la República Mexicana; Flickr user Gage Skidmore]
BY MELISSA LOCKER1 MINUTE READ
The North American Free Trade Agreement, better known as NAFTA, has been around for 24 years, easing trade between the United States, Mexico, and Canada. However, President Trump considers NAFTA "one of the worst deals" in trade history, and in his ongoing global trade war, he has mentioned wanting to rewrite the deal.
Now, he may have gotten his wish. The U.S. and Mexico have reached a preliminary agreement to revise key portions of the arrangement, the New York Times reports, leaving out Canada altogether for now. The U.S. and Mexico are hoping to get a final deal signed before Mexican President Enrique Peña Nieto leaves office on December 1.
Here are four takeaways:
New name: The new deal between the U.S. and Mexico will aptly be called the United States-Mexico Trade Agreement, doing away with the NAFTA name, which Trump claims has "bad connotations," per Reuters.
Canada's role: While the deal is just between the U.S. and Mexico, the hope is that Canada will "negotiate fairly" to join the agreement at a later date, enter into a separate deal, or face automobile tariffs. "There are still issues with Canada but I think they could be resolved very quickly," a senior official told Reuters.
Auto-immunity: Per Reuters, the agreement helps resolve one of the stickiest issues that arose under NAFTA surrounding the rules of origins for cars, which required that a certain percentage of car parts be from countries within the NAFTA region in order to avoid tariffs. Under the new deal, 75% of an automobile's value must be manufactured in North America, up from NAFTA's current level of 62.5%. It would also require 40% to 45% of the car to be made by workers earning at least $16 an hour.
Your move, Congress: Despite Trump's statement from the Oval Office, he does need Congressional approval to sign onto a new deal. Trump is expected to send formal notice to Congress by the end of the week. The hope is to have a deal for Mexican President Enrique Pena Nieto to sign before he leaves office, and the more left-leaning Andres Manuel Lopez Obrador takes over as president.
https://www.fastcompany.com/90227370/u-s-mexico-trade-deal-4-takeaways-from-the-nafta-free-agreement
9.Read of Day…Sportsbooks Will Get Interesting with AI and Quant.
David PurdumESPN Staff Writer
Won and done? Sportsbooks banning the smart money
It is completely legal for sportsbooks in Nevada to ban winning bettors. AP Photo/John Locher
Already a hot-button issue in the United Kingdom, a controversial bookmaking practice is starting to spread in the U.S.'s growing legal sports betting market, too.
Bookmakers from London to Las Vegas are refusing to take bets from a growing number of customers whose only offense might be trying to win.
The full scope of the issue in the U.K. is difficult to determine, but it's believed only a small fraction of the roughly 8.5 million "punters" (the European term for bettors) are impacted. Gaming experts say sportsbooks might have closed as many as 50,000 betting accounts in recent years, and just as many punters have had their betting limits restricted to mere pittance.
As one U.K. bettor put it, "If you try to win, they don't let you play anymore."
Any U.S. state that wishes can now offer legalized sports betting. We rank the states by likelihood to pass sports betting bills in the future.
"Yes, bookmakers are severely restricting or closing accounts for what appears to be the fact that these people are winning," said U.K. gambling consultant Steve Donoughue, secretariat for an all-party parliamentary group that focuses on gaming.
"The hilariousness of it," Donoughue added, "is that they restricted one of my member's accounts, and he's a Lord."
The profit-minded corporations that have entered the bookmaking game, however, look at it from the perspective of their bottom line and wonder what business would ever choose to cater to customers thought to be "uneconomical." It's like encouraging a world-class competitive eater to dine often at your all-you-can-eat buffet.
American sports betting is not immune to the practice. Banning or limiting sophisticated players has been a regular part of Las Vegas sports betting for decades, and, like in the U.K., there's absolutely nothing illegal about it.
Bettors say the practice is increasing and has even occurred in some of the new states (such as New Jersey) that have entered into the now-legal bookmaking game in recent months.
"Americans should be worried," said Brian Chappell, a founder for the U.K. bettor advocacy group Justice for Punters. "It's coming."
A reputation for sportsbook giant William Hill
In Nevada, refusing to take bets from any customer, from card counters to wise-guy sports bettors, is completely within any casino's legal rights. From Caesars Palace to the Venetian to more local spots like Station Casinos, every bookmaker in town will tell you — albeit somewhat quietly — that they've 86'd customers for one reason or another.
Seasoned bettors are concerned, though, that the practice of banning or limiting accounts is not only increasing, but the reasoning behind the decisions is becoming more and more suspect.
Many believe that the only thing betting intelligently will get you at some shops is a one-way ticket to being thrown out. An iconic U.K. bookmaker that's rapidly growing its footprint in the U.S. is said to be by far the most aggressive with the tactic.
ESPN communicated with 20 bettors for this article who said they had been banned from betting with William Hill U.S. in Nevada. Two said they already have been cut off at the new William Hill books in New Jersey, too, something the Division of Gaming Enforcement is reviewing.
"In our world, our community," said Joe Fortuna, one of the professional bettors who says he was cut off by William Hill in Nevada, "everyone knows you'll get thrown out of there."
"It's not even really close," said another Las Vegas bettor who had been restricted by William Hill and requested anonymity. "They're by far the worst."
Read Full Story
http://www.espn.com/chalk/story/_/id/24425026/gambling-bookmakers-growing-us-legal-betting-market-allowed-ban-bettors
10.LinkedIn CEO Jeff Weiner Says This Is the Biggest Mistake Bosses–and Baseball Managers–Make
In an interview with CNBC's Adam Bryant, Weiner explains what compassionate leadership really means.
By Minda ZetlinCo-author, The Geek Gap@MindaZetlin
CREDIT: Getty Images
What's the most frequent mistake you've made as a boss? If you're like most executives, it's this: Failing to deal with an underperforming employee in a timely way. That observation comes from LinkedIn CEO Jeff Weiner, who recently sat down with CNBC's Adam Bryant for a video interview that covered many aspects of his life and management philosophy.
Bryant began the interview by asking Weiner what the biggest lesson was he'd learned. Weiner's answer: "To not leave the pitcher in the game too long."
He explained further. "In baseball, oftentimes you'll see a pitcher come out strong and their arm begins to tire as the game progresses. The manager comes out of the dugout, asks the pitcher–especially top pitchers, star pitchers–how they're doing. And inevitably, the pitcher will respond, 'I'm doing fine, go take a seat.' A lot of times, you'll see the manager go back to the dugout, and then the pitcher gives up a home run within the next few batters and the team will lose."
That loss is the manager's fault, Weiner says, for not fixing a known problem. "It's really not the pitcher's role to be dictating what the manager does. It's up to the manager to make that decision."
It carries over into the workplace because employees rarely, if ever, let their managers know when they can't succeed at their jobs. "In roughly 20 years of managing people, I've never had anyone come to me and raise their hand and say they can't do their job. Not once," Weiner says.
This is what he's learned to do when faced with an employee who's struggling:
Trust your instincts.
Wondering whether an employee is in trouble is a lot like wondering whether you're in love. The fact that you're asking yourself the question tells you everything you need to know. "You don't ask that question about superstars," Weiner says.
So the real challenge isn't determining whether an employee can do the job or not–if you're asking, they most likely can't. The challenge is taking action to address the problem. "Far too many managers and executives–and I'm certainly among those–you just look the other way and you rationalize it," Weiner says. "You're fearful of the uncertainty, of change, of demoralizing the team, of how quickly you're going to be able to recruit a replacement. A whole litany of concerns."
Those concerns, along with your natural resistance to upsetting the employee and the rest of the team, can lead otherwise good bosses to do nothing when they need to do something, Weiner says. "I've made that mistake a few times and it can be a painful lesson."
Tell the employee what you expect.
"What I've learned over time is that in situations like that, you should sit down with the person and say, 'We have an issue. There's a gap between where the bar is set for this role and your performance. I'm rooting for you, I'm the reason you're in this role, and I'm going to work with you to do everything within my power to get you up to the bar, if not over it. Here's the timetable and I'm going to be completely open with you throughout on the progress that we're making.'"
And, Weiner says, you have to make clear that if the employee can't meet your expectations, there will have to be a change. "To the extent that we're not able to get up to that bar, let's think about a different role for you either within the organization or potentially outside the organization." Which is a gentle way of saying that if the employee can't do the job better, he or she may be fired.
Don't worry that you're being unkind. You're being the opposite.
Weiner is an advocate of compassionate leadership, so one of the questions he's asked most often is: How can a compassionate leader ever fire an employee?
"One of the least compassionate things you can do is let that person stay in a role where they're way over their head," he says. "A lot of people have been in situations where you work with a colleague who is not able to get the job done. That person may have previously been self-confident and assertive and had a lot to contribute at meetings and to the team. Over time, they just become a shadow of their former selves. You can see it in their body language and the way they show up at a table. You don't hear from them as often and they're just not the same."
That's why you have to take action. "It's not good for their team, it's certainly not good for them, and they bring that energy home with them. So it has pretty significant implications," Weiner says. "That's why I think it's so important to do the right thing and, in that case, put yourself in the other person's shoes and do what you can to alleviate that suffering, to help them achieve a better objective."
Remember that by letting someone go, you may be doing that person a favor.
"It may turn out at times that letting somebody go is the most compassionate thing you can do," Weiner says. "I've heard in a number of cases, people after the fact–maybe while it's happening they don't feel this way–but after the fact, they'll come back and say it was one of the best things that happened in their career."
Count me in that number. Years ago, I was fired from my job as a daily reporter on a small-town newspaper. It was a job I'd stumbled into–they had an opening they needed to fill–and it fueled my fantasies inspired by movies like All the President's Men or more recently, Spotlight and The Post. But I didn't love sitting through lengthy town council meetings or wandering around the mall on December 26th, asking the world's earliest Christmas shoppers what they were buying. My background as a freelance magazine writer wasn't really right either. It made me very good at some parts of the job and completely clueless at other parts.
Driving home on the day they told me to clean out my desk, I remember feeling shocked and dismayed, but also very much relieved. What my bosses didn't know was that I had been planning to leave anyhow after a year. I hated the job, but figured it would be a good learning experience to stick it out that long. Looking back, they saved me from wasting a year of my life on something that made me miserable, and I'm guessing they found a reporter who liked the job more and did it better than I did.
So take it from someone who's been on the receiving end–don't sit on your hands if someone isn't working out. By addressing the problem head on, you won't only be helping your company. You'll be helping the employee as well.
https://www.inc.com/minda-zetlin/linkedin-ceo-jeff-weiner-firing-dealing-with-struggling-employee-compassionate-leadership.html?cid=hmsub1