1. 2018 Returns Are Reflective of Dollar Rally.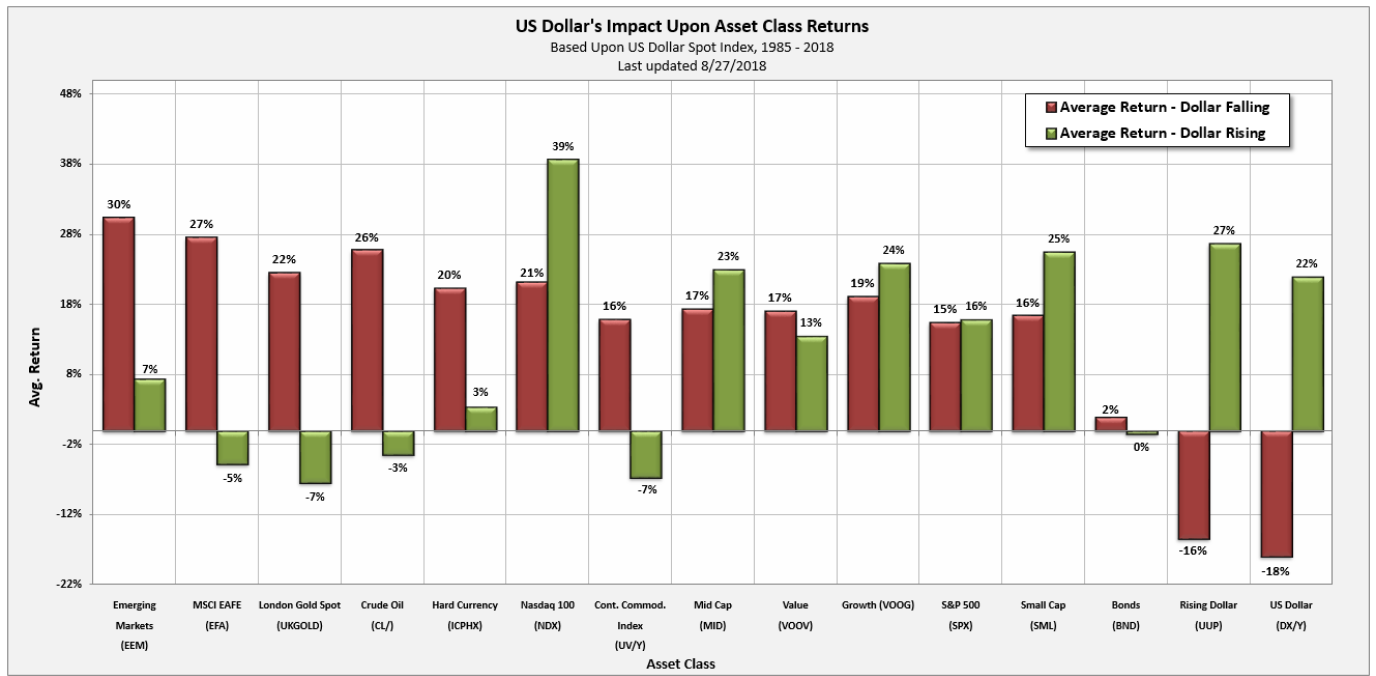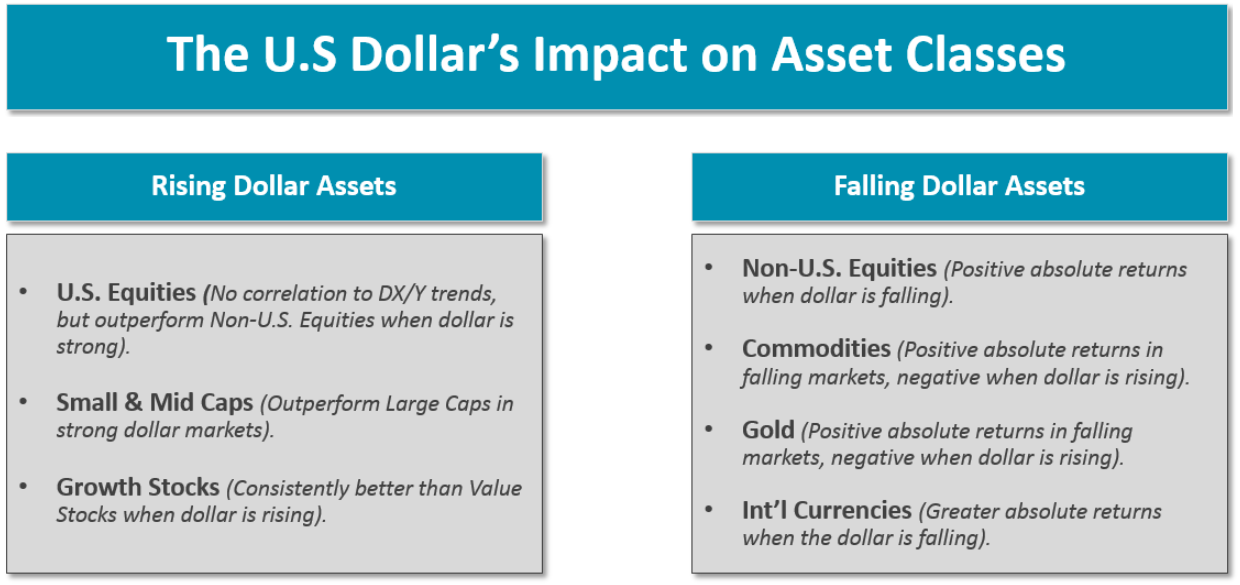 Nasdaq Dorsey Wright
https://business.nasdaq.com/intel/dorsey-wright/index.html
2.August Seasonality Poor for Emerging Markets.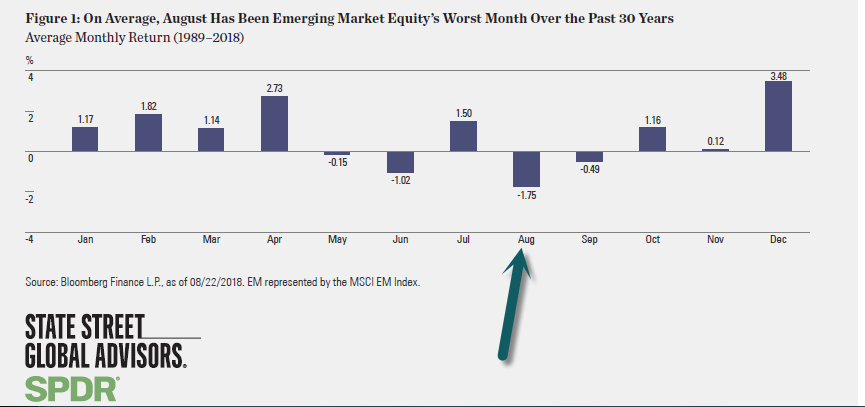 3.U.S. Economy on Fire….Manufacturing Backed UP.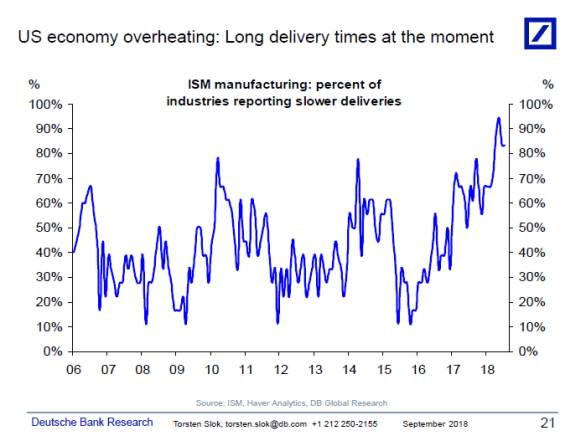 Torsten Sløk, Ph.D.
Chief International Economist
Managing Director
Deutsche Bank Securities
60 Wall Street
New York, New York 10005
Tel: 212 250 2155
4.Buybacks at Record Rates in Volume….But Performance Lagging S&P.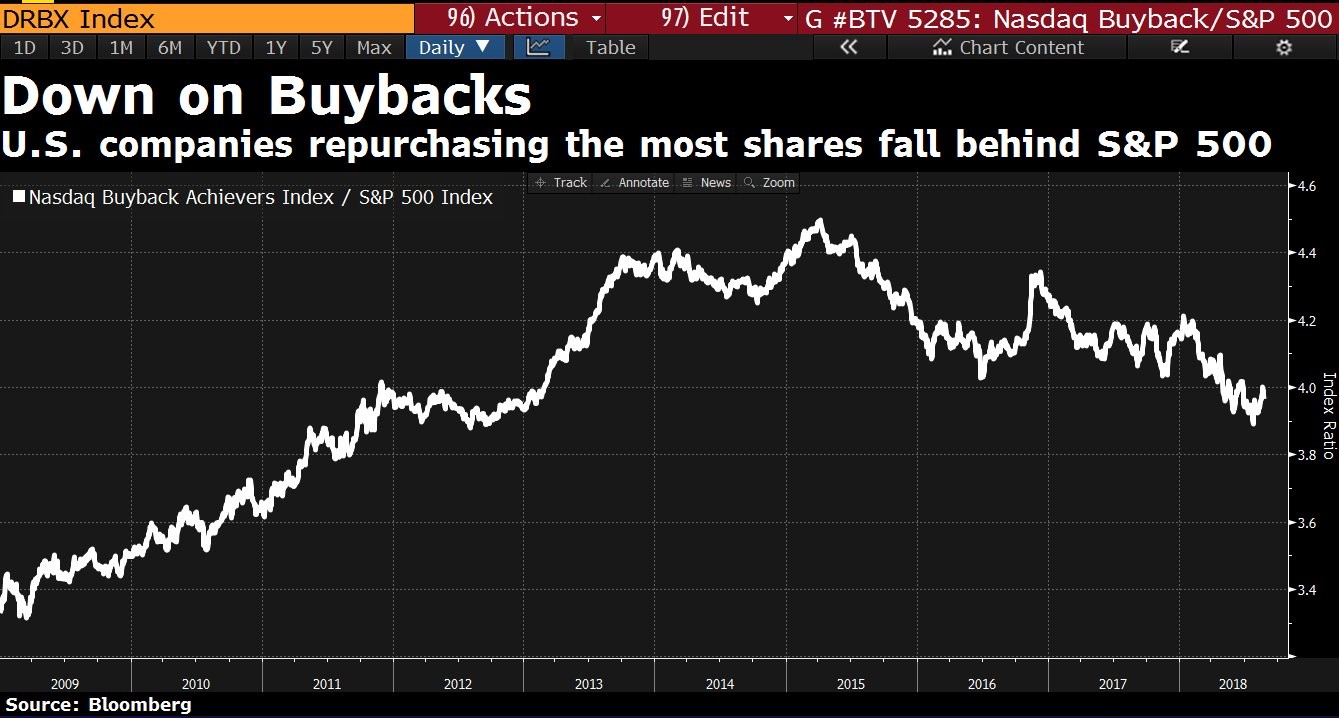 https://twitter.com/lisaabramowicz1
PKW Buyback ETF Below All-Time Highs.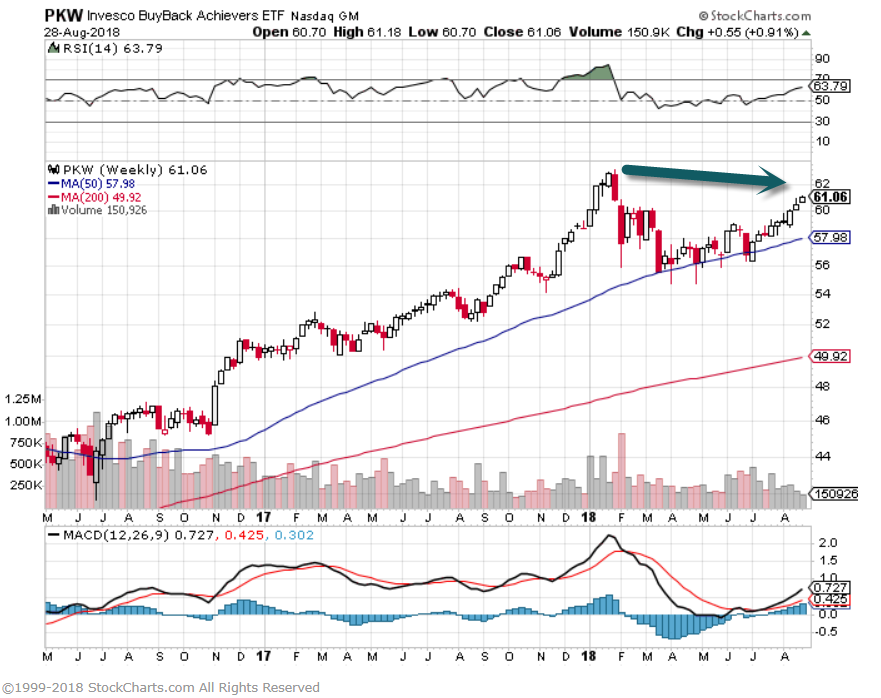 5.My Other Favorite Bull Market ETFs Right at Highs.
IPO ETF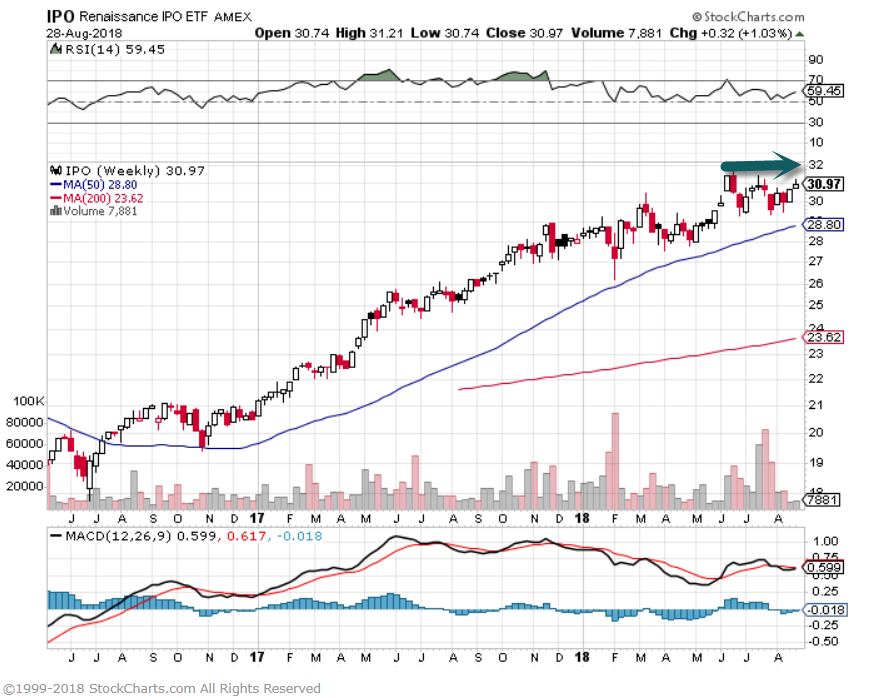 CSD Spin OFF ETF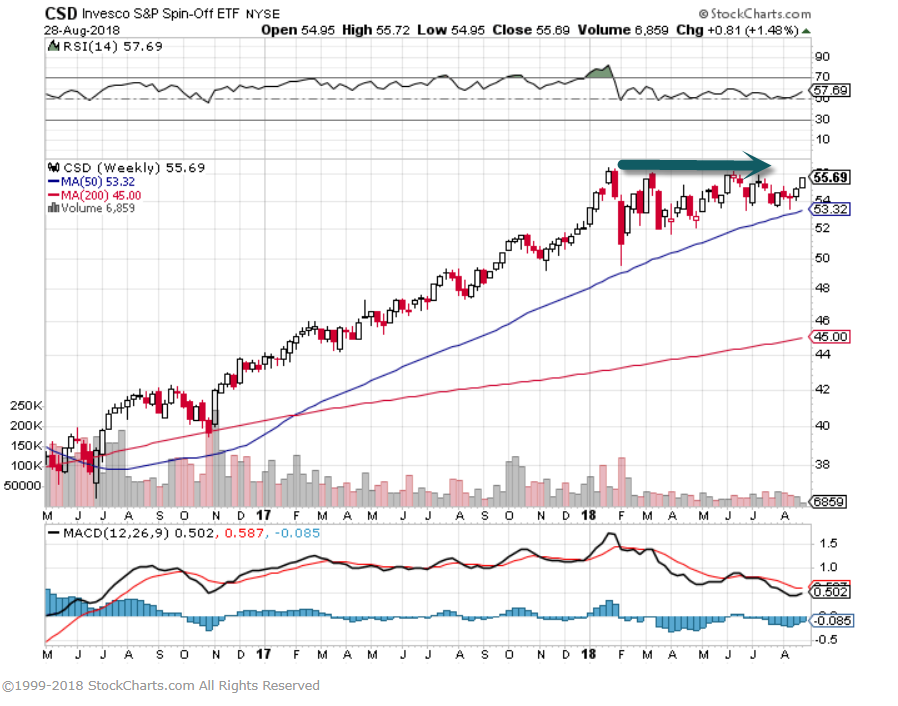 6.Full Disclosure…I Have Never Heard of this Signal….Sound Advice Risk Indicator.
Mark Hulbert
Marketwatch
The "Sound Advice Risk Indicator" is a different story. This indicator, the brainchild of Gray Cardiff, editor of the Sound Advice newsletter, is derived from the ratio of the S&P 500 SPX, +0.03% to the median price of a new U.S. house. For the first time since the late 1990s, and for only the sixth time since 1895, this indicator has risen above the 2.0 level that represents a major sell signal for equities. (See accompanying chart.)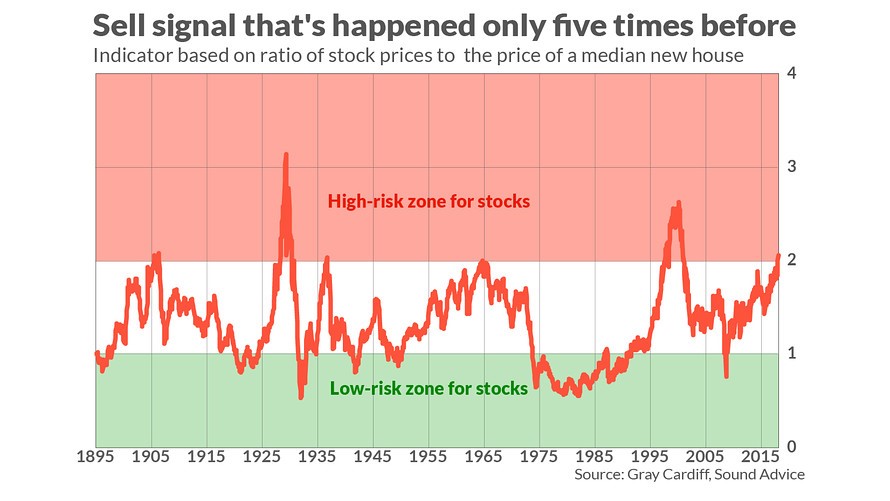 https://www.marketwatch.com/story/the-stock-markets-latest-sell-signal-has-happened-only-5-other-times-since-1895-2018-08-21
7. The Gap in Trade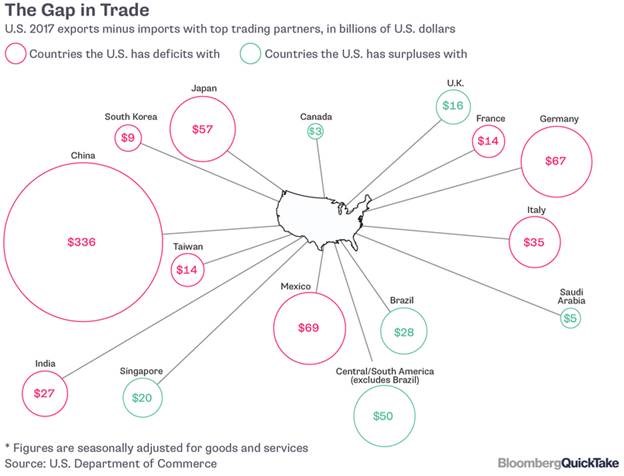 8.Weed ETF +27% in 30 Days.
Top 10 Holdings In MJ
| | | |
| --- | --- | --- |
| Security | % of MJ | 30-Day Return |
| Canopy Growth | 10.94% | 79% |
| Cronos Group | 9.21% | 108% |
| Aurora Cannabis | 8.53% | 35% |
| GW Pharmaceuticals | 5.90% | 9% |
| CannTrust Holdings | 4.86% | 50% |
| Emerald Health Therapeutics | 4.25% | 59% |
| Green Organic Dutchman  | 4.19% | 10% |
| Hydropothecary Corp | 3.70% | 30% |
| OrganiGram Holdings | 3.59% | 14% |
| Auxly Cannabis | 3.29% | 48% |
Sources: ETF.com, ETF Managers Group, Google Finance; data as of Aug. 28, 2018
https://www.etf.com/sections/features-and-news/marijuana-etf-top-aug-performer
9.Marijuana Stocks Taking Off….Still a Patchwork Process Legally.
Local Laws Make Marijuana Businesses Loco
Even cannabis entrepreneurs in legal states struggle with draconian restrictions at a local level
Image credit: Tetra Images | Getty Images
dispensaries.com
GUEST WRITER
Easy Search. Quality Finds. Your partner and digital portal for the cannabis community.
Opinions expressed by Green Entrepreneur contributors are their own.
Even the most casual observer of the current legal marijuana situation in the United States understands that there now exists a patchwork quilt of marijuana laws from sea to shining sea.
In California, marijuana is legal for both recreational and medical sales. Same thing in Colorado, Oregon, Washington, and (sort of) Massachusetts.
But even within those states where marijuana is legal for recreational sales, there's another level of bureaucracy that has the right not to allow that to happen. Those are the cities and counties that have banned any type of cannabis-related business.
It's already starting in New Jersey, which hasn't even approved legal recreational marijuana sales. The city of Clifton recently joined a growing list of cities and towns banning the marijuana industry.
Related: With Higher Prices and Less Product, California Dispensaries Face Angry Customers
Colorado Example
Colorado, the first state to allow recreational marijuana sales, offers a good example of how this works when it gets down to the local details.
Across the state, there are 510 licenses approved for marijuana dispensaries. However, only 70 cities have voted to allow cannabis sales. Colorado has 271 incorporated municipalities.
That's obviously something for consumers (especially visitors to Colorado) to keep track of. But it gets even more complicated than that for marijuana entrepreneurs.
Cities also have the right to decide what kind of marijuana business they allow. So, for example, you might be able to open a dispensary, but you'll have to cultivate the plant in another area of the state where that is allowed.
And then there are the often-Byzantine zoning laws, as a case in California demonstrates.
Related: Denver Mayor Who Opposed Legal Marijuana Now Celebrates It
The San Diego Zoning Puzzle
A detailed example of what cannabis entrepreneurs face comes from California, which has had legal medical marijuana sales since the 1990s and started recreational marijuana sales in January 2018.
Earlier this year, marijuana entrepreneur Belinda Smith told KPBS in San Diego about the hoops she has attempted to jump through while trying to get a license for her recreational marijuana dispensary.
Latest Articles
10 Ways to Maximize Your Time at the Next Cannabis Conference
California Has a Serious Compliance Problem
Local Laws Make Marijuana Businesses Loco
Cypress Hill's B-Real on the Future of Cannabis
Don't Invest In Legal Cannabis Until You've Read These 5 Tips
She has been working to get permits from San Diego to renovate a former credit union branch building into a dispensary. Her application has been in the system for more than two years. Part of the hold-up has been getting her application in front of a local community planning group, which she had to sue in order to get a hearing.
She also discovered earlier this year that an obscure clause in the community's official planning documents will not let her sell recreational marijuana. Why? Because it's tagged as retail sales as opposed to medical marijuana's commercial sales designation.
A rival dispensary also has appealed Smith's exemption from the California Environmental Quality Act. Through all this, she paid rent on a building that sat empty. Finally, this summer — despite continued opposition — the application was approvedby the city council.
For those interested in getting into the cannabis business, Smith's story offers a cautionary tale. It's vital to go beyond state laws and do research into the county, city, and local community laws to find out what obstacles must be overcome.
Follow dispensaries.com on Instagram to stay up to date on the latest cannabis news.
https://www.greenentrepreneur.com/article/319106?_ga=2.168166049.1428606344.1535545658-2032768020.1535545658
10. 28 Pieces of Productivity Advice I Stole From Others That Made Me Successful
Ryan Holiday Follow
Bestselling author of 'Conspiracy,' 'Ego is the Enemy' & 'The Obstacle Is The Way' http://amzn.to/24qKRWR
Aug 27
Like all people, I'd like to think I am a productive person. If I am, however, it's because I've been ruthlessly efficient at one thing: stealing secrets and methods from people a lot smarter than me.
In my career, I've had the fortune of coming in contact with bestselling authors, successful entrepreneurs, investors, executives and creative people. Some I didn't meet, but I found their thoughts in book form. Whether they knew it or not, I cased all of them and took from them what I thought were their best ideas on productivity.
Below are the secrets I learned from them. Thanks guys! You helped me get more done and be more creative.
Casey Neistat
From this popular YouTube filmmaker and artist, I picked up the trick of keeping a small Moleskine journal that I write in everyday: thoughts, reminders, notes, lessons. I prefer one that can fit in my back pocket, this way I always have paper on me. The last few months have been incredibly difficult and this journal helped me cope. More important, I learned how to keep track of these journals (and everything else I own) in case I lose them: In big letters writer "If Found Please Return [INSERT NAME & NUMBER]"
Tim Ferriss
From Tim I learned the art of the to do list. A simple, straight forward one. One notecard, 5–6 big items and that's it. Everyday, I cross these off and tear up the card. That's it. That's the system.
Robert Greene
Robert Greene, renowned author of the 48 Laws of Power, showed me how he creates books. His notecard system has changed my life. Every book I read, I fold the pages of and then go back through and transfer the information on to notecards which I then organize by theme in card boxes. At this point I have hundreds of thousands of these cards, which I always turn to if I need an anecdote, a fact, inspiration, a strategy, a story or an example.
Dov Charney
The first time I called Dov, I got his voicemail. It said: "I don't use voicemail, email me." This is a way better system. I've taken it a step further, I don't even have a voicemail set up. If it's important, they'll call back. If I have time, I'll return the missed call. Either way, having "6 unchecked voice messages" is something I've haven't worried about in years…because they don't exist.
Ramit Sethi
Ramit has built a 40 plus employee, multi-million dollar education businessright before our eyes (he and I grew up in the same small town actually). One trick I learned from Ramit–after ignoring the advice several times–is that if you're going to hire an assistant, make sure they are older or more responsible than you. Too many people make the mistake of hiring someone young and cheap…which is ridiculous. Because it's impossible for them to understand the value of time and organization and they will end up making you lessproductive, not more. If you're going to have an assistant, do it right.
Tobias Wolff
In his book, Old School, Tobias Wolf's semi-autobiographical character takes the time to type out quotes and passages from great books. I do this almost every weekend. It's a) made me a faster typer b) a much better writer c) a wiser person.
Robert Greene
From Robert I also learned that swimming is a great productivity tool. Why? Because it requires total isolation: no music, no phone, no possible interruptions. Just quiet, strenuous exercise. I've had some of my most productive brainstorming sessions in the pool.
David Allen & Merlin Mann
Inbox Zero. Never touch paper twice. Let these phrases sink in and use them.
Ramit Sethi
Another from Ramit. You don't have to answer every email you get. The delete key is a quick way to get to inbox zero.
Napoleon
There's a great quote from Napoleon about how he would delay opening letters so that by the time he did, the unimportant issues would have resolved themselves. I try to do the same thing with email and issues from staff.
Marco Arment
Instapaper changed my life. I don't play games on my phone, I read smart articles I queued up for myself earlier in the day. I don't get distracted with articles while I am working at my desk–because I can easily put them in the queue.
James Altucher
"No" is a powerful, productive word (he also wrote a book about it). We think we're obligated to say yes to everything, then we wonder why we never have enough time. Learning to say no–"No, thank you" more specifically–will energize you and excite you. Use it–as much as you can.
Montaigne
From Montaigne I also learned the importance of keeping a commonplace book. If something catches your eye, write it down, record it somewhere. Use it later. Simple as that.
Andrew Carnegie
He has a great line about "being introduced to the broom" at an early age. In other words, know even the most lowly tasks intimately. Doesn't mean you have to do them still, but know them.
Aaron Ray
Aaron Ray was my mentor in Hollywood. He's a hugely successful movie producer and manager, but I noticed one thing: He was never in the office. And he always had some ridiculous excuse why he wasn't. Eventually, I realized why: He was avoiding the office BS that sucks up most people's time. By staying away, he got way more done. He could see big picture. And as an extra bonus, everyone was always talking about him: "Where's Aaron?" "Has anyone seen Aaron?"
Tucker Max
You wouldn't guess it but Tucker has the biggest library you've ever seen. Why? He buys every book he wants. I don't waste time thinking about what books I want, or where to get them cheapest. I buy them, I read them, I recommend them, I benefit from them. End of story. (see my library here) I'm never without something to read, and I'm always driven to read more–because the shelves are looking down on me as a reminder of what I have left to do.
Nassim Taleb
Speaking of books, from Nassim Taleb I learned about the "anti-library." Don't just collect books you have read, collect the books you haven't read. It's a testament to what you don't know–and an on hand resource whenever you need it.
Samantha Hoover
From my fiancee, I got a nice little trick. Delete Facebook from your phone. Just do it. Trust me. (note: pretty sure she's relapsed, but I haven't)
Bryan "Birdman" Williams
The guy founded Cash Money records and is worth about $500M. I was shocked the first time I was supposed to meet him…at the studio…at 1am…on a Sunday. His day was just starting. He works at night, sleeps during the day. Like I said, at first it was weird, but then I realized: He picked the hours that were most productive for him–screw what most people think is "normal."
Tucker Max
I think Tucker was the guy I stole listening to the same song over and over from. It lets you space out and get into the zone (or flow state). My iTunes playlist is embarrassing, but I don't care. Listening to the same song hundreds of time is how I get so much done.
Samuel Zemurray
The entrepreneur behind United Fruit (and one of my favorite books) used to say: "Don't trust the report." We waste a lot of time trusting numbers and opinions we've never verified. Going backwards and doing something over ends up costing us far more than we saved by skipping over the work in the first place.
Tim Ferriss
Another one from Tim: you don't have to be the first one to sign up for things. Wait a bit on the new apps and social networks. Wait for things to sort themselves out, let other people do all the trial and error, then when you come, just be the best.
Anonymous
I forget who gave me the idea, but never buy in-flight Wifi. Go off the grid for the whole flight. Catch up on stuff. Think. Read.
Adam Corolla
On Loveline Adam used to complain about how the producers wanted him to get their 15 minutes before the show started. His refusal was simple: every week that added up to an extra show–for free. Important people can get a lot done in "just 15 minutes" so they don't give it away easily. And they don't mind looking bad in order to protect.
Niki Papadopoulos
My editor always says: "Ok, well, try writing it then." In other words, she means "Get started." She usually says this right after you explain some big sweeping idea you have for a book or a chapter or an article. Planning it out is great, but productive people get moving.
Frederick Douglass
"A man is worked on by what he works on." Steer clear of quagmires, toxic work environments, busy work and unsolvable problems.
James Altucher
Entrepreneurs and writers are nuts. To save yourself many wasted hours of time and insanity, find yourself a spouse who is better adjusted and balanced than you. James and his wife Claudia are an inspiring example of this important pairing.
Aaron Ray
As a talent manager, Aaron showed me why you never waste your time, or your own money, doing your own negotiating. This has served me well. I pass incoming inquiries to a speaking agent, book projects to a book agent, interview requests to an assistant, movie/TV stuff to Aaron, etc etc. Yes, this means I pay them a fee, but guess what? All valuable services have a cost. Only a fool represents himself or herself.
Like to Read?
I've created a list of 15 books you've never heard of that will alter your worldview and help you excel at your career.
Get the secret book list here!
https://medium.com/thrive-global/28-pieces-of-productivity-advice-i-stole-from-others-that-made-me-successful-2d9212be9518