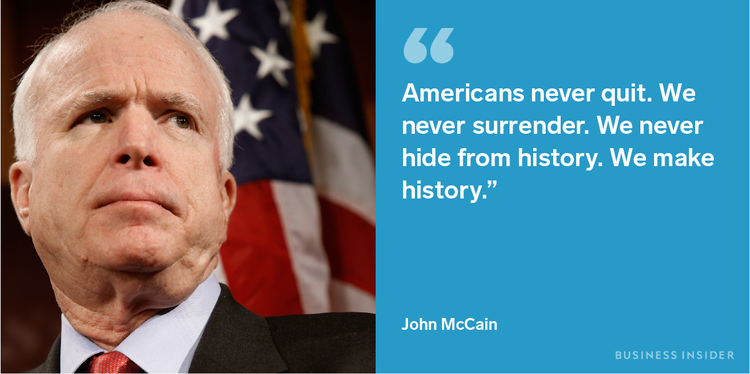 1.Small Mid and Large Hit New Highs..
The Interminable Bull
U.S. Investment Policy Committee Notes
by CFRA
Aug. 22: In a classic example of ignoring the headlines and focusing on the bottom line, investors brushed aside seemingly damaging political outcomes and pushed the S&P 500 not only to a record duration, but also a new intraday, all-time high. The question du jour is now, "How long?"
We think bull markets don't die of old age, they die of fright and are most afraid of recession. However, we don't see a recession on the horizon, since the global economy is expected to maintain its upward growth trajectory, interest rates and inflation are projected to stay low, and S&P 500 profits are seen adding 10% in 2019 to the near-23% 2018 growth forecast.
Besides, history shows that after a trifecta of all-time highs for the S&P 500, MidCap 400, and SmallCap 600, the 500 was higher in price by an average of 4.8% six months later and up 77% of the time versus the average gain of 4.5%. During all rolling six-month periods, it was up 73% of the time.
–Sam Stovall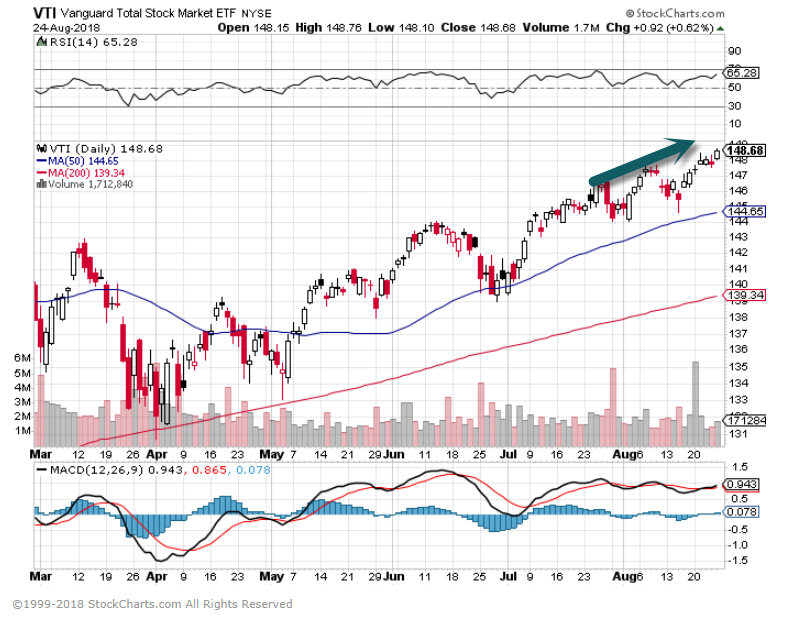 2.Healthcare Takes the Earnings Lead.
More than 90% of S&P 500 health-care companies topped earnings and sales forecasts, beating all other sectors, including technology, which came in second on both measures.
Why Health Care's Rally May Be Just Getting Started
Ben Levisohn
https://www.barrons.com/articles/why-health-cares-rally-may-be-just-getting-started-1535153121
XLV Healthcare ETF Hits New High.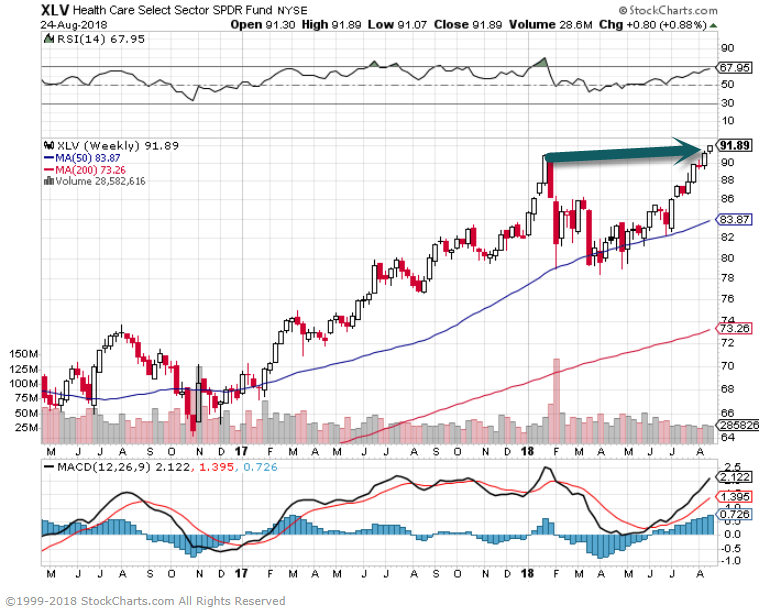 3.Commodities Continue to Fall…
Commodity Index Fell 10% from Highs….50day thru 200 day to downside.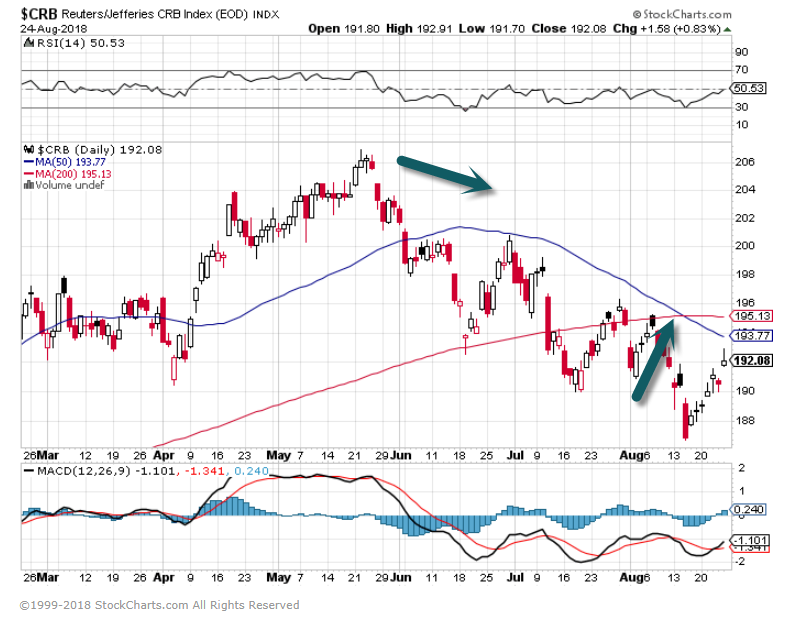 Dollar Bull ETF +5% vs. Blackrock Commodities -10%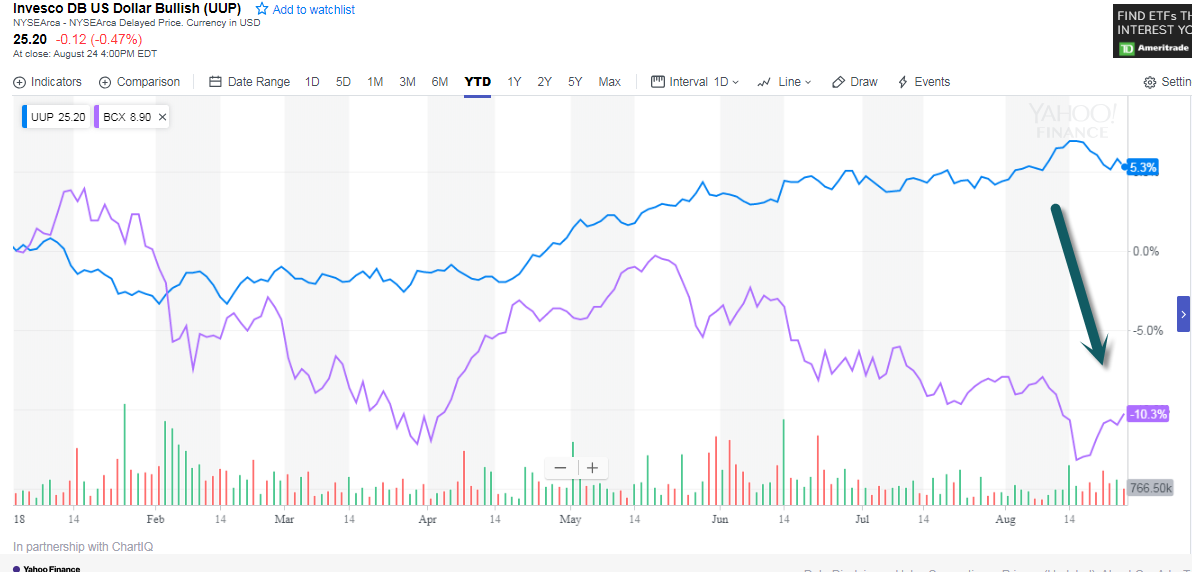 4.Italy Non-Performing Loans Biggest in Europe.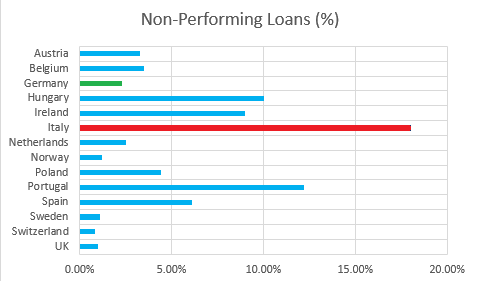 https://seekingalpha.com/article/4036679-pairs-trade-long-germany-etf-short-italy-etf
5.India Is NOT the Next China
But there is an abundance of investment opportunity there, nonetheless.
By Justin Leverenz, Tan Van Nguyen, Igor Tishin & Nikki Noriega | August 17, 2018
 Print  Share
Comparisons to China are plentiful when considering the Indian economy and its growth potential.  While we share a lot of optimism about India, it faces challenges that demand a more circumspect approach.  We have been students of India for the last two decades, and recently had the great privilege of inviting Professor Vijay Joshi, an Emeritus fellow at Oxford University, and the author of India's Long Road – The Search for Prosperity to address the Emerging Markets Team. The thoughts below are inspired in part by what we learned.
The Rise of India and Its Challenges
India is clearly one of the most important countries in the emerging world. With a market capitalization of $2.2 trillion,1 India is the second largest equity market in our universe.  It is also significant in a global economic context, with a GDP of $2.6 trillion in 2017,2 reflecting its continental-sized population of 1.3 billion as of 2016. However, as Professor Joshi points out, India is a "premature superpower."  Despite its tremendous growth potential, it still faces considerable challenges in its journey to becoming an industrialized, modern economy – many of which are self-inflicted.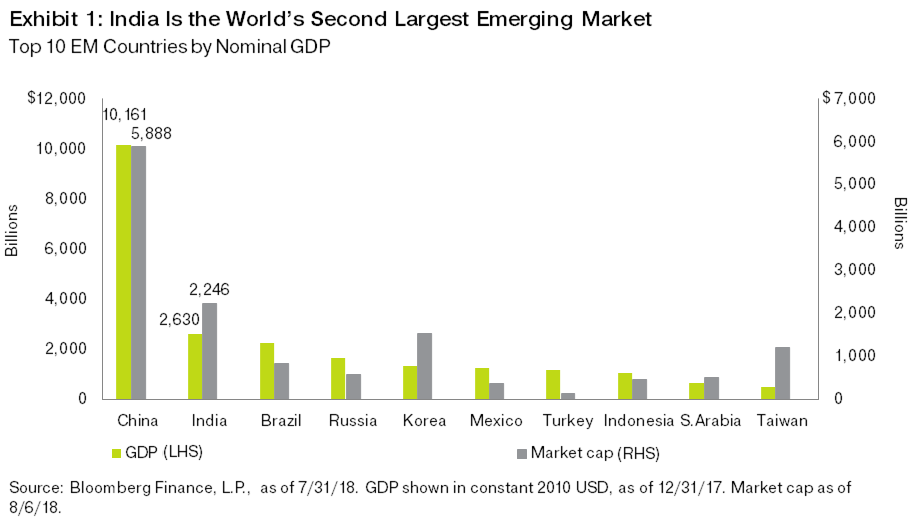 One of the most debilitating issues in India today concerns labor laws dating back to 1947.  These laws inhibit employer flexibility and create barriers to labor absorption in the productive, organized sectors of India's manufacturing and service industries, leaving a plurality of the labor population in low paying jobs with limited security.  As a result, India's rapid economic growth has not translated into broad-based social mobility.  In fact, India has the unfortunate distinction of being one of the world's poorest countries on a per capita income basis.  Its GDP per capita of $1,940 in 2017 is not only low on an absolute basis, it is merely a quarter of China's, a country with similar population size.2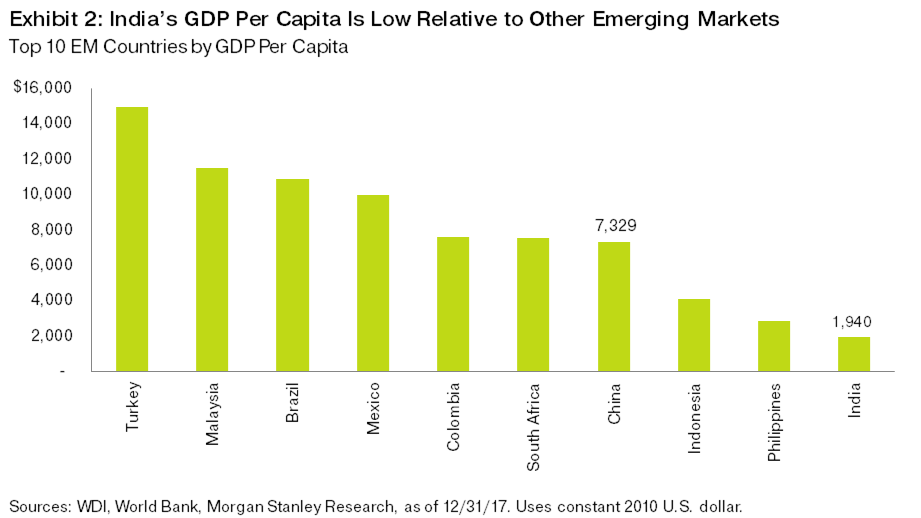 https://www.oppenheimerfunds.com/investors/article/india-is-not-the-next-china?CMPID=speqli
6.S&P Returns Around Impeachment Hearings.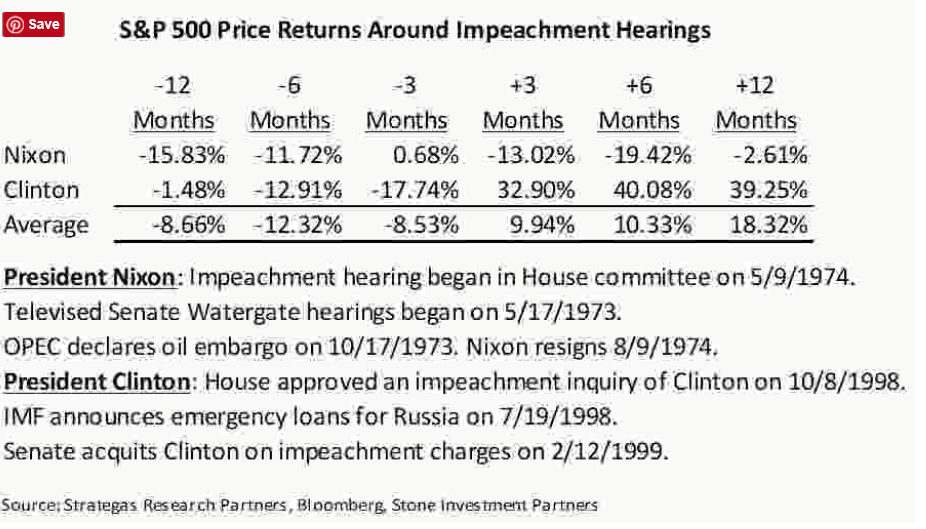 Bill Stone BLog
https://www.stoneinvestmentpartners.com/blog/stone-s-weekly-market-guide-week-of-august-26-2018
7.Legal marijuana could be worth $47 billion in the US alone, according to a Wall Street analyst (STZ, CGC)
Graham Rapier
Aug. 22, 2018, 09:42 AM
Edgard Garrido/Reuters
RBC Capital Markets is trying to address investor anxiety surrounding the nascent marijuana industry.
The bank says Constellation Brands' recent investment in Canopy Growth is "exactly the type of move that more companies should be making."
RBC estimates that the US's legal marijuana sales could reach $47 billion in the next decade.
Wall Street is catching the cannabis bug.
In a lengthy note to clients on Wednesday, RBC Capital Markets estimates that US marijuana sales are quickly catching up to those of beer and wine and that legal sales alone could be worth $47 billion within a decade.
"In this US, the legal cannabis category is set to grow at a 17% CAGR over the next decade to as much as $47 billion in annual sales (this compares to the current diaper category at $4 billion in sales)," the analyst Nik Modi wrote.
"Driving the growth is recreational use of the product, particularly concentrates and edibles," Modi said. "Estimates already suggest that the US category alone is $50 billion, which compares to spirits $58 billion, wine $65 billion, and beer $117 billion." RBC's $50 billion estimate includes illegal sales, and the amount of total sales they make up is unclear.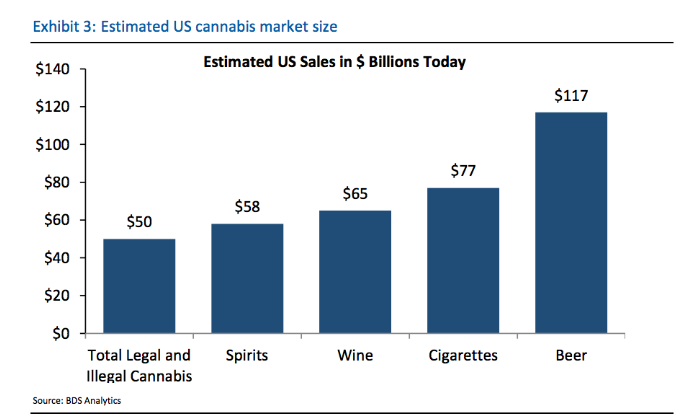 https://markets.businessinsider.com/news/stocks/marijuana-cannabis-us-legal-market-could-be-worth-47-billion-2018-8-1027477326
8.Two Out of Three American Households Own Pets.
Two out of three American households—or about 85 million homes—own pets, and those lovable little roommates don't come cheap.
Americans spent $17 billion last year on veterinary care alone, according to figures published by the American Pet Product Association. Per pet, that included $257 for the routine care of dogs and $182 for cats.
But accidents or illness can balloon costs, and to offset the expense, more households have turned to pet insurance, a niche product that for the first time last year grossed $1 billion in annual premiums.
Compared with auto, home and human health coverage, pet insurance is the runt of the litter. But that puppy's growing.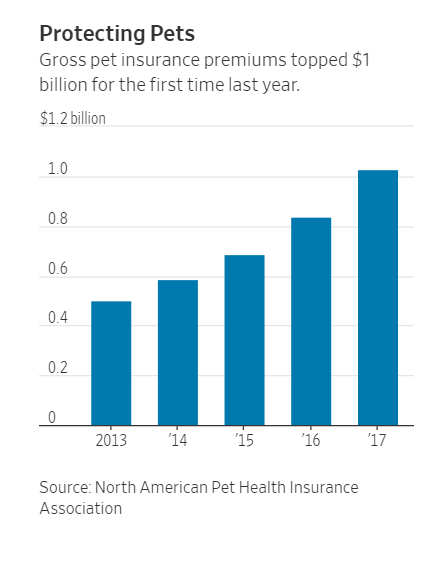 As Veterinary Bills Add Up, More Pet Owners Opt for Insurance
Annual premiums last year totaled $1 billion, with 1.83 million pets insured
By
Jo Craven McGinty
https://www.wsj.com/articles/as-veterinary-bills-add-up-more-pet-owners-opt-for-insurance-1535108400?tesla=y
9.4 Surprising Things That May Increase How Much Your Home Is Worth
BY WHITNEY RICKETTS ON 26 JAN 2018DATA
Does your home offer any of the perks some buyers will pay more for?
To understand how much your home is worth, you have to know what affects its value. The Zestimate home value is Zillow's tool for extrapolating the real market value of your home, based on existing home-related data and actual sales prices in your area.
Thousands of data points correlate with home values and sale prices — some of which are obvious (like the condition of the home) and some that aren't.
Here are several surprising things that can affect either the existing value of your home or the price someone is willing to pay for it, all based on data.
Proximity to a Starbucks
How far do you have to drive to get a Frappuccino? If the answer is "not that far," you're in luck.
Photo from Shutterstock.
A 2015 Zillow report found that, between 1997 and 2014, homes within a quarter-mile of a Starbucks increased in value by 96 percent, on average, compared to 65 percent for all U.S. homes, based on a comparison of Zillow Home Value Indexdata with a database of Starbucks locations.
To evaluate if this effect is isolated to Starbucks, the research team looked at another coffee hot spot (one with particular pull on the East Coast): Dunkin' Donuts.
The data showed that homes near Dunkin' Donuts locations appreciated 80 percent, on average, during the same 17-year period — not quite as high as homes near a Starbucks, but still significantly above the 65 percent increase in value for all U.S. homes.
Blue kitchens and blue bathrooms
Beyond America's obsession with curb appeal, what's inside your house counts a lot too — especially the colors you paint the rooms (particularly the kitchen).
According to Zillow's 2017 Paint Color Analysis, which examined more than 32,000 photos from sold homes around the country, homes with blue kitchens sold for a $1,809 premium, compared to similar homes with white kitchens.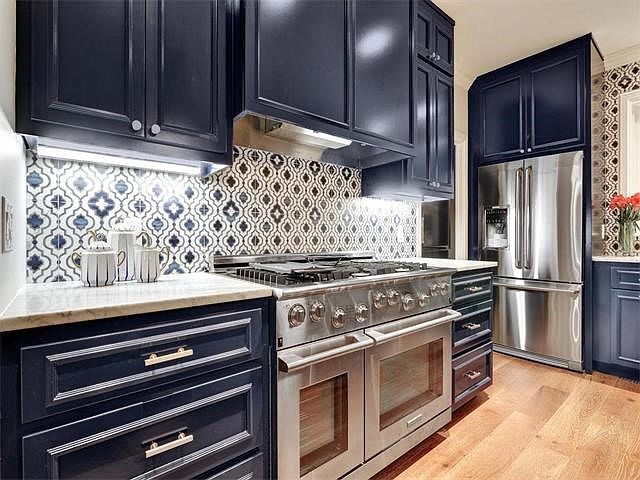 Photo from Zillow listing.
Blue is also a popular bathroom shade. The same analysis found that homes with pale blue to soft periwinkle-blue bathrooms sold for $5,440 more.
Walls painted in cool neutrals, like blue or gray, can signal that the home is well cared for or has other desirable features.
Trendy features
Joanna Gaines' aesthetic is permeating more than just your YouTube search history. Zillow listings mentioning the shiplap queen's favorite features — like barn doors and farmhouse sinks — sell faster and for a premium, according to a 2016 Zillow analysis of descriptions of more than 2 million homes sold nationwide.
Listings with "barn door" in the description sold for 13.4 percent more than expected — and 57 days faster than comparable homes without the keyword. Meanwhile, listings touting "farmhouse sink" led to a nearly 8 percent sales premium.
Sellers can use the listing descriptions to highlight trendy details and features that might not be noticeable in the photos.
How close you are to a city
If you own a home in a major American metropolitan area, you're most likely sitting on a significant (and rapidly appreciating) financial asset. Case in point: Home values in the New York, NY, metro area are worth $2.6 trillion, per a recent Zillow analysis.
Photo from Shutterstock.
The average urban home is now worth 35 percent more than the average suburban home. Since 2012, the median home value in urban areas has increased by 54 percent, while the median home value in suburban areas is up just 38 percent.
Top featured photo from Offset.
https://www.zillow.com/blog/4-things-increase-home-value-224624/
10.What You Don't Know About Leadership but Probably Should
The Book Brigade talks to psychologist Jeffrey Kottler.
Do you think leadership is something that starts and ends in the corner office? Daily life presents many opportunities for everyone to lead at some point. How prepared are you to take charge when the unexpected happens?
Is leadership really the most studied aspect of human behavior? Tell me a little about the science of leadership.
If only the subject truly was treated as a science. There are more books published each year on leadership than any other topic, usually offering simplistic advice. It is as if sound leadership is really just about following a few rules or habits. Ultimately, true transformational leadership, the sort that has lasting productive, benevolent effects, is so much deeper, more complex than that. It isn't just about certain traits or skills or rules but about living what we teach to others, being a model of what we want others to be. This is as much true of parenting as it is running a company or a nation.
What important things are known about leadership that I probably don't know?
That most leaders aren't very good at their jobs (you probably already know that). That employees complain most about their bosses as the main reason why they hate their jobs. That most leaders are absolutely clueless about how to run a meeting in such a way that people leave inspired and motivated. That leaders are singularly unprepared for the relational aspects of their jobs that primarily involve supporting, mentoring, encouraging, motivating followers. That books about leadership are not particularly helpful, which is why there are so many more published each year: They don't work because they offer simplistic advice that doesn't get at the heart of what meaningful leadership is all about—having a true, sincere, accurate moral compass that is guided by service to others, rather than to one's own self-interest.
Why is there a gap between what leaders are trained to do and what they actually do do?
Well, of course! That's why most leaders are so awful and disappointing at their jobs.
If there's a gap between the two, why isn't it being remedied by leadership training programs?
Because the focus of such programs is on content that is related to more tangential rather than essential parts of the job. Take meetings as an example, the scourge of most people's existence. They are such an incredible waste of time. They go on too long. They stick to agendas rather than what is really present in the room. Only a few people talk. People check out, daydream, text under the table. Slides put them to sleep. And the leader does most of the talking while others sit passively and wish they were somewhere else. It would be so easy to teach people how to keep others actively engaged.
What's the biggest mistake that leaders make?
The refusal to acknowledge their mistakes and failures and thereby learn from them. The one thing leaders need most is scrupulously honest, direct, accurate feedback on what is working and what is not so that adjustments can be made accordingly. It is just so peculiar that political figures or corporate leaders will consistently do or say things that are annoying, ineffective, counterproductive, and yet be unable—or unwilling—to change those behaviors.
How much does charisma (whatever it is!) account for good leadership, and what other personal qualities count—or don't?
Charisma, or personality factors, can take so many different forms, depending on the setting, context, culture, follower needs, and the individual. Charisma or passion can be "soft" or "loud," subtle or direct. I think it's important for each leader to develop an individualized style that best capitalizes on signature strengths.
What kinds of situations commonly arise that demand leadership outside professional settings?
I'd reframe the question to say, "What sort of questions DON'T demand leadership?" I can't think of many. I always wonder why people trained in leadership, or who serve such roles, are so ineffective at facilitating meaningful interactions or conversations, planning parties, leading meetings, being kind and considerate to people in their daily life. Parents and older siblings are leaders. In a sense we are ALL leaders in some part of our lives. It's just that most people aren't very good at it because they haven't invested the time and energy to really think of themselves that way. It's hard for me to think of a human skill that is more important for one's well-being as well as the viability of our families, neighborhoods, and communities.
What kinds of situations commonly trip up leaders?
What have been called "black swan" events, those that involve uncertainty and anomalies that have not been encountered, or perhaps even imagined, previously. Political upheavals, social movements, economic collapses, scandals, earthquakes literally or metaphorically. This is the true test for leaders when they are expected to be flexible, inventive, collaborative, resilient enough to bring a team or family or group together during times of crisis. It isn't always about finding a solution to the problem that matters most but rather providing support and encouragement until such time that this is possible. Most leaders only do a few things well, perhaps during a crisis or during times of relative tranquility, but great leaders have recruited team members who can help them with their own deficits in skill and knowledge. That's also a prescription for optimal parenting in which partners rely on one another's strengths and offset one another's weaknesses.
If you had to pick one thing to tell anyone who is in or might be in a leadership position, what would it be?
Think beyond the narrow confines of your position, job, or primary responsibility. The really amazing thing about leadership is how much we get to learn about others, ourselves, and the ways the world works. This is such an incredible gift that keeps us growing and expanding our deep understanding of how to better help others. I just think leaders have this opportunity to apply what we know and understand on the job to improve our lives, and those of others, in so many other ways in daily life.
What bothers me most about leaders is their hypocrisy. What bothers me most about myself is my own hypocrisy. Whenever I am faced with additional ways that I am not practicing what I preach to others, when I am not being the kind of person that I think is optimal for those I teach, write, supervise, counsel, mentor, and lead, I feel this intense motivation to be a better person, to try even harder to be respectful and caring toward others. With so much conflict, disputes, political factions, arguments, misunderstandings all around us, I feel my responsibility is to lead by the ways I walk through life. And I always fall short, compared to my own standards and what I feel others truly deserve from me. The other facet of this is being forgiving for my shortcomings, accepting of my limits, but also honest with myself about my growth edge.
Who is your leadership hero and why?
Like most leaders, Gandhi was flawed, self-indulgent, misguided at times, but I admire his commitment, resilience, and willing to (mostly) practice in his life what he advocated for others. There's nothing that bothers me most these days among leaders in politics, corporations, entertainment, and public service is their hypocrisy, deceit, and self-serving motives. I believe that among all else leaders must be truly accountable to those we serve, not just in what we say but in the ways we treat people with respect, caring, and compassion.
I hate raising this issue, but do the principles of leadership apply equally to men and women? I ask because, regrettably, not everyone grants women the authority that comes with assumption of leadership.
Women are held to a much different standard, which is why it has been so difficult for many to attain comparable power, authority, and responsibility. Women have not been permitted to use their most natural inclinations to lead through empathy, sensitively, emotional nuances; instead they have been required to wield power in the traditional, patriarchal ways of dominance and control, which have distinct limitations. Just look at the ways that women politicians are treated when they attempt to be assertive or exert their power; they are often perceived through a very different critical lens.
About THE AUTHOR SPEAKS: Selected authors, in their own words, reveal the story behind the story. Authors are featured thanks to promotional placement by their publishing houses.
To purchase this book, visit:
What You Don't Know About Leadership But Probably Should
https://www.psychologytoday.com/us/blog/the-author-speaks/201808/what-you-don-t-know-about-leadership-probably-should