1.NFL Games Make Up 60% of the Top 100 Most Watched Telecasts in a Typical Year.
In the U.S., the NFL rules sports—and television. Its games make up 60% of the top 100 most-watched telecasts in a typical year, and over 70% in years when there are no Olympic Games.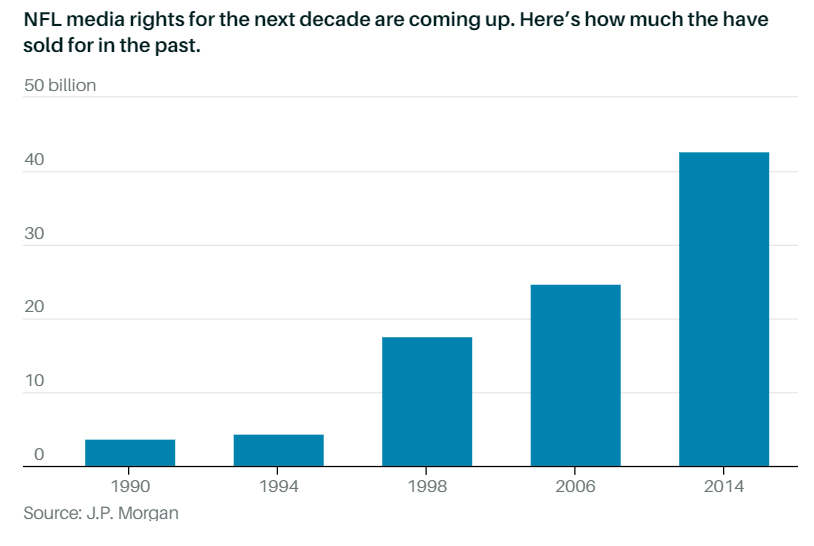 Football Season Is Here and It's a Key Moment for the Future of TV
https://www.barrons.com/articles/nfl-season-comes-at-key-moment-for-the-future-of-tv-51566605219?mod=past_editions
2.Berkshire Hathaway 2 Years Sideways.
BRK/A chart 2 year range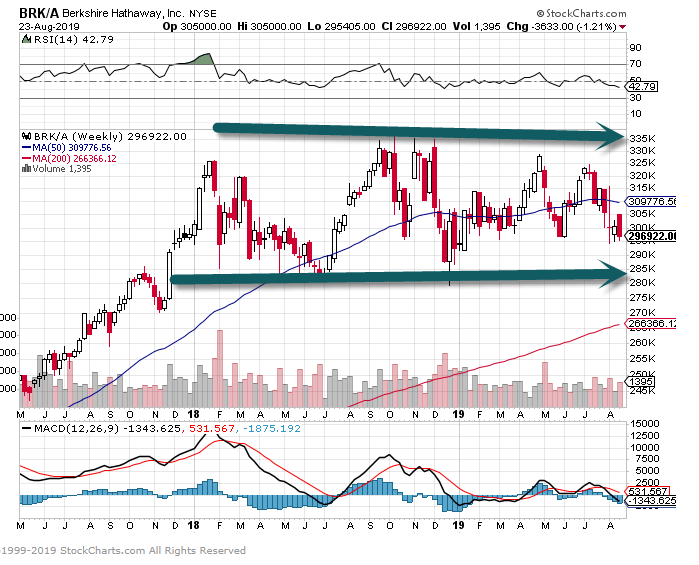 3.Buffett's Battery Bet
BYDDF-New Lows For Buffett's battery company BYD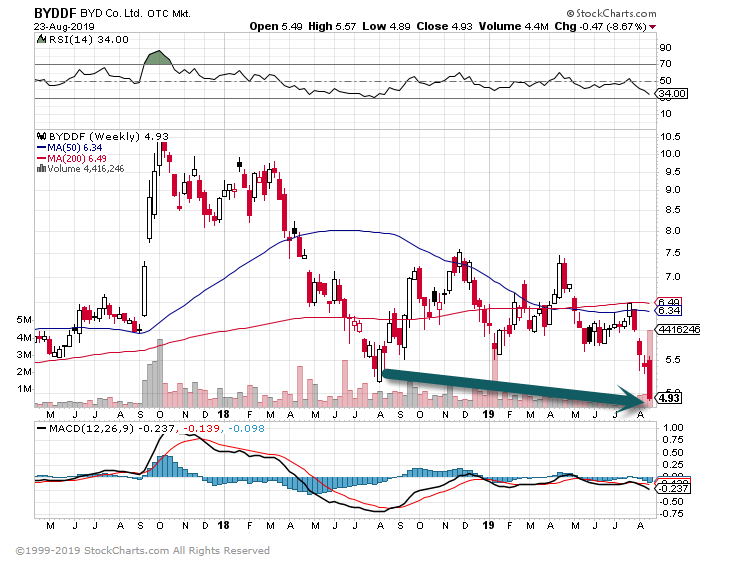 4.40 Weeks in a Row of Net Withdrawls from Loan Funds.
But retail investors bail out.
Loan mutual funds and loan ETFs used to be popular – especially with retail investors. Leveraged loans normally have floating rates. For example, Ancestry's loan was issued at a rate of Libor plus 425 basis points. In a rising interest-rate environment, such as 2018, the interest rate on those loans adjusts, and so the yield rises, but the price of the loan remains roughly stable. Bonds on the other hand experience falling prices as yields rise.
But the market got the jitters late last year. Leveraged loans are notoriously slow to sell, creating a potentially treacherous liquidity mismatch in a fund that allows for daily withdrawals. Fear of the liquidity mismatch, and the potential for a run on the fund, caused investors to try to get out the door first.
And this year, markets figured that interest rates would fall, instead of rise, and more investors withdrew their money from loan funds, leading to 40 weeks in a row of net withdrawals, now totaling about $36 billion (data via LCD, citing Lipper):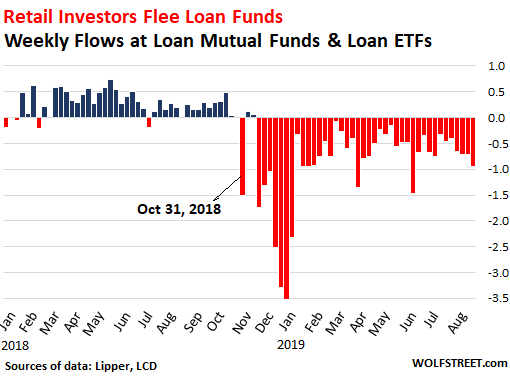 Suddenly Leveraged Loan Issuance Gets Rough
by Wolf Richter • Aug 22, 2019 • 62 Comments • Email to a friend
5.Vietnam Increasing Exports to U.S. But Still Small Compared to China.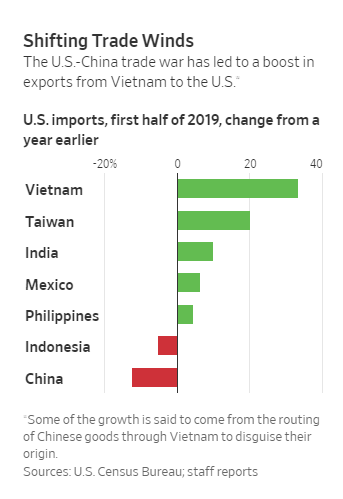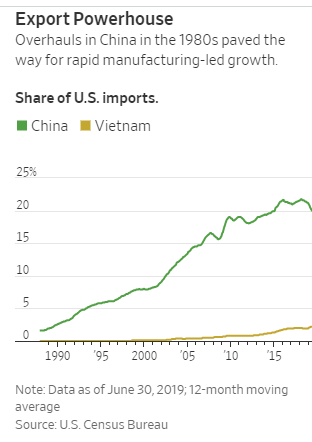 By
Niharika Mandhana https://www.wsj.com/articles/for-manufacturers-in-china-breaking-up-is-hard-to-do-11566397989?mod=itp_wsj&ru=yahoo

companies are rushing to seek alternative bases, only to find even promising countries like Vietnam don't match up
6.54% of Amazon Paid Units Were Sold by Third-Party Sellers…"Death by Amazon" Offset by "Alive by Amazon"….3/4 of third-party sellers 1-5 employees.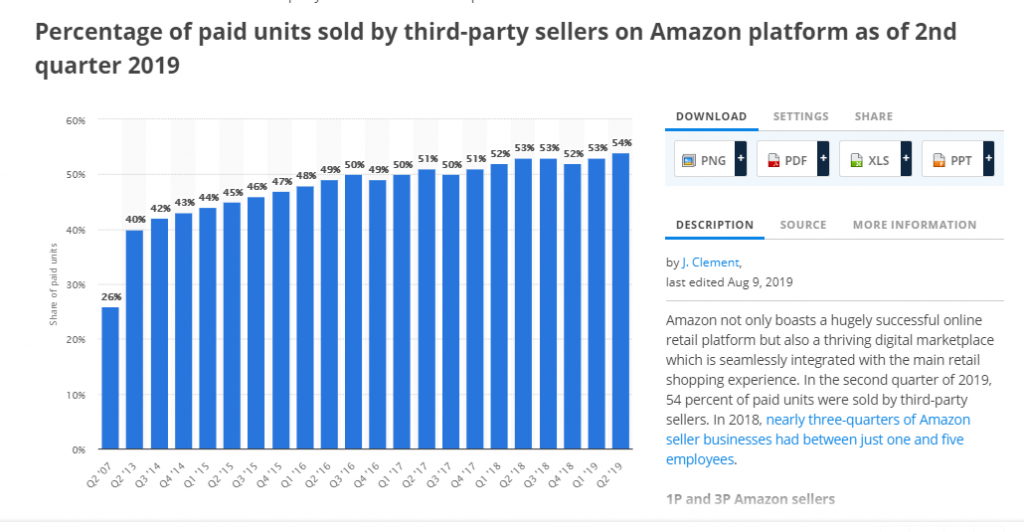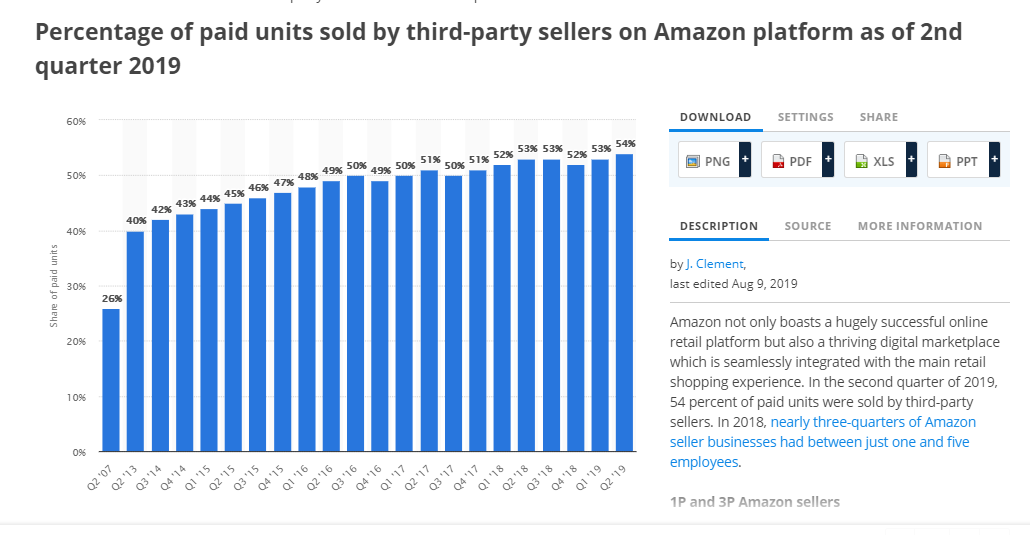 https://www.statista.com/statistics/259782/third-party-seller-share-of-amazon-platform/
7.The Fed is Buying Treasuries for the First Time Since 2014
Summary
Federal Reserve holdings of Treasury's has risen for the first time since QE ended in 2014.
Quantitative Tightening is over, but is outright QE back???
Ongoing "direct monetization" continues, with un-matched declines in Excess Reserves versus Fed held Treasury's and MBS.
Interesting that this week, for the first time since QE ended way back in late 2014, Federal Reserve holdings of Treasury bonds rose (yellow columns, below). The $8 billion increase is the first seen since QE ended almost 5 years ago and comes after QT (quantitative tightening) had been decelerating since mid 2019. However, the outright increase in Treasury holdings is still a bit of shocker. Can't say if this was a one off… but this deserves a bit more attention.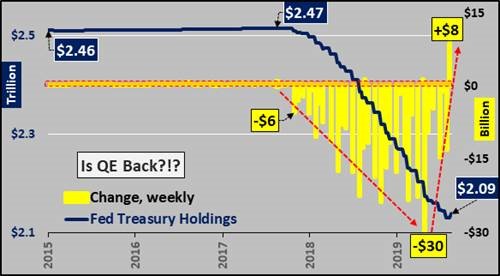 So what exactly was the Fed buying? Seven to ten year Treasury's! The chart below shows the Fed's mid duration holdings (red line) and the weekly change in those holdings (blue columns). The purchasing this week was only bested by a single week in 2011…when the Fed was feverishly running its QE program?!?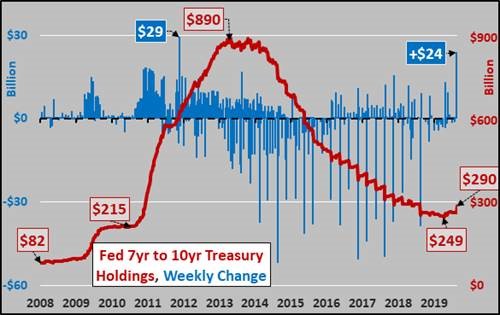 8.Picture of Zero Interest Rate Debt Worldwide.
https://www.zerohedge.com/news/2019-08-25/j-hole-surprise-qe-back
by Tyler Durden
A J-Hole Surprise… QE Is Back!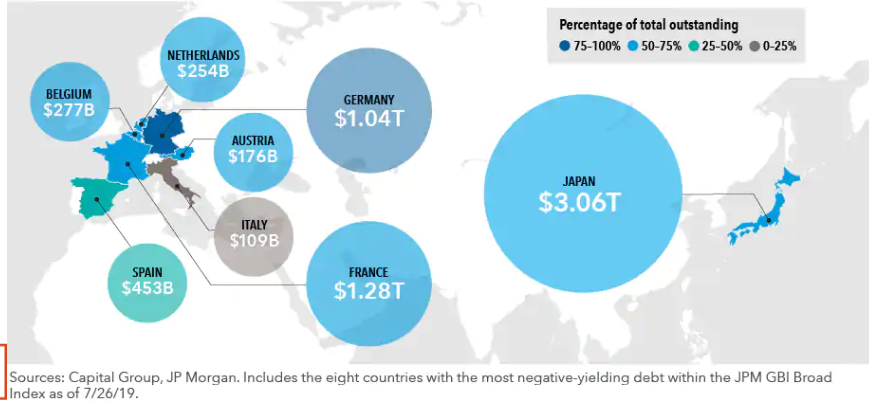 Fed rate cut shifts monetary policy into overdrive
9.The Law Trump Quoted in Relation to American Companies in China.
International Emergency Economic Powers Act
From Wikipedia, the free encyclopedia
Jump to navigationJump to search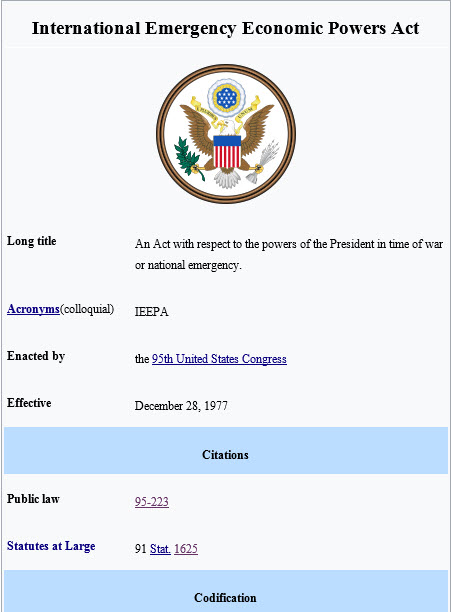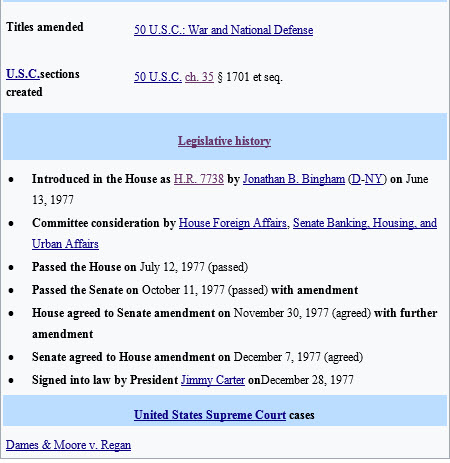 The International Emergency Economic Powers Act (IEEPA), Title II of Pub.L. 95–223, 91 Stat. 1626, enacted October 28, 1977, is a United States federal law authorizing the president to regulate international commerce after declaring a national emergency in response to any unusual and extraordinary threat to the United States which has its source in whole or substantial part outside the United States.[1]
The H.R. 7738 legislation was signed by President Jimmy Carter on December 28, 1977.[2]
In the United States Code, the IEEPA is Title 50, §§1701–1707.[3] The IEEPA authorizes the president to declare the existence of an "unusual and extraordinary threat… to the national security, foreign policy, or economy of the United States" that originates "in whole or substantial part outside the United States."[4] It further authorizes the president, after such a declaration, to block transactions and freeze assets to deal with the threat.[5] In the event of an actual attack on the United States, the president can also confiscate property connected with a country, group, or person that aided in the attack.[6]
The IEEPA falls under the provisions of the National Emergencies Act (NEA), which means that an emergency declared under the act must be renewed annually to remain in effect.
History[edit]
Curtailment of emergency executive powers[edit]
Congress enacted the IEEPA in 1977 to clarify and restrict presidential power during times of declared national emergency under the Trading with the Enemy Act of 1917 ("TWEA"). Under TWEA, starting with Franklin D. Roosevelt in 1933, presidents had the power to declare emergencies without limiting their scope or duration, without citing the relevant statutes, and without congressional oversight.[7] The Supreme Court in Youngstown Sheet & Tube Co. v. Sawyer limited what a president could do in such an emergency, but did not limit the emergency declaration power itself. A 1973 Senate investigation found (in Senate Report 93-549) that four declared emergencies remained in effect: the 1933 banking crisis with respect to the hoarding of gold,[8]a 1950 emergency with respect to the Korean War,[9] a 1970 emergency regarding the postal workers strike, and a 1971 emergency in response to the government's deteriorating economic and fiscal conditions.[10] Congress terminated these emergencies with the National Emergencies Act, and then passed the IEEPA to restore the emergency power in a limited, overseeable form.
Unlike TWEA, IEEPA was drafted to permit presidential emergency declarations only in response to threats originating outside the United States.[11] Beginning with Jimmy Carter in response to the Iran Hostage Crisis, presidents have invoked IEEPA to safeguard U.S. national security interests by freezing or "blocking" assets of belligerent foreign governments,[12] or certain foreign nationals abroad.[13]
https://en.wikipedia.org/wiki/International_Emergency_Economic_Powers_Act
10.14 Ways to Commit to Lifelong Learning
Learning is a lifelong process, especially when you're an entrepreneur. As society and technology evolve, it's important to keep on top of the latest trends and best practices so that you, and your business, can keep growing.
You can pursue advanced degrees or formal continuing education classes, but sometimes this isn't feasible. Fortunately, there are plenty of opportunities for informal learning that don't involve going back to school.
We asked members of the Young Entrepreneur Council how they've committed to lifelong learning outside of the traditional classroom setting. Here's what they advise:
1. Travel.
There is no better way to grasp new ideas and educate yourself than to be in new places, meeting new people and experiencing new cultures. Traveling may not give you book smarts, but it will give you an education you can't get in a classroom.
—Colbey Pfund, LFNT Distribution
It is important to step outside of your comfort zone and try things you maybe would not normally try. It could be reading a book on a topic you might not normally gravitate to, eating a cuisine you would normally never try or seeing a concert of a genre of music you have never been into. Exposing yourself to the world outside of your bubble is a great way to continue to grow and learn.
—Adrien Schmidt, Aristotle, by Bouquet.ai
3. Share knowledge with others.
Teaching others also teaches you something. It is the best test of your own knowledge. Whomever you are teaching or mentoring will have questions. This will force you to think critically and offer thoughtful answers. It will also create discussions that will tap into areas you may not have even thought about yet.
—Blair Thomas, eMerchantBroker
4. Keep in touch with mentors.
Every business owner has a couple of mentors they relied on when they first started their business. There's a good chance that they have a lot of knowledge to share, and just because you've managed to create a successful business, that doesn't mean that you've learned everything they have to offer. Keep in touch with the people who helped you get started.
5. Listen to podcasts.
Lifelong learning is the only way to stay on top of the curve. However, it's really difficult for entrepreneurs to squeeze in at least an hour a week to gain some knowledge. I discovered podcasts a few years ago and it's been a game-changer for me. I listen to them in traffic, or when I do some physical tasks that don't require mental concentration, like running or working out.
6. Read blogs.
Reading industry-related blogs is a great way to practice lifelong learning. Because blog posts are shorter, in comparison to books, you can learn a lot in a short amount of time. I make sure to read at least a couple a day to get inspired, improve my own writing skills and learn new things.
—Stephanie Wells, Formidable Forms
Having other people around who are working toward similar or the same goals can help you grow. These members and friends keep you accountable, and you do the same for them. Meeting regularly builds the habit and commitment. In addition to building lifelong skills, from public speaking to writing to studying, you will gain lifelong friends.
—Patrick Barnhill, Specialist ID, Inc.
8. Watch lectures on YouTube.
YouTube is full of professors giving educational lectures for everyone to see. If you want to learn more while not sitting in a classroom, consider taking the time to listen to a lecture on a subject you're passionate about while on lunch. Even though you're not in a class, you still get the benefits of having a student mentality.
9. Keep asking questions.
It's so important to stay curious about life so that it never gets dull or boring. If you stay inquisitive about all there is to know, it'll encourage you to keep learning new things, perhaps even things you never thought you could do. Encourage yourself to ask questions about anything and everything you're curious about to keep your brain engaged and healthy.
10. Watch documentaries.
An easy and entertaining way to practice lifelong learning is to watch documentaries. There are tons of awesome documentaries out there and it's a great way to learn more about the world. I think it's important to learn about a wide array of topics, not just ones that are related to your business. You never know what you'll learn in a documentary that could inspire your next great idea.
11. Read everything.
The most important thing I ever got out of my education was a passion for reading. It's because of this that I've been able to continue learning and growing long after finishing my degree. If you want to ensure that you're informed about the latest developments in your field and that you're always improving your mental capabilities, make it a habit to read everything you can get your hands on.
12. Take online classes.
I love the convenience of online courses that I can start and stop and then start again whenever I have a free half hour. It's a productive way for me to unwind after working or something to do when I'm stuck somewhere, like at an airport or on a plane.
13. Listen to audiobooks.
Audiobooks are a super convenient way to keep learning new things on a daily basis. Whether it's on your daily commute, while eating lunch or even during simpler tasks at work, it's an easy way to consume new material and maintain your edge. I personally take a 30-minute walk every day after lunch just to make sure I get my "reading" in.
14. Hang around curious minds.
It is said that "small minds discuss people, average minds discuss events and great minds discuss ideas." If you want to be successful and a lifelong learner, it would be wise to hang around other curious people. What do your peers talk about when you're together? Do they discuss deep topics and ideas or pointless, feel-good social gossip?
Related: How to Keep Learning
These answers are provided by Young Entrepreneur Council (YEC), an invite-only organization comprised of the world's most successful young entrepreneurs. YEC members represent nearly every industry, generate billions of dollars in revenue each year and have created tens of thousands of jobs. Learn more at yec.co