1.10 Year Treasury Yield Hits a 5 Month Low…Bond Bull Not Going Out Without a Fight.
10 Year Treasury Yield Breaks Below Channel from Post Election Rally.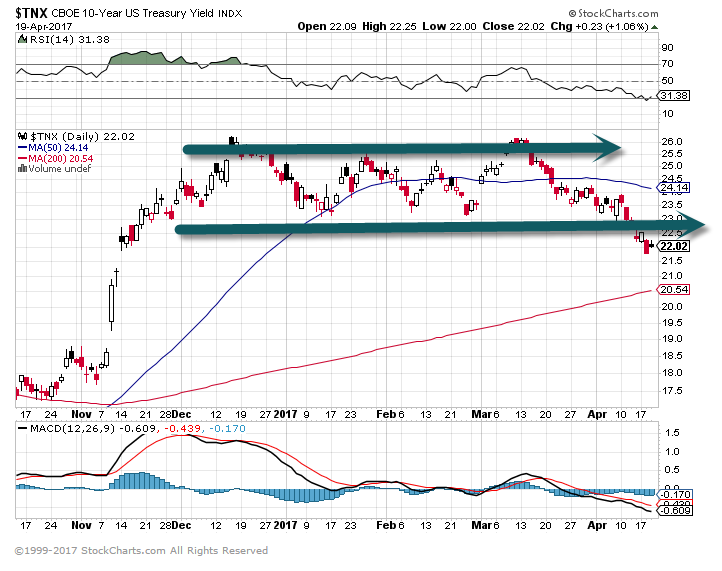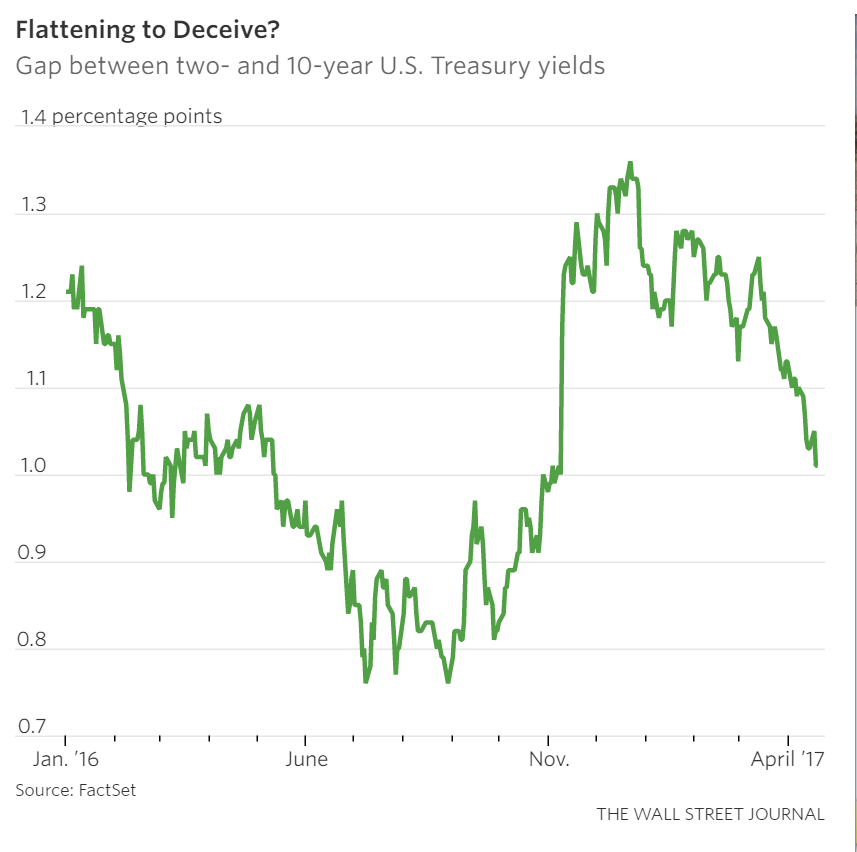 https://www.wsj.com/articles/bond-markets-send-jitters-but-is-anyone-listening-1492606188?tesla=y
2..Dollar….International Markets will be Dependent on this Chart.
Chart of the Day
For some perspective on the US dollar, today's chart illustrates the trend of the US dollar index over the past 22 years. Notice how the US dollar rose sharply from June 2014 to March 2015 — a gain that is comparable in both duration and magnitude to what occurred during the height of the financial crisis (2008). Since March 2015, the US dollar worked its way back to and then repeatedly bounced off support (green line) of its four-year upward sloping trend channel. More recently, the US dollar has been generally working its way lower to where it is testing support once again.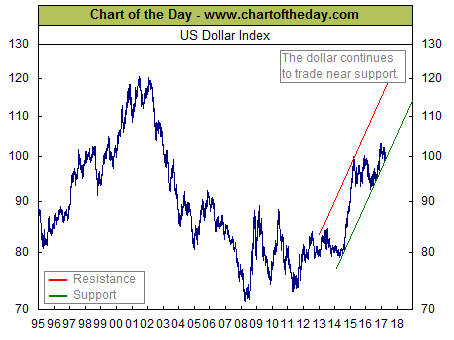 www.stockcharts.com
3.Emerging Markets +10.85% YTD vs. UUP (dollar) -2.5%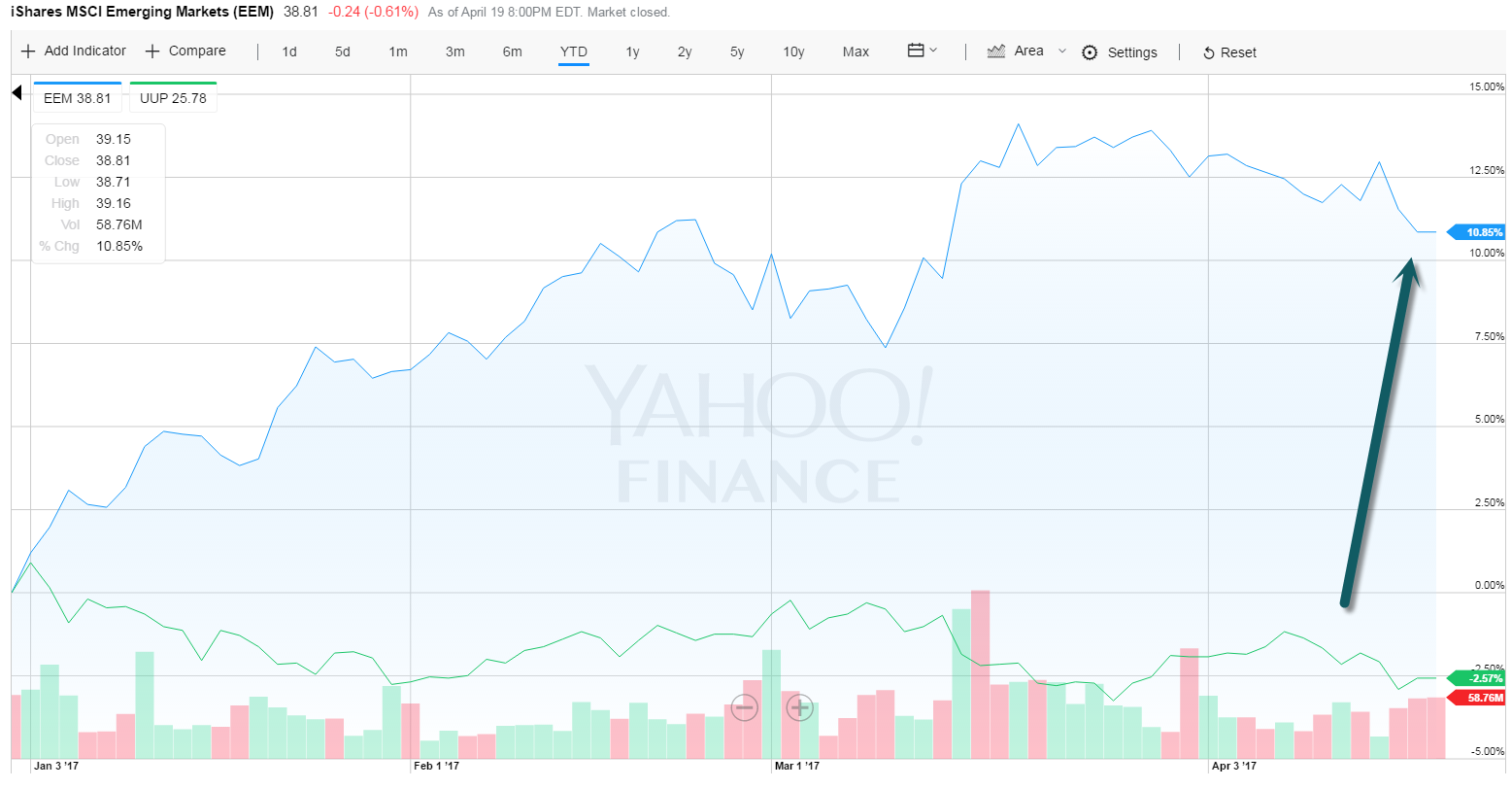 www.yahoofinance.com
4. MUNI Bonds Longest Win Streak Since Index Began in 2009.
By Rebecca Spalding and Amanda Albright
(Bloomberg) — Municipal bonds are having a unprecedented winning streak.
The price of benchmark 10-year U.S. state and local government debt has risen — or held steady — every day since March 14, marking the longest stretch without a single daily decline since the Bloomberg index begins in Jan. 2009. The rally has pushed yields down by nearly half a percentage point to 2.05 percent, as investors retreat from post-election speculation that President Donald Trump would swiftly push through sweeping infrastructure and tax-cut plans.
The price gains have wiped out much of the losses suffered late last year, when investors wagered that Trump's fiscal plans would prod the Federal Reserve to raise interest rates more aggressively to head off inflation. The potential for lower tax rates also threatened to reduce demand for municipal bonds, which are largely held by investors seeking income that's exempt from the U.S. income tax.
Investors braced for "Trump's policies not only being implemented but also being successful," said Robert Waas, chief executive officer of RSW Investments, which has more than $2 billion under management. "What you've started to see is an unraveling of that as investors have realized it's not as easy.
Now it's payback time as municipals are having their time in the sun and are outperforming Treasuries."
The state and local bonds have returned 2.5 percent this year, nearly a full percentage point more than Treasuries, according to Bloomberg Barclays indexes.
The sentiment began shifting after the Republican-led Congress failed to repeal the Affordable Care Act, said Christopher Sperry, a vice president and portfolio manager at Franklin Templeton. Republicans' inability to act on one of their long-stated priorities raised doubts that Trump's administration will be able to tackle the arguably more difficult challenge of rewriting the tax code.
"Here you have an administration with both houses of Congress, and it's certainly not going to be as easy for these reflationary fiscal policies as everybody thought," Sperry said.
The municipal sector's strong run may still have legs, according to Jeffrey Lipton, the head of municipal research at Oppenheimer & Co. "The desire for haven assets is likely to be more pronounced throughout the foreseeable future as compared to the more extended demand for risk assets that emerged following the election," he said.
Although yields have tumbled, they remain above where they were before Trump's election. RSW's Waas said there may be more upside ahead: He anticipates that the yield on 10-year Treasuries — now about 2.17 percent — will slip below 2 percent by the year's end. He estimated that municipal bond yields should be about 90 percent of Treasuries, given the tax breaks — or less than 1.8 percent.
"The price appreciation is not over," he said. "There is more price appreciation in our future."
To contact the reporters on this story:
Rebecca Spalding in New York at rspalding@bloomberg.net; Amanda Albright in New York City at aalbright4@bloomberg.net To contact the editors responsible for this story:
Christopher Maloney at cmaloney16@bloomberg.net William Selway
Muni ETF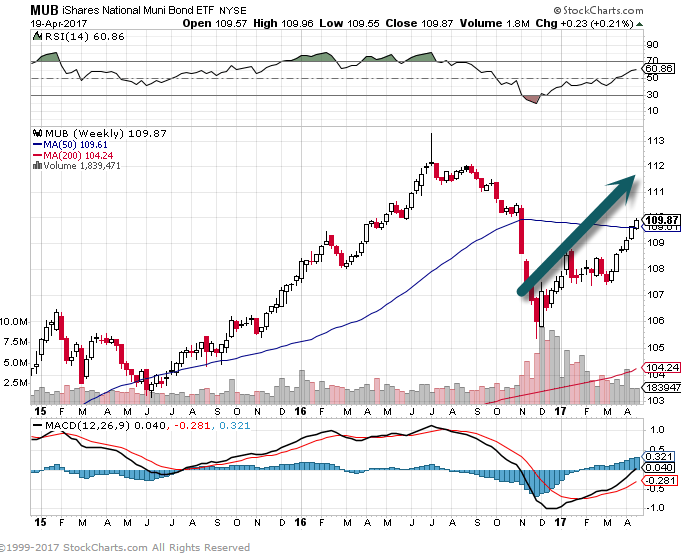 5.Fund Flows…Europe Highest Since 1999….U.S. Allocation Lowest Since Jan. 2008 (not bubble like)
From Dave Lutz at Jones
FUND MANAGER SURVEY– BofA FMS showed Eurozone now most favoured FMS global region; April rotation to Eurozone stocks from US = 5th largest since 1999 (a Le Pen win means Eurostoxx down 5-10% say investors)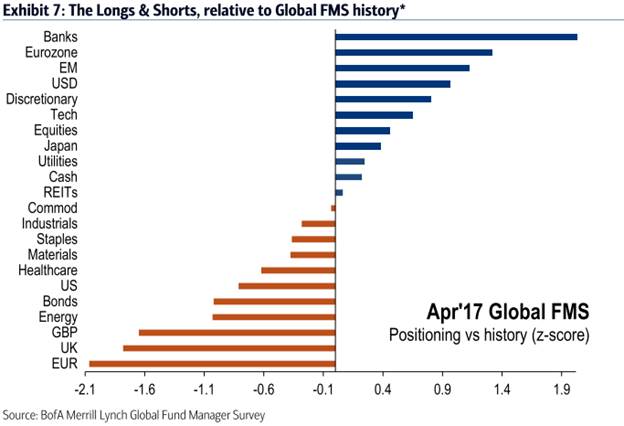 The allocation to US equities slumps to lowest levels since Jan 2008; catalysts for scramble from US are valuation (83% of investors say US stocks overvalued, highest on record) & jump in risk of delayed US tax reform
· Contrarian trades: FMS says 1. Long S&P500, short EuroStoxx; 2. Short Banks (if you think 10-year Treasury yields drop further to 2%); 3. Long Resources (if in contrast you think yields rise back to 2.5%); Short EM (as bullish US dollar exposure down & trade war fear dropped sharply past 2 months).
6.French Election…Frexit.
"Investors (and French voters) are getting worried about a 'nightmare' scenario in which Le Pen faces Mélenchon on 7 May, leaving them with a hard choice between two anti-globalization, anti-EU and pro-Russia candidates," strategists at Citigroup said in a note.
Here's how France's hotly contested election could spark market turmoil
'The result could yet serve up a far bigger blow for the European project than we saw with Brexit'Tony Cross, market analyst for TopTradr
Usually a French general election doesn't present a make-it or break-it moment for the entire eurozone, but this time its different. After a race full of surprises, a surge in the polls by far-left, euroskeptic Jean-Luc Melenchon has again reminded investors of the sweeping antiestablishment sentiment grabbing Europe and the U.S. at the moment.
Far-right, anti-EU candidate Marine Le Pen is also doing well in the polls and currently looks like she'll get one of the two spots in the runoff. The big question is who she'll face in the second round.
Will it be centrist Emmanuel Macron, who pollsters and analysts see as the favorite to emerge as president in May? Will it be scandal-ridden, dark horse candidate François Fillon who's enjoyed an 11th hour rebound in support? Or will it be Melenchon, who has promised to rework the treaties that set the framework for the EU and then hold a referendum on whether to remain in the bloc.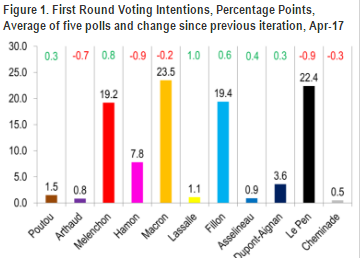 Citigroup
Complacency creeping in ahead of vote
Despite the uncertainty hanging over the French election, investors seem to have an insatiable appetite for European, and French stocks in particularly.
According to the monthly Bank of America Merrill Lynch fund manager survey the allocation to eurozone equities rose to a 15-month in March, while moves into U.S. stocks plunged to the lowest level since 2008. That marks the fifth biggest rotation since 1999, according to the bank.
"The chief beneficiaries are French stocks. Sentiment has completely flipped and is now net 22% overweight [from -24% in February]. Although we agree on the allure of Europe's earnings recovery, complacency looks extremely high," they BofA analysts said in a note.
France's CAC 40 index is up 3.4% year-to-date, compared with a 4.5% rise for the Stoxx Europe 600.
http://www.marketwatch.com/story/heres-how-frances-hotly-contested-election-could-spark-market-turmoil-2017-04-19
http://www.marketwatch.com/story/heres-how-frances-hotly-contested-election-could-spark-market-turmoil-2017-04-19
7.France Has More Tourists Than Any Other Country.
With protectionism on the rise, I'm getting more client questions about the importance of tourism for GDP. The first chart shows that France has more tourists than any other country, and the second and third charts show that the US and Italy are net beneficiaries of tourism, meaning the US and Italy get more in tourist receipts than Americans and Italians spend as tourists abroad.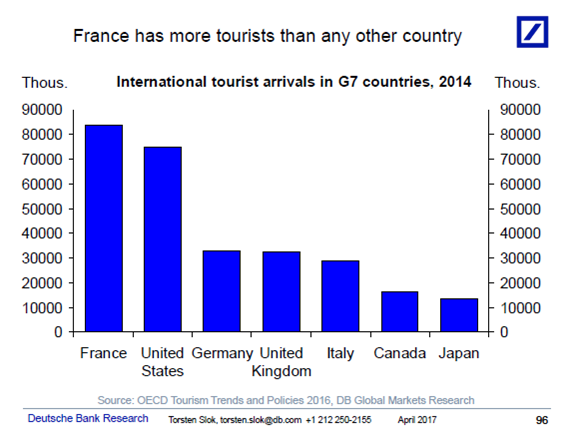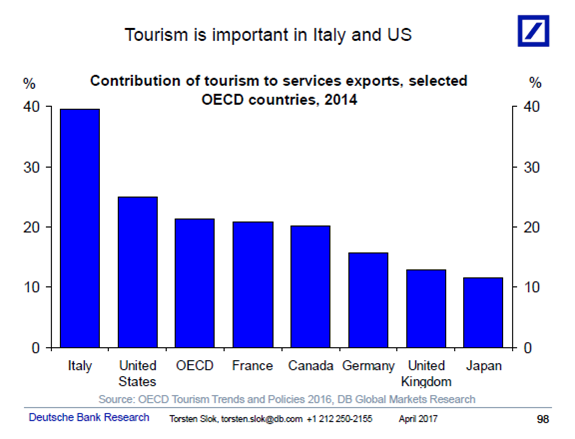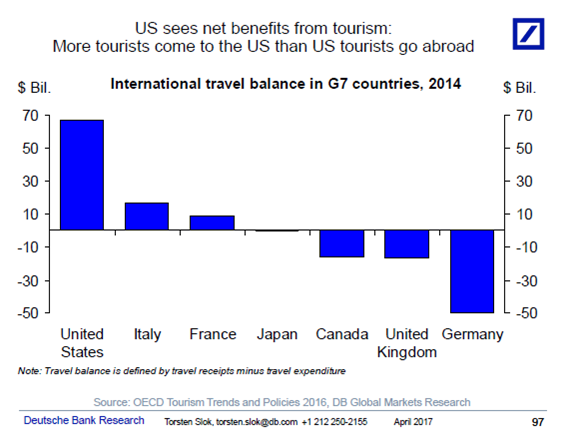 ———————————————–
Let us know if you would like to add a colleague to this distribution list.
Torsten Sløk, Ph.D.
Chief International Economist
Managing Director
Deutsche Bank Securities
60 Wall Street
New York, New York 10005
Tel: 212 250 2155
8.Apartment Returns Shifting To Secondary Markets
Submitted by The Editors on Thu, 04/13/2017 – 1:22
Two researchers report that secondary markets are becoming more attractive for apartment returns now, and for the next few years, according to John Burns Real Estate Consulting.
Adam Artunian, a senior manager, and Alex Wilson, research analyst, report that secondary apartment markets and "what we call surban locations – desirable suburban locations with urban amenities- have shifted to become outperformers."
Secondary markets, determined by historical permit activity, have had less construction than primary markets and remain more affordable.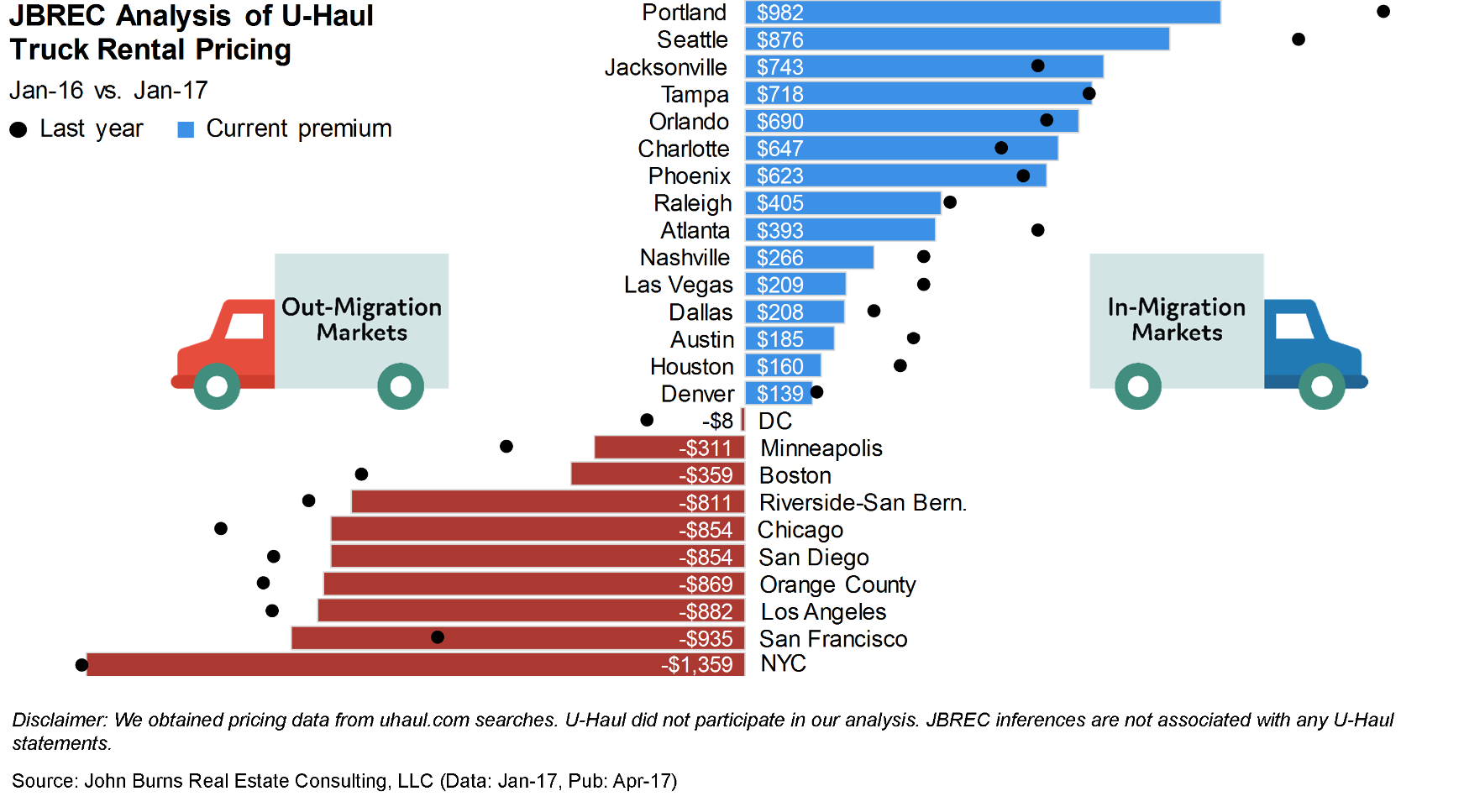 Read Full Story
http://rentalhousingjournal.com/articles/2017/04/13/apartment-returns-shifting-secondary-markets
9.Read of the Day…Anything by Howard Marks is Worth Reading….Slide Deck Attached.
Howard Marks: The Truth About Investing
Oaktree Capital's Chairman Howard Marks has put together a slideshow entitled The Truth About Investing which was posted by the CFA Society. In it, he outlines the nuances of investing and also includes notable quotes from others.
Some highlights include:
"The price of a security at a given point in time reflects the consensus of investors regarding its value. The big gains arise when the consensus turns out to have underestimated reality. To be able to take advantage of such divergences, you have to think in a way that departs from the consensus; you have to think different and better. This goal can be described as "second – level thinking" or "variant perception."
Also:
"Superior performance doesn't come from being right, but from being more right than the consensus. You can be right about something and perform just average if everyone else is right, too. Or you can be wrong and outperform if everyone else is more wrong."
As well as:
"To be a successful investor, you have to have a philosophy and process you believe in and can stick to, even under pressure. Since no approach will allow you to profit from all types of opportunities or in all environments, you have to be willing to not participate in everything that goes up, only the things that fit your approach. To be a disciplined investor, you have to be able to stand by and watch as other people make money in things you passed on."
Embedded below is Howard Marks' slideshow presentation: The Truth About Investing:
Read more: http://www.marketfolly.com/2017/04/howard-marks-truth-about-investing.html#ixzz4emvc4mwN
Found at www.abnormalreturns.com
10. The Ultimate Guide to Morning Routines
But Really, Go to Bed on Time: The 10-3-2-1-0 Formula
Here's a simple math equation: If your odds of being more successful increase when you wake up early, and tomorrow you need to wake up 15 minutes earlier than you usually do, what time do you need to go to sleep tonight?
Earlier.
For years the successful entrepreneur and CEO of Fit Body Boot Camp International, Bedros Keuilian, struggled to control his mornings because he felt rushed throughout the day, which then led to strong feelings of anxiety in the afternoon and evening.
He put into place a new system of waking up earlier, plus other daily habits outlined in The Perfect Day Formula, which changed his living structure completely. Keuilian says, "The system helped me overcome afternoon anxiety, gave me control of my day again, and helped create more time in the evening to enjoy my family rather than play catch up. I no longer work in the evenings and that means my work is of better quality because I think and process better in the mornings."
He concludes, "The single most important factor in winning your mornings and owning your days is to get up 15 minutes earlier and work on your number one priority before anyone else is awake."
Going to sleep at the right time is much like getting up earlier: it's the simplest of tasks that feels as though it takes a horde of discipline. Without using willpower or wishes, the 10-3-2-1-0 Formula is currently the most successful system that allows for early to bed, early to rise.
10 hours before bed – No more caffeine
3 hours before bed – No more food or alcohol
2 hours before bed – No more work
1 hour before bed – No more screen time (turn off all phones, TVs and computers)
0 – The number of times you will hit the snooze button in the morning
Ballantyne, the creator of this Formula, explains…
§ Stop drinking all caffeinated beverages 10 hours before bed. This is generally the amount of time required for your body to clear it from the bloodstream and eliminate its stimulatory effects.That seems like a long time, but the metabolic half-life of caffeine is over 5 hours. In the ten hours since lunchtime, that 200mg cup of coffee still has 50mg in your system.
§ Finish eating big meals and drinking alcohol 3 hours before bed. This will help you avoid heartburn (gastric reflux) and interrupted sleep. Alcohol might make you feel sleepy, but it impairs your natural sleep cycle and interrupts valuable deep sleep. The reflux is partially positional – stomach contents, like any liquids, move when you lay down. Better to have an empty stomach.
§ End all work-related activities 2 hours before bed. No more taking phone calls, checking emails, reading reports, or thinking about tomorrow.
*At this point, plan for tomorrow by scripting your day, including a Brain Dump. This takes five minutes and requires nothing more than a blank piece of paper and a pen. Craig Ballantyne explains, "Write down everything going through your head. Write fast and furious. Get it all out. Now take that paper and set it aside, perhaps in your office or at the front door under your car keys. Now forget about it for the rest of the day. It can wait until tomorrow. That will help clear your mind."
§ Turn off all electronics 1 hour before bed. The blue light emitted from screens makes it difficult to fall asleep. Spend the final hour reading real books, talking with your spouse, meditating, taking a bath, or enjoying other activities in the privacy of your bedroom – but do not use your iPhone or tablet. It's at least partly about pacing here. "Screen time" is designed to present more information in a more engaging fashion – and this is true for entertainment as well as "real" information. The visuals demand more attention and engagement, making it harder to disengage and relax. It takes time to slow down and turn thoughts inward. (In fact, shutting your eyes and turning off the "visuals" is a good practice generally for deeper thinking or meditation.)
§ Hit the snooze the next morning 0 times. This is the last temptation to avoid. If you wake up to the sound of an alarm, you will be tempted to hit the snooze button. Don't. Not only will it make you late for your scripted day and interfere with winning your morning, but going back to sleep for a few minutes actually makes you more tired than if you had started your day immediately. Many people who adopt this routine find they wake up slightly before the alarm goes off. They wake up naturally and shut the alarm off before it sounds.
Ballantyne recommends placing your alarm across the room, making you get up, leave your bed, and walk a few steps before you can turn it off. "By then, you're more awake and it's easier to resist the allure of snoozing." A second, more stoic, approach is to "internalize the benefits of getting up immediately," Ballantyne adds.
"Remember why you are doing this. It's your one and only life, one that is not rewarded for staying in bed, one that does not move forward because you stole an extra five minutes of sleep. If you want more sleep, you need to get to bed earlier, not wake up later."
"Making a lot of money is great," says Bedros, "but having the freedom to enjoy it without the feeling of stress and anxiety is happiness."
Final Takeaway: Morning Routines Rule
Morning routines quite literally rule. They govern the habits that dictate our health, wealth, and mental wellbeing. But make no mistake, this is not a cheap trick or technique, it is part of an overall package meant to improve and enhance life – success is just one benefit.
And to bind it to the larger picture, let us consider "the sleep of the just." The context is discovering what constitutes a good and meaningful life, well lived…
When a man expends all his will and energy in pursuit of his own goals and ambitions, and not the dreams of another, he may be frustrated by circumstance or thwarted by the Fates, but he will be blessed when, at the end of the day, exhausted, he takes to bed, for then he is granted a deep and untroubled slumber – the sleep of the just – and with new vigor, anxious, he will rise early and greedily accept the gift of a new day, eager to face the challenges, vibrating with excitement and enthusiasm.
Good Read on Waking Up Early.