1.Leading Sector in 2017 Tech Finishes Down 10 Days in a Row. XLK +8.29% YTD vs. S&P +4%
The Standard & Poor's 500 Information Technology Index has finished lower 10 days in a row, only the fourth such streak since 1989, when daily data on the sector was first posted, according to Bespoke Investment Group.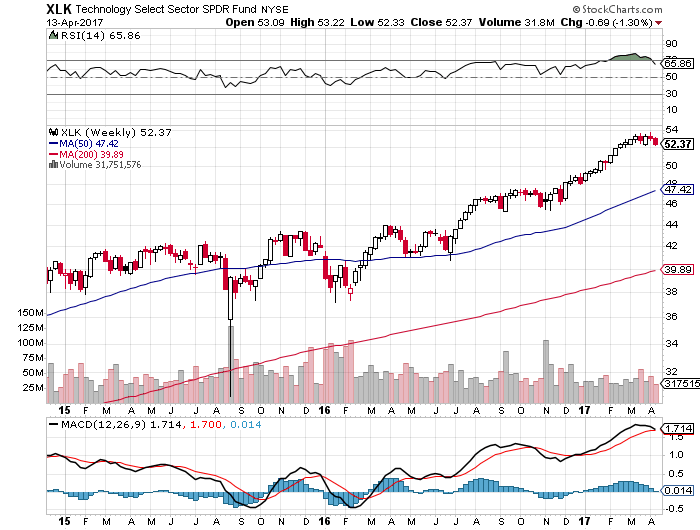 Barrons
http://www.barrons.com/articles/stocks-slip-1-on-week-as-geopolitical-worries-grow-1492229480
2.What is TIPS Market Telling Us About Interest Rates?
The TIPS market can show you where interest rates are going

J.C. Parets, All Star Charts
The bond market has been fascinating lately for sure. Sentiment has been in one direction while price has gone in the complete opposite. Everyone seems to expect rates to rise and therefore bonds to fall. Position data certainly suggests that – the Commercial Hedgers have had a historic net long position. In other words, while the crowd assumes rates are going higher, the smart money is betting on the complete opposite happening. The ultimate arbiter, of course, is price. So today we want to take a look at what the intermarket components of the bond market are suggesting about the future of interest rates.
Here we're looking at a chart of the Treasury Inflation Protected Securities (TIPS) relative to traditional US Treasury Bonds. Since the par value of TIPS moves up and down based on the Consumer Price Index (CPI), it gives us a good gauge of inflation, especially when compared to traditional US Treasury Bonds. So here is a chart of $TIP vs $TLT with the U.S. 10-year yield plotted below: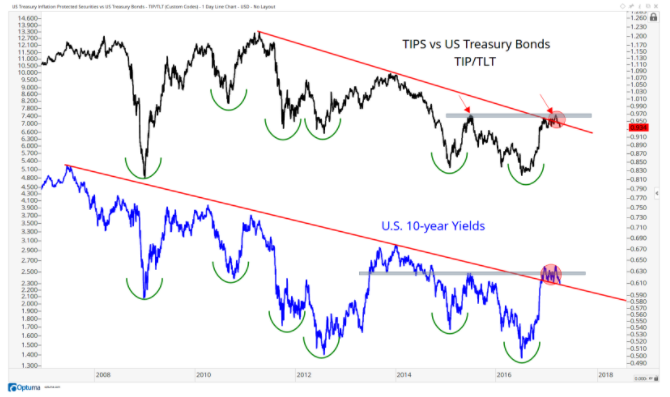 All-Star Charts
Interest rates go up to counter inflationary factors while falling rates are pricing in lower inflation expectations. This chart shows the correlation well. I find it to be useful in helping come up with a conclusion about the next direction of interest rates. The TIP/TLT ratio looks like a nasty failed breakout above the downtrend line from the 2011 highs. If you recall, this was the point that commodities and emerging markets put in their highs. The risk here is to the downside.
So if you're wondering where US Interest Rates are heading, it's hard to make a bet that they're going higher any time soon. The risk here is to the downside.
Read the original article on All Star Charts. Copyright 2017. Follow All Star Charts on Twitter.
http://www.businessinsider.com/tips-market-can-show-you-where-interest-rates-are-going-2017-4
3.Reflation Trade??? Core CPI Declines for the First Time Since January 2010
Core Consumer Price Index (CPI) is equal to CPI minus energy and food prices and is used to measure core inflation. The reason behind excluding energy and food prices is because the prices of these goods can be very volatile. As a result, such wide fluctuations would unfairly distort the measure of inflation.[1]
Why is it important?
The Federal Reserves uses Core CPI to decide whether they should change Fed Funds rate or not. By excluding volatile energy and food prices, the Fed can get have a better idea if the rising prices of goods and services are caused by core inflation or by the volatile energy and food prices.[2]
http://www.wikinvest.com/wiki/Core_CPI
4.Has Commercial Property Leveled Off?
Property Pricing Steady: Green Street CPPI January 2017
Newport Beach, CA, February 6, 2017 — The Green Street Commercial Property Price Index (CPPI) was unchanged in January. Property prices are up 3% over the last year, though appreciation has slowed more recently. In aggregate, values are flat over the past several months.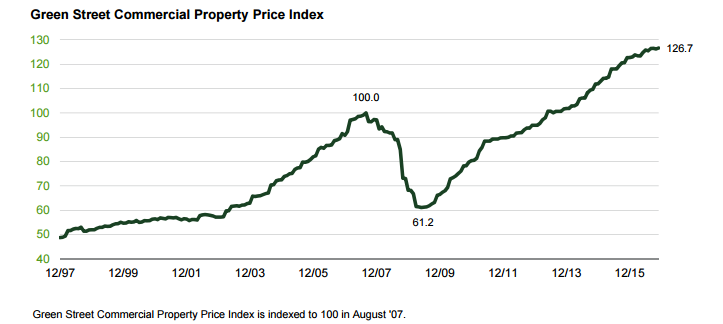 "Property pricing appears to have reached a plateau," said Peter Rothemund, Senior Analyst at Green Street Advisors. "Cap rates are slightly higher than they were three months ago, but growing rental income has offset that — values have been steady."

There are a few exceptions at the property sector-level that are worth pointing out. For instance, the self storage and industrial sectors have shown greater appreciation comparatively speaking, up 11% and 8% over the past 12 months, respectively. That trend has changed dramatically over the past three months, however; the self storage sector was flat and the industrial sector only appreciated 2%.
https://www.greenstreetadvisors.com/insights/blog/green-street-cppi-january-2017
5.Auto Sales Set Records…..Auto Incentives up 13% from One Year Ago.

6.Saudi Arabia Aramaco $1 Trillion Dollar Company? Do the Saudis Need $60 oil for the IPO to Work?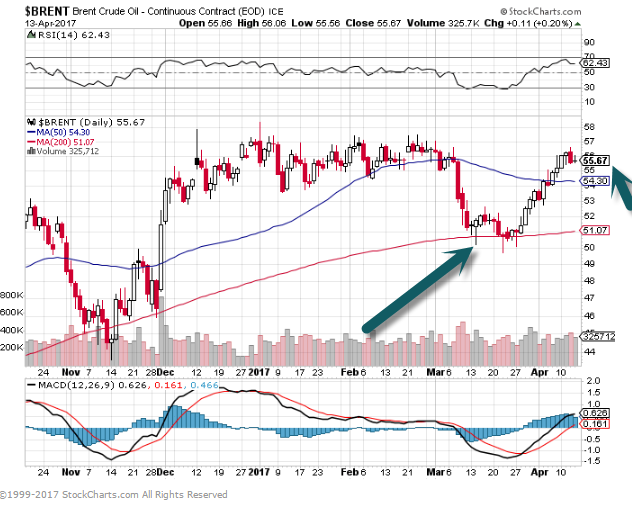 This is how badly Saudi Arabia needs its big oil IPO to go well
by Matt Egan @mattmegan5
Cash-strapped Saudi Arabia really needs the crown jewel of its oil empire to have a successful IPO.
Saudi Arabia gave Saudi Aramco a huge gift this week by slashing the tax rate on the national oil company to 50% from 85%.
The kingdom stressed that the drastically reduced tax rate, which is retroactive to the start of 2017, would be offset by dividends and investment profits.
The enormous tax relief will also add tens of billions of dollars to Aramco's coffers at a time of growing concern over how much the world's largest oil company is actually worth.
While Saudi Arabia has said Aramco could be valued at $2 trillion in an expected 2018 IPO, some analysts believed that price tag was too generous.
Saudi Arabia badly needs the Aramco IPO to go smoothly because it would generate a cash windfall at a time when plunging oil revenue has blown a hole in its once-vaunted budget.
The reduced tax rate announced by Saudi Arabia could add $1 trillion to Aramco's valuation, according to Rystad Energy. The research firm now pegs Aramco's valuation at $1.4 trillion, compared with just $400 billion previously.
"This tax change has a huge impact," Rystad wrote in a report on Tuesday. "This change implies more money is left for Saudi Aramco, which makes the company more attractive for investors."
Aramco CEO Amin Nasser cheered Saudi Arabia's tax shift as "another positive step in the diversification of the kingdom's economy."
Related: This Texas oilfield is messing with OPEC
Saudi Arabia is the world's largest oil exporter, but its finances have been hobbled by the supply glut created in large part by the U.S. shale oil revolution. OPEC's efforts to drown shale producers in cheap crude sent oil prices crashing to levels far below what Saudi Arabia needs to balance its budget. The kingdom has been forced to lay off workers, remove generous subsidies and sell debt to the public.
Last year, Saudi Arabia announced a new strategy dubbed Vision 2030 that aims to break the country's "addiction" to crude. A key component of that plan is to sell a stake in Aramco to the public and then invest the proceeds at home and abroad.
Aramco told CNNMoney in January that its IPO is still on schedule for 2018 and the company recently tapped a small U.S. investment bank to be the offering's sole independent adviser.
If the national oil company achieves a valuation of $2 trillion, it would need to sell just 5% of itself to raise $100 billion. That would raise four times as much as the 2014 IPO of Alibaba, which is the largest IPO on record.
Saudi Arabia Finance Minister Mohammed bin Abdullah Al-Jadaan stressed that its tax break on Aramco and other large oil companies will have "no impact on the government's ability to deliver services to its citizens."
http://money.cnn.com/2017/03/28/investing/saudi-arabia-tax-cut-aramco-oil-ipo/
7..Solar Panel Prices Drop Another 20% Year over Year.
The Downtrend of Solar Prices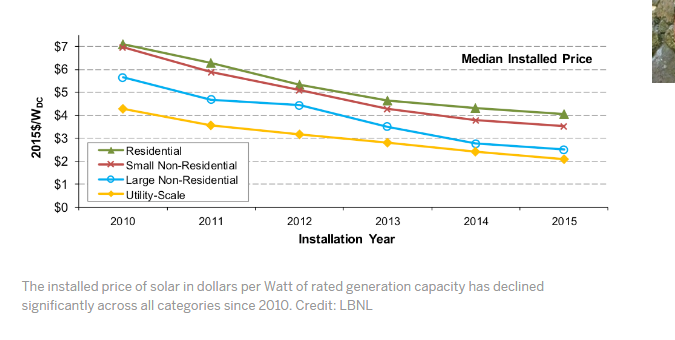 https://blogs.scientificamerican.com/plugged-in/the-price-of-solar-is-declining-to-unprecedented-lows/
The Uptrend in Installation.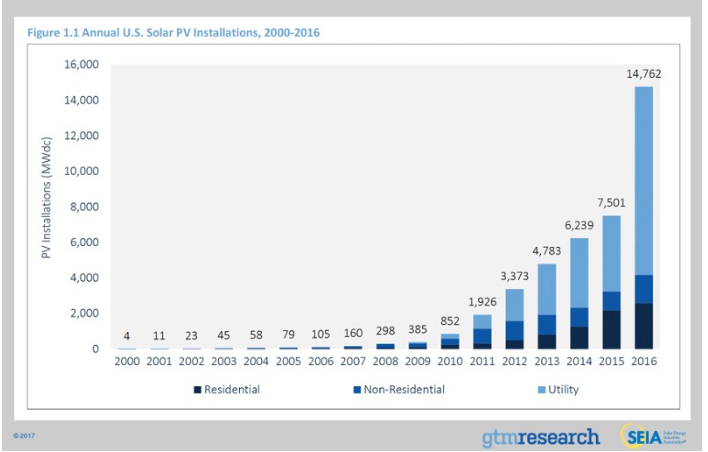 8.College Loan Co-Signors—Grandpa and Grandma?? The U.S. Government Accountability Office found in 2015 that nearly 870,000 borrowers age 65 and older owed money on federal student loans. More than half of cosigners on private loans are age 55 and older.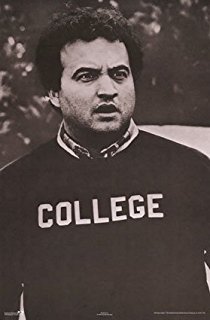 Federal vs. private loans.
A loan cosigner or co-borrower is held responsible for repaying the loan along with the primary borrower. Student borrowers often turn to their parents and grandparents to cosign their private student loans.
The U.S. Government Accountability Office found in 2015 that nearly 870,000 borrowers age 65 and older owed money on federal student loans. More than half of cosigners on private loans are age 55 and older.
Unlike federal student loans, private student-loan lenders routinely require that a student apply for a loan with a cosigner or co-borrower.
The CFPB estimates that 27 percent of individuals who are cosigners on one or more outstanding student loans are 62 and older, and 57 percent of all individuals who are cosigners are 55 and older.
by Erin Arvedlund, STAFF WRITER @erinarvedlund | EArvedlund@phillynews.com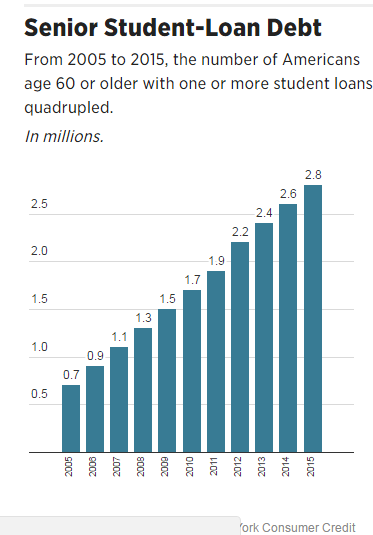 http://www.philly.com/philly/business/personal_finance/Co-Signing-Your-Kids-or-Grandkids-Student-Loans-Think-Twice.html
9.More People Googled WW III this Week than Any time Since 2004….The Focus is on Russia, Iran and North Korea. You May Want to Shift to Turkey.
Read of Day….
Erdogan Claims Vast New Powers After Narrow Victory in Turkish Referendum
Since a failed coup last summer, Turkey has been under a state of emergency, a situation that allowed the government to fire or suspend about 130,000 people suspected of being connected to the failed putsch, and to arrest about 45,000.
ISTANBUL — A slim majority of Turkish voters agreed on Sunday to grant sweeping powers to their president, in a watershed moment that the country's opposition fears may cement a system of authoritarian rule within one of the critical power brokers of the Middle East.
With nearly 99 percent of votes in a referendum counted on Sunday night, supporters of the proposal had 51.3 percent of votes cast, and opponents had 48.7 percent, the country's electoral commission announced.
The result will take days to confirm, and the main opposition party said it would demand a recount of about 37 percent of ballot boxes, containing around 2.5 million votes.
But on Sunday night the result was already a political reality, as President Recep Tayyip Erdogan hailed his victory in front of a crowd of supporters in Istanbul. "We are enacting the most important governmental reform of our history," he said.
The constitutional change will allow the winner of the 2019 presidential election to assume full control of the government, ending the current parliamentary political system.
The ramifications, however, are immediate. The "yes" vote in the referendum is a validation of the current leadership style of Mr. Erdogan, who has been acting as a de facto head of government since his election in 2014 despite having no constitutional right to wield such power. The office of Turkey's president was meant to be an impartial role without full executive authority.
The result tightens Mr. Erdogan's grip on the country, which is one of the leading external actors in the Syrian civil war, a major way station along the migration routes to Europe and a crucial Middle Eastern partner of the United States and Russia.
Many analysts were surprised by the close result, saying they had expected Mr. Erdogan to achieve a larger majority because he had held the referendum within an atmosphere of fear.
Since a failed coup last summer, Turkey has been under a state of emergency, a situation that allowed the government to fire or suspend about 130,000 people suspected of being connected to the failed putsch, and to arrest about 45,000.
The new system will, among other changes:
• Abolish the post of prime minister and transfer executive power to the president.
• Allow the newly empowered president to issue decrees and appoint many judges and officials responsible for scrutinizing his decisions.
• Limit the president to two five-year terms, but give the option of running for a third term if Parliament truncates the second one by calling for early elections.
• Allow the president to order disciplinary inquiries into any of Turkey's 3.5 million civil servants, according to an analysis by the head of the Turkish Bar Association.
10.5 Lessons on Being Wrong
By James Clear | Decision Making, Life Lessons, Self-Improvement
As a rule, we are incredibly hard on ourselves when it comes to making big decisions in life.
· If our first five relationships end with a break up, we think we're destined to be alone forever.
· If we go to school, get a degree, and spend years training for a job that we end up hating, we feel like a failure for not having it all figured out.
· If we have a dream of writing a book or starting a non-profit or creating something of value and we stumble on the first try, we say that we're not cut out for this.
In cases like these, when we are attempting to do something that is complex and multi-faceted, I believe that being wrong is actually a sign that you're doing something right.
Here's why…
First Choice vs. Optimal Choice
For some reason, we often expect our first choice to be the optimal choice. However, it's actually quite normal for your first attempt to be incorrect or wrong. This is especially true of the major decisions that we make in life.
For example…
1. Finding the right person to marry. Think of the first person you dated. Would this person have been the best choice for your life partner? Go even further back and imagine the first person you had a crush on. Finding a great partner is complicated and expecting yourself to get it right on the first try is unreasonable. It's rare that the first one would be the one.
2. Choosing your career. What is the likelihood that your 22-year-old self could optimally choose the career that is best for you at 40 years old? Or 30 years old? Or even 25 years old? Consider how much you have learned about yourself since that time. There is a lot of change and growth that happens during life. There is no reason to believe that your life's work should be easily determined when you graduate.
3. Starting a business. It is unlikely that your first business idea will be your best one. It probably won't even be a good one. This is the reality of entrepreneurship. (My first business idea lost $1,400. #winning)
When it comes to complex issues like determining the values you want in a partner or selecting the path of your career, your first attempt will rarely lead to the optimal solution.
5 Lessons On Being Wrong
Being wrong isn't as bad as we make it out to be. I have made many mistakes and I have discovered five major lessons from my experiences.
1. Choices that seem poor in hindsight are an indication of growth, not self-worth or intelligence. When you look back on your choices from a year ago, you should always hope to find a few decisions that seem stupid now because that means you are growing. If you only live in the safety zone where you know you can't mess up, then you'll never unleash your true potential. If you know enough about something to make the optimal decision on the first try, then you're not challenging yourself.
2. Given that your first choice is likely to be wrong, the best thing you can do is get started. The faster you learn from being wrong, the sooner you can discover what is right. For complex situations like relationships or entrepreneurship, you literally have to start before you feel ready because it's not possible for anyone to be truly ready. The best way to learn is to start practicing.
3. Break down topics that are too big to master into smaller tasks that can be mastered. I can't look at any business and tell you what to do. Entrepreneurship is too big of a topic. But, I can look at any website and tell you how to optimize it for building an email list because that topic is small enough for me to develop some level of expertise. If you want to get better at making accurate first choices, then play in a smaller arena. As Neils Bohr, the Nobel Prize-winning physicist, famously said, "An expert is a person who has made all the mistakes that can be made in a very narrow field."
4. The time to trust your gut is when you have the knowledge or experience to back it up. You can trust yourself to make sharp decisions in areas where you already have proven expertise. For everything else, the only way to discover what works is to adopt a philosophy of experimentation.
5. The fact that failure will happen is not an excuse for expecting to fail. There is no reason to be depressed or give up simply because you will make a few wrong choices. Even more crucial, you must try your best every time because it is the effort and the practice that drives the learning process. They are essential, even if you fail. Realize that no single choice is destined to fail, but that occasional failure is the cost you have to pay if you want to be right. Expect to win and play like it from the outset.
Your first choice is rarely the optimal choice. Make it now, stop judging yourself, and start growing.