1.15% Year Over Year GAAP Earnings Growth is Higher than All but Three Previous Bull Market Peaks.
FUNDAMENTAL
Last year's earnings rebound appears to be continuing in 2017. The 15% year/year growth in S&P 500 GAAP EPS is higher than at all but three previous bull market peaks and dividend growth remains above average. We are skeptical, however, that earnings will grow as fast as consensus suggests, as year/year comps become more difficult, earnings momentum will likely slow, leaving the market left with both elevated expectations and valuations.
Ned Davis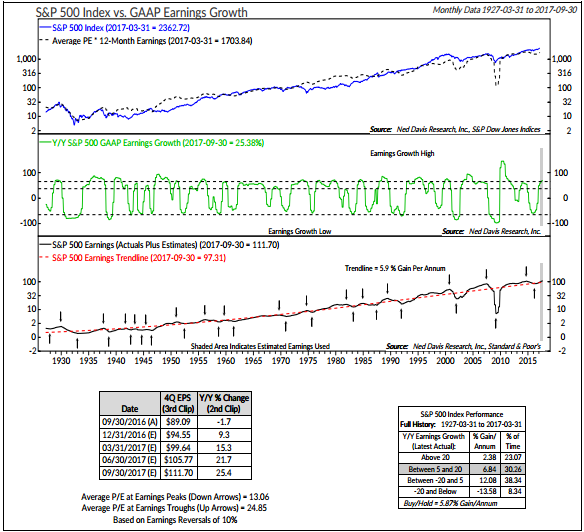 www.ndr.com
2.Brazil +135% Since 2016 International Sell Off.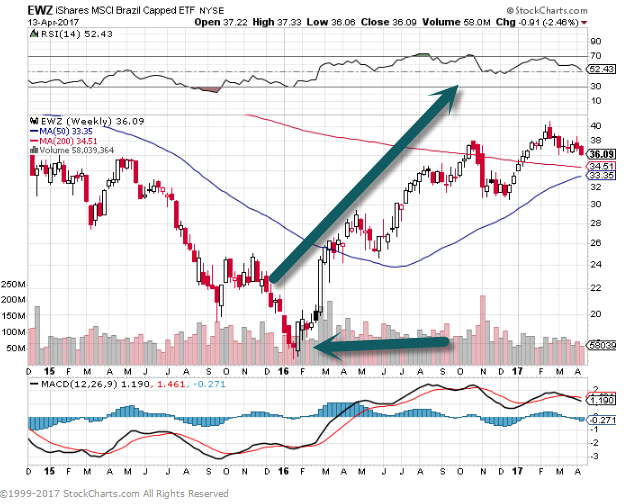 3.Death by Amazon….Most Shorted Retail Stocks.
Bespoke Investment Group
In terms of individual stocks, the table below shows the sixteen stocks in the group that have more than 20% of their float sold short. Looking at the list, all but three stocks are down so far this year. Ironically, the stock with the highest short interest, RH (formerly Restoration Hardware), is up sharply YTD. That's more of a special situation, though, as RH is coming off hard times from prior years and is still down more than 50% from its highs in late 2015. Lumber Liquidators (LL) is another example. Although it is up 37% this year, it's trading at a fifth of its level from late 2013. For just about every other stock shown, 2017 has already been a year to forget, especially when you consider the fact that the broader market is up about 5% on the year.
While the outlook for many of the names in the retail space is bleak, there will undoubtedly be some companies that buck the trend and turn things around. In our earlier update to the Death By Amazon index, we actually highlighted one of the names in the list below as a turnaround candidate. So if you haven't already, sign up for a free trial and check out the report!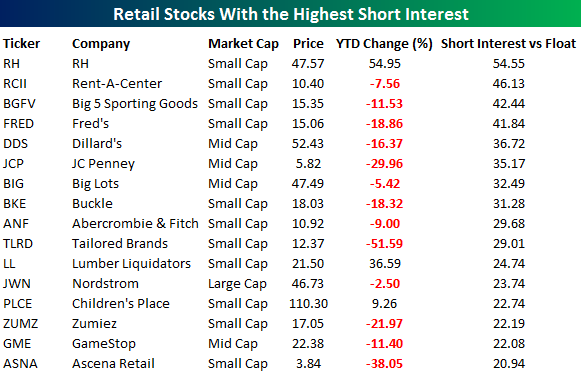 4.We Just Hit 2000 ETFs in Marketplace….800 Smart Beta
Here's a broad overview of the market's makeup, with data courtesy of FactSet: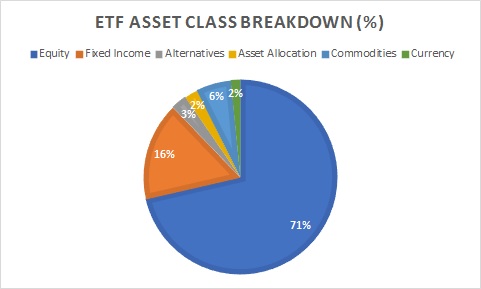 Asset Class
Equity ETFs dominate in numbers and in assets. Roughly 70% of all U.S.-listed ETFs are equity funds—or some 1,385 ETFs in the market today. These U.S. and/or international equity ETFs have about $2.2 trillion in combined assets. That amounts to 78% of all U.S.-listed ETF assets, or nearly $8 out of every $10 invested in ETFs today.
Investors have plenty of choices when it comes to equity ETF exposures.
Smart Beta
Today there are roughly 800 smart-beta ETFs on the market—that's four out of every 10 ETFs in the market—and funds falling under this rubric represented roughly half of the ETFs that launched last year. Among equity ETFs, nearly half are some flavor of smart beta today. In the fixed-income space, where active management is still widely accepted, smart beta has been slower to find a following—only about 9% of all fixed-income ETFs today are smart-beta funds.

ETF Issuers
Roughly 82% of all U.S.-listed ETF assets are managed by three single ETF issuers—BlackRock's iShares, Vanguard and State Street Global Advisors. iShares's dominance is uncontested, as the firm alone commands about $1 trillion of all ETF assets in the U.S.
http://www.etf.com/sections/features-and-news/what-us-etf-market-looks-today/page/0/2
5.So Much for Online Banks Taking Over the World.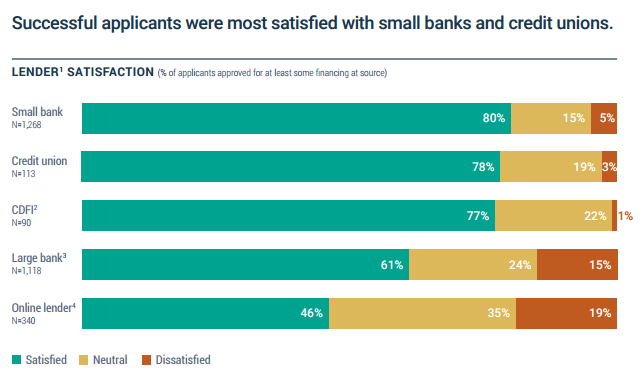 Yikes. Small business hate online lenders, relatively speaking. (chart via FRBNY)
(ftalphaville.ft.com)
MARKETS
From Tadas Viskanta blog
www.abnormalreturns.com
6.This is not the Traditional Flows of Market Tops.
PAs Private Clients Buy Hedge Funds Continue To Sell Stocks
Private clients were the only group buying ETFs last week. Notably, investors flocked to fixed income ETFs while hedge funds and institutional clients sold the exchange traded instruments. Hedge funds have been the only consistent buyers of single stocks in recent weeks while buybacks conducted by corporate entities picked up last week but are still tracking below last year's levels and on a 12-month basis are tracking their lowest since mid-2013.
On a sector by sector basis, clients brought single stocks in five of the 11 market sectors last week, led by industrials, consumer staples, and real estate. This is a reversal of the prior week's trend which saw broad-based selling across all sectors apart from consumer staples.
Tech currently has the longest net selling trend, at five consecutive weeks, while no sector has seen more than two consecutive weeks of net buying.
ension fund clients were net sellers of US stocks last week after two weeks of net buying; they remain net sellers year-to-date as well. Net sales last week were driven by sales of ETFs and Utilities stocks, while Discretionary and Materials stocks saw the largest net buying by this group. For more details, see Pension fund flows."'
And as one can see institutional investors continue to miss the entire rally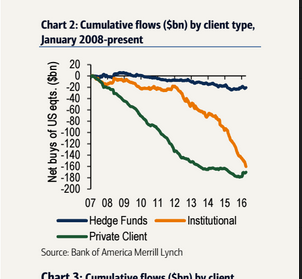 From Value Walk
http://www.valuewalk.com/2017/04/boa-private-clients-buy-hedge-funds/
7.Is Everybody Getting My Theme with Money Flow Data? This would be the strangest top ever….Money pouring into short-term bond.
Public Pensions' Cash and Short-Term Investments Jumped 16.7% in 4Q
Largest quarter-to-quarter increase since 2005, Census Bureau says.
Assets of the 100 largest US public pension fund systems rose 0.4% in the fourth quarter of 2016, to $3.39 billion, the Census Bureau reported. Compared to 4Q 2015, assets, including the plans' cash and investments, were up 4.2%.
Public pensions' holdings of cash and short-term investments jumped 16.7% to $136.6 billion in the fourth quarter. "This is the largest quarter-to-quarter increase since 2005," the Census Bureau reports. Compared to the previous year, public pensions' holdings of these assets were up an even more impressive 25.6%, from $108.8 billion. In the fourth quarter, cash and short-term investments made up 4% of the total assets of the largest US public pension systems, their highest level of holdings in this asset category since 2011.
By contrast, public pensions' corporate bond holdings were down 2.7% in market value to $419.5 billion for the fourth quarter. However, compared to a year ago, they gained 2.6%. For the fourth quarter, corporate bonds accounted for about 12% of the cash and investment holdings of public pension fund systems.
A similar pattern held for international securities. The 4Q market value of public pensions' international securities portfolios fell, dropping 1.1% from the third quarter to $644.6 billion. Compared to the fourth quarter of 2015, however, their international securities holdings were up 5.7%. International securities accounted for 19% of public pensions' overall cash and investment holdings for the fourth quarter.
The market value of the funds' corporate stock holdings rose 1.1% in the fourth quarter, to about $1.24 billion, for a 4.7% increase from the fourth quarter of 2015. These securities made up about 36% of public pensions' cash and investments holdings in the fourth quarter. The market value of federal government securities in public pensions' portfolios was also up 0.5% in the fourth quarter, to $266.4 billion, amounting to about 7.8% of total assets. Compared to a year ago, their value was also up 4.3%.
Employee contributions are playing a bigger role in keeping public pension plans afloat. Contributions by employees rose a substantial 22.5% in the fourth quarter, to $12 billion. Compared to the fourth quarter of 2015, employees increased their contributions 4.2%. Benefits payouts, however, continue to rise. While they were down 2.1% to $64.5 billion in the fourth quarter, they were up 6.1% compared to the fourth quarter of 2015.
By Poonkulali Thangavelu
Public Pensions' Cash and Short-Term Investments Jumped 16.7% in 4Q
8.Driverless Cars Here to Stay…..
GM to create 1,100 jobs at new San Francisco driverless-car facility
Detroit-based GM said the expansion of Cruise's existing facility will more than double its space and be completed by year-end.
By
MIKECOLIAS
General Motors Co. will build a development facility in San Francisco and eventually add 1,100 employees there to work on autonomous vehicles, a major expansion of GM's Silicon Valley presence as it vies with other auto makers to lead the race for self-driving cars.
GM GM, -1.62% said Thursday it will spend $14 million on the project, which will expand the headquarters of the company's Cruise Automation subsidiary. The startup, acquired by GM in March 2016, is developing the software that serves as the nerve center for its future autonomous vehicles.
The hiring spree, which will be done over five years, would represent an eightfold increase in Cruise's staff, underscoring the substantial investment GM and other car companies are making to get autonomous vehicles on the road. GM has more than tripled its Cruise head count since the acquisition, to about 150 people.
http://www.marketwatch.com/story/gm-to-create-1100-jobs-at-new-san-francisco-driverless-car-facility-2017-04-13
9.Read of the Day…This innovative Kickstarter product will keep your open bottles of wine fresh for up to a week
· Mara Leighton, Insider Picks
The Insider Picks team writes about stuff we think you'll like. Business Insider has affiliate partnerships, so we get a share of the revenue from your purchase.
Amazon
Have you ever paused before opening a nice bottle of wine because you know that if you can't finish it, the rest of the bottle is going to go to waste?
Especially for those who like to limit it to a glass of wine per night, stopping the quick depreciation of taste is a game we are predetermined to lose.
But after 15 years of research and one successful Kickstarter campaign, that might not need to be the case. The Savino Wine Saving Carafe is an innovative glass cruet designed to drastically slow the oxidization of wine, keeping the half of the bottle you couldn't finish fresh for the next seven or so days.
It's a kitchen hack we should all have — a serving carafe that can double the shelf life of your wine.
Pour your choice into the carafe, pop in the "float" to seal the wine in, and the same "float" will automatically unseal when you tilt the carafe to pour. Per the design, the float creates a physical barrier between the wine you want to preserve and the air that wants to oxidize it, thereby keeping the wine fresh. And you don't have to pop it in and out as you use the carafe, since it'll move naturally in the liquid to accommodate you. When you're done pouring, the float will automatically reseal.
So instead of letting a $40 bottle of wine taste like a weird $9 bottle three days later, the Savino will maintain taste for you for up to a week. You can use your dishwasher to clean it, and the entire product is made out of high-quality, durable glass and BPA-free plastic and silicone, so you don't have to worry about anything else you're putting in your wine.
In the long run, $40 isn't such a bad price to pay to stretch your wine further — or even to avoid the nuisance of having to worry over a short shelf life.
http://www.businessinsider.com/savino-wine-saving-carafe-overview-2017-4
10.Is Agile Thinking as Important as Grit?
What are the implications for organizations?
This is an important question, because grit is being viewed as the trait to recruit for and push for in schools, military settings, athletic teams, and business. Those at the top of the organizational hierarchy are often the grittiest. The relentless pursuit of excellence is what got them to where there are. What's missing from the conversation is the collateral damage.
Remember the definition of grit? …maintaining effort and interest over years despite failure, adversity, and plateaus in progress.
What happens to the performance of leaders who adopt grit as the strength of all strengths?
When the going gets tough, those at the top often take a single-minded, myopic approach. The belief that I can do this myself can lead to missed opportunities for successful collaboration and frustrated followers. A reflexive reaction to double down prevents plans from being scrapped or substantially revised—and sometimes this is exactly what is needed.
No matter how mighty and powerful the leader may be, fatigue eventually sets in—think of John Henry. Low self-awareness is directly related to fatigue. As followers begin to mirror the poor attitude and actions of tired leaders, relationships falter and dysfunction sets in. Eleanor Brown reminds us, "Self-care is not selfish—you cannot lead from an empty vessel." Emotions are contagious, both the good and the bad. The number one driver of worker engagement is confidence in leadership, and workers absorb the lion's share of their emotional cues from their boss.
Talent development suffers when leaders rely too much on their own grit. One of the reasons the younger generation is unprepared to lead is their lack of exposure to the crucible moments—the decisions required when tasked and trusted to help solve the big issues. Learning comes from doing. Modern-day business leaders talk about wars for talent, a lack of bench strength, and the leadership gap—lack of readiness for the next generation. What is ignored is how gritty leaders often impede the flow of ideas and squander developmental opportunities.
Agile Thinking Trumps Grit
Grit is for convergent thinking—staying the course and working stronger, harder, and faster. In the modern world, we also need divergent thinking. We need deliberate pauses to consider alternative ways.
For movement to occur, persons must believe that they are able to generate workable routes to their goals. Pathways thinking reflects an individual's perceived ability to formulate plausible goal routes. … Although the person typically focuses on one route, if it is blocked, alternative routes must be envisioned to sustain hopeful thinking … when goal pursuits are disrupted, successful agentic thinking allows an individual to channel positive motivation to alternative, open pathways.
This idea is from Dr. Rick Snyder, who offered a nuanced understanding of grit with his theory of hope, involving pathways and agency, to understand successful and fulfilling goal pursuit. What is helpful about grit is not new: Snyder's work on hope goes back more than two decades, and researchers have been studying conscientiousness since 1991.
Don't put all of your eggs in one cognitive basket.
Instead of relying on a single characteristic such as grit, diversify.
No single characteristic is sufficient for success and fulfillment. Soften the edges of grit with intervals of curiosity, reflection, and social connection. People agile enough to navigate through an increasingly dynamic environment will be the innovators of the future.
—–
https://www.psychologytoday.com/blog/curious/201704/how-i-learned-about-the-perils-grit