1.Interesting …Not Sure If Tech Fits this Bucket
"Tobacco (1992), financial (2010), biotech (2015) industries illustrate how waves of regulation can lead to investment underperformance" noted BofA – "As Facebook has grown, people everywhere have gotten a powerful new tool to stay connected to the people they love, make their voices heard, and build communities and businesses," Mr. Zuckerberg says, in prepared testimony released by a House committee on Monday. "But it's clear now that we didn't do enough to prevent these tools from being used for harm as well."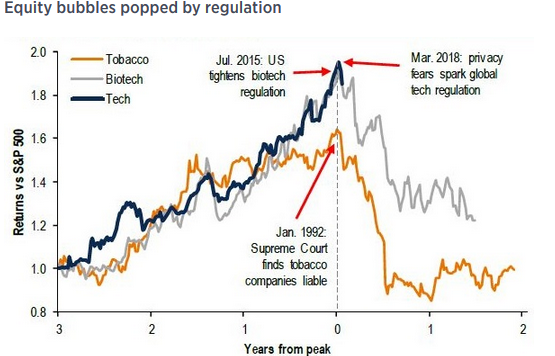 From Dave Lutz at Jones
2.Credit: High-yield ETFs saw record outflows in the first quarter.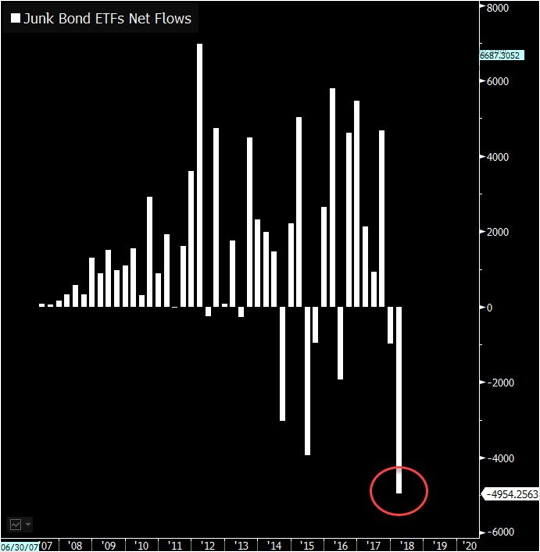 Source: @EricBalchunas
HYG-high yield ETF 50 day thru 200day to downside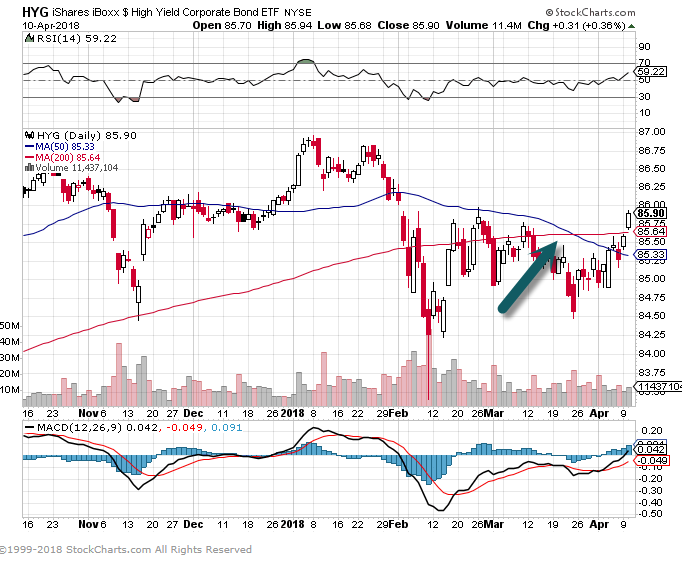 3.Earnings for the Energy Sector Expecting 70% Jump.

Q1 2018 Expectations revs, net income and earnings.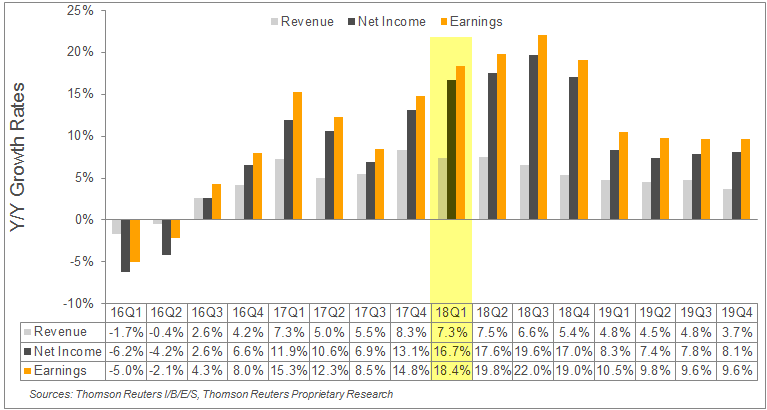 http://lipperalpha.financial.thomsonreuters.com/wp-content/uploads/2018/04/SP500_18Q1_DashBoard_180406.png
4.More and More Money Deals Going to Fewer and Fewer Companies
Venture capital investing hit $28 billion in the first quarter — but fewer companies are getting funded
. Venture Capital investing hit $28.2 billion in total deals in the first quarter, according to a new report.
That's the fourth straight quarter in which the level has topped $20 billion.
But fewer companies are getting cash; the 1,693 startups that got funding in the period was the fewest since at least 2011.
VC firms collectively invested $28.2 billion in startups in the first quarter, according to a joint report from PitchBook and the National Venture Capital Association. That amount was up from $23.8 billion firms invested in the fourth quarter and the most invested in a quarter since at least 2006, according to the report. It also marked the fourth straight quarter that VC investment topped $20 billion, and it represented a higher dollar amount invested than in all of 2009.
http://www.businessinsider.com/vc-investing-was-up-in-the-first-quarter-but-with-fewer-deals-2018-4

https://en.wikipedia.org/wiki/Venture_capital
Money Flowing To Tech Locations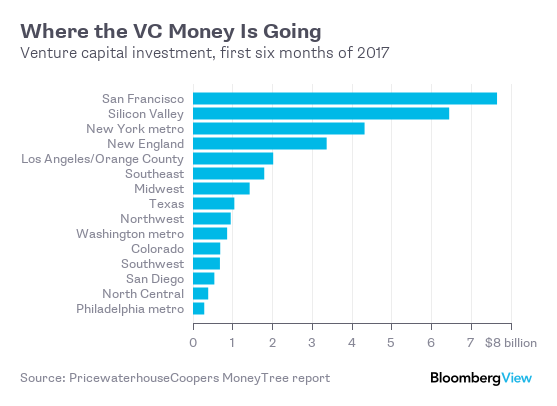 5.A Rare Occurrence-Non Recession Fiscal Stimulus
Blackrock Blog
The U.S. economy is getting a fiscal shot in the arm just as it reaches full capacity. This is the first time in decades that hefty U.S. stimulus is coming outside of a recession. We see tax cuts and public spending adding about one percentage point to growth this year. See the Hello, big stimulus chart below.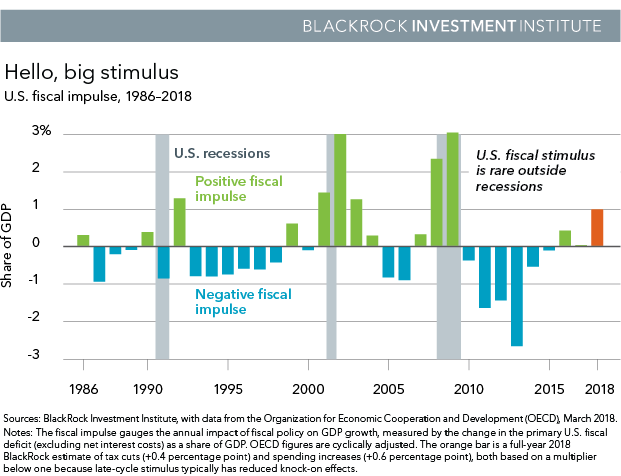 https://www.blackrockblog.com/2018/04/05/q2-investment-themes/
6.Amazon Spent More R&D Dollars By Far in 2017 Than Any Other Company.
Amazon spent nearly $23 billion on R&D last year — more than any other U.S. company
Tech companies claimed the top five spots again this year.
By Rani Molla@ranimolla Apr 9, 2018, 11:36am EDT
Amazon spent nearly $23 billion on R&D last year — more than any other U.S. company
Tech companies claimed the top five spots in the U.S. for research and development spending again last year, investing a combined total of $76 billion. Amazon was at the top of the list, spending $22.6 billion in 2017, 41 percent more than in 2016 (when it also topped the list).
Amazon has poured resources into AWS, Alexa and technologies like computer vision to support ambitious projects such as the Amazon Go cashierless store of the future. Amazon has also recently been the target of President Trump's Twitter attacks accusing the company of not paying its share of taxes and for exploiting the U.S. Postal Service.
R&D spending is important not only as it contributes to a company's own innovation and dominance, but also for its contribution to national productivity, accounting for about 3 percent of the GDP.
Productivity — which in addition to R&D includes other measures like wages and hours worked — has remained mysteriously slow the last few years despite low unemployment and higher profits from major U.S. companies.
Amazon is followed in R&D spending by Alphabet, Intel, Microsoft and Apple.
Facebook rose from 13th place in 2016 to ninth in 2017 as it increased R&D spending 32 percent to $7.8 billion. Part of the spending jump could likely be attributed to Facebook's Building 8, the company's secretive hardware research lab.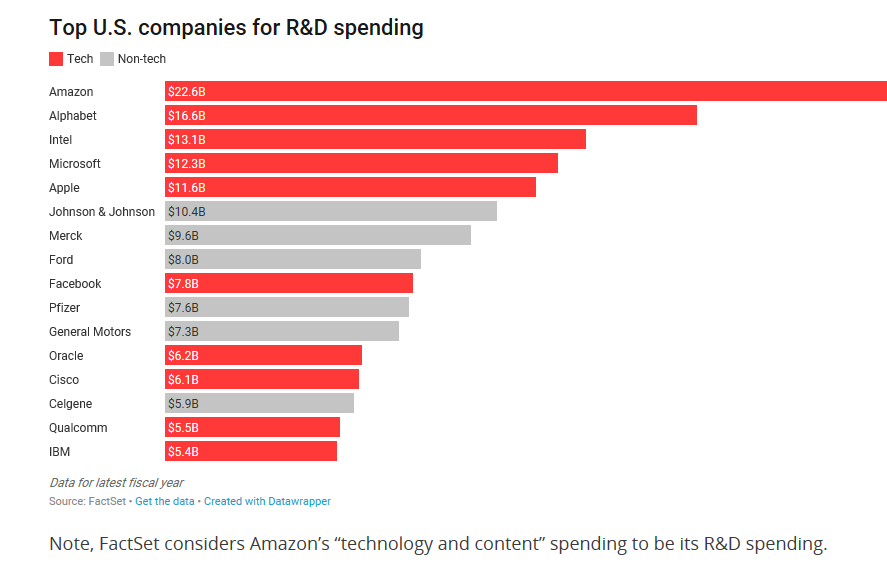 https://www.recode.net/2018/4/9/17204004/amazon-research-development-rd
From techie8@techieinsights.com daily email
7.Banks Back in Subprime Game Thru Different Avenue.
These days, Wells Fargo WFC 0.71% & Co. and Citigroup Inc. C 1.54% are unlikely to make a $14,000 auto loan to a borrower with a subprime credit score. That is now the domain of direct lenders such as Exeter Finance LLC, based in Irving, Texas.
But where does Exeter get the money to make subprime auto loans? From Wells Fargo and Citigroup. They have helped lend Exeter $1.4 billion for that very purpose.
Bank loans to Exeter and other nonbank financial firms have increased sixfold between 2010 and 2017 to a record high of nearly $345 billion, according to a Wall Street Journal analysis of regulatory filings. They are now one of the largest categories of bank loans to companies.
Banks say their new approach of lending to the nonbank lenders is safer than dealing directly with consumers with bad credit and companies with shaky balance sheets. Yet the relationships mean that banks are still deeply intertwined with the riskier loans they say they swore off after the financial crisis.
By
Peter Rudegeair,Rachel Louise Ensign andCoulter Jones
Big Banks Find a Back Door to Finance Subprime Loans
https://www.wsj.com/articles/big-banks-find-a-back-door-to-finance-subprime-loans-1523352601?mod=ITP_businessandfinance_0&tesla=y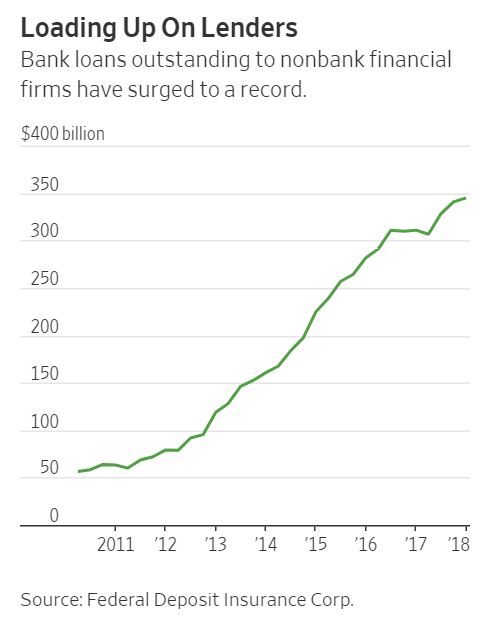 8.Ride-Hailing Apps Surpass Regular Taxis In NYC
by Tyler Durden
It has been six years since Uber drivers started roaming the streets of New York. From that day on, drivers of the notorious yellow cabs, an icon of Manhattan and the rest of the Big Apple for the past century, lived in constant fear of becoming obsolete.
And, as Statista's Patrick Wagner reports, Uber and other Ride-Hailing apps such as Lyft, Juno or Via are in the fast lane when it comes to the total number of pickups whilst the city's green and yellow cabs' share on the streets is steadily declining.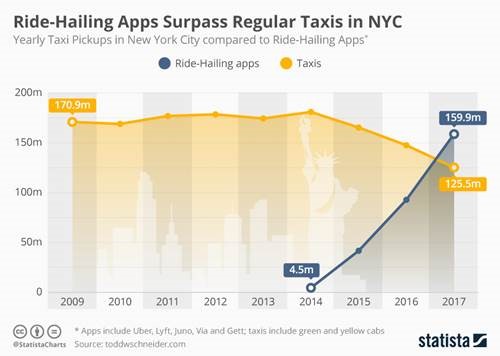 You will find more infographics at Statista
By February 2017 app-based mobility providers outstripped classic cabs in New York and by November of the same year Uber alone managed to pick up more passengers than Taxis.
In the future, the New York landscape might lack the famous yellow cabs coloring its streets.
https://www.zerohedge.com/news/2018-04-10/ride-hailing-apps-surpass-regular-taxis-nyc
9.Read of the Day…Events Where Tiger Woods is in Top 25—Broadcast Viewership Goes Up 95%
Story found at https://www.morningbrew.com/
The Tiger Woods factor: TV ratings way up when he's competitive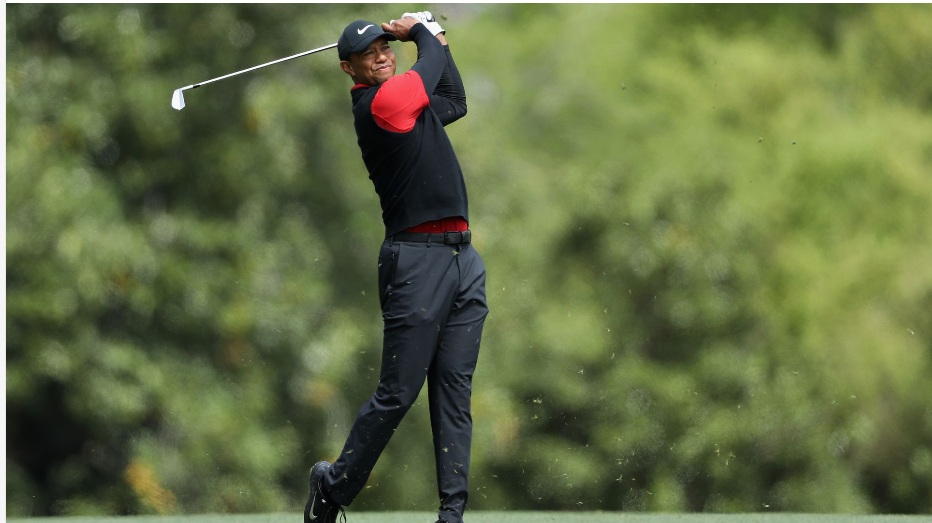 Tiger Woods on a golf course. Photo by David Cannon/Getty Images
When Tiger Woods is playing, he and his sponsors get much more time on camera than other competitors, according to Nielsen: "Through the Arnold Palmer Invitational (March 12-18, 2018), Woods had seen more branding time on screen than any other golfer on the PGA Tour, with 583 minutes of branding exposure."
Why it matters: "For the four events this season that Woods has finished inside the top 25, broadcast network viewership is up 93% versus the same events last year, or about 2 million more viewers on average."
https://www.axios.com/tiger-woods-is-on-camera-more-than-his-competitors-134d6c19-f939-4fce-9aa1-13c27cf04afb.html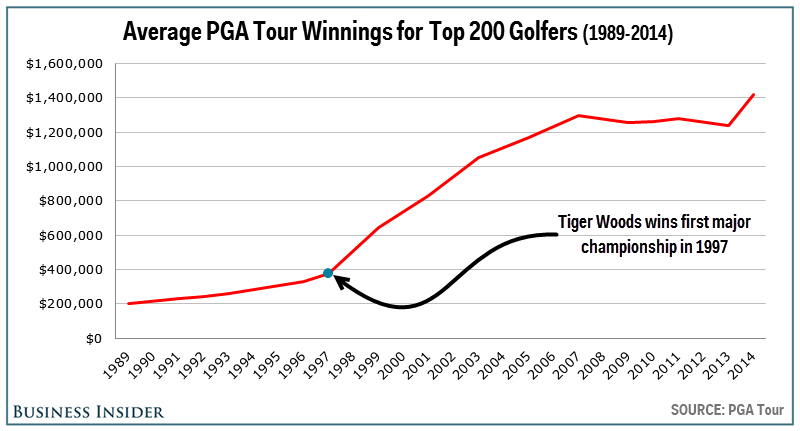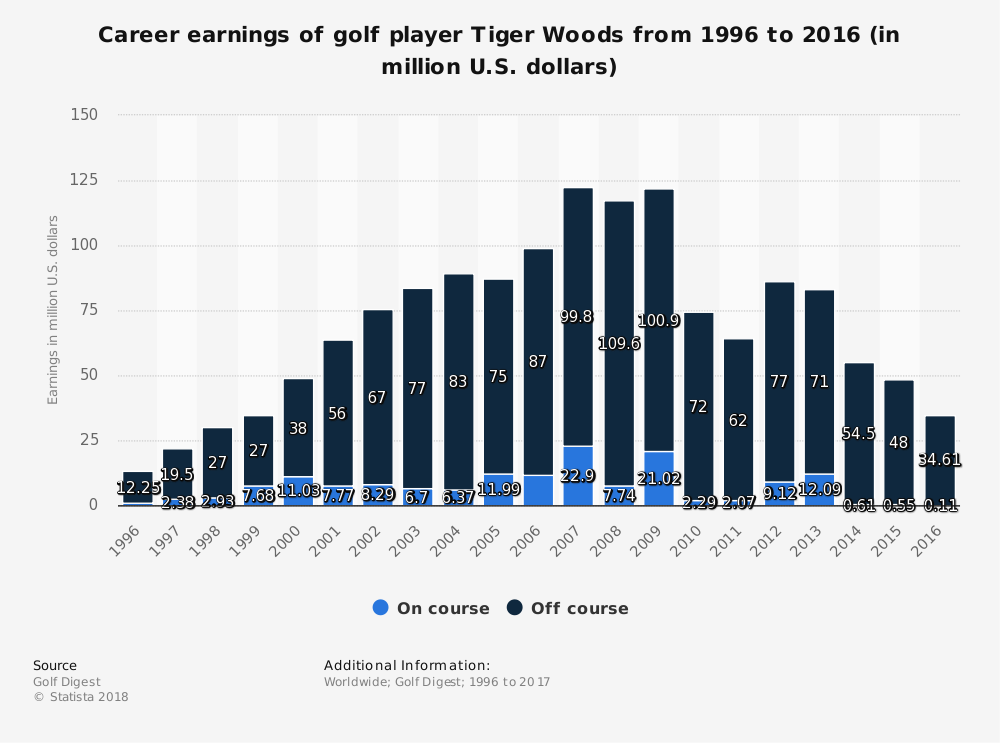 10.6 Things Smart Leaders Do When Hiring People Smarter Than They Are
People are everything. But even good leaders get it wrong sometimes.
Any good leader knows that your most critical decision is how you hire and whom you work with. People are your best capital and your biggest asset. And if you get it wrong, it is literally the difference between success and failure.
Elon Musk once said that a company "is only as good as its people and how excited they are about creating." The smartest leaders are really comfortable hiring people who are much smarter than they are, who will push them with diverse thinking.
Yes, finding and hiring talent is a skill you have to develop. Here are six critical steps to being good at it:
Have a talent philosophy.
It's no surprise I often work with people whom I consider to be much smarter and much better and more talented than me. And I actively look for people who are different from me and have differing opinions. I'm not looking for people to tell me I'm right or that my ideas are the best. We all should have people to tell us that we're wrong and make our ideas better.
Stay current in the market.
Not only do you need to know the best recruiters — I love places like Rich Talent Group — but you also need to understand the changing landscape. I'm singling out Jana Rich and her team because their roster is living, breathing, and changing.
This is an evolving world. Your industry's evolving. The talent is evolving. So what worked in a role yesterday doesn't necessarily work tomorrow.
But in addition to working with a top-notch recruiting firm, whenever I run a process, I always spend a significant amount of time asking our own team who they think are some of the best and brightest. This always leads me down a different path from where I would go if I hadn't asked those questions.
Run a tight process.
Hiring shouldn't be a willy-nilly little bit of this, little bit of that. Have a list of thorough questions and a grading process that everyone shares. Ask for other views, and set up a hiring team who will do the interviews up front so that you get consistency.
Put in the energy.
Do interviews on video or in person. Not only are you looking for how people are answering questions verbally but you're also looking for all the nonverbal cues. What they did say? What didn't they say? What's their body language telling you? How are they responding — or not?
And make sure your focus is at its best. The day after an all-nighter is not the time to screen talent. You can't execute this crucial piece of the process if you're barely paying attention.
Look for self-awareness.
One thing I often look for in talent is that they have a really good sense of what they're good and bad at. It's totally OK for people to be bad at things. It's not totally OK for people to have no idea what they're bad at.
I love to ask, "What feedback have you heard from multiple people?" Because if you're married, you've heard the same feedback from your boss and your spouse. And if it's something you're really bad at, you've heard it over and over. I need people to have a good sense of where their weaknesses are.
Onboard your talent.
Set them up well and set them up for success, and have a 30-60-90-day plan once they're in the building. That includes being extremely clear about roles, accountabilities, and responsibilities. Check in to make sure you're doing your end of the bargain — which is supporting them.
People are everything. Keep this famous Steve Jobs quote in the back of your head — "We're here to put a dent in the universe. Otherwise, why else even be here?" — when you're embarking on a search.
And — most important — when you know in your gut you made the wrong decision, it's on you to change it quickly. Listen. One of my best board members once said to me, "When you're hiring senior talent, if you get it right 70 percent of the time, you're doing a solid job."
That's why your 30-60-90-day plan is so critical. It's on you to be honest to the organization when you got it wrong.
https://www.inc.com/alexa-von-tobel/how-to-hire-people-who-are-smarter-than-you.html?cid=hmhero