1.Speculators Now Net Long the VIX in Size.
Speculators are now positioned net long Vix futures to a near record extent (orange line). In the past decade, that has reliably coincided with at least a near term top in volatility (blue line; from Movement Capital).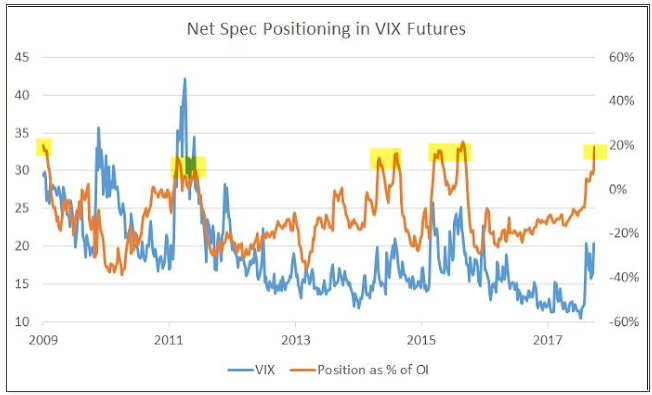 From the Daily Shot
2.Volatility During Earnings Season.
Bespoke's Most Volatile Stocks on Earnings: April 2018 Edition
Apr 9, 2018
The first quarter earnings season begins today.  With the stock market struggling lately, there seem to be a lot of bulls hanging their hopes on earnings strength to help pull the market out of correction territory.
From a seasonal perspective, stocks don't typically react all that great to their first quarter earnings reports.  Using our Earnings Screener tool, we can see how stocks typically react to earnings reports by quarter.  Historically, the average stock has gained 0.07% on its earnings reaction day during the first quarter earnings season.  That's the second worst quarter behind only the second quarter reporting period.  The best earnings season for stock prices is Q4, when the average stock gains 0.31% on its earnings reaction day.  This held true last season when the average stock gained 0.45%.
(For a stock that reports in the morning before the open, its earnings reaction day is that trading day.  For a stock that reports after the close, its earnings reaction day is the next trading day.)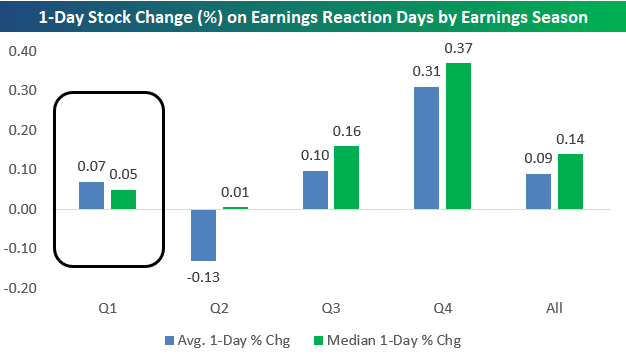 Over the last five years, the average stock that has reported earnings has gained or lost 5.43% on its earnings reaction day.  That's a huge move for investors to deal with once every three months.
Below we have broken out the average daily move for stocks reporting earnings by sector.  As expected, Utilities stocks experience the least amount of volatility in reaction to their earnings reports.  Notably, though, Financial stocks are the third least volatile in reaction to earnings with an average one-day move of +/-2.93%.  The remaining sectors all experience average moves of roughly +/-5% or more.
At the high end of the list is Technology.  As shown, the average Tech stock moves +/-7.07% on its earnings reaction day.  Consumer Discretionary stocks are the second most volatile to earnings with an average absolute move of 6.55%.  Health Care ranks third at +/-6.2%, followed by Telecom and Industrials.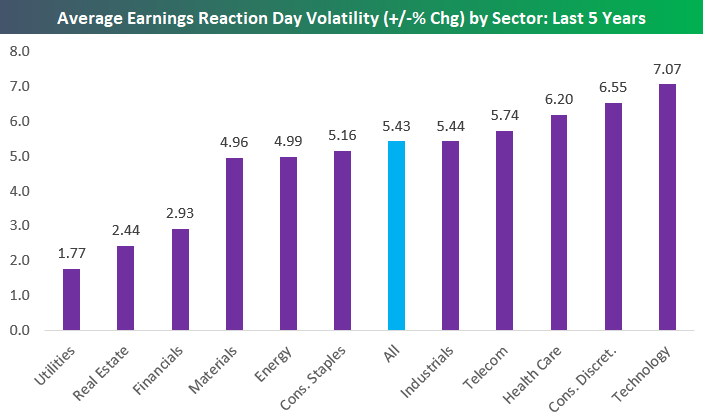 https://www.bespokepremium.com/think-big-blog/
3.Important Earnings Season as Expectations are High.
However, while this season is expected to represent one of the strongest for Wall Street in years, in terms of growth rates for both earnings and revenue, the anticipation that has been building ahead of the releases may itself represent a risk to markets.
According to FactSet, earnings for companies in the S&P 500 SPX, +0.33%  are expected to grow 17.3% in the first quarter, while sales grow 10%. For both, such rates would represent the fastest pace of growth since the first quarter of 2011.
Earnings expectations have been rising of late; at the end of December, analysts were expecting growth of 11.4%. Much of that increase was due to the recently passed tax-reform bill, which sharply cut corporate-tax rates; Goldman Sachs estimated that if you exclude the impact of the tax bill, earnings growth would come in at 9% this quarter.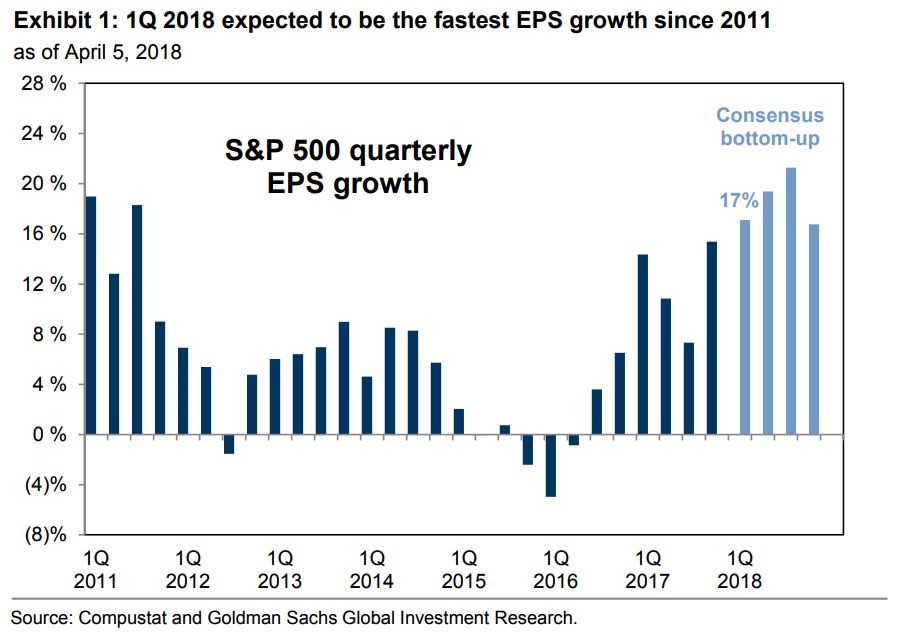 Hopes are high for this earnings season—and that could prove dangerous
https://www.marketwatch.com/story/hopes-are-high-for-this-earnings-seasonand-that-could-prove-dangerous-2018-04-09
4.Q1 Fixed Income Negative Returns.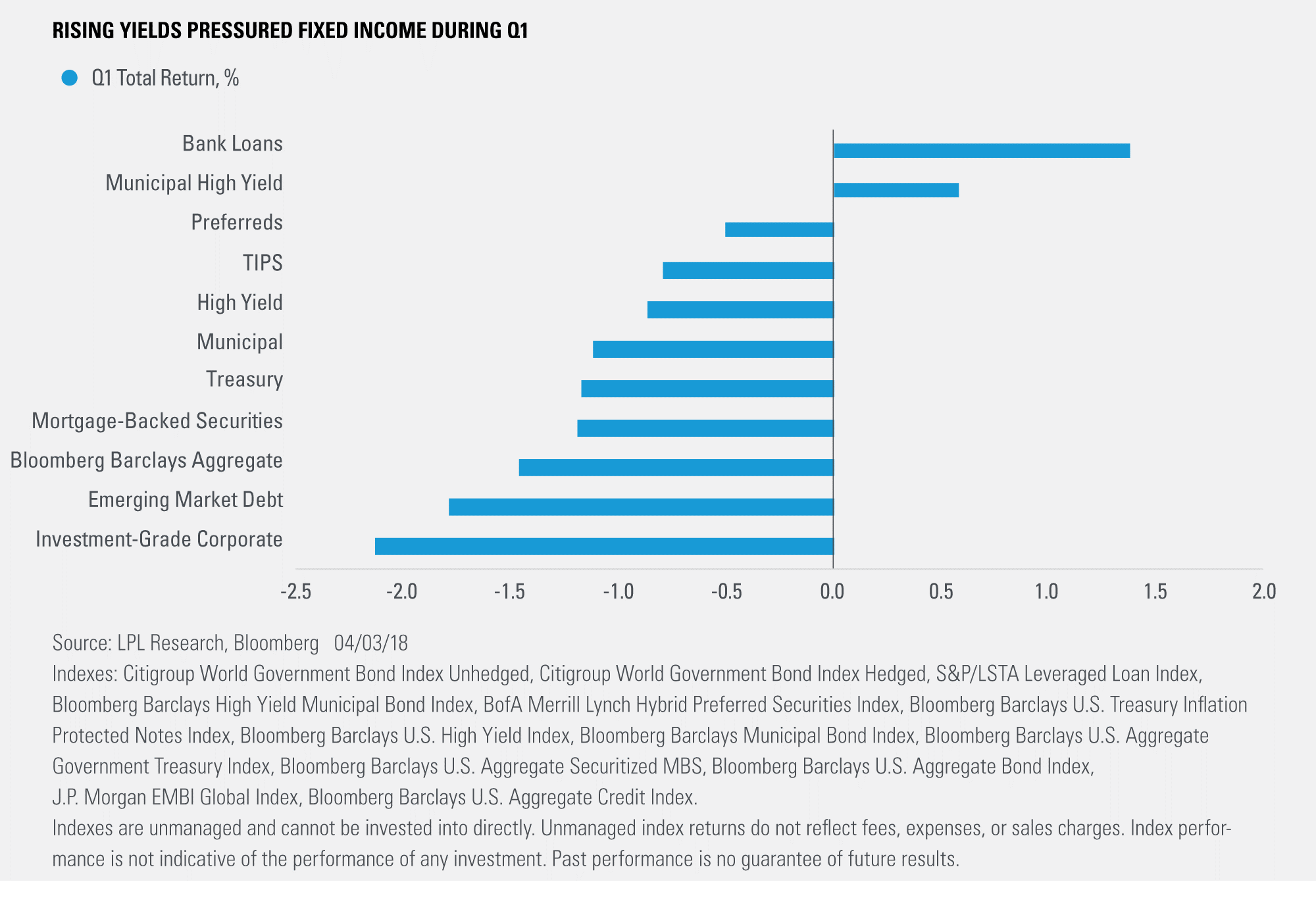 https://i1.wp.com/lplresearch.com/wp-content/uploads/2018/04/rising-yields-pressure-fixed-income-during-q1.png?ssl=1
5.Crypto Going SEC Regulated
As a broker, Coinbase's platform would only be allowed to offer tokens that comply with securities laws. That would mean token issuers would have to register their sale with the SEC, providing investors with an extensive set of financial disclosures. Token issuers can avoid those disclosures if they limit the sale to institutions and millionaires, but investors in such private sales aren't immediately allowed to sell the investments.
At least one other firm involved with virtual currency trading has registered with the SEC as a brokerage firm. Templum LLC operates a licensed brokerage firm and alternative trading system and plans to offer startups a platform for selling regulated tokens as well as a market for trading them. Templum has asked the SEC to allow tokens that were issued and traded illegally to "remediate" their status by making the required filings with the SEC.
Write to Dave Michaels at dave.michaels@wsj.com
Cryptocurrency Firm Coinbase in Talks to Become SEC-Regulated Brokerage
Move comes as regulators wage aggressive campaign to supervise fledgling industry
https://www.wsj.com/articles/cryptocurrency-firm-coinbase-in-talks-to-become-sec-regulated-brokerage-1523043315?mod=ITP_businessandfinance_0&tesla=y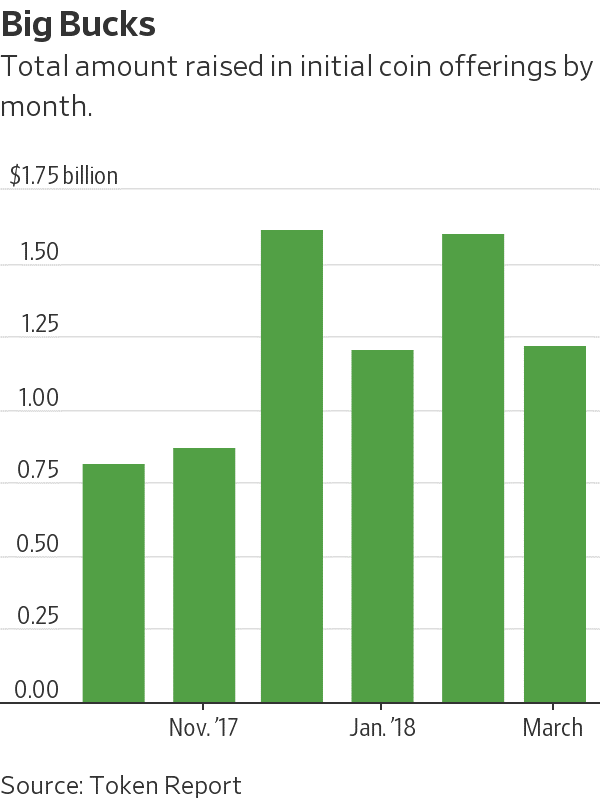 6.Chapter 11 Spikes?  Brick and Mortar Retail
Wolf Street
The chart below shows the year-over-year change in Chapter 11 filings. This eliminates the effects of seasonality. Red bars indicate that filings rose from a year ago. Blue bars indicate that filings fell from a year ago. Note the effects of the oil-and-gas bust in 2015 and 2016 and more recently the effects of the brick-and-mortar meltdown; but now it's not just the brick-and-mortar meltdown anymore: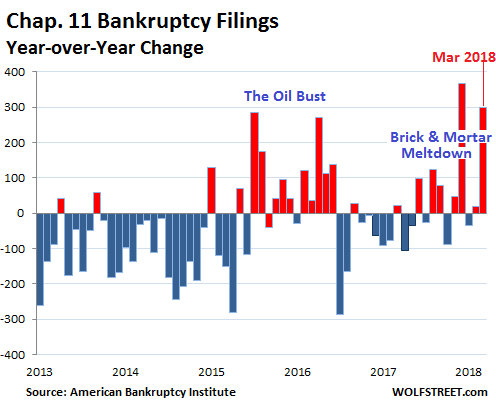 Monthly Chapter 11 filings are volatile. To smoothen out the volatility and eliminate the effects of seasonality we can look at the year-over-year changes as a three-month rolling average. For example, the three-month average year-over-year change for March is based on January, February, and March. And then the image becomes clear: There is a problem, and it's not a blip: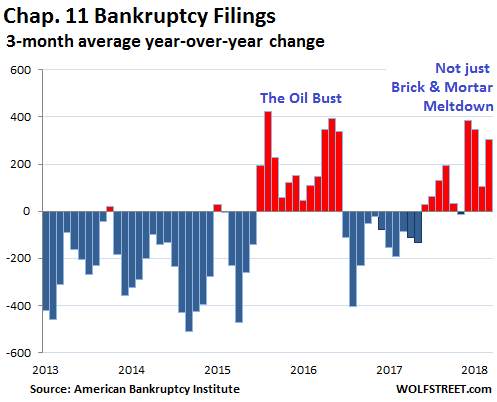 https://wolfstreet.com/2018/04/09/chap-11-bankruptcies-spike-63-from-year-ago/
7.U.S. Oil Rig Count Still 1000 Below 2 Years Ago.
Oil Prices Bristle As U.S. Rig Count Climbs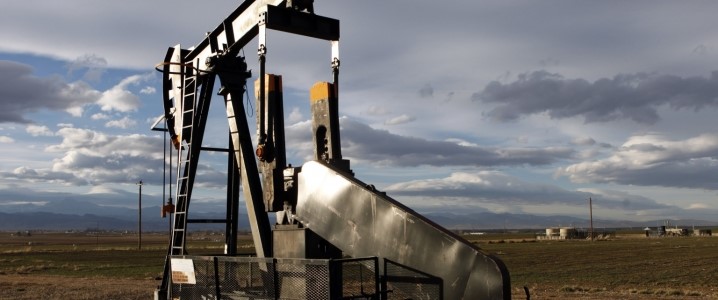 By Julianne Geiger – Apr 06, 2018, 12:19 PM CDT
Baker Hughes reported a 10-rig increase to the number of oil and gas rigs this week. The total number of oil and gas rigs now stands at 1003, which is an addition of 164 rigs year over year.
The number of oil rigs in the United States increased by 11 this week, for a total of 808 active oil wells in the US—a figure that is 136 more rigs than this time last year. The number of gas rigs held steady this week, still at 194; 29 rigs above this week last year.
The oil and gas rig count in the United States has increased by 80 in 2018.
While US drillers seem determined to add rigs, Canada continued its brutal losing streak, with a decrease of 23 oil and gas rigs, after losing 168 rigs last week in the four weeks prior. At just 111 total rigs, Canada now has 21 fewer rigs than it did a year ago.
https://oilprice.com/Energy/Crude-Oil/Oil-Prices-Bristle-As-US-Oil-Rig-Count-Climbs.html
808 active wells as of this week, 2 years ago it was 1600…Each Rig=13,000 barrels per day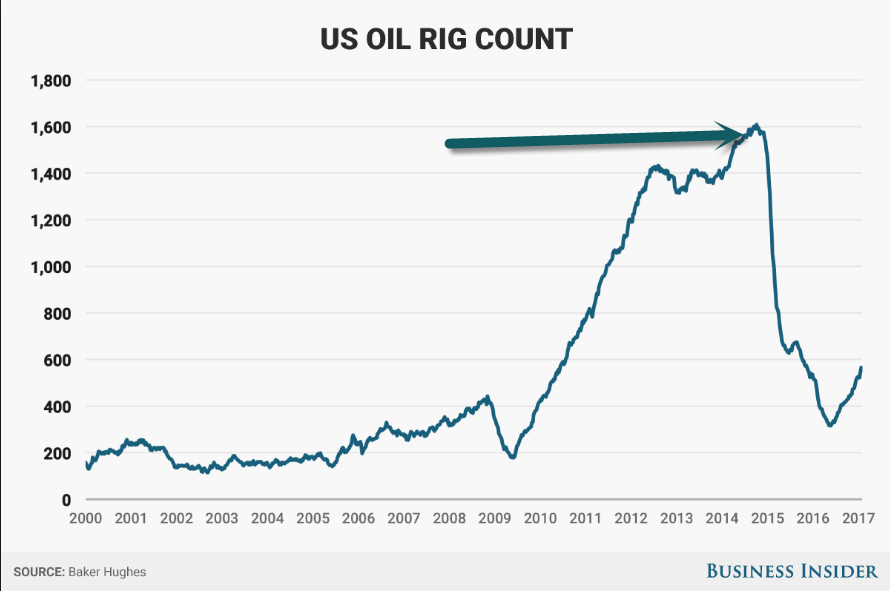 8.Apple's Entire Business Is Now Being Powered With Clean Energy
By
Brian Eckhouse
April 9, 2018, 4:00 PM EDT
From
Facilities in 43 countries now running on clean energy
Has 25 renewable energy plants worldwide, 15 more being built
Customers sit in a plaza area outside the Apple Inc. Michigan Avenue store in Chicago, Illinois.
Photographer: Daniel Acker/Bloomberg
Apple Inc. has gone all-green.
The company's sites worldwide are now completely powered with clean energy, according to a statement Monday. That comprises retail stores, offices, data centers and co-located facilities in 43 countries, and is up from 96 percent reported a year ago.
Corporations have emerged as big buyers of clean energy, driven by large technology companies that are conscious of both cost and climate change. Google, the top corporate buyer, said last week it has enough renewable energy to meet all its needs. Apple is also urging suppliers to follow its lead. It said Monday that nine additional manufacturing partners have agreed to power all of their Apple production with clean power, bringing the total to 23.
"It's a strong suggestion," Lisa Jackson, Apple's vice president of environment, policy and social initiatives, said in an interview Monday. "It will at some point become a requirement."
Apple is currently building two data centers in Denmark that will run entirely on clean power. The company has 25 operational renewable-energy plants around the world, and 15 more are being built. Once those are completed, it will have more than 1.4 gigawatts of clean capacity across 11 countries.
— With assistance by Mark Gurman
https://www.bloomberg.com/news/articles/2018-04-09/apple-s-entire-business-is-now-being-powered-with-clean-energy
9.Read of the Day……Surprise! Amazon now sells more than 70 of its own private-label brands
The biggest push has come in the clothing category.
By Jason Del Rey@DelRey  Apr 7, 2018, 12:21pm EDT
Amazon's Presto household product brand Amazon
After Amazon launched its first private-label brands in 2009, the company took a four-year hiatus before it created any more. And when it got back into the game with the launch of its own diaper brand in 2014, it was an embarrassment; a design flaw led the company to pull poop pouches off of its virtual shelves less than two months after launch.
How things have changed.
Since the start of 2017, Amazon has gone on a private-label rampage, releasing at least 60 of its own brands — predominantly in the clothing, shoes and jewelry categories, according to a new study from the research firm L2. Amazon now sells more than 70 of its own brands by Recode's count, after checking L2's list with Amazon.
With the rapid expansion, the company has silently delivered a message to retailers and brands that have shrugged off its earlier private-label launches as simply tactics that many retailers employ: We're going big.
"We take the same approach with private label as we do with anything here at Amazon: We start with the customer and work backwards, aiming to bring them products we think they will love," an Amazon spokesperson said in a statement to Recode. "We continue listening and learning from customers as we expand our selection."
She pointed out that Amazon's Mama Bear line recently expanded into diapers and baby food pouches, and Presto, which started with laundry detergent, has added household paper towels and toilet paper to its product line. The company also has created its own furniture lines with Rivet and Stone & Beam.
In fashion, Amazon started out in 2016 with brands like the women's contemporary line Lark & Ro and the kids clothing label Scout & Ro. But more recently, it has added denim brands like Hale and a sweater collection called Cable Stitch.
Retailers typically create their own store brands — at least in part — to hit different price points that outside brands aren't serving. These brands also typically help boost profits, because retailers can highlight them in their own stores — or on their own virtual shelves — without shelling out big marketing expenses to get them in front of consumers.
Even if many of Amazon's brands flame out, its private-label approach has the potential to be disruptive because of how much data it can easily analyze about competitor brands that sell on its site — which products and price points are selling, and why — after mining customer reviews.
Amazon also owns the most powerful online distribution channel in U.S. retail, plus Whole Foods. And if shopping thorough its Alexa voice service ever takes off, the company would be positioned to recommend its products before any others.
Here's a look at a list of Amazon's brands as of March, as surfaced by L2. Some brands have been removed from L2's list because they either are no longer available, are sold exclusively on Amazon but not owned by Amazon, or because Amazon denied that they are theirs:
See List of Brands Below
https://www.recode.net/2018/4/7/17208804/amazon-private-label-brands-list
10.12 bad decisions you make every day without realizing
Learn the error of your ways.Michael Goldenkov/Strelka Institute/Flickr
From email to social media to online dating, we make decisions every day without thinking about it.
But many of the choices you arrive at this way aren't so wise, like staring at a computer all day or refusing to let your partner's slightly annoying comment go.
Just a little thought can help you make better decisions, and have better days.
Even smart people can make terrible decisions.
Generally, it's not because they spent time deliberating and somehow arrived at the wrong answer. It's because they didn't spend any time thinking at all.
For example: You might automatically keep your phone on your desk at work, or grab a smoothie as a go-to "healthy" snack. But these aren't the wisest choices you could make.
Below, we've listed some of the easiest traps to fall into, at the office and at home.
Tackling your easiest tasks first
Do the hard stuff first.
Some people call this strategy "eating the frog," based on a quotation attributed to Mark Twain: "Eat a live frog first thing in the morning and nothing worse will happen to you the rest of the day."
Some researchers say willpower decreases as the day goes on, so it makes sense to work on tasks that require lots of focus and concentration in the morning. Others disagree that willpower is a finite resource.
If nothing else, it makes practical sense to start with the hardest tasks, since you never know what scheduling conflicts will pop up later on.
Constantly checking your email
The siren call of your inbox can be hard to resist.
Yet research suggests that switching between tasks — say, doing research and checking for new email — takes up to 40% longerthan doing one at a time. Even when you think you're being more productive by multitasking, you're probably not.
One simple solution, from psychologist Ron Friedman, is to silence your phone so you don't receive email alerts or to close your email tab while you're working on something important. Designate specific times to check and respond to email in batches.
Keeping your phone on your desk at work
Turning your phone on "vibrate" isn't enough. Actually, turning your phone off isn't even enough.
Research published in the Journal of the Association for Consumer Research suggests that the mere presence of your cell phone nearby can hurt your cognitive performance — even if you're unaware of its influence. The best solution appears to be keeping your phone in another room entirely.
Staying seated all day
Office jobs aren't exactly conducive to getting a lot of physical activity.
But you don't need to be up and about for hours at a time. A growing body of research suggests that even if you get up and move around for a few minutes several times a day, you're improving your overall health.
Recent research, published in the Journal of the American Heart Association and cited by The New York Times, found that people who were active for a total of about an hour a day had half the mortality risk of people who didn't. And it didn't matter whether they were active in 5-minute increments or in longer chunks.
Staring at a screen for hours at a time
Strelka Institute for Media, Architecture and Design/flickr
Staring at a computer all day can lead to "digital eye strain," resulting in symptoms like dryness and blurryness, Business Insider's Erin Brodwin reported.
Enter the 20-20-20 rule: Every 20 minutes, look at something 20 feet away for at least 20 seconds, Rahul Khurana, the clinical spokesman for the American Academy of Ophthalmologists told Business Insider's Kevin Loria.
Waiting until late afternoon to take a break from work
Take that break mid-morning instead.
A 2015 study published in the Journal of Applied Psychology suggests that the more time that's passed since the beginning of the workday, the less useful a break is. Breaks taken earlier in the day are more likely to replenish resources, including energy, concentration, and motivation.
Interestingly, that same study found you don't necessarily have to engage in non-work-related activities during a break. Just make sure you're doing something that you like to do and you choose to do. In other words, making some headway on a work project you're excited about could be even more restorative than browsing social media.
Listening to music while you work
You might feel more productive when you listen to music while doing focused work — but you're probably not really.
In 2015, I spoke with neuroscientist and musician Daniel Levitin, who cited a growing body of research suggesting that, in almost every case, your performance on intellectual tasks (think reading or writing) suffers considerably when you listen to music.
The exception is when you're performing tasks that are repetitive or monotonous, such as when you're working on an assembly line or driving for long periods of time. In that case, listening to music can perk you up.
Levitin said that a better bet is to listen to music for about 10 to 15 minutes before you start doing focused work, which can put you in a better mood and relax you.
Choosing foods that seem nutritious — but aren't really
Don't believe the hype — know the facts about your food.
Business Insider's Erin Brodwin put together a list of foods that you think are good for you, but aren't and foods that you think are bad for you, but aren't really.
For example, bottled juices and fast-casual smoothies might seem nutritious, when in fact they're generally loaded with sugar and calories. Meanwhile, many people think eating eggs will lead to high cholesterol, but that's not true for most of us.
Passively browsing social media
Scientists say there are two different ways to use Facebook: passive and active.
Active use involves direct exchanges with others. Think posting status updates and commenting on other people's posts. Passive use is about consuming information, like by scrolling through your newsfeed. Most of the time, we use Facebook passively.
Yet a study published in the Journal of Experimental Psychology: General suggests that passive Facebook use can make us feel worse. That's possibly because we feel jealous of everyone's (seemingly) glamorous lives that they're broadcasting publicly.
So instead of merely browsing, consider sending a message to an old friend or commenting on someone's happy family photo.
Escalating a fight with your partner
When your partner makes a snide comment, it's all too easy to fire back with something cruel and hurtful.
Try to curb that impulse.
Marriage and family therapist Hal Runkel previously told Business Insider that the most powerful word to defuse a conflict is "ouch." You're expressing vulnerability instead of putting up defenses, while encouraging your partner to do the same.
Meanwhile, couples therapist Esther Perel previously told Business Insider that one way to de-escalate a conflict is to reflect back what your partner is saying and show some empathy. Tell your partner that you understand where they're coming from — even if you don't yet.
Matching with dozens of people on dating apps — but not messaging any of them
Online dating doesn't have to be a game of speed: racking up as many matches as you can in as little time as possible.
In fact, the Verge reported that Helen Fisher, biological anthropologist and chief scientific officer at Match.com, said the biggest problem with dating apps is "cognitive overload."
Fisher added that "the brain is not well built to choose between hundreds or thousands of alternatives." She advises people to stop when they've hit nine matches and consider those.
Staying up too late
Scientists have identified a common phenomenon they call "bedtime procrastination": "failing to go to bed at the intended time, while no external circumstances prevent a person from doing so."
For example, you keep watching one episode after another of a not-that-interesting TV show.
This isn't just silly — it can be dangerous. As Business Insider previously reported, in some cases sleep loss can be just as deadly as smoking.
Turn off the TV and get ready for bed. You'll be grateful tomorrow, and years later.
http://www.businessinsider.com/email-social-media-online-dating-bad-choices-2018-4