1. Correction in FAANG P/E Ratio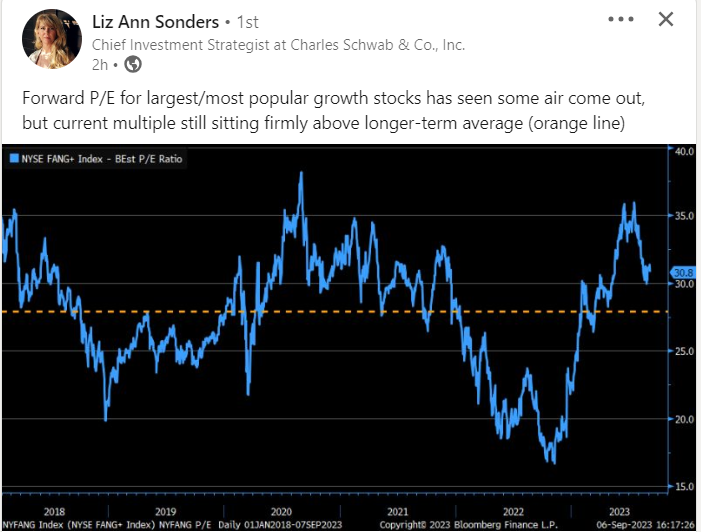 ---
2. Large Cap Premium Valuation Over Small Cap Close to Internet Bubble Levels
Wisdom Tree Scott Welch, CIMA ®This valuation dispersion can be illustrated differently by examining the ratio of small-cap to large-cap P/E multiples. The discount is as wide as it has been since the tech bubble of the early 2000s (ignoring the anomalous COVID-19 period).
Small Cap to Large Cap Historical P/E Ratio (x100)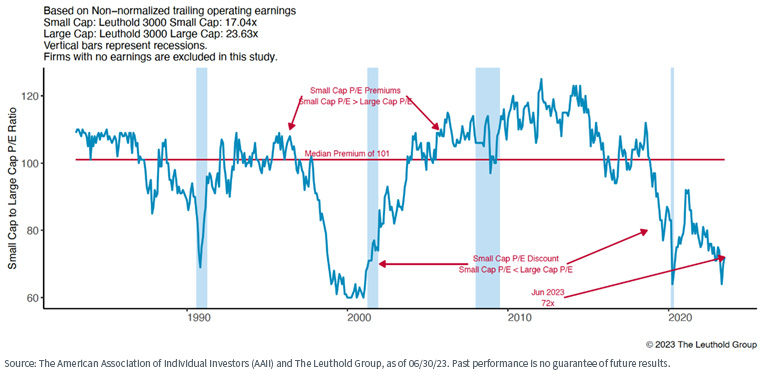 It is not just that small-cap stocks are trading at wide discounts to large-cap stocks—they are also trading at a wide discount relative to their own historical averages. "NTM" refers to estimates of the next twelve months earnings, also expressed as "12-month forward estimates."
S&P SmallCap 600 Relative NTM P/E Ratio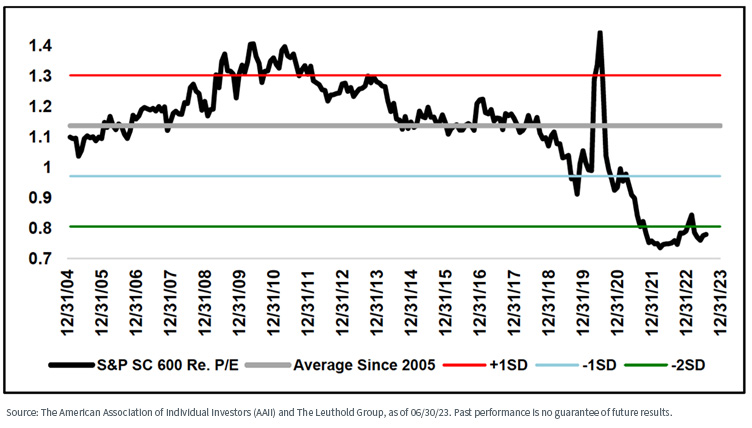 https://www.wisdomtree.com/investments/blog/2023/09/06/sing-me-a-song-of-valuation
---
3. AI Mentions by S&P 500 Companies Up 366% Since Start of Year
Business Insider-A new analysis by Wall Street Zen found the number of mentions of "AI" and related terms (machine learning, automation, robots, etc.) in S&P 500 earnings calls skyrocketed over the past year and a half, as the chart above illustrates.   AI mentions in the first quarter of 2022 totaled 1,156. That dipped to 805 in the third quarter of 2022 before rising 177% to 2,182 in the next quarter.  Then, during this year's second quarter, that ballooned to 7,358 — a 366% increase compared to the start of the year.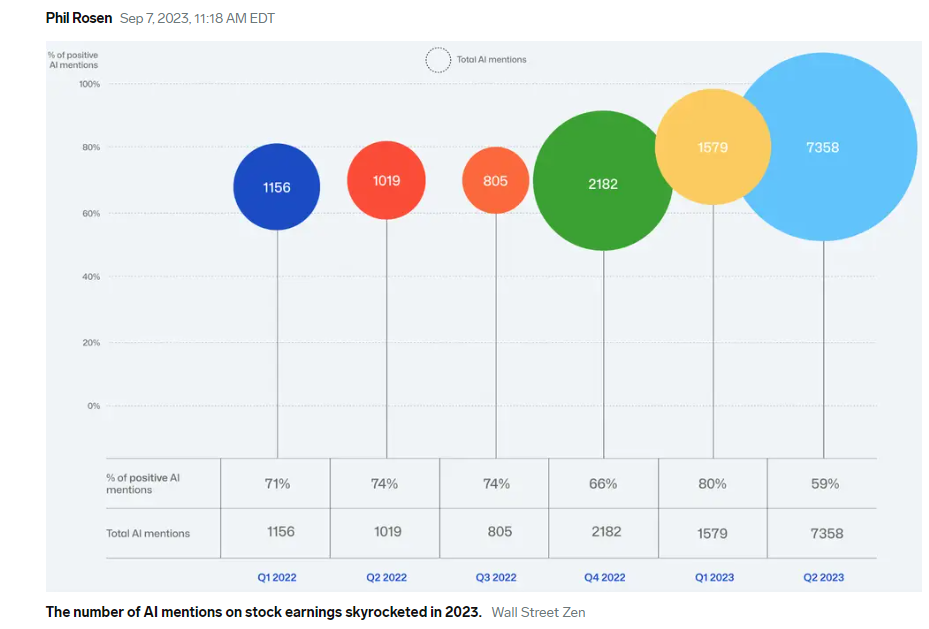 ---
4. Non NVDA AI Stokcs….C3.ai +120% in 2023…..-77% Since Inception
Barrons summary on quarterly earnings https://www.barrons.com/articles/c3ai-earnings-stock-price-59ed9fe8?siteid=yhoof2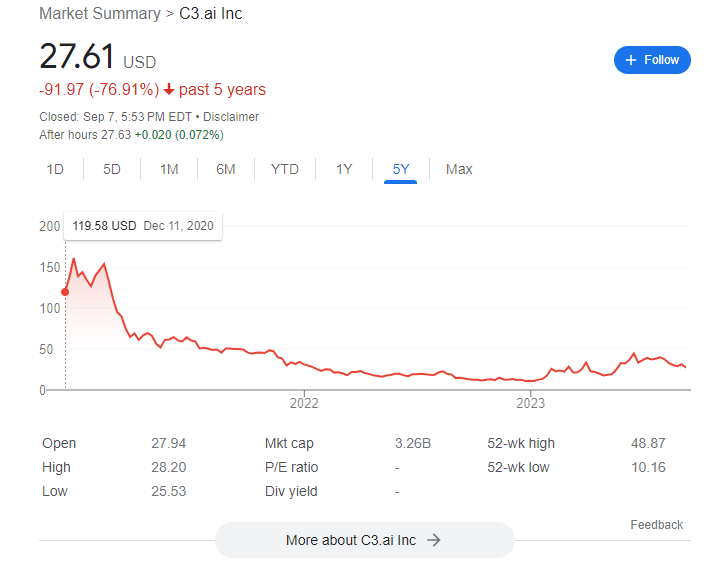 ---
5. Transport Stocks -8.5% from Highs
Dow Transports pulled back to blue support line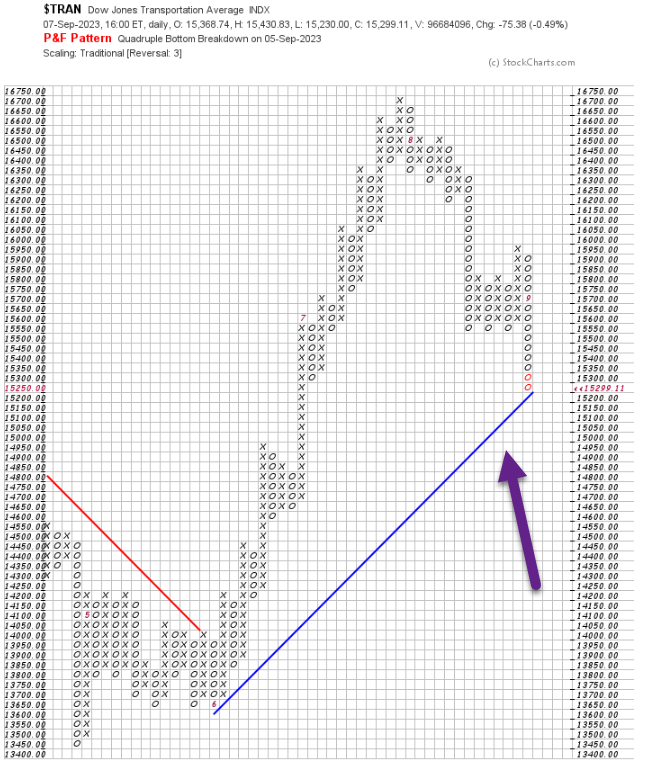 ---
6. Diesel Prices +40% Off 2023 Lows

---
7. Rise of the South….Motor Vehicle Manufacturing Growth Since 2012
WSJ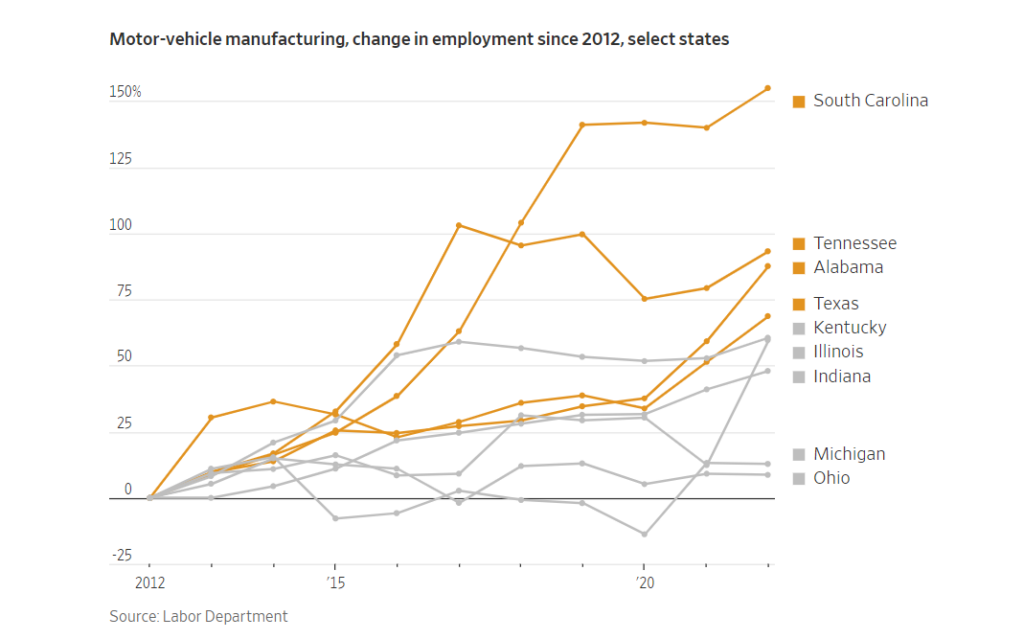 https://www.wsj.com/business/autos/ev-plants-southern-states-ford-blueoval-city-2783da97
---
8. A Huge Threat to the U.S. Budget Has Receded. And No One Is Sure Why-NYT
NY Times By Margot Sanger-Katz, Alicia Parlapiano and Josh Katz Sep. 4, 2023  For decades, runaway Medicare spending was the story of the federal budget.  Now, flat Medicare spending might be a bigger one.
Something strange has been happening in this giant federal program. Instead of growing and growing, as it always had before, spending per Medicare beneficiary has nearly leveled off over more than a decade.
The trend can be a little hard to see because, as baby boomers have aged, the number of people using Medicare has grown. But it has had enormous consequences for federal spending. Budget news often sounds apocalyptic, but the Medicare trend has been unexpectedly good for federal spending, saving taxpayers a huge amount relative to projections.
"Without a doubt, this is the most important thing that has happened to the federal budget in the last 20 years," said David Cutler, a professor of health policy and medicine at Harvard, who helped the Obama White House develop the Affordable Care Act.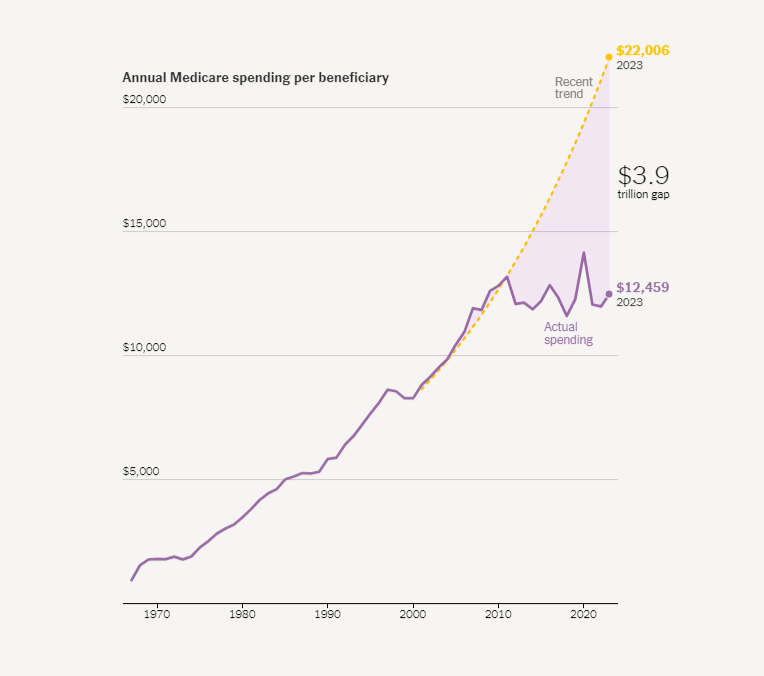 https://www.nytimes.com/interactive/2023/09/05/upshot/medicare-budget-threat-receded.html
---
9. According to WSJ 30% of Rural Hospitals at Risk of Closing
WSJ Akiko Matsuda A growing number of hospital operators across the country are in financial distress or have declared bankruptcy under the pressure of labor shortages and high inflation in the wake of the pandemic.  Small independent hospitals serving rural communities have been hit especially hard. More than 600, or about 30%, of all rural hospitals in the country are at risk of closing, according to the Center for Healthcare Quality and Payment Reform, a national policy center. As of August, 13 rural hospitals had shut their doors, exceeding seven and three in 2022 and 2021, respectively, according to the Cecil G. Sheps Center for Health Services Research, a unit of the University of North Carolina at Chapel Hill. https://www.wsj.com/articles/hospital-distress-worsens-amid-labor-scarcity-and-inflation-1ca31b87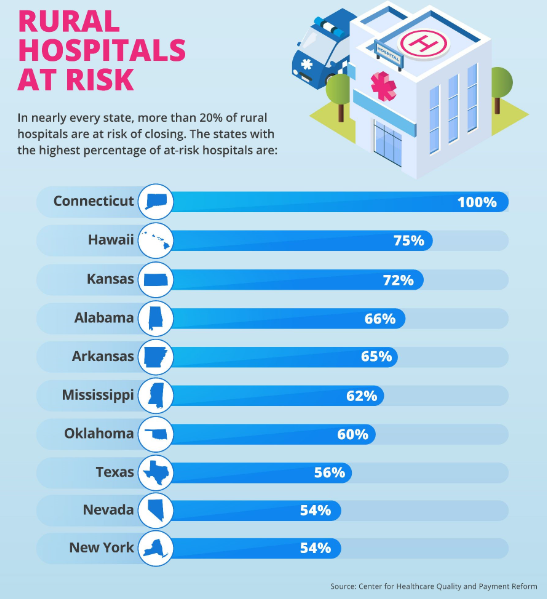 https://online.maryville.edu/blog/rural-hospital-closures/
---
10. Shrinking Number of Male Teachers in America-Prof G Blog
Prof G No Mercy/No Malice Blog  In 1980 men accounted for 33% of K-12 teachers in the U.S. Today it's down to 23%.