1. Crude Oil Inventories at 40 Year Low
Dave Lutz Jones Trading…BofA noting Crude Inventories are at a 40year low…  Net Bullish Nymex WTI Crude Oil Bets Boosted to 15-Month High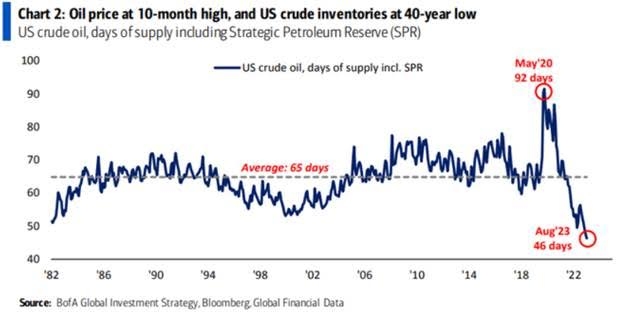 ---
2. U.S. Interest Payments Equal Military Spending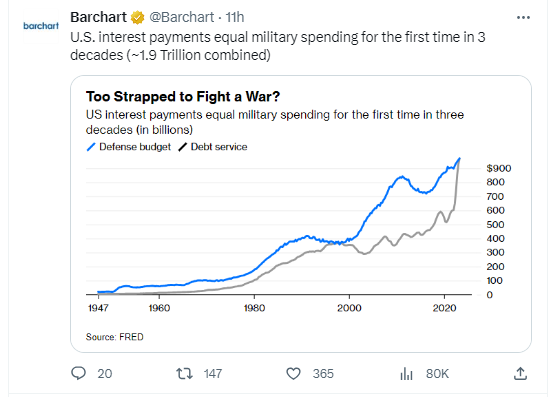 ---
3. S&P Profit Margins 5 Year Chart
JP Morgan Private Wealth Management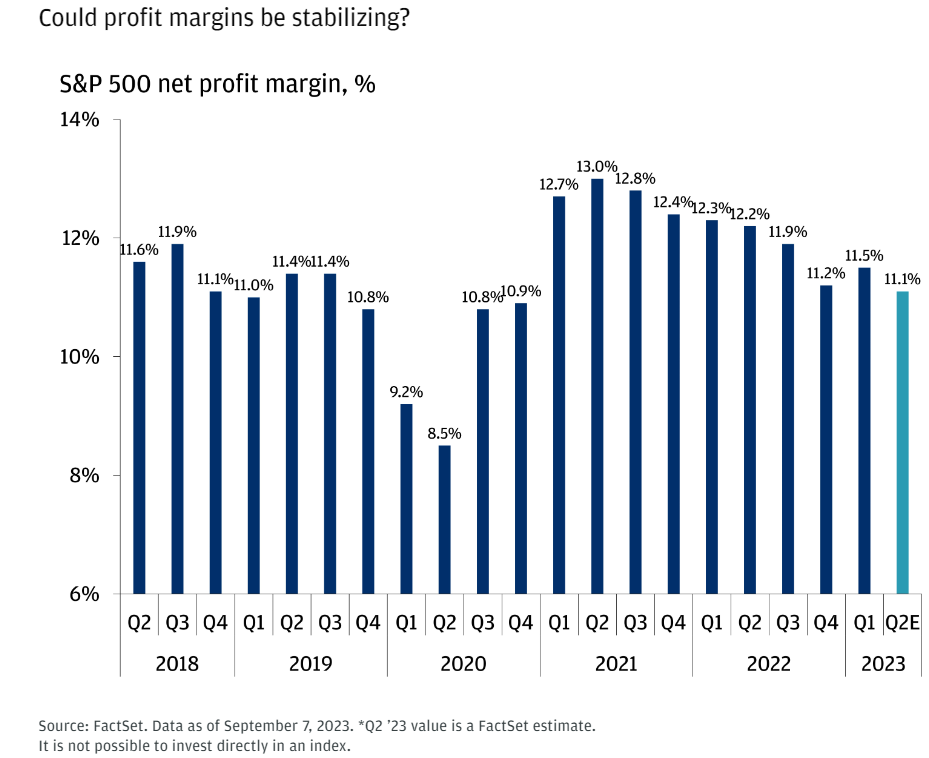 https://privatebank.jpmorgan.com/gl/en/home?c3api=3432,106135151200,kwd-823077195555&gclid=Cj0KCQjw9fqnBhDSARIsAHlcQYSP85OsLI5CrZnxc_sv9UqDtHx6jLQUaiWXwV9bAIogQixdLHTxiLYaAn9pEALw_wcB&gclsrc=aw.ds
---
4. #1 Performing Commodity 2023…Sugar +45%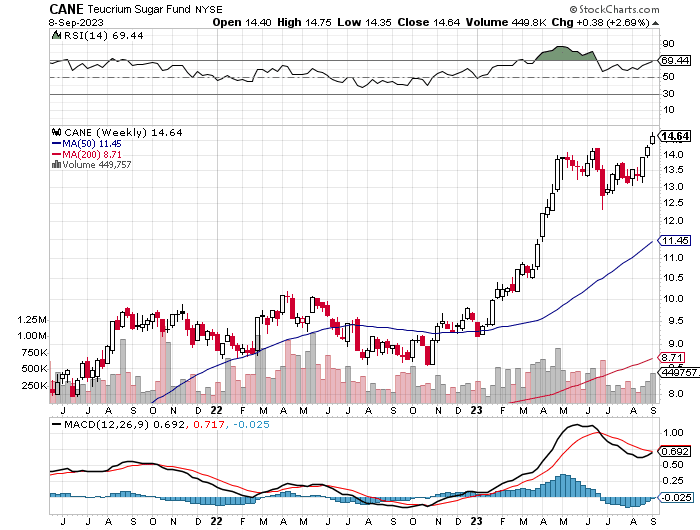 ©1999-2023 StockCharts.com All Rights Reserved
---
5. America Still Loves Sugar…Twinkies vs. S&P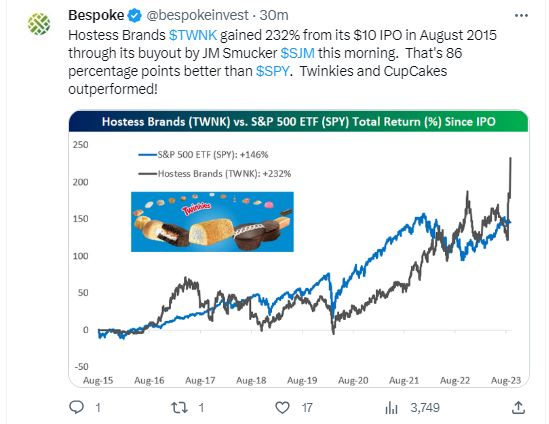 ---
6. Investors Bailed on Energy ETFs 2023
From Callum Thomas Chart Storm Out of Energy:  ETF investors completely bailed on energy stocks this year. (contrarians, take note) https://www.chartstorm.info/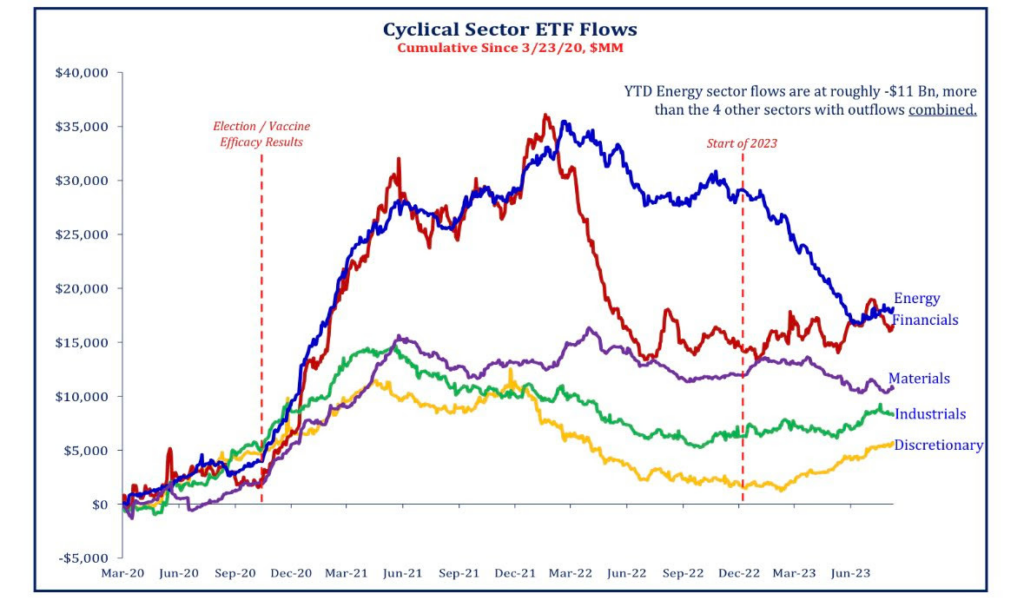 Source:  @Todd_Sohn via The Chart Report
---

7. Workers Share of GDP Across the World.
From Barry Ritholtz Big Picture Blog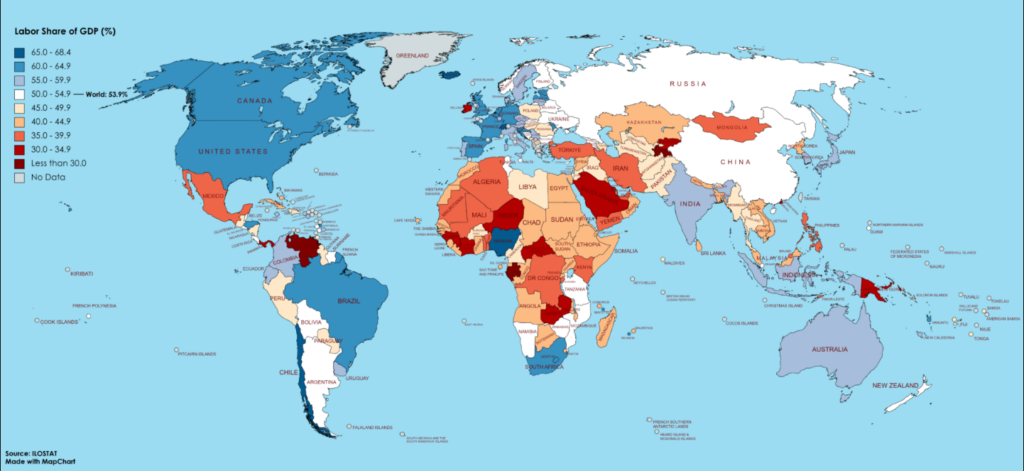 Source: Reddit  https://ritholtz.com/2023/09/10-friday-am-reads-422/
---
8. A Record Amount of Americans Plan to Travel Internationally
Torsten Slok, Ph.D.Chief Economist, PartnerApollo Global Management  The Conference Board's consumer confidence survey asks households if they plan to travel to a foreign country, and the first chart below shows that a record-high share of US consumers are planning to go on vacation to a foreign country within the next six months.
The continued strong demand for consumer services is the reason why it is so difficult for the Fed to get supercore inflation under control. US households want to travel on airplanes, stay at hotels, eat at restaurants, go to sporting events, amusement parks, and concerts, and that is why inflation in the nonhousing service sector continues to be so high, see the second chart.
The bottom line is that rates will stay higher for longer because the Fed is not succeeding with getting nonhousing service sector inflation under control.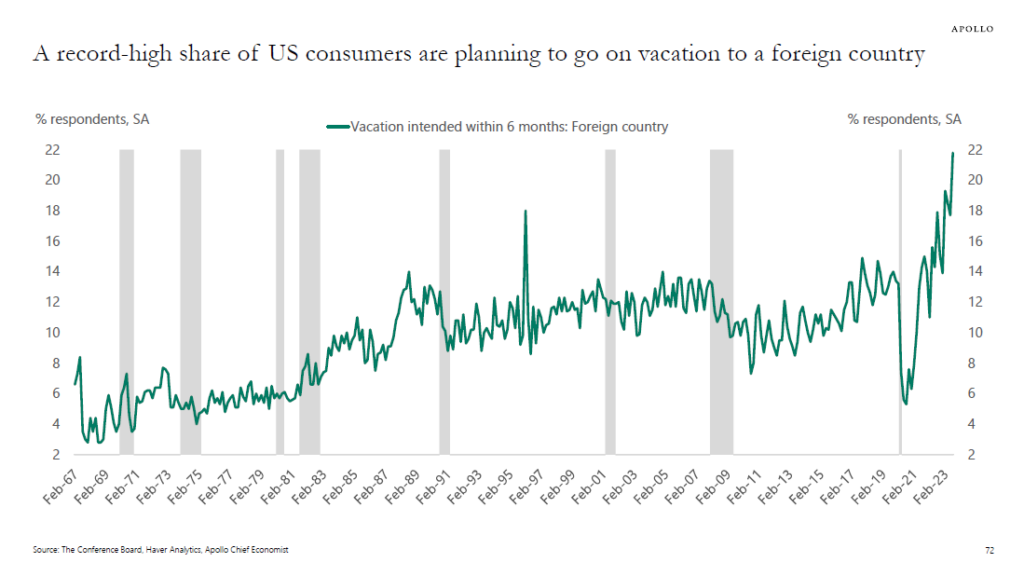 ---
9. Cruises Exceed Pre-Pandemic Levels.
Chartr Blog All aboard!  So, the headline is that cruises are back.  Indeed, cruise tourism is expected to make a titanic comeback this year, with passenger volumes forecast to exceed pre-pandemic levels by 6% — increasing at an even faster rate than overall international tourist arrivals in 2023, which are only estimated to have returned to 80-95% of the number of voyagers seen in 2019.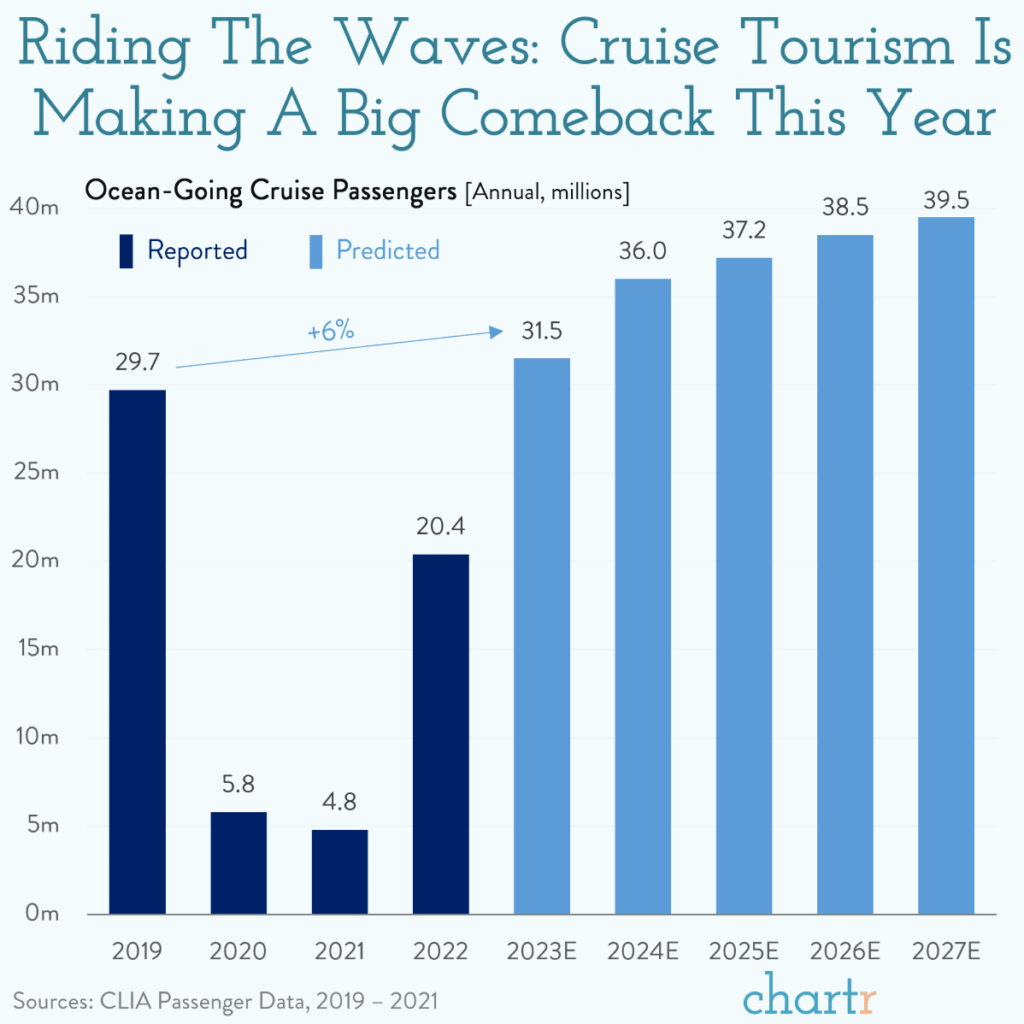 Operator Global Ports Holdings, which claims to be the world's largest cruise port operator, revealed almost 2x as many passengers across its network in the three months to June 30, translating to a quarterly revenue increase of 60%.

Furthermore, the largest cruise operators in the world are showing little problem filling the rooms on their increasingly enormous fleets. Royal Caribbean experienced record-breaking demand for its new flagship Icon of the Seas — set to be delivered in October — which is nothing short of a remarkable feat of engineering. Coming in at 1,196 feet, or nearly 4 Statues of Liberty laid end-to-end, Icon will offer its 5,600+ guests the choice of 6 waterslides, 7 pools, 19 floors to explore, and 40+ bars and restaurants.

Not waving, but drowningThat demand suggests that the industry is getting back on an even keel, with consistent profits likely to follow. Indeed, in the decade 2010-2019, Carnival Corporation — at the time the world's largest cruise ship company — was a slick operation, raking in more than $24bn in operating profits across those 10 years, with ~$3.3bn coming in 2019 alone. But, the pandemic very nearly sunk the ship, kickstarting 3 cash-hemorrhaging years for the company and industry at large.
Below deck  As passengers have gradually started to don their deck shoes once again, Carnival's revenues have crept up, but still not enough to match the costs that come with operating the floating hotels. Just fueling its fleet, for example, cost Carnival a whopping $2.2 billion in 2022. All told, Carnival Corp. reported an operating loss of $4.4 billion as passenger tickets and onboard sales failed to rebound sufficiently… and that was a significant improvement on the $7.1 billion loss the year before.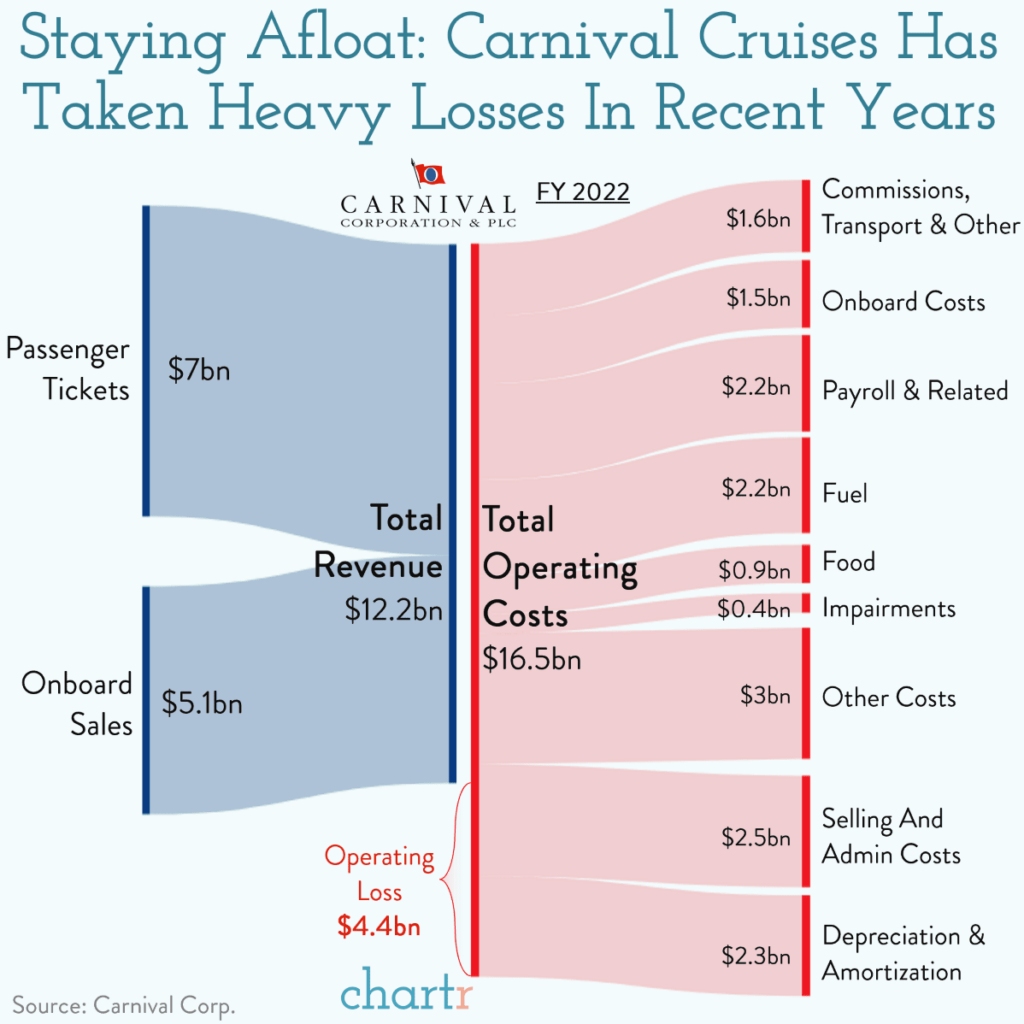 ---
Don't shy away from hard conversations. Look at them as catalysts for growth, enhancing both your business and personal development.
BY ENTREPRENEURS' ORGANIZATION@ENTREPRENEURORG
Shawn Johal is an Entrepreneurs' Organization (EO) member in Montreal, a leadership speaker, bestselling author, and founder of Elevation Leaders, a business growth practice helping companies 10X their business valuation. We asked Shawn how he handles challenging conversations in his company. Here's what he shared:
A staggering 85 percent of teams face conflict in the workplace. Nearly 30 percent of those conflicts directly result in reduced productivity.
As a Business Growth Coach, I've encountered many entrepreneurs who struggle to initiate difficult conversations in their companies. It usually stems from one of two scenarios:
First, there's the guilt-ridden entrepreneur who asks, "How can I deliver honest feedback without crushing this person's spirits?" On the other hand, there's the entrepreneur who embraces conflict a bit too comfortably. They might say, "I don't enjoy confrontation, but until we become a billion-dollar company… ."
High-impact conversations are psychological and can trigger emotional responses. In growth times or in crisis times (for some companies, life oscillates between the two), these high-emotion moments tend to manifest more frequently.
Building a business with the potential to 10X doesn't stop at processes, strategy, hiring, or cash flow management. The ability to engage in, and successfully emerge on the positive end of, hard conversations either contributes to or hinders a company's growth.
So, whether you're facing a challenging dialogue with a direct report, a business partner, an investor, or your peers, here are three strategies to master the art of difficult conversations.
1. Create a Safe Space
We hear the term "safe space" everywhere lately. But what is it, and how can we actually create one?
We all value a place where we can freely share our thoughts and concerns without fear of judgment or consequence. It's part of the human experience, and it applies to business contexts, too. At its core, a "safe space" is an environment — a feeling in the air.
To create one, start by giving your undivided attention. When someone is speaking, be fully present and attentive. Forget about your busy schedule or the next point you want to make. Show that you genuinely value their words and opinions.
Then, lead with empathy. It's easy to get caught up in our own perspectives, but difficult conversations require understanding. Put yourself in their shoes and try to see things from their point of view. The other party will quickly feel understood.
When we're able to achieve this, our businesses can overcome daily obstacles with greater ease and progress through constructive dialogue.
2. Find Common Ground
There is no successful outcome to a difficult conversation unless you first establish common ground.
I'll never forget the time I found myself in a critical meeting with a CEO who seemed more interested in his phone than our discussion. His entire leadership team of senior experts was in the room, but he wanted nothing to do with the (very significant) issue at hand. It felt as if this CEO was in one corner of the room while the entire C-suite sat in the opposite corner. Nobody looked at each other. Such a tense moment!
How did it get resolved? I focused my communication on one thing: Reiterating the shared objective everyone in the room had (a successful outcome that benefited the business). Identifying common ground — the "one thing" that everyone in that room equally wanted — reminded each person that they shared a collective purpose that mattered to them.
When you find yourself in a complicated conversation, reflect on the common ground that connects all parties. Finding that shared objective will pave the way forward.
3. Don't Let Emotions Get the Best of You
The thing about emotions is: They are highly contagious. If you enter a difficult conversation with your emotions on your sleeve, the other party involved will likely get emotional, too. Things can get unproductive — fast.
To prevent that, pay attention to your tone of voice, body language, and choice of words. Non-verbal cues can have a major impact on how your message is received. Strive to maintain a composed demeanor, using a tone that conveys respect and openness.
Phrases like "I'm disappointed" or "You could've" can come across as accusatory. Instead, focus on stating facts, seeking their perspective, and sharing your experience.
However, if you notice the emotional intensity escalating to a point where it hinders productive communication, recognize when it's time to pause the meeting. Remember, your mental health should never be compromised during these discussions.
Sometimes, it feels like navigating difficult discussions is part of a business owner's job description. I personally spent years figuring out how to best handle these conversations. Applying key tactics helps — but none of the tactics work if you don't adjust your mindset first.
My advice to all entrepreneurs: Don't shy away from hard conversations. Look at them as catalysts for growth, enhancing both your business and personal development.
If you figure out how to 10X the success of difficult conversations, you can 10X the productivity, culture, and profitability of your company; I guarantee it!
https://www.inc.com/entrepreneurs-organization/3-tips-to-master-art-of-difficult-conversations-in-your-business.html?utm_source=newsletters&utm_medium=email&utm_campaign=inc%20-%20this%20morning%20newsletter.newsletter%20-%20inc%20-%20this%20morning%209-11-23&leadid=1548979&mkt_tok=njewluxfrs04nziaaagoiv8xdqujn0g0ssm7gebuilh6opjyjzlhhmaxkjge0x7e5zmxadpokao3ghoe-2rmgdu9afw4rny8diqxzyluobzddbk_duixntnipg_n