1. Rob Arnott Research Affiliates Top Tech Names in 2000 ….20 Year Returns
Following the peak of the tech bubble in March 2000, the average stock in the S&P 500 rose by 25% over the next two years, while a cap-weighted index dominated by tech stocks fell by 21%. Arnott points to the list of tech firms that were the top 10 most-valuable at the peak of the dot-com bubble. None were able to beat the market by the time the next bull run peaked in 2007, and only Microsoft Corp. and Oracle Corp. are ahead today, two decades later.
Vildana Hajric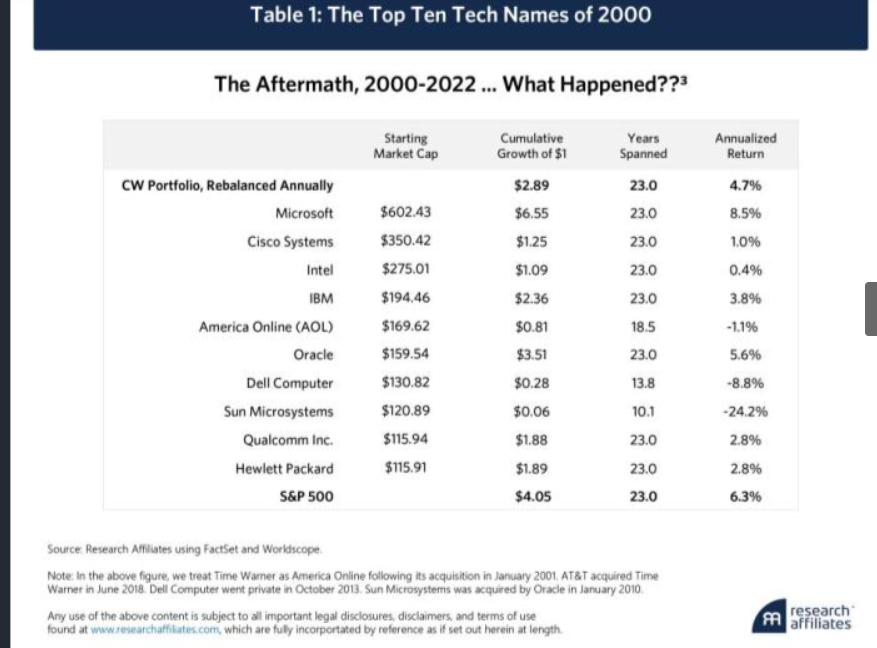 Found at Yahoo Finance https://finance.yahoo.com/news/nvidia-rally-going-show-traders-120000973.html
---
2. Broker Dealer ETF XBD Broke Out to New Highs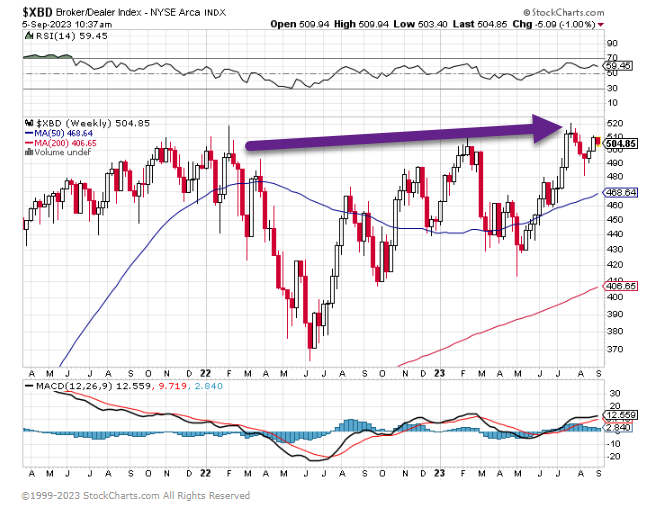 ---
3. Bitcoin Miners MARA and RIOT Testing 200-Day Moving Averages After Doubling in July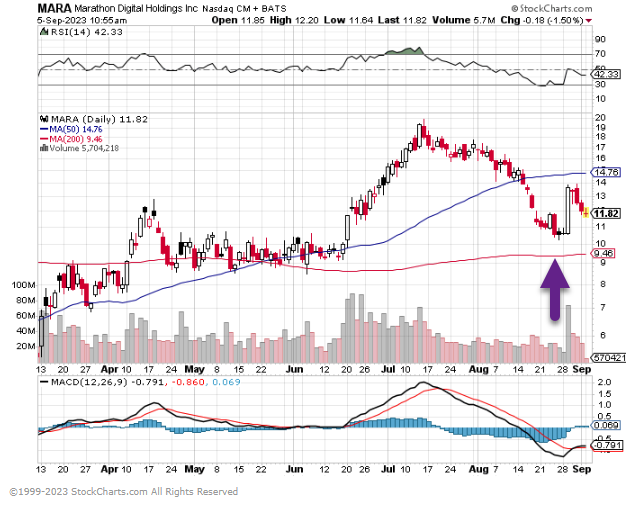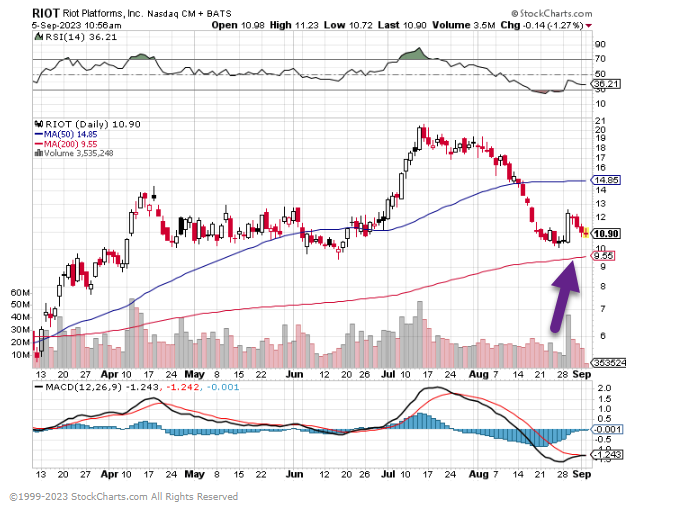 ---
4. Another Energy ETF ..USO Held 200 Day for 4th Time
---
5. NFL Season Starting ….Draft Kings Rallied from $11 to $35 this Year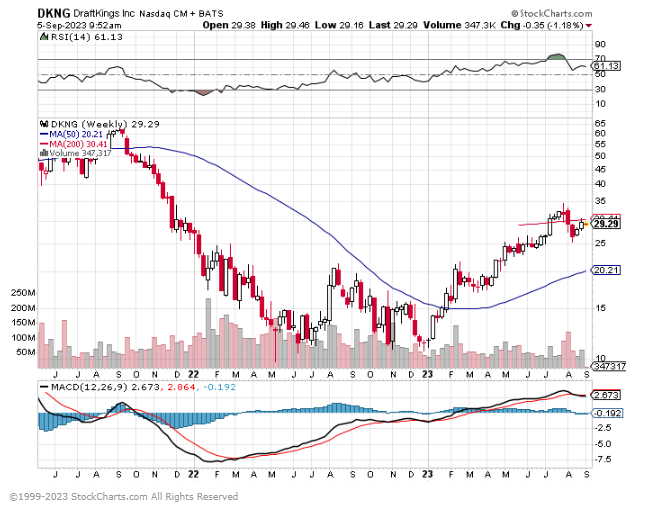 ---
6. Schwab Moved 7,000 Advisors with 4 Million Accounts Over the Holiday Weekend
Barrons By Andrew Welsch  To say Charles Schwab had a busy Labor Day would be an understatement.
Between Friday and Tuesday morning, the company moved more than 7,000 advisors, nearly 4 million accounts held by clients, and $1.3 trillion in assets from TD Ameritrade to Schwab's platform. "This was a really big weekend for us," says Bernie Clark, head of advisor services at Charles Schwab.   It's a milestone in Schwab's acquisition and integration of TD Ameritrade and comes amid an eventful year for Schwab (ticker: SCHW). The company's stock plummeted in March amid concerns about deposit outflows. Shares have pared some of those losses but are down about 27% this year. Last month, the Westlake, Texas-based company disclosed fresh details on cost-cutting moves, including layoffs and office closures. https://www.barrons.com/advisor/articles/charles-schwab-td-ameritrade-advisor-client-migration-490da7f6?siteid=yhoof2
SCHW chart still -25%+ from highs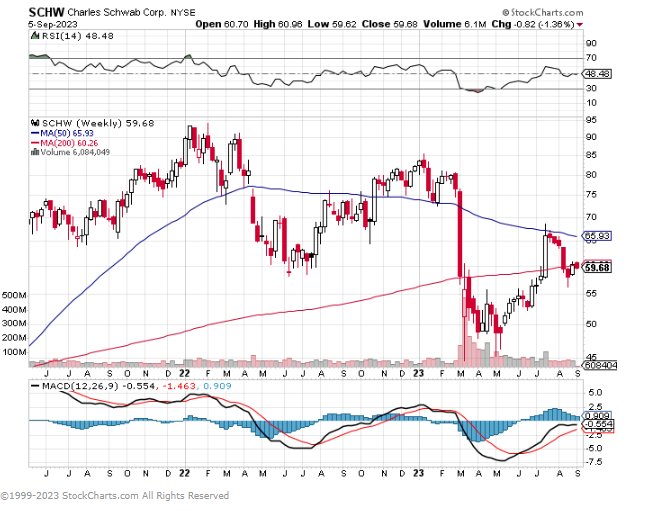 ---
7. Heavy Truck Sales Still Solid
Calculated Risk Blog…Usually, heavy truck sales decline sharply prior to a recession.   Sales were solid in August.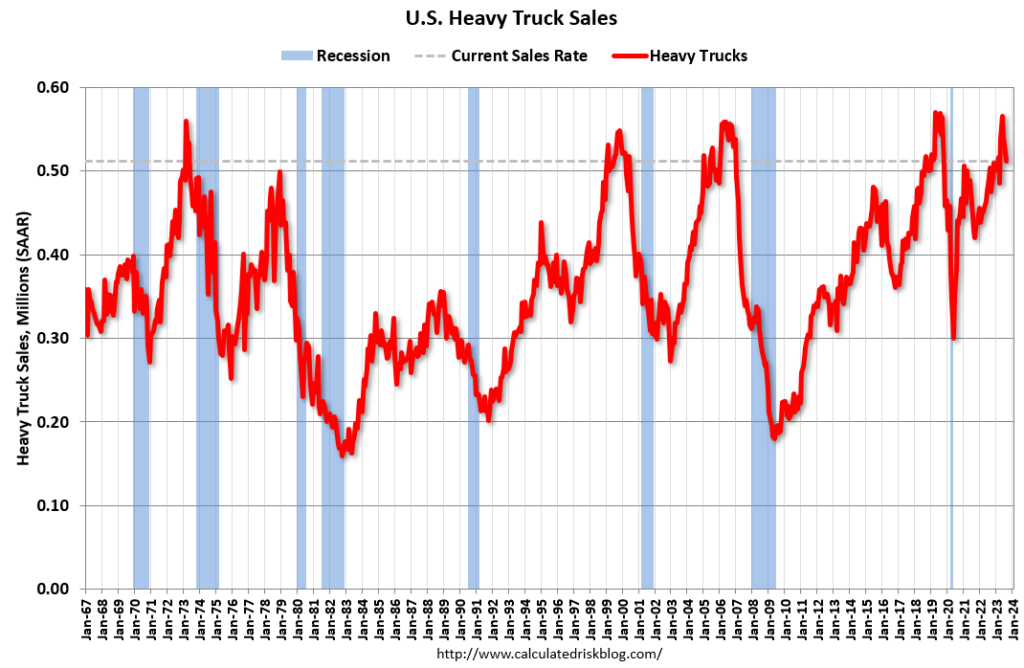 ---
8. Citizens Poll on Safety of Cities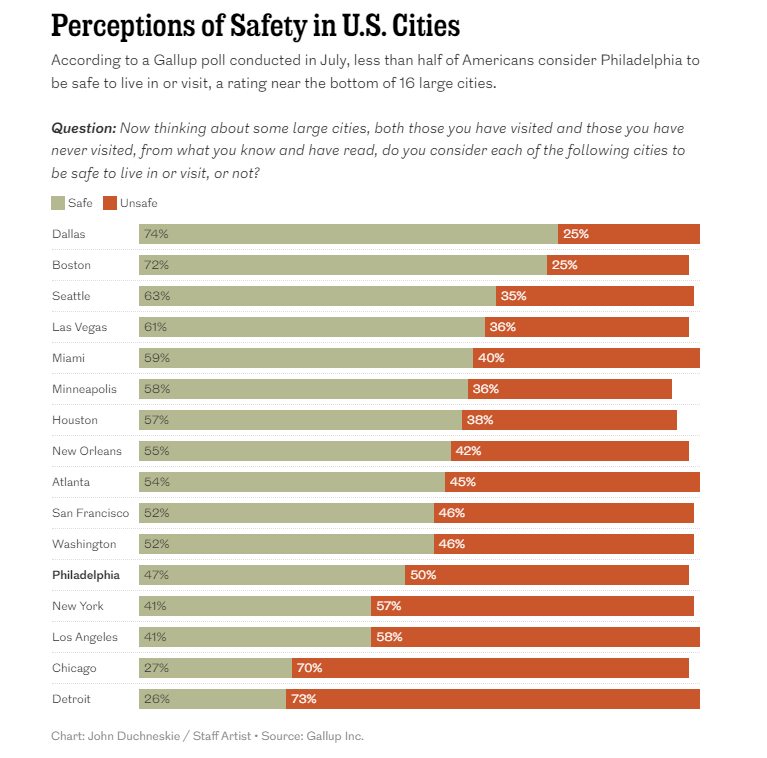 https://www.inquirer.com/news/philadelphia/philadelphia-safety-gallup-poll-cities-20230830.html
---
9. Jimmy Buffett $1B in Net Worth
Not sure on accuracy of data but Jimmy liked to be cashed up.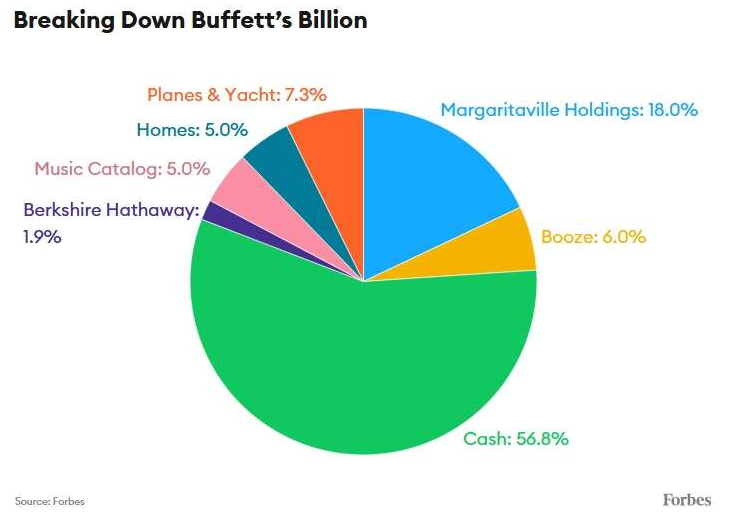 ---
10. Creating Routines for What's Important
Prioritizing social connection. Julianne Holt-Lunstad
KEY POINTS
The goal of establishing routine needs to include time for socializing.
Social connection encompasses three fundamental components: structure, function, and quality.
Social connection helps us live a happier, healthier, and longer life.
As a professor and a mother, the end of summer is always a bittersweet and busy time of year. Whether or not you are gearing up for back-to-school, the end of the summer marks a point where we all feel like we need to get back into a rhythm. This can be a busy time. Whether it is the addition of homework, yard work, or the many other tasks that seem to pop up, we often find ourselves overscheduled and overstressed, yearning to establish a sense of equilibrium in our lives. As we settle into a routine, we must center our lives around the things that matter most and will help us live happy and healthy lives.
When you think of living a healthy life, what do you imagine? Does your list consist of getting more steps in, eating healthier, going to bed earlier, or swapping out soda for sparkling water? These are all important for our health, but most people don't realize that many other factors dramatically influence physical health. What specifically am I talking about? Social connection.
The evidence supporting the health benefits of social connection is compelling and wide-ranging. Studies have consistently underscored the association between social bonds and a reduced risk of earlier death, bolstered cardiovascular well-being, enhanced immunity against infections, and mitigated levels of inflammation. Those fortified by social networks also report lower rates of depression, anxiety, and other mental health disorders. Moreover, social connection has been linked to better cognitive function and resilience to stress. In essence, fostering social connections is not just about enhancing our emotional well-being; it's a cornerstone of our physical health and overall quality of life.
In my role as the lead scientific editor for the US Surgeon General Advisory on the Healing Effects of Social Connection and Community, we aimed to seek to create awareness and ignite change to help us focus more on the importance of social connection in our own lives and the communities that we live in. This advisory goes beyond providing evidence of concerning trends about isolation and loneliness in our country to provide detailed recommendations for schools, communities, businesses, governments, and, importantly, individuals. As we understand more about the need for human connection, we are better able to prioritize it in our lives and enjoy the many benefits that come from it.
Social connection encompasses three fundamental components: structure, function, and quality. The structure, or size and variety of social relationships, is the foundation of our social connection by ensuring the presence of people in our lives and regular social contact. Function comes into play as we acknowledge the diverse roles others fulfill, meeting our physical, emotional, and achievement needs. Quality can span the spectrum from highly positive and nurturing to hostile and conflict-ridden, pointing to the need for high-quality and fulfilling relationships and interactions. Together, these exert a multifaceted impact on our health and well-being.
We all face barriers to connection, whether it is a busy schedule, geographical distance, poor health, or our insecurities. As we think about prioritizing our connections, we need to consider each aspect of social connection. Improving and prioritizing our social connections can not only increase our happiness and quality of relationships but also increase our physical health, longevity of our lives, and overall well-being. As you settle into a new routine, seek to improve the elements of connection in your life by asking yourself a few questions:
·  Do I prioritize the relationships that matter most to me?
·  Do I make time in my busy schedule for socializing?
·  Do I regularly check in on the people I care about to see how they are doing?
·  Do I have a group (e.g., book club, hobby, fitness, faith) I consistently participate in?
·  Do I spend time in my community to provide opportunities to get to know or strengthen my relationships with my neighbors?
·  Do I practice kindness, respect, and responsive listening in my interactions with others?
You can build and strengthen your relationships in many ways, but if you find yourself answering "no" to some or all of these questions, ask yourself why not. Are you spending your time on the things that matter most to you? If not, it is time to prioritize what matters most.
Your future self thanks you.
https://www.psychologytoday.com/us/blog/social-for-life/202309/creating-routines-for-whats-important