1. Two Charts from Callum Thomas…Retail Bulled Up and Hedge Funds Bull Up
Ravenous Retail: Also, retail have not been shaken in the slightest, and in figuring out whether the correction is healthy or not, one sign of health would be a shaking out vs apparent surge in retail flows.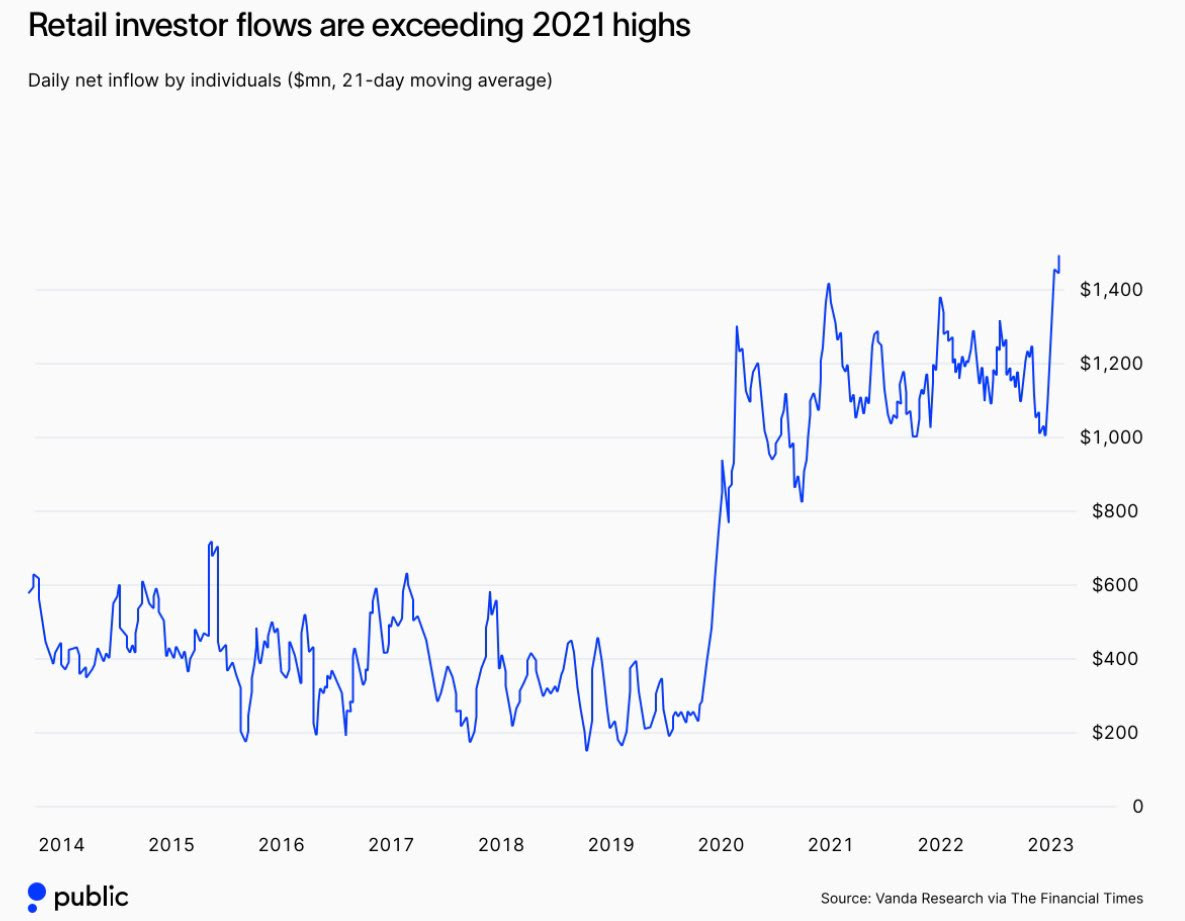 Source:  @Marlin_Capital via Daily Chartbook
Hedge Fund Tech Bandwagon: And hedgies are also bulled up… got to get that bonus and there's been one sure thing to ride this year. Often find that the hedge fund crowd pile into the main momentum play of the market, and it works fine, and gets their P&L targets filled… until it (usually suddenly and violently) stops working and they all rush to reduce risk.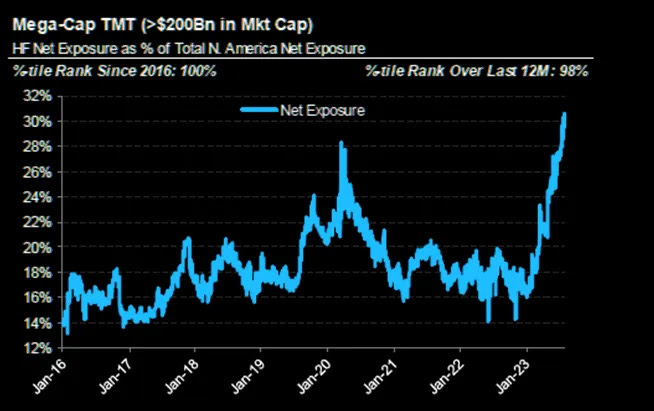 Source:  @Barchart 
Callum Thomas Chart Storm https://www.chartstorm.info/
---
2. China Trading at ½ the U.S. P/E Ratio …Apple stock share of MSCI index is Bigger than Entire Chinese Market.
WSJ By James Mackintosh  The question is: How cheap should China be? Past evidence suggests it can get much cheaper in a crisis. In the 2008-09 financial crisis, China traded at 6.6 times forward earnings, and was below 10 for most of the time from 2011 to 2015. It is also one of the few countries whose history includes a thriving stock market that went to zero, after the Communist revolution in 1949.
Yet, China is remarkably cheap compared with the U.S. The gap between the U.S. and China valuations has only been this wide briefly in 2020 and 2021, according to MSCI data starting in 2003.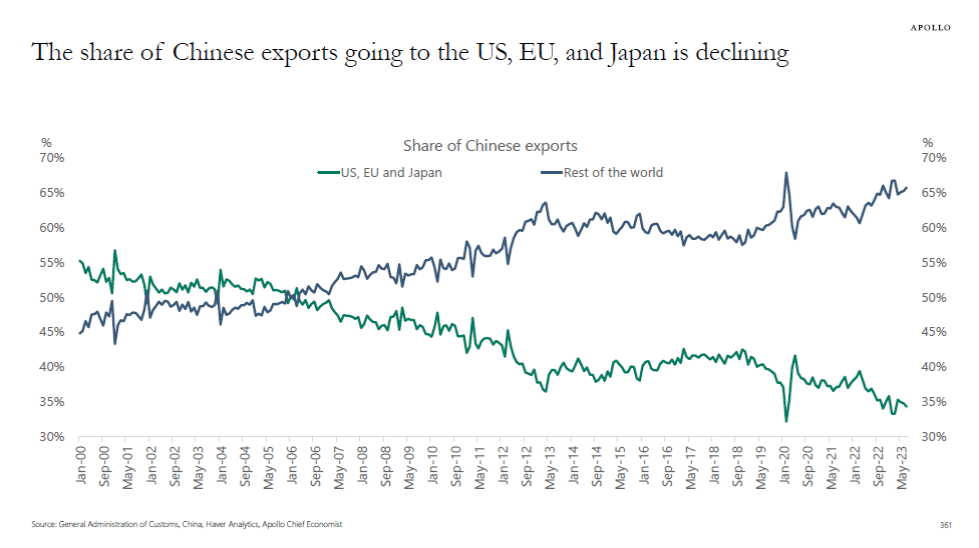 Yes, There Is a Bull Case for Investing in China – WSJ
---
3. China Share of Exports to U.S., Europe and Japan are in Steady Decline.
Torston Slok Apllo The share of Chinese exports to the US, Europe, and Japan has declined steadily over the past twenty years, see the first chart below.
Similarly, China is today the top export destination for eight of the G20 countries, up from zero in 2000, see maps below.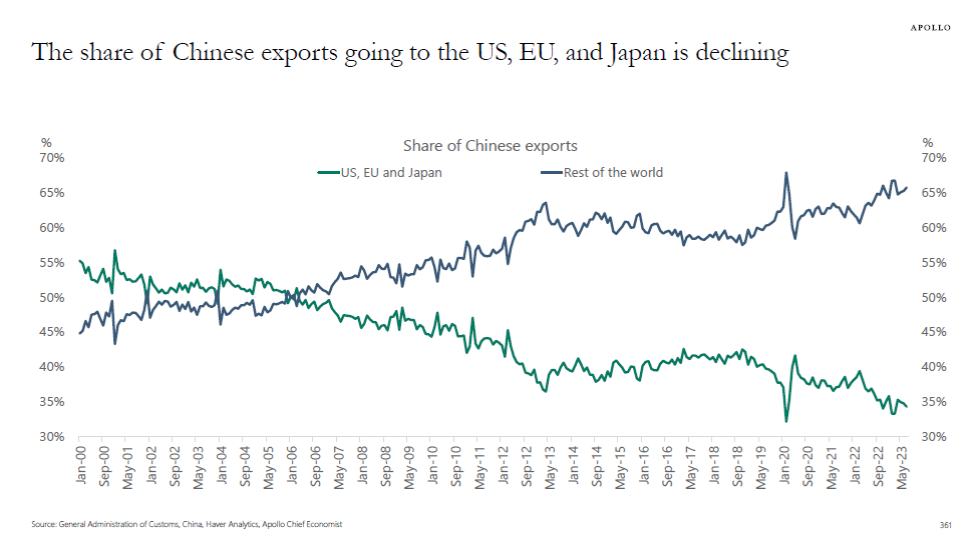 ---
4. Grayscale Bitcoin Chart
GBTC still 20% discount to NAV….almost 3x off bottom….right against 200-week moving average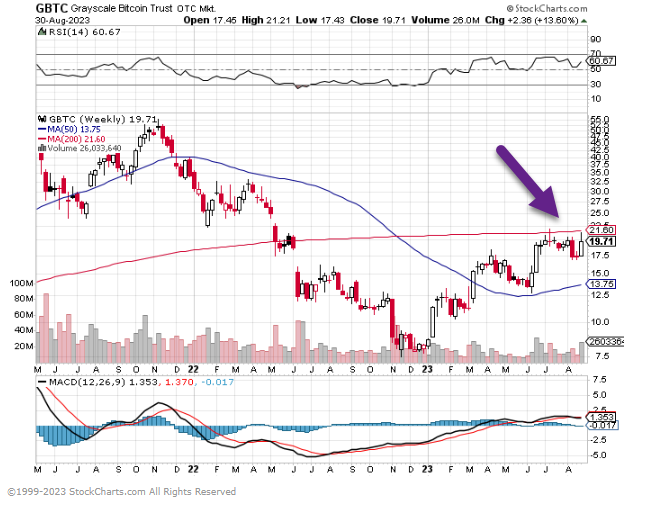 ---
5. Nike and Under Armour No Post-Covid Recovery
NIKE 2021 high was $175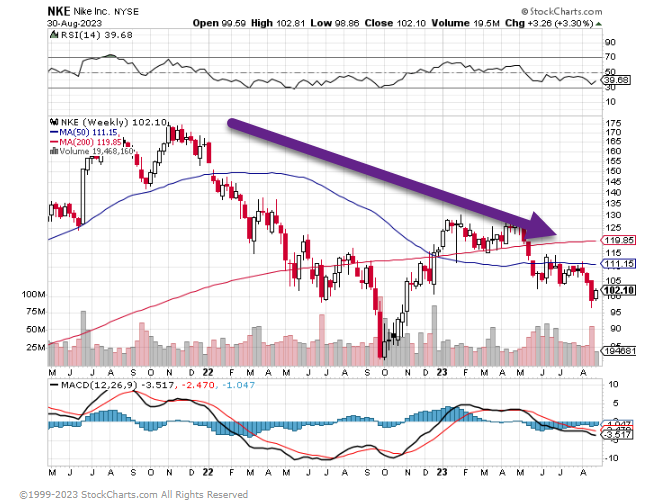 UA 2021 high $23…..$7 last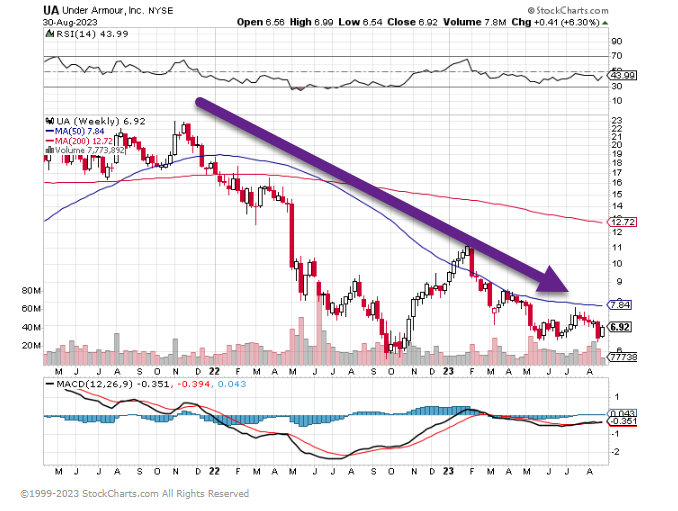 ---
6. Chewy Covid Favorite About to Make New Low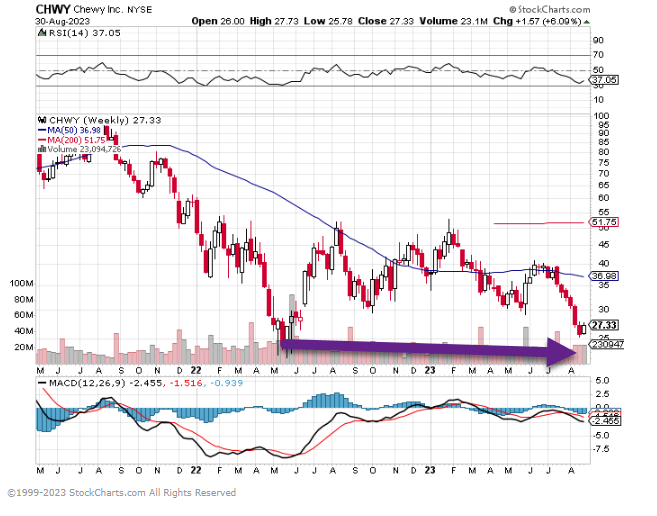 ---
7. Energy Stocks Making New Highs…XLE Energy Sector ETF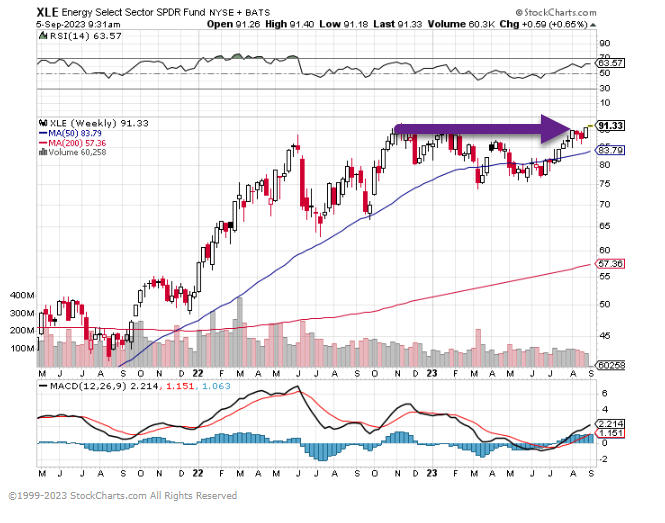 ---
8. U.S. Home Prices on the Rise Again
Bloomberg By Prashant Gopal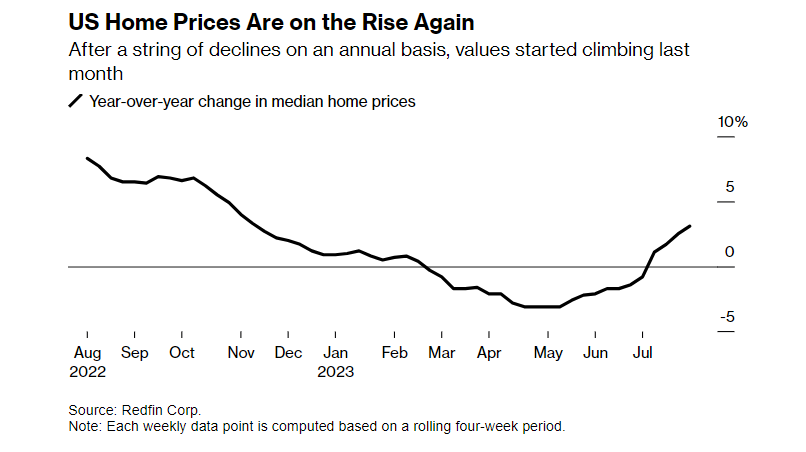 https://www.bloomberg.com/news/articles/2023-08-29/mortgage-rates-at-7-add-new-housing-market-struggle-for-us-homebuyers
---
The real estate marketplace says qualified buyers can save up to buy a home in less than a year.
BY MINDA ZETLIN, AUTHOR OF 'CAREER SELF-CARE: FIND YOUR HAPPINESS, SUCCESS, AND FULFILLMENT AT WORK'@MINDAZETLIN
Real Estate marketplace Zillow is offering some home buyers the opportunity to purchase a home with a downpayment of just 1 percent. For those who qualify, Zillow will kick in 2 percent more at closing, for a total down payment of 3 percent. The new program is already in place in Arizona, and will roll out to other states, the company says. It's a very, very smart move, one every business can learn from.
The idea is to help people who can afford to pay a mortgage but don't have enough saved for even a 3 percent down payment, the company says. It notes that in the Phoenix area, someone making $79,200 a year–80 percent of the local median income–and saving 5 percent of that income can have enough for a 1 percent down payment on a $275,000 home in 11 months, compared with 31 months for a 3 percent down payment.
Buying with only a 1 percent downpayment may or may not be a smart move for a home purchaser. But offering that 1 percent option is a brilliant move on Zillow's part. First, consider that Zillow is a marketplace whose business model is to sell advertising on its site (especially now that Zillow has stopped buying and selling houses on its own behalf). That business model is brilliant to begin with because it means that the company is insulated from fluctuations in real estate prices. As long as companies have houses and other things to sell, they'll want to advertise, and Zillow can lap up those ad dollars whether the real estate market is up or down.
Want to Be a Millionaire? First You Need to Find Your Purpose00:0But what happens when things grind to a near-standstill because no one is selling or buying homes–which is the situation we're in right now? Then, there's a lot less advertising and Zillow's revenues can suffer. So the company has every interest in getting transactions moving again. Allowing people to buy a home with a $2,750 down payment instead of $8,250 is one way to help make that happen.
That's the first thing that's smart about Zillow's 1 percent down payment initiative. The second thing that's smart is that it was clearly intended to generate some headlines for the company, and it has done just that. The last time Zillow was in the headlines was for a much less happy reason–the company announced it was shutting down its program to buy and flip homes and laying off 25 percent of its staff after some serious losses. Good publicity is hard to create and often more valuable than paid advertising. The 2 percent of downpayments Zillow is kicking in are creating a ton of publicity for Zillow. For the company, this is money very well spent.
Zillow Is Rolling Out 1 Percent Down Payment for Home Purchases. It's a Stroke of Genius | Inc.com
---
10. 72% of Adults Say America Greatest Country in World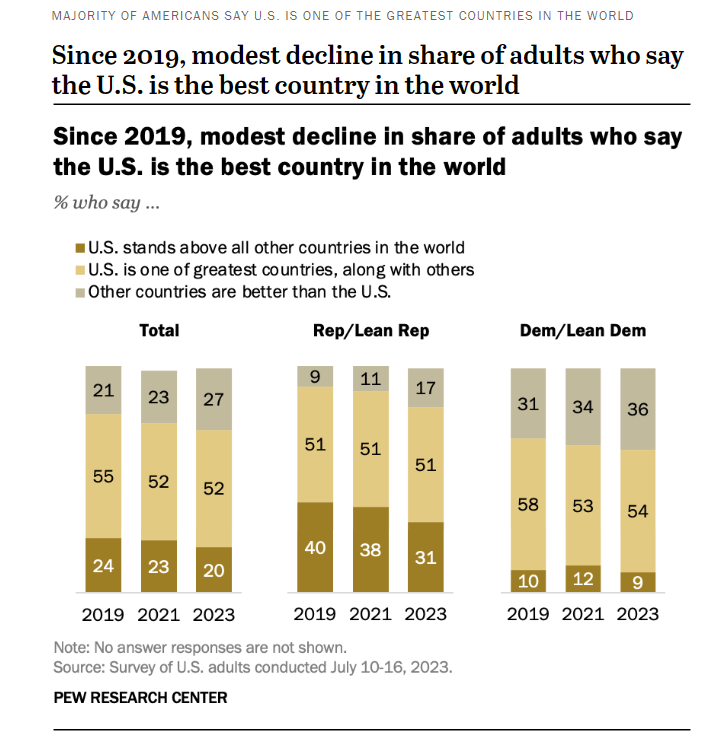 Since 2019, modest decline in share of adults who say the U.S. is the best country in the world | Pew Research Center