1. Shopping Is Not The Only Thing Going Online…..Gambling ???
Macau Gross Revenue-Bloomberg
Travel agents say that interest in visiting Macau has been weak because of inconvenient new requirements for those crossing the border between it and mainland China, such as a negative virus test. Any resurgence of coronavirus infections could also lead to abrupt new border controls imposed by China, and holiday makers don't want to run the risk of being stranded in Macau. Meanwhile, vacation destinations on the Chinese mainland, such as the southern province of Hainan, are proving an alternate draw with such perks as duty-free shopping. Only five of 23 Macau hotels surveyed by Morgan Stanley were fully booked for the Golden Week holiday as of mid-September, down from 19 a year earlier.
Macau Braces for a Revenue Rout With Only a Trickle of Tourists Despite China's rebound, its gambling capital is in a slump even Golden Week can't break.
https://www.bloomberg.com/news/articles/2020-09-29/macau-s-golden-week-gambling-surge-in-question-with-chinese-staying-home?srnd=premium&sref=GGda9y2L
2. Since 1960 Markets Usually Lower After First Debate
On average, going back to 1960, when televised debates started to become more of a fixture in American politics, the S&P 500 index has fallen in the next day and posted lower returns in the 5-day, 10-day and one-month period, according to Ryan Detrick, chief strategist at LPL Financial. Those are declines of 0.3%, 0.9%, 1.8% and 2%, respectively, according to the data commissioned by MarketWatch from LPL (see attached table).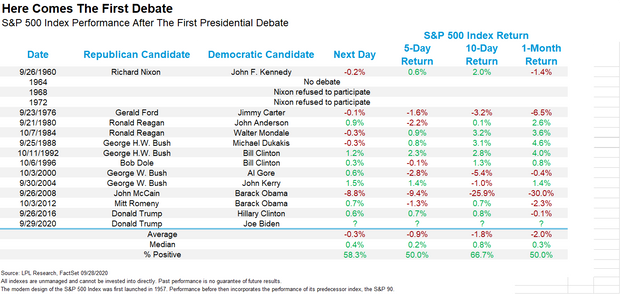 Here's how the stock market tends to perform after the first presidential debates
https://www.marketwatch.com/story/heres-how-the-stock-market-tends-to-perform-after-the-first-presidential-debates-11601316952?mod=home-page
3. Covid-19 Bankruptcy Wave.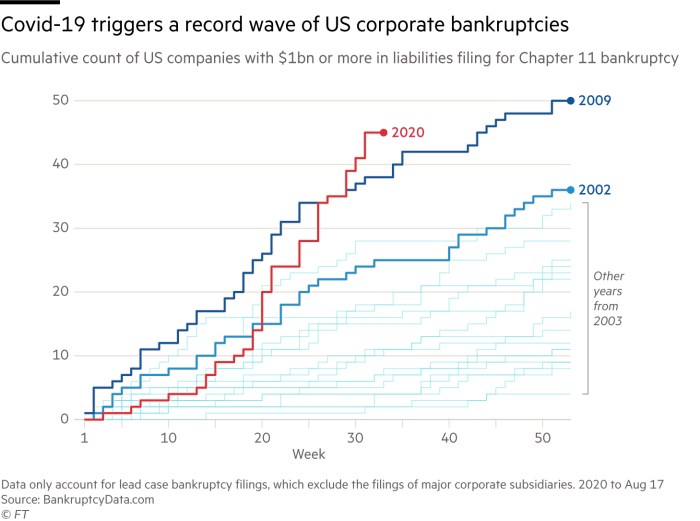 https://www.ft.com/content/277dc354-a870-4160-9117-b5b0dece5360
https://fortune.com/2020/07/10/muji-us-bankruptcy-coronavirus-chapter-11/
4. New York Region Sees 40% Bankruptcy Surge, Braces for More
by Josh Saul, Henry Goldman, 9/29/20
The pandemic has battered New York City businesses, with almost 6,000 closures, a jump of about 40% in bankruptcy filings across the region and shuttered storefronts in the business districts of all five boroughs.
It's going to get worse.
This fall, the nation's largest city will see even more padlocked doors as companies burn through federal and private loans they tapped in March, landlords boot businesses that can't make rent, and plummeting temperatures chill outdoor dining and shopping.
"By late fall, there will be an avalanche of bankruptcies," said Al Togut, a lawyer who has handled insolvencies for small businesses and huge corporations like Enron. "When the cold weather comes, that's when we'll start to see a surge in bankruptcies in New York City."
New York City and its businesses have reached a pivotal point. After over six months with the specter of Covid-19 hovering in every subway car and corner bodega, the virus is showing signs of resurgence.
The state of New York on Saturday reported more than 1,000 new cases for the first time since early June. Spikes emerged in south Brooklyn and Queens neighborhoods with large Orthodox Jewish communities, just as they observed Yom Kippur. Meanwhile, principals called on the state to take over schools days before they restart in-person classes, saying Mayor Bill de Blasio failed to ensure enough staff to open safely.
The coming wave of business closings will touch every New Yorker as jobs get scarcer, neighborhoods lose beloved shops and families run out of cash.
Already, dwindling tax revenue has led to cutbacks in municipal services. Trash on sidewalks, unkempt parks and an increase in shootings have made it more difficult to persuade workers to return to offices, more than 150 executives told the mayor in a letter this month. A dearth of office workers is a death knell for many merchants.
"It's a crisis, and we need to act—our economy can't recover without saving small businesses," said city Comptroller Scott Stringer, a candidate in next year's mayoral election. "When they close, we don't just lose our beloved Main Street businesses. We lose jobs, tax revenue and the economic backbone of our city."
The pandemic could permanently close as many as a third of New York's 230,000 businesses, according to the Partnership for New York City, a business group.
Bankruptcy filings in the region have skyrocketed since the middle of March, when the state of New York reported its first deaths from Covid-19 and Governor Andrew Cuomo closed all nonessential businesses. There were 610 filings in the Southern and Eastern Districts of New York from March 16 to Sept. 27, according to court records. That's a 40 percent jump from the same period in 2019 and the most by far for any year since the financial crisis. The districts include some nearby counties.
Almost 6,000 New York City businesses closed from March 1 to Sept. 11, according to Yelp, the website of user reviews. Over 4,000 of those closed permanently.
The carnage has been demoralizing after decades in which the city fought back from the brink of bankruptcy, the scourges of crack cocaine and violent crime, terrorist attacks and recession. The pandemic hit as the city had achieved record high employment and low crime.
Prosperity expressed itself in bustling department stores from Bergdorf's to Macy's. Neighborhoods flourished with artisanal food and clothing boutiques, mom and pop stores, and coffee shops that gave New Yorkers a place to feel at home outside their tiny apartments.
The nation's business capital has always rebounded from past crises, but the advent of work-from-home in an economy increasingly dependent on white-collar jobs may be an insurmountable challenge.
Distress is on display on Madison Avenue, once a global destination bustling with glamorous shoppers. From 60th Street to 70th Street today, about 60 of the 130 storefronts are closed and locked.
Padlocked doors and windows covered with butcher paper or plywood line a quiet boulevard. Even inside the luxury retailers that remain open, like Dolce & Gabbana and Prada, a handful of well-coiffed sales people and broad-shouldered security guards stand expectantly on sales floors empty of customers.
The owner of Jimmy's Steak and Grill, a food cart on the corner of Madison and 60th, said that with nearby office buildings empty, sales of hot dogs and lamb-on-rice platters are down 60%.
"Right now, I'm supposed to have a line," Jimmy Gonzalez said through a black mask, motioning mournfully to the empty sidewalk. Over half the food-cart owners he knows gave up. "They sell the cart, they sell the permit, they sell everything."
Small businesses like Gonzalez's show what's at stake when big employers keep workers away from office towers. Manhattan businesses that use the digital payment system Square are earning only 62% of the revenue they earned pre-pandemic, according to the company.
"This is likely a result of a significant drop in the number of commuters coming into the borough," according to Square economist Felipe Chacon.
By late September, just 15% of the city's 1.2 million office workers had returned, according to the Partnership for New York City.
"Retail and real estate will continue to decline in New York until you can reignite the office traffic," said Joseph Malfitano, who advised Brooks Brothers and the parent company of Ann Taylor in their bankruptcies this year.
Many New York City business owners who give up don't even bother filing for bankruptcy, which can cost as much as $25,000, according to Leslie Berkoff, a longtime bankruptcy attorney. Owners just lock the doors and walk away.
"What's the point of bankruptcy? Nobody's going to chase you right now," said Berkoff. "A lot of your vendors probably aren't going to survive either."
That's what cheesemonger Patrick Watson, the owner of Stinky Bklyn in the Cobble Hill neighborhood, did when his landlord refused to renegotiate his rent. Watson quickly sold off his inventory of imported Brie and Humboldt Fog and donated the remaining staples —cans of tuna, crackers and condiments—to a homeless shelter.
"We tried. We really, really tried," Watson wrote on Facebook in April. "For the safety of our crew and with no immediate end in sight, Sunday will be our last day."
About 10 neighboring businesses also closed, including a diner, a bar and a hair salon, said Randy Peers, president of the Brooklyn Chamber of Commerce.
Sales remain brisk at Watson's other business, a wineshop called Smith & Vine, possibly indicating heightened stress levels in the city.
In an effort to help restaurants, the city closed dozens of streets on weekends so they can take that space, and it's going to continue the program into the winter, allowing propane heat lamps and tent-like enclosures.
"Once you hit below 60 degrees, it starts to get dicey," said Vin McCann, a restaurant consultant. "I would bet you that between 25 and 50 percent of restaurants in New York City will not come back."
Rent relief could be possible if the state allowed localities to forgive landlords' property-tax payments in return for discounting rent owed to them, said City Councilman Mark Gjonaj, who heads the council's small-business committee.
"This would help save struggling mom-and-pop shops while preventing landlords' properties from going into distress," he said.
The city's Department of Small Business Services received about 35,000 calls for help since June and gave out about 4,000 grants and loans from an $80 million program approved early in the pandemic.
"A third of our small businesses could be closed if we don't have a strong recovery," said Jonnel Doris, the department's commissioner. "The fate of small businesses will determine the fate of the city."
Still, the stock's rapid advance over the past three months has pushed Tupperware's price-to-earnings ratio to around 17 times, the highest in more than three years, and its market capitalization to above $1 billion versus just $210.7 million at the end of the second quarter, according to Bloomberg data.
Bloomberg News provided this article. For more articles like this please visit bloomberg.com.
Read more articles by Josh Saul, Henry Goldman
https://www.advisorperspectives.com/articles/2020/09/29/new-york-region-sees-40-bankruptcy-surge-braces-for-more
5. Bankruptcies Up But Household Net Worth Recovers to New Record.
https://fred.stlouisfed.org/series/TNWBSHNO
6. Increase in Number of Households Earning $100k..Interesting But Not Sure How Relevant if Not Adjusted for Inflation
Yes, the "middle-class is disappearing" as we hear all the time, but it's because middle-income households in the US are gradually moving up to higher income groups, and not down into lower-income groups. In 1967, only 9.7% of US households (fewer than 1 in 10) earned $100,000 or more (in 2018 dollars). In 2018, more than 1 in 4 US households (30.4%) were in that high-income category, a new record high. In other words, over the last half-century, the share of US households earning incomes of $100,000 or more (in 2018 dollars) has more than tripled! At the same time, the share of middle-income households earning $35,000 to $100,000 (in 2018 dollars) has decreased over time, from more than half of US households in 1967 (53.8%) to less than half (only 41.7%) in 2018. Likewise, the share of low-income households earning $35,000 or less (in 2018 dollars) decreased from more than one-third of households in 1967 (36.4%) to below one-third of US households last year (27.9%), a new record low.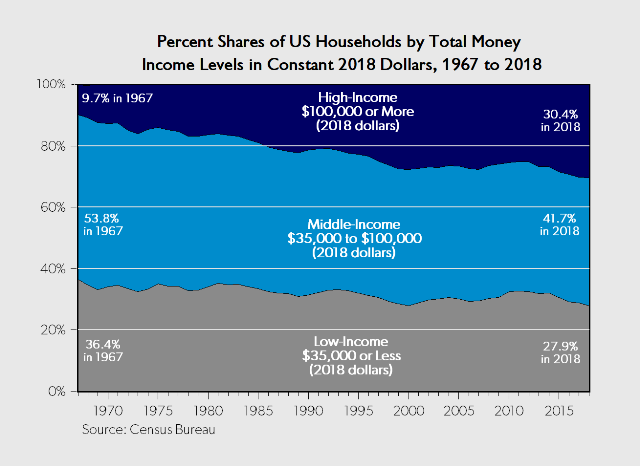 Three charts based on today's Census report show that the US middle-class is shrinking…. because they're moving up
FIRST PUBLISHED: 2019-09-16
by Mark Perry
https://www.nassauinstitute.org/three-charts-based-on-todays-census-report-show-that-the-us-middle-class-is-shrinking-because-theyre-moving-up/
Found at Peter Mallouk twitter https://twitter.com/PeterMallouk
7. Demographic Problem….Percentage of U.S. Households With Children
Over the past several decades, American families have gradually been getting smaller. According to data from the U.S. Census Bureau, the percentage of households with children under 18 hovered between 45 and 50 percent during the baby boom of the 1950s and 1960s. Today, just 26.4 percent of American households have children under 18.
American cities with the biggest families
https://wacotrib.com/lifestyles/parenting/american-cities-with-the-biggest-families/article_a21c4c67-b1fd-5d60-82de-b838c7b0edd0.html
8. Presidential Poll in Decisive States
Chart of the week-Blackrock
Biden's national poll advantage vs. lead in decisive electoral states, 2020
Sources: BlackRock Investment Institute, with data from FiveThirtyEight, September 2020. Notes: The orange line shows the advantage of former Vice President Joe Biden over President Donald Trump in national polls. The yellow line shows Biden's average advantage in six decisive states: Arizona, Florida, Michigan, North Carolina, Pennsylvania and Wisconsin.
https://www.blackrock.com/us/individual/insights/blackrock-investment-institute/weekly-commentary
9. Wildfires Hit Napa and Sonoma.
SAMUEL CORUM/AFP via Getty Images
On Monday, a trio of fast-moving wildfires known as the "Glass Incident" engulfed California's Napa-Sonoma region, forcing sudden evacuations and putting over 8,500 structures at risk—including the area's famed wineries. Talk about bad timingThe fires hit Napa halfway through the grape harvesting season. While grapes for white wine and rosé were mostly picked, red wine (Napa's most famous export) could be impacted. Vintners were already concerned. Weeks of fires across the West Coast have dramatically worsened air quality, which could taint grapes still on the vine. California's Wine Institute association says smoke exposure is only a concern for grapes near the blazes… But one winemaker has already complained of "ashy, barbecued flavor."Big picture: These fires are "without question the single worst disaster the wine-grape growing community has ever faced," California Association of Winegrape Growers President John Aguirre said. The state's wine industry employs 30,000+ people, and the fires could have ripple effects on hotels, rentals, and tourism.
https://daily.sevenfifty.com/regions/napa-valley/
10. How to Live an Emotionally Independent Life
Simple steps for taking charge of your life, starting from within.
Ilene Strauss Cohen Ph.D.
"I was always going to let someone down so I decided it wouldn't be me anymore." –Unknown
You can usually change your outside circumstances. If you hate your car, hair, job, or weight, you can do something about it. Whether you believe that or not, there's always an option to change the world outside of you, as hard as that might be. However, most people don't think about starting by changing from within instead of automatically trying to change everything around them. We tend to believe that until the things around us are different, we can't be emotionally sound or feel good about our lives. I call BS on that.
In reality, that very notion is what prevents us from making the changes necessary for us to live happy and fulfilling lives. That's because putting all of our efforts into looking outside of ourselves blocks us from seeing what's within. As an alternative to blaming our world, we can start by looking inside ourselves and asking, "How am I contributing to creating the world around me?" "In what ways are my thinking, behaviors, and actions self-defeating and perpetuating the life I'm living?" "What do I get out of the life I'm living?" and "Why do I continue the same automatic behaviors over and over again, even if they don't make me happy?"
I've found that life will keep handing you similar circumstances until you change from within. At that point, you have a choice: You can react to life in the same ways you always have, wishing that annoying, crappy, horrible situation didn't happen, or you can choose to respond differently. Instead of always trying to change your outside world and complaining about the unfairness of it all, why not take the time to work on evolving from within? I always wonder how different people would be if instead of working so hard on changing their outside world, they worked on becoming more emotionally independent from within.
You might be wondering what in the world I mean by emotional independence. If that's the case, allow me to clarify. What I mean by emotional independence is the ability to manage your life and your stress levels, even under difficult circumstances. This kind of independence is accomplished by building who you are from the inside out, not the outside in.
Emotional independence is a type of inner resilience that lets you know you can meet, solve, and be with any circumstance you face. It means building your sense of self on your own, without depending on others to make you happy or tell you who you should be. Accepting ourselves and changing unhelpful perceptions and behaviors allows us to find the strength we need to create a personalized sense of inner calm. It empowers us to see ourselves as separate from others and declare independence from circumstances that might once have dictated our moods, behaviors, and ideas about ourselves.
I know, I know. That all sounds good on paper, but actually practicing it is something else altogether. The truth is, it's more comfortable to hold on to our usual, automatic responses (even if those responses don't make us happy) than it is to change them. And even if we do want to change from within, it's sometimes hard to know where to begin. Allow me to help you with that part. Below are some simple steps you can start taking to begin living from within now.
· Know that you are the sum of your choices. I know that might sound a bit harsh, especially if you don't love your life too much right now, but it doesn't mean that you're to blame for every bad thing that happens to you. It actually isn't your fault that you make certain choices in your life. We learn automatic ways to deal with situations based on the position we hold in our families of origin, and we continue to respond to life in that matter as we get older. The first thing we can to do is pay more attention to ourselves and become aware of how we naturally respond to situations. Only then can we make changes in the choices we make, which will lead us to live more purposeful and intentional lives.
· Gain an understanding of your values and long-term goals. When's the last time you had some time to yourself without your phone, the TV, or other means of distraction? We're constantly blasted with stimuli that take us away from reflecting and being aware of our minds and ourselves. Try to take a good 10 minutes a day to self-reflect. Take yourself on as a research project. Get to know yourself better. During this time, watch your mind wander without judgment. What do you think about? What emotions do your thoughts trigger? Over time, you'll start learning about the most important person in your life: you! Then you can begin to gain an understanding of your values and long-term goals.
· Say goodbye to "shoulds" and "ought tos." All of us learn a bunch of "shoulds" and "ought tos" throughout our lives. You know, things like, "I should be happy all the time," or "I ought to be exceptional at everything I do." Most of the time, ideas of that nature dictate how we live our lives. We have to be willing to identify the inner voices that tell us what we should and ought to be, in order to distinguish them from our own true voice. It's important to decide to be free from the expectations others have of you; otherwise, you risk living a potentially unfulfilling life. We're not always aware that we're taking other people's expectations on as our own. But when we do it, we wind up feeling anxious, resentful, uncomfortable, unfulfilled, and empty. Recognize that those kinds of emotions can serve as signals to let you know you aren't living from your personal truth, but rather based on the "shoulds" and "ought tos."
· Know yourself through your most important relationships. We develop our emotional independence from our most important relationships with others. What I mean by this is that we can't know who we are until we get a good understanding of how we relate to other people. Our family and romantic relationships commonly trigger us the most; but if we're paying attention, these triggers can reveal to us how reactive we are to others' opinions of us. Being emotionally independent doesn't mean that the people in your life have absolutely no effect on you. However, it supports you in striking a good balance between emotional closeness and distance, allowing you to regulate yourself even around people who know your triggers. Your close relationships shouldn't feel like a burden or a crutch you need to feel good about yourself and your life.
· Take responsibility for yourself. When we blame others for our difficulties, we put 100% of the blame on them. By doing this, we make them 100% responsible for fixing the problems we face. That leaves us feeling emotionally dependent and uncomfortably vulnerable. In order to better manage your emotions, you have to take responsibility for your part in the problems you face. This puts you in the driver's seat of your own life, instead of being driven by your emotions. It helps you become aware of the options you have to improve your situation and quiets your unsettling feelings, giving you more control of your emotional responses.
· Know how your brain works. Serotonin and dopamine are the chemicals our brains release to give us the feelings of joy and happiness. According to neuroscience research, we can condition ourselves to feel happier about our lives by changing the way we think about and perceive our experiences. Our brains help us decide what makes us happy, and according to research, it has nothing to do with the outside world. It's all about how we perceive the outside world. More proof that happiness really does come from within. Even if you think you don't have control over your feelings now, by changing your thinking over time, you can gain more control over your emotions, allowing you to live a more emotionally independent life. People, circumstances, and your bank account can't control you! You can feel every emotion you want to feel by engaging in more purposeful thoughts and actions. Happiness is your decision.
If you can take a good look at yourself and your actions, opening yourself up to making changes that you might never have considered, that is what taking charge of your life looks like. Living an emotionally independent life means opening yourself up to new experiences and letting go of the idea that it's better to live comfortably than to work on changing out of fear of the unknown. There's another type of emotional comfort worth trying out, and that's the self-confidence of knowing you can handle anything you face. Emotional independence is the only lasting security, the only real sense of internal comfort
https://www.psychologytoday.com/us/blog/your-emotional-meter/201911/how-live-emotionally-independent-life?collection=1150971
Disclosure
Lansing Street Advisors is a registered investment adviser with the State of Pennsylvania..
To the extent that content includes references to securities, those references do not constitute an offer or solicitation to buy, sell or hold such security as information is provided for educational purposes only. Articles should not be considered investment advice and the information contain within should not be relied upon in assessing whether or not to invest in any securities or asset classes mentioned. Articles have been prepared without regard to the individual financial circumstances and objectives of persons who receive it. Securities discussed may not be suitable for all investors. Please keep in mind that a company's past financial performance, including the performance of its share price, does not guarantee future results.
Material compiled by Lansing Street Advisors is based on publicly available data at the time of compilation. Lansing Street Advisors makes no warranties or representation of any kind relating to the accuracy, completeness or timeliness of the data and shall not have liability for any damages of any kind relating to the use such data.
Material for market review represents an assessment of the market environment at a specific point in time and is not intended to be a forecast of future events, or a guarantee of future results.
Indices that may be included herein are unmanaged indices and one cannot directly invest in an index. Index returns do not reflect the impact of any management fees, transaction costs or expenses. The index information included herein is for illustrative purposes only.