1. Zombie Company's Grew During Covid.
Barrons
How do you identify a zombie firm? Principal Global offers a guide: companies that can't cover interest costs twice with the previous year's pretax earnings; whose spread between return on equity and cost of equity is less than four percentage points; whose one-year and average three-year sales growth is less than 3%; and whose Altman Z-Score—a measure of liquidity, solvency, and profitability sometimes used to predict bankruptcy—is below 1.8.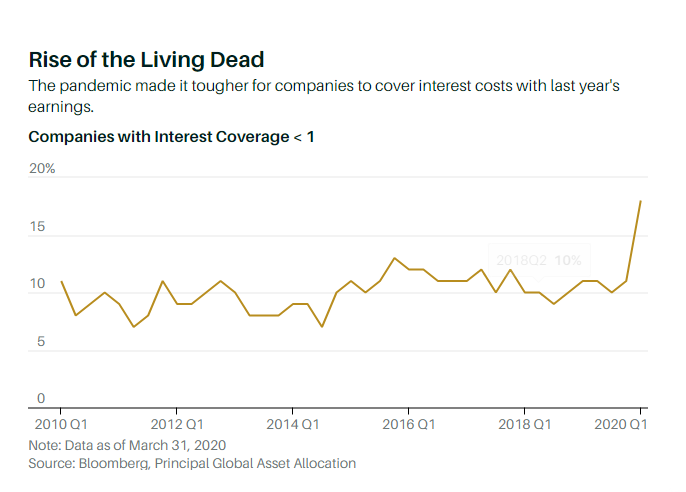 The Pandemic Has Swelled the Ranks of Zombie Companies. Here's How to Recognize Them.
https://www.barrons.com/articles/fed-signals-near-zero-rates-through-2023-even-if-recovery-quickens-51600281377
2. Bull and Bear Markets Since 1900…Alternating Cycles.
A long-term perspective of the Dow Jones Industrial Average DJIA since 1896 reveals the reality that there are extended periods of time in which the US equity market will generally trend upwards and also extended periods where the market will instead stagnate or move generally lower. There have been nine such alternating cycles completed since 1896, with each averaging 14 years.
Nasdaq Dorsey Wright.
3. The History of Public Debt Vs. Interest Rates.
Holger Zschaepitz
@Schuldensuehner
4. Inflation…Stuff We Want is Pricier…Stuff We Don't Want is Cheaper.
Zero Hedge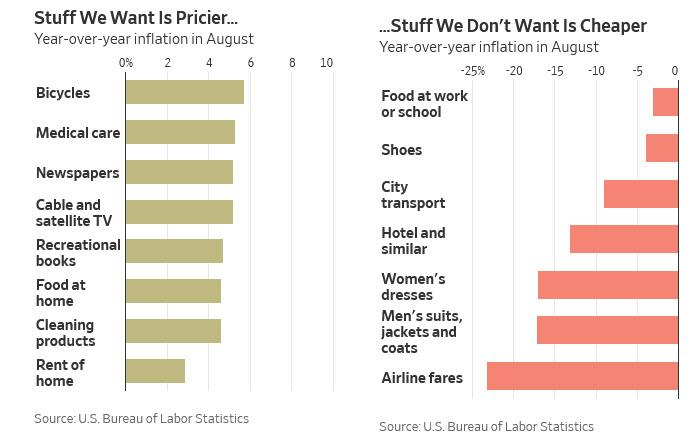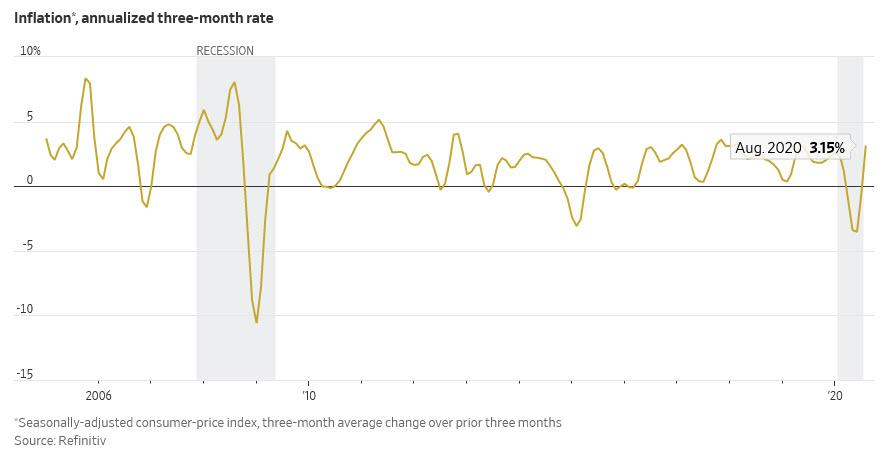 "Inflation Is Already Here": The Fed May Have A Major Problem On Its Handsby Tyler Durden
https://www.zerohedge.com/economics/inflation-already-here-fed-may-have-major-problem-its-hands
5. Commodities and Sharp Increases in Inflation.
Commodities: Here is how key commodities performed during previous sharp increases in inflation expectations, according to Morgan Stanley.
Source: Morgan Stanley Research
The Daily Shot https://dailyshotbrief.com/the-daily-shot-brief-september-28th-2020/
6. Covid Gottlieb Update
As reported Covid cases continue to rise around the U.S., the number of Covid hospitalizations – which is an important, objective measure of total disease burden – have stopped their decline, and may be starting to increase again.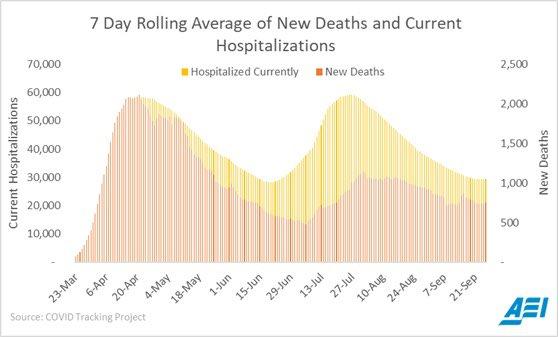 https://twitter.com/ScottGottliebMD/status/1310190199339655168/photo/1
7. There are four coronavirus vaccines in late-stage studies — here's how they differ
The vaccine candidates vary on everything from refrigeration needs to effectiveness goals and number of doses
Johnson & Johnson's investigational COVID-19 vaccine entered Phase 3 clinical trials this week, making it the fourth vaccine candidate in the U.S. to do so and providing additional details that can help investors differentiate the pool of late-stage coronavirus vaccines.
Shares of J&J JNJ, +0.99% were up 0.3% in trading on Friday, two days after the health care giant announced it had dosed the first of an estimated 60,000 participants in the Phase 3 trial for Ad26.COV2.S, which is also referred to as JNJ-78436735.
J&J's vaccine candidate joins a group of late-stage vaccines being developed by AstraZeneca AZN, -1.36% AZN, -0.78% and the University of Oxford, BioNTech BNTX, -0.28% and Pfizer Inc. PFE, +0.94%, and Moderna Inc. MRNA, +1.55% At least three other vaccines developed by Inovio Pharmaceuticals Inc. INO, -28.33%, Novavax Inc. NVAX, -2.09%, and Sanofi SNY, +0.43% SAN, +0.82% are also being tested in early- and mid-stage clinical trials in the U.S.
One of the unique characteristics of this race to develop a vaccine is how different the candidates are, down to the type of vaccine.
"We have three categories of vaccines that are moving forward: there's protein vaccines, which are coming with an adjuvant, to make them [stronger], we have the nucleic acid vaccines, and we have the viral vectors," said Dr. Corey Casper, president and CEO of the Infectious Disease Research Institute, a not-for-profit biotechnology organization. "There's pluses and minuses of all of them. None of them are perfect."
Here's what we know so far:
Vaccine type: The AstraZeneca and J&J vaccines are viral-vector vaccines, while Moderna and Pfizer's candidates are messenger RNA vaccines. An mRNA vaccine has never been approved by the Food and Drug Administration, while there is only one approved viral-vector vaccine, Merck & Co. Inc.'s MRK, -0.20% Ebola vaccine, which received FDA approval in December of last year. The Novavax vaccine, which is expected to soon move into Phase 3 trials, is a protein-based vaccine, similar to the common flu shot. The challenge with this type of vaccine, despite its proven safety profile, is that it often requires an adjuvant to boost its effectiveness. Dr. Michael Farzan, a professor of immunology and microbiology at the Scripps Research Institute, this week told Mizuho Securities analysts that it's easier to quickly ramp up production of an mRNA vaccine, but it may be more difficult to scale this kind of vaccine.
Trial size: J&J is the leader in terms of trial size, with plans to enroll 60,000 participants. AstraZeneca, BioNTech/Pfizer, and Moderna each committed to enrolling 30,000 participants, though BioNTech and Pfizer recently expanded their target group to 44,000 people.
Dosing: J&J's vaccine is the only single-dose vaccine to enter late-stage studies in the U.S., though separate clinical trials in Northern Ireland and the U.K. will test a two-dose regimen. The other three candidates require two doses, spaced between roughly three to four weeks apart, depending on the vaccine. "The single dose could be a source of commercial differentiation, and also means [J&J's] pivotal trial could read out more quickly (since it only takes one dose to immunize a person, not two doses spaced a month apart)," Bernstein's Vincent Chen wrote on Sept. 17.
Adherence to medication in the U.S. is a well-documented issue — one study estimates that 1 of 8 Americans prescribed drugs for atherosclerotic cardiovascular disease don't take them, citing cost, while other research found that up to 30% of prescriptions are never filled. However, GlaxoSmithKline GSK, +0.15%, which markets the Shingrix shingles vaccine, has data through March showing that 80% of people return for the second and final dose of the vaccine, according to a company spokesperson.
Get Our Free "Need to Know" Newsletter
This is a critical moment. Prepare for the trading day with MarketWatch's Need to Know newsletter. Our flagship email guides investors to the most important, insightful items required to chart the trading day ahead.
Refrigeration requirements: BioNTech and Pfizer's vaccine, BNT162b2, and Moderna's mRNA-1273 are both mRNA vaccines that require freezing levels of storage, in the range of negative 94 degrees Fahrenheit for BNT162b2 to negative 4 degrees Fahrenheit for mRNA-1273. AstraZeneca's vaccine will likely require refrigeration but not freezing, according to a company spokesperson. "Our current expectation is that the final packaged multi-dose vials will require refrigeration to ensure product quality," he wrote in an email. It's unclear at this time whether J&J's vaccine will require refrigeration or freezing.
The need to refrigerate vaccines generally (and not just the COVID-19 ones) has long been an issue for vaccination programs, according to Casper. "Even in highly industrialized countries…it is very challenging to keep vaccines refrigerated, just at refrigeration temperatures," he said.
Effectiveness goal: The FDA in June issued guidance that called for COVID-19 vaccines to be at least 50% effective at preventing infections with COVID-19 or by reducing severity of disease. AstraZeneca's candidate is targeting an effectiveness rate of 50%; however, the effectiveness goals for BNT162b2, Ad26. COV2, and mRNA-1273 are 60%, according to the individual trial protocols.
Dr. Stanley Plotkin, a vaccine expert and a former pharmaceutical executive, this week told SVB Leerink analysts that achieving between 60% and 70% protection should aid "long-term containment of the pandemic," though he doesn't expect the first generation of COVID-19 vaccines to achieve those efficacy levels.
Timeline: Despite the prevalance of vaccine timeline talk among administration officials, companies have been cautious sharing dates for when they expect to publish the first batches of Phase 3 data. Here's a tally created by Mizuho's Difei Yang: Though AstraZeneca's trial in the U.S. is still on hold due to an adverse event, the company previously said it expected to get late-stage data by the end of the year, Moderna expects a Phase 3 readout in "November or December," and BioNTech and Pfizer expect Phase 3 efficacy data by the end of October. J&J said this week it expects to file for an emergency use authorization in early 2021.
The race so far: Analysts have mixed views on which vaccine is the front-runner. SVB Leerink analysts told investors in a Sept. 18 note that the trial protocols seem to favor BioNTech and Pfizer, when compared with Moderna. J.P. Morgan said Sept. 22 that the Phase 1 data provided so far by AstraZeneca, BioNTech/Pfizer, and Moderna didn't have a "real standout in terms of the safety profile. That said, mRNA-1273 tends to have slightly higher rates of fever, chills, headache than competitors."
So far this year, AstraZeneca's stock is up 8.1%, shares of BioNTech have rallied 87.9%, Pfizer's stock has dropped 8.8%, J&J's stock is down 0.5%, and shares of Moderna have soared 250.4%. The S&P 500 SPX, +1.61% is up 0.5% year-to-date.
https://www.marketwatch.com/story/there-are-four-coronavirus-vaccines-in-late-stage-studies-heres-how-they-differ-2020-09-25?mod=home-page
8. Source of U.S. Government Receipts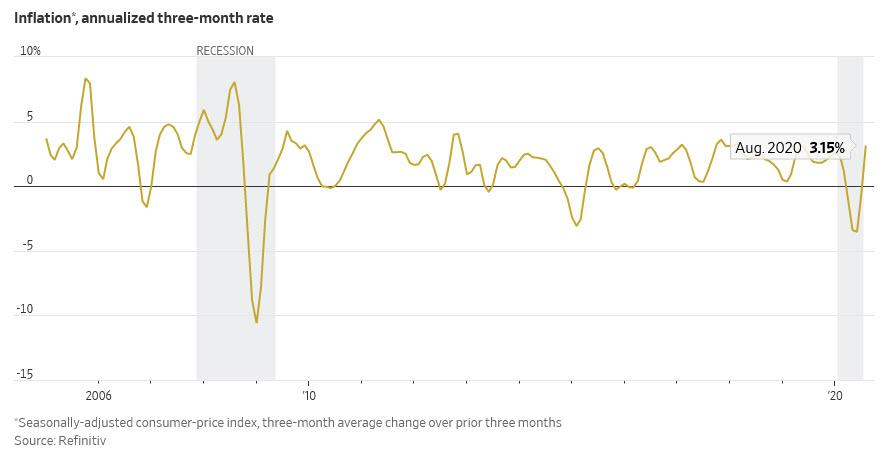 Mario Gabelli
9. Psychological Tricks to Make You Pay More
Daniel Crosby –Chief Behavioral Officer at Brinker Capital
https://www.linkedin.com/in/danielcrosby/
10. Work Smarter, Sooner
How to develop a strategic mindset
September 27, 2020 | Creativity
It took me a long time to learn the difference between working harder and working smarter.
Jason, my husband, also got pretty far in life on sheer work ethic. Growing up, we'd powered through difficulty by staying up later, waking up earlier, and bearing down on the problem at hand. Grinding became part of our identities, a strength we were proud of and assumed could be deployed in nearly any challenge.
But at some point, each of us discovered that working harder isn't always the solution.
In my freshman year of college, for instance, I nearly failed neurobiology as a result of my tried-and-true "work harder" mentality. I'd assumed that if I sat in the front row at lectures, took assiduous notes, and then spent hours and hours rereading those notes, I was nearly guaranteed an A.
After bombing the hourly exam and then the midterm, I realized I needed to change my approach. I attended office hours religiously. I began asking more questions in class ("I'm sorry, professor. I don't understand what you just said. Can you explain that equation again?"), and working through practice problems rather than re-re-re-reading my notes.
The happy ending of that story is that I passed the class and graduated college—with neurobiology as my major.
For Jason, working double the hours of anyone else was the way he got everything done. Then he married a wife with a pretty demanding career, and we had two children. Suddenly, staying at the office until late in the evening wasn't a viable option.
So Jason had to think about how to work more efficiently. He delegated more responsibilities to people on his team. He prioritized and learned to let go of items low on the list. He established an advisory board to help him think through his company's most challenging problems.
The happy ending to his story is that his business continued growing (and we stayed married).
Can the young people in your life learn the virtues of working smarter earlier in life than Jason and I did? New research by psychologist Patricia Chen suggests so. In one experiment, Chen and her collaborators asked students to try a challenging, unfamiliar task, where they competed to separate more egg whites. Half of the students first read a short article about how successful people adopt a strategic mindset, periodically taking a step back from what they're doing to ask themselves questions like: How else can I do this? Are there things that I can do differently? Are there ways to do this even better? Compared to a placebo control condition, students encouraged to adopt this strategic mindset tried more strategies and performed better.
Don't preach the gospel of hard work without preaching the gospel of smart work.
Do model, explicitly, what it means to approach challenges with a strategic mindset. The next time you're frustrated—whether it's opening a jar of pickles, managing your Zoom account, or figuring out how to handle logistics for this school year—wonder aloud, "How else can I do this? Whom can I ask for advice? Is there an approach I haven't thought of?" And when at first you don't succeed, ask, ask again.
With grit and gratitude,
Angela
Disclosure
Lansing Street Advisors is a registered investment adviser with the State of Pennsylvania..
To the extent that content includes references to securities, those references do not constitute an offer or solicitation to buy, sell or hold such security as information is provided for educational purposes only. Articles should not be considered investment advice and the information contain within should not be relied upon in assessing whether or not to invest in any securities or asset classes mentioned. Articles have been prepared without regard to the individual financial circumstances and objectives of persons who receive it. Securities discussed may not be suitable for all investors. Please keep in mind that a company's past financial performance, including the performance of its share price, does not guarantee future results.
Material compiled by Lansing Street Advisors is based on publicly available data at the time of compilation. Lansing Street Advisors makes no warranties or representation of any kind relating to the accuracy, completeness or timeliness of the data and shall not have liability for any damages of any kind relating to the use such data.
Material for market review represents an assessment of the market environment at a specific point in time and is not intended to be a forecast of future events, or a guarantee of future results.
Indices that may be included herein are unmanaged indices and one cannot directly invest in an index. Index returns do not reflect the impact of any management fees, transaction costs or expenses. The index information included herein is for illustrative purposes only.