1. 88% of High Grade Bonds Trading Below Par….Highest Number Since 2008 Crisis
Advisor Perspectives Blog—JP Morgan-About 88% of high-grade bonds in a Bloomberg index are trading below par through Tuesday, according to data compiled by Bloomberg. That compares to just 4% a year ago, highlighting the destruction on fixed-income returns wrought by inflation and a historically aggressive Federal Reserve rate-hike program.
"We're seeing the bonds across the board, across all of our portfolios, trading at big discounts to par and as you know as long as they don't default, they end up back at par," Collins, PGIM senior portfolio manager, said on Bloomberg Television. "So you have this really positive long-term opportunity in fixed-income which we haven't had in well over a decade."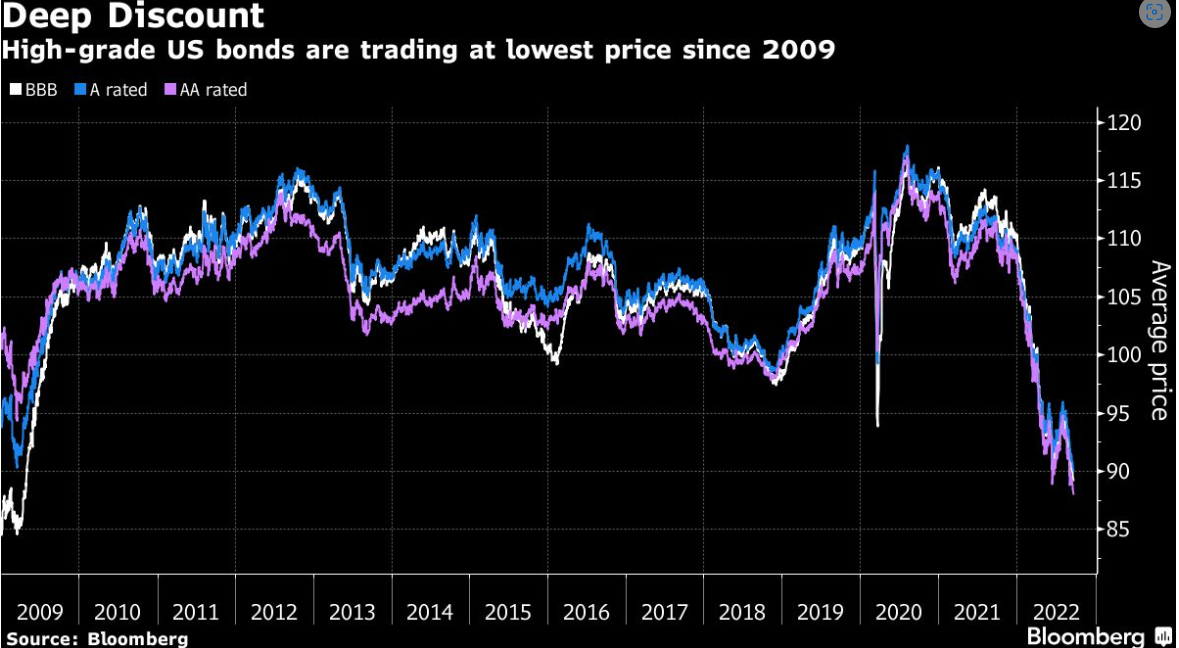 JPMorgan, PGIM Say It's Time to Buy High-Grade Bonds With 88% Trading at Discount by Katie Greifeld  JPMorgan, PGIM Say It's Time to Buy High-Grade Bonds With 88% Trading at Discount – Articles – Advisor Perspectives
---
2. Bonds Making New Lows Before Stocks….LQD-Corporate Grade Bond ETF Breaks to New Lows …
See 50-week blue line thru 200-week red line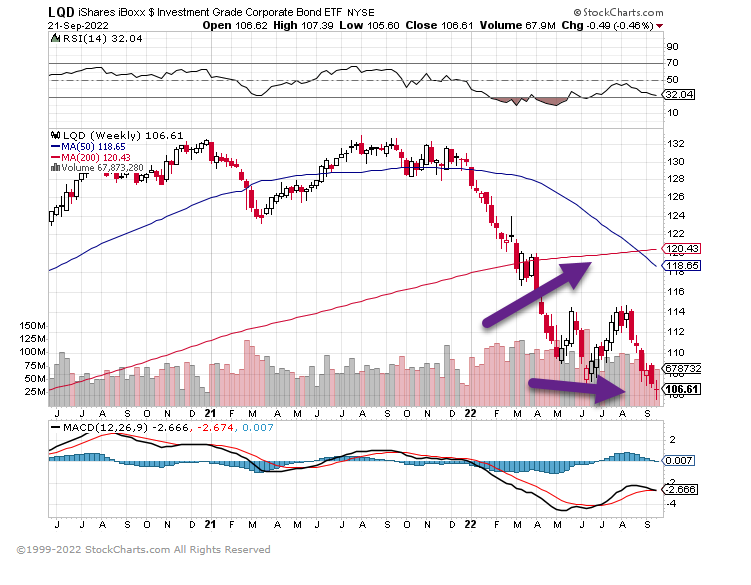 ---
3. Not Sure If It Matters with Rates Rising at this Pace but……Here is History of Stock Returns Following Mid-Term Cycle.
Dorsey Wright-As we are often reminded, past performance is not indicative of future results. However, the historical tendencies of past presidencies do point toward the potential for stronger returns following the mid-term election cycle. The third year of a presidential term shows an average gain of 13.51%, with year three showing a positive return in 18 of the 24 instances examined. In fact, Q4 of year two and Q1 of year three show the best back-to-back averages of any two quarters, with each averaging a gain of more than 5%.

https://www.nasdaq.com/solutions/nasdaq-dorsey-wright
---
4. Sentiment Trader…American Public at Record Bearishness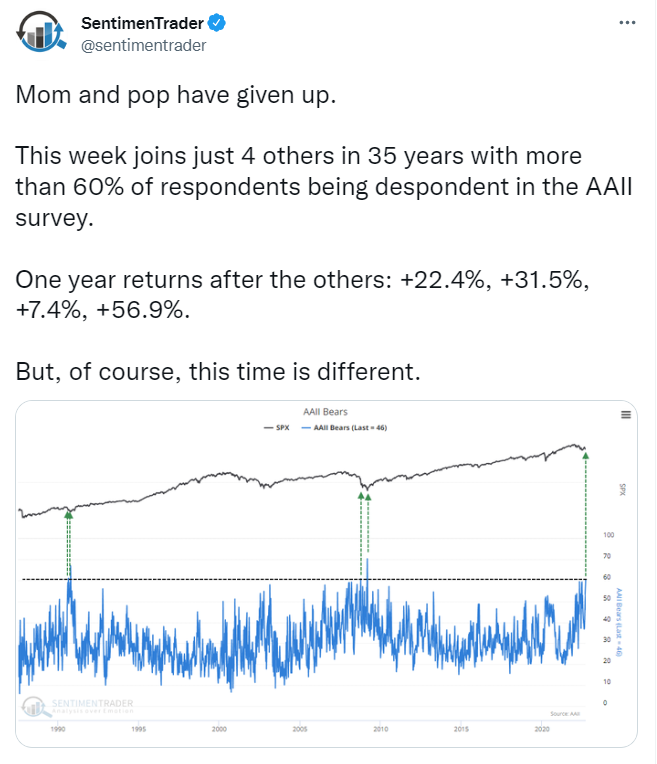 Found at Abnormal Returns Blog www.abnormalreturns.com
---
5. But Sentiment has not Shown Up in Mass Selling Yet …Fidelity Outflows
@TimmerFidelity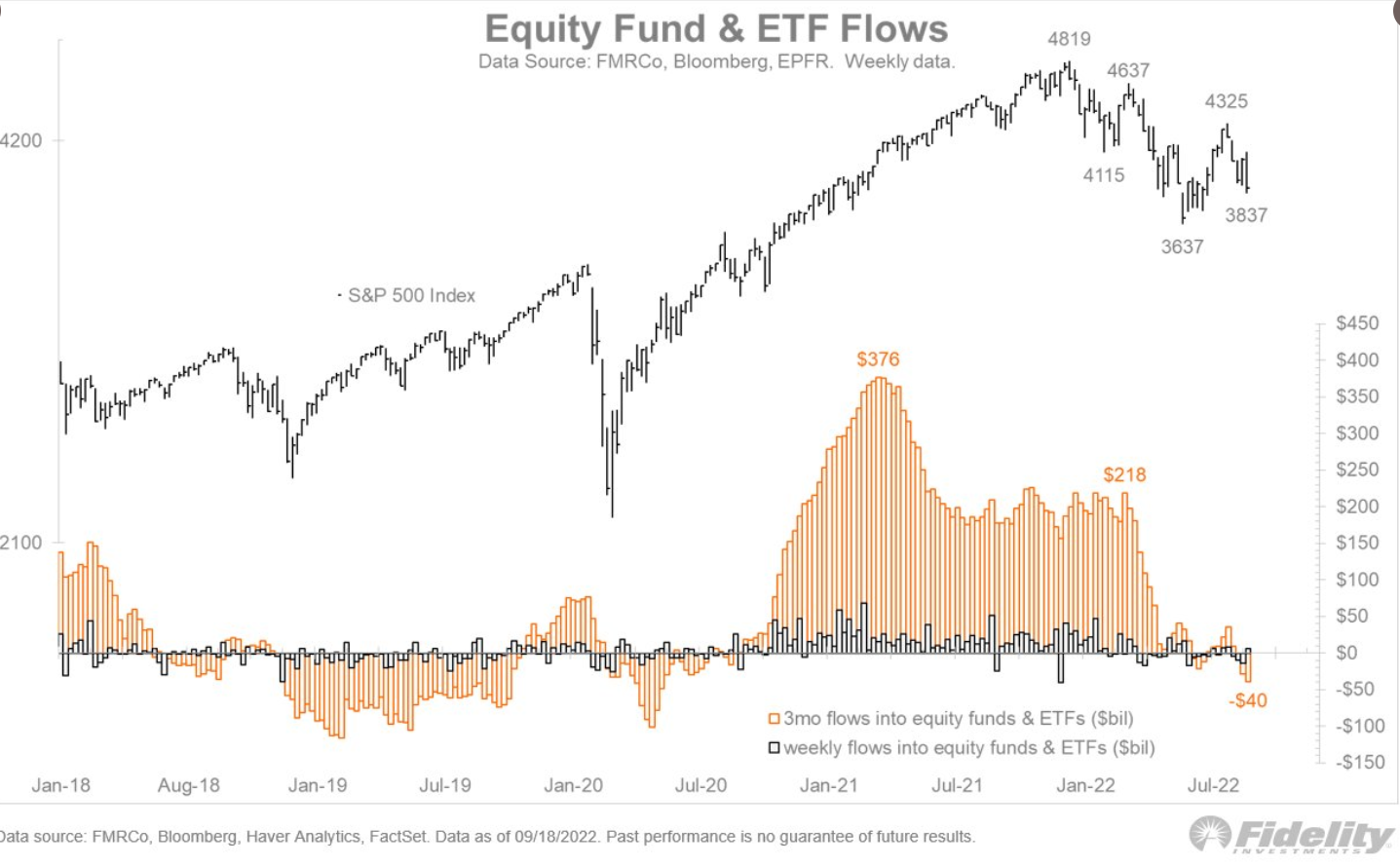 https://twitter.com/TimmerFidelity
---
6. Institutions and Hedge Funds Also Positioned Bearish
Bloomberg-ByMichael Msika Another gauge, CFTC's S&P 500 net non-commercial futures, also shows an extremely negative view, having reached levels last seen during the downturns of 2008, 2011, 2015 and 2020. Such bleak sentiment is often seen as a contrarian indicator, flagging a rebound.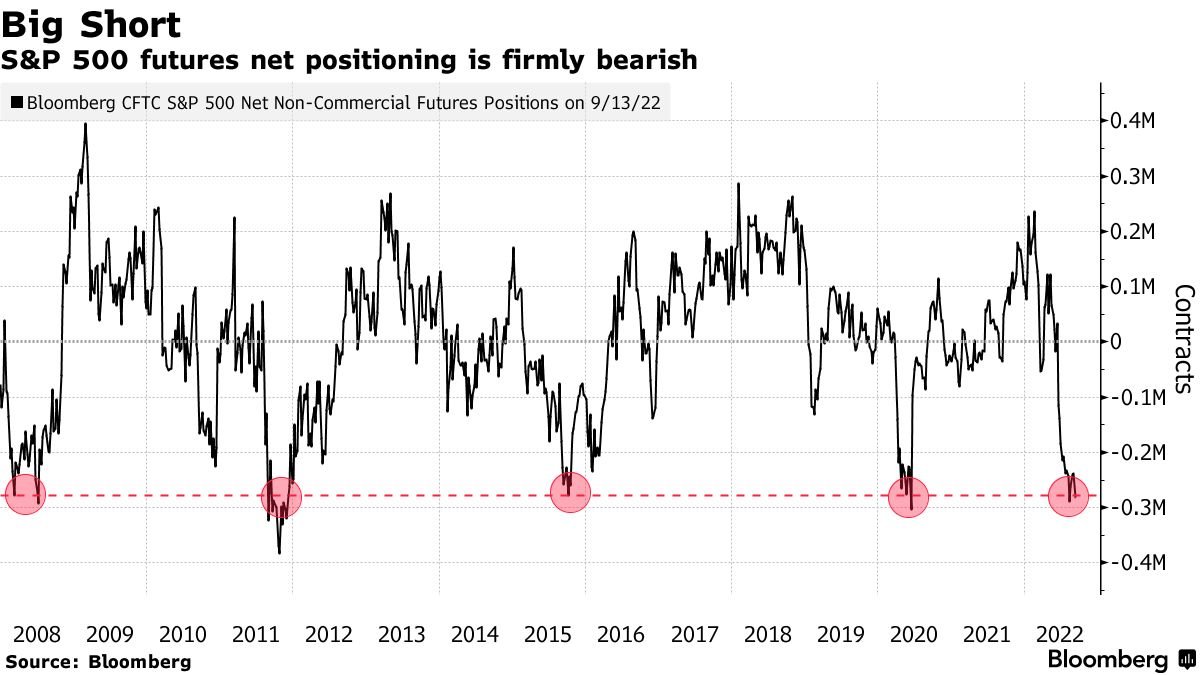 https://www.bloomberg.com/news/articles/2022-09-21/equity-gloom-to-give-way-to-post-fed-bounce-if-history-is-right?sref=GGda9y2L
---
7. QQQ Nasdaq 100 Official Previous Low $272…Hold or Break?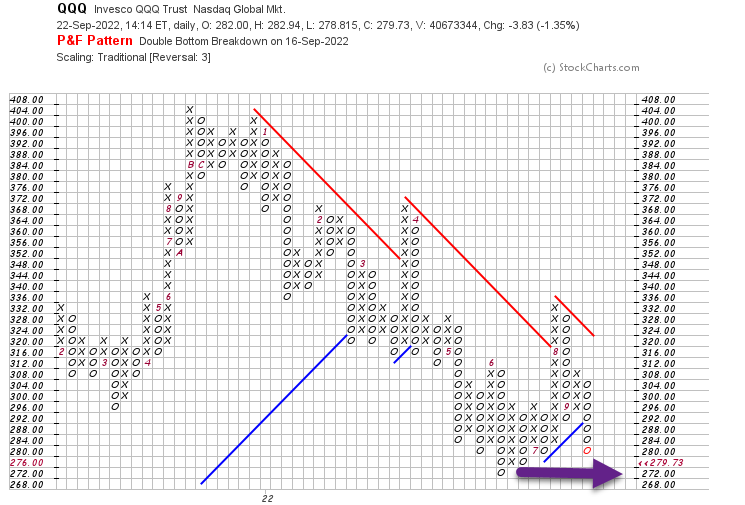 ---
8. Lithium Rises 4x in One Year
WSJ By Joe Wallace and Hardika Singh –Surging prices for lithium are intensifying a race between auto makers to lock up supplies and raising concerns that a shortage of the battery metal could slow the adoption of electric vehicles.
Lithium carbonate prices in China, the benchmark in the fast-growing market, stand at about $71,000 a metric ton, according to price-assessment firm Benchmark Mineral Intelligence. That is almost four times as high as a year ago and just below the record set this March in yuan terms.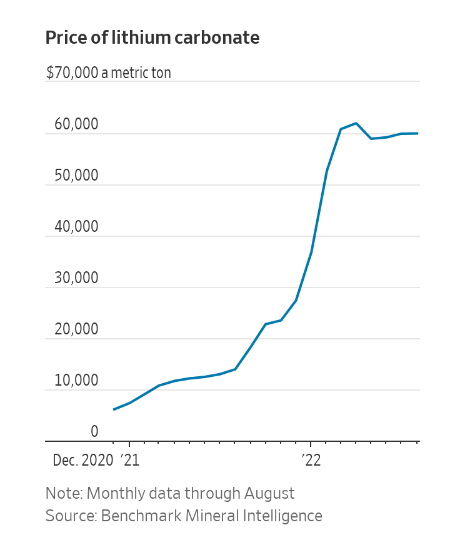 https://www.wsj.com/articles/electric-car-demand-pushes-lithium-prices-to-records-11663749409?mod=itp_wsj&ru=yahoo
---
9. Despite pandemic, U.S. Latinos' output eclipses U.K. and India GDPs
Axios Russell Contreras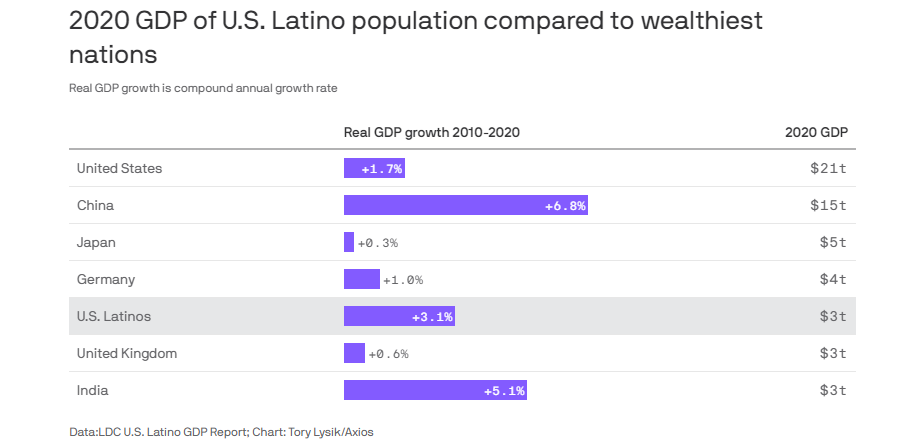 Data:LDC U.S. Latino GDP Report; Chart: Tory Lysik/Axios
The total economic output of U.S. Latinos reached $2.8 trillion in 2020, surpassing the GDPs of the U.K. and India, according to a report released Thursday.
Why it matters: The report showed U.S. Latino buying power and economic output grew during the pandemic despite the disproportional impact it had on Latino communities, Russell writes.
By the numbers: The report showed U.S. Latino GDP grew 65% from 2010, when it was $1.7 trillion, to 2020.
In 2020, Latinos spent $1.84 trillion, representing a consumption market larger than the entire economies of Canada or South Korea, the report said.
Details: The study by the Latino Donor Collaborative, a non-profit organization researching Latino issues was unveiled Thursday at the L'attitude conference in San Diego.
That's likely due to a strong workforce that rebounded quickly despite a disproportionate rate of infections, the report says.
Pay in low-wage positions like hospitality and service jobs — in which Latinos are overrepresented — also grew over the last couple of years as businesses struggled to find workers.
What they're saying: "Latinos have proven to be a tremendous source of resilience for the broader U.S. economy, even in the face of a one-in-a-century global crisis such as COVID-19," the report's authors wrote.
"The performance of Latinos during the pandemic is exemplified by income data. From 2010 to 2020, Latinos enjoyed significantly higher wage and salary income growth than non-Latinos," they added.
Go deeper: Report: U.S. Latino GDP tied with France, greater than Italy in 2019
Subscribe to Axios Latino to get vital news about Latinos and Latin America, delivered to your inbox on Tuesdays and Thursdays.
https://www.axios.com/2022/09/22/gdp-latino-2020-pandemic-uk-india
---
10. 5 Rejected Shark Tank Companies That Are Crushing It
People love success stories, especially when the road to success was not smooth and assured. It's those businesses that rise through rejections and adversity that make us realize that we, too, can take our businesses to new heights.
This is true even when people may not believe in these companies right now.
Consider companies that were ultimately rejected on the television show Shark Tank, for example. At first blush, it might look like a failure. However, some of those companies are doing remarkably well today. Let's look at five of these businesses and see what lessons they hold.
1. Copa Di Vino
This is one of the most successful rejects from Shark Tank. The founder, James Martin, went on the show twice, but he never received an offer. The idea was relatively simple and something that should have been thought of years ago—sell wine by the glass rather than by the bottle: offering pre packaged glasses of wine, sold in recycled plastic containers. It now has a value of more than $25 million.
2. BedJet
When Mark Aramli went on Shark Tank and pitched BedJet, he was quickly rejected by everyone on the show. His invention was a fan system for under the sheets to keep everything cool. The Sharks were not impressed, and Aramli said  "They hated me and my product. They told me no one would ever want BedJet."
However, that didn't turn out to be true. He used his own money to fund the project rather than relying on investors. Within just a couple of years, his company is estimated to be valued at $16 million.
"Building a business is little more than a series of quick opportunities followed by a big a series of big obstacles. The opportunities arrive and leave so quickly that they're way too easy to miss. If I hadn't quit my job on a stranger's suggestion the moment I heard it, I would have probably thought about it and not done it. Every great decision I've made in business since was made exactly that way — quickly without any thought. I've learned that thought gets in the way." – Barbara Corcoran
3. Xero Shoes
Lena Phoenix learned that even though there wasn't any additional investment money after appearing on Shark Tank in 2013, the publicity did wonders. After the show aired, there were an additional 3,000 orders for their sandals. Within a few years, the company has made more than $7 million in sales and has many customers around the world. They also set up a crowdfunding plan offering shares to investors, which provided them with money to expand
4. Nerdwax
This is a cleverly named product that can be helpful for anyone who has glasses that keep sliding off their nose. Enter Nerdwax, a wax that can be applied onto the nose pads of eyeglasses, which then help them to stay on the wearer's face. It's a simple product and seems like one that a lot of people with glasses would appreciate.
However, the Sharks did not believe that people would be willing to pay $10 per tube for this product. The idea was quickly rejected, but the owners now report more than $1 million in sales.
5. Ring
Most people today have heard of Ring but might not realize that it was originally called DoorBot and that it was a reject from Shark Tank. The creator, Jamie Siminoff, invented the security camera, which he says was worth about $7 million at the time of his appearance on the show in 2013. He didn't get any traction from the Sharks as they all turned his idea down. However, just a few years later the company was bought by Amazon for $1 What You Should Take from These Stories
You will note that all the ideas that went on to become successful were sound ideas with fully-fledged products/services. They weren't just a dream and an idea—the creators had already put a lot of time and effort into creating working products.
Just because they weren't offered a deal, or at least not an agreeable deal, from the Sharks doesn't mean that the business wasn't viable. These owners had some of the most business savvy minds in the world reject their ideas and told them they would fail, but that wasn't the case.
You will want to consider the types of products that were successful. They all focus on needs or wants—ways to make life better, easier, or safer. The products were helping to make real changes.
One of the most important lessons to learn from this is to believe in what you are doing. If you know there is an audience, if you can make the product affordably, and sell it for a profit, you can find success.
Believe in yourself and your products. Don't let the doubters and naysayers dictate your future and steal your success.
Don't let setbacks or lack of faith from potential investors keep you from your path to success.
 https://addicted2success.com/success-advice/5-rejected-shark-tank-companies-that-are-crushing-it/