1. Dow Industrials and Dow Transports Break Previous Lows.
Dow also closes below 200 week moving average on long-term chart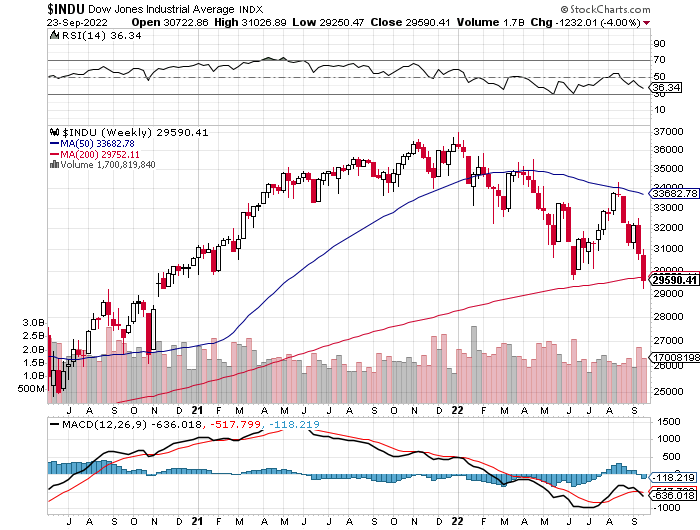 Transports close below 200 week moving average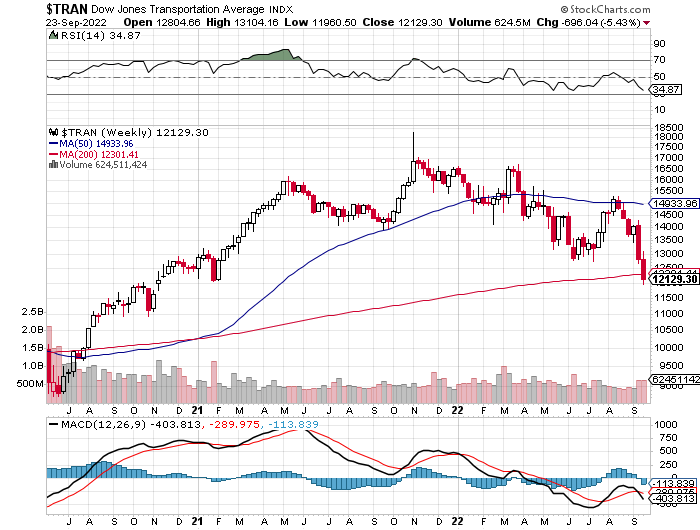 ---
2. S&P and Nasdaq Right on Previous Lows
S&P about to break to new lows….Still above 200 week moving average in red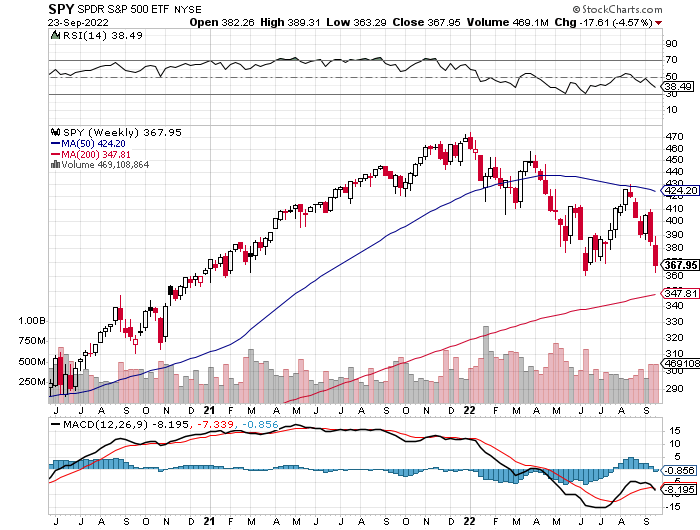 Nasdaq Composite above previous low but broke 200 week moving average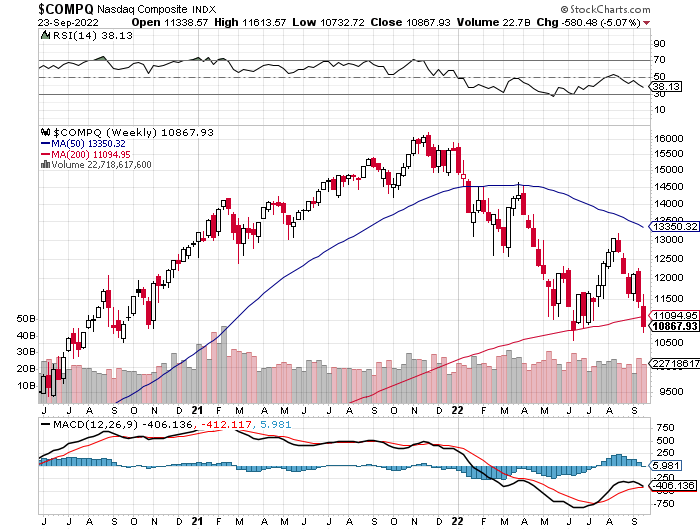 ---
3. The FED is Hiking Faster and Further than Anytime in History
Chartr Blog The Fed's 3×3-This week the Federal Reserve signed off on its third consecutive three-quarter point rate hike, lifting the benchmark federal funds rate to a range of 3-3.25%.
That's an unprecedented pace of rate-rises in modern history, signaling the Fed's strong resolve to get double-digit inflation under control. No other hiking cycle has started this steeply since the Fed started targeting the Effective Funds Rate in the 1980s.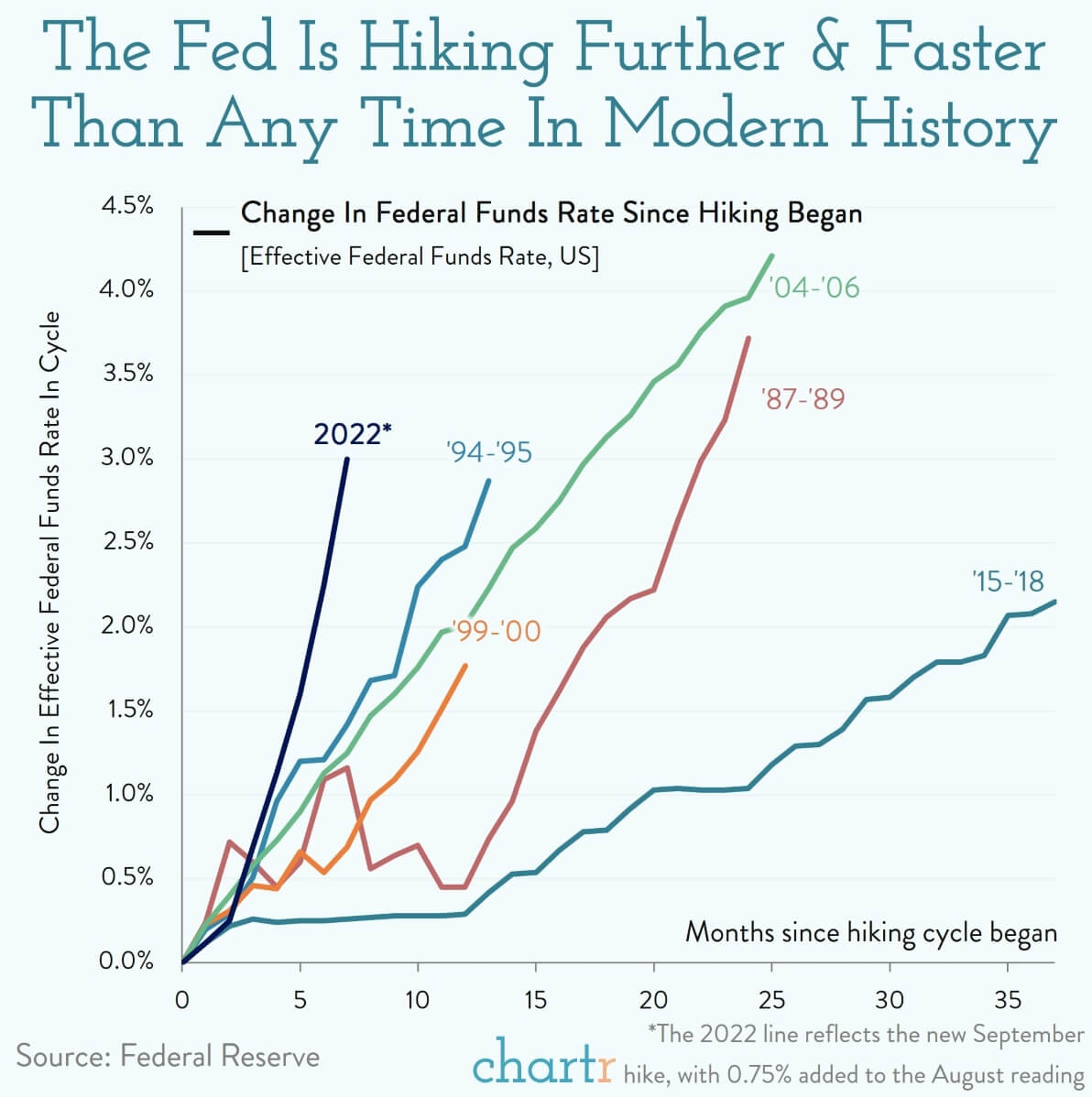 ---
4. VIX-Volatility Index Still Trading Below May 2022 Levels.
VIX still below $30….50day still trading below 200day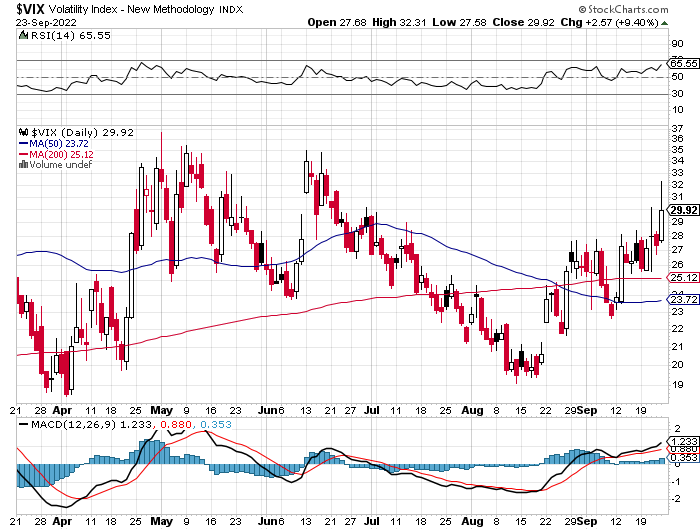 ---
5. Airlines JETS ETF…..JETS Hits Mid-2020 Lows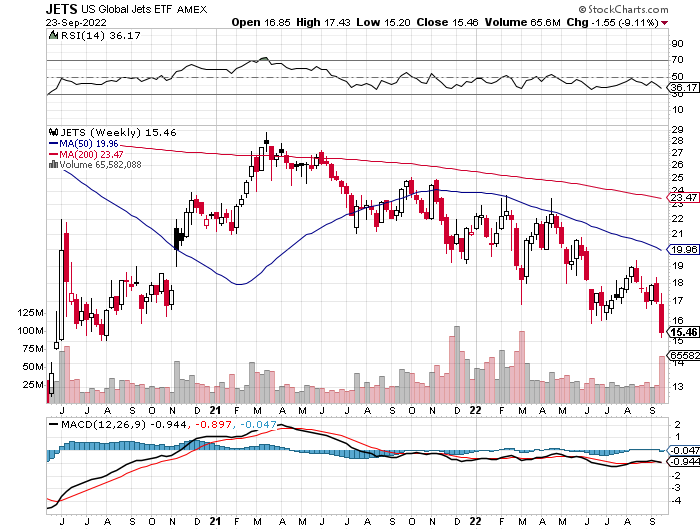 ---
6. Millennials Dumping ….Majority sold some or all of their investments
From Callum Thomas Chart Storm Generational Selling Opportunity:  Intriguing statistics. Seems just about every millennial sold some or all of their investments. Could have to do with life stages, but hard to guess what is specifically driving this. The other key thing that sticks out in this chart is that aside from millennials, everyone else has held tight. That gels with my previous observations about the difference between very bearish surveys vs relatively minor movement in equity allocations and margin positions.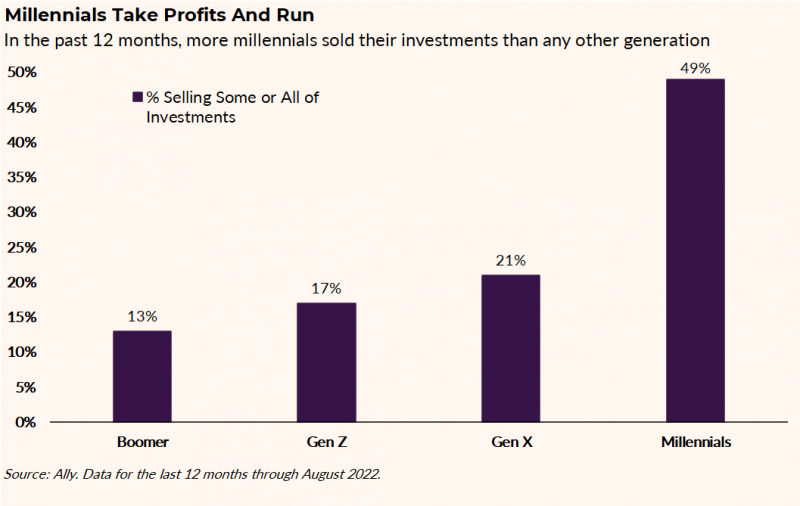 Source:  @justLBell
https://chartstorm.substack.com/p/weekly-s-and-p500-chartstorm-25-september
---
7. Elections Have Little Effect on Long-Term Returns-Capital Group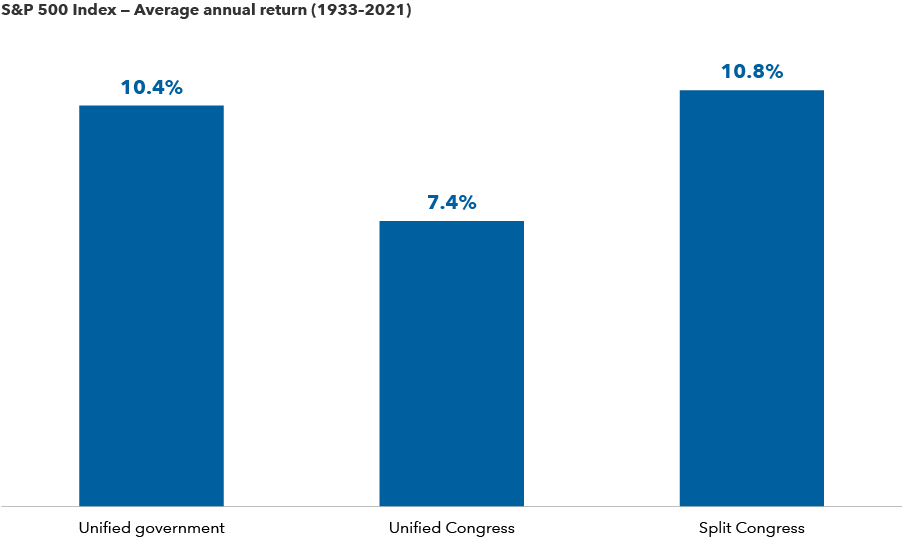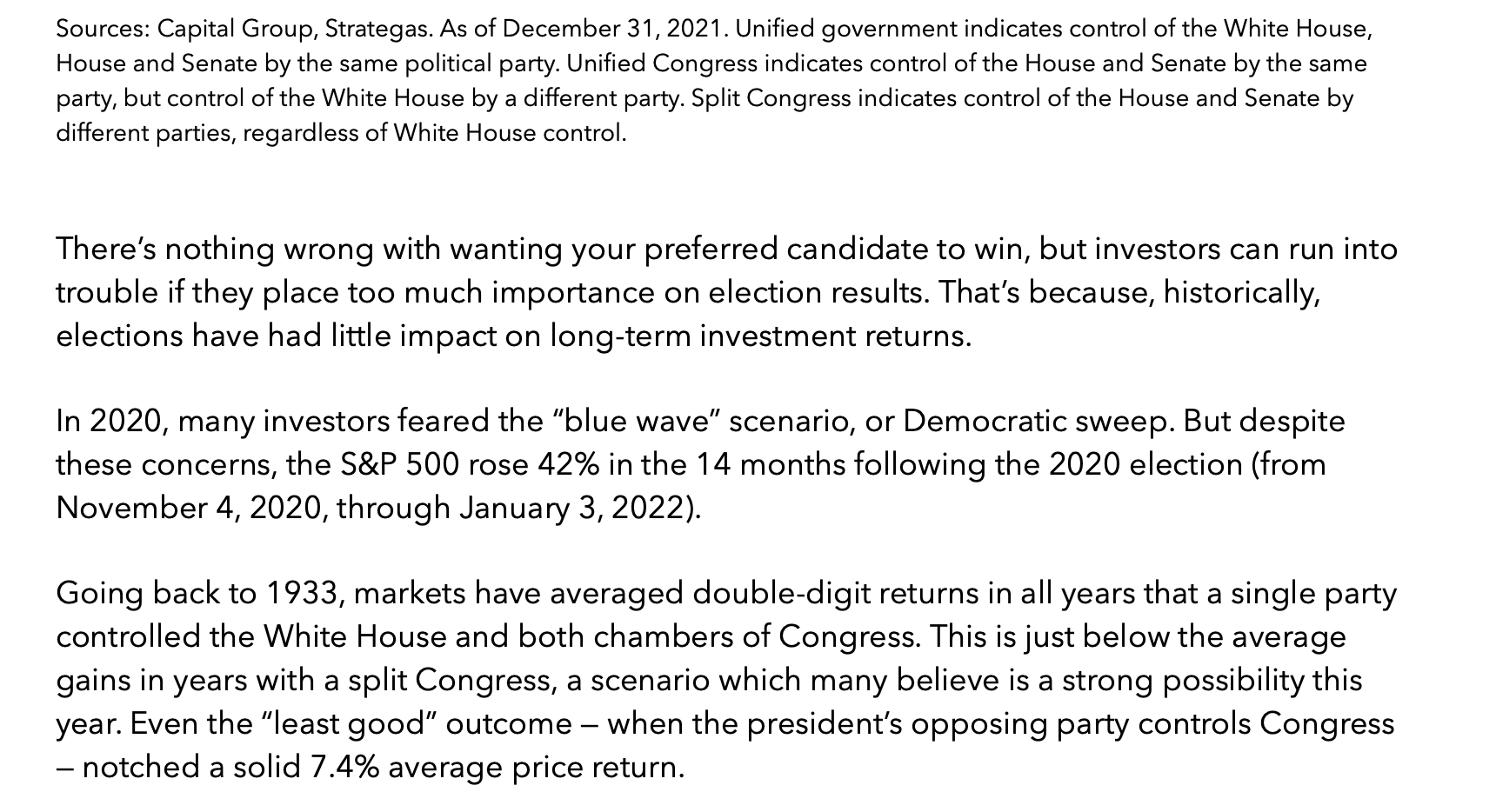 https://www.capitalgroup.com/advisor/insights/articles/midterm-elections-markets-5-charts.html?sfid=1988901890&cid=80830362&et_cid=80830362&cgsrc=SFMC&alias=F-btn-LP-18-A3cta-Advisor
---
8. Zillow-Monthly Mortgage Payments +58% Year Over Year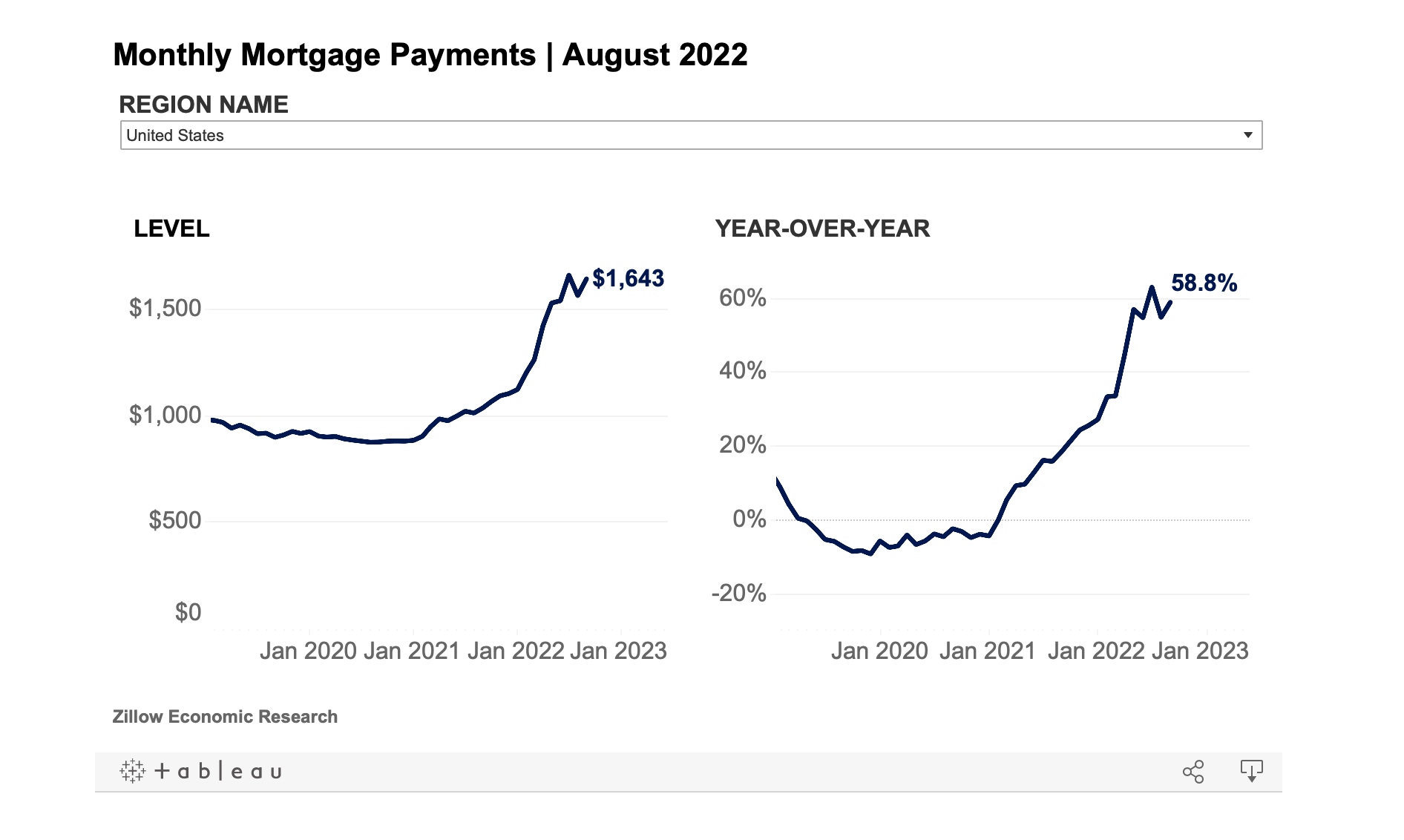 https://www.zillow.com/research/august-2022-market-report-31425/
---
9. Following All the "Disappearing" Russian Executives.
Zerohedge Blog Mysterious Deaths of Four Gazprom Executives
On Feb. 25, Gazprom executive Alexander Tyulakov was found hanged in a garage near St. Petersburg. Tyulyakov was Gazprom's Deputy General Director of the Unified Settlement Center (UCC) for Corporate Security. Police and the company's security department arrived at the scene almost immediately after the incident.
In late January, Leonid Shulman, head of the company's investment and transportation services, was found dead in his bathroom with multiple stab wounds. Rusian media reported that a note was found next to him, stating that he couldn't bear the pain from a leg injury.
On April 18, Vladimir Avayev, former vice president of Gazprombank, his wife and 13-year-old daughter were found dead in their Moscow apartment.
Investigators say Avayev, 51, killed his wife and daughter before taking his own life. His older daughter, 22, reportedly said that the door to the apartment was locked from the inside and there was no sign that anyone else was present at the time of the shooting.
However, people who contacted Avayev shortly before his death said he had been in a good mood and did not seem likely to shoot his family to death. Shortly thereafter, the company's two other senior executives were found dead in a mansion compound near St. Petersburg.
In addition to these four deaths, in July, Yuri Voronov, the founder of Astra-Shipping, a transportation and logistics company and a contractor for Gazprom's arctic projects, was found dead in the pool of his luxury villa outside St. Petersburg, shot in the head at close range.
In addition to the theory that the top executives knew too much about fraud, some suspect they were murdered because they opposed the Russia–Ukraine war, although none of them had publicly denounced Russia's ongoing war in Ukraine.
https://www.zerohedge.com/geopolitical/drowning-russian-executive-latest-string-mysterious-deaths
---
10. The Most Practical Skill in Life is Learning to Do Things when you don't Feel Like Doing Them
Farnam Street Blog Tiny Thought
My high school football coach used to run us like crazy after a bad game. While I'm sure these tactics wouldn't be accepted today, the lessons I learned in these moments still help me when things are hard.
The most practical skill in life is learning to do things when you don't feel like doing them. Anyone can do it when it's easy, but most people drop out the minute easy stops.
Muhammad Ali was asked how many sit-ups would do to prepare for a fight. His reply: "I don't count my sit-ups. I only start counting when it starts hurting. When I feel pain, that's when I start counting, because that's when it really counts." True to Ali's mindset, our coach would only start counting the sprints when people started falling over.
Inevitably someone on the team would say they wanted to quit. The coach would shout back a bunch of things that can't be repeated, but he'd finish with "If you really want to quit, you can quit tomorrow, but you can't quit today."
No one ever quit the next day.
The person who is consistent outperforms the person who is intermittent every time. While inconsistent effort works for some things, for the things that really matter you need to be consistent. If you want to be consistent, you need strategies to keep you going when things are hard.
The key to doing something you know you should do when you don't feel like doing it is telling yourself that you can quit tomorrow but not today.