1. S&P 500 Approaching the Re-Test of Lows
S&P 500 Rolling Over to June Lows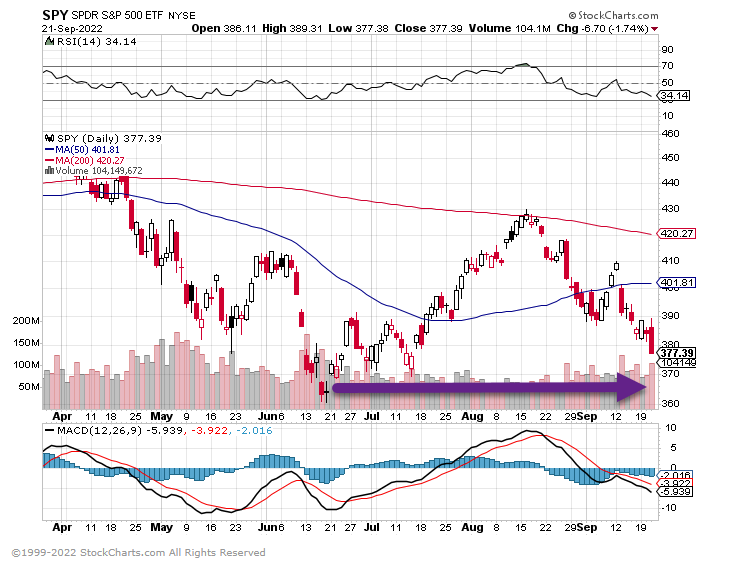 $364 was low on the SPY S&P 500 ETF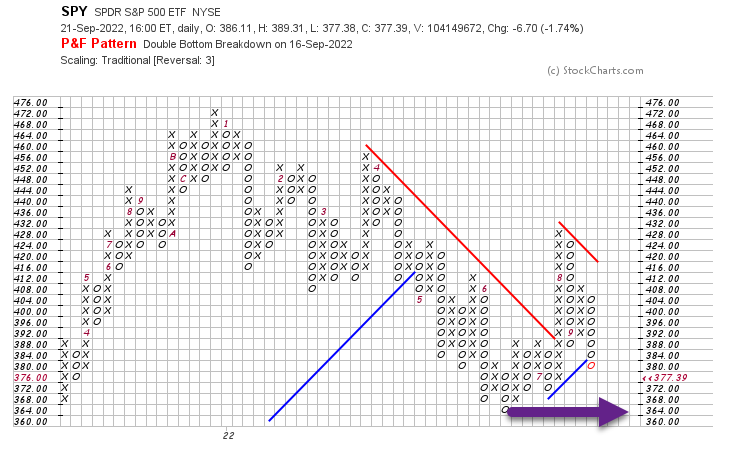 ---
2. Risk Appetite Lowest Since 2000 Internet Bubble.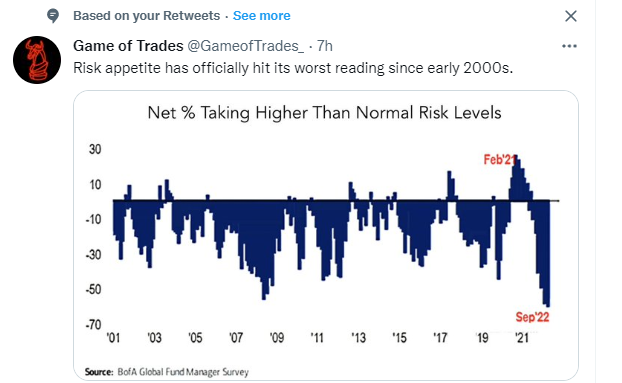 https://twitter.com/GameofTrades
---
3. China Large Cap Breaks Previous Lows.
FXI China ETF makes new 2022 lows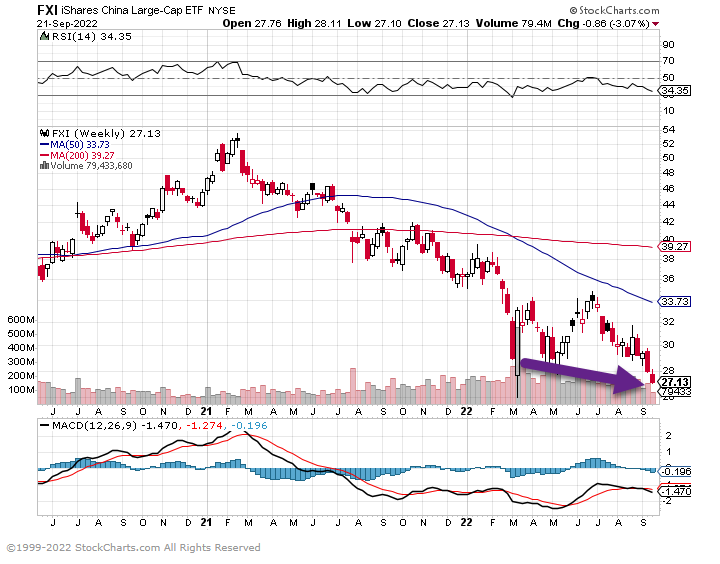 ---
4. China Ownership of U.S. Treasuries 14% of Total Down to 4%
From Irrelevant Investor Blog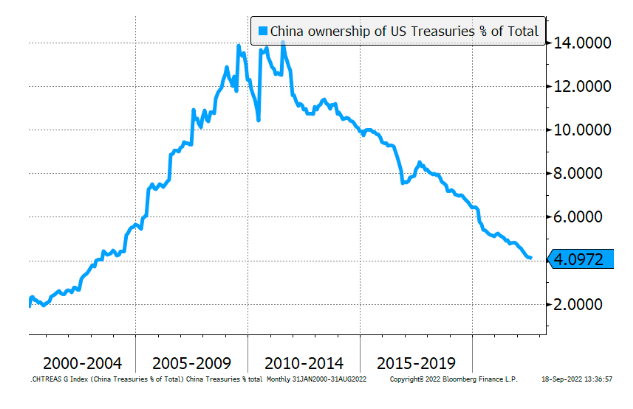 https://theirrelevantinvestor.com/2022/09/21/animal-spirits-is-a-recession-bullish/
---
5. Commodity ETF COMT -20% Correction from Highs.
COMT trading below 200day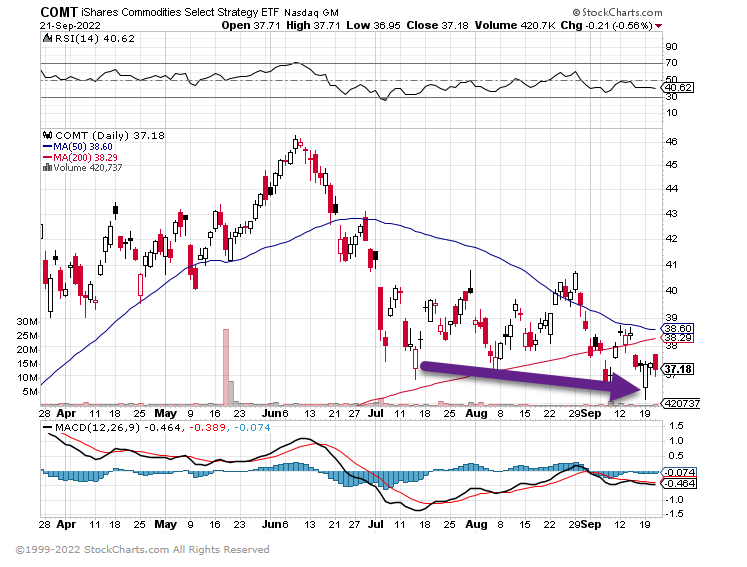 ---
6. Two-Year Treasury Yield 4% for the First Time Since 2007
See top of chart RSI well overbought.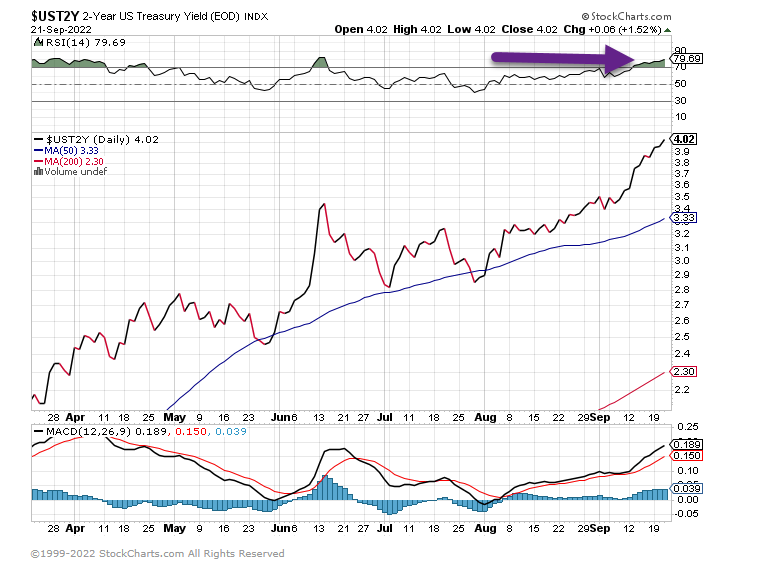 ---
7. In Case Anyone Missed It Yesterday…….AGG (bond index) Outperformed BSV Short-term Bonds by 40 basis points in One Day
Longer Duration Outperformed Yesterday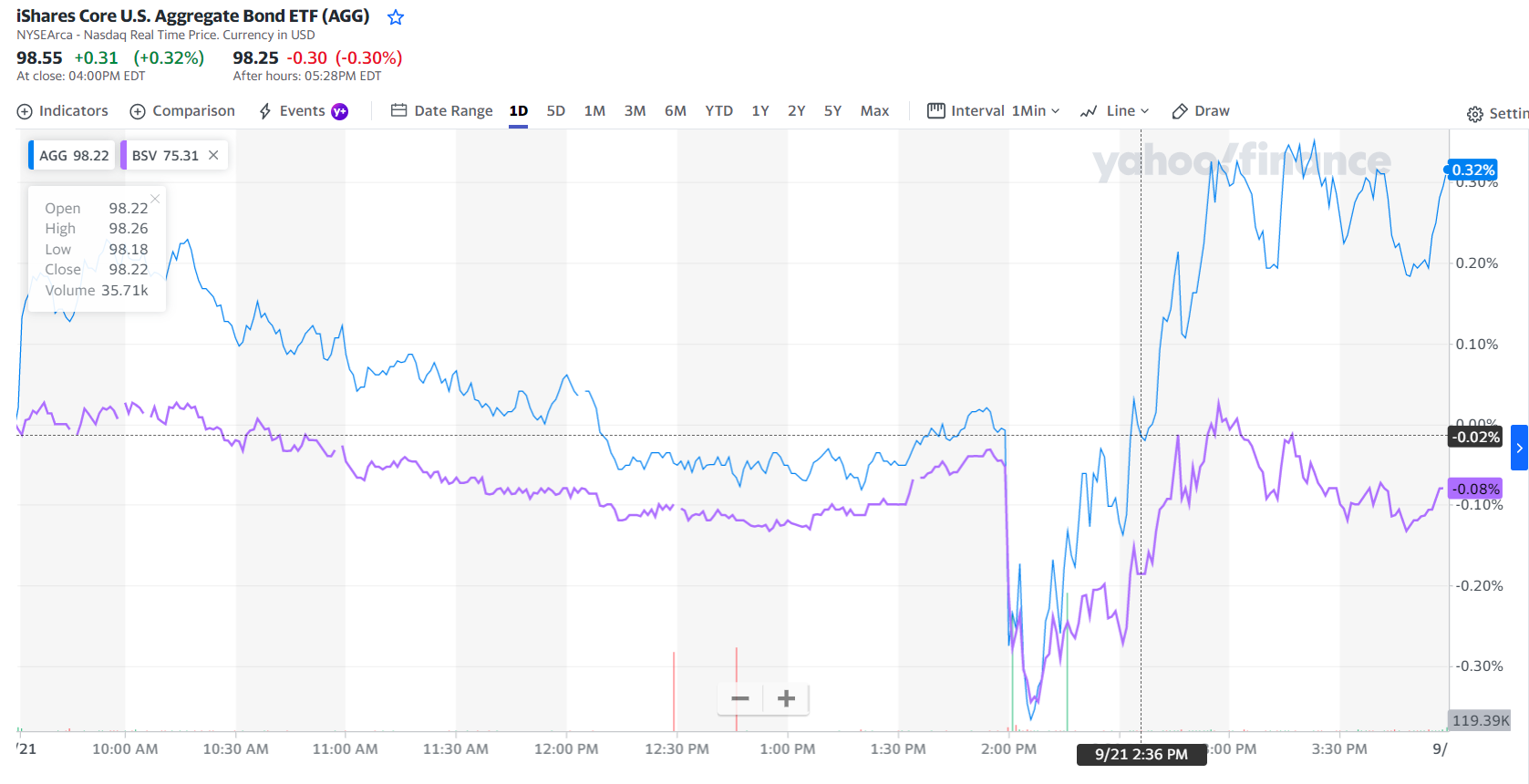 ---
8. Euro Area GDP Growth….
Jim Reid-Deutsche Bank

The energy crisis in Europe means that 2023 will likely be behind only 2009 and 2020 as the worst year for the European economy since WWII. Today's CoTD shows that DB expect Germany to see -3.5% GDP growth in 2022 and France at -1.2%. We expect euro area GDP to be at -2.2%.
These are pretty bleak numbers with Germany being most exposed to the gas shock. Even with voluntary gas use reduction, which is already hitting growth, the likelihood is that rationing in some form or another will have to come in before the end of winter.
See our economists' latest views here in a big piece out today.
In addition, Adrian Cox in my team has put together an Energy Crisis 101 presentation pack today to look at the context on why it's happened, what's being done about it and what comes next. This is part of a new series where we are going to try to distil topics of great importance to financial markets to a generalist audience. Please see here for more and feel free to suggest future topics we can explore in this series.
---
9. American Congress 23% Over 70-Chartr Blog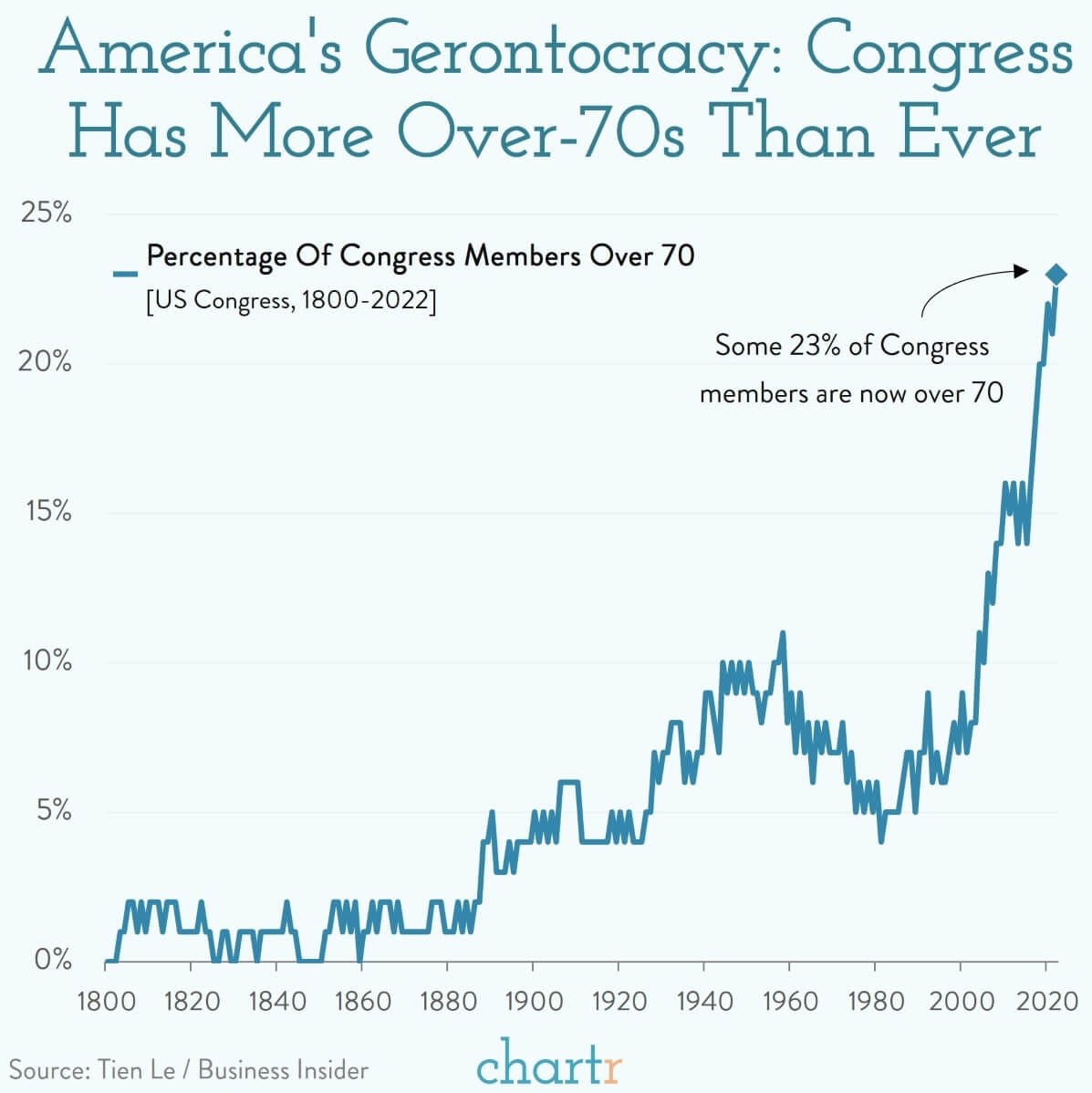 New age
Congress could gain its first Gen Z member in January, as 25-year-old Maxwell Frost — a young Democrat backed by Elizabeth Warren, Bernie Sanders, and other stalwarts of the DC scene — looks likely to fill a reliably-blue Floridian seat in the House.
President Biden, who would be 55 years older than Frost by the time the 118th Congress is sworn in, has fended off questions about his age throughout his tenure, most recently in an interview with 60 Minutes. However, the President isn't the only politician in Washington who would feel old in the Gen Zer's company.
Elder law 
Data compiled by Insider, and visualized above, shows how dramatically Congress has aged in recent years. A stunning 23% of Congress' members are now over 70 years old, compared to twenty years ago when just 8% of legislators were 70+. If they keep their seats in November, two members would even turn 90 whilst serving in Congress next year.
With midterms just around the corner (8th of November) and POTUS's 80th birthday not far behind, discourse around America's aging congresspeople is getting louder — with a CBS poll showing remarkable bipartisan support for age limits of elected officials.
Go deeper: Insider's Red, White, and Gray series is a thorough exploration of America's gerontocracy.
---
10. Mark Cuban Says the Worst Career Advice Is 'Follow Your Passion.' What Should You Do Instead?
Turns out it's something you already do. You just need to turn it up a notch.
BY JEFF HADEN, CONTRIBUTING EDITOR, INC.@JEFF_HADEN
Ask just about any motivational speaker or career expert. Or ask Steve Jobs:  As the Apple co-founder once said, "You've got to find what you love. The only way to do great work is to love what you do. If you haven't found it yet, keep looking."  
Most people believe passion comes first.
But not Mark Cuban. When Adam Grant asked him if there was a "worst piece of career advice you've gotten," Cuban said:
Follow your passion? No.
Follow your effort. No one quits anything they're good at.
While passion can spark effort, the reverse is more often true. Effort, and the improvement that results, creates passion. Do something poorly? You probably dread doing it. Do something well? You enjoy it — and the better you get, the more you like doing it.
Science agrees, especially where starting a business is concerned. According to a study published in Academy of Management Journal, the more effort entrepreneurs put into their startups or side hustles, the more enthusiastic they get about their businesses. 
As startup founders gain skill, expertise, and experience, their enthusiasm grows — with or without early financial success. Effort, and resulting improvement, creates passion.
Not the other way around. 
'Follow Your Passion' Can Be Disastrous
It's easy to confuse a hobby or interest for a passion, especially one that will result in career or business fulfillment. Rarely is that type of preexisting passion valuable. 
As Cal Newport writes in So Good They Can't Ignore You: Why Skills Trump Passion in the Search for Work You Love, "Telling someone to follow their passion can be disastrous. That advice has probably resulted in more failed businesses than all the recessions combined, because that's not how the vast majority of people end up owning successful businesses."
That's because most passions indicate interest, not effort. Plenty of people — maybe you're one of them — are passionate about sports. Or adventure. Or travel. I enjoy motor sports, and I really like driving — or riding — fast.
But how much effort do you, or I, put into that passion? How much effort do we put into improving our talent, our knowledge, and our skills? In my case, not a lot. Passion only indicates interest.
Instead, 'Follow Your Effort'
Passion is nearly always the result of significant time and effort, because effort leads to improvement and expertise. 
As Cuban wrote on his blog in 2012:
There are a lot of things I am passionate about. [But] the things I ended up being really good at were the things I found myself putting effort into. A lot of people talk about passion, but that's really not what you need to focus on.
… when you look at where you put in your time, where you put in your effort, that tends to be the things that you are good at. And if you put in enough time, you tend to get really good at it.
If you put in enough time, and you get really good, I will give you a little secret: Nobody quits anything they are good at, because it is fun to be good. It is fun to be one of the best. 
But in order to be one of the best, you have to put in effort.
What you do in your spare time — not passively experience, but actively do — clearly indicates an interest. As Cuban would say, you're already putting in the effort. 
So follow that effort. Every highly skilled person started learning, and then benefited from the virtuous cycle of effort and achievement: Effort leads to achievement, however small. Achievement feels good. Feeling good motivates you to put in more effort, leading to more achievement, more motivation, more effort–the result is a never-ending virtuous cycle.
Follow your effort, and place a little more structure around the process of improving, learning, and growing. The more effort you put in, the more enthusiastic you will get. The more passionate you will become. The more likely you will be to develop the talent and experience required to turn a passion into a new business or career. 
One where passion is not required, because in time you'll realize you're doing what you love. 
Even if it didn't start as a passion.
Mark Cuban Says the Worst Career Advice Is 'Follow Your Passion.' What Should You Do Instead? | Inc.com\