1. Speculators/Traders Are Most Bearish on Nasdaq 100 in 12 Years.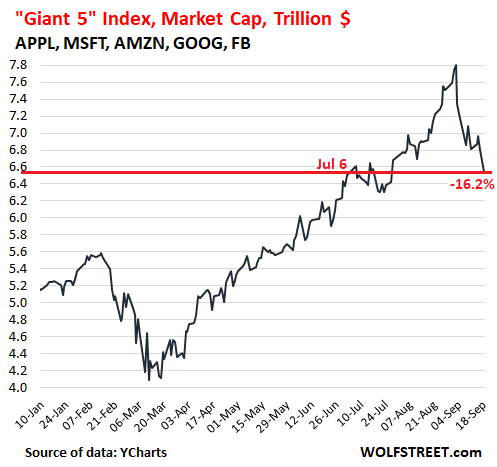 Positioning in Nasdaq-100 mini futures is the most bearish since April 2008, the latest Commodity Futures Trading Commission data show – China's ByteDance said on Monday that TikTok's global business will become its subsidiary, even as Oracle Corp and Walmart Inc said over the weekend that they and U.S. investors would own the majority of the video app following a deal with U.S. President Donald Trump's administration. On Saturday, Trumpsaidhe supported a deal in principle that would allow TikTok to continue to operate in the United States
From Dave Lutz at Jones Trading
2. Net Dollar Shorts Most Stretched Since 2012
CFTC non-commercial net short DXY positioning most stretched since Dec '12. USD bears are out in full force. Conditions look ripe for a squeeze.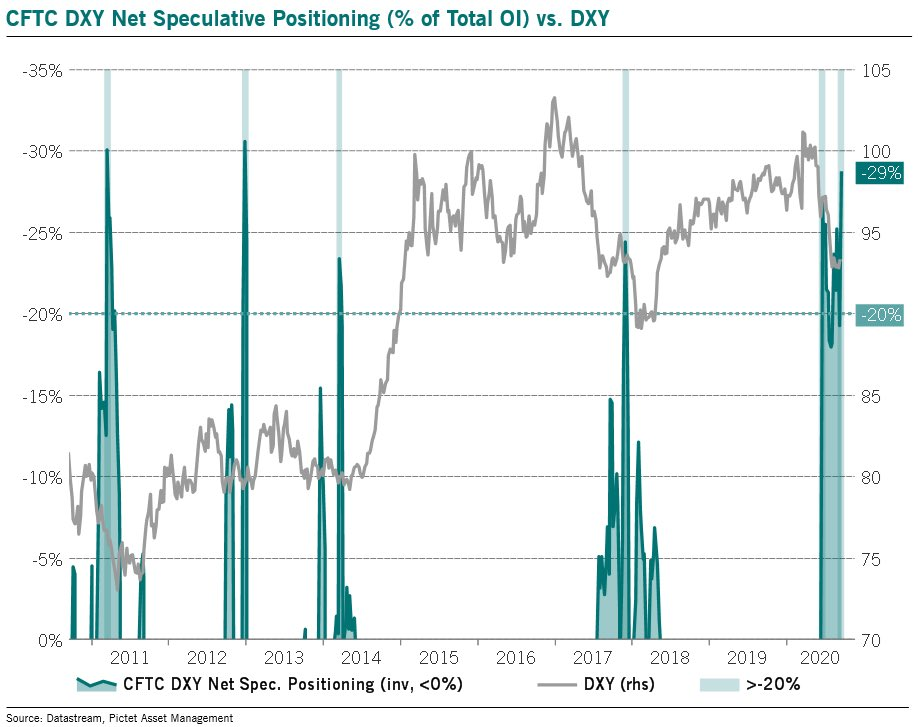 Julien Bittel https://twitter.com/BittelJulien
3. Libor Back to 2012 Lows.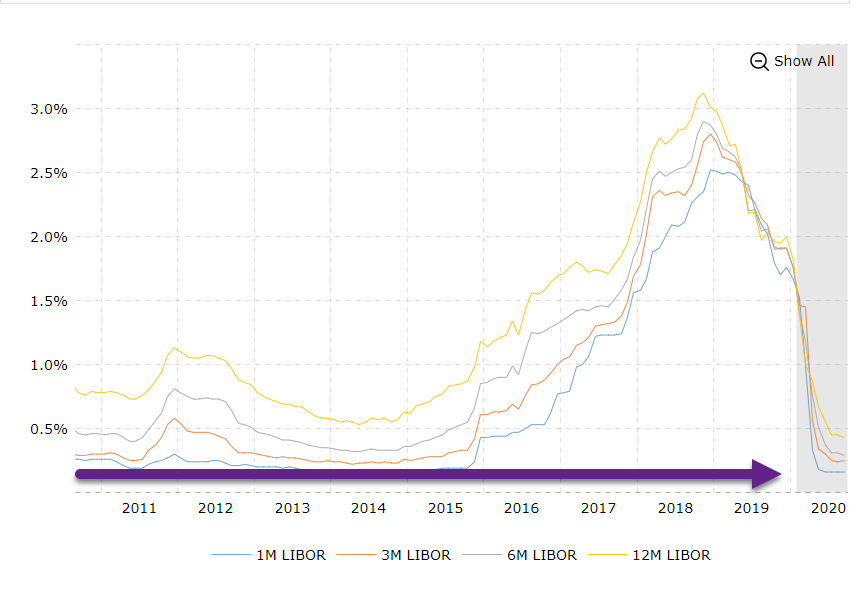 Macrotrends
https://www.macrotrends.net/1433/historical-libor-rates-chart
4. U.S. Stock Funds Saw Record Outflows in August….Large Cap Blend Saw The Biggest Withdrawals.
As the S&P 500 reached highs last seen in February, U.S. equity funds saw record monthly outflows in August that surpassed the previous record of $45 billion set just one month prior. As in July, all Morningstar Style Box categories (large growth, small value, and so on) suffered outflows. The main distinction was between open-end funds and ETFs. Nearly $55 billion left open-end U.S. equity funds in August; in contrast, ETFs collected $3 billion.
With U.S. equity markets getting more expensive, investors might be starting to look overseas. International-equity fund flows were almost flat in August. Their $219 million of outflows was paltry compared with the $95 billion investors yanked from those funds over the previous five months.
Commodities funds took in another $3 billion. That's the only category group to have positive flows every month in 2020. Gold funds continued to shine as some investors sought safe havens or hedges against inflation, with iShares Gold Trust (IAU) taking in nearly $900 million in August.
The hardest-hit equity style-box category was large blend. Those funds posted a record $32 billion of outflows, topping the previous record of $24 billion set in April 2020. It was also the category's fifth consecutive month of outflows–the longest such streak in data going back to 1993. More than 70% of its August outflows came from passively managed funds. Nearly $10 billion left Vanguard Total Stock Market Index (VITSX), the largest fund in the United States by total assets, but market appreciation offset those redemptions and pushed the fund to nearly $1 trillion.
U.S. Fund Flows Batter Equity Funds in AugustAs stocks rise, investors shift from U.S. equity to taxable-bond funds.https://www.morningstar.com/articles/1001536/us-fund-flows-batter-equity-funds-in-august
Found at The Irrelevant Investor Blog https://theirrelevantinvestor.com/2020/09/17/where-are-they-going/
5. Before Yesterday….The Big 5 Market Cap was -16% From Highs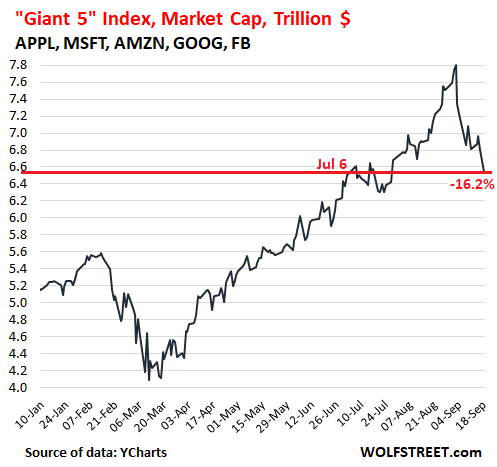 By Wolf Richter for WOLF STREET.
6. S&P 500 Closes Below 50 Day.
QQQ …Dow Jones…S&P Now all Below 50 day
7. VIX Volatility Index No Real Rally on Sell-Off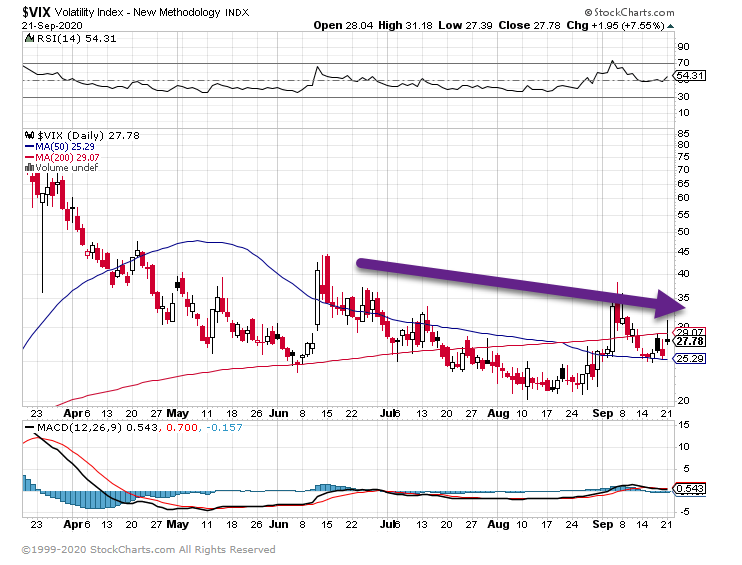 8. New Jersey passes Nevada in sports gambling — should Las Vegas be worried?
By Weston Blasi
New Jersey has taken in more money from sports betting than Nevada in three of the last four months
GETTY IMAGES
Since the Supreme Court struck down the Professional and Amateur Sports Protection Act (PASPA) last May, it's now up to individual states to decide whether or not they will offer legalized sports betting. Thirteen states have begun taking wagers on sports with even more expected to follow. New Jersey has been taking sports bets for over a year, and is challenging Nevada, the home of Las Vegas, as the new face of sports gambling.
After a somewhat slow start in the Summer of 2018, New Jersey's sports betting handle (the total amount wagered) continues to grow. This growth culminated in May 2019 when New Jersey became the first state to ever have more money legally bet on sports than Nevada. In fact, in three of the last four months New Jersey has taken in more money from sports bets than Nevada.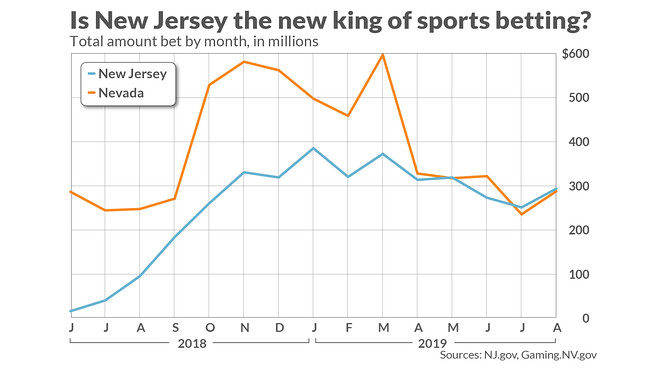 It didn't take Jersey long to overtake Las Vegas.
MARKETWATCH
Of the 13 states that have begun taking sports bets, two of them have yet to publicly disclose state handle figures (Arkansas and New York), and two others (Oregon and New Mexico) are still in the process of passing state legislation due to PAPSA-grandfather rules and tribal casino restrictions.
Among the remaining nine states that have begun taking bets on sports, New Jersey has the highest handle by far after Nevada. Since PAPSA was struck down in June 2018, the next highest handle is Pennsylvania at a little over $413 million, a far cry from New Jersey's $3.8 billion, according to publicly disclosed data.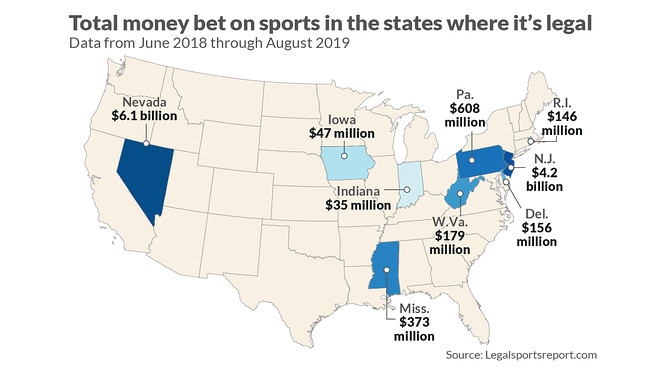 Total amount bet on sports since PAPSA was struck down by the Supreme Court.
MARKETWATCH
One major factor in New Jersey's rise to prominence in sports gambling is the state's support for mobile betting. Companies like DraftKings and FanDuel allow people to make bets from their smartphones when inside state lines. Over 80% of all sports bets placed in New Jersey were made online as opposed to a retail property location, dwarfing most other states.
While other states do offer mobile betting services, most didn't debut the feature right away, electing to use physical sportsbooks instead. Pennsylvania, for example, has a high mobile bet percentage, but only recently began taking mobile bets, and the state's total handle has suffered due to that lag. Nevada doesn't publicly disclose mobile betting data.
Pennsylvania could be poised for a breakout, however. As its mobile betting continues to grow, it could reach New Jersey levels due to a mobile betting increase and an advantage in state population compared with New Jersey.
This is all bad news for Las Vegas, right? Well, not exactly.
Micah Roberts, who served as sportsbook director for Nevada's Station Casinos for over 20 years, isn't worried about other states having success in sports gambling; he welcomes it.
"I love it because people are not going offshore anymore," Roberts says. "Now, its legitimized."
Fuel for Investing Smarter
Make the smartest investment decisions with access to Barron's in-depth analysis and unrivaled market predictions — all conveniently accessed on MarketWatch.com. Limited-Time Offer: $12 for 12 Weeks.
For marquee events like college basketball's March Madness and the Super Bowl, Roberts still thinks Vegas will continue to bring in big business.
"You can do as much as you want with Atlantic City or the racetracks there but it's still never gonna be a destination point," Roberts explains. "Las Vegas is Las Vegas. That's never gonna change."
And the numbers back it up.
Nevada sportsbooks and mobile platforms generated $301,048,000 in revenue last year, according to the Nevada Gaming Control Board. That revenue is up 20.98% over 2017's $248,777,000, a previous all-time high.
And Nevada still holds the record for the biggest month in U.S. sports betting history, when $597 million was wagered in March 2018 during the height of March Madness.
https://www.marketwatch.com/story/new-jersey-passed-nevada-in-sports-betting-last-month-should-las-vegas-be-worried-2019-11-04?utm_source=morning_brew
9. The Age of Electric Cars Is Dawning Ahead of Schedule
Battery prices are dropping faster than expected. Analysts are moving up projections of when an electric vehicle won't need government incentives to be cheaper than a gasoline model.
Building more efficient batteries is critical to reducing the price of electric cars. At the Karlsruhe Institute of Technology in Germany, a prototype is being developed that would manufacture tailor-made battery components.Credit…Felix Schmitt for The New York Times
By Jack Ewing
FRANKFURT — An electric Volkswagen ID.3 for the same price as a Golf. A Tesla Model 3 that costs as much as a BMW 3 Series. A Renault Zoe electric subcompact whose monthly lease payment might equal a nice dinner for two in Paris.
As car sales collapsed in Europe because of the pandemic, one category grew rapidly: electric vehicles. One reason is that purchase prices in Europe are coming tantalizingly close to the prices for cars with gasoline or diesel engines.
At the moment this near parity is possible only with government subsidies that, depending on the country, can cut more than $10,000 from the final price. Carmakers are offering deals on electric cars to meet stricter European Union regulations on carbon dioxide emissions. In Germany, an electric Renault Zoe can be leased for 139 euros a month, or $164.
Electric vehicles are not yet as popular in the United States, largely because government incentives are less generous. Battery-powered cars account for about 2 percent of new car sales in America, while in Europe the market share is approaching 5 percent. Including hybrids, the share rises to nearly 9 percent in Europe, according to Matthias Schmidt, an independent analyst in Berlin.
Continue reading the main story
As electric cars become more mainstream, the automobile industry is rapidly approaching the tipping point when, even without subsidies, it will be as cheap, and maybe cheaper, to own a plug-in vehicle than one that burns fossil fuels. The carmaker that reaches price parity first may be positioned to dominate the segment.
Image
Chargers at the Tesla Design Center in California. The European Union has nearly 200,000 chargers. The United States has less than half as many.Credit…Philip Cheung for The New York Times
A few years ago, industry experts expected 2025 would be the turning point. But technology is advancing faster than expected, and could be poised for a quantum leap. Elon Musk is expected to announce a breakthrough at Tesla's "Battery Day" event on Tuesday that would allow electric cars to travel significantly farther without adding weight.
The balance of power in the auto industry may depend on which carmaker, electronics company or start-up succeeds in squeezing the most power per pound into a battery, what's known as energy density. A battery with high energy density is inherently cheaper because it requires fewer raw materials and less weight to deliver the same range.
"We're seeing energy density increase faster than ever before," said Milan Thakore, a senior research analyst at Wood Mackenzie, an energy consultant which recently pushed its prediction of the tipping point ahead by a year, to 2024.
10. How To Apply Marine Leadership Traits To Business
The day before the first mission, Capt. Michael Gagnon briefs his Marines at Patrol Base Alcatraz, Afghanistan, Oct. 20, on the plan to construct a helicopter-landing zone for a special operations outpost in the Helmand River valley. Gagnon, a native of Oxford, Mass., commands a team of roughly 20 men dubbed "Task Force Nomad." Over the next several weeks, the task force will construct or improve helicopter landing zones along the Helmand River valley in southwestern Afghanistan.
U.S. Marine Corps photo by Brian Adam Jones
Leadership is perhaps the most important concept Marines are taught during training. As with most things we learn, concepts are easily remembered with acronyms. JJDIDTIEBUCKLE (pronounced "JJ did tie buckle"), representing justice, judgement, dependability, integrity, decisiveness, tact, initiative, endurance, bearing, unselfishness, courage, knowledge, loyalty, and enthusiasm.
The concepts are more than just words, they must mean something to every leader in order that they truly be understood and carried in one's heart and mind throughout life. Marine Corps leadership principles are relevant both in the Marine Corps and civilian society, especially in the corporate world. The terms troops, Marines, and employees can be used interchangeably. After all, an organization is only as good as its people. Leadership is about people. In my experience both as a Marine Officer and corporate executive; here are what those principles mean to me:
Justice: Leaders must have a strong sense of justice. Without it, one cannot effectively lead. A leader's character must be impeccable, never wavering in the face of uncertainty. When a leader does not ensure an environment where justice is the rule, breakdowns in the behavior of troops will inevitably occur. Justice gives a leader the moral high ground to enforce discipline. Conversely, a CEO cannot expect his company to thrive, for his employees to give it their best if they do not feel that justice exists in their workplace.
What does this mean? This means talent and work ethic gets people promoted, nothing else. This means that employees are treated with justice, and employees feel safe and know they are judged according to the quality of their work and nothing else. Employees must trust that if legitimately wronged, they will be heard and justice will be rendered.
Judgement: Judgement is key for decision-makers both on the battlefield, and often times more so, off the field with personnel issues and in handing down discipline. It is important to always keep your mission and the welfare of your troops in mind as rudders to steer your conscience. Even when mistakes occur, and they will, you can at least know that you were thinking in the best interest of your troops. Your judgment is critical, you can cost your company money, its future, and cause countless harm.
Related: 17 things real leaders never say.
Yet just as in the Marine Corps, when the mission and the welfare of your troops mattered most, same goes in corporate America. What is the goal of your company, are your employees taken care of so that they are the most productive as they can be? If your judgment rests on the value of your company's mission and the care of your employees, the most of your decisions will be good ones.
Dependability: This means exactly what it says: Are you dependable as a leader? Marines want to trust that you will always be there for them. In combat situations, they must depend on your good judgment, that you will be proficient in your specialty — this is an obvious answer. Just as importantly, they need to know you are dependable when the time comes to stand up to the chain of command when the situation calls for it. This is particularly true in the private sector where ideas and taking risks matter.
Integrity: A leader must have the moral authority to lead, govern, and discipline, the foundation of which is based on integrity. Lives and missions are entrusted to Marine leaders. Without integrity in leadership, troops will lose their own integrity. Worst of all, you will see yourself slipping deeper into a situation of moral failure, which is not a good place to be.
We sometimes wonder how what seems like an entire company goes down for fraud or other scandalous behavior. More often than not, it comes from the top down when it exists on a large scale. Just as in the Marine Corps, a corporate leader must set the example with integrity so that it sets the environment for the workplace.
Decisiveness: Better a decent plan executed now than a perfect plan executed tomorrow. The smartest leader is worthless if he cannot be decisive in his decision-making. The two words have similar roots. We have all seen leaders who are indecisive.
Decisions need to be made in the real world. Military leaders do not have the luxury of pondering a thought for too long. Waiting can get people hurt and allow the situation to get worse. Too often, poor leaders try to come up with a "perfect plan," which is useless. "Perfectionists" are really just indecisive people who have the luxury not to act quickly.
Tact: You will get more bees with honey than with vinegar. I have learned that we can say almost anything if we use the appropriate amount of tact. As a matter of fact, this is an art form I've seen perfected by Marines.
How many staff non-commissioned officers have we seen tactfully and respectfully tell an officer they need to fix themselves, and rightfully so. It is always better to build someone up; using tact will do that. People will make mistakes, correct them, but no need to crush them if you plan to keep them around. Be careful how you speak to people. It's important.
Initiative: You must always have a bias for action. Keep moving. Don't wait around for someone to tell you what and how to do it. Assess the situation, the commander's intent, and make a move.
This is critical to keeping the ball moving and is a trait civilian employers know military veterans bring to the table. Initiative not only works to solve the problem at hand, but more importantly, can prevent it from worsening or allowing other problems to manifest due to inaction.
Endurance: Physical endurance for Marine leaders is obvious. Physical fitness is key to enable endurance for the physical challenges of the job. But there is also emotional endurance, the mental will to keep going when you think you can't. Your troops don't want to see you weary or even thinking of slowing down.
I hate to see "leaders" weaken in their endurance. Keep in mind there are Americans who don't have the luxury of letting up. They have children, jobs, and other daily responsibilities they must tend to. It doesn't end at the end of a mission, or after training. Some of the strongest people I've known were single mothers who simply couldn't quit or slow down, no matter what. Think about that when you're on your next 15-mile hike or think you've had enough.
Bearing: Marines expect their leaders to act like, well, Marines. Always maintain your bearing. You are always being observed. Never lose your cool. It's important to always act as if you are in control. Maintaining your bearing is more than just keeping up appearances. It's a reflection of your mental discipline and how much you control your mind and soul. If you break your bearing, you just showed that you couldn't keep your mind and emotions in check. If you cannot do that during regular times, what will happen when you're faced with extreme stress or fear?
Unselfishness: Your Marines come first. Always remember that. Would you eat, sleep, or take any amenity before your own children? No you wouldn't. At least you wouldn't if you cared enough. Then why would you do it with your employees?
Everything thing you do should be with that lance corporal or corporate mission statement in mind. Never make a comfort-based decision. Think of others first, those who you are entrusted to care for and lead. As a corporate leader, ask yourself, are you thinking of quality of the product or service you offer? Are you hogging the profits at the expense of your employees who put in countless hours making the company successful?
Courage: Our first thought when we hear this word is courage in the face of danger. Yes, of course. Yet, as I've mentioned earlier, moral courage is equally important. Moral courage to step in and say when something is wrong, when it's an unpopular thing to do. Do you have the moral courage to challenge a senior officer when you know they are wrong?
I personally think back to a few times when I thought I should have expressed a stronger sense of moral courage, I'll be the first to admit that. Sometimes this means having a difficult conversation with a friend, trusted advisor, or boss. As Marines, we have principles that are above us all, and come first before anything else. Moral courage means making the right decision when it may be unpopular.
Knowledge: You are supposed to be the subject matter expert in your field. Are you? Is your talent trusted?
Loyalty: Loyalty to your Marines, and the principles that we as Marines hold dear. Loyalty should never be confused with looking the other way and ignoring a situation out of a misplaced sense of loyalty to one another. As a business leader, you should be loyal to the mission of your company and the values you claim to espouse.
Enthusiasm: You must be enthusiastic if you expect your company's employees to be enthusiastic for the task at hand. Enthusiasm is contagious, but so is negativity. I learned the hard way in life that when something bad happens to me, I need to find three good reasons why it happened to me. Attitude is everything.
These leadership principles I hold dear. They make us better Marines, leaders, and Americans. They're timeless, and interchangeable in any career field or personal role.
https://taskandpurpose.com/career/14-marine-leadership-traits-apply-business
Disclosure
Lansing Street Advisors is a registered investment adviser with the State of Pennsylvania..
To the extent that content includes references to securities, those references do not constitute an offer or solicitation to buy, sell or hold such security as information is provided for educational purposes only. Articles should not be considered investment advice and the information contain within should not be relied upon in assessing whether or not to invest in any securities or asset classes mentioned. Articles have been prepared without regard to the individual financial circumstances and objectives of persons who receive it. Securities discussed may not be suitable for all investors. Please keep in mind that a company's past financial performance, including the performance of its share price, does not guarantee future results.
Material compiled by Lansing Street Advisors is based on publicly available data at the time of compilation. Lansing Street Advisors makes no warranties or representation of any kind relating to the accuracy, completeness or timeliness of the data and shall not have liability for any damages of any kind relating to the use such data.
Material for market review represents an assessment of the market environment at a specific point in time and is not intended to be a forecast of future events, or a guarantee of future results.
Indices that may be included herein are unmanaged indices and one cannot directly invest in an index. Index returns do not reflect the impact of any management fees, transaction costs or expenses. The index information included herein is for illustrative purposes only.