1. Carvana Used Cars….Covid Low $20……$226 Last.
CVNA Chart
Carvana has been the target of skeptics and short sellers in the past, and its shares have been volatile since it went public. It has rallied more than 670% since a March low and has a $36.2 billion market valuation. Roughly aquarter of the company's float is sold shortand the short interest ratio — a gauge of how many days it would take for short sellers to cover their positions — was near a record for this year at the end of August, according to data compiled by Bloomberg.
The company said Tuesday it will sell $1 billion of new debt, seizing on the boom in demand for its vehicles and low yields in the corporate bond market. Around $600 million of the proceeds will be used to refinance existing debt, with the rest held as cash on the balance sheet.
— With assistance by Jack Witzig
Father, Son Used-Car Sellers Get $5 Billion Richer in a DayBy Jack Pitcherand Gabrielle Coppola
https://www.bloomberg.com/news/articles/2020-09-22/father-and-son-used-car-sellers-get-5-billion-richer-in-one-day?srnd=premium&sref=GGda9y2L
2. All FED Governors on Board Zero Percent Interest Rates "for some time"
Barrons
The Fed said that it "expects it will be appropriate" to keep short-term interest rates near zero until three conditions are met: The job market has fully healed, inflation has returned to the target rate, and inflation "is on track to moderately exceed" the target rate "for some time."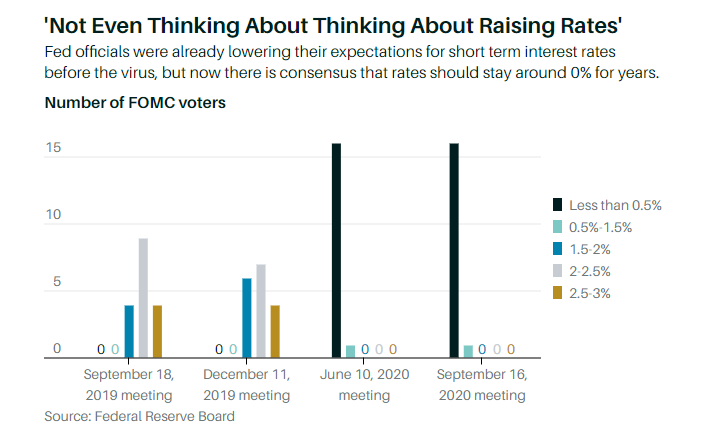 The Fed's Major Policy Shift By Matthew C. Klein
https://www.barrons.com/articles/the-fed-has-vowed-not-to-take-away-the-punch-bowl-thats-a-major-policy-shift-51600423201?mod=past_editions
3. Blackstone 2020 1 Billion Sq Ft of Warehouse Space Today …Sept 2019 400m Sq Ft.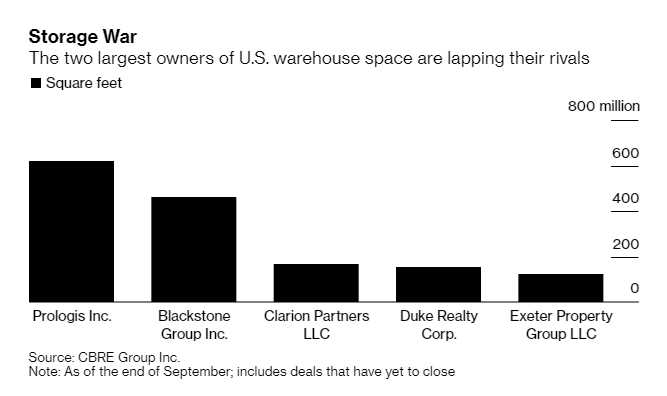 Blackstone Real Estate Portfolio Growth Since 2007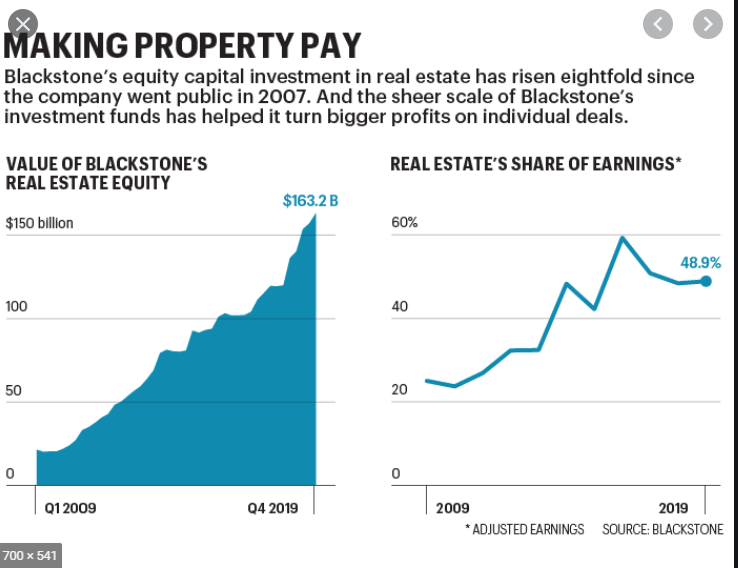 https://fortune.com/2020/02/17/blackstone-commercial-real-estate-business-brep-breit/
4. At $5 Trillion, the ETF Market Is Showing Signs of Saturation
Katherine Greifeld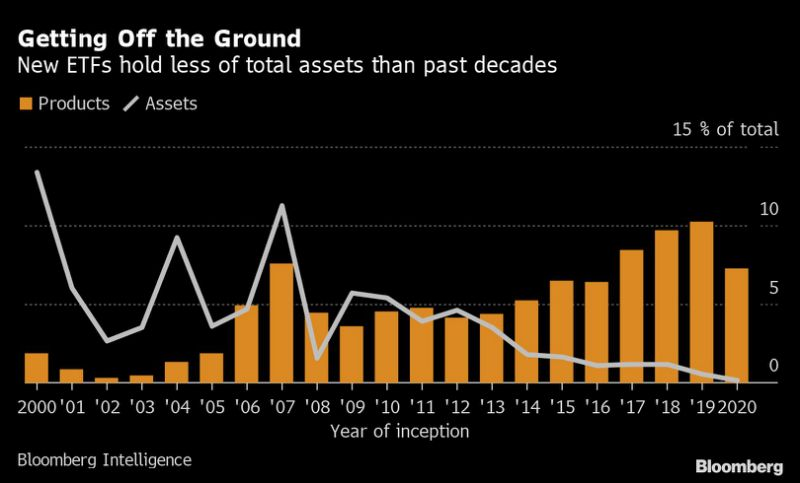 At $5 Trillion, the ETF Market Is Showing Signs of Saturation
(Bloomberg) — America's exchange-traded funds are shutting down at a record pace and the production line is stuttering as issuers struggle to sell new products in the $5 trillion market.
More than 130 ETFs have been liquidated in 2020, already the most ever, while 178 funds have started trading — roughly on course to match last year's launches. That was the lowest number of debuts since 2014 and the second drop in a row.
A glance at flows helps explain why: Almost a third of all existing ETFs were launched within the past three years, yet they account for only about $2 of every $100 currently invested in the industry, according to data compiled by Bloomberg Intelligence.
"It's way tougher" to create a successful product now, said Athanasios Psarofagis, a Bloomberg Intelligence analyst. "Getting $1 billion today in real assets is really, really hard. It's like getting $6 billion in the past when there was less product, and less of an issue to get on the platforms."
While the industry as a whole has enjoyed solid growth in the last few years and total assets recently hit a record, giants such as BlackRock Inc. and Vanguard Group dominate the scene. Their size and influence gives them huge advantages in terms of distribution and marketing. They also benefitted from economies of scale when a heated fee war broke out.
Funds from the biggest three issuers account for more than 80% of all ETF assets, and roughly 70% is in products launched more than a decade ago, the data show. The top 10 funds by size were all launched before 2013 and hold a combined $1.3 trillion.
"In the ETF space, distribution is king," said Nate Geraci, president of investment-advisory firm the ETF Store. "You can have the best ETF in the world, but if investors aren't aware it exists, it doesn't matter."
Even the much-hyped arrival of actively managed, non-transparent ETFs — which reveal holdings just once a quarter, similar to mutual funds — have failed to attract big flows. The 15 funds that have launched so far have drawn in just $546 million worth of assets.
Of course, there are some success stories. The Roundhill Sports Betting & iGaming ETF has grown to roughly $129 million after launching in June, while the Direxion Work From Home ETF has also crossed the $100 million milestone after its June debut. And so-called buffer funds — which shield against losses in exchange for a cap on gains — have steadily accumulated assets amid this year's turbulent markets.
Still, for every winner there is likely to be at least 10 failures, according to Psarofagis, who says this puts the onus on issuers to ramp up their sales and distribution efforts.
Distribution muscle has helped firms such as JPMorgan Asset Management quickly establish themselves. Though the company didn't launch its first fund until 2014, the JPMorgan Ultra-Short Income ETF became the largest actively managed ETF earlier this month.
"Firms with distribution clout have been able to make inroads despite being late to arrive," said Ben Johnson, Morningstar's global director of ETF research. "Schwab, Fidelity, Goldman and JPMorgan are great examples of firms that have come late to the game with me-too offerings but have sold those in to their own captive channels and affiliates."
(Adds additional detail in 6th paragraph.)
For more articles like this, please visit us at bloomberg.com
Subscribe now to stay ahead with the most trusted business news source.
©2020 Bloomberg L.P.
https://finance.yahoo.com/news/luring-cash-getting-harder-ever-135649893.html
5. How Bonds May Perform When Rates and Stocks Fall
Posted by lplresearch
Market Blog
A few weeks ago we looked at how different bond sectors performed during rising rate periods during the last economic cycle (2009–2020). Today we look at falling rate periods—not the outcome we expect, but it can still be helpful to understand how investments respond to different environments.
As shown in the LPL Chart of the Day, there are really two stories to tell: During broad falling-rate periods (the top half of the chart), declining rates supported a wide range of bond sectors, although, not surprisingly, the most interest rate-sensitive sectors tended to lead. But when rates fell during periods of stock market uncertainty (the bottom half of the chart), it was often a time when the diversification benefits of Treasuries stood out.
"It's a tough time for bond investors," said LPL Financial Chief Investment Officer Burt White, "because Treasuries, which are usually the best way to play defense, are also vulnerable to rising rates and have very low yields right now."
6. Nike Almost Double Off Covid Low……..82% Jump in Online Sales.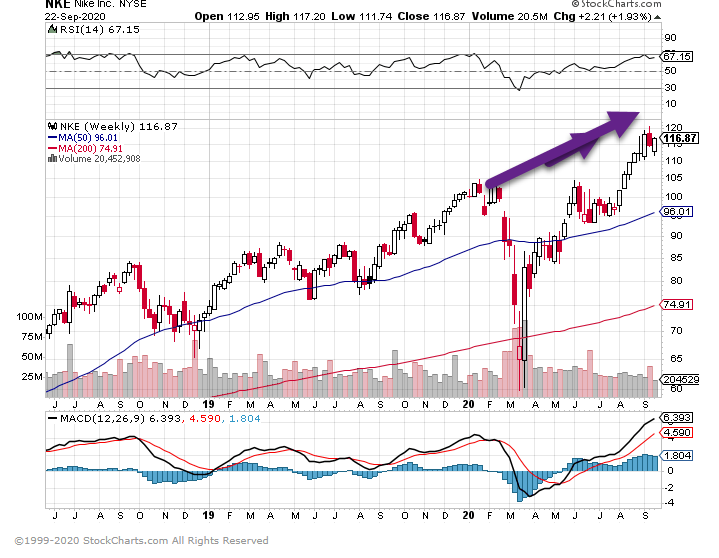 7. Lumber Prices -48% from August Highs.
The price of Lumber is down 48% from its high in late August, now flat on the year.$LUMBER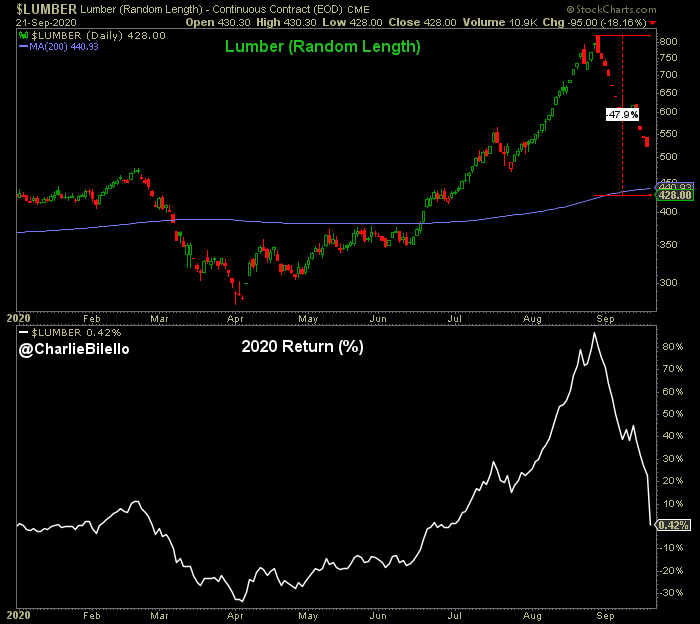 https://twitter.com/charliebilello?ref_src=twsrc%5Egoogle%7Ctwcamp%5Eserp%7Ctwgr%5Eauthor
8. Beijing draws Chinese companies even closer
Bethany Allen-Ebrahimian, author of China
Illustration: Annelise Capossela/Axios
Chinese Communist Party Secretary Xi Jinping announced last week that the party must strengthen its leadership over private companies, and that entrepreneurs must meet the party's needs.
Why it matters: Xi's new announcement will increase fears that Chinese businesses may serve as a Trojan horse for the CCP.
What's happening: On Sept. 15, the CCP's top decision-making body, the Central Committee, released a memo calling for closer ties between private Chinese businesses and the United Front Work Department, which is the CCP's bureau in charge of extending its influence and control to all corners of society.
The guidelines say the aim is to "create a backbone team of private businesspeople who are reliable and useful at critical moments."
On Thursday, the party also convened the first-ever conference on strengthening ties between private businesses and the UFWD.
Between the lines: Under Xi, the party is seeking to establish control over the private sector in a way that maintains robust economic growth while allowing the government to implement long-term strategy and commandeer private sector resources when needed.
In 2018, China's securities regulator issued a guideline requiring listed companies to include in their articles of association a section about the party's role.
The party aims to accomplish not just economic goals but also political and national security goals.
"Xi has clearly given a strong push to the United Front system to do more and be bolder," said Alex Joske, a China analyst at the Australian Strategic Policy Institute who has written extensively about the department.
The big picture: U.S. concerns over TikTok are based in part on the suspicion that private Chinese businesses aren't able to fend off Chinese government demands for data or other assistance.
Chinese law states that companies and individuals are required to hand over data and provide assistance to the government and its intelligence agencies upon request, and that they must keep any such requests a secret.
The new memo adds in a strong political element, suggesting some companies may now be required to assist in political goals and activities — though the specifics remain unclear.
What to watch: While this measure is directed primarily at Chinese businesses, the policy could spill over beyond its borders, since many Chinese businesses have partners, customers, or operations abroad.
The Chinese government already pressures companies to act in concert with official diplomatic and foreign policy goals.
Chinese companies have canceled contracts with foreign companies when their governments have acted against Beijing's wishes, such as earlier this month when a Chinese company suspended a $23.8 million order from Czech piano company Klaviry Petrof after a Czech government official visited Taiwan.
Chinese companies have also pulled ads from foreign news outlets that publish content Beijing doesn't like.
https://www.axios.com/beijing-draws-chinese-companies-even-closer-519f1f10-d8e2-45b9-81bc-74f17c1b26e5.html
9. Muddy Waters' Carson Block to roll out internet TV channel for short selling
By Reuters Staff
2 MIN READ
FILE PHOTO: Carson Block, Chief Investment Officer, Muddy Waters Capital LLC., speaks at the Sohn Investment Conference in New York City, U.S. May 4, 2016. REUTERS/Brendan McDermid
NEW YORK (Reuters) – Muddy Waters Research founder Carson Block on Wednesday will launch Zer0es TV, an internet video channel dedicated to informing investors about the mechanics and processes of short-selling.
A promotional video for the new channel, which will be free, said short-selling needs to be explained in detail so that investors can understand the issues and make decisions about how to protect themselves.
"This is the information that nobody else in the marketplace has any incentive to give you, except for activist short sellers," Block said on the video.
Short sellers such as Block do extensive research on companies they think are over-valued or have engaged in fraudulent practices. The strategy entails borrowing stock to sell, then buying it back later at a lower price for a profit.
RealVision.com, a website dedicated to investing through the use of video, will be the production arm for Zer0es TV, which will have both live and pre-recorded content, said Stefan Prelog, a spokesman for Zer0es TV.
"This video channel is the go-to place for anything to do with short-selling," a blurb on a RealVision web page says. "Nothing is off limits and nothing is watered down."
Reporting by Herbert Lash; Editing by Sonya Hepinstall
Our Standards: The Thomson Reuters Trust Principles.
https://www.reuters.com/article/us-usa-stocks-muddywaters-tv/muddy-waters-carson-block-to-roll-out-internet-tv-channel-for-short-selling-idUSKCN26D2WJ
10. 16 Things School Doesn't Teach You—Daymond John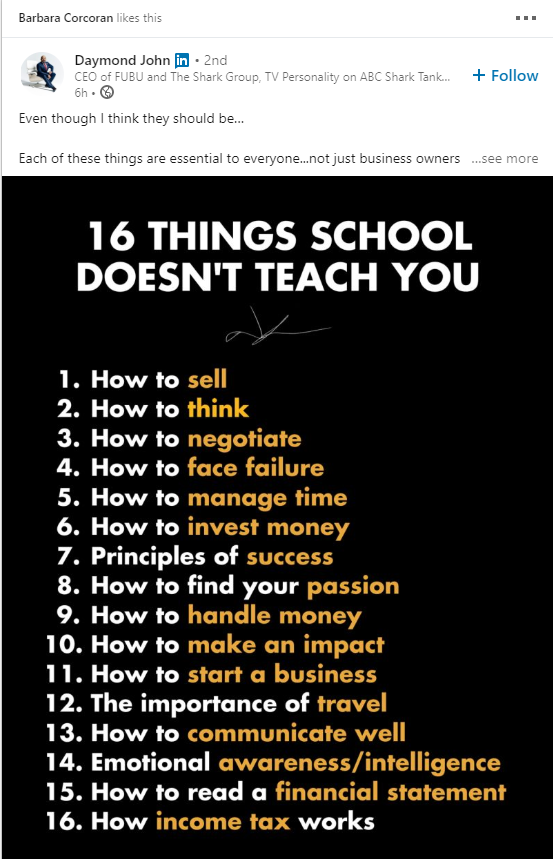 Disclosure
Lansing Street Advisors is a registered investment adviser with the State of Pennsylvania..
To the extent that content includes references to securities, those references do not constitute an offer or solicitation to buy, sell or hold such security as information is provided for educational purposes only. Articles should not be considered investment advice and the information contain within should not be relied upon in assessing whether or not to invest in any securities or asset classes mentioned. Articles have been prepared without regard to the individual financial circumstances and objectives of persons who receive it. Securities discussed may not be suitable for all investors. Please keep in mind that a company's past financial performance, including the performance of its share price, does not guarantee future results.
Material compiled by Lansing Street Advisors is based on publicly available data at the time of compilation. Lansing Street Advisors makes no warranties or representation of any kind relating to the accuracy, completeness or timeliness of the data and shall not have liability for any damages of any kind relating to the use such data.
Material for market review represents an assessment of the market environment at a specific point in time and is not intended to be a forecast of future events, or a guarantee of future results.
Indices that may be included herein are unmanaged indices and one cannot directly invest in an index. Index returns do not reflect the impact of any management fees, transaction costs or expenses. The index information included herein is for illustrative purposes only.